You've almost certainly heard about the benefits of green tea, including its antioxidant content, ability to decrease disease risk, and much more. Humble black tea often seems to pale in comparison. So, is black tea good for you or do you need to switch your habit and focus on green tea instead?
While most studies do suggest that green tea is more powerful, it's foolish to write off black tea just yet. It still has many advantages of its own and even provides you with antioxidants.
Plus, the deep and earthy flavor of black tea is often easier to drink than the grassy tones of green tea. This alone makes black tea valuable. You can even pair the tea with a variety of desserts and pastry, through an approach that's surprisingly similar to wine pairing.
Is Black Tea Good For You?
Types Of Black Tea
The Benefits Of Black Tea
The Health Risks Of Black Tea
What Does Black Tea Taste Like?
Black Tea Versus Green Tea
Should You Drink Black Tea?
What About Iced Tea?
Final Thoughts
Types of Black Tea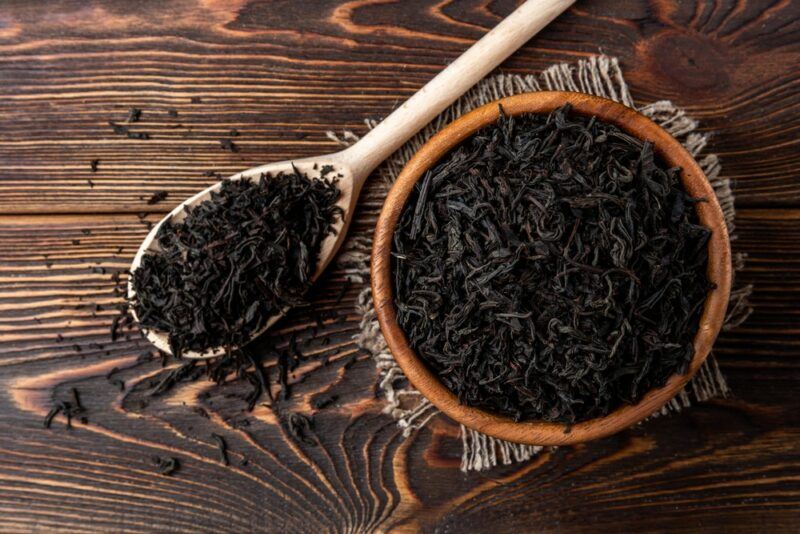 Black tea is considered a true tea, meaning that it is made from Camellia sinensis leaves. These leaves are fully oxidized, giving them a strong flavor.
To prepare the drink, you steep tea leaves or a tea bag in hot water (unless you're making cold brew black tea). This gives you a rich brew that often has smoky, earthy, and bold flavor notes. Precisely how the tea tastes varies depending on the type that you choose and the individual product.
This is why most tea drinkers need to experiment to find the best tea for them. Tea of the month clubs are a fantastic place to begin that journey.
Oxidizing Approaches
There are two main techniques for oxidizing black tea.
The first involves machines, where the leaves are cut, torn, and curled before they are oxidized. The process is sometimes called CTC. It makes the tea leaves quite small, so the leaves are mostly used in tea bags.
The CTC approach helps to intensify the flavor of the tea, making it perfect for cases where you're adding cream or including spices.
The second approach involves withering and rolling the tea leaves. This is a more labor-intensive method, so the tea is often more expensive. However, the flavor can be more appealing too. Because the leaves are larger here, this type of tea is often sold in the loose leaf form.
Where The Tea Was Grown
Growing location matters too. Even if two tea plants were identical, the final tea will taste different depending on where the plant was grown.
Location is so important that many tea varieties are named for where they are grown, like the following examples.
Assam tea. This Indian tea has a bright color when brewed, along with a somewhat malty flavor.
Ceylon tea. This Sri Lankan tea is known for its somewhat sweet flavor and floral aroma. There are citrus notes too, which add to the complexity of the tea.
Darjeeling tea. This variety comes from India and is influenced by the time of harvesting too. Tea that's harvested later in the year tends to have a fuller flavor and darker color than early harvests.
Extra Ingredients
You'll also find some black teas with extra ingredients to make them distinctive. Earl gray is a classic example here. The tea is simply a combination of black tea and oil from bergamot orange. Bergamot oranges are an unusual type of citrus fruit that is mostly used in recipes and earl gray tea, rather than being eaten fresh.
The use of bergamot gives earl gray its distinctive flavor. The fruit was once a way to make poor-quality black tea drinkable. These days earl gray tends to be made with quality tea leaves, especially if you choose a reputable brand.
There's also chai tea (also known as chai masala or masala chai). This uses black tea as a base too. It also includes a variety of spices, like cinnamon, cloves, and cardamon, and is often boiled in milk. Some versions are prepared using plant-based milk instead, giving you a dairy free drink.
The addition of spices could make chai tea even better for you, as many spices have been linked to at least a few health benefits.
Pu-erh Tea
Pu-erh tea is an interesting case. It comes from Yunnan, China and is less common than other types of black tea. Some don't even call it black tea at all, but consider to be a completely different type of tea.
Pu-erh is special because the tea leaves are fermented. You often buy the leaves in a compressed cake, although there are loose leaf versions as well.
The tea is thought to provide a variety of health benefits, like promoting weight loss and improving your cholesterol levels. Plus, pu-erh is a way to get the benefits of fermented food and tea at the same time.
However, you'll need to look for high-quality pu-erh. Inferior products often have an unappealing muddy flavor. They could offer fewer health benefits too.
The Benefits Of Black Tea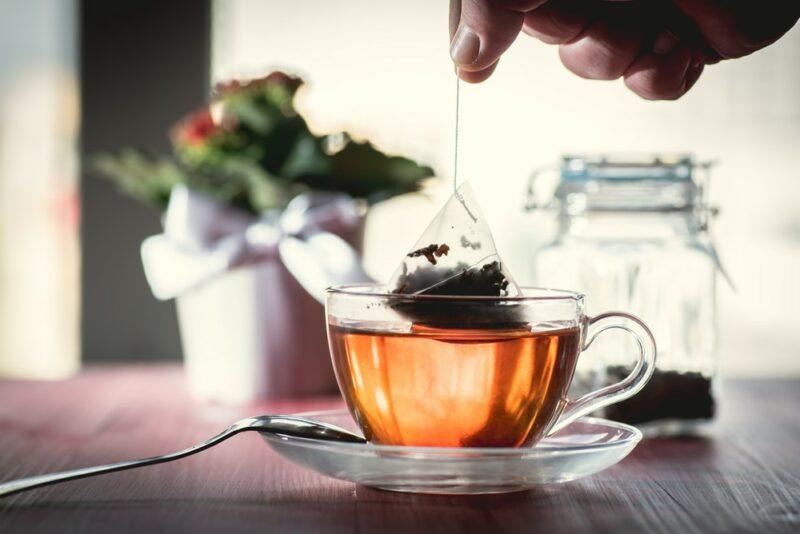 The compounds in tea leaves offer many potential health benefits, but these aren't the only reasons for drinking tea regularly. Tea also has the advantage of being a low calorie hot drink that mostly consists of water.
This combination of features is perfect for promoting your health. After all, many of the other drinks we rely on are loaded with sugar or preservatives, so they're not very healthy at all.
It's also surprisingly easy to get dehydrated. Drinking plain water is the ideal way around that problem, but some of us forget to do so or get bored with water on its own. So, why not rely on tea instead? Not only is it delicious, but you're getting plenty of water at the same time.
Antioxidants
While green tea is famous for its antioxidant content, you get a surprising number of antioxidants in black tea as well. There's even some evidence that black tea might be just as powerful as green tea, even though the antioxidants are different between the two types of tea.
Besides, even if green tea is the better choice, you're still getting a decent amount of antioxidants from black tea too. There's no need to switch to green tea if you find black tea more enjoyable.
Why antioxidants anyway?
A decent body of evidence suggests that antioxidant rich foods can promote your health in a variety of ways. This is because they help to fight free radicals in your body and those free radicals have been linked to many diseases.
The antioxidants in black tea may help to improve the health of your cells, while also providing other benefits throughout your body.
Other Plant-Based Compounds
Plants don't just provide us with antioxidants. They offer a wide range of compounds that all have different effects on our health. Some help to decrease inflammation, which may then lower disease risk and help us to stay healthy. Others may help with blood pressure, with our cholesterol levels or have different effects still.
There's still much we don't know about plant-based compounds, partly because there are so many different ones out there. Because of this, the healthiest approach is often to include a wide variety of plant-based foods in your diet. This way you get plenty of different compounds.
May Protect Your Heart
The specific antioxidants found in tea can help decrease some heart disease risk factors, including your LDL cholesterol, triglyceride levels, and blood pressure.
The effect occurs for both green tea and black tea, even though they contain different antioxidants to each other.
There's even evidence that drinking four or more cups of tea may decrease stroke risk. Just be cautious with this one, as the caffeine from four cups of tea is significant. This could be too much if you're sensitive to caffeine.
Can Improve Energy And Mental Focus
The caffeine in black tea means the tea provides you with an energy boost and can help you to feel more focused. You're getting less caffeine than coffee, so the effect isn't as strong. Still, the lower caffeine content means fewer caffeine-related side effects.
For many people, black tea is an excellent way to still get some benefits from caffeine, without the jitteriness that can often come with coffee.
May Promote Weight Loss
Black tea and green tea have both been linked to weight loss benefits. This is partly due to their polyphenols. Interestingly, the polyphenols in black tea might be even more significant than those in green tea for promoting weight loss.
Other compounds may help differently, by promoting breakdown of fat or blocking some calories from being absorbed. Such effects are likely to be small, but they can still help support your weight loss journey.
Let's not forget that black tea is also a low calorie drink. Replacing some of your other beverages with black tea can be an easy way to cut down on your calories.
You can also make and sip a cup of hot tea when you feel like snacking. By the time you're done with the tea, you might not want a snack anymore. That type of behavioral tweak is just as powerful for weight loss as the polyphenols in tea.
The Health Risks Of Black Tea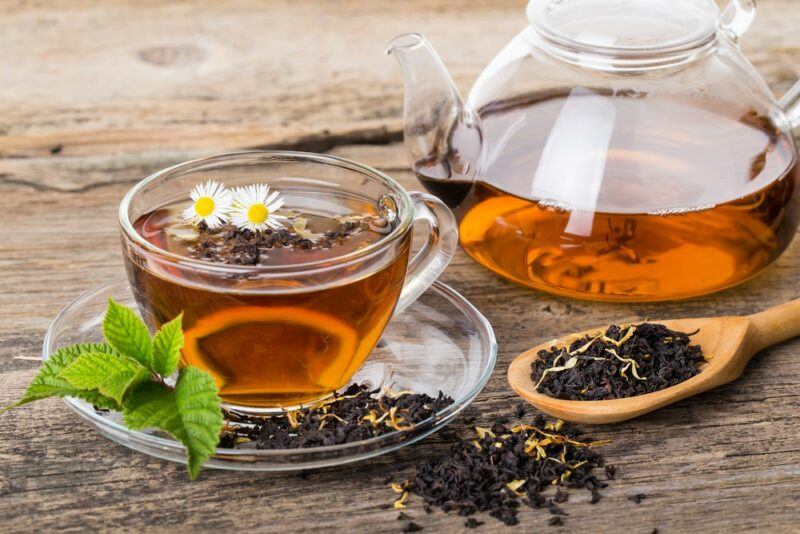 Black tea is clearly safe, as the hot drink is popular and many people drink multiple cups per day. Even so, there are some problems with black tea as well, particularly if you're drinking a large amount.
Nutrient Absorption
Tea contains tannins. While tannins aren't a bad thing, they can be a problem in high doses, as they bind to the iron from some foods. By doing so, tannins decrease the amount of iron that's available for your body to use.
This can easily become a serious problem, as iron deficiency is already commonplace.
The effect seems to be stronger from plant-based sources of iron than animal-based ones. As such, vegetarians and vegans should pay close attention to their tea consumption.
Having vitamin C with your tea can help to offset the iron absorption effect (try squeezing a little lemon juice in). You can also avoid having tea too close to a meal. Try to have your tea more than half an hour before or more than half an hour after your meal. This gives your body time to absorb the nutrients from your food.
A similar effect can occur with calcium absorption as well, making this another area to be cautious with.
The Caffeine
While black tea contains less caffeine than coffee, you can still get around 50 mg of caffeine in a cup of tea. This can be significant, especially if you're sensitive to caffeine or are having multiple cups of tea per day.
As we mentioned earlier, caffeine can have benefits. However, it has also been linked to side effects, including increased anxiety, stress, and poor sleep.
People's caffeine tolerance varies wildly. Some can drink multiple cups of tea and coffee throughout the day, and perhaps even an energy drink, without any ill effects. Others may see side effects after a single cup of tea.
You'll need to watch your own body's responses to work out your caffeine limits.
Nausea
Nausea is another issue that varies from person to person. It happens because of the tannins in black tea. These can irritate the tissues in your digestive system, especially if you're drinking tea on an empty stomach.
The easiest way around the problem is to drink smaller cups of tea.
You could also have some food at the same time or perhaps add a little milk to the tea. Both approaches can reduce the digestive impact of the tea, without affecting your enjoyment too much.
Could Be A Problem During Pregnancy
While tea is generally seen as safe, there's much debate about caffeine intake and pregnancy. One problem is that pregnant women metabolize caffeine slowly. Plus, some of this caffeine enters the baby's bloodstream and could theoretically impact their health.
Up to 200 mg of caffeine per day is thought to be safe. That sounds like great news for tea drinkers, as you're only getting roughly 50 mg of caffeine per cup.
Even so, some evidence suggests that caffeine intake as low as 50 to 149 mg daily may have some negative impacts. It's worth seeking medical advice to find out the best upper dose for you.
Watch Out For Your Tea Habits
Sometimes it's not black tea itself that causes health risks, but your habits when you drink tea – starting with what you add to tea. While some people drink tea on its own, others add milk (or even cream) and perhaps sugar.
There's nothing wrong with doing this every so often. But, if you're adding cream and sugar most of the time and drink multiple cups of tea per day, then the calories would add up quickly.
Snacks can be an issue too. Black tea isn't so good for your waistline if you're always having a cookie or pastry when you have a cup of tea (especially if you do so multiple times in a day).
Paying attention to your habits and making wise decisions can help you to get the most out of black tea.
The Risk Of Contamination
Like most plants, tea can become contaminated with heavy metals, pesticides, residues, or other concerning chemicals. Thankfully, you're not consuming the tea leaves themselves and the risk of contaminants leaching into your tea is low.
To reduce the problem even further, pay close attention to the products you choose. Look for companies that provide details about their processes and focus on quality. Some may even use third-party testing to verify that their tea is as good as they claim.
There's a higher risk of contamination if the tea comes from China or India, so bear that in mind when making your decisions.
Also, while organic tea may be healthier, it can still be contaminated. This is because some types of contamination come from the soil, rather than what is sprayed on the plants.
What Does Black Tea Taste Like?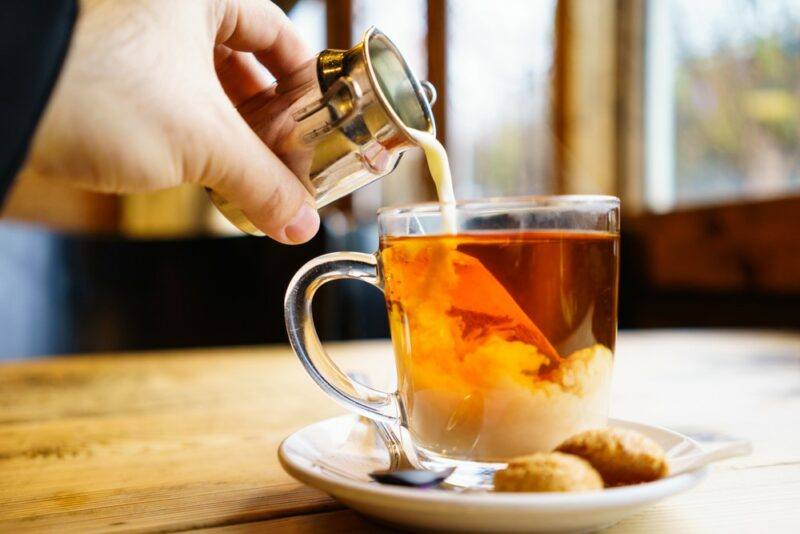 Black tea tends to have a smooth and earthy flavor. It can be rich and somewhat intense, which can make it seem overwhelming to people who haven't tried tea before.
Thankfully, the flavor can be mellowed by the addition of milk and some sweetener.
There are also differences between the individual types of black tea, as we discussed earlier. You'll need to experiment with varieties of black tea and individual products until you work out which types you enjoy the most.
If black tea is too much for you on its own, why not play around with black tea blends? These often combine the tea leaves with one or more types of herbal tea, giving you a different flavor profile and a drink that's often easier to enjoy.
Black Tea Versus Green Tea
Green tea and black tea are processed differently, so they each have their own distinct advantages and disadvantages.
For one thing, the oxidation process that creates black tea removes some of the antioxidants, including epigallocatechin gallate (EGCG). Green tea, on the other hand, has a high concentration of EGCG and this may contribute to many of the tea's health benefits.
It's not surprising then that green tea contains more antioxidants than black tea.
Green tea is also lower in caffeine. This is a positive and a negative feature, as caffeine has been linked to a variety of health benefits. If you're sensitive to caffeine, then green tea could be the best choice, while if you're not, the caffeine in black tea could be helpful.
On the other hand, green tea is quite astringent. It tends to be harder on your digestive system, especially if you're drinking green tea on an empty stomach.
Interestingly, black tea contains fluorides, so it could help to strengthen your teeth and perhaps reduce the risk of cavities. There are some fluorides in green tea too, but not as many.
The final difference is flavor.
While this is a matter of personal preference, many people find that black tea is mellower and easier to enjoy than green tea. If you're a new tea drinker, black tea can be the ideal starting point, as you can add milk to tone down the flavor further.
You could even try chai tea, which uses more milk than regular tea and plenty of spices. The milk and spices both help to decrease the flavor of the tea, giving you a drink that's easy to enjoy, even if you've never tried black tea before.
Should You Drink Black Tea?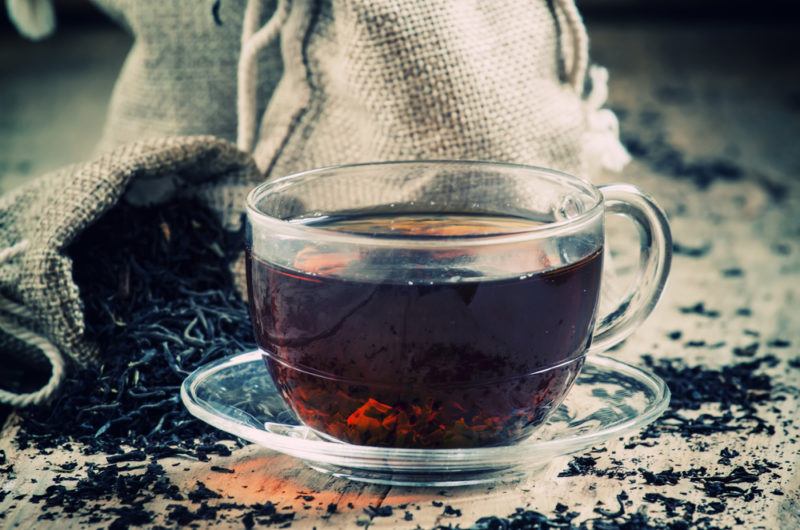 Black tea is a safe and healthy choice for most people, even if you're drinking two or three cups per day.
Still, it's worth paying attention to how your body responds to the tea. If you often feel jittery or shaky after the tea, if you struggle to sleep, or if you have symptoms of iron deficiency, it might be time to cut back on your tea consumption.
You could also try decaffeinated black tea. While this isn't entirely caffeine-free, the caffeine content is very low, so caffeine-related side effects should be low as well.
Swapping to green tea is another option. Green tea tends to have less caffeine than black tea and stronger antioxidant properties.
What About Iced Tea?
Iced tea has many of the same benefits as hot black tea. You're still getting the beneficial compounds from tea. Iced tea could even be more helpful, as your serving size is larger.
However, the benefits of iced tea strongly depend on how the tea is prepared.
Iced tea is often made with a large amount of sugar. This makes the drink sweet and delicious, but iced tea made like this isn't all that good for you. Diet iced tea might not be any better, as such products often rely on artificial sweeteners.
The best way to make healthy iced tea is to prepare it yourself. This way you have full control over the ingredients. Try infusing fruit into the tea too. Doing so gives you extra flavor and a little sweetness without too much sugar.
Unsweetened iced tea is the healthiest choice, but it doesn't appeal to everyone. Adding a little sweetness to your tea, like in the form of honey or a natural sweetener doesn't negate the benefits of the drink. Just be careful with the amount that you use.
Final Thoughts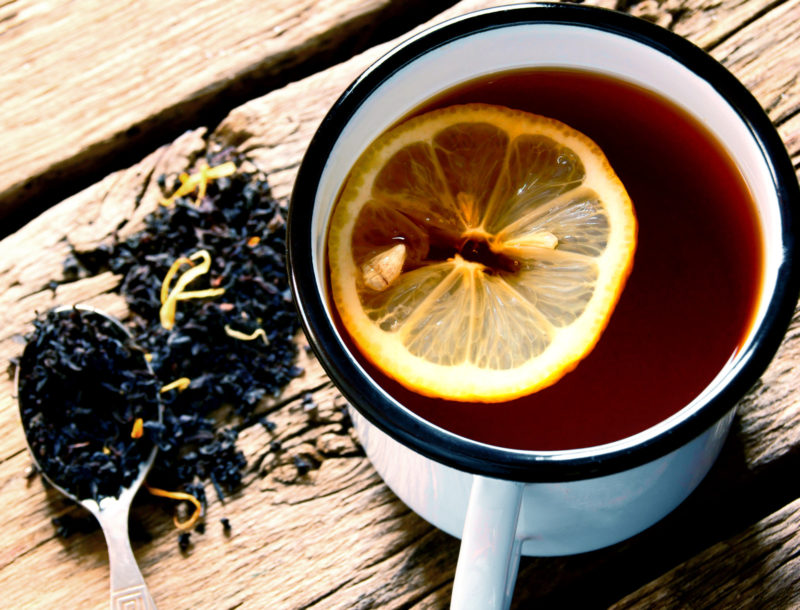 Black tea is a reminder of the importance of being wise when we choose our foods and drinks. Even widely consumed drinks like tea can sometimes be a poor choice.
Thankfully, black tea offers more benefits than risks for most people. If you're at all worried, try limiting your consumption to one or two cups per day, or switching to decaffeinated tea. Finally, don't forget that drinking black tea isn't your only option. Some people include black tea in their cooking instead. You can even use tea instead of water when you're cooking beans, rice, or quinoa. Doing so provides an interesting smoky flavor that can be surprisingly delicious.
Frequently Asked Questions
Does Black Tea Have Caffeine?
Yes, black tea often averages between 40 and 50 mg of caffeine per cup (although the exact amount varies based on brew time and other factors). This is considerably less than you get in a cup of coffee, but is enough to give you a noticeable energy kick.
You can get decaffeinated black tea, which goes through a chemical process to remove the caffeine. However, trace amounts of caffeine do still remain.
Is Black Tea A Diuretic?
Caffeine has a slight diuretic effect, so any type of caffeinated tea is going to act as a diuretic as well. This doesn't mean it will dehydrate you though, as you get more water from the tea than you lose.
Is Black Tea Acidic?
Teas tend to be acidic, but only mildly so. This is certainly true for black tea as it often has a pH of between 4.9 and 5.5 (where pH 7 is neutral). A few types of tea are more acidic, coming in at a pH of around 3, but these are much less common.
Is Black Tea Anti-Inflammatory?
The plant-based compounds in black tea, including theaflavin, may be highly relevant for decreasing inflammation. Plus, tea contains few inflammation-causing ingredients, making it a fantastic choice all around.
Is Black Tea Safe During Pregnancy?
Unlike many herbal teas, black tea is safe during pregnancy. However, pregnant women must closely watch their caffeine intake, so they'll need to keep an eye on the amount of tea they drink.
Decaffeinated black tea is a safe choice. Just be aware that there is still some caffeine present, which can add up if you're relying heavily on black tea.