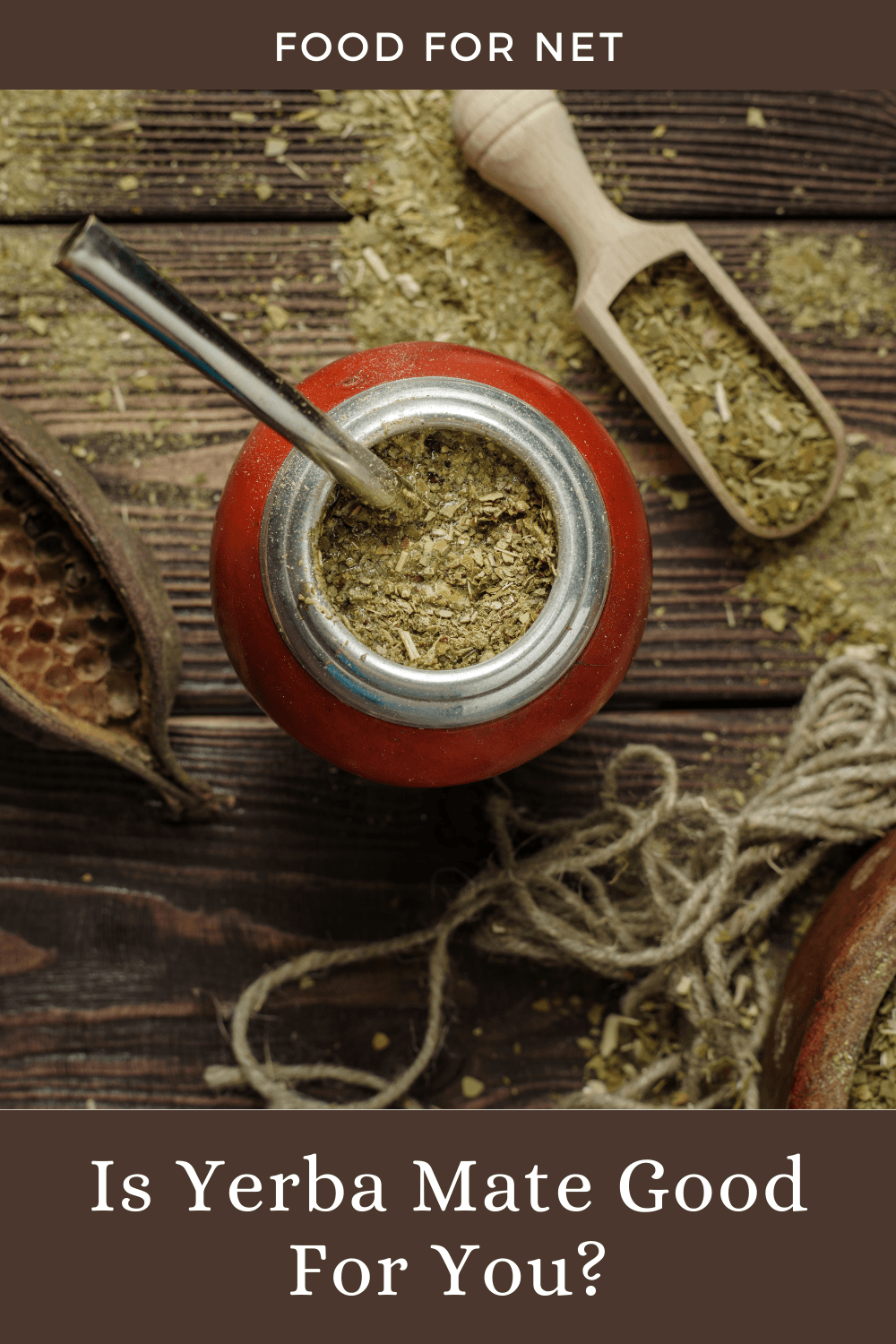 Herbal teas are popular and have many potential benefits, but let's face it, they're pretty similar to one another and aren't normally that exciting. Yerba mate is the exception to that pattern. The tea itself comes from South America and it's traditionally served in a gourd with a metal straw. It's in a class all of its own.
The most unusual feature is the caffeine. While regular tea contains some caffeine, the same isn't true for herbal teas. Those tend to be caffeine-free. Yerba mate is different. It isn't low in caffeine either, often giving you close to the amount that you'd find in a cup of coffee. No other herbal tea has this property. 
Yerba mate is often seen as being incredibly healthy, but is that really the case? Is yerba mate good for you or is a heavily hyped drink with limited benefits?
Is Yerba Mate Good For Your Health?
What Is Yerba Mate?
Benefits Of Yerba Mate
How Yerba Mate Could Be Harmful
Is Yerba Mate Rich In Nutrients?
How Do You Prepare Yerba Mate?
Should You Drink Yerba Mate Instead Of Tea Or Coffee?
What About Other Yerba Mate Products?
Final Thoughts
What Is Yerba Mate?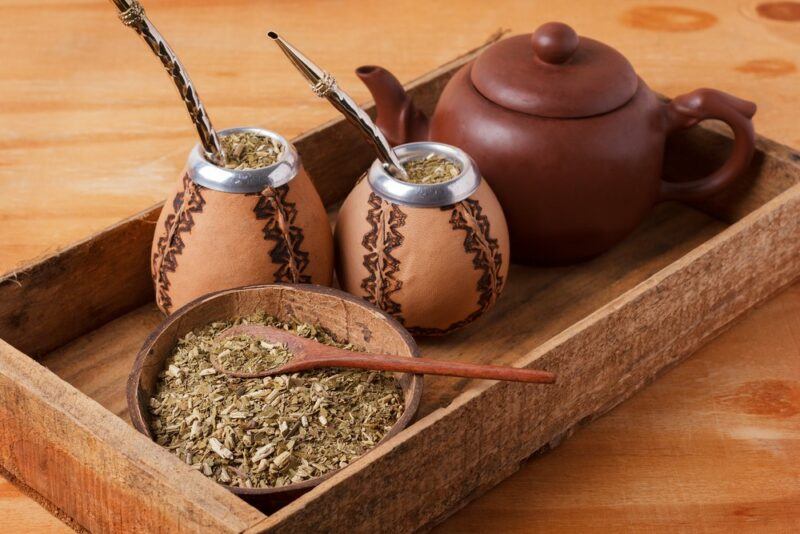 Let's talk about yerba mate itself for a minute. The tea itself is made from the Ilex paraguariensis plant, often from the twigs as well as the leaves.
The twigs and leaves are first dried (often over a fire), then they can be steeped in hot water – giving you a herbal tea.
Like most herbal teas, you can drink yerba mate hot or cold. Either version is delicious, although having the tea hot is more traditional.
The traditional approach is to serve the tea in a gourd, where the leaves are still on top. A metal straw with an inbuilt filter is used, making it easy to drink the tea without getting any leaves in your mouth.
Because the tea is so popular, the gourd cups are now easy to find online and even in local stores.  
Benefits Of Yerba Mate
A Rich Source Of Antioxidants
Antioxidants have become pretty famous. They help to protect us – reducing oxidative damage from free radicals. That process can be powerful, to the extent that our risk of some diseases can decrease.
Yerba mate has plenty of interesting plant-based compounds, including polyphenols, saponins, and xanthine. Many of these have antioxidant properties. Some help our health in other ways too.
Yerba mate might even have stronger antioxidant effects than green tea. That's impressive, as green tea is famous as an antioxidant rich drink that is exceptionally good for you.
Has The Benefits Of Coffee, Without Jitteriness
Perhaps the most exciting feature of yerba mate is that it gives you the same caffeine-based energy boost that you get from coffee, but without coffee's jitteriness. This is a pretty amazing effect, given how many of us heavily rely on coffee.
The lack of jitteriness may be because the caffeine in yerba mate is released more slowly. This gives you a gentler rise and fall of the caffeine's impacts, rather than a sudden spike and crash.
Of course, not everyone experiences this effect. Some people still get jittery or anxious from yerba mate. You may be particularly vulnerable if you're sensitive to caffeine.
There's also been little research on this topic. Most of the reports of no jitteriness are anecdotal.
Either way, you're getting the same energy boost from yerba mate that you get from coffee. For many people, this is reason enough to drink the tea regularly. 
Can Improve Mental Function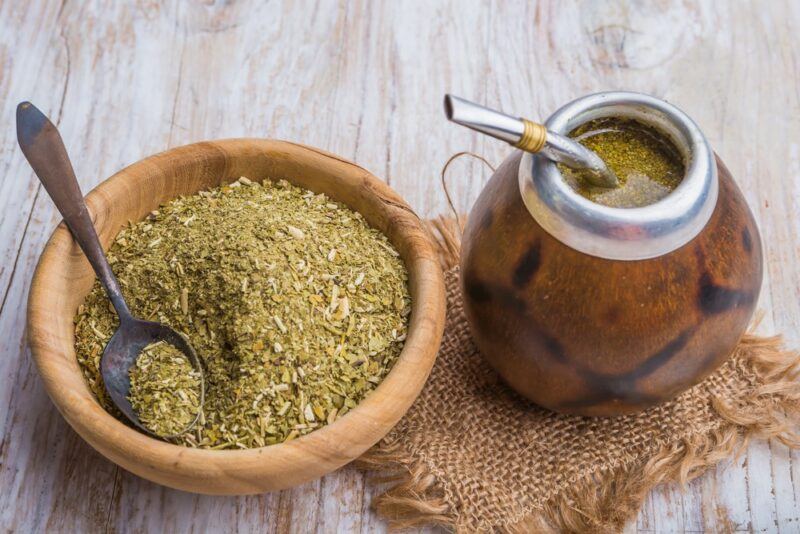 Caffeine doesn't just give you energy, it can help your brain as well. A cup of coffee or yerba mate often makes it easier to think clearly and improves your concentration.
This effect has been seen in many studies, but most of us don't need research to prove that coffee makes it easier to think clearly. Anyone drinking coffee first thing in the morning has seen this effect firsthand.
Could Promote Weight Loss
Here's another useful feature – caffeine can help with your weight. In particular, it may slightly boost your metabolism, decrease appetite, and even increase how much fat you burn.
These changes tend to be small, so you won't lose pounds a week by drinking more yerba mate. Still, minor weight loss benefits do add up, especially if you're already eating well and exercising well.
Plus, just like coffee and tea, yerba mate is a low calorie hot drink, so it's never going to add to your waistline.
May Lower Heart Disease Risk
Yerba mate may be relevant to your heart too. This effect is partly associated with the antioxidants and other plant-based compounds.
Some research even shows that yerba mate itself can decrease LDL cholesterol levels. That study focused on patients who were taking statins. However, similar effects might occur for people not using statins as well.
Could Improve Exercise Performance
Caffeine also has a role in sports, helping to provide energy and improve physical performance. Early research suggests that yerba mate itself may be helpful as well.
Few studies have focused on yerba mate specifically, so there are huge gaps in our knowledge. Still, we know that caffeine can be relevant for exercise and sport, and yerba mate contains plenty of caffeine, so it should offer some benefits.
There Could Be Other Benefits Too
The caffeine content is the main reason that yerba mate is good for you. However, it is also a herbal tea. Other herbal teas offer a host of benefits, like helping to decrease inflammation, lowering blood sugar levels, boosting your immune system, and helping with digestion.
Those benefits often come from the plant-based compounds present in the tea. Yerba mate has its own set of plant-based compounds. Some of these could offer additional health benefits beyond what we've discussed here.
Helps To Hydrate You
Tea is mostly water, making it a fantastic way to stay hydrated. Some people find that drinking tea regularly makes it much easier to hit their water target.
The caffeine content in yerba mate does make it a little less powerful. The same is true for coffee, as caffeine does dehydrate you somewhat.
Even so, drinking coffee or yerba mate isn't likely to dehydrate you. You're still going to get more water from your yerba mate than you lose from the caffeine.   
How Yerba Mate Could Be Harmful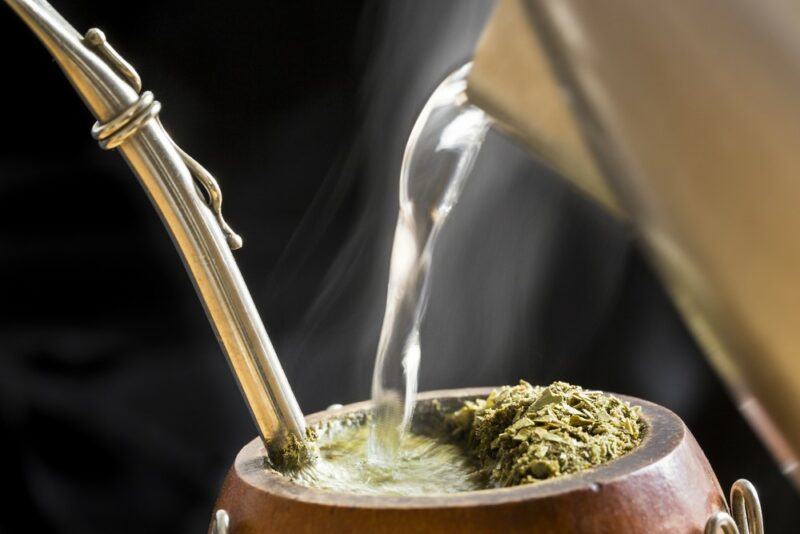 May Increase Your Risk Of Cancer
Despite all the positive features, yerba mate isn't benign at all. Studies already show that high levels of yerba mate consumption can increase your cancer risk. This is particularly true if you're using yerba mate regularly for months or years.
Part of the problem is the presence of polycyclic aromatic hydrocarbon (PAH). This compound is found in tobacco smoke and grilled meat as well. It's already been associated with many health problems, including higher cancer risk, compromises to your immune system, and neurological systems in your body.
The risks are even higher if your yerba mate is around 147°F or above. Cooling it down will give you a safer drink, but won't completely remove the risk.
Also, because PAH is found in tobacco, people who smoke tobacco may be at higher risk of cancer than other groups.
The PAH and risks that come with it put a major damper on the potential benefits of yerba mate. Most other healthy foods and drinks have much lower risks.
Can Cause Side Effects
Some people experience side effects with yerba mate, including headaches, an upset stomach, anxiety, nausea, and an irregular heartbeat. These side effects might look familiar, as they're all caffeine-related.
While yerba mate seems to release caffeine more slowly than coffee, you're still getting a decent amount of caffeine in a cup. The risk of side effects is higher if you're sensitive to caffeine or if you've already had a decent amount today.
The Caffeine Content Won't Always Be Suitable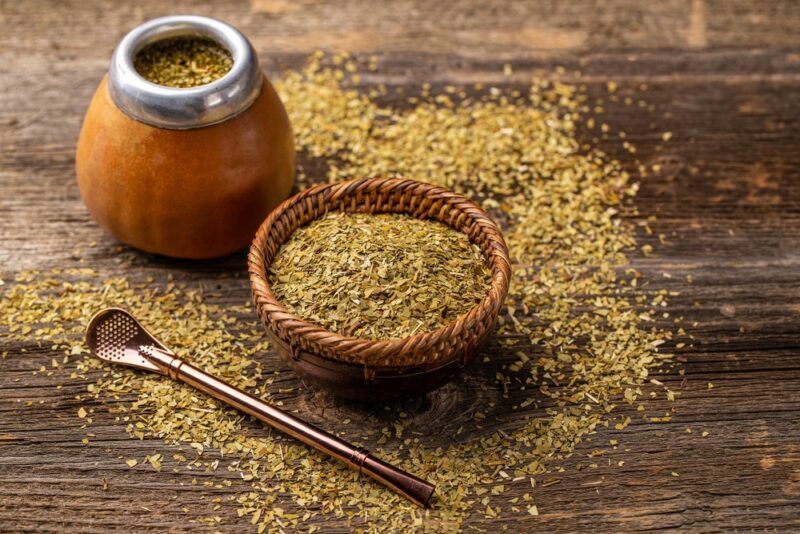 Because yerba mate contains a decent amount of caffeine, it won't be the best choice for everyone. People with irritable bowel syndrome or anxiety may experience more side effects from the caffeine in yerba mate.
Women who are pregnant or breastfeeding need to watch their caffeine intake as well. If you fall into this category, you might even need to avoid yerba mate entirely.
Could Interact With Some Medications
Yerba mate can also interfere with some medications. This is partly due to the caffeine content. So, if you've been told to limit your caffeine intake, yerba mate isn't going to be a great choice.
Some plant-based compounds in yerba mate can cause issues too. In particular, they interfere with monoamine oxidase inhibitors (MAOIs), which are used to treat Parkinson's disease and depression.
In fact, if you're taking any medication, it's worth talking to your doctor about yerba mate before drinking it regularly.
Is Yerba Mate Rich In Nutrients?
Yerba mate does contain some nutrients, such as magnesium, vitamin C, and zinc, along with seven essential amino acids (out of the nine that we need to get from our diet). These are promising features and sound like they should be amazing for health.
Yet, yerba mate isn't nutrient rich. You're only getting tiny amounts of amino acids and nutrients, not enough to have much health impact.
Remember, you're not even eating the leaves and stems of the yerba mate plant, just the liquid they've been steeped in. That liquid could never be amazing for nutrients.
How Do You Prepare Yerba Mate?
The traditional preparation for yerba mate involves using a gourd, which is also called a calabash. Preparing the tea is easy. You simply add the yerba mate leaves and twigs to the bottom third of the calabash. Then, you fill it up with water.
The leaves and twigs stay in the tea. This doesn't matter though, as you drink it through a metal straw with a filter.
Appropriate gourds and straws are easy to find online, but they're not essential. You can also use a French press and prepare the tea much like coffee.
The tea can be served as-is or you can things to it. Milk or lemon juice are common additions, along with sugar or even burnt sugar. Like any tea, you can easily tweak the recipe until you get a flavor profile that you love.
Should You Drink Yerba Mate Instead Of Tea Or Coffee?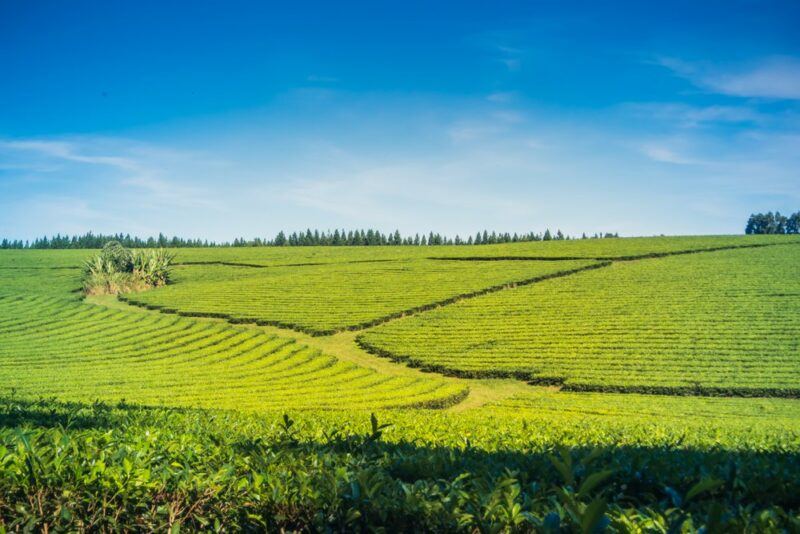 Some bloggers talk about yerba mate as an amazing alternative to coffee and tea. This makes sense too. After all, yerba mate gives you the energy of a cup of coffee, but seems to do so in a more sustained manner.
It could truly be the best of both worlds.
However, yerba mate isn't risk free. We've already highlighted some areas of concern. Plus, plenty of studies point to the long-term safety of coffee and tea. Even having those drinks multiple times per day could provide benefits.
What happens with yerba mate is much less clear. But, we already know that the PAH in yerba mate can cause numerous problems, especially when the tea is very hot.
While having yerba mate every so often mightn't be a problem, or perhaps even once a day, drinking the tea multiple times per day isn't a wise plan.
What About Other Yerba Mate Products?
The popularity of yerba mate has led to various other products cropping up, including energy drinks, yerba mate supplements, and even yerba mate kombucha.
Such products could give you some of the benefits we've been talking about here. Or, they might not.
That's the thing with refined products – they're very hit and miss. Even if they were initially based on healthy ingredients, the final version may be highly processed and contain plenty of additives.
Some may not even contain that much yerba mate to begin with.
Yerba mate products may still taste good and offer some benefits, just don't expect them to be the same as the real thing.
Final Thoughts
Yerba mate has some impressive properties. Where else can you get the benefits of herbal tea, coupled with plenty of caffeine? Plus, many people find that yerba mate's caffeine hit is smooth and doesn't have the jitteriness that you get with coffee.
There could even be more benefits, ones that we haven't found yet.
Still… the carcinogenic PAHs are very concerning. They could easily cause problems if you're drinking a lot of yerba mate or smoke tobacco as well.
This risk doesn't mean you need to cut yerba mate out entirely. It does, however, suggest that you shouldn't be drinking multiple cups per day.
Frequently Asked Questions
Is Yerba Mate An Energy Drink?
Yerba mate itself is basically an herbal tea. It functions a little like black tea and coffee because of the caffeine content, but it isn't an energy drink as such. 
That said, some companies have used yerba mate to create an energy drink. Such products often use an energy blend along with the tea, to give it a similar effect to regular energy drinks. Others mostly focus on the yerba mate and juice, so most of the energy in the drink comes from caffeine and sugar. 
What Does Yerba Mate Taste Like?
Yerba mate has an interesting flavor. There's an herby, earthy, and vegetal aspect to it, along with some bitterness. The flavor is influenced by cultivation practices too, which mean that different yerba mate products have their own flavor profiles. 
Because of the flavor profile, yerba mate is often an acquired taste. You may need to drink it regularly for a few weeks or even months before you start to enjoy it. 
Where Is Yerba Mate From?
Yerba mate comes from a holly tree species called Ilex paraguariensis. This species is found in South America, which is why yerba mate tea is traditionally consumed in South America (particularly Paraguay and Argentina).
Yerba mate is mostly cultivated within this area, often in small community farms or even in native forests.  
How Many Calories Are In Yerba Mate?
Like other teas, yerba mate is very low in calories. You get just 15 calories from an average cup of the tea. 
Is Yerba Mate Green Tea?
No. Yerba mate is actually an herbal tea. Authentic tea, including green tea, comes from the Camellia sinesis plant. Yerba mate comes from a completely different species, called Ilex paraguariensis.