We've all heard about the benefits of green tea. It's sometimes seen as the single healthiest drink out there. Matcha might be less well-known, but it's often seen as even more powerful. So, what is this product and why is matcha good for you?
To begin with, matcha is simply a type of green tea. This gives it similar benefits to regular green tea. Except… matcha is processed differently, so you get a fine powder rather than tea leaves.
That distinction is important. With green tea, you're using tea leaves to make a hot drink. With matcha, you're drinking the powder itself along with the liquid, which gives you a more concentrated dose of beneficial compounds.
Matcha is more versatile than green tea too. You can even bake with it or include it in recipes like fat bombs or smoothies.
Is Matcha Good For You?
How Matcha Is Grown And Prepared
The Benefits Of Matcha
The Health Risks Of Matcha
How Do You Use Matcha Powder?
What Does Matcha Taste Like?
How Much Matcha Should You Drink?
Which Matcha Is Best?
Storing Matcha
Final Thoughts
How Matcha Is Grown And Prepared

It's easy to think of matcha as green tea leaves that have been crushed into a powder. But, there are slight differences in how regular tea and matcha are grown.
During its growth, matcha spends part of its time in the sunlight and part in the shade. The time in the shade is crucial, as this increases chlorophyll levels, making the leaves a darker green than they'd be otherwise.
In contrast, most types of green tea are grown in the full sun instead.
Once the plant is harvested, the leaves are separated from the stems and are then ground to create a bright green powder. This powder is the matcha powder that we're familiar with.
The Benefits Of Matcha

Matcha shares many benefits with regular green tea, but might be much more powerful. Some of this effect comes from how the tea is grown in shade.
Most of it, however, is because you're consuming the entire tea leaf (rather than steeping the leaves in water and drinking the water, like you would with regular green tea). So then, let's look at what matcha has to offer.
A Powerful Source Of Antioxidants
Matcha provides more antioxidants than most drinks, including green tea. In fact, a cup of matcha can contain roughly three times the amount of antioxidants as a similar cup of green tea.
The antioxidants present are similar to those in green tea, including the famous catechin epigallocatechin-3-gallate (EGCG). EGCG is thought to be powerful and is directly relevant to your health.
EGCG is so significant that you'll sometimes find EGCG supplements, which offer a concentrated source of the compound. Still, as a general rule, choosing a whole food product like matcha or green tea is healthier than a supplement.
The EGCG and other plant-based compounds help to lower oxidative stress and decrease free radicals in your body. Such effects are crucial, as free radicals have been linked to many health problems.
Including sufficient antioxidants in your diet may help to decrease disease risk, improve your immune system, and perhaps even lengthen your life.
May Protect Your Heart
Some of the polyphenols in black and green tea can help protect your heart. This includes decreasing the risk of plaque formation, along with lowering LDL cholesterol, triglycerides, and blood pressure.
Matcha could be even more powerful than black and green tea, as it has a higher concentration of plant-based compounds.
Then there's the substitution effect. If you're drinking matcha regularly, you're probably choosing matcha instead of sugar-laden drinks that are less beneficial for your heart and overall health.
Can Improve Brain Function
Green tea can help with how your brain works, keeping you alert, improving your memory, and boosting your reaction time. The tea can help with your mood too. This is always important, as we tend to think better when we're doing well emotionally.
The effect on your brain is partly linked to the caffeine.
Does that sound surprising? Despite caffeine's negative reputation, it can be good for you, helping with your brain function, cognition, and other aspects of health. Caffeine is even one of the reasons that coffee has so many benefits.
Matcha also contains l-theanine, an amino acid that's been linked to cognitive benefits. The combination of l-theanine and caffeine is particularly powerful, improving your cognition more than either compound does on its own.
Because matcha contains less caffeine than coffee and has l-theanine as well, it affects your body differently than a cup of coffee. The energy boost tends to be less dramatic and more stable, which may help you to stay productive for longer.
Could Promote Weight Loss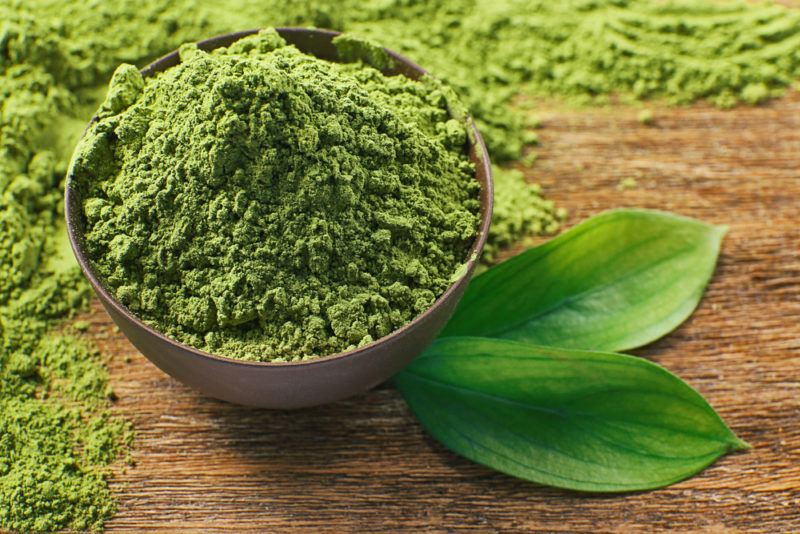 Starting a matcha habit won't make you suddenly drop pounds overnight, but the drink may have some subtle effects on weight loss.
Part of this effect comes from the compounds in green tea and matcha. For example, green tea extract can increase fat burning, due to its polyphenols and caffeine. Such increases in calorie burning are never large, but they're enough to make your weight loss journey a little easier.
Caffeine itself might help with weight loss too.
Studies in this field show mixed results and few have focused on matcha specifically – so it's unclear how matcha would affect your weight loss. Still, the powder contains the same beneficial compounds that you find in green tea, so it could easily help.
Even if it doesn't, you still end up with a low-calorie drink that's rich in antioxidants.
Can Help With Various Conditions
Matcha tea or even a matcha latte can be a helpful drink for a variety of conditions, like an enlarged prostate, acne, or even anxiety. The benefits partly come from the antioxidants in matcha.
At the same time, matcha might reduce the risk of heart disease, diabetes, and cancer, while helping to increase your lifespan. How's that for amazing?
The potential to help with weight loss is relevant here too. After all, being overweight can increase your risk for some health conditions and make others worse. Losing weight naturally helps with a wide variety of health issues. This is one more reason to drink matcha tea regularly.
Finally, there's the fact that matcha is a natural drink. It's minimally processed and contains plenty of important plant-based compounds. As such, matcha is much healthier than many other choices, like soda, Vitaminwater, Powerade, and fruit juice.
The Health Risks Of Matcha

Tea is a healthy drink and matcha is no exception. Still, there are some negative features to watch out for.
High Caffeine Content
Matcha is more concentrated than green tea, which is why it offers so many antioxidant benefits. However, the increased concentration means that there's more caffeine present too.
If you make a mug of matcha using four teaspoons of the powder, you'll end up with around 280 mg of caffeine. That's a lot. A similar sized cup of green tea only contains 35 mg of so of caffeine instead.
Many people get around this by drinking small cups of matcha tea or using fewer teaspoons of the powder. For example, you can make a matcha latte using one teaspoon of the powder with hot water and some steamed milk. This approach gives you a mellow and creamy drink, while also decreasing the caffeine content.
The Potential For Contamination
Any type of tea can be contaminated, whether this is contamination from the environment, from the soil, from pesticides, or in some other way. This isn't a big deal with most types of tea, as you're brewing the tea leaves in water and most contaminates should stay in the leaves, rather than ending up in your drink.
Matcha is a different story. This time you're consuming the tea leaves themselves, so you need to be extra careful about avoiding contamination.
One way to do this is to look for brands that regularly test their tea. The best will use some type of third-party testing and certification, so you can be confident that they're not pulling a fast one.
Be particularly careful with Chinese-grown matcha, as contamination is often a problem here. Similarly, it's best to avoid any matcha that seems underpriced. There's normally a reason when products are too cheap.
Side Effects
There are also side effects from matcha. Some of these are related to the caffeine content, particularly if you're sensitive to caffeine. Caffeine-related side effects include headaches, difficulty sleeping, heartburn, and diarrhea.
Caffeine isn't the only problem. Some of the compounds in matcha can give you side effects too, including constipation and an upset stomach. These issues occur with green tea too, but could be stronger for matcha, as matcha is more concentrated.
Finally, you might get side effects from any contamination in your tea, like lead or fluoride.
Drinking Too Much
Matcha is promoted as this amazing drink, one that will improve your health in a variety of ways. It's not surprising then that many people drink multiple cups per day, while also adding matcha powder into their recipes.
Such patterns aren't as good as they seem because matcha powder is highly concentrated. You're getting many more beneficial compounds per teaspoon than you do with green tea, which means that the concentration of potentially harmful compounds is higher too.
Plus, some of the helpful chemicals in matcha can be harmful in high doses. For example, some compounds in green tea can decrease iron absorption, particularly for plant-based sources of iron. This could lead to iron deficiency for some people, including anyone whose iron intake was on the low side to begin with.
Don't forget about the caffeine either. It's still easy to get too much caffeine from matcha, especially if you're having more than one cup in a day.
How Do You Use Matcha Powder?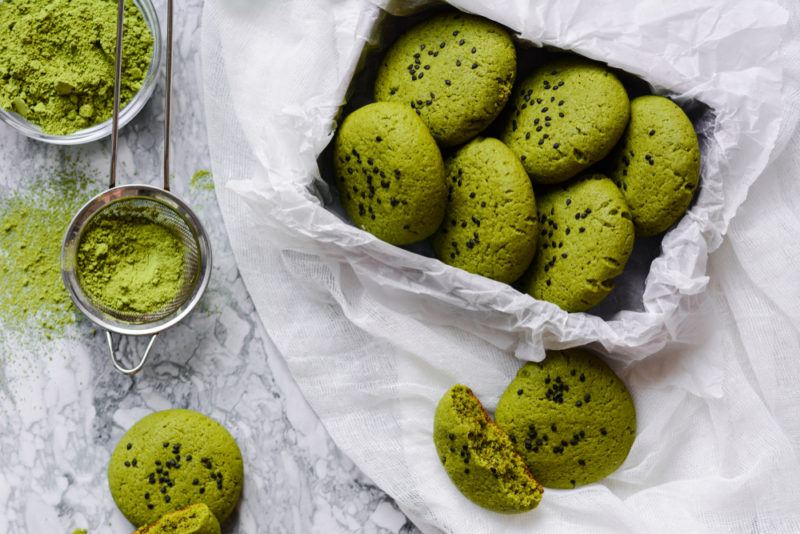 Matcha is easy to use. You simply add a few teaspoons of the powder into boiling water and whisk until you get a frothy drink. Adding some sweetener, milk, or plant-based milk can be helpful too, as matcha has a bitter and somewhat grassy flavor.
The matcha latte style that we mentioned earlier can work well too.
Matcha can be used in other ways too. Why not include it in a smoothie? This approach works well, as the other ingredients in the smoothie help to mellow the flavor of the matcha.
Plenty of recipes use matcha as an ingredient. You get a fantastic color from the green powder and a different way to access the health benefits. There are even plenty of baking recipes that use matcha powder as an ingredient.
What Does Matcha Taste Like?
Matcha is often described as tasting 'green'. That might seem like a useless description, but it will make sense once you've tried the tea. Other flavor tones may be present too, like a slight bitterness, nuttiness, or even some sweetness.
The flavor is influenced by the shade of your matcha, as darker matcha powder tends to have a stronger taste. You'll also find differences between individual products. This isn't surprising, as matcha has a complex flavor profile and there's plenty of room for variation.
For example, there's a slight bitterness and earthiness with high quality products that you don't find with lower quality ones. The balance of sweetness to bitterness can also be quite different.
How Much Matcha Should You Drink?

The amount you consume is everything in nutrition science. Most foods and drinks are healthy at certain levels and harmful if you have too much.
This topic is even more important for matcha because the tea is so concentrated. Having large amounts of matchaevery day won't give you more benefits. If anything, you'll be putting your health at risk.
In general, you're looking at around one or two cups of matcha each day, where each cup contains between 1/2 to 3/4 a teaspoon of matcha powder.
You may need to experiment here, as responses to food and drink are always individual. Some people may see benefits from higher doses of matcha, while others may need to consume even less than this.
Which Matcha Is Best?
Matcha is now produced throughout the world and the quality varies depending on who makes it, along with how the tea leaves are processed. The best products rely on traditional stone grinding techniques. This mechanical processing method creates a fine powder without impacting the nutrient content of the tea.
Some companies use more 'modern' techniques, like pulverizing the leaves with heat or crushing using a ball. Such approaches allow the company to create matcha at a lower price, but the nutrients in the matcha can be affected. The difference in processing can also give you a more bitter product than stone-ground matcha.
Japanese matcha is often the best choice, as many Japanese manufacturers have the processing facilities for stone grinding their matcha leaves.
Two regions in Japan are particularly famous. One is Uji, which is a city in the region of Kyoto. The other is Aichi, a city in the Aichi province.
You can find matcha from Taiwan and China too. Such matcha can still be healthy and delicious, but the quality might not be quite as good.
Regardless of the region, it's always good to do some research into any matcha powder that you buy. Reliable companies will be up-front about their processing methods, making it easy to find high-quality stone-ground matcha powder.
Storing Matcha
Matcha powder is vulnerable to oxidation, so it needs to be stored carefully. Failing to do so quickly gives you a stale product.
It will last the longest if kept in the fridge in an airtight container. When possible, this container should be UV-proof, as light contributes to oxidation, even in a sealed container.
If you have matcha tea that won't be opened for a while, try storing it in the freezer rather than the fridge. This helps to keep it fresh for longer.
Remember, matcha isn't like wine, it will never get better with age. Focusing on fresh matcha powder will always give you the best experience.
Final Thoughts

Matcha clearly is powerful, providing many of the same benefits as green tea. Plus, because you're consuming the tea leaves themselves, a cup of matcha contains more beneficial compounds than tea.
While the higher concentration of matcha is useful, it does mean you need to be more careful too. Drinking too much matcha each day could be harmful, especially if the product you're using is contaminated.
You'll get the most benefits by drinking one or two cups of matcha per day.
Frequently Asked Questions
Is Matcha Safe During Pregnancy?
Matcha is safe during most pregnancies as long as you don't exceed the recommended daily caffeine intake (around 200 mg). If you're highly sensitive to caffeine or are concerned about the effects, you might want to lower your caffeine intake even further.
Most women will be able to have one cup of matcha per day or perhaps two, as long as they aren't getting much caffeine elsewhere. You may even see benefits from the various plant-based chemicals.
Beyond this, there is some concern that compounds in tea could disrupt your absorption of folic acid. Evidence is limited here, but if you're worried, you could try having matcha in the morning and folic acid supplements at night. Or, just avoid matcha during the first six weeks of pregnancy, as this is when folic acid is the most important.
Is Matcha Better Than Coffee?
Coffee and matcha are both linked to a variety of health benefits. Matcha is better in some ways, as it is lower in caffeine and offers some potent plant-based compounds. You may also find that it makes you less jittery than coffee.
However, the decreased caffeine can be an issue if you're looking for an energy hit and means you'll get fewer caffeine-related benefits from green tea.
Is Matcha The Same As Green Tea?
Matcha is best considered a type of green tea, where the leaves are harvested young and ground to create a powder. This powder is a concentrated source of the antioxidants and caffeine found in green tea.
However, matcha isn't quite the same as regular green tea, as it is grown and processed differently.
What Is A Matcha Latte?
A matcha latte is simple. It is made using matcha powder, plus water and milk. Some people use regular milk, while others focus on a plant-based alternative instead.
There's normally some type of sweetener included as well, either as part of the matcha powder or separately. The amount of milk and sweetener varies, but many products are milky and very sweet.
Is Matcha Acidic?
Matcha isn't acidic. It's a little alkaline instead, with a pH of between 7 and 8. However, some people with acid reflux still get side effects from matcha, so it's important to start slow and see how your body responds.