There's a real joy to sitting yourself down with a cup of tea and just taking a step back from all of the trials and tribulations in your life. Whether it's a cup in the morning to start your day off right; a mug among friends for a chat and a catch-up; or a way of winding down after a particularly hectic day, a cup of tea is hard to beat.
And while your favorite breakfast or herbal tea is great, it can be nice to mix things up and expand your palette – but it's easier said than done, with so much selection out there. One way of doing it, though, is with a tea subscription box – a really convenient way to get fun tea packages delivered straight to your door.
Subscription boxes are recurring deliveries of something that you want – in this case, tea. They are fun, convenient and can pack a surprise. They make for great gifts as well.
Below, you'll find a list of the very best tea subscription boxes on the market. Have a browse and see if any stick out to you – if one does, why not sign up and give it a go and enjoy some delicious teas!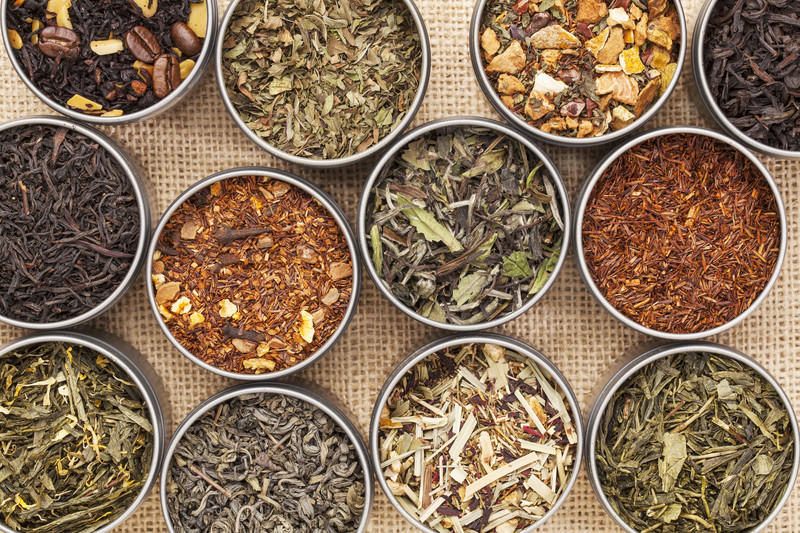 Delicious Tea Subscription Boxes
Loose Leaf And Mixed Tea Subscriptions
Simple Loose Leaf Tea
Simplicity Teas
Intelligentsia
Suki Tea
Amoda
The Tea Spot
Plum Deluxe
Savoy Tea Tasters Club
Blend Bee
Adagio Teas
The Tea Table
Imperial Tea Court
Silver Tips
Tea Bag and K-Cup Clubs
Tea Of The Month Club
The Republic Of Tea
Angelinos Coffee
Tea Clubs That Help You Explore
Tea Runners
Field to Cup
Sips By Box
Dollar Tea Club
Verdant Tea
Art Of Tea
Tea Sparrow
The Whistling Kettle
Unusual Tea Clubs
My Japan Box
Tea Box Express
Chai Kit
Alakaban
Bookishly's Tea and Book Club
Teabox
Coffee And A Classic
JalamTeas
Global Tea Hut
Just Add Honey Tea Company
Afternoon Tea In A Box
Loose Leaf And Mixed Tea Subscriptions
Simple Loose Leaf Tea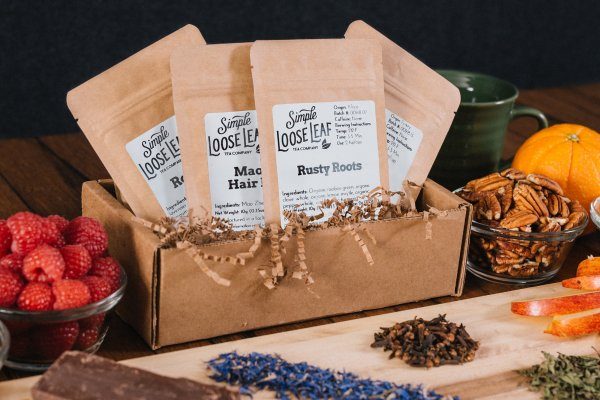 Simple Loose Leaf Tea is a subscription box that does exactly what it says it will do, at a really great price. Each month, the team behind the box select unique teas that explore different varieties of loose leaf tea.
In addition to the tea itself, you'll also be treated to some goodies that will make your experience all the better!
There are 4 really great boxes to choose from: There is the Sampler Tea Box, which is great for someone who wants to test the waters with all of the options available. It includes 4 hand-selected boxes, which include a black tea, a green tea, a herbal tea and a seasonal tea.
If you want to experience a more specified tea, that is possible with the other box options. The Herbal/Decaf Tea Box includes 4 caffeine-free seasonal teas; the Black Tea Box includes 2 black teas and 2 "earthy" teas; and finally, the Green Tea Box includes 2 green teas and 2 "bright" teas.
Whatever you opt for, each of these boxes cost just $9.00 per month!
If you're interested, join the service before the last day of the month at 6 PM CST to ensure you get the next shipment, worldwide!
Simplicity Teas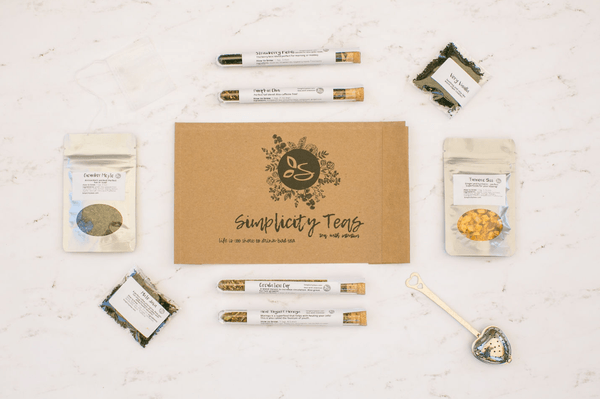 Life is too short to drink bad tea! So say Simplicity Teas, and it's hard to argue with that claim. An easy antidote to that problem is by signing up to their affordable, convenient and fun service, that will see premium loose leaf tea left straight to your post box.
If you're just getting into tea, don't worry – your first box comes with a unique tea infuser, meaning you won't have to source one from elsewhere and can get down to enjoying your delicious teas straight away!
For the ambitious tea lover, this box provides 3-4 new teas per shipment, meaning you'll get to test out a lot of new flavors. There are lots of options available, and every one of them is organic!
These boxes are thoughtfully created, and provide plenty of unique flavor profiles, blends and new discoveries. If you'd be interested, there are 2 options available: The Tea Teaser – which costs $14.99 and contains 4 specialized vials or bags.
The other option is the Teas Lover – which contains a whole bunch of tea! All of which, as mentioned, is hand-picked and organic. It costs $20.00 per month and can make from 40-60 teas per shipment, so you will be doing well to run out before the next box comes!
The boxes ship on the 15th-25th of each month, and there is 2-day shipping available, so you'll have the current box with you not long after ordering and can start to enjoy your tea. Simple!
Intelligentsia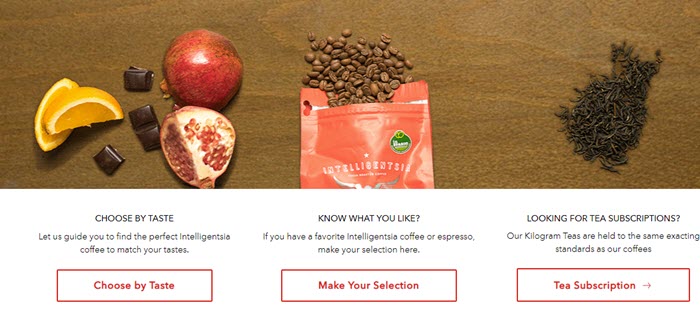 Coffee companies are often great choices for tea too, as they already have the processes in place. Intelligentsia is an example of this pattern. Their Tea Subscriptions start off with the ability to choose your teas.
If you know what you like, you can just select from a list of artisan teas. There are various styles to choose from, including options like green tea, oolong tea, tea bags and even chai tea concentrate. If you're less certain, you can choose by taste. When you do this, you're given a list of teas that match your particular flavor preferences.
Once you've chosen your tea,you're able to select the quantity, frequency of delivery and delivery day. The biggest limitation is that there is no surprise. You can change the tea that you receive whenever you like, but you will always get your selection. This provides less potential for experimentation.
Suki Tea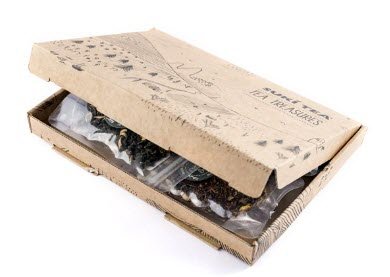 The company Suki Tea is based in the UK and offers many different types of tea, which are categorized so they're easy to find. The tea subscription is designed to be simple and it contains 4 different types of loose leaf tea each month. Tasting notes are included as well.
While you have no control over the types of tea that you receive, Suki Tea aims for variety. The subscription is a great way to try out new teas that you wouldn't have considered previously. At £9.95 for a single month's subscription, the club is an inexpensive choice.
There are also some advantages fora longer-term membership. A 6-month subscription will provide you with a tea infuser, while a 12-month subscription comes with the company's famous teapot. The main limitation is that Suki Tea only delivers within the UK.
Amoda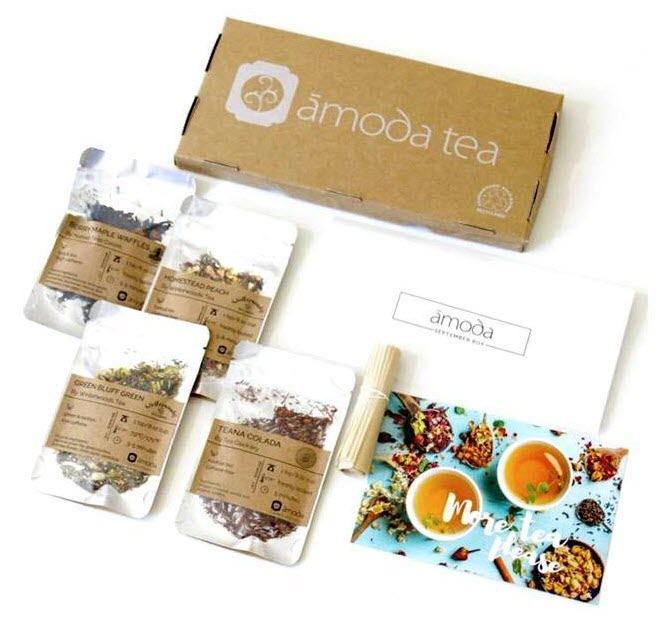 Amoda offers 2 tea subscription boxes. The first contains a selection of flavored and unique pure teas, while the second focuses on low caffeine and caffeine-free teas. Both versions cost $20 and come with 3 to 5 cups each of 4 different premium teas. You also get a tea postcard, tasting notes, steeping guidelines and biodegradable tea filters.
In short, the boxes give you 4 new types of tea to try and everything you need to make the most out of them. What's not to love? You can even add on extra tea filters or a Perfect Cup of Tea Spoon for an extra $5, if you want to.
The Tea Spot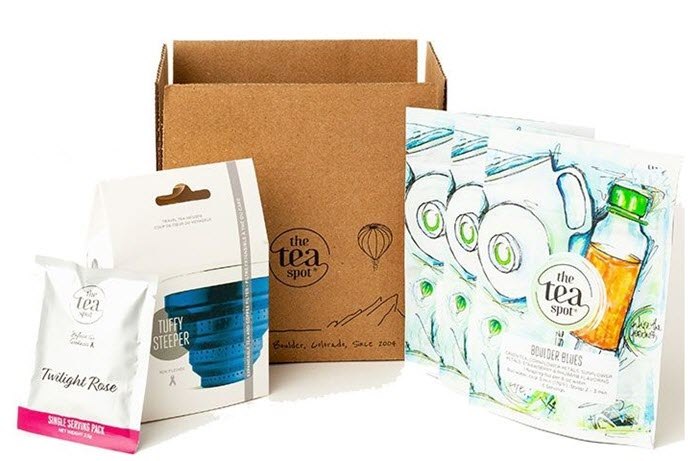 The Tea Spot could be the ideal choice for anyone who is particular about the type of tea that they enjoy. The company has 4 quarterly subscription boxes for you to choose from. The first simply offers organic tea. The others are more specific, providing herbal tea, green tea or black tea, depending on which you choose.
The emphasis is on high-quality loose leaf tea. The teas that you receive are seasonal. This means that they should change based on the weather. You're likely to find iced teas in the summer and more warming teas in the winter. Your initial shipment comes with an infuser basket, making the teas easy to enjoy. The quarterly clubs cost either$38.95 or $44.95 for each quarter.
There is also a Tea Spot Subscription Box. This costs $14.95 and is a monthly box. It comes with 4 types of tea, along with details about each of the teas. A steeper is also included in the first box. You might also get various bonus products that can make your tea drinking experience even better.
Plum Deluxe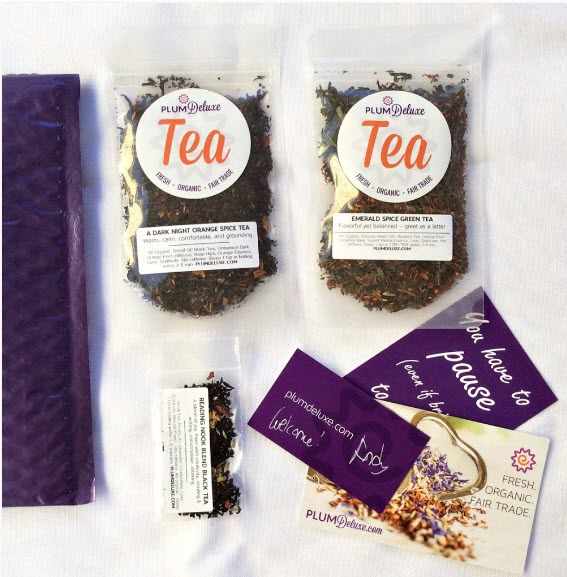 Plum Deluxe has a strong focus on amazing tea, including seasonal blends and some unusual combinations of flavors. Their tea club offers the chance to enjoy these teas on a regular basis, while also trying out some new flavors.
The basic version of their club costs $10 per month and is charged every quarter. It contains 1 ounce of a premium tea from the company, along with a sample of a second type of tea. You could also consider the Two Teas Per Month version. This one costs $16 per month (charged quarterly). As you can probably guess, the subscription contains 1 ounce each of 2 types of tea. You also get a sample of a third tea.
The final version is a smaller-than-normal club, offering just half an ounce of tea for around $7.50 per month. This doesn't give you a large amount of tea to try but is great for people who don't drink much at a time. The signup process also allows you to choose whether you want teas with or without caffeine.
Savoy Tea Tasters Club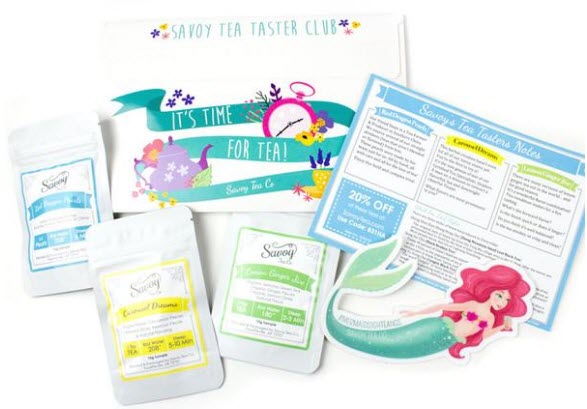 The Savoy Tea Tasters Club from Savoy Tea Company is a fun way to expand your palate. The basic version of the club is paid month-to-month and costs $12.95 each time. For this price, you receive a monthly box that contains 3 types of tea (roughly 10 grams for each tea). Each box also contains some notes about the tea and a sticker.
You don't get any control over the types of tea that you receive – making this club best for people who enjoy a variety of different teas. There are also 6-month and 12-month versions of the club. The only difference is that you're paying for the subscription up-front, rather than month-to-month. Savoy calls these gift subscriptions, but you could also purchase one for yourself.
Blend Bee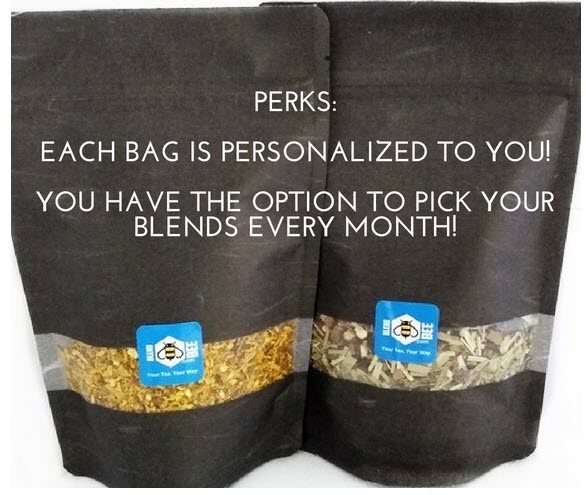 Many tea clubs aim to surprise you with their monthly selection. That's not the case for Blend Bee. Instead, members get 2 blends each month and are able to choose what these are each month. This includes choosing whether the teas contain caffeine or not. There are 2 different variations of the program, depending on how much tea you want.
The first version is Tea Addict. This costs $25 per month and provides a pair of 3-ounce bags of tea. The other option is Tea Sampler. This one costs $20 each month and contains half as much tea (a pair of 1.5-ounce bags). Because the price difference is so small, the Tea Addict subscription will normally be the best choice.
Adagio Teas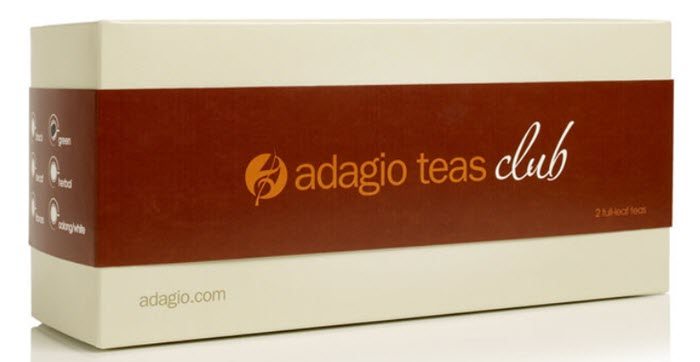 If you love loose tea, Adagio Teas could have the perfect club for you. There are multiple varieties to choose from, including flavored, herbal, white/oolong, black, decaf and green tea. Each membership option can be chosen for 6 months ($59 – $69) or 12 months ($99 – $119) at a time.
The membership does appear to be popular, getting a rating of 95 across 330 reviews. However, Adagio Teas provides relatively little information about what you are receiving. The company simply says that the subscription provides 'regular shipments of fresh loose teas', with enough tea for 75 cups. There is no indication about how many types of teas you receive.
Another interesting thing is the style of membership. Most clubs send out new selections of tea each month. Adagio Teas groups the shipments so that you receive 2 months of tea in each box. You still get the same amount of tea as you would otherwise, the only difference is the timing.
The Tea Table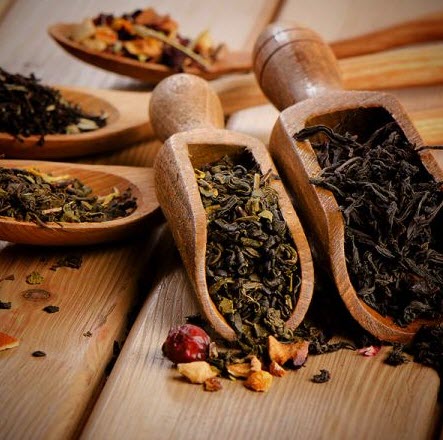 The Tea Table is another company that is dedicated to amazing teas. They offer many different products to choose from, including Tea of the Month Clubs and Tea Samplers. The basic club provides roughly 4 ounces of loose leaf tea each month, which comes in foil packaging. There are various styles to consider, like The Flavored Black and Blends Tea Plan, the Green Tea Plan and The Herbal Tea Plan.
Their Adventure Plan is a little different. It contains 2 to 3 ounces of tea, with an emphasis on rare and unusual black, oolong, white and green teas. The club is perfect for people who want interesting teas that cannot normally be found in a local store.
The clubs cannot be paid for month-to-month. Instead, you need to buy a 4-, 6- or 12-month subscription. Keep an eye on the website for The Tea Table as the subscriptions are sometimes on sale. Sales are always the best times to try out something new.
Imperial Tea Court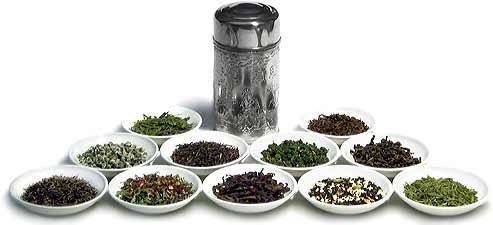 If you want some idea of the tea you're going to get each month, the Imperial Tea Court could work well. While the individual teas change, the company uses a similar schedule each year. For example, you will receive a yellow tea selection in January and a herbal green tea blend in April. The specific teas are chosen based on what is popular at the time.
Each shipment of tea contains between 2 and 4 ounces of tea, along with a tea card that has details about the selections. There is also a free gift in the first shipment to make it even more exciting. Unfortunately, the style does mean that you only get a single type of tea each month.
There are 3 different versions of the subscription to consider. The Four Seasons Tea Club has a seasonal focus, delivering tea to you in January, May, August and November, for a total of $121. The Six Month Tea Club delivers tea to you every second month for a year, resulting in 6 shipments. This one costs $176. The final club is A Year of Tea. This one costs $291 for the whole year and provides you with a new tea selection every month.
Silver Tips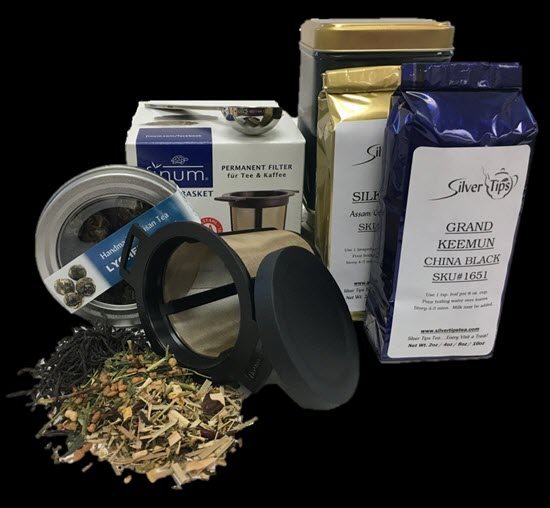 Silver Tips tea follows an interesting Tea of the Month Club style, providing multiple plans for you to choose from. Most of the plans provide 3 ounces of tea each month. The box always includes something extra too, like a treat, recipe or some tips on the tea at hand. You also get a gift in your first month. This includes everything you need to steep and store your tea.
There are 7 total plans for you to choose from –Sequential (a mix), Varietal (black teas), Essential (green, oolong and white teas), Tranquil (decaf and non-caffeinated), Fruitful (flavored teas), Natural (organic teas only) and Masterful (high-end teas). The Masterful is more expensive than the other selections and only provides you with 1 ounce of tea each month, rather than 3.
You can't join this club on a month-to-month basis. Instead, you need to sign up for a 3-month (from $49 to $73), 6-month (from $73 to $117) or 12-month (from $122 to $198) plan. The prices vary depending on the plan at hand.
Tea Bag and K-Cup Clubs
Tea Of The Month Club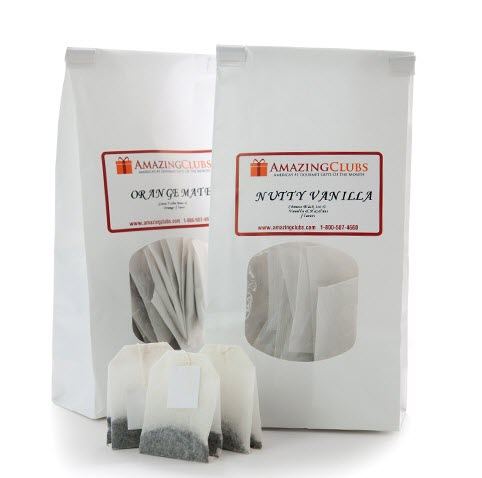 This tea subscription comes from Amazing Clubs. While that site doesn't specialize in tea at all, they are very experienced in providing subscriptions. With their Tea of the Month Club, you're receiving 2 new varieties of tea, with 20 tea bags for each. You can see previous selections on the site, although only the flavors are listed – Amazing Clubs offers no details about the tea producers.
The club also provides a ' They'll Love It!' guarantee. This should mean that there will be good customer service and that the company will go to lengths to ensure that you're happy. Positive reviews for the club do suggest that this is the case.
The Republic Of Tea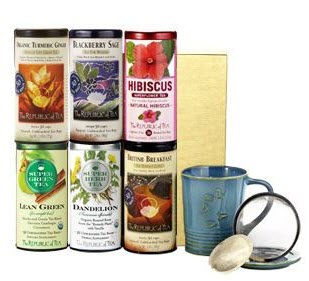 The Tea of the Month Club from The Republic of Tea could be the ideal choice for anyone who is selective about the tea that they drink. There are 6 different subscriptions to choose from: Citizens Favorites, Black Tea, Green Tea, Wellness Tea, Caffeine-Free Decaf Tea and Full-Leaf Experience.
As you can see, each of the subscriptions focuses on a different type of tea and some are broader than others. For example, the Citizens' Favorites and Full-Leaf Experience clubs will both have more variation than the Black Tea club.
Regardless of the type, the clubs can all be joined for 6 months or 12 months. There is no month-to-month option. Another unusual thing is the type of tea. The only loose leaf club is the Full-Leaf Experience. All of the rest provide tea bags instead.
Angelinos Coffee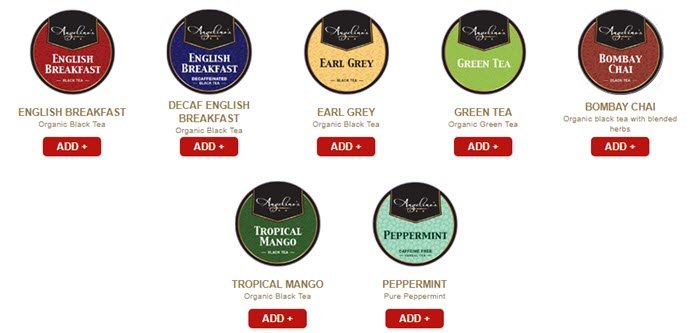 Angelinos is a K-cup company. It aims to provide high-quality and inexpensive coffee that has been roasted in small batches. Their subscription program allows you to choose a sample pack or to have boxes of coffee shipped out to you each month.
The program is included in this list because you can select tea as an option too. The teas also follow the K-Cup style. The selection is relatively small, focusing on some of the most common black tea styles, including Earl Gray, English Breakfast and Chai. There are also a few flavored teas and a green tea.
The style isn't extremely powerful, especially as you'll get a better beverage from tea leaves than from a K-cup brew. Even so, K-cups have their place. They provide a fast and easy cup of tea. This program is also a good way to try out K-Cup tea. You could even just stick with the sampler initially to find out which teas you enjoy the most.
Tea Clubs That Help You Explore
Tea Runners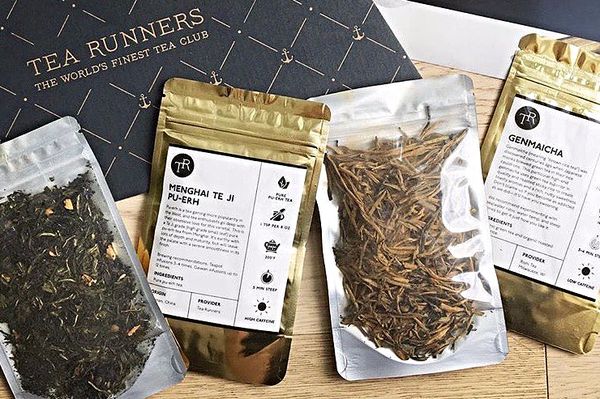 If you're in the market for only the best tea, then Tea Runners could be the box for you – a premium tea subscription box service.
It brands itself as the World's Finest Tea Club and it has a good claim to the title thanks to its exquisite quality box.
The teas contained within the box are sourced from small batch producers, meaning you're getting something special each month.
Each box contains 4 of the world's best loose leaf teas, with plenty of options to choose from. In addition to the tea, there's also tasting notes for your guidance and specific brewing instructions to get the most out of your drink.
There are 4 boxes to choose from: The All Black Box, the Herbal Tea Box, the Pure Tea Box, and Tea Runners Original Box (a combo selection).
Whatever box you go for, it will cost just $25.00, with the exception of the Pure Tea Box, which costs $30.00.
Unlike many other boxes, if you order your box at any time, it will ship two days later, meaning you can grab a box for any given month even as that month approaches its close. All boxes are available in monthly, bi-monthly and tri-monthly options so you can tailor how much tea you receive.
Field To Cup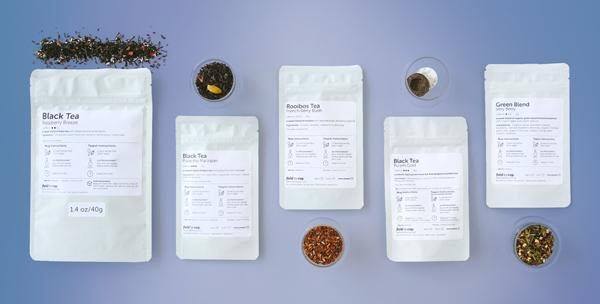 Field to Cup recognizes that tea can be confusing. There are so many types out there, along with plenty of individual flavors and styles. To help with this, the company offers 3 distinct clubs, which all offer loose leaf tea.
The first of these is Adventurer. It focuses on people who enjoy unblended teas that are fairly orthodox. With this club, you receive 2 seasonal teas each month.
The next is Discoverer. This provides you with extra of the tea type that you love, along with 4 additional teas. It's perfect for the person who wants to experiment. Finally, there is the Explorer. It provides 4 different types of tea for you to explore.
There are multiple versions of each club, such as ones focusing on black teas and others that focus on low caffeine. The site has images of each club type. The images mean that you know exactly what you're paying for. Of course, the teas that are included will vary from month-to-month.
Sips By Box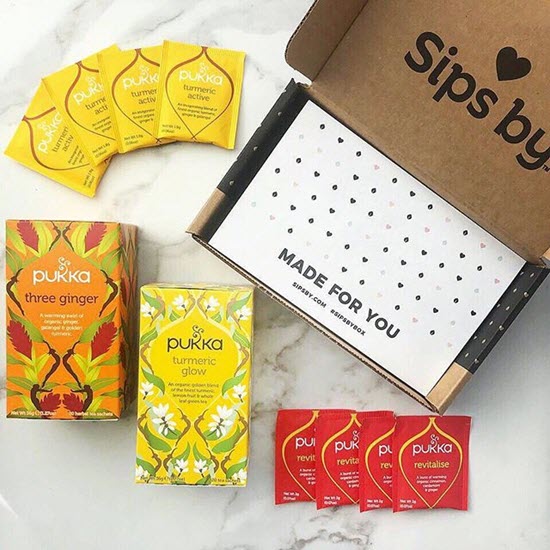 This personalized tea club helps ensure that you get exactly what you're looking for.
At the most basic level, the Sips By Box offers 4 different types of tea, enough to make 15 or more cups. The box costs $15 each month, so it's an inexpensive choice. There are some extra items in the box too, including tea filters for loose leaf teas and offers from tea brands.
Annoyingly, the first step with the company is to sign up using Facebook or your email address. Once you have done so, you're able to take a tea quiz. The quiz is comprehensive, focusing on areas like caffeine, tea flavor, loose or bagged, types of tea and brewing style.
The information is then used to match you to the type of tea you receive. It's a fun style, but you don't get to see the outcomes of your quiz. You'll need to order a box to find out whether Sips By matches your preferences well.
Dollar Tea Club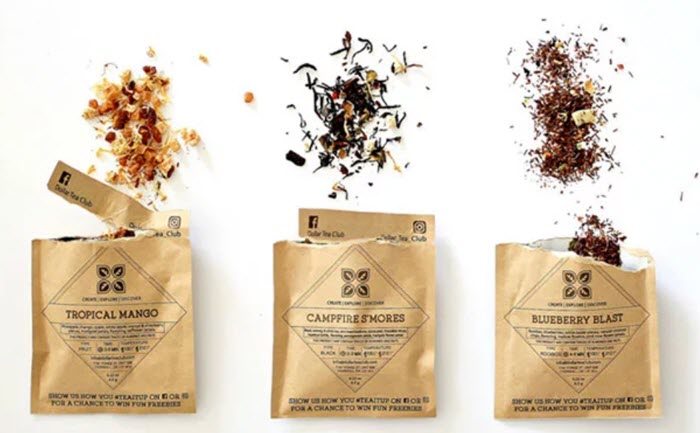 The Dollar Tea Club really lives up to its name. Their basic tea club (The Explorer) literally does cost $1 per month. The club provides you with 3 new tea blends each month, including blends like Campfire S'mores and Blueberry Blast. The samples are small, providing enough tea for 2 to 3 cups each. Still, that's more than enough to experiment with and you can always purchase the blends you like separately.
Another option from this company is their The Sensei. This one comes with a 50 gram tea pouch, the monthly samples (like in the previous club), 10 tea filters, 3 honey sticks and a free infuser on your first order. This costs $12.70 per month and can be upgraded to contain more tea.
A final option is The Sommelier. This tea club provides you with more control. You get to choose how much tea you receive based on the amount that you drink. The club still comes with the small samples and tea filters.
Verdant Tea


Verdant Tea takes advantage of the tea produced by small family farms. The company also focuses on sustainable farming. This includes an emphasis on biodiversity and economic sustainability. The individual farms even use traditional techniques when working with their fields to ensure the best possible outcomes.
Their Tea of the Month Club is a little unusual. Each month's box is hosted by a partner farmer, who picks out their most interesting teas. These can include experimental or limited batches, which are not sold anywhere else. The box is billed on the 15th of each month and is normally shipped out within a week.
This club has more variation than most others. You can receive anywhere from 3 to 10 different teas, depending on the individual farmer and what they choose. Regardless of the number of teas,you'll always get 75 grams (or more) of tea each month.
Art Of Tea


The Art of Tea doesn't leave you powerless with your tea subscription. Instead, there are 6 options to choose from: Classic, Single Origin, Explore, Wellness, Caffeine Free and Pyramid Tea Bags. The selection works well. Some of the clubs are perfect if you want to play it safe, while others offer more experimentation.
The clubs all cost $54 for a 3-month subscription, $107 for a 6-month subscription or $198 for a 12-month subscription. There is no month-to-month option, but that doesn't matter too much. If you're going to join any subscription club, it's best to stick around for at least a few months. Doing so allows you to get a feel of what the club offers. A single box doesn't tell you much, especially as some months will be better than others.
Tea Sparrow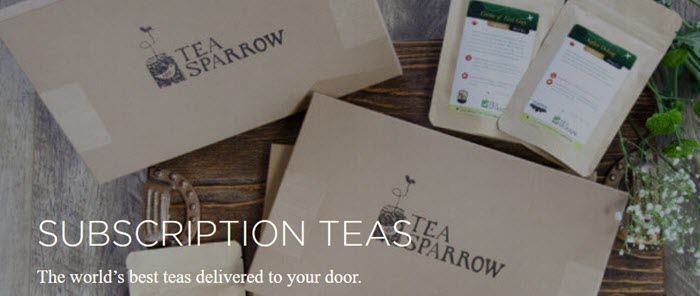 Tea Sparrow is particularly good if you want a tea club that isn't too complex. The club simply costs $20 per month. You can pre-pay for 3 or 6 months, but the price is similar either way.
With this club, you receive 4 pouches of tea each month. The teas are considered sample sized, although TeaSparrow isn't specific about how much tea you actually receive. Samples like this give you the chance to try multiple types of tea each month. You can then order more of any tea that you particularly like by looking up the blender information on Tea Sparrow's website.
An interesting feature is the in-house selection process. Tea Sparrow uses 2 teams to ensure that the tea is high-quality and tastes good. Teas are only included in the box if they score at least 8.5 out of 10 by all of the team members that test the tea.
The Whistling Kettle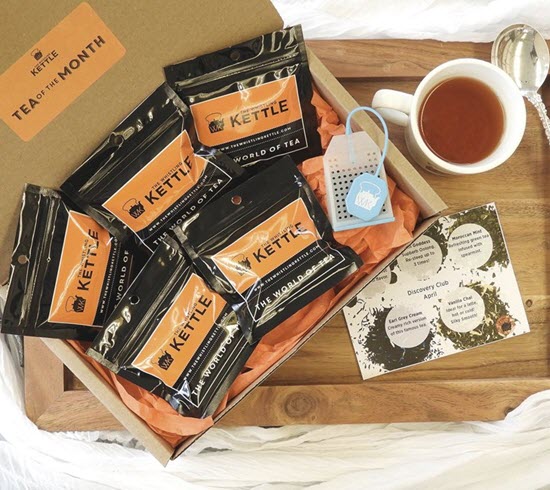 Some tea clubs provide you with just 1 or 2 types of tea. That style works well in some situations, but it's no good if you want to experiment and explore. The Whistling Kettle does something different, providing you with 5 different selections of loose leaf tea.
You also get a postcard that provides you with details about the various types of tea. The advantages don't stop there. You get a silicone infuser with your box too, which makes it easy to steep your leaf tea. The main limitation is that The Whistling Kettle isn't clear about the types of teas that you can expect or how these are chosen.
Unusual Tea Clubs
My Japan Box

As the name suggests, My Japan Box focuses on Japanese-based products. You'll often find it included in lists of snacks and international treats. In practice, the company has many different subscriptions, including a Japanese Tea Box. This starts at $29 per month. It can be ordered month-to-month or on a 3, 6 or 12 month prepaid membership.
The monthly box provides you with Japanese tea that you wouldn't normally find outside of Japan. The site has images of some of the tea that you can expect. This box is a particularly good choice if you want tea that you cannot buy locally.
Tea Box Express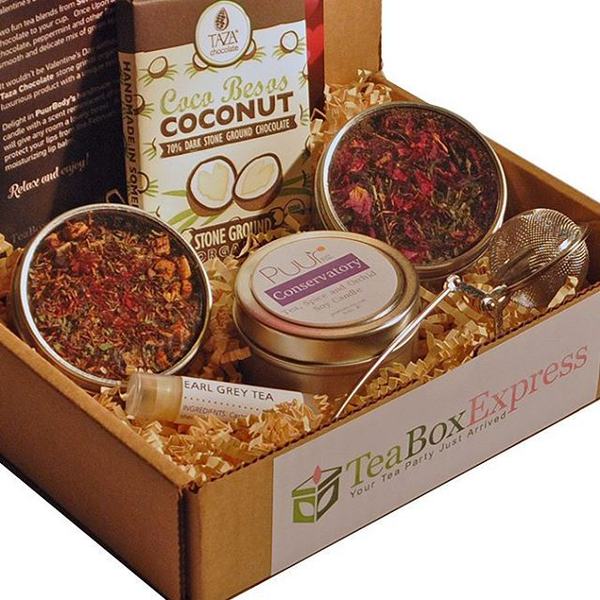 If you're adventurous when it comes to tea, then you're in for a treat with the Tea Box Express! This box is filled with delicious treats for the outgoing tea lover.
The box includes quality whole leaf tea – in either looseleaf or pyramid bag form, depending on your preference. There's also a bunch of great accessories, which can include things such as infusers, cookies, measuring spoons and chocolates, which combine to make for a more enjoyable tea-drinking experience.
If you're an ambitious tea-drinker and would like to subscribe to the box, you can do so for the price of $25.50 per month.
Unfortunately for those outside of the United States, the Tea Box Express only ships within the US. If you do find yourself in the US, be sure to get your order in before the 15th of the month, as this is when the box generally ships out.
Chai Kit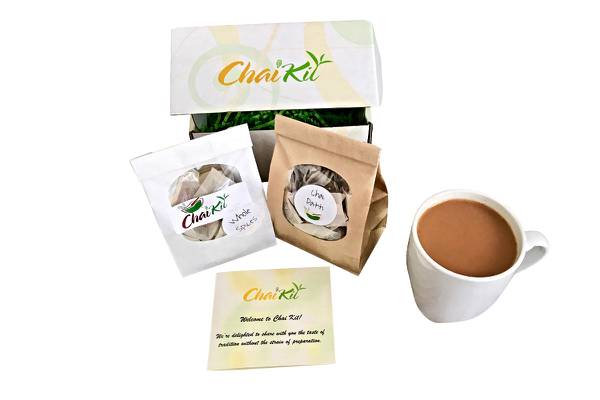 If you are in the market specifically for Chai tea, then Chai Kit more than has you covered.
The box provides whole spices and premium Assam tea, which is measured and packed into two individual bags so that you can make a cup of strainer-free and delicious Indian masala tea.
Each month, your Chai Kit will have enough teas for 20 cups. The standard blend of spices is made of cardamom, fennel seeds, cloves and cinnamon stick.
The tea is also sugar-free, meaning your preferred sweetener can be used to enhance your experience, just like you want it (brewing directions are provided, so you'll also be able to get the best possible cup by following those).
A shipment of Chai Kit costs $14.99. Whether you want to get your tea on a monthly, bi-monthly or tri-monthly basis, Chai Kit has you sorted– and it costs the same per month regardless of your option, so it's all down to your frequency requirements.
Alakaban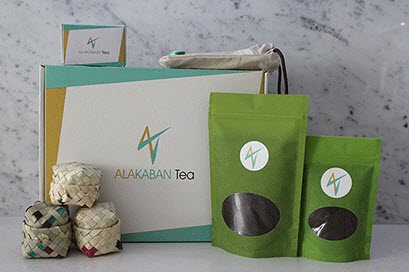 The online store for Alakaban is relatively small, offering a limited selection of new teas and spices. They make up for this with their tea subscription plans. There are 3 of these plans to choose from, each with different features and advantages.
Their basic subscription is the Taste-Tea Plan. It starts at $19.99 per month. In an unusual twist, some of the longer-term subscriptions end up costing more per month than the shorter ones. Regardless, the box comes with a single type of tea (70 grams). You also get some surprise items and 2 spices that pair well with the tea.
The next subscription up is the Thirst-Tea Plan. This one costs $29.99 per month. It offers 150 grams of 1 tea, 3 spices and some surprises each month. Your final option is the Novelty-Tea Plan. This is the most comprehensive club, costing $39.99 per month. This type, you get 2 types of tea (150 grams of each), along with 3 spices and some surprises.
While the company doesn't provide details about the surprises, you can expect items like handmade tools, cloths trainers and wooden spoons. The great thing is that you'll never know what to expect each month.
Bookishly's Tea and Book Club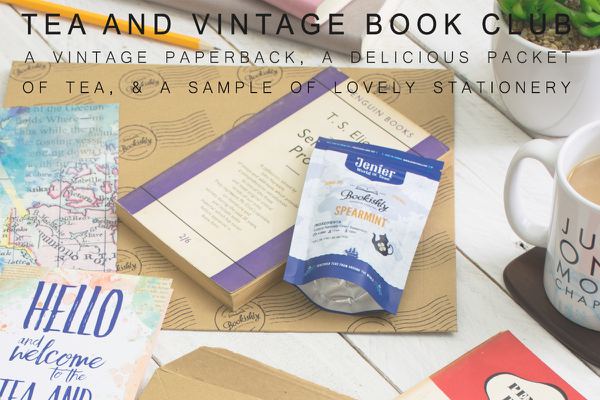 A little different than the other boxes on this list, this option's unique feature is given away in the name – not only are you getting delicious tea, you're also getting some reading materials as well!
Bookishly's Tea and Book Club provides subscribers with luxury tea, an old paperback and some Bookishly stationery – great for relaxing, reading and taking notes.
There are 3 great options available – there's the Tea and Vintage Book Club, which includes a surprise vintage paperback, four luxury tea pyramids and some nice stationery. This option costs £13.00.
The next option is the Classic of the Month Club, which includes a Wordsworth Classic Edition paperback and some delicious tea, for £16.00 per month.
The final option doesn't actually include tea – it's coffee instead! The Coffee and Vintage Book Club is the same as the tea option, but with a packet of delicious ground coffee instead. This one costs £10.00.
Bookishly's boxes ships from the UK but can also be sent worldwide for the low price of £3, so don't let this put you off if you'rebased outside of Britain. The box ships between the 20th-27thof any given month, so try and get your order in before then to take advantage of the newest upcoming box!
Teabox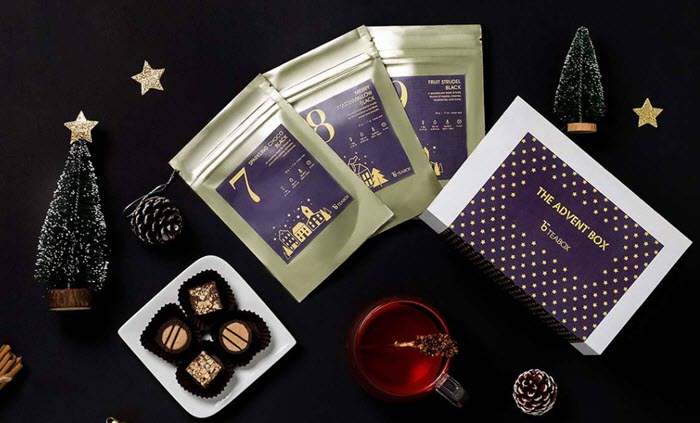 Teabox aims to get you the freshest tea possible, by keeping the supply chain short and working directly with the people who grow tea. Rather than have your tea change hands over endless months, shipping between distributors, sometimes across the glob, they work directly with growers to get you an amazing product quickly.
Their subscription approach is unusual, as each box has its own theme. For example, November of 2018 was called The Pause Box and contained 5 types of breakfast teas (roughly 1 ounce each). With rare exceptions (like December), the boxes always contain 5 teas of roughly the same size. Some freebies may be included too. Teabox highlights postcards, plant seeds and bookmarks as possible extras.
You pay $29.95 per box if you'refollowing the month-to-month version. There is also a 3-month plan, which gives you a 5% discount.
Coffee And A Classic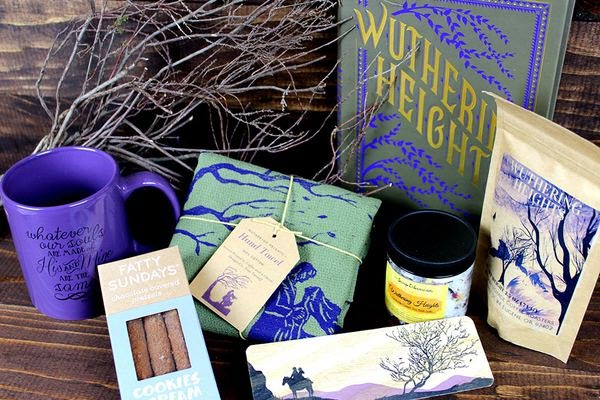 Coffee and a Classic follows a similar idea to the Bookishly club. With it, you're getting a book to read, along with a hot drink. Some other treats are included too. The book is a classic and the items are often themed around the book. For example, the Dracula book box included blood orange tea and parmesan garlic popcorn.
There are 2 box versions to choose from. The first is the Starter Classic Subscription. This costs $28.99 per month. It comes with the book, a hot drink, 2 book-related items and a bookmark. The Standard Classic Subscription costs $39.99 per month and is more comprehensive. It includes a snack and a mug, along with the items from the previous box.
The main limitation is that you have no options about the type of tea that you're going to get. The site simply gives you the ability to choose tea, coffee, hot chocolate or 'surprise me'.
JalamTeas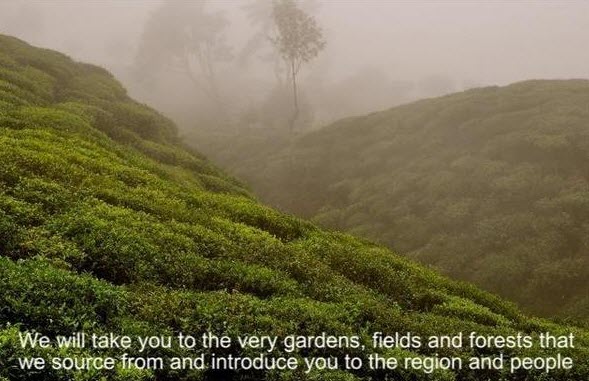 The tea club from JalamTeas offers hand-sourced green tea cakes that come from villages in China's Yunnan province. The focus isn't just on the tea, but also on the story behind it. This includes details about the people who are involved in making the tea, along with any potential health benefits.
Club membership costs $19 and you'll be paying month-to-month. You can join this club from anywhere in the world, as long as you pay the $8 USD per month shipping and handling fee. Customers in the United States pay $5 USD as a shipping fee, while Canadian customers pay $3 CAD for shipping.
Global Tea Hut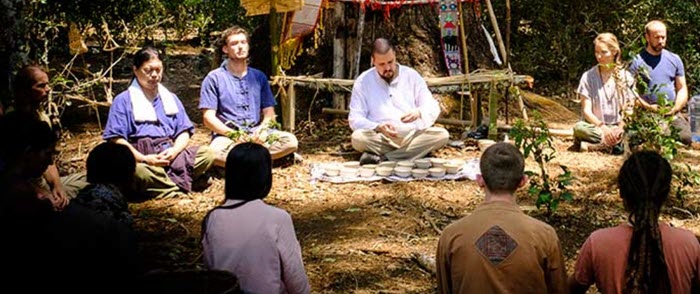 The subscription from Global Tea Hut works well if you want something a little different. The organization has a strong focus on education about tea, along with promoting sustainable tea production. They develop an add-free magazine. It includes a wide variety of information, such as articles on tea history, ancient text translations and pieces from tea experts.
With Global Tea Hut, you receive an envelope every month. It contains the magazine, along with the Tea of the Month. The chosen tea is the same for all people who are part of the membership.
Signing up for Global Tea Hut is a little unusual too. The site doesn't have a specific cost for membership. Instead, you choose how much you want to contribute to their program, starting at $20 per month.
Just Add Honey Tea Company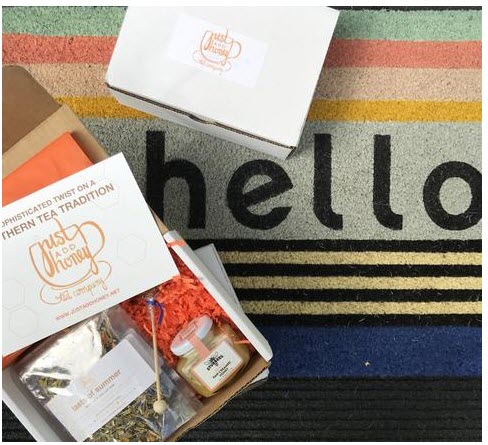 Why stick with just tea, when you can get some fantastic honey as well? That's what the Just Add Honey Tea Company proposes. There are 3 different subscriptions to choose from. The first is their Tea Box (for $19.95 per month). This contains 3 bags (1 ounce each) that are blended with global flavors. None of these are sold on the company's website, so you'll need to order the subscription to experience them.
There is also a Honey Box (for $12.95 per month), which contains a jar of small batch honey from beekeepers in the United States (for $29.50 per month). The other option is their Tea and Honey Box. This is a combination of the previous types, containing 3 bags of honey and a jar of honey. Each of the subscriptions also includes a treat.
You can also check out the tea blends on the Just Add Honey Tea Company site to get a sense of what you can expect. Their offerings change regularly and there are always some interesting styles to try.
Afternoon Tea In A Box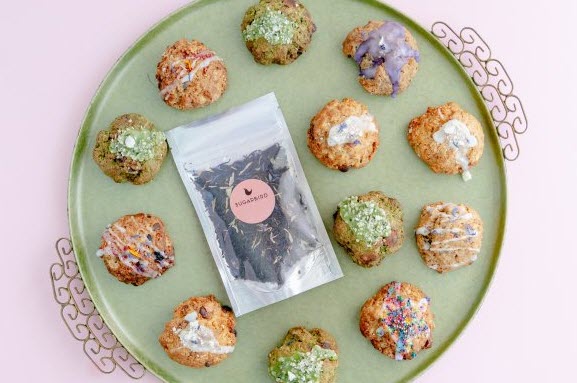 This Afternoon Tea in a Box doesn't just provide you with tea. You also get a sweet treat to go with it. Possible treats include scones, shortbread and cookies.
You're able to choose from black tea, green tea and herbal tea. There are options for the baking too, including wheat free, vegan, regular and vegan wheat free. The box costs $35 per month, which is reasonable for the amount of treats you get with the tea.
The selection comes from Sugarbird and includes their own blended teas. While there are no details about the specific blends that you can expect, the baking alone makes this subscription worth trying out.
There you have it – the very best tea subscription boxes on the market. The above list feature slots of variety, in aspects such as teas, shipping frequency and special gifts, and each one will no doubt have aspects that appeal to you.
One thing common throughout them all though is the fantastic convenience of getting the box delivered straight to you, so if there's one that stands out to you, why not sign up, give it a try, and enjoy some fantastically delicious teas!