Socks are one of the most overlooked garments, but they're also fun, which makes sock of the month clubs the perfect gift (especially for anyone who is hard to buy for). And, did you know that socks have a long history?
The oldest pairs of socks ever excavated came from a region in Egypt and date back to 250-420 AD. They were red with a split down the middle of the toe area of the sock so that they could be comfortably worn with sandals.
Adding to the uniqueness of these socks is the size, as these were very long and narrow in the foot. They went up to the ankle and had a tie at the top to keep them securely in place. The socks were made from wool using a single needle knitting technique.
Beyond these ancient Eqyptian socks, other socks were made from animal hair or leather. Some started with just covering the ankles but later evolved to include the whole foot.
The purpose of wearing socks is to help absorb sweat, since our feet perspire the most of any other area of our body. Also, socks help regulate the temperature of our feet, keeping them warm in the winter and cool in the summer.
Though many wear socks as a purely functional article of clothing, many see socks as a way to show their individuality. Most socks we see come in practical colors to blend and not stand out, but sock of the month club socks promote vibrancy and do anything but blend.
There is an amazing number of sock of the month clubs available, though they all strive to be unique, they do all have one thing in common, and that's offering fun socks that make people smile.
So whether you are a sock enthusiast who loves to add a burst of color to their wardrobe through their footwear, or if you know someone who could use a laugh then a sock of the month club is the best way to make that happen.

Sock of the Month Clubs
Sock it to Me

Sock it to Me, founded by Carrie Atkinson in Oregon, first started in 2004 with a stand at the local outdoor market. And, over the last sixteen years, Sock it to Me has expanded its customer base from the local market to more than 4,000 wholesale customers and an online store. Plus, Sock it to Me offers more than 400 unique sock designs, along with underwear, masks, and pins.
Sock it to Me is a community-conscious company that looks for ways to give back to their neighborhood. For example, for every mask ordered, they will donate one to the local meals on wheels volunteers to keep people safe and fed. Also, they give socks to the Providence Medical Group, which distributes them through their ten locations.
Sock it to Me isn't just a sock company; they are a company that focuses on "smile-inducing socks." They have a multitude of fun designs, such as:
Imaginary creatures – Unicorns, dragons, aliens,
Animals – cats, dogs, sloths, chickens, and more
Food – Burgers, beer, avocados
State park inspired designs
Books with owls, cats, and rainbows
Plants and flowers
These fun and creative socks are the perfect gifts for anyone who needs a smile, even yourself. The Sock it to Me sock subscription is also easy and convenient to sign up for:
You simply need to choose whether you want men's or women's socks, along with the duration of your subscription. The duration options are:
1 month for $22/month
3 months for $20/month
6 months for $19.67/month
12 months for $18.33/month
Each subscription includes two unique pairs of socks. Plus, the socks included in the sock subscription are ones that haven't even made it the stores yet. All of the sock subscription boxes are pre-pay and do not auto-renew, so you never have to worry about a surprise charge on your bill.
Spiffy Socks

Spiffy Socks uses a bamboo microfiber blend, creating a super soft sock that is durable and thermoregulating. Also, these bamboo socks possess antibacterial properties, so you will never have to worry about offensive odors wafting from your feet.
They are shock and wrinkle-proof too, which means that you won't need to iron them or be concerned about getting a static shock. Finally, these lightweight socks do a fantastic job of wicking moisture from your feet, with the hollow bamboo fibers.
Though Spiffy Socks are designed for comfort, they also come in a variety of fun patterns, such as bananas, cupcakes, lightning bolts, eggs and bacon, and jelly beans.
Spiffy socks sell their socks separately for $20 a pair, but if you choose to sign up for a subscription you automatically receive a discount. There are four subscription options:
Month-to-month for $11
3 months for $31
6 months for $61
12 months for $119
You can choose between men's or women's socks then just sit back and wait for the first pair of socks to be delivered. Each subscription includes one pair of socks each month and is shipped out on the 22nd of each month.
Sock Club

Sock Club, founded by Noah and Dane in 2012, is located in Austin, Texas. It was the goal of the founders to share their love of socks with the world. Today, the Sock Club, ships their socks all around the planet.
The Sock Club makes their socks from cotton grown in the USA. The socks are manufactured in factories located in the southeastern region of the US, keeping production close to Austin.
Wwhat makes the Sock Club stand out from other clubs is that they offer custom socks that you get to design, including socks with photos of a face (you just need to provide the picture). Plus, the Sock Club offers multi-packs and individual pairs of socks in addition to their subscriptions.
Their sock subscription is by far the best way to get a variety of socks. There are four subscription options, below are the prices:
Pay-as-you-go for $12/month
3 months for $36
6 months for $72
12 months for $132
You can choose between adult men's, adult women's, kid male, and kid female options. There are also sizes to choose from, which include youth, small, medium, and large.
Shipping is included in the subscription price.
John's Crazy Socks

John's Crazy Socks, was founded by a father and son, yet was inspired by John Lee Cronin. John Lee Cronin is a young man with Down Syndrome who has a great love of crazy socks, which is only equal for his love of making people smile. So, combining John's two great passions, John's Crazy Socks was born.
The goals of John's Crazy Socks go far beyond socks and smiles. Another of the company's goals is to show the world the endless possibilities when you give someone with intellectual disabilities a chance. The company also aims to help support the Special Olympics, which is an organization that has had a positive impact on John's life.
Though many of sock designs are fun and silly like the flying pigs, wine-inspired socks, and the vibrant candy socks, they also offer a variety of socks promoting social awareness. For example, they have Autism awareness, Down Syndrome, suicide awareness, Alzheimer's, and breast cancer themed socks.
In addition to socks, they also offer face masks, scarfs, stocking hats, and shirts. However, if you are looking for something extra special, sign up for John's sock of the month club, it is $12.99 per month. Each month you will receive:
A pair of socks chosen by John himself
A personalized thank you note from John
A candy surprise
Discount card
Plus, when you sign up for a sock subscription, 5% goes to the Special Olympics. You can choose men's, women's, or kid's size socks and a subscription length of 3, 6 ,9, or 12 months. If you opt to pre-pay, you will receive an additional discount.
Say it with a Sock

Say it with a Sock, founded in 2015, is located out of Los Angeles. Say it with a Sock opened just before Valentine's Day, making it the perfect gift for the special person in your life.
What makes Say it with a Sock unique is that they offer both pattern or graphic style sock subscriptions. And if you can't choose, you can sign up for their combo sock club.
All of their socks have a reinforced heel and toe, so you know when you order from Say it with a Sock, you are getting a high-quality product. Plus, all of their socks have a 200 needle count to ensure the softness and comfort of each pair, plus they are made from a combed cotton blend of 70% combed cotton, 25% polyester, and 5% spandex.
You can choose from month-to-month for $12.99/month, a 6-month subscription for $72, or a 12-month subscription for $144.
Size options include X-Large, Large, Medium, Kid's Large, and Kid's Medium.
Plus, Say it with a Sock has free shipping, free exchanges, and if you don't like the socks you received, they will send out a replacement for free with your next shipment.
Socksmith

Socksmith, founded by Ellen and Eric Gil, first started with a store named the Sockshop and Shoe Company in 1988, in a small 450-square foot store. However, since then, the humble store has grown to be a cornerstone shop in downtown Santa Cruz.
After running the Sockshop and Shoe Company successfully for years, the two opted to start another business, the Socksmith Design. Their new company focuses on fun graphic design socks made from high-quality materials. With the help of their friend, Cassandra Aaron, the three set out to bring socks designed with love to people everywhere.
Socksmith's goal is to provide excellent customer service, uncompromising quality, and socks that are never boring. The sock of the month subscription is available in three choices: Men's, women's, or men's and women's.
Subscriptions come in four choices:
Pay-as-you-go for $12/month
3 months for $36
6 months for $72
12 months for $144
Each month the recipient will receive two pairs of socks. Some of the fun designs you may see in your subscription box include cat in a box, sharks, otters, octopus, and wild flowers.
Foot Cardigan

Foot Cardigan recognized by BuzzFeed, Good Morning America, Forbes, and many more, is based out of Dallas, Texas. When you choose to order a sock subscription from the Foot Cardigan you will have a few choices to make:
Men's or Women's
Type:

Crew – Playful illustrations
Premium – Minimal patterns

Plan:

Month-to-month for $12/month
3 months for $33
6 months for $66
12 months for $132
Plus when you sign up you will receive fun perks such as a 20% discount on non-subscription items, priority shopping, and free shipping of purchases of $10 or more.
Their standard socks are made from 75% combed cotton, 22% polyester, and 3% elastane, while their premium socks are made from 80% modal, 17% polyester, and 3% elastane.
Once your order has been placed, Foot Cardigan will ship out your socks right away. And Foot Cardigan will also ship internationally, though there is a shipping fee.
Sock Fancy

Sock Fancy, founded by lifelong friends Stefan Lewinger and Futhum Tewolde, Sock Fancy opened in 2013. It was Futhum who initially loved fun sock designs, but hated the poor quality and high prices. After lamenting over his sock dilemma one day, the two were inspired to create a company that offered "comfortable, durable, and awesomely-designed socks."
Within weeks of coming up with their idea, Sock Fancy was launched, with Futhum placing the first order. The two roommates shared an apartment in Atlanta, which was temporarily converted into their warehouse and business office.
Seven years later, Sock Fancy has graduated from a ping pong table in an apartment to a 5,000 square foot warehouse in the Cabbagetown neighborhood of Atlanta. They have sold over 500,000 pairs of socks all over the world.
Their sock subscription clubs are very flexible and include options like:
Men's or women's
Two or three pairs
Style: Crew, no show, or a mix
Boldness: Less Bold to More Bold on a spectrum, or surprise me
Duration: Month-to-month, 3 months, 6 months, 12 months, or seasonal
Plus, when you sign up they offer free shipping anywhere in the world, free exchanges if you don't like that month's choice, no contract cancel or pause the membership as needed.
Ozone Socks

Ozone Socks, founded by Laurie Mallet, was not Mallet's first fashion venture. Mallet grew up in a fashion-forward family. Her mother predicted Paris fashion trends, and her step-father was a well-known artist. It was a foregone conclusion Mallet would also be a leader in the fashion industry.
After graduating from Institut D'etudes Politiques in Paris, Mallet moved to New York, where she started a fashion company that became an empire by the 1980s, known as Williwear. And later in 2000, she founded Ozone Socks, which focuses on designing fun socks and tights. Mallet's socks are available for sale all over the world, including world-famous museums.
Ozone sock of the month club comes in two choices: 6 months for $75 or 12 months for $150.
Next, you can choose between men's or women's socks. Men's socks come in crew style only, while women's socks include a combination of crew socks, knee-highs, and over the knee styles.
After signing up, you will receive one new pair of fun socks each month. Plus, you get a free pair of socks just for signing up.
Soxy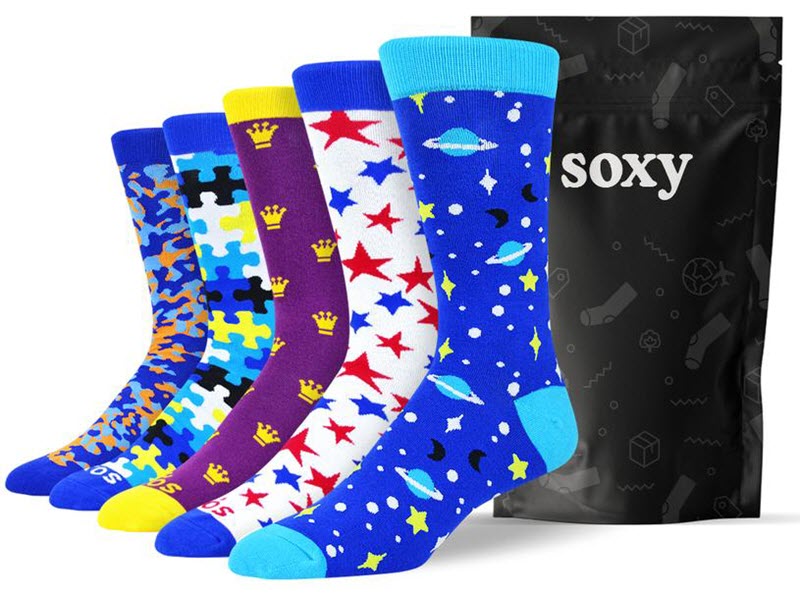 This company was developed by Albert and Boris Vaisman in 2014, with the goal of providing bold socks that highlight people's personalities. Soxy has now delivered more than a million socks and continues to go strong.
Soxy offers cotton socks that are reinforced at the heel and toe for extra durability. They're made from combed cotton. This choice helps to keep the price low.
Soxy's sock of the month ships out five pairs of socks every month. These are always different and the company guarantees that you'll never get the same pair twice.
You're able to choose whether you want men's socks or women's socks, along with whether you want socks every month, every two months, or every three months. You can also skip shipments, change frequency, or easily cancel, giving you full control over your club membership.
Plus, every fifth box is free, giving you even more value for your money.
Of course, with five socks per month, this club is more expensive than most. You're paying $50/month for a month-to-month subscription.
Sock Panda

Sock Panda launched in 2011, focusing on the idea that socks can be fashionable and fun. Their socks often include colorful patterns or wild designs. They're made from a combination of Peruvian cotton and stretch yarns.
You can choose from their categories of Wild & Crazy and Patterns & Prints, or get one of each type each month.
If you want one pair of socks per month, then the club costs $13 when billed month-to-month. The same is true if you sign up for three months. The price drops to $12/month if you sign up for six months and $11/month if you sign up for a year.
For two pairs of socks per month, the club costs $20 month-to-month. The three month prepay costs $20/month too, while the six month membership costs $19/month and the yearly one costs $17/month.
There is also a tween sock subscription that costs between $14 and $16 per month and a child's subscription that ranges from $12.66 to $16 per month.