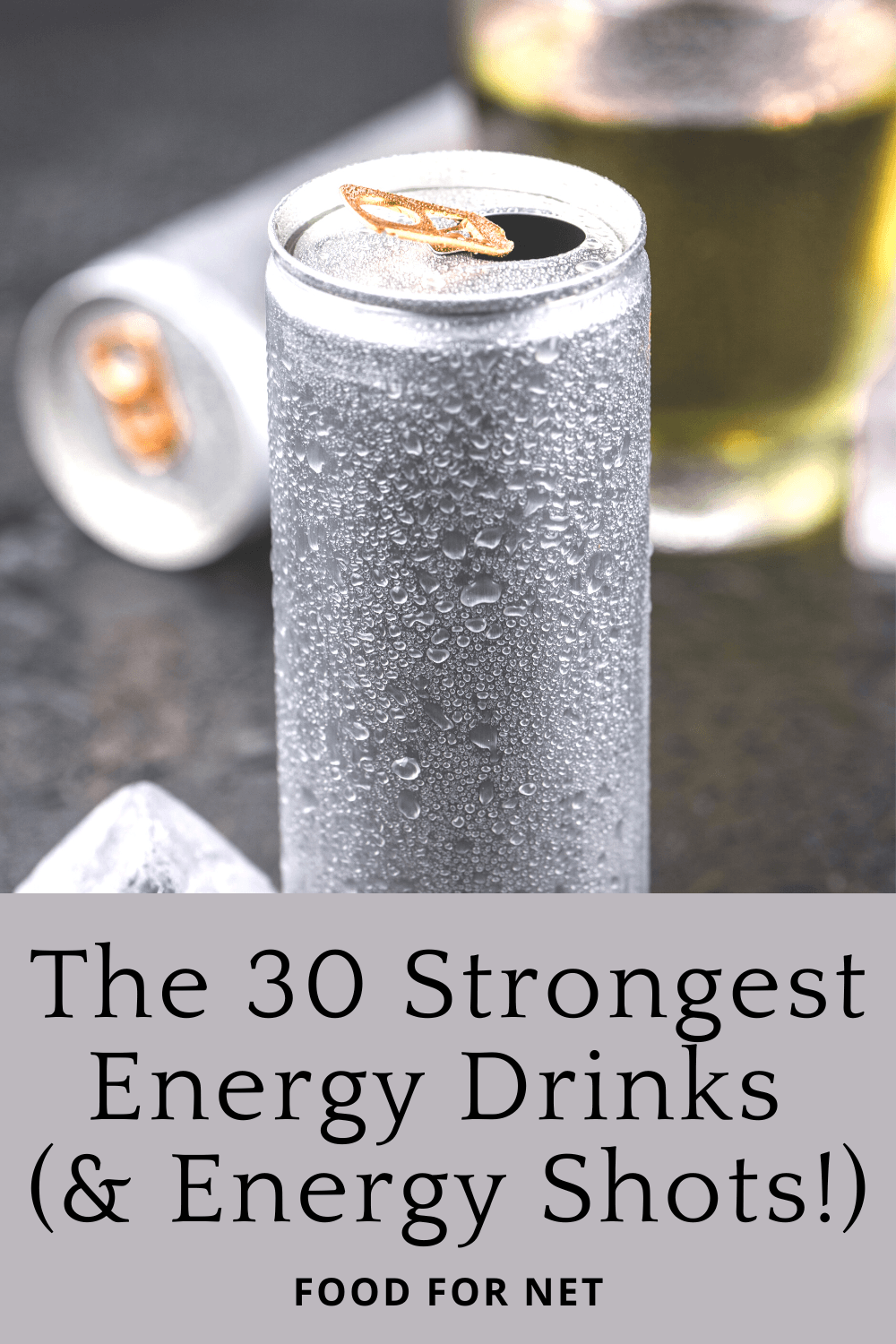 Energy drinks are designed to give you a kickstart. They can be more powerful than coffee because they contain other stimulants, like sugar, taurine, and guarana. But, while energy drinks can be useful, they're also confusing. There are so many different types to choose from and plenty of variation between them. How do you find the strongest energy drinks?
One trick is to look at the caffeine content. Caffeine isn't the only reason that energy drinks give you such a kick (there are even some caffeine free energy drinks), but the caffeine is a large part of the equation.
However, other things can kick up the energy boost you get. Sugar, of course, will give you an instant hit of energy. Natural supplements like taurine also take things to another level. For bodybuilders, additions like beta-alanine can really shoot you into another plane of reality.
Also, when considering the "strength" of energy drinks, you also have to think about the size. A 16oz can may take longer to consume than an 8oz can, so if both have 100mg caffeine, which one is stronger? If one is sugar free and one isn't, which one is stronger? What about energy shots?
In this post, we're ranking energy drinks based on their caffeine content, but we'll talk about some of these other factors. Most of the details come from Caffeine Informer and from the companies themselves. To keep things consistent, we're focusing the most common serving sizes for each of the drinks (of course, there are multiple strengths, sizes, and formulations for some of these brands).
With all drinks considered, the highest level of caffeine you're going to get in a mass-produced, easy-to-find brand is going to be about 300mg. There are plenty that are higher, but they are often small brands that are not widely available. In the 300mg range, and not talking about specialized drinks for bodybuilders, you probably won't be surprised by the top ranked energy drinks.
However, there are many others which are gaining popularity like:
Adrenaline Shoc
Reign
Celsius Heat
C4
Bang
Since most of these top out at 300mg of caffeine, it really comes down to flavor preference. Personally, I prefer Monster Lemonade + Tea and Rockstar PureZero Fruit Punch, but those have lower caffeine levels (160mg/240mg). You might also lean towards non carbonated energy drinks, rather than the classic bubbly versions.
Now, energy drinks are controversial. There's no denying that. They can be dangerous too if you have an underlying health condition or drink too much. After all, you're putting a lot of caffeine in your system, not to mention other stimulants. There's also plenty of debate about coffee versus energy drinks, including how they compare and which style is better.
Heavily relying on energy drinks can put far too much caffeine in your system, which isn't good for your health or your heart. The high sugar content and other ingredients can be a problem too. Some people have even died from energy drinks.
But, most of the problems with energy drinks come from the amount that you're drinking and the speed you drink it. Don't shotgun it, and don't have more than 1-2 per day, and you should be fine. Healthy adults can still have energy drinks regularly, as long as they don't overdo it.
Warnings aside, here are the strongest options on the market.
Strongest Energy Drinks For A Caffeine Boost (With Pictures!)
Hyde Xtreme RTD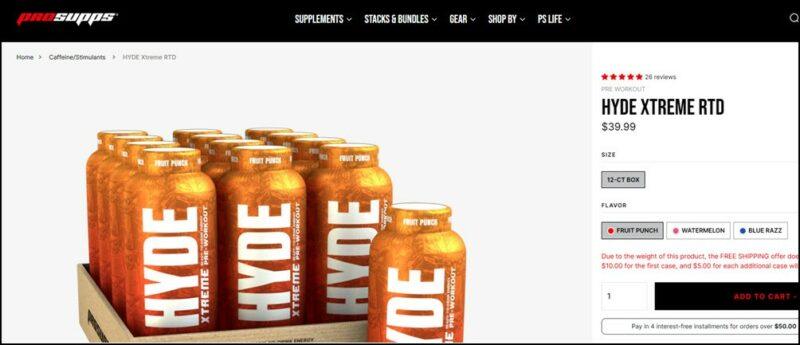 12 ounce serving: 400 mg caffeine (33.3 mg caffeine per fluid ounce)
When we first wrote this list, it was topped by Hyde Power Potion, which offered 350 mg of caffeine per serving. That product seems to be discontinued, but we now have Hyde Extreme RTD instead.
Hyde Extreme RTD is certainly more extreme, containing a whopping 400 mg of caffeine in a 12 ounce serving. There are some unusual ingredients included too, such as beta-alanine, l-citrulline malate, theanine, and yohimbe bark extract.
While some of the ingredients aren't often seen in energy drinks, they make sense for Hyde Xtreme RTD, as the company strongly focuses on athletes. The drinks are actually designed to be used as a pre-workout drink to give you a burst of energy.
Still… 400 mg of caffeine in a 12 ounce serving is seriously intense. In fact, the daily safe caffeine intake for adults is often thought to be somewhere between 300 mg to 400 mg of caffeine (assuming that you're healthy). You're actually hitting that maximum level with a single can of Hyde Extreme RTD. Honestly, the caffeine content is a bit concerning and might put your health at risk – especially if you get some caffeine from other sources too.
If you want to give this drink a try, there are three flavors to choose from – Fruit Punch, Watermelon, and Blue Razz. These all contain 40 calories per serving and rely on sucralose for sweetness.
Breinfuel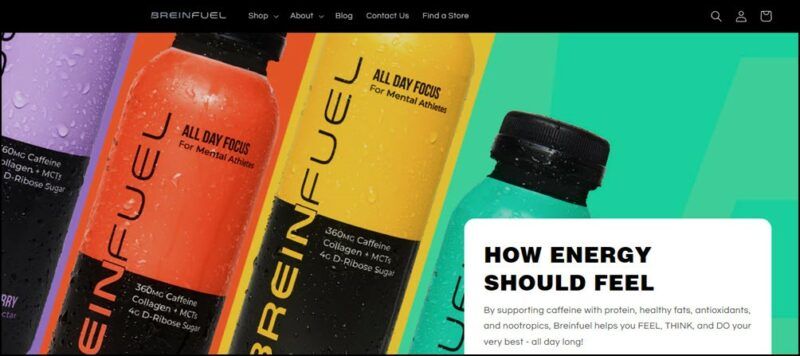 12 ounce serving: 360 mg caffeine (30 mg caffeine per fluid ounce)
Breinfuel is surprising. Not only are the drinks incredibly high in caffeine, but they're also much less processed and artificial than normal. There are even some healthy ingredients, including vitamins and antioxidants.
Collagen, MCTs, creatine, and even probiotics can be found in the energy drinks too, making them truly unusual. The company also avoids artificial sweeteners. Most of the sweetness comes from erythritol and stevia instead, although there are also three grams of sugar in each drink.
There are four flavors to choose from – Citrus, Fruit Punch, Mixed Berry, and Peach Mango. Reviews are surprisingly mixed. Some people enjoy the flavor, while others say that it is one of the worst drinks they've had. Still, there are more positive reviews than negative ones, which is encouraging.
Spike Energy Drink
16 ounce serving: 350 mg caffeine (21.9 mg caffeine per fluid ounce)
Spike Energy Drink comes from Biotest. It's not all that well-known, partly because it is marketed to bodybuilders, rather than to a general audience.
Along with the caffeine, Spike Energy Drink contains beta-alanine and N-acetyl-L-tyrosine as stimulants. These are both amino acids that could play a role in building muscle. If you aren't familiar with beta alanine, it gives you an itchy tingly feeling which can be uncomfortable, but also really freakin' motivating to push weights, so it's great for heavy lifting at the gym. As a general energy drink for when you're tired? Maybe not so much.
There's another product from the same brand too – called Spike Shooter. This one contains 300 mg of caffeine. While the caffeine content is lower, Spike Shooter is a much smaller drink, with a serving size of 12 fluid ounces. This makes it a slightly more concentrated product (you end up with roughly 25 mg of caffeine per fluid ounce).
Wired X344
16 ounce serving: 344 mg caffeine (21.5 mg caffeine per fluid ounce)
It's easy to see where Wired X344 gets its name from, as each 16 ounce can contains 344 mg of caffeine, regardless of the flavor. Other potential stimulants include sugar, guarana, taurine, inositol, and white tea extract.
The amount of sugar and caffeine, along with the other stimulants, makes Wired X344 more potent than most. It's important to pay attention when you're shopping though, as some Wired drinks are lower in caffeine than others. For example, the green Wired B12 rush contains only 95 mg of caffeine per serving.
While most versions of Wired X344 contain sugar, there is one sugar free version too. This relies on a combination of sucralose and acesulfame potassium for sweetness.
Scorpion


16 ounce serving: 320 mg caffeine (20 mg caffeine per fluid ounce)
With 320 mg of caffeine per can, Scorpion energy drinks are certainly impressive. They also contain BCAAs and creatine, and are even marketed as a pre workout drink. There are some interesting flavors too, like Spicy Mexican Mango. This is fantastic, as the standard energy drink flavors get a bit boring after a while.
The energy drinks have been around for a while, but they're currently going through a rebrand. This may mean we see some changes in the flavors and ingredients selection.
The new version is even reported to be infused with hemp. This style is unusual among energy drinks and could help Scorpion to stand out in the crowded industry.
Redline Xtreme Energy Drink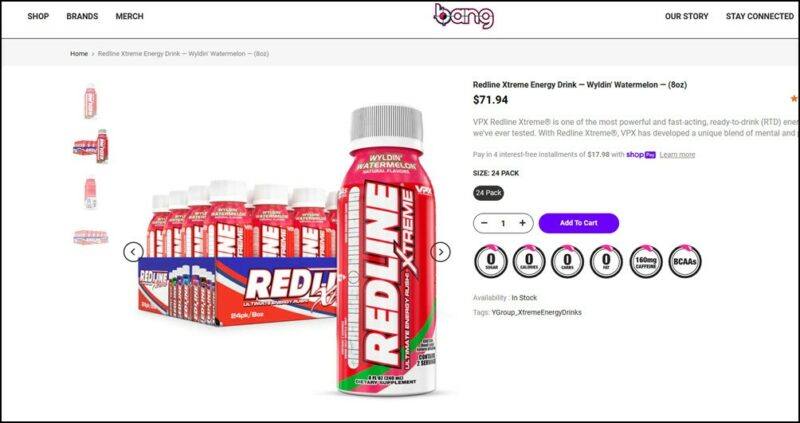 8 ounce serving: 316 mg caffeine (39.5 mg caffeine per fluid ounce)
Redline Xtreme is a little confusing, as it's marketed as having 160 mg of caffeine, which doesn't sound like a lot. However, there are two servings in the tiny 8 ounce bottles, so you get close roughly 320 mg of caffeine from the whole bottle (the actual figure is 316 mg of caffeine, but close enough).
As a result, Redline Xtreme is more potent than most – giving you more than 300 mg of caffeine in an 8 ounce serving. In fact, the amount of caffeine per ounce is almost double some of the previous products. That's probably why the company recommends that you just drink half the bottle at a time.
Let's be honest though, stopping at half a bottle of energy drink isn't that easy. Many of us simply keep going.
There's a surprising number of flavors to choose from, including interesting options like Birthday Cake Bash, Bliss Kissed, Black Cherry Vanilla, Rainbow Unicorn (what in the world does that taste like?!), and Strawberry Blast.
There are some less common ingredients in the energy drink too, including some amino acids, yerba mate extract, 5-HTP, and yohimbe bark extract. Some of these ingredients may be helpful if you're trying to build muscle. The purpose of other additions isn't as clear.
Such ingredients are a little concerning, as plant extracts can occasionally cause side effects. Try having a small serving of Redline Xtreme to begin with. That way you can see whether the energy drink sits well with you.
Bang Energy Drink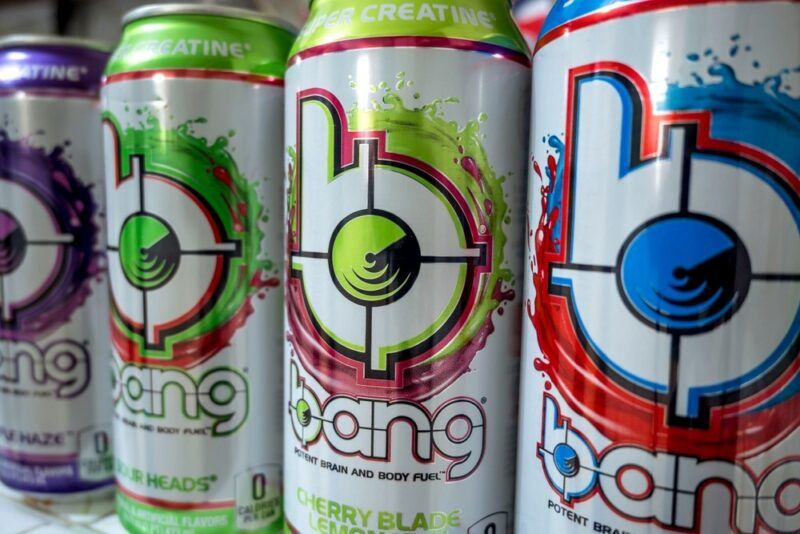 16 ounce serving: 300 mg caffeine (18.8 mg caffeine per fluid ounce)
Bang Energy Drink has become incredibly popular, with only Red Bull and Monster outperforming it in the United States. One of the most notable things is the extreme number of flavors, including examples like Candy Apple Crisp, Citrus Twist, Champagne, Blue & Yellow Limoncello, and Root Beer Blaze.
The drink is often marketed for people who are working out, as a way to boost fat loss and workout intensity. This is partly why the drinks are all sugar free. The lack of sugar also means that you shouldn't get an energy crash after drinking Bang.
Other ingredients include various amino acids, electrolytes, B vitamins, and creatine. These are all common choices for workout products, but are less common in regular energy drinks.
C4 Ultimate Non Carbonated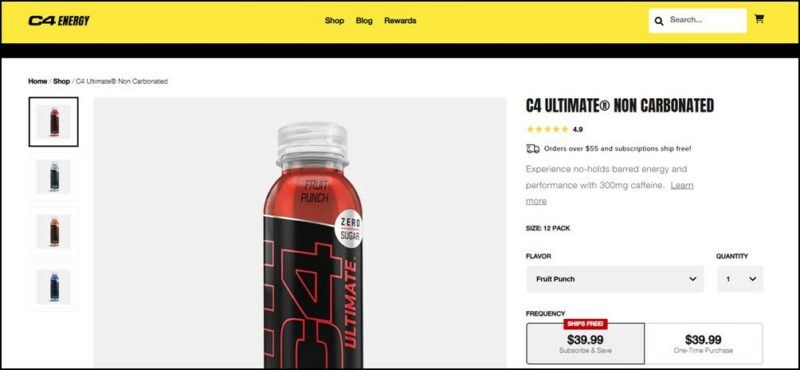 12 ounce serving: 300 mg caffeine (25.6 mg caffeine per fluid ounce)
This energy drink is one of many from Cellucor. It's a little unusual too, as it isn't sparkling and comes in a plastic bottle. You get an impressive 300 mg of caffeine in a 12 ounce serving.
Other ingredients include L-citrulline and beta-alanine, which may help with athletic performance. There is some taurine too, along with B vitamins and plenty of other ingredients.
There are four flavors to choose from: Fruit Punch, Arctic Snow Cone, Orange Slice, and Icy Blue Razz. Reviews are generally positive and many people love how these drinks aren't carbonated.
Hyde Energy Carbonated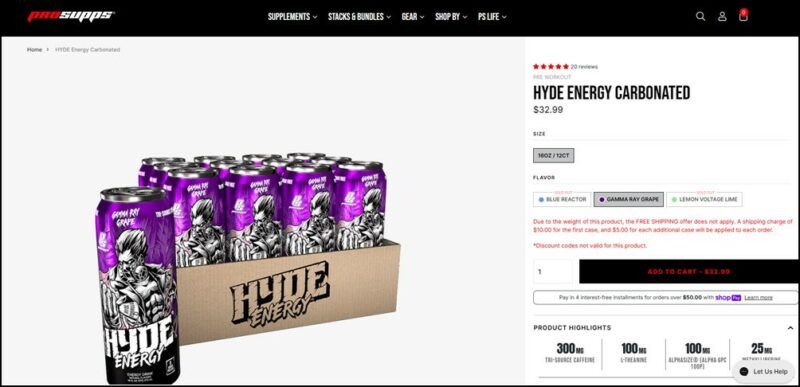 16 ounce serving: 300 mg caffeine (18.8 mg caffeine per fluid ounce)
Hyde Energy Carbonated is a Hyde Energy product. It isn't as caffeinated as Hyde Xtreme RTD, but 300 mg of caffeine is still decent. These energy drinks are also completely sugar free. In fact, a 16 ounce can contains just 10 calories, which is pretty impressive.
The drink features some interesting compounds for athletes, including L-theanine, alpha GPC, and methylliberine. While these compounds may be helpful, it's important to be cautious. Seriously, safety research is still been conducted and there's a lot we don't know about the interaction between energy drinks and some of these ingredients.
Raze Energy Drink
16 ounce serving: 300 mg caffeine (18.8 mg caffeine per fluid ounce)
This energy drink follows a familiar pattern, as it is promoted as a workout supplement rather than just an energy drink. Once again, it includes amino acids and electrolytes, which might help with hydration and muscle development.
The flavors are unusual, to say the least, as there are options like Strawberry Colada, Sour Gummy Worms, and Galaxy Burst. This is great if you're looking to branch out.
It's another product that contains no sugar. While this may slightly decrease the energy hit you get, it does also reduce the risk of an energy crash later on.
Celsius Heat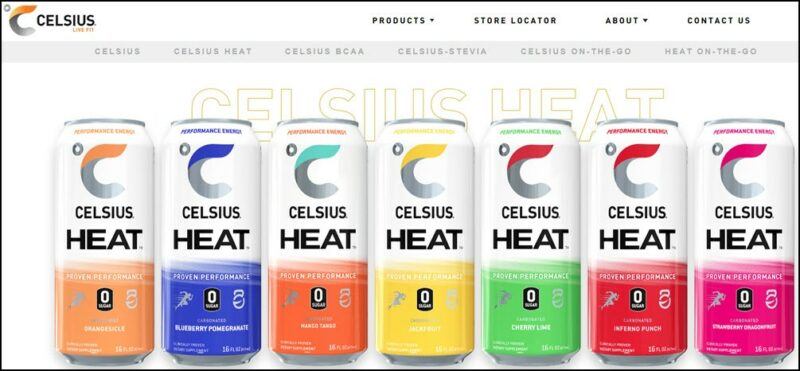 16 ounce serving: 300 mg caffeine (18.8 mg caffeine per fluid ounce)
Celsius is yet another company that has entered into the pre-workout energy drink field. It's sugar free and contains 2,000 mg of L-citrulline. The company promotes the citrulline heavily, focusing on the idea that it can help with workout performance.
There are plenty of flavors to choose from, including Inferno Punch, Orangesicle, Blueberry Pomegranate, Mango Tango, and Jackfruit.
The company also produces Celsius Energy Drink, which is promoted as a fat burning aid. This one comes in 12 ounce cans that contain 200 mg of caffeine, averaging to around 2 mg less caffeine per ounce than Celsius Heat.
Impressively, there are 19 different flavors in the original line. Many of these are sparkling, but there are some non-carbonated energy drinks in the mix too.
Reign Total Body Fuel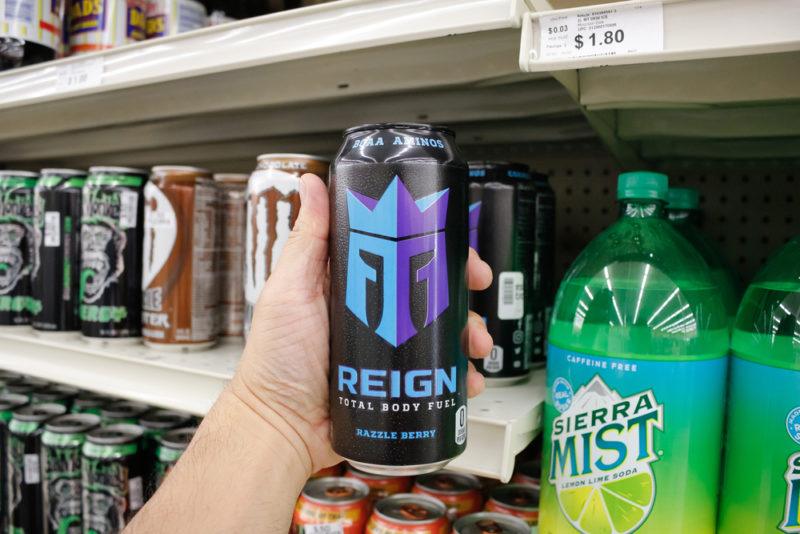 16 ounce serving: 300 mg caffeine (18.8 mg caffeine per fluid ounce)
Are you starting to see a pattern? The most potent energy drinks tend to be marketed to athletes. They often contain ingredients that can help with performance or muscle development. In this case, key components include CoQ10, B vitamins, BCAAs, and electrolytes.
There's no sugar present, which keeps the calorie content of the drink low.
This time there are eight flavors, including Razzle Berry, Tropical Storm, and Cherry Limeade. You can sometimes buy packs that contain a combination of flavors, in case you want to try them all.
Flavors like this can seem odd and quite artificial. The use of sweeteners doesn't make the drink taste particularly natural either. Still, you'll see the same patterns in most energy drinks.
There's also a second set of products called Reign Inferno. These have the same caffeine content as Reign Total Body Fuel, but use extra ingredients that are meant to improve metabolism and promote weight loss.
G Fuel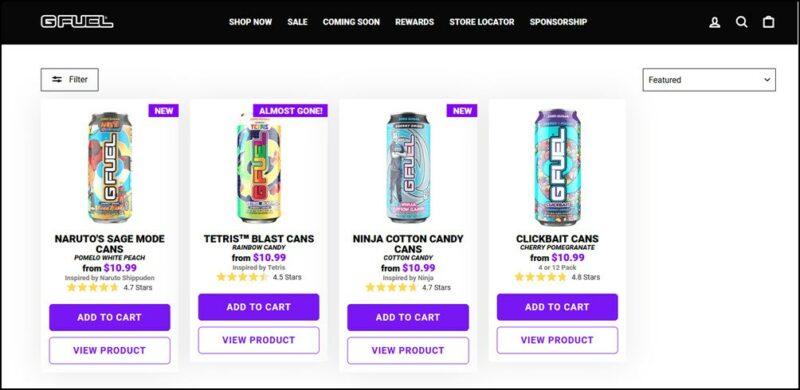 16 ounce serving: 300 mg caffeine (18.8 mg caffeine per fluid ounce)
G Fuel has a strong pop culture focus, where many of their boxes and cans are inspired by popular characters, like Spiderman and Naruto. Most of the G Fuel range focuses on tubs of energy powder that you mix up yourself. These contain familiar ingredients, like caffeine, amino acids, B vitamins, and antioxidants. When mixed up, a serving of the powder gives you around 140 mg of caffeine.
But, we're interested in the already prepared energy drinks from G Fuel. These often contain around 300 mg of caffeine in a 16 ounce serving instead. While the G Fuel site only lists a couple of flavors, there are plenty available on Amazon. Just make sure to check the product description first, as the caffeine content varies.
Once again, this is a sugar free product. It also has many of the same important ingredients found in the G Fuel powder.
Rockstar XDurance Energy Drink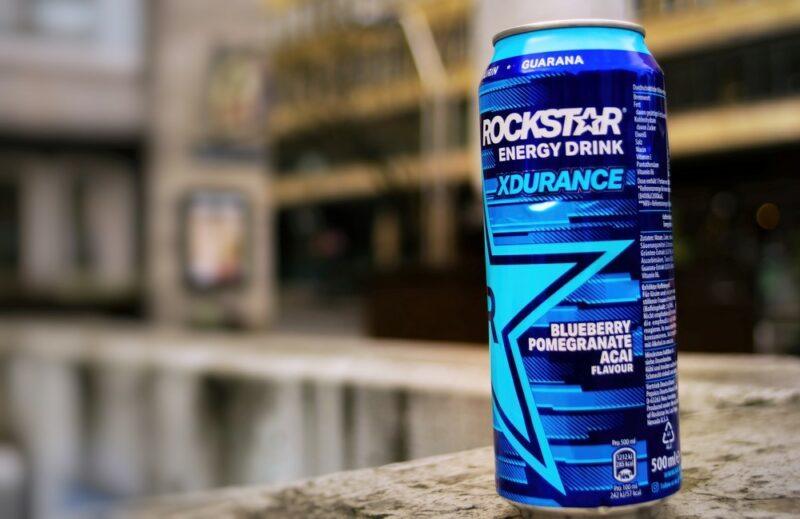 16 ounce serving: 300 mg caffeine (18.8 mg caffeine per fluid ounce)
Some claim that this Rockstar product was brought out to compete with Bang Energy Drink. That's not far-fetched, as the Rockstar XDurance Energy Drink is the same size as Bang Energy with the same amount of caffeine.
There were once seven flavors in this range, but now there are just two: Blue Raz and Super Sour Green Apple. They're both sugar free and also contain BCAA amino acids and CoQ10.
However, this drink range is harder to find than some of the others from Rockstar and can't currently be purchased from their site. This suggests that Rockstar XDurance mightn't be around for that much longer. You could turn to other Rockstar energy drinks, but most of these are lower in caffeine.
While 300 mg of caffeine in a 16 ounce drink isn't unusual, it is a decent amount of caffeine, especially if you have a low tolerance. The product can also be a problem because Rockstar is a familiar brand that might feel safe. Yet, if you swap to this Rockstar drink straight from Monster, Red Bull, or a regular Rockstar product, the difference in caffeine kick would be dramatic.
Go Fast! High Octane


16 ounce serving: 300 mg caffeine (18.8 mg caffeine per fluid ounce)
There are a variety of regular Go Fast! energy drinks, which generally give you 160 mg of caffeine in a 16 ounce serving. That's not too bad, but not particularly impressive either.
Go Fast! High Octane is a different story. The caffeine has been almost doubled to 300 mg per 16 ounce can. The company avoids many concerning ingredients, including high fructose corn syrup, aspartame, and preservatives.
There's one catch though – the high octane version is much harder to find than the regular energy drink. You might need to order it via the Go Fast! site, but they only sell the drink in a 24 can case.
Viso Energy Drink


17 ounce serving: 300 mg caffeine (17.6 mg caffeine per fluid ounce)
Viso has recently gone through an overhaul in their approach to energy drinks, and the company was a little unusual even before that. They focus on high-quality energy drinks that rely on real ingredients rather than artificial colors and sweeteners.
The fruit flavors in their drinks come from cold-pressed fruit, rather than from flavoring ingredients. For example, their flavor Vigor focuses on lemons, limes, and strawberries, while Dynamo uses concord grapes as the main type of fruit, and also includes grapefruits, lemons, and strawberries.
The drinks all offer 300 mg of caffeine per serving and should taste more like juice than a typical energy drink.
Cocaine Energy Drink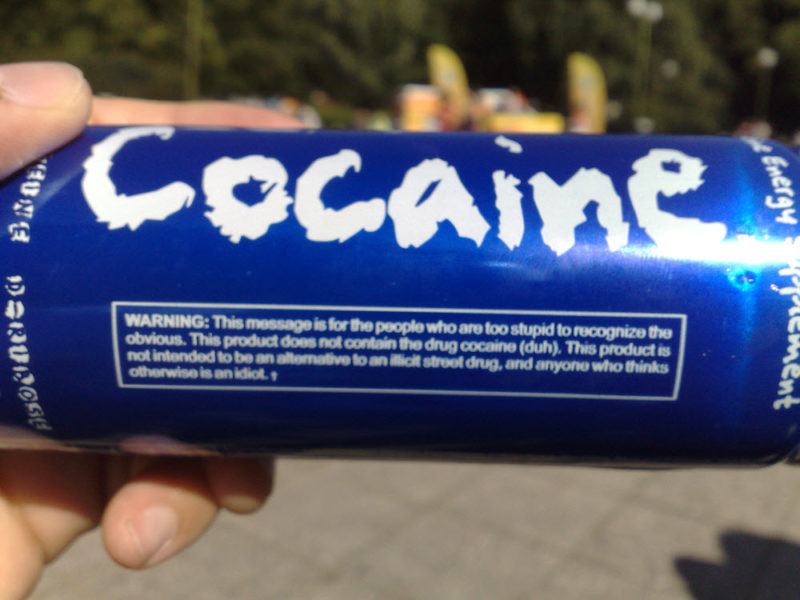 12 ounce serving: 280 mg caffeine (23.3 mg caffeine per fluid ounce)
If you ordered Cocaine Energy Drink in the past, you might be disappointed now. The drink originally came in an 8.4 ounce can with 280 mg of caffeine. The can size has now increased to 12 ounces, while the caffeine content is the same. So, you're getting a less concentrated drink.
There have been some ingredient changes too, as the drinks were once sweetened with dextrose, but now use cane sugar and sucralose (or sucralose and acesulfame potassium for the sugar free version)
The energy drink is also controversial, partly because of its name. This is why the products are sometimes called No Name instead. It was even banned for a while. Not surprisingly, the controversy has only made the energy drink more popular.
There is now an interesting variety of flavors. One is Spicy Hot, which has a distinct cinnamon burn. There's also a mild version that lacks the burn and a Peach Mango one as well. Cocaine has now introduced three sugar free flavors: Pina Colada, Watermelon Ice, and Citrus.
Spider Energy Drink
16 ounce serving: 240 mg caffeine (15 mg caffeine per fluid ounce)
Spider Energy Drink stands out because of the price. You can sometimes pick a can up for $0.99. That's pretty impressive for a 16 ounce energy drink with 240 mg of caffeine.
However, the drink isn't sold everywhere in the United States. It's easy to find in some places and almost impossible in others. Whether you have any luck will depend on where you live. The company behind Spider Energy Drink has recently signed a contract that should dramatically increase the distribution range, although this may change the price of the drink.
There are currently four versions available: Original, Strawberry Lemonade, Sugar Free Original, and Sugar Free Widowmaker. Only the original flavor contains sugar, but they all offer caffeine, ginseng, and electrolytes.
Meltdown


12 ounce serving: 225 mg caffeine (18.8 mg caffeine per fluid ounce)
Meltdown comes from Bang Energy, although it has been through a considerable rebrand since we talked about it last.
What makes this energy drink most interesting is that it contains ketones, along with electrolytes and some nutrients. The ketones are particularly relevant for keto dieters, but could also some energy even if you're not following keto.
Meltdown drinks are also free from sugar, carbs, and artificial flavors. That's an excellent combination of features for anyone following a keto diet. The main downside is that the drinks rely on sucralose for sweetness. While this is allowable on a keto diet, many people prefer to stick with natural sweeteners instead.
Starbucks Triple Shot Energy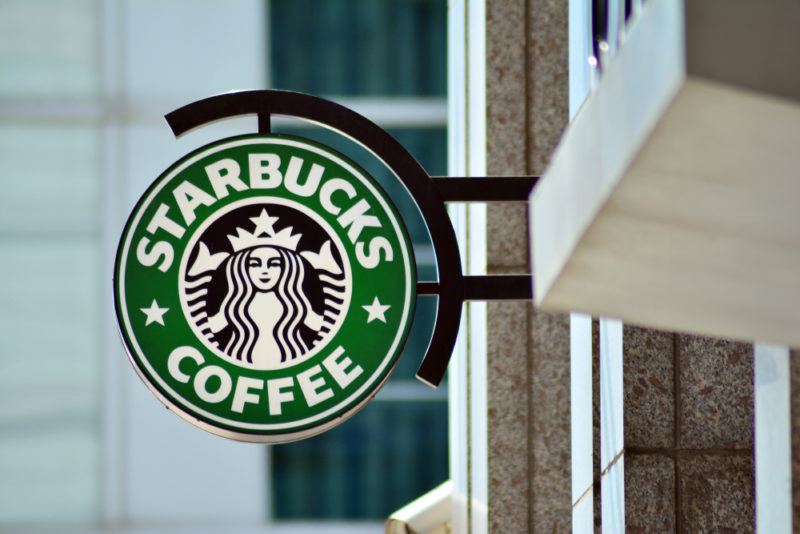 15 ounce serving: 225 mg caffeine (15 mg caffeine per fluid ounce)
This drink has been a way for Starbucks to get in on the energy drink market. Starbucks calls it an energy coffee beverage, as it falls somewhere in between coffee and an energy drink.
In fact, brewed coffee is one of the main ingredients. Sugar, ginseng, guarana, and some of the B vitamins are there too. You're looking at 29 grams of sugar in a 15 ounce serving, which is pretty high. That said, the sugar makes this easier to drink than a strong cup of coffee.
The three flavors are French Vanilla, Caramel, and Caffe Mocha. They all have the same amount of caffeine and taste mostly as you would expect (although the energy drink ingredients do change the flavor profile somewhat).
Starbucks has a doubleshot energy product too. This takes a similar approach and ends up with around 75 mg of caffeine per serving. It can be a decent choice if the triple shot feels a little too strong.
C4 Smart Energy Carbonated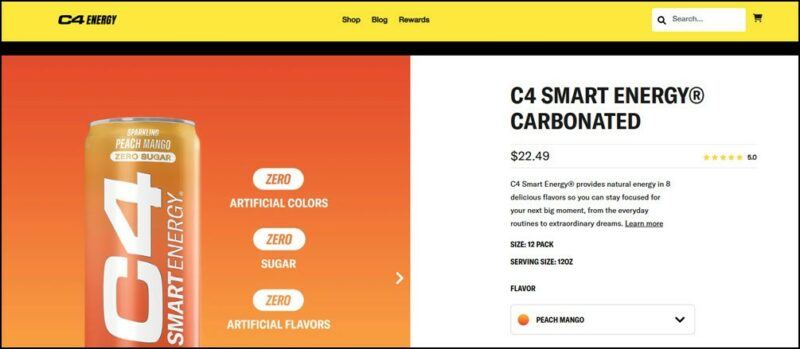 12 ounce serving: 200 mg caffeine (16.7 mg caffeine per fluid ounce)
Here we are with C4 energy again. C4 Smart Energy Carbonated is a bit different though, as it focuses on natural ingredients. It also avoids sugar, artificial colors, and artificial flavors – a welcome approach for an energy drink.
There's a surprising collection of flavors too, including Tropical Passionfruit, Watermelon Burst, Blood Orange Yuzu, and Strawberry Guava. Two of their flavors (Black Cherry and Blue Raspberry) are digital exclusive editions. You won't ever find these in stores.
The term 'smart energy' refers to how the drinks are meant to help boost your cognition. This effect comes from the ingredients cognizin (which is a patented version of citicoline) and N-acetyl tyrosine. But, the energy drinks do miss some common ingredients, like taurine and guarana.
Alani Nu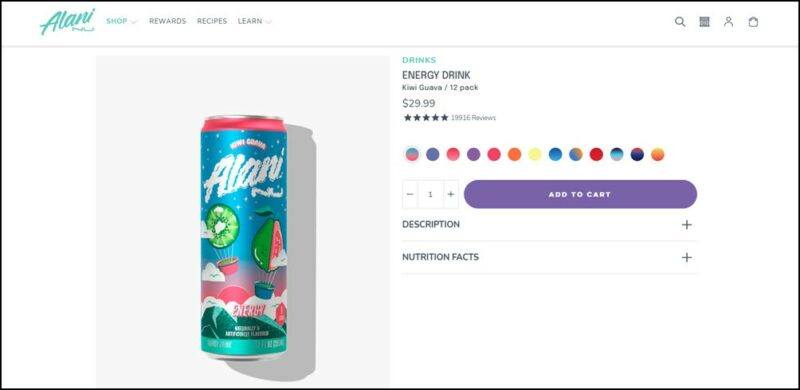 12 ounce serving: 200 mg caffeine (16.7 mg caffeine per fluid ounce)
Alani Nu offers a variety of health products that are all designed to taste good while giving you powerful ingredients. Their energy drink line is surprisingly large, with flavors like Kiwi Guava, Hawaiian Shaved Ice, Dream Float, and Cosmic Stardust. While those names are a bit confusing, images on many of the cans show you what flavor to expect.
This is also one of the few sugar free energy drink brands that consistently gets good reviews for its flavor. That's an impressive outcome, as sugar free drinks often leave much to be desired.
However, because this is a relatively small company with a focus on quality, the energy drinks are more expensive than many other brands. This can be frustrating if money is tight.
Prime Energy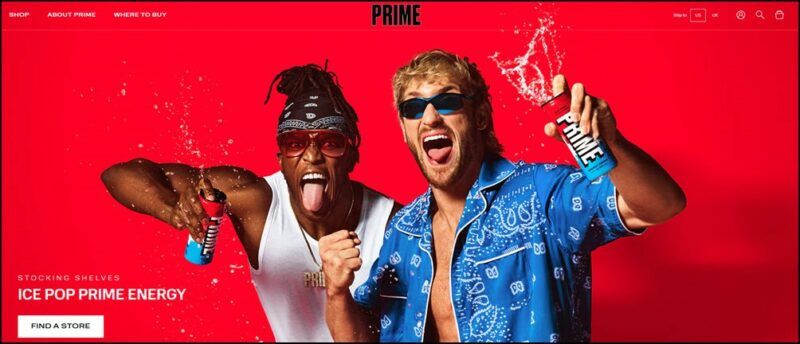 12 ounce serving: 200 mg caffeine (16.7 mg caffeine per fluid ounce)
Prime Energy drinks are fantastic when you can find them. Unfortunately, they sell out fast, especially on the company's website. Amazon is a better source of the drinks and they can sometimes be found locally as well.
Prime Energy is another product that focuses on natural ingredients and also gives you 200 mg of caffeine in a 12 ounce can. The energy drinks are also vegan friendly, sugar free, and contain 300 mg of electrolytes. The electrolytes are most helpful if you've been sweating heavily and need a top up.
Zoa+ Energy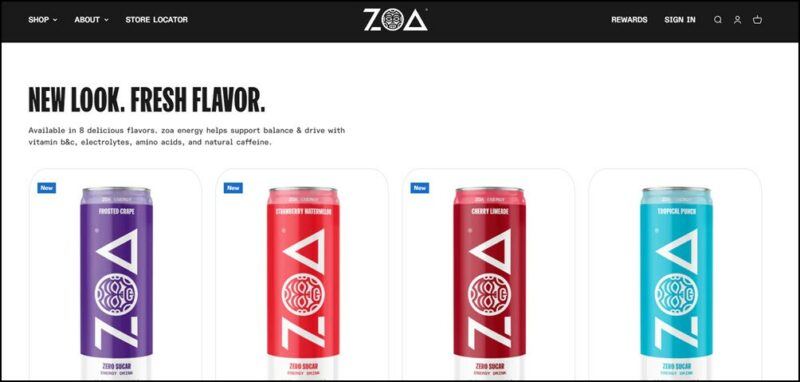 12 ounce serving: 200 mg caffeine (16.7 mg caffeine per fluid ounce)
Zoa+ offers two collections of energy drinks.
The first is promoted as a pre-workout supplement. As such, the drinks contain some familiar ingredients like L-citrulline, amino acids, and electrolytes. They're sugar free too, which is often ideal.
Other ingredients in the drinks may help with improved focus and perhaps even immune support. There are also delicious flavors, including Pineapple Passionfruit, Coconut Lemonade, Blackberry Acai, and Orange Grapefruit.
The remaining drinks take a more traditional approach (they're also a bit cheaper). There are eight flavors this time, including Frosted Grape, Wild Orange, Cherry Limeade, and Tropical Punch.
In addition to the caffeine, these drinks offer B and C vitamins, some electrolytes, branched chain amino acids (BCAAs), and camu camu extract (as a source of antioxidants). But, these drinks contain 40 mg less caffeine per can than the pre-workout version, so they're not as powerful.
3D Energy Drink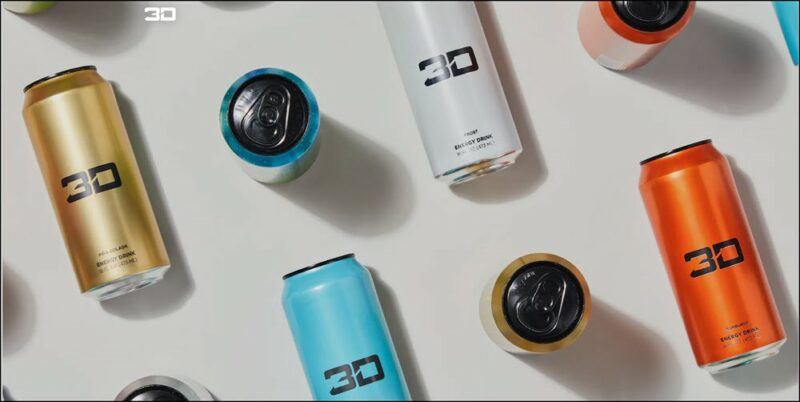 16 ounce serving: 200 mg caffeine (12.5 mg caffeine per fluid ounce)
3D Energy Drink has taken a minimalist approach. Their 16 ounce cans tend to be plain, with just a few pieces of information on the front. There are no pictures and no need for them either.
There are currently ten flavors to choose from, including options like Citrus Dew, Alphaland (lemonade), Galaxy Lime, Grape, and Sunburst (tropical fruit). You can order the energy drinks online or find them in local stores like Walmart or GNC.
The drinks are all sugar free, and they contain guarana, ginseng, B vitamins, and taurine. That combination should give you quite a kick, so be careful when you're trying the drink for the first time.
A SHOC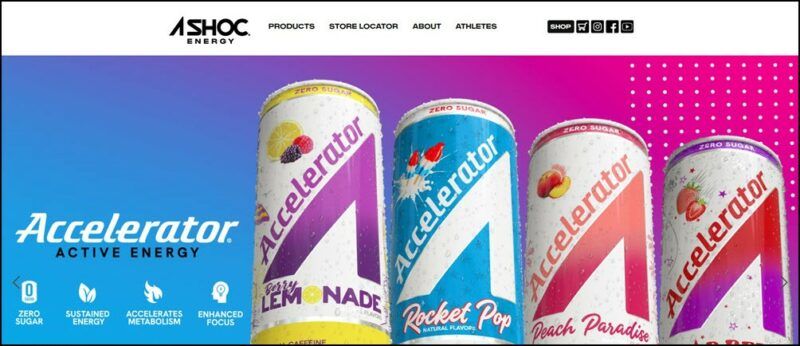 16 ounce serving: 200 mg caffeine (12.5 mg caffeine per fluid ounce)
A SHOC Energy once went by the name Adrenaline Shock and offered 300 mg of caffeine in a 16 ounce can. The company has since rebranded and the new version of their drink contains just 200 mg of caffeine in the same serving.
A SHOC includes plenty of familiar ingredients, such as amino acids, electrolytes, antioxidants, and guarana. The caffeine is sourced naturally from yerba mate, green coffee beans, guarana, and coffee fruit.
There are currently six main flavors, including Blue Raspberry, Fruit Punch, Orange Freeze, and Watermelon. These flavors should look familiar, as many energy drinks offer a similar selection.
This is another sugar free energy drink. That seems to be a common trend among workout-focused products.
C4 Energy Non Carbonated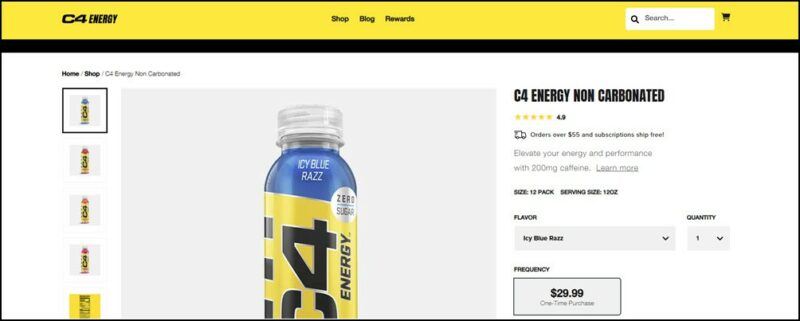 12 ounce serving: 200 mg caffeine (16.7 mg caffeine per fluid ounce)
Earlier on, we talked about C4 Ultimate Non Carbonated, which offers 300 grams of caffeine in a 12 ounce serving. C4 Energy Non Carbonated is similar, but the caffeine content has been dropped down to 200 mg.
You're still getting around 17 mg of caffeine per fluid ounce, so the drink is still pretty strong. It's an excellent non-carbonated choice if the ultimate version is too intense.
The flavors include Icy Blue Razz, Fruit Punch, Orange Slice, and Watermelon.
The drink includes beta-alanine, citrulline, N-acetyl-L-tyrosine, and betaine, but it lacks many familiar energy ingredients, like guarana and taurine. This is partly because the drink targets people who are working out.
The carbonated version has a similar balance of ingredients and contains 200 mg of caffeine as well. The biggest difference is size, as the carbonated drinks contain 16 ounces rather than 12, so they're not as concentrated.
NOCCO BCAA Juicy Breeze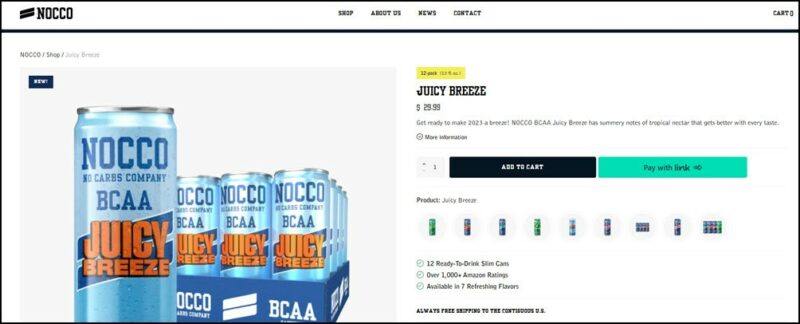 12 ounce serving: 200 mg caffeine (16.7 mg caffeine per fluid ounce)
As the name suggests, NOCCO BCAA Energy Drinks provide branched chain amino acids along with their caffeine. The BCCAs are most relevant for athletes, as they might help with muscle mass and reduced muscle soreness after training. Biotin is included, along with various B vitamins.
Most of the NOCCO drinks contain 180 mg of caffeine in a 12 ounce can. However, the Juicy Breeze flavor is higher, giving you 200 mg of caffeine instead.
Just be cautious when you're buying, as there are a couple of caffeine free flavors too. These come in a green can rather than a blue one, so they should be easy to avoid.
Monster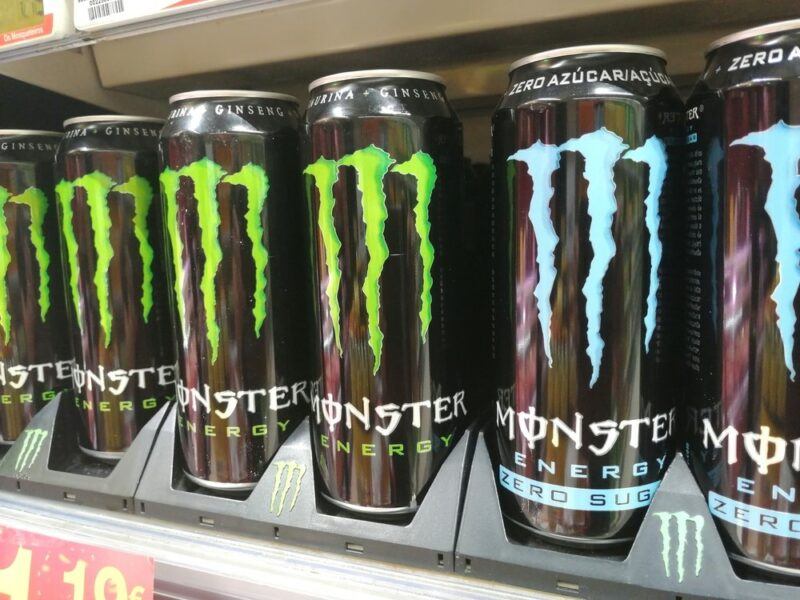 16 ounce serving: 160 mg caffeine (10 mg caffeine per fluid ounce)
Monster isn't as excessively high in caffeine as the earlier entries on this list. But, it still contains 160 mg of caffeine in a 16 oz can. That's no laughing matter. It's also a well-known energy drink, one that is very easy to find. In fact, its American market share is second only to Red Bull.
Other ingredients include guarana, taurine, ginseng, and plenty of sugar.
The caffeine content mentioned above is for the classic Monster energy drink, but this isn't the only one that the company produces. There are plenty of others too, like the Java Monster drinks, which are coffee-based.
You'd often get a similar amount of caffeine, if not more, in the same serving of brewed coffee. Many coffees from Starbucks contain even more caffeine. Still, energy drinks tend to contain higher amounts of sugar and other stimulants than a cup of coffee. They're also very convenient and can be consumed quickly.
This makes it easy to lose track of your consumption and overdo it with energy drinks.
The caffeine of Monster drinks also varies. Most give you either 150 mg or 160 mg of caffeine per can. However, Java Monster Cold Brew Latte comes in at 210 mg instead. There was even a 32 ounce version of regular Monster at one point, called Monster BFC. That doesn't seem to be around anymore, although 24 ounce versions can still be found. Not surprisingly, these larger cans contain more caffeine than the small ones.
Red Bull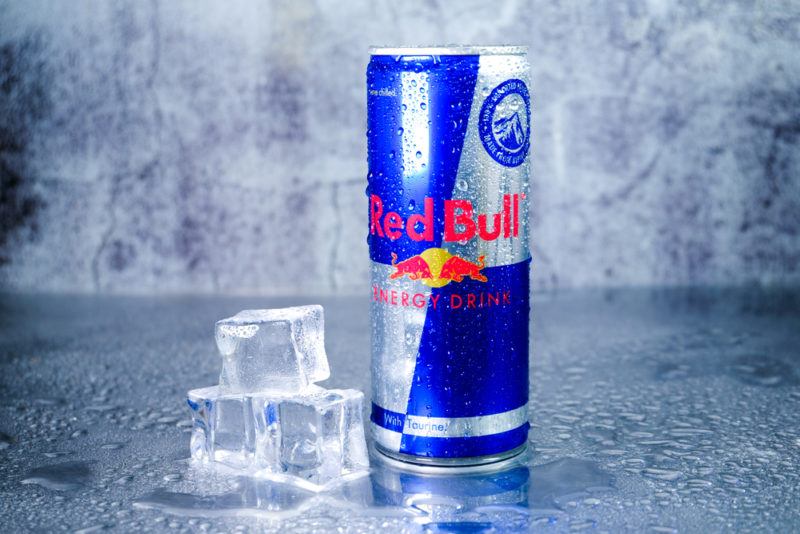 8.4 oz serving: 80 mg caffeine (9.5 mg caffeine per fluid ounce)
Red Bull deserves a mention in this list because it is one of the most well-known and popular energy drinks. Yet, with 80 mg of caffeine in an 8.4 ounce serving, Red Bull contains less caffeine than many other products.
The 12 ounce can, which has now become more common, contains around 114 mg of caffeine. Even then, the amount of caffeine is low compared to competing products.
Still, this amount of caffeine isn't a bad thing. You're still getting enough to give you an energy boost, but not so much that you put your health at risk.
The main other stimulants are sugar (except in the sugar free versions) and taurine.
There are now many Red Bull variations, including Coconut Edition, Yellow Edition, Peach Edition, and Summer Edition, along with some sugar free flavors. Some of these variations can be found all the time, while others are seasonal. The caffeine content and other stimulants remain the same per ounce regardless of the type that you choose.
The Strongest Energy Shots
It would be remiss to avoid energy shots when talking about energy drinks. After all, the shots are basically the same thing. They're just much more concentrated.
Some shots even contain more caffeine than full sized energy drinks. This means that you should be very careful with them, especially if you're consuming caffeine from other sources too.
Eternal Energy Extra Strength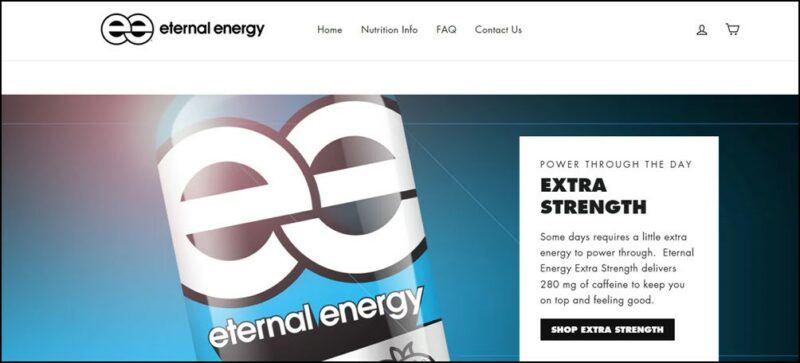 1.93 ounce serving: 280 mg caffeine
Eternal Energy once had an over-the-top product called the 10 Hour Time Release Energy Shot. It contained a shocking 422 mg of caffeine.
The shot used a caffeine encapsulation approach, so you got an initial 222 mg caffeine hit when you drank the thing, then an additional 200 mg of caffeine released over time. The idea sounds amazing, but was also risky and made it easy to overdo your caffeine intake.
The 10 Hour product has now been discontinued and replaced by Eternal Energy Extra Strength. This is still a strong shot (containing 280 mg of caffeine in less than 2 ounces), but it isn't as excessive as the previous version.
There's also a regular Eternal Energy shot, which comes in at 230 mg of caffeine instead. 230 mg still packs a punch and could be more than enough for plenty of situations.
Phoenix Energy Shot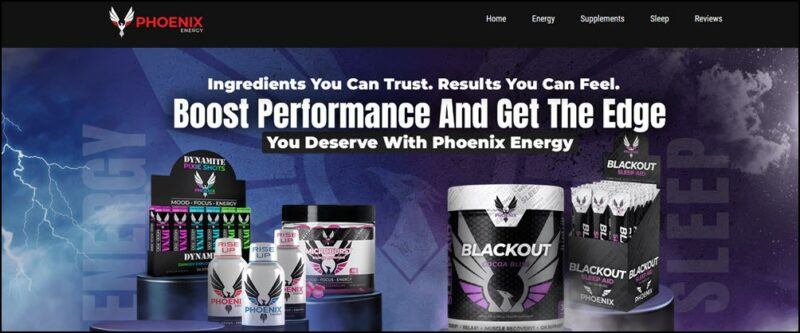 2 ounce serving: 280 mg caffeine
Phoenix Energy Shots use a 3-in-1 formula designed to improve mood, energy, and focus at the same time. There are 12 active ingredients, 4 for each of the target areas.
I like that the nutrition label provides each the name and quantity for each ingredient, so you know precisely what you're getting. Some users say that the extra ingredients help balance out the caffeine, giving you an energy hit without jitteriness.
And, if nothing else, Phoenix Energy Drinks use a different combination of ingredients than most other energy drinks and shots. That's an appealing feature and a reason to try the shots for yourself.
7-Select Extra Strength Energy Shot
2 ounce serving: 260 mg caffeine
These shots are 7-Eleven's entry into the energy shot market and can be found at 7-Eleven stores across the country. The term Extra Strength is slightly misleading, as 7-Eleven doesn't actually offer lower strength shots.
The shots contain typical ingredients, along with yerba mate extract, green tea extract, B vitamins, and a few others. It also relies on natural caffeine, while some other brands use synthetic caffeine instead.
These shots are also a little cheaper than competitors, which makes them appealing.
Rhino Rush Energy Shot


2 ounce serving: 250 mg caffeine
Rhino Rush Energy Shots contain a little less caffeine than competing products, but are still rapidly growing in popularity. There are four flavors of their regular shots: Blue Raspberry, Grape, Kiwi Strawberry, and Margarita.
There's also a second set of shots that have nootropic ingredients. These still contain a similar level of caffeine and have unusual names, like Moon Drop, Just Peachy, and Ghost.
The company once had plenty of information about the ingredients and focus on quality on their site. This included a discussion on the specific benefits you could expect. However, the site seems a bit bare these days and doesn't provide many details at all.
e6 Energy Shot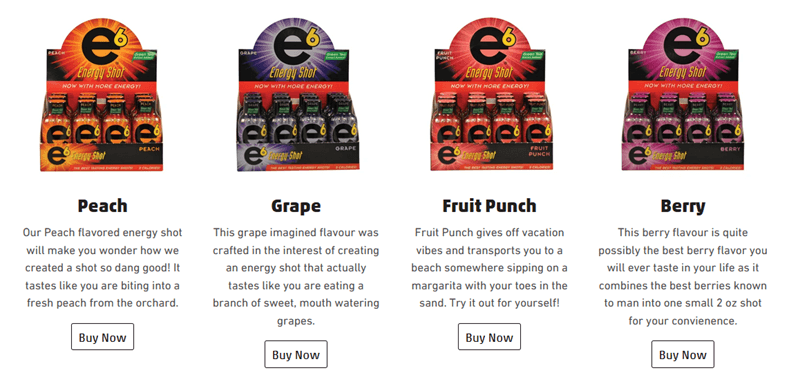 2 ounce serving: 235 mg caffeine
These shots are promoted as one-of-a-kind due to their combination of vitamin B12, caffeine, and green tea extract. The four flavors are straightforward: Berry, Fruit Punch, Peach, and Grape.
The shots are easy to find, as they're sold in many convenience stores, gas stations, and some grocery stores. You can order them online too.
The ingredients are similar to other energy shots, although e6 shots have phenylalanine and N-Acetyl-L-tyrosine added too. These are both amino acids and are particularly relevant if you're exercising extensively.
e6 shots have been through a recent reformulation, which upped the caffeine content from 185 mg to 235 mg. This change puts the shots roughly on par with the 5-Hour Energy Extra Strength shots.
5-Hour Energy Extra Strength
2 ounce serving: 230 mg caffeine
With 230 mg of caffeine in a 2 ounce serving, these energy shots contain less caffeine than some of the others, but the amount isn't too shabby.
The brand is also well-known and sold in many places. It's often easier to find these energy shots than some of the competing products.
The caffeine content is a little higher than the regular 5-Hour Energy shots, which offer 200 mg per serving. Both energy shots contain only 4 calories per serving. They're sugar free and are promoted as having no sugar crash.
There are many regular flavors to choose from and a different set of extra strength flavors. Some of these include Hawaiian Breeze, Berry, Blue Raspberry, Cherry, and Grape.
Red Thunder Extra Strength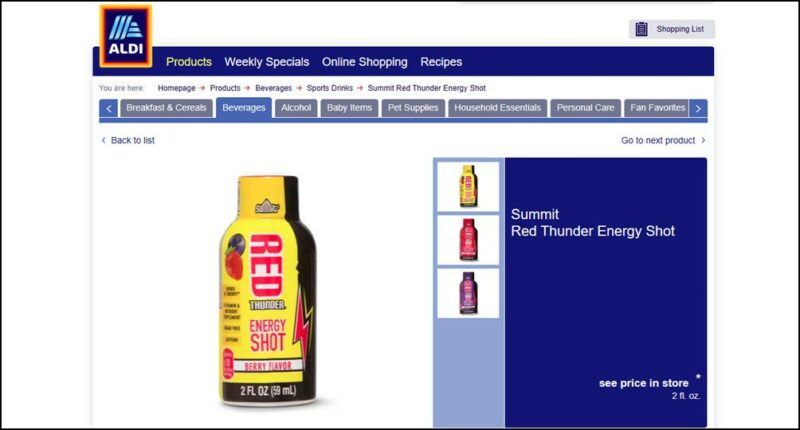 2 ounce serving: 230 mg caffeine
These energy shots were once one of the cheapest options on the market and are sold through Aldi supermarkets. The shots' price has gradually increased over time, so they're not as competitive as they once were.
Still, the shots do the job and some people find that these taste better than other brands. There is a lower caffeine version of the shot too, which contains 138 mg of caffeine.
This shot may not be around much longer though, as Aldi has stated that the Red Thunder energy drink has been discontinued. That discontinuation probably applies to the shots too, although their status has yet to be confirmed.
How To Use Energy Drinks Safely
Many people say you shouldn't consume energy drinks at all, as there are simply too many issues. However, most of us don't need to cut them out entirely. There are still ways to drink them and stay safe. Here are a few crucial tips.
Pay Close Attention To Medications And Health Conditions
Some prescription medications and health conditions change your sensitivity to caffeine. There could also be interactions between medications and energy drinks (either because of the caffeine or other ingredients).
Because of this, it's crucial to talk to your doctor. Find out what the risks are for you specifically and what energy drink dose you can consume safely.
Watch How Your Body Responds
Paying attention to yourself is crucial for most foods and drinks, as we all respond differently. Watch out for side effects like feeling jittery, a fast heart rate, insomnia, or heightened anxiety. These are all signs that you might be overdoing it on caffeine.
You might need to experiment with different types of energy drinks as well.
After all, there's a huge selection of possible ingredients, including taurine, BCAAs, creatine, and guarana. Each ingredient could have positive or negative effects, so it's important to tread carefully.
Don't Overdo It
The biggest issue with energy drinks is overconsumption. It's easy to get in the habit of having an energy drink every time your energy dips, which can seriously mess up your natural energy cycles.
Our bodies also become accustomed to caffeine fairly fast and we end up needing increasing amounts of caffeine to get the same effect. This gets risky fast.
It's often best to stick to having energy drinks a couple of times a week or even less. This reduces the risk of becoming dependent on them and means you won't overdo it on caffeine. Having energy drinks infrequently also means that you'll get a stronger energy hit when you do drink them.
But honestly, many of us can have an energy drink a day without any serious consequences.
Frequently Asked Questions
Can Energy Drinks Make You Sleepy?
Some people do actually get sleepy from energy drinks. This is often associated with adenosine buildup or increased adenosine production. However, you might also experience a crash from the sugar or a side effect from a different ingredient.
And, sometimes, you're simply just too tired. If you down an energy drink when you're incredibly exhausted, there's a chance that it will do very little, leaving you just as exhausted as you were before.
What Are The Healthiest Energy Drinks?
The healthiest energy drinks rely on natural ingredients and avoid additives as much as possible. Some are even simply carbonated versions of yerba mate or green tea, with just a few extra ingredients. Many of these drinks also use natural sweeteners instead of sugar.
Celsius Live Fit, Zevia, Guayakí Organic Yerba Mate, and Rowdy Energy are all examples that are worth trying.
How Much Caffeine Should You Have Per Day?
According to the FDA, it's best not to consume more than 400 mg of caffeine per day. However, people vary dramatically in their caffeine sensitivity and the speed their body breaks it down. Health conditions can play a factor too, often decreasing the amount of caffeine you should drink.
As a result, it's crucial to pay attention to your body. Keep an eye out for signs of too much caffeine, like problems sleeping and jitteriness. Experiencing these is a sure sign that you need to cut down your caffeine intake – even if you're consuming far less than 400 mg a day.
Can You Have Alcohol With An Energy Drink?
Many people combine alcohol and energy drinks, often as a Red Bull cocktail. Doing so can work well, as the buzz from the energy drink helps you stay up and play for longer. There are even some premixed drinks that combine alcohol and caffeine.
But, it's important to be incredibly careful, as an energy drink masks some of the depressant effects of alcohol. This makes it easy to drink too much alcohol. If you're going to do this, be sure to keep an eye on the amount you're drinking, rather than trusting how your body feels.
Should Kids Consume Energy Drinks?
Energy drinks are riskier for kids than adults, as their bodies are still developing. This is particularly true for energy drinks that are high in sugar, caffeine, and stimulants. Some kids may be okay with low caffeine natural energy drinks, but it's still important to talk to their doctor first.