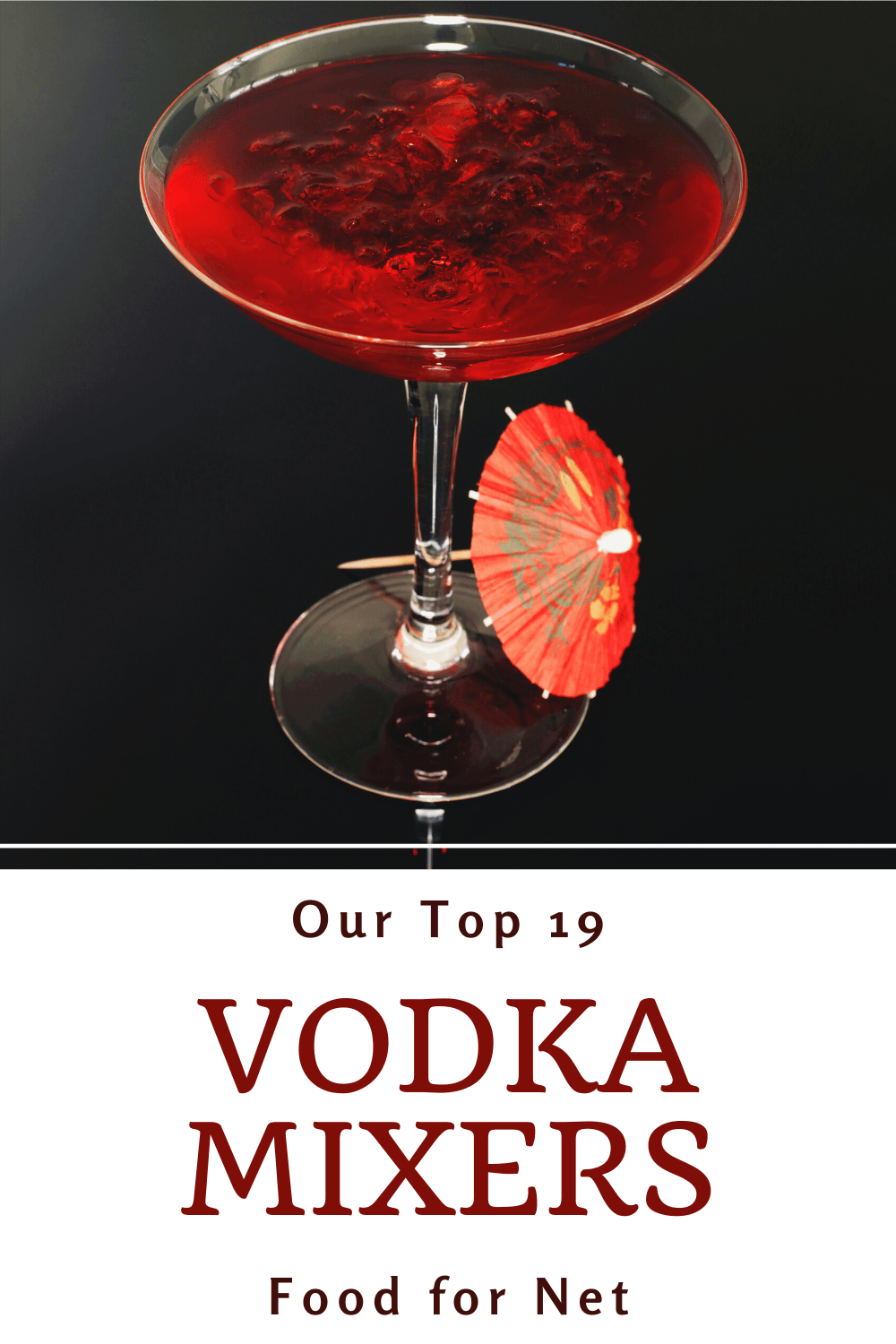 Because vodka is largely flavorless, it can be combined with any number of mixers, especially those with a strong flavor of their own. For example, adding any type of juice or any type of soda to vodka works just fine. Even so, there are some vodka mixers are better than other, so in this list we're focusing on the most powerful and the most interesting mixers.
It's also worth mentioning that vodka still has some impact on your drink. For one thing, it imparts an alcoholic kick. The vodka also impacts the texture of your drink.
Some vodkas, particularly low-quality ones, do have a little flavor as well. Any flavor comes from impurities and is generally undesirable. If you're using a fairly intense mixer, like cranberry juice, then low-quality vodka isn't likely to be a problem.
On the other hand, if you are using a more subtle mixer like soda water, the quality of your vodka will make a difference. You don't need to be extravagant, but try to avoid the cheapest of the cheap.
When you're looking at mixers, also consider the strength of the final drink that you want. If the mixer is on the mild side, then the alcoholic undertone of the drink will be quite distinct. This undertone tends to be masked by stronger mixers, to the point that you might not notice it at all.
If you're passionate about vodka, you could also take a look at our list of vodka cocktails or perhaps summer cocktails. We've also talked about other types of mixers that you can try, like mixers for rum, whiskey, and tequila.
Top Vodka Mixers
Grapefruit Juice
Grapefruit Soda
Soda Water
Flavored Sparkling Water
Sparkling Juice
Lemon-Lime Soda
Lemonade
Tonic Water
Cola
Cranberry Juice
Orange Juice
Pineapple Juice
Tropical Fruit Juices
Ginger Beer
Vermouth
Tomato Juice
Red Bull
Iced Tea
Starbucks Refreshers
Grapefruit Juice

Combining grapefruit juice and vodka gives you a simple two-ingredient cocktail – the greyhound. The cocktail has the distinct tart flavor that comes with grapefruit juice, so it won't appeal to everyone.
A surprising way around this is to give your glass a salt rim. Doing so decreases the apparent bitterness of the grapefruit. Don't ask why a salt rim has this effect, it just does.
Grapefruit Soda

Grapefruit soda is a popular mixer for tequila, giving you the Paloma cocktail, but grapefruit soda works pretty well with vodka too.
This mixer can even be more appealing than grapefruit juice. After all, the intensity of grapefruit juice can sometimes be overwhelming, while grapefruit soda gives you a lighter drink that still has grapefruit's tartness.
Soda Water

While it might seem surprising, soda water can be a good mixer with vodka. You end up with a light drink that is very low in calories, making it appealing to anyone who is trying to lose weight.
Of course, the drink doesn't taste like much of anything. Still, it's easy to add in a little extra flavor, such as by adding a few squeezes of lime juice or including some cut up fruits in the glass.
Soda water can also be relevant if you're using craft vodka. Some types of craft vodka are infused with flavor. Drinking them with soda water gives you the chance to fully experience all the flavors your spirit has to offer.
Flavored Sparkling Water

Many companies now offer flavored sparkling water products. These can all be good with vodka, as you're looking at a light drink that has a touch of flavor.
However, the quality of the sparkling water you choose can have a large impact on the finished cocktail. In particular, it's important to focus on brands that keep their ingredients as natural as possible. Try to avoid anything with artificial flavors and colors as much as possible.
For example, the brand Spindrift has products that just contain sparkling water and a little juice, such as one that is sparkling water with cranberry and raspberry juice. They also have one that uses half tea and half lemon for flavoring, which is combines particularly well with vodka.
Sparkling Juice

There are also various sparkling juice products to try out. The brand Izze is an especially good choice and they have many delicious flavors to choose from.
This approach works well because you're getting a fizzy drink that is packed full of fruit flavors. What's not to love?
Lemon-Lime Soda

Using soda like 7-Up is an easy step up from soda water. The lemon-lime flavor is enjoyable with vodka, while the sweetness helps to offset the alcohol in the drink.
You could also try squeezing some lemon juice or lime juice into your drink to make it more interesting still.
Lemonade

Lemonade has similar advantages to lemon-lime soda, as you're getting strong lemon flavor, along with some sweetness. You also have plenty of options. For example, you might choose to make your own lemonade or buy pre-packaged lemonade from the store.
If you're choosing to buy your lemonade, you could choose something that is close to the real thing or a flavored variation. There isn't really a right or wrong approach here. Simply focus on the flavor combinations that you're interested in.
Tonic Water

The distinctive quinine flavor in tonic water is something that you either love or you hate. For those that enjoy it, tonic water works surprisingly well with vodka. The mixer provides just enough flavor to keep the drink interesting, without being overwhelming.
If you don't normally enjoy tonic water, consider trying out some of the craft tonic waters that are now on the market. There are a variety of these to choose from, many of which include subtle flavors that add to your drink overall.
Cola

If you're looking to drown out the alcoholic tones of your drink, then cola is a popular choice. While a rum and coke tends to have an interesting flavor profile, a vodka and cola tends to just taste like cola.
Still, this isn't a bad thing. After all, if you were looking for a flavorful spirit, you wouldn't be focusing on vodka.
Cranberry Juice

While you can mix vodka with pretty much any type of fruit juice, cranberry juice is a particularly good choice. Cranberry juice has a distinctive tartness that creates a refreshing cocktail.
Interestingly, this combination even has a name – Cape Codder. The Cape Codder cocktail was developed by Ocean Spray in a marketing move.
You can also vary the amount of cranberry juice to completely change your drink. For example, a little cranberry juice makes a nice accompaniment to vodka, while a large amount can make the alcohol almost completely unnoticeable. The latter approach is especially relevant if you're using low-quality vodka.
Orange Juice

Speaking of fruit juice, the combination of vodka and orange juice is another popular choice – one that's known by the name screwdriver.
Using orange juice gives you a vibrant drink that is ideal when the weather is hot. The combination works best when you're using freshly squeezed orange juice. If you're buying orange juice from the store instead, focus on a product that is as natural as possible.
Pineapple Juice

While vodka isn't commonly used in tropical cocktails, the combination of vodka and pineapple juice does create a delicious tropical feel. A ratio of two parts pineapple juice to one part vodka is a good place to start and you can tweak the drink from there.
Just be aware that pineapple juice is very sweet. This sweetness can sometimes feel excessive. The best way to avoid the issue is to keep an eye on the balance of vodka to pineapple juice. If you end up with a lot of mixer and not much vodka, then the sweetness could easily get overbearing.
Tropical Fruit Juices

For that matter, vodka will pair well with any tropical fruit juice. Other examples include guava juice, mango juice, or even coconut water.
You could make a more complex cocktail by including more than one type of tropical juice in your drink. Or, to make things easier still, you could look at combination juices from the store. Many packaged options incorporate multiple types of juice, including some that have a tropical flavor.
Ginger Beer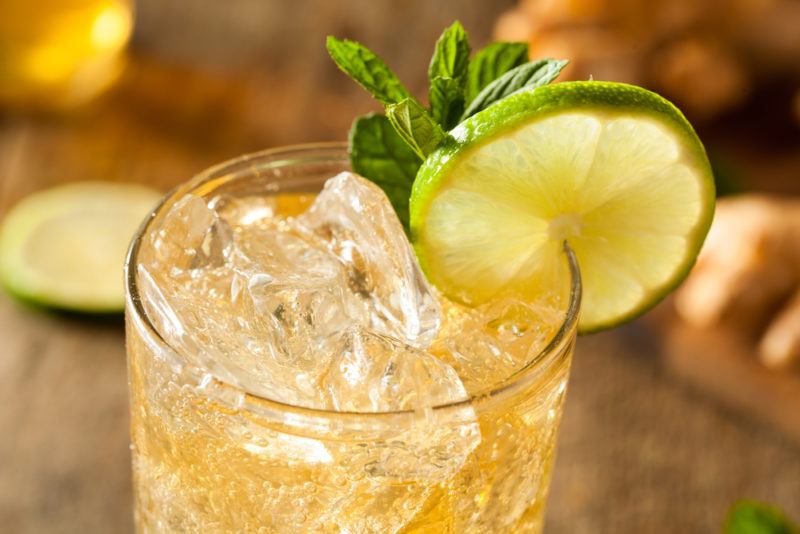 The sweet and spicy combination of ginger beer is a perfect way to offset the alcoholic hit of vodka. You're also getting a surprisingly complex flavor for a cocktail that just contains two ingredients.
You could make the drink more interesting still by using spiced ginger beer instead of regular ginger beer. Adding a squeeze or two of lime juice into the mix helps as well.
Vermouth

It's a little debatable whether vermouth can be considered a mixer or not, as it is alcoholic. Still, vermouth and vodka is such a classic combination that we must include it on the list.
These two ingredients give you a vodka martini. You can choose the ratio of vodka to vermouth based on your own preferences. Some people choose a 50-50 split, while others try a balance such as three parts vodka to one part vermouth.
Tomato Juice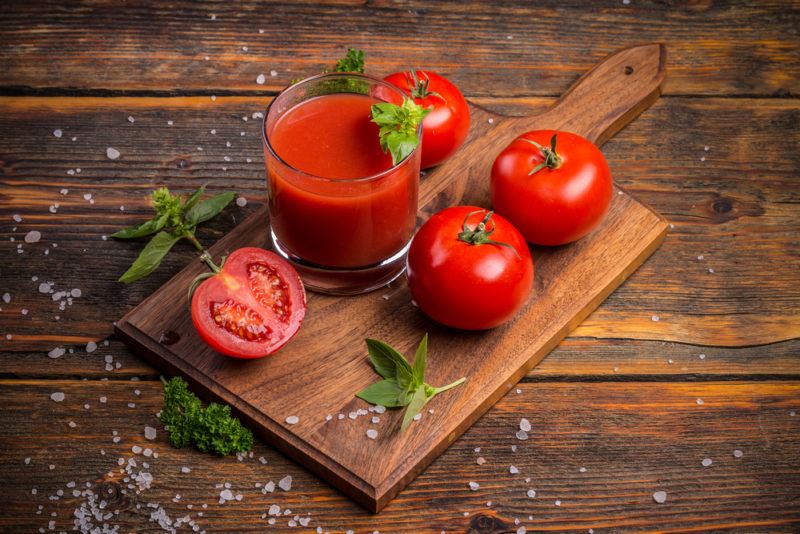 We can't forget tomato juice, as vodka and tomato juice are the key ingredients in a bloody Mary. Most of the time, you'll want to include at least one other ingredient for some extra kick, such as Tabasco sauce.
However, at a pinch, you could make a cocktail that just uses tomato juice and vodka – especially if you're using homemade tomato juice rather than something from the store.
If you want an easy cocktail, keep an eye out for bloody Mary mixes. These are basically spicy tomato juice, so you have all the flavors that you need in a single mixer.
Red Bull

While mixing alcohol and energy drinks is a controversial idea, vodka and Red Bull is a popular combination. The energy jolt from the drink is ideal if you're out on the town or are simply feeling a bit run down.
Besides that, the flavors of Red Bull do work well with the alcoholic hit from the vodka.
Iced Tea

Iced tea tends to taste good no matter what, so why not add some vodka into the mix? The flavor of the finished drink would strongly depend on the tea that you choose. You could try a fruit-flavored tea for a more complex flavor profile.
You might also look for iced tea products that are a little unusual, such as a bottle of tea and lemonade. This type of combination would give you a drink that is more interesting again.
Starbucks Refreshers

The Refreshers drinks from Starbucks are an unusual mixer choice that can work surprisingly well. Refreshers tend to involve multiple flavors anyway, so you end up with a fairly complex drink, one that's even a bit similar to a cocktail from a bar.
Most of the time you'll need to go to Starbucks to order the mixer, so it won't be ideal for all situations. Alternatively, you could try the canned version of the Refreshers that Starbucks produces, although these may not be as good with vodka as the fresh versions.