While juicing can be healthy and appealing, it is also expensive, messy, and, most of all, time-consuming, which is why joining a juice of the month club saves you the hassle of juicing at home. Signing up for a juice of the month club is easy and convenient, plus there are several clubs to choose from, ensuring you can find the right subscription for you.
Before we talk about the clubs themselves, let's spend a little time considering the truths and myths about jucing. For one thing, juice can be a sugary treat that has little to no health benefits or a powerhouse of vitamins and nutrients.
Over the centuries, juice has come in many forms, from juice boxes to healthy green juice made from kale. However, juice first became popular as a deterrent to scurvy in the 17th century.
But, the history of juice started long before the 17th century, one of the first documented juice recipes was found in the Dead Sea Scrolls from before 150 b.c. The recipe was for creating a juice to increase strength and form by mashing pomegranate and figs.
Over the years, juice has become a favored drink. Though initially, it was a fermented concoction to preserve the juice for long voyages and storage. However, in 1869, Thomas B. Welch came up with a pasteurization method for preservation without fermentation. Eventually, this pasteurized juice was labeled and sold as "Dr. Welch's Unfermented Wine."
But whether it is fermented or not, juice has been used for healing over the ages. For centuries health practitioners have used the juice from fruits, herbs, and vegetables to heal their patients.
In the 1930s, the first juicer was invented by Dr. Norman Walker. However, the juicer was cumbersome and not easily used. Then in the 1950s, a new juice machine came out, and though it was easier to handle, it heated the juice during the process, ultimately destroying the live enzymes and healthy nutrients.
Finally, in 1993 the first juicer, Greenpower, not to heat the juice during extraction, was invented. Today there are multiple brands and styles of juicers available so that you can juice fruit, vegetables, and herbs in your home.

Juice of the Month Clubs
Cold Off the Press
Lumi
Project Juice
Raw Generation
Suja Organic
Pressed Juicery
Greenhouse
Cold Off the Press

Cold Off the Press was founded by Amir Sadeghi, whose goal is to have a company that focuses on providing nutritionally dense beverages to increase one's quality of life.
Cold Off the Press offers four levels of juices:
Level One is for those new to juicing and is made up of primarily fruit-based juice
Level Two is still on the sweeter side, contains some vegetables and is the start of phasing in new flavors such as ginger
Level Three has a higher vegetable content and is an excellent choice for those who already consume vegetables daily
Level Four has bold vegetable flavors and is formulated to be a vitamin and nutrient-dense drink
Additionally, they have three juice cleanse programs. These cleanse plans are set up in a similar fashion as the levels above, beginner, intermediate, and advanced.
These juice cleanses are designed to aid in weight loss, increase to physical energy, to promote a clearer mind and focus, and to help provide a healthier complexion.
The majority of the juices are 100% juice, with a few exceptions. They have a wide variety of juices available, including:
Turmeric Shot
Orange Sting
Master Green
Happy Green
Feel the Beet
A.C. Lemonade
Coco Matcha
24-Hour Cold Brew
CBD Infused Water
The different juices and cleanses are available as single orders, or you can choose to sign up for a juice subscription. There are four different subscription choices:
6 bottles per week for $40.99/week
12 bottles per week for $77.99/week
18 bottles per week for $111.99/week
24 bottles per week for $147.99/week
Once signed up, you can change, pause, or cancel your subscription within 48-hours of your next delivery.
Lumi

Lumi, stands for "Love You Mean It." It was an inspiration founded in the aisles of Whole Foods Market, based on the idea that "healthy choices start at the grocery store."
Hillary, the founder of Lumi, envisioned bringing a healthy nutritionally dense juice option to the grocery store shelves in the hope of inspiring people to choose a healthy food option. In 2013, she made her dream a reality, bringing to market the first organic juice.
Each 10 oz bottle of Lumi juice is packed with a daily serving of fruits and vegetables and does not contain any additives. All of Lumi juices are 100% USDA certified organic cold-pressed and high-pressure processed.
There are a variety of juice options available:
Wahoo Orange
Farmhouse Greens
Belmont Beet
Morning Sunrise
Harvest Apple
In addition to their juices, Lumi also has two different nutrition shots, Gold Rush and Hot Shot. Both are similar to an energy shot but are made up of organic ingredients such as fruits, vegetables, and herbs.
You can purchase their juices as a 6, 9, or 36 pack and the shots as a 6 or 25 pack. Additionally, all of the juices and shots are available as a one time purchase or subscription. When you order as a subscription, you automatically save 10%.
Plus, Lumi has two variety packs, pro-athlete and low-sugar, both of which are available as a monthly subscription.
Project Juice

Project Juice is more than just a juice company. They are a wellness company focused on bringing you premium juices to enhance your health and well-being.
In addition to juice they also offer a variety of other items such as:
Granola
Trail mix
Sprouted almonds
Protein powder
Vitamins
Additionally, there are several Project Juice bars all over the San Francisco area of California, where you can walk in and get your fresh daily juice fix. However, if you aren't near the bay area, Project Juice is now available in different markets as well as online.
They have a few different juice options available to choose from, including:
Cleanses
Build your own juice pack
Wellness packs
Power Shots
For those who are interested in a juice subscription membership, Project Juice has you covered. Plus, when you sign up, you can expect up to a 30% savings on your order.
To get started, you first need to build your juice pack. The pack has a minimum requirement of 6 bottles and a maximum of 30, plus up to 10 power shots per shipment.
You can choose from 18 different flavors, including juice varieties from their greens, citrus, blends, or nut mylk and shakes. Once you have added your selection to your cart, you can pick the auto-renew option so that you will receive weekly juice deliveries.
Raw Generation

Raw Generation started in 2012 by a father and daughter duo. The journey into nutrition began in 2010 when the founder, Jess, lost her two grandmothers within six months. For both her and her father, Bill, this was a harsh awakening to the importance of nutrition.
Their passion for knowledge about nutrition and implementing what they learned into their lives, sparked the idea to start Raw Generation. Between Bill's business background and Jess's nutrition and design experience, they partnered and launched Raw Generation.
Raw Generation juices are all hand made in small batches to ensure ultimate freshness and quality. The juice is never pasteurized and contains no added chemicals, so it is as close to what you would be able to make at home.
To store and preserve the nutritional value, they freeze the juice to minimize the loss of nutrients during the shipping process.
Raw Generation offers much more than just juices:
Fresh produce
Cleanse programs
Immunity shots
Apple cider vinegar drinks
Hand sanitizer
Smoothies
If you are interested in setting up a routine delivery of juice, Raw Generation's subscriptions are perfect. Their juices, cleanse programs, and smoothies are all eligible to set up as a subscription.
After choosing your beverage pack, you then decide on quantity either an 18 or 30 pack. Next, you pick the delivery schedules, which ranges from every week up to every 12 weeks.
When you choose a subscription, you will automatically receive a 10% discount on your juice. There is a minimum of two deliveries before you can change or cancel your subscription.
Suja Organic

Suja Organic started in 2012, in response to the lack of nutritious, clean, and convenient beverage options. In the beginning, Suja juices were hand-delivered via skateboard in the San Diego area.
However, over the last eight years, they have become one of the leading organic juice companies in the country. In addition to juice Suja also offers kombucha, functional shots, and cleanse programs.
Suja Organic juice has several different functions such as:
Increasing energy
Boosting vitamin and nutrient intake
Providing a delivery system for live probiotics
Boosting immune system
Improving focus
If you would like to taste a variety of their juices, try one of their many subscription options. There are various packs eligible for their subscription such as:
Immunity Rebound Shots
Energy Shots
Focus Shots
Immunity Defense Shots
Sayonara Sugar Juice – contains three flavors to help reduce sugar intake
Green Freak Juice – includes three different green juice varieties
12 Essentials Juice
3 Day Cleanse
Shot pack subscriptions include 15 bottles (2 oz each). When you sign up for three months or more you also get free shipping and 15% off your subscription.
Juice pack subscriptions include 6, 18, or 48 bottles of juice (16 oz each). Shipping is free if you sign up for three months. Cleanse subscriptions include 21 bottles (16 oz each), so you have enough for a three day cleanse.
If you would like to try their juices before purchasing a subscription, Suja is available at most local grocery stores.
Pressed Juicery

Pressed Juicery is both an online juice store as well as a retail juicery with multiple locations in several different states. Pressed Juicery's mission is to provide nutritious, delicious, affordable, accessible juice to everyone. Their farm to bottle process ensures their juice is as fresh as possible, delivering the highest level of nutrition.
In addition to juice, they also offer:
Soft-serve ice cream
Nutritionally dense juice shots
Apple cider vinegar beverages
Cleanse and detox programs
Aloe Vera water
Oat milk
Additionally, there is a Pressed Juicery membership. This monthly program allows you to order all their great products, but at a significantly discounted price, sometimes up to 35%.
To become a member, you need to create a Pressed Juicery account, then decide on a monthly spending amount. The minimum monthly amount is $10. The amount you choose goes to your monthly purchases, either online or in-store.
There is no limit to how much you can buy with your membership account. And if you don't use your full amount in your account, it will roll over to the following month without penalty. Also, there aren't any monthly fees.
Nationwide shipping is available and is sent either overnight or 2-day; shipping is based upon region. For those close to a retail shop, you can always opt for in-store pick up too.
Greenhouse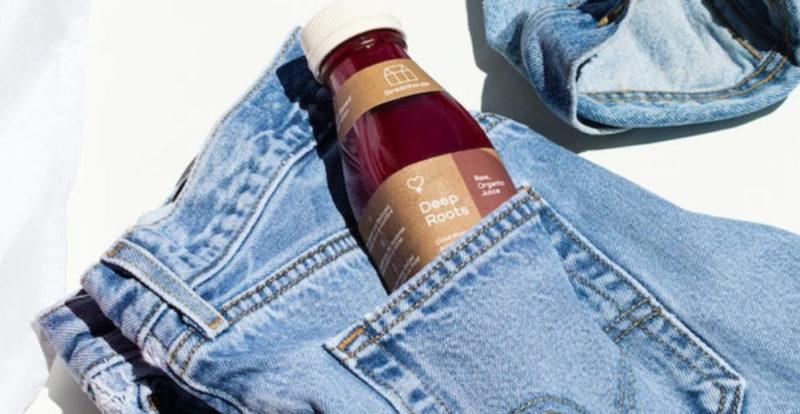 Greenhouse is a Canadian company that focuses on plant-based products, including many that are locally produced. The products they produce themselves are certified organic and non-GMO. The juices are also bottled in glass and avoid any additives.
The company has various popular juices. These can often be ordered in different sizes, such as 300 ml or 946 ml. Some are also avaliable as six-packs.
You can order whichever juices you like from the company, but your order needs to total at least $29 for you to order online. Orders of $65 or above are eligible for free shipping.
When you do checkout, you're able to select between a one-off order and a subscription. Subscriptions can be delivered every week, every two weeks or every four weeks. However, there don't seem to be any discounts for subscriptions.