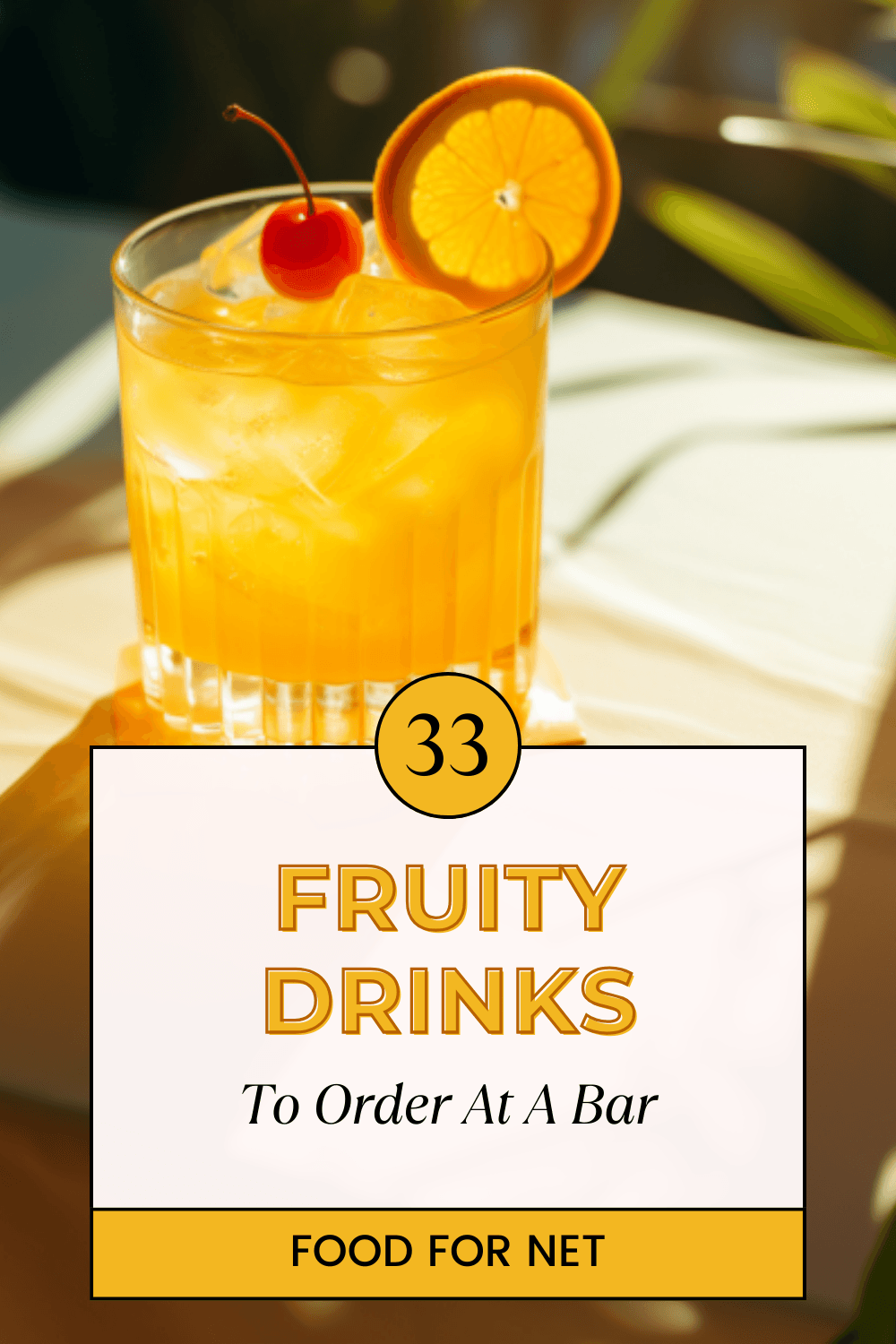 Fruity cocktails are bright, colorful, and full of flavor, making them the perfect way to treat yourself. They're also a great introduction to cocktails, as most are very easy to enjoy, especially if you don't like the harshness of spirits.
There's an insane number of fruity drinks out there, including modern and classic creations. So today we're looking at the best fruity drinks to order at a bar.
You'll see a variety of cocktails on this list. Some have high alcohol content, while others are weaker. Similarly, some fairly tart cocktails are on the list, plus plenty of sweet ones. Why not check them out? You might discover a few new favorites along the way.
Fruity Drinks To Order At A Bar
An important caveat before we begin: while these cocktails are popular and easy to order, you won't find every cocktail at every bar.
Some bars might be missing a key ingredient. Others may have a bartender who isn't familiar with all the cocktails. That's okay. If you're worried, start with one of the simple classics on the list – like the cosmopolitan.
Cosmopolitan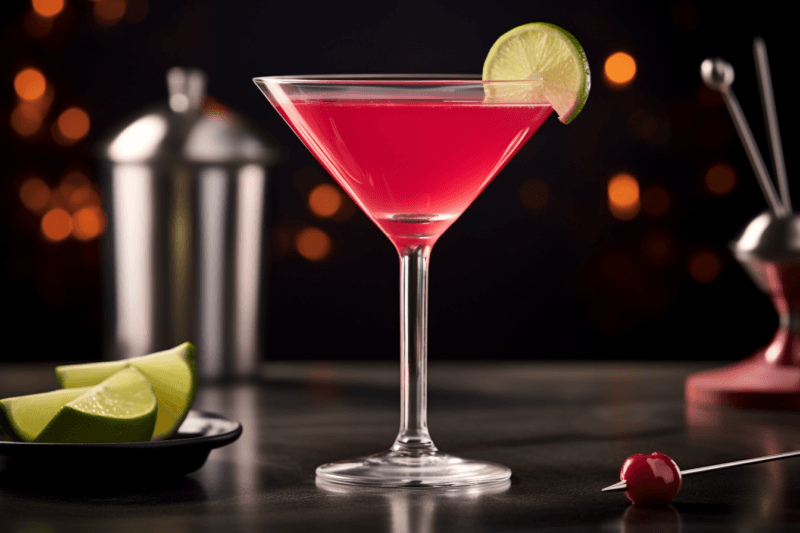 It's hard to think of a cocktail more famous than the cosmopolitan. It was incredibly popular in the 90s, partly due to the TV show Sex and the City. While the drink isn't quite so popular these days, it's still well-known and is easy to order.
The cocktail is relatively simple, relying just on cranberry juice, lime juice, orange liqueur, and vodka. Some recipes feature citrus vodka, while others stick to plain vodka instead.
When made well, a cosmopolitan can be delicious. After all, it's still popular these days, so it must have plenty going for it.
Opinions are mixed though. While plenty of people enjoy the cocktail, others can't stand it at all. Then again, that's true for pretty much every cocktail under the sun.
Sex On The Beach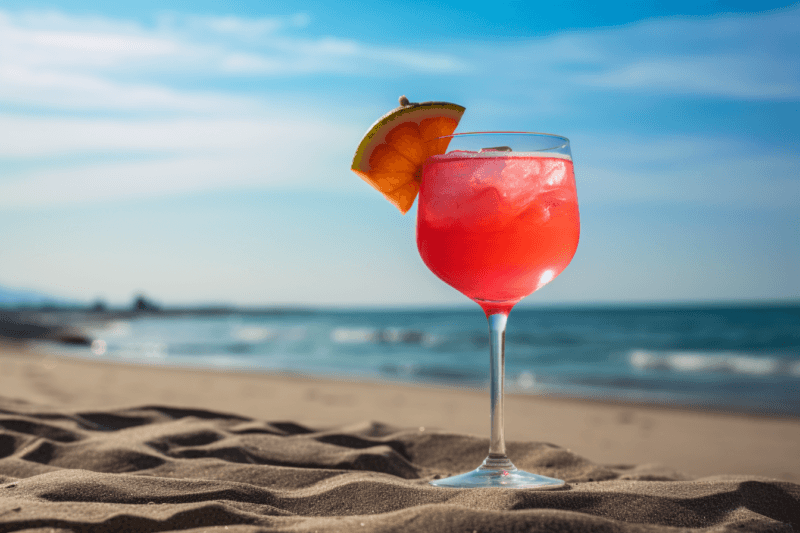 This cocktail is most famous for its name. What do you expect with a name like 'sex on the beach'? It's also a very fruity cocktail, as it relies on cranberry juice, peach schnapps, and orange juice – plus vodka.
Sex on the beach isn't a particularly strong cocktail. Still, the fruitiness means the alcohol can quickly sneak up on you.
A less common variation is called sex in the driveway. It isn't as fruity, as both fruit juices are dropped out and blue curacao is added. There's still some fruitiness though, as blue curacao has an orange flavor and peach schnapps remains in the mix.
Hurricane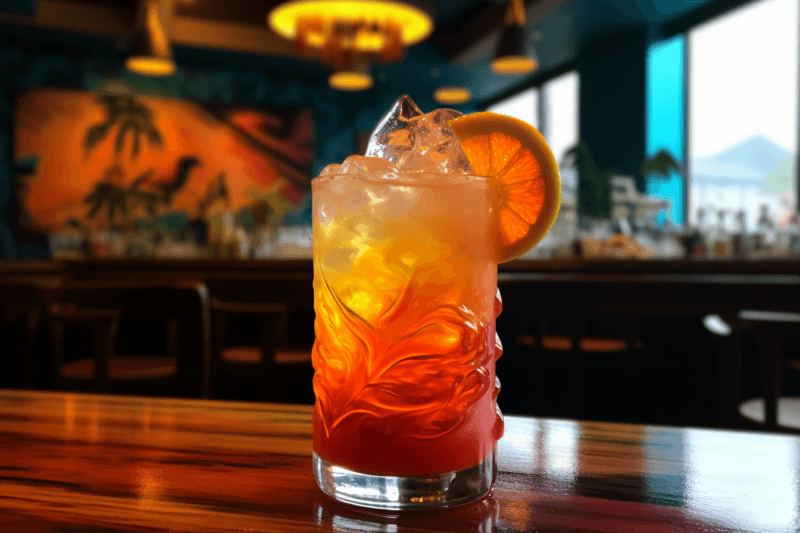 You won't find this cocktail at every bar, but plenty of places still make it. The main fruit flavors are passion fruit and orange this time. It's a pretty strong cocktail too, as it features two types of rum, rather than just one.
This cocktail is similar to a mai tai in some ways, yet has enough to make it stand out all on its own. The combination of sweetness and alcohol makes this one exceptional as a party drink.
Blue Hawaiian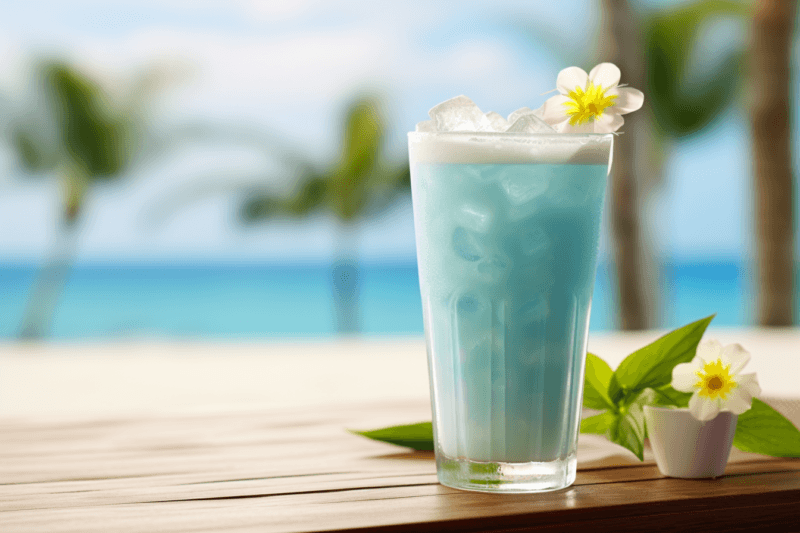 The blue Hawaiian is a fun cocktail, featuring pineapple juice, white rum, blue curacao, and cream of coconut. You end up with a creamy and fruity drink, that offers plenty of sweetness.
Some recipes add lemon juice to help balance out the sweetness and make the cocktail less overwhelming. It can also be made with coconut rum instead of white rum, for extra coconut flavor.
Blue Hawaii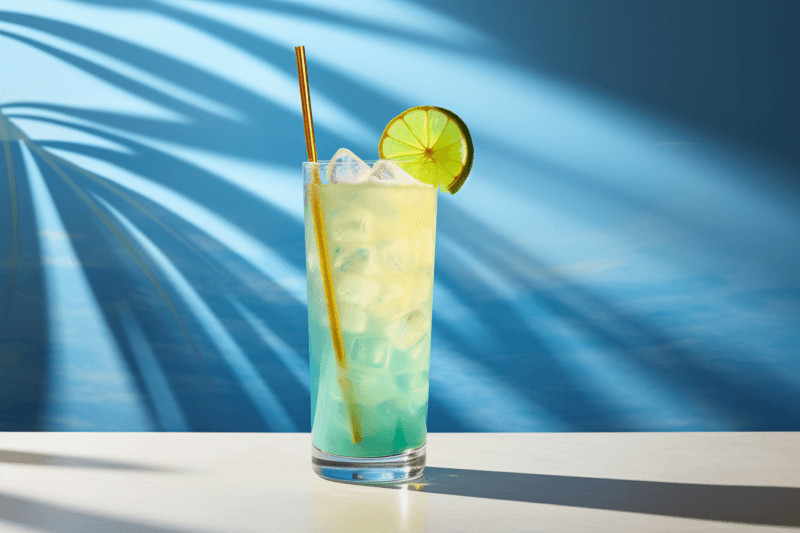 Then there's the blue Hawaii. These cocktails don't just have similar names, their recipes are also pretty similar.
The main difference is that the blue Hawaiian relies on cream of coconut, while the blue Hawaii uses a sweet and sour mix instead. Plus, the blue Hawaii often uses vodka along with the rum. These differences mean that the blue Hawaiian tends to be much creamier and less alcoholic.
Tequila Sunrise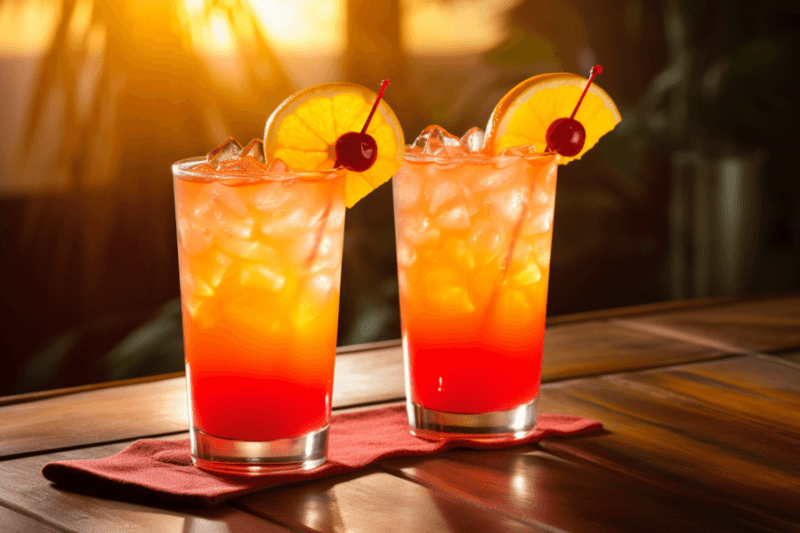 This is the classic cocktail for ordering on vacation, right? The cocktail just includes three ingredients: orange juice, tequila, and grenadine. Yet, those three ingredients create a fantastic layered drink.
That said, this cocktail is best for those who really love sweet and fruity drinks, as it can be cloyingly sweet. If that's not you, don't worry, there are plenty of other options.
Paloma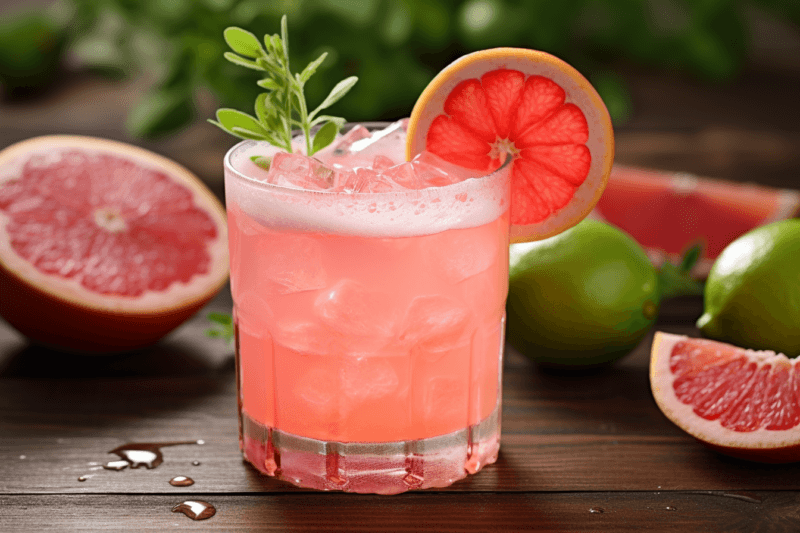 The paloma is another pretty simple cocktail. It's traditionally made with grapefruit soda, tequila, and lime juice. The grapefruit soda provides you with a touch of grapefruit flavor, but not too much.
If you can't find grapefruit soda, this can also be made using fresh grapefruit juice and sparkling water. Simple syrup is sometimes added to stop it being too sweet.
You're more likely to see the grapefruit juice and sparkling water version at a bar, simply because those are common ingredients. Still, you never know. Some bars might take the grapefruit soda approach instead.
Greyhound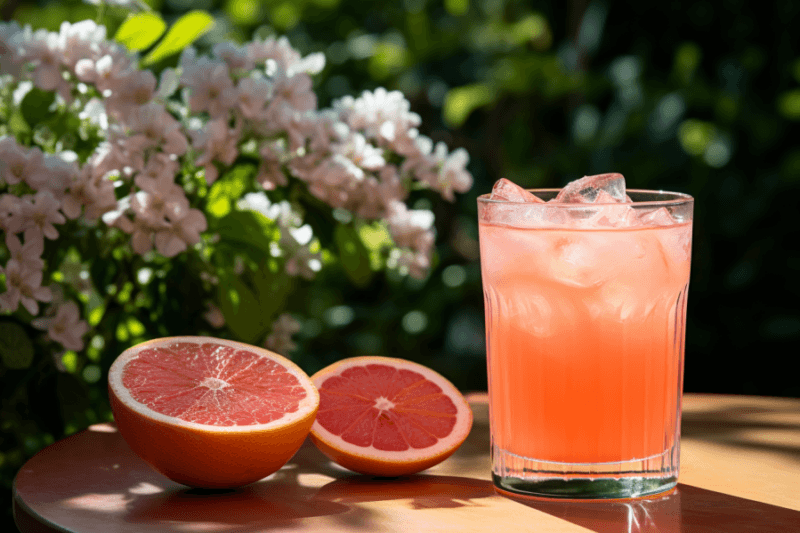 There's also the greyhound cocktail. This is basically a simpler version that's made using grapefruit juice and either gin or vodka.
Still, simple or not, the greyhound cocktail can be delicious (provided you enjoy grapefruit juice).
Piña Colada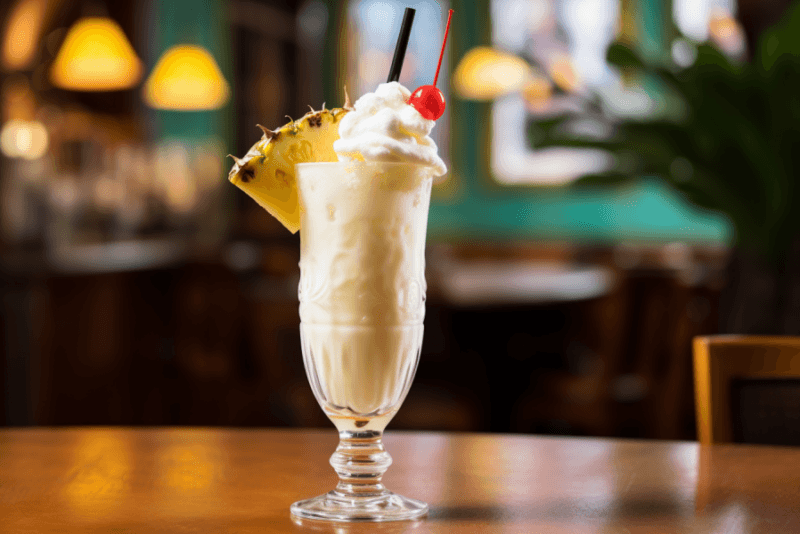 The piña colada is another ultra famous cocktail. Every bartender will know how to make it and most bars will stock the ingredients.
There are only a few ingredients to worry about anyway, just pineapple juice, coconut cream, lime juice, and white rum. The cocktail is classically blended using crushed ice, making it a cooling and creamy drink.
Orange Crush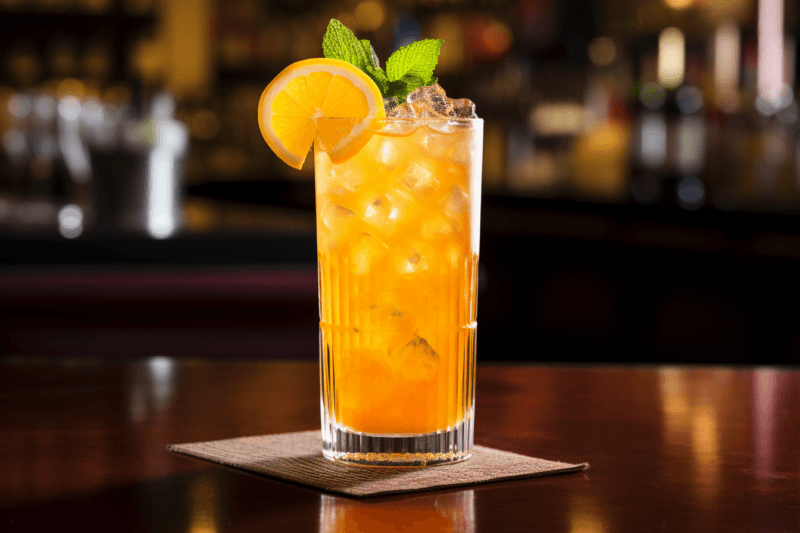 This cocktail is popular in the summer, to the extent that some bars will have a premade version ready to serve. The cocktail generally relies on orange soda, triple sec, and vodka. However, it can be made using lemon lime soda and either orange vodka or orange bitters.
There tends to be plenty of ice too, which makes the cocktails special and a perfect way to cool down.
Orange crushes aren't limited to the summer. You can order them at any time of the year, as all the ingredients are common bar staples.
Vodka Cranberry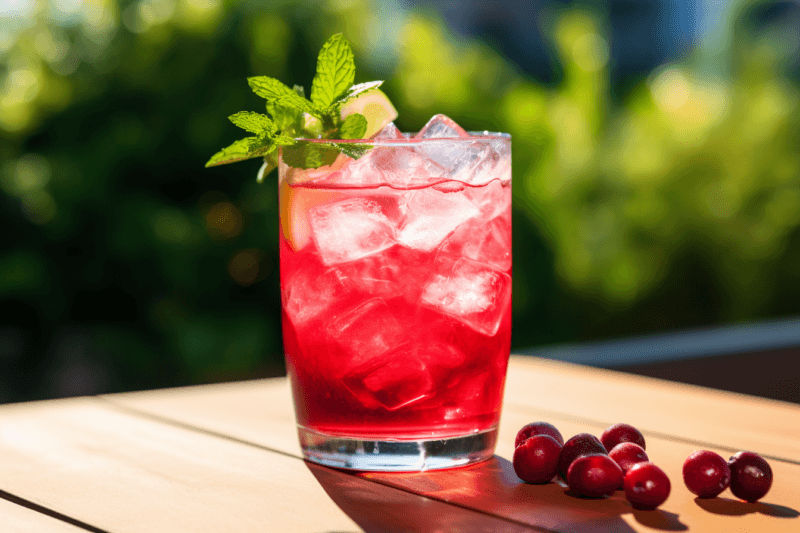 A vodka cranberry is an instantly recognizable cocktail, as it really is just vodka and cranberry juice. It's a great choice, as there are only two ingredients.
Plus, because cranberry juice is a popular cocktail ingredient, it's rare to find a bar that doesn't stock it.
Strawberry Margarita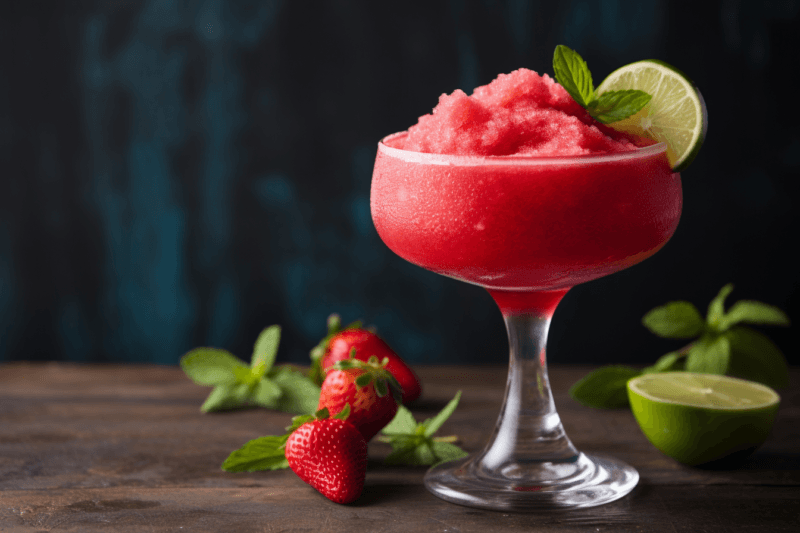 Strawberry margaritas are a terrific riff on the classic margarita. The cocktail still relies on tequila, triple sec, and lime juice, but also adds strawberries into the mix.
You'll often see strawberry margaritas offered as a frozen slushie-style drink. Sometimes these are even premixed, as the cocktail is certainly popular. Just make sure you check first, as some bars will serve them straight or with ice instead.
The use of lime juice and tequila provides some nice contrasting notes to the cocktail. These make it seem a little less sweet than some of the others we've featured.
Other Fruit Margaritas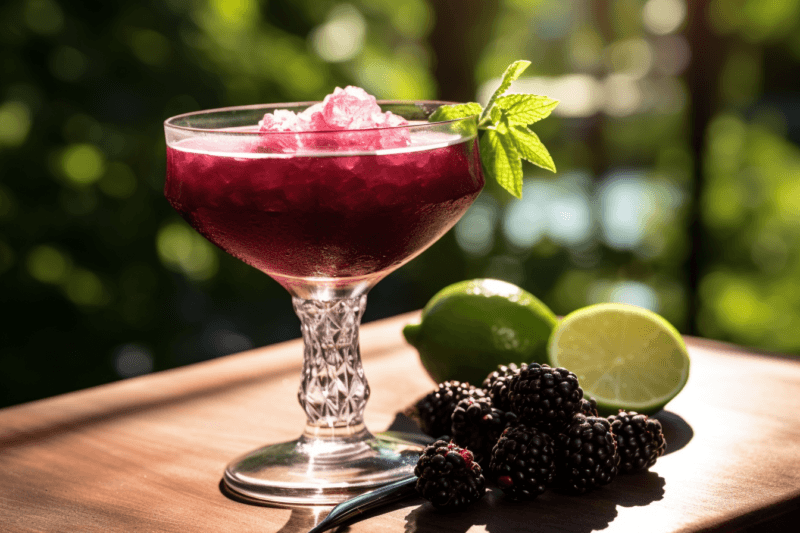 Strawberry margaritas get a little boring after a while, so why not branch out? Many bars offer their own riffs, such as a passion fruit margarita, a watermelon margarita, or a mango one.
These variations might just use a different type of fruit or they might have other ingredients changes as well.
Fuzzy Navel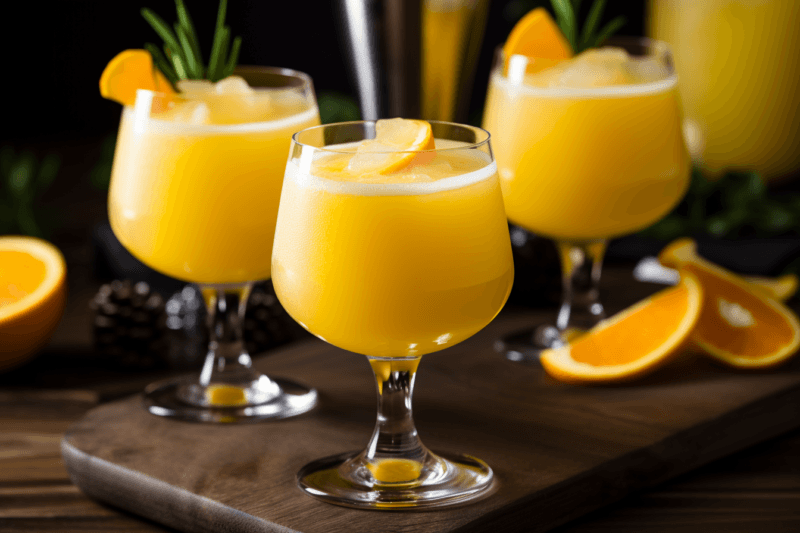 If you don't want much to drink, a fuzzy navel is a great cocktail. It simply uses peach schnapps and orange juice, normally in a 50/50 mix.
The cocktail isn't very strong at all, as peach schnapps often just has an ABV of 20%. Some versions contain even less alcohol than that. The peach flavor also complements the orange juice well, giving you a delicious drink.
Hairy Navel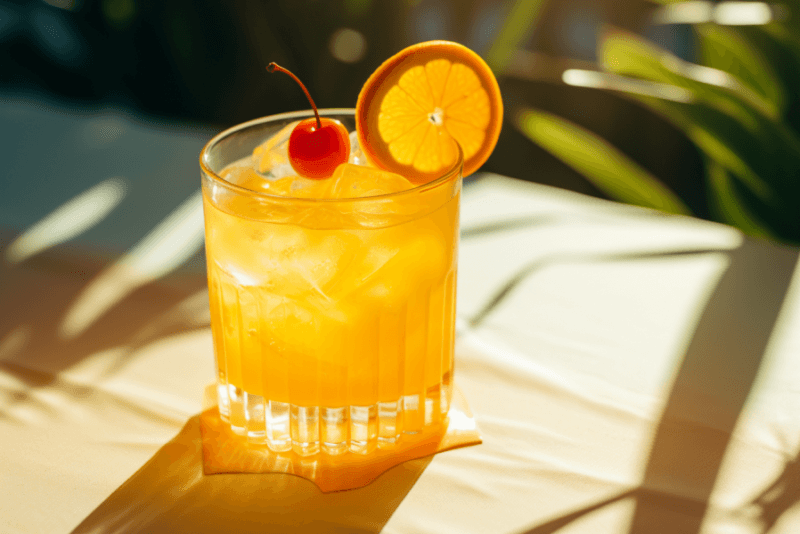 The hairy navel is simply a step up from the fuzzy navel cocktail. It still relies on orange juice and peach schnapps, but this time, there's vodka in the mix as well. The vodka increases the alcohol content of the cocktail and makes it a little less sweet.
Malibu Sunset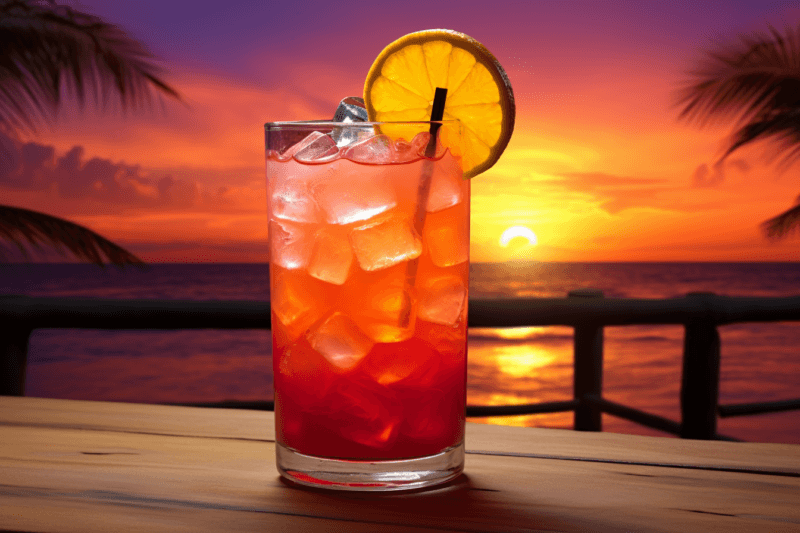 Malibu sunset isn't as famous as some of the other cocktails on this list, so some bartenders won't know how to make it. That just means you'll need to tell them what to do.
The instructions are easier than you might expect. Basically, the cocktail is just a tequila sunrise with a little pineapple juice and Malibu rum instead of tequila. Any bartender worth his salt will know how to make a tequila sunrise, so they should have no problems with a Malibu sunset.
Strawberry Daiquiri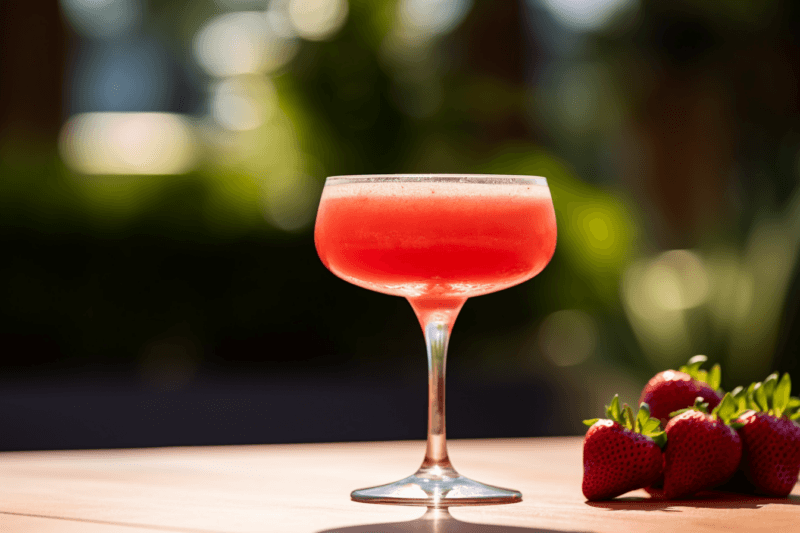 Just like the strawberry margarita, a strawberry daiquiri is a fruity riff on a classic cocktail. This time rum is the spirit of choice and there's plenty of lime in the mix as well.
Some versions add a little apple juice, although this isn't essential. Doing so tweaks the flavor profile and makes the whole thing even fruitier.
Other Fruity Daiquiris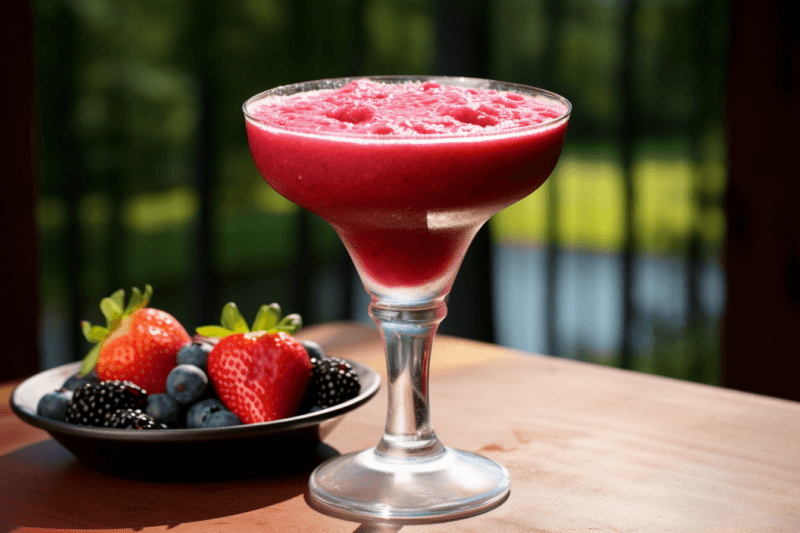 The daiquiri is another cocktail that's endlessly varied. You might find a passion fruit daiquiri, a berry daiquiri, a mixed fruit version, or perhaps something different again.
The cocktail tends to taste delicious no matter what. Some bars do a better job than others. Still… that's the case for all cocktails.
Painkiller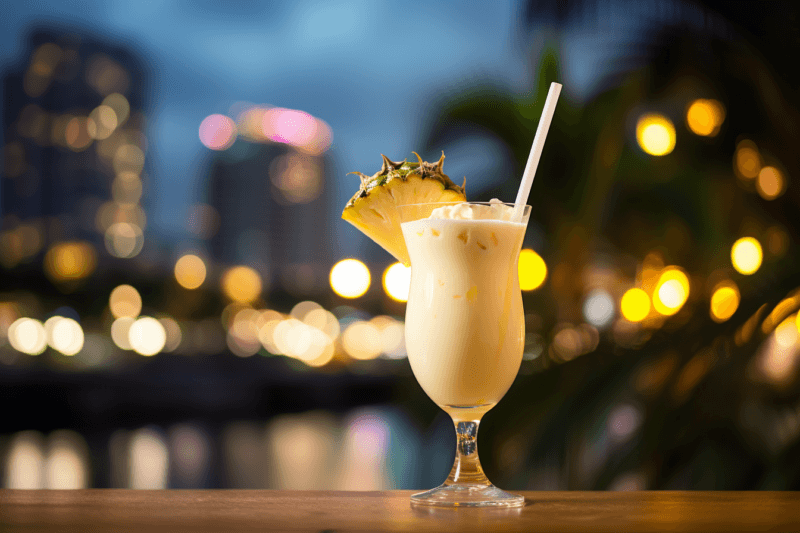 What do you think of painkiller as a cocktail name? The drink might look familiar, as it's similar to a piña colada. However, the painkiller is made using dark rum and includes orange juice as well as pineapple juice.
The use of orange juice and dark rum makes this a more complex cocktail than the piña colada. It isn't as sweet either, making it a delicious drink to try.
Appletini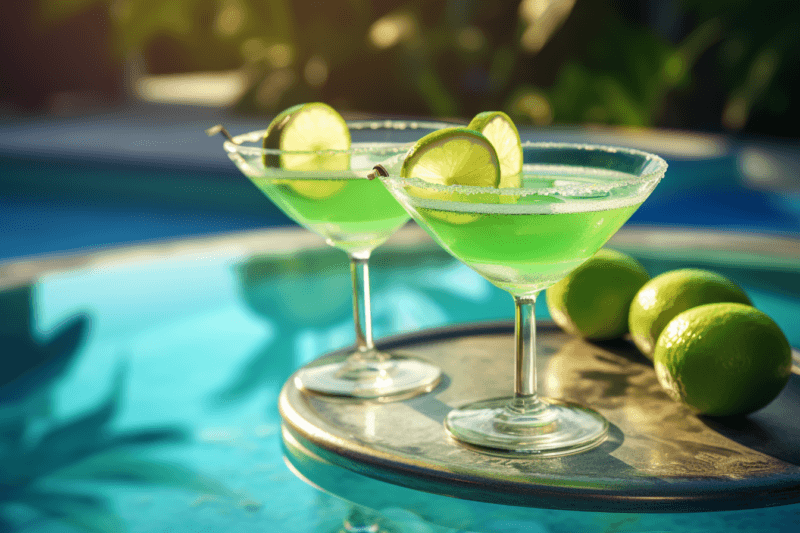 Appletinis, or apple martinis, aren't really martinis at all, as they don't use vermouth. Instead, they're generally made using a combination of vodka and either apple juice or apple liqueur.
The green cocktail is generally served in a martini glass – hence the name 'apple martini'. Sometimes it's a very sweet cocktail, while other times there's a stronger tartness to it.
Lemon Drop Martini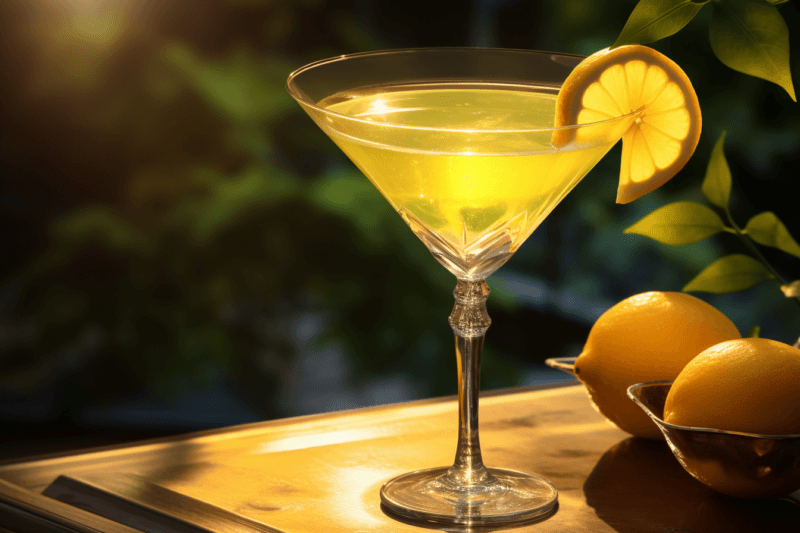 A lemon drop martini is another cocktail that is sometimes sweet and sometimes sour. It counts as fruity either way, as you're always getting a strong hit of lemon flavor.
This cocktail can be made in a few ways, so it might be different depending on where you order it.
Fruit Martinis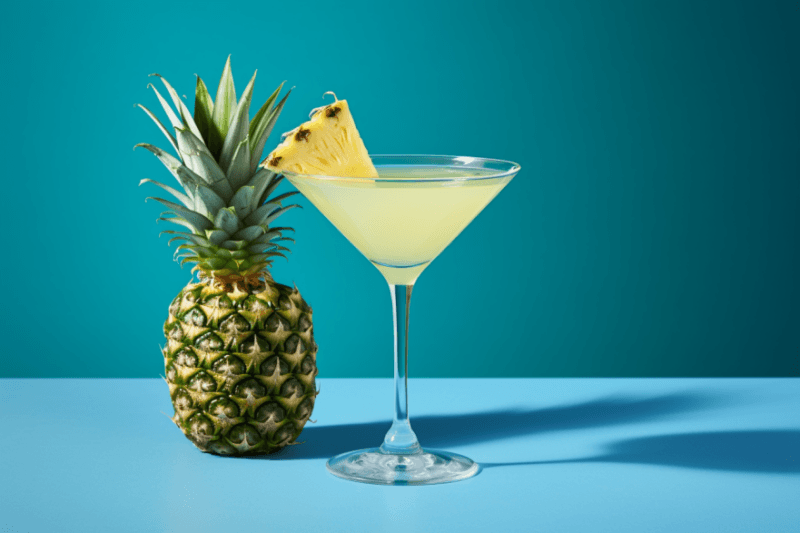 For that matter, there's a whole world of fruit martinis, sometimes called fruitinis. At their simplest, these cocktails combine fresh fruit juice with vodka, then serve them in a cocktail glass.
Many bars will have their own versions, such as a pineapple cardamom martini or a blackberry martini. These will often have extra ingredients like bitters to enhance the flavor profile.
The pornstar martini is an especially good variation. The cocktail itself relies on vodka and passion fruit, often with a touch of lime juice and simple syrup. It's then served with a small glass of sparkling white wine.
Singapore Sling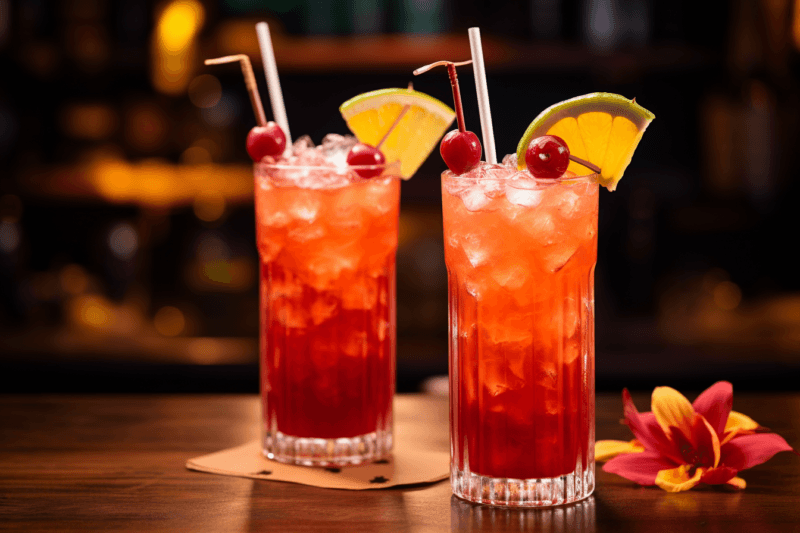 This cocktail is surprisingly delicious when it's made well. This one uses gin as the base ingredient, then includes pineapple juice, lime juice, cherry brandy, Benedictine, and sparkling water.
The ratio of those ingredients varies from recipe to recipe. Some versions play around with the ingredients, like including orange liqueur in the mix. Playing with the ingredients like this is particularly common with complex cocktails. So, you might order this one at the bar and get something completely unexpected (but probably still very fruity).
Mai Tai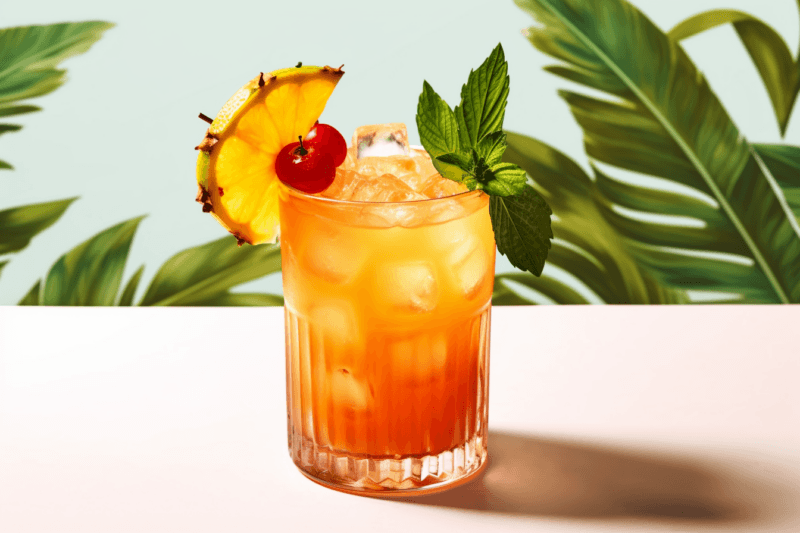 The mai tai remains one of the most famous tropical drinks on the planet. It's less fruity than some of our other examples, but still features orange liqueur and fresh lime juice.
When the mai tai is made well, you can taste the nuances of the rum, while the flavors of orange and lime are in the background. However, modern bars often make the cocktail differently, often creating a very sweet and fruity riff.
Cape Codder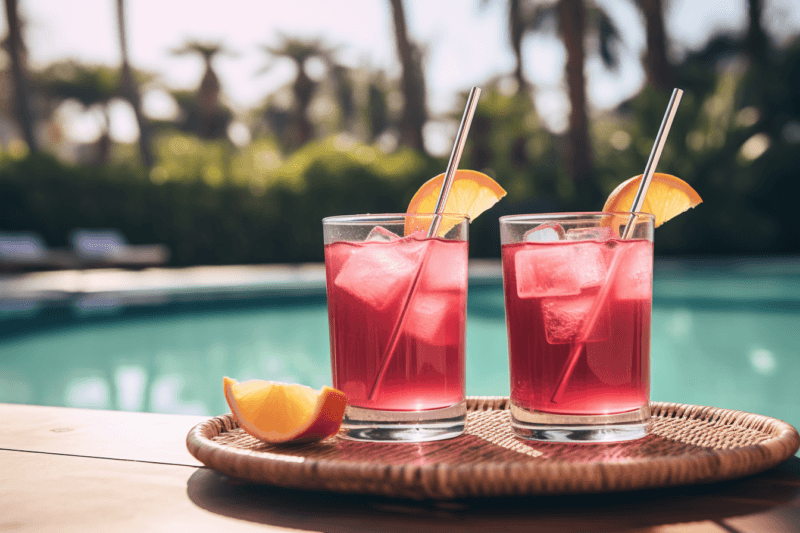 The cape codder cocktail looks a lot like a cosmopolitan, with good reason, as the two cocktails are very similar. In particular, the cape codder just uses cranberry juice, vodka, and lime, while the cosmopolitan adds orange liqueur to the mix as well.
Both cocktails are best when made with high quality cranberry juice. An inferior product quickly ruins the cocktail, making it much less appealing.
Screwdriver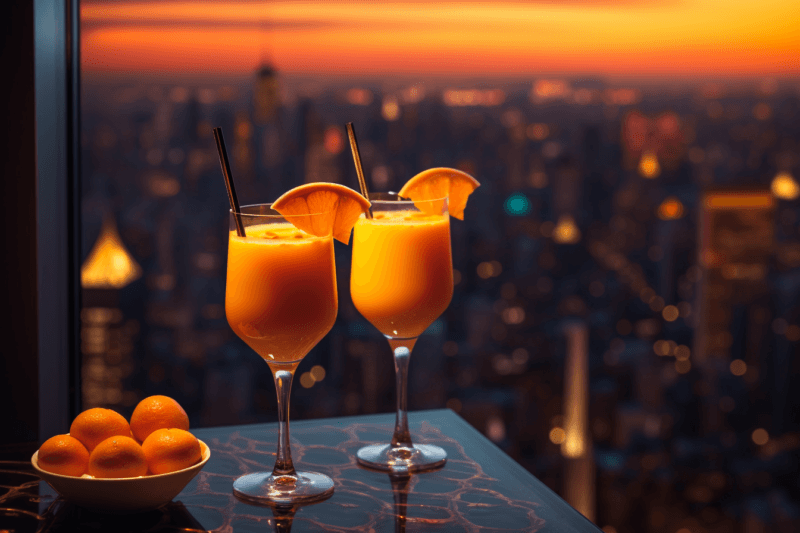 What could be simpler than a screwdriver? This two-ingredient cocktail is made using vodka and orange juice, which are both staples at any bar.
You might be able to order this as a short or a tall cocktail. The alcohol content is the same either way, but a tall version includes more mixer than the short one, making it a fruitier and more refreshing cocktail.
Harvey Wallbanger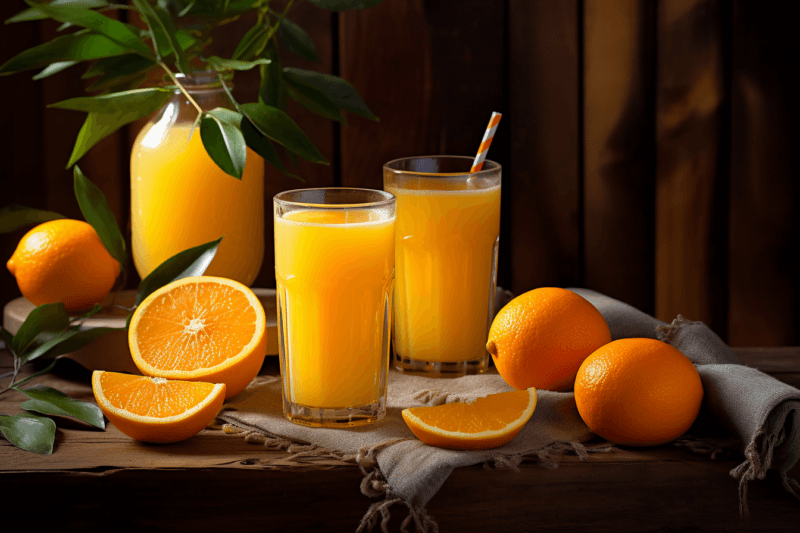 The Harvey Wallbanger cocktail is a simple riff on a screwdriver. It still relies on vodka and orange juice. There's just some Galliano L'Authentico added.
Galliano is a complex liqueur with notes of anise, vanilla, and herbs. Its flavor profile is a great way to make the screwdriver cocktail much more interesting.
Mimosa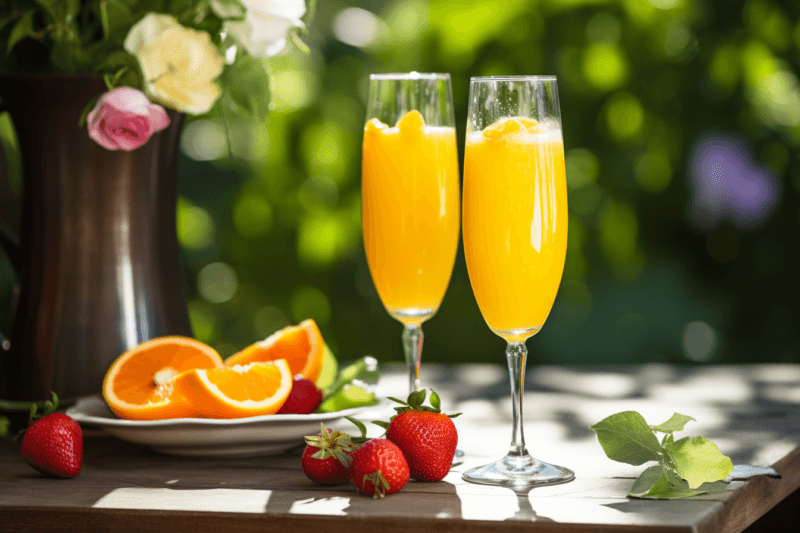 While a mimosa is most often a breakfast or brunch cocktail, you can order it at a bar as well. There are just two ingredients here – orange juice and sparkling wine.
The simplicity of the cocktail means that its quality can vary dramatically. The best versions rely on fresh orange juice and decent sparkling wine.
Sea Breeze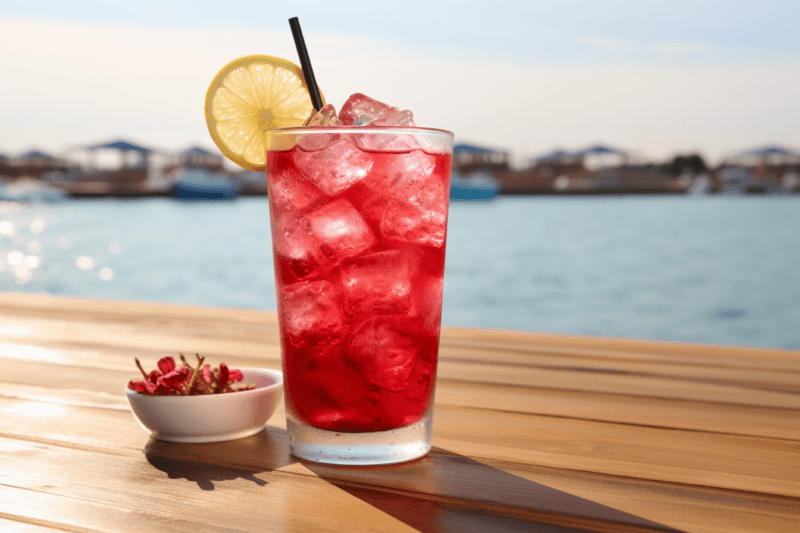 The sea breeze is a little like some of the drinks we've already featured. It has vodka and cranberry juice again, but this time there's grapefruit juice as well.
The grapefruit juice is a fantastic addition, as it adds some much needed tartness to the drink. Besides, cranberry juice, vodka, and grapefruit juice? Easy. Most bars will have all three of these.
Bay Breeze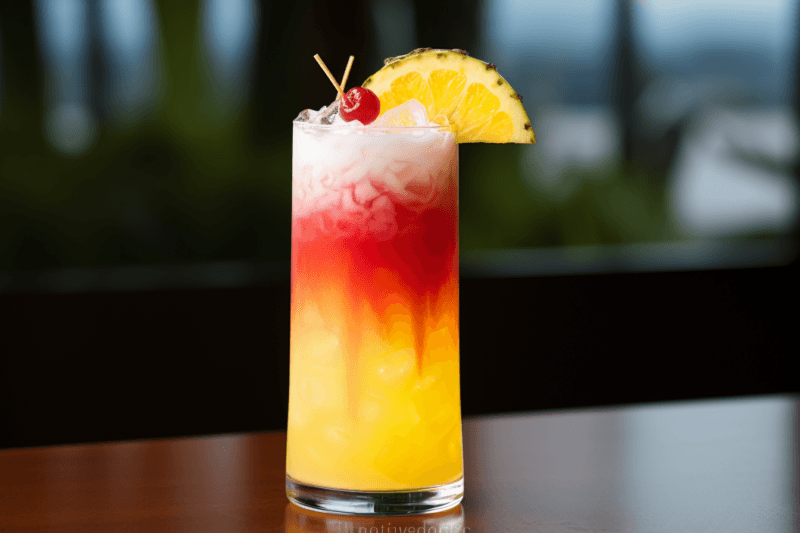 This cocktail is also called the Hawaiian sea breeze. So, no surprise, it's similar to the sea breeze from above. This time, the drink relies on cranberry juice, pineapple juice, and vodka.
The pineapple juice adds an interesting flavor to the drink, making it even sweeter than the sea breeze. There's also a Malibu bay breeze version which, you guessed it, uses Malibu rum instead of vodka.
Gimlet

The gimlet is a little different, as the fruit juice in question is lime juice. This means you're getting a fairly tart little drink.
The spirit of choice here is gin, so you get to enjoy all the nuances of your favorite gin.
Zombie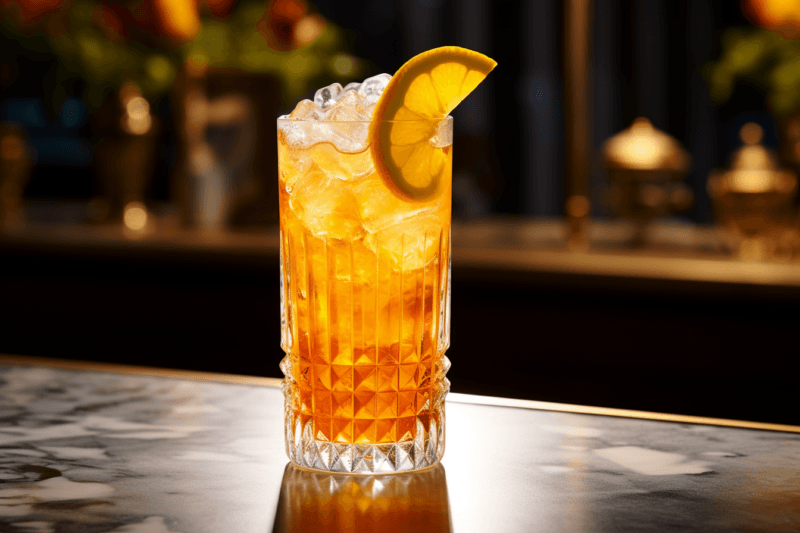 Now we're up to an exciting entry, the zombie. While this isn't found at all bars, many do offer it. The zombie even becomes a feature at some locations because of its high alcohol content.
You're often looking at three different types of rum, one of which is overproof. The fruit juice masks much of the alcohol, so the cocktail doesn't feel nearly as alcoholic as it actually is. It's no surprise that some bars limit their customers to just two of these cocktails per night.
The Bar's Own Creations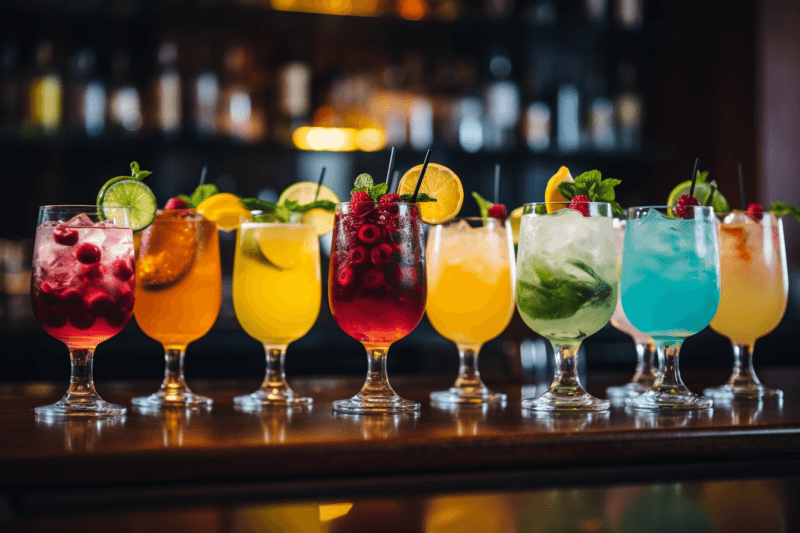 We've been focusing on classic cocktails, ones that most bartenders should know how to make. However, those aren't your only options. Many bars will have their own in-house specialties. These may be riffs on some of the cocktails we've featured or entirely new creations.
So, if you're stuck or want something new, check out their cocktail menu. The fruity cocktails should be easy to spot, as they rely on fruit juice and don't overdo it with the spirits.
Are Fruity Drinks Girly?
Fruity drinks are often considered girly, partly because they're sweet and often low in alcohol. But honestly, that's a very old-fashioned idea and some fruity drinks are surprisingly strong – like the zombie.
We've highlighted some such drinks on our list of manly tropical cocktails. Besides, isn't any cocktail manly if a man drinks it? Why make rules about the cocktails that men and women are meant to enjoy?
Things To Consider When Ordering Fruity Drinks
We've featured a variety of fruity drinks on this list, so where should you begin? Here are a few ideas.
Do You Want A Strong Fruity Cocktail?
First, how much alcohol do you want? If you're looking for a strong cocktail, then the hurricane and zombie are great choices.
For something milder, you're looking for a tall cocktail with plenty of mixer, like a vodka cranberry or a screwdriver. But remember, these can still make you drunk surprisingly fast, as the fruit juice masks the taste of the alcohol.
How Sweet Should It Be?
Sweetness is another question. Some of the cocktails on this list can be incredibly sweet, like the tequila sunrise, many fruit martinis, strawberry margaritas, and the piña colada.
If you don't want too much sweetness, look for cocktails that include some sour ingredients, like lemon juice, lime juice, and sometimes grapefruit juice. The amount of alcohol makes a difference too, as drinks with plenty of booze typically taste less sweet.
The appletini, lemon drop martini, mai tai, gimlet, paloma, and zombie are all examples of fruity cocktails that aren't overly sweet. However, there are many ways to vary the recipes and some bars will create sweeter versions than others.
What's The Base Spirit?
Rum and vodka are the most common base spirits for fruity drinks. You'll sometimes see tequila and gin in the mix too, although whiskey rarely features (there are plenty of whiskey cocktails, they're just not fruity).
The main question here is which spirit do you enjoy the most? If you're a tequila person, then one of the fruity margarita variations might work well. If you prefer rum, look for a fruity tropical cocktail. And, if you like vodka, you have a ton of options at your fingertips.
If You're Unsure, Keep It Simple
The simplest approach you can take is just to ask for vodka in fruit juice, like a screwdriver or a vodka cranberry. A cosmopolitan is a good bet too, as it only has three ingredients and is incredibly famous. Such drinks mightn't be nuanced, but they're fruity, delicious, and hard to get wrong.