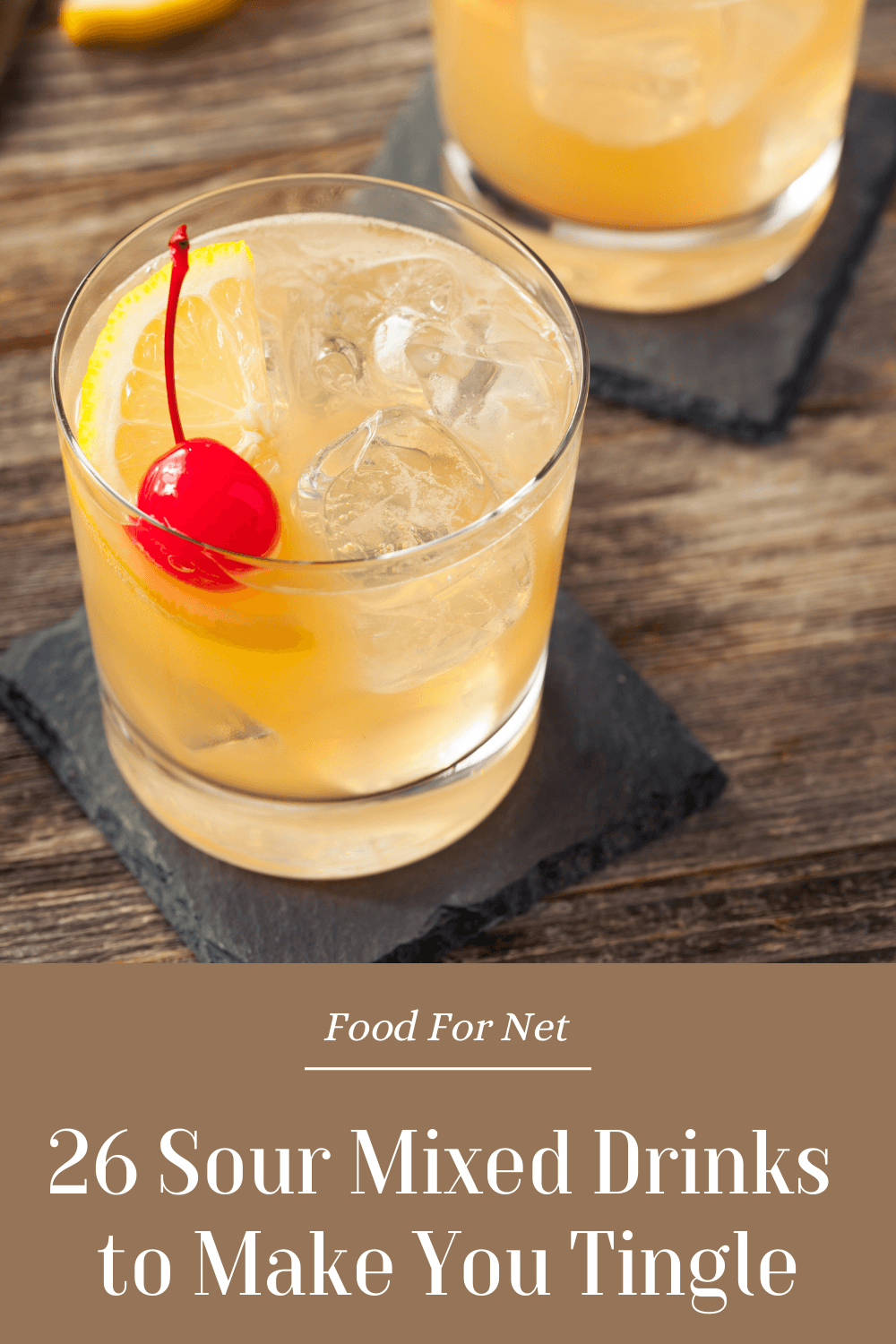 Cocktails have a bad reputation sometimes. They're often excessively sweet and brightly colored. Some of them even just taste like fruit juice, where the nuances of the alcohol are all but lost. Such cocktails are simply a way to make alcohol easier to drink. Thankfully, there are plenty of more exciting options too, including sour mixed drinks.
These cocktails tend to be more finely crafted, often playing on a delicate balance of sweet and sour to give you a cocktail that you're certain to enjoy.
We're not covering every single sour mixed drink in this list. That would be impossible. Instead, we're covering some of the best, brightest, and most enjoyable – a selection that includes many classic cocktails and some modern creations.
If you want more cocktail ideas, check out our lists of the strongest mixed drinks and vegetable juice cocktails. There are even cocktail of the month clubs that ship recipes and ingredients straight to you.
Sour Mixed Drinks (With Pictures!)
The Traditional Sours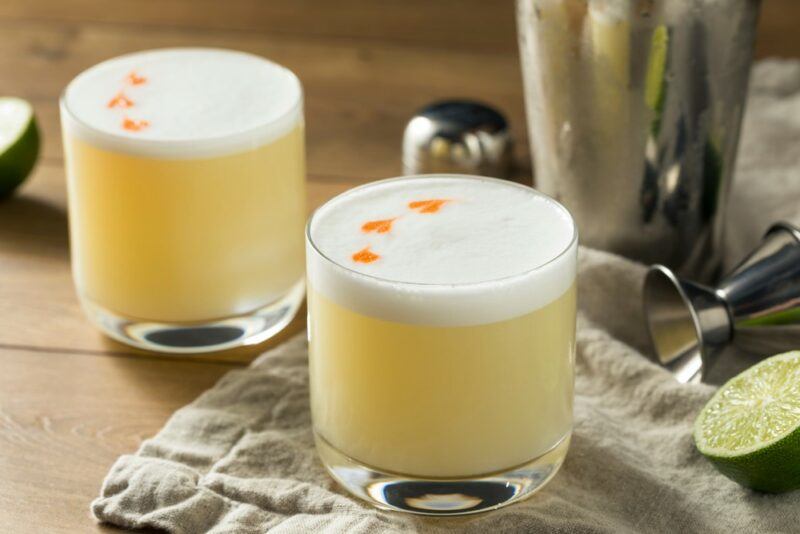 To start the conversation about sour drinks, we need to talk about a traditional cocktail family – the sours. This are one of the earliest types of cocktails out there and have seen plenty of ebbs and flows over the years. In fact, many modern drinks were inspired by the sours.
The classic version of the drink is simple. You just have the spirit, a sour ingredient (like lemon juice or lime juice), then a sweetener.
If you use simple syrup as the sweetener, then you end up with fundamental sours like the whiskey sour, tequila sour, or vodka sour. Use a sweet liqueur and/or orange juice, and you get a more complex drink. The classic sidecar, aviation, and cosmopolitan all follow this pattern.
As you'll see, though, the floor's open for experimentation. The basic recipe can be tweaked in endless ways to create new and exciting drinks. Indeed, many recipes on this list have some features of the basic sour structure.
Gold Rush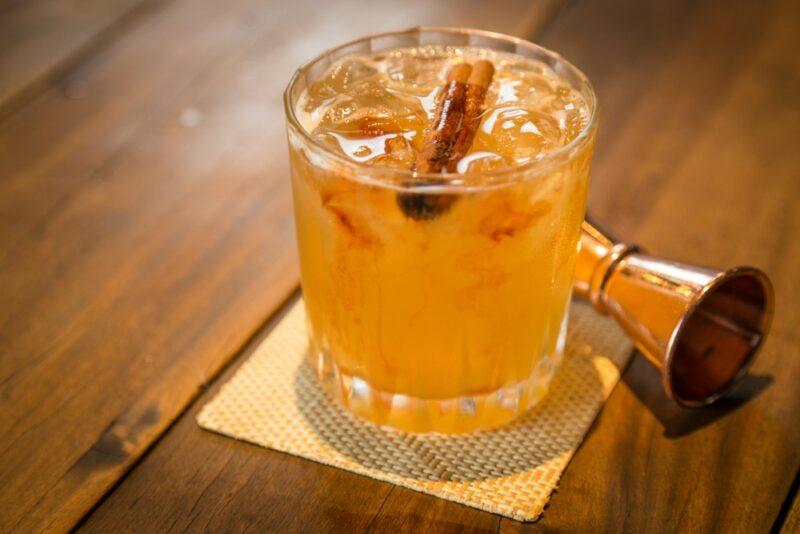 The gold rush is a surprisingly simple cocktail. It's basically just a bourbon sour that's made using honey syrup, rather than simple syrup.
Using honey gives the cocktail a richer color and a greater depth of flavor than a regular whiskey sour. Besides, it's always nice to mix things up.
The cocktail tastes best when made using bourbon, but you can easily experiment with other types of whiskey.
Lemon Drop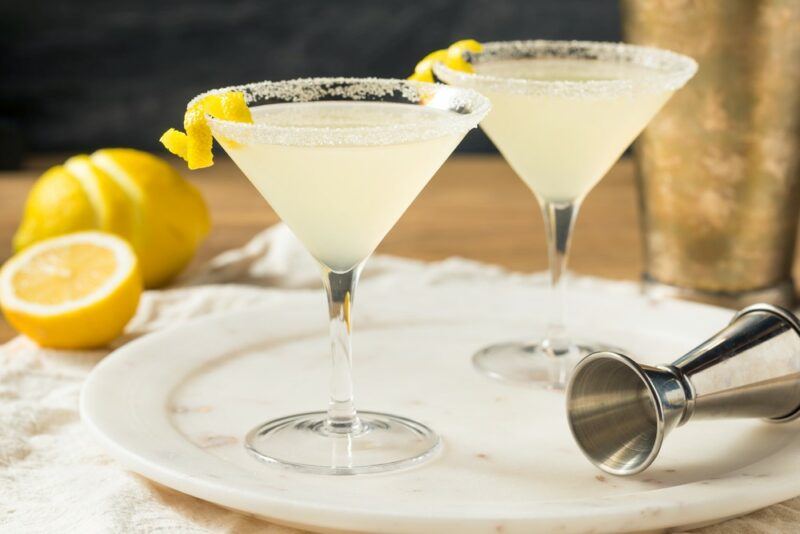 The lemon drop is another twist on the sour cocktail family. Many versions rely on triple sec, vodka, simple syrup, and lemon juice, where both the simple syrup and the triple sec provide some sweetness.
Doubling up on the sweetness is important, as this drink contains a decent amount of lemon juice. If you just used triple sec, the cocktail would be far too sour.
You can take the drink one step further too by using citrus vodka. The citrus flavors perfectly complement the rest of the cocktail.
Amaretto Sour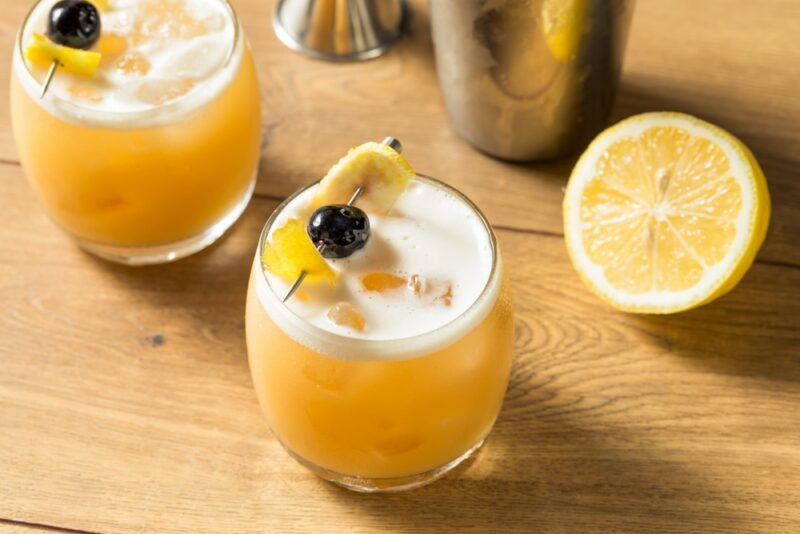 There are a few ways to make an amaretto sour.
The first is to prepare it like a traditional sour, which involves using amaretto, lemon juice, and a few dashes of bitters. You don't need simple syrup in this recipe, as the amaretto is sweet enough on its own.
Some bars make the cocktail using sour mix rather than lemon juice. Doing so often creates an excessively sweet drink, one that doesn't taste good at all.
A much better approach is to combine amaretto with bourbon. Then you can use the traditional sour ingredients of lemon juice, simple syrup. This version gives you a truly delicious sour, where the flavors of the bourbon and the amaretto both shine through.
An egg white is often added too. This doesn't change the flavor of the cocktail. Instead, it provides extra texture and frothiness when the cocktail is shaken. You'll see this pattern with many sour cocktails.
Sidecar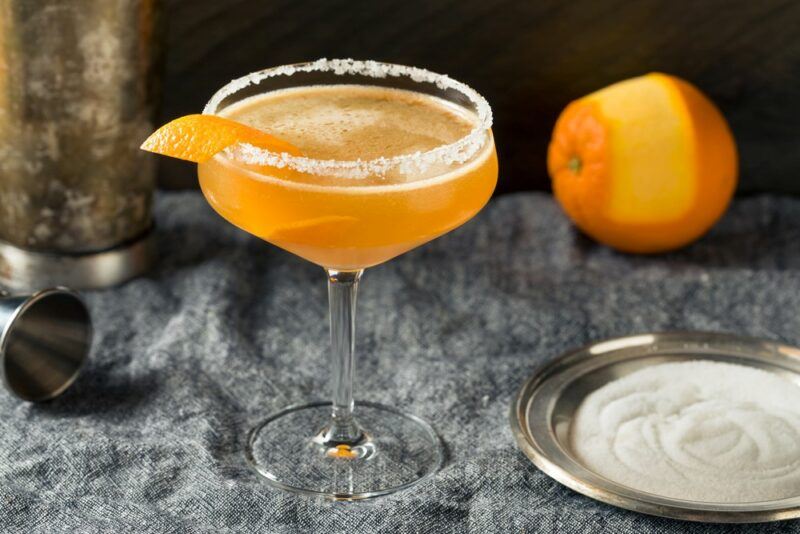 Here's a drink for those who love the classics. The sidecar really does get its name from the sidecar of a motorbike and dates back to around the 1920s.
The cocktail is another variation of the traditional sour. This time, cognac is the spirit of choice. Triple sec provides sweetness, while the sour flavor comes from lemon juice. Some versions add angostura bitters for complexity.
Cointreau is the most common triple sec used in the cocktail, but it's not your only option. Other brands can work just as well.
The sidecar is a bit trickier than most other sours. The ingredients need to be precisely balanced for the finished drink to taste decent.
Lady's Sidecar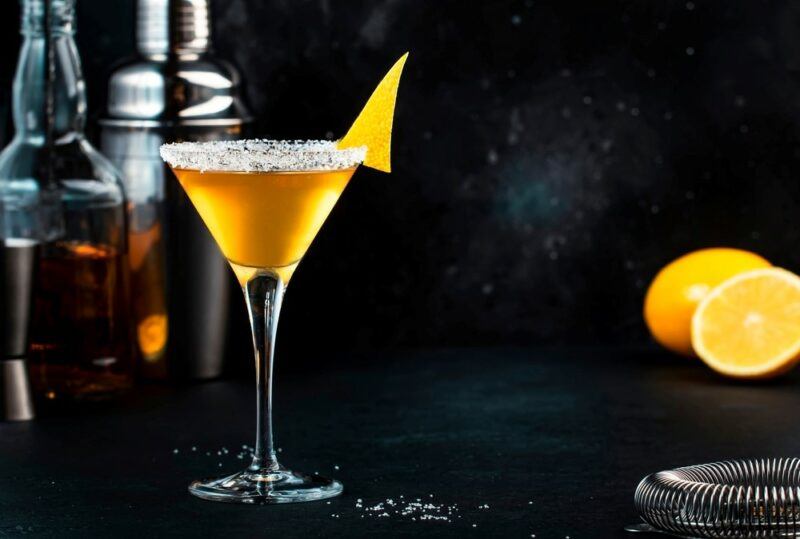 This cocktail varies the sidecar slightly by using an orange zest twist as the garnish and using orange juice instead of sugar syrup. While the substitutions are meant to make the drink more feminine, you actually end up with a sourer cocktail.
If the intensity is too much, you can easily add a little sugar syrup into the cocktail.
Also, cognac isn't essential. This cocktail and the traditional sidecar can easily be made using bourbon instead.
Biggles Sidecar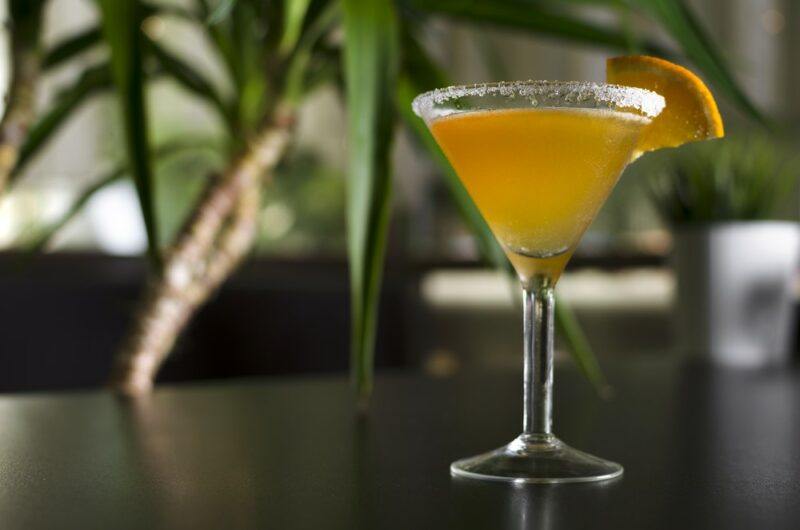 This drink is a modern variation on the sidecar. The biggest difference is that it uses ginger liqueur rather than triple sec, which gives it a ginger kick.
There's a dash of bitters too, which helps to balance everything nicely. The sidecar can be tweaked in plenty of other ways too, with each version providing a different balance of flavors.
New York Sour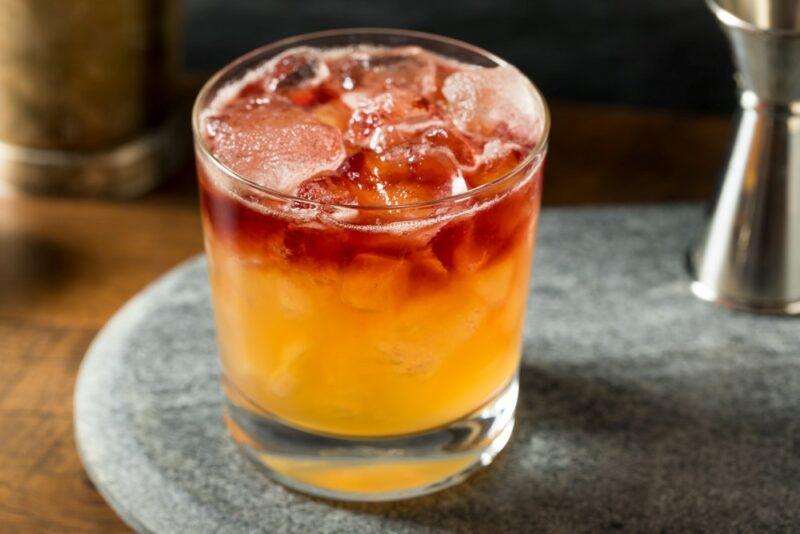 If you want a drink that looks good and tastes even better, try a New York sour. The base of the drink is simply a bourbon sour. Nothing unusual there.
The interesting part is the layer of red wine on the top. This needs to be poured carefully, but when done well, you get a stunning layer of color on top of the cocktail.
There's also a flavor contrast between the two layers, which makes this a fun cocktail to drink.
There's also a variation on this cocktail called the New Yorker. This one mixes the ingredients rather than creating a layer. There's also some orange juice in the mix, which adds extra sweetness.
Negroni Sour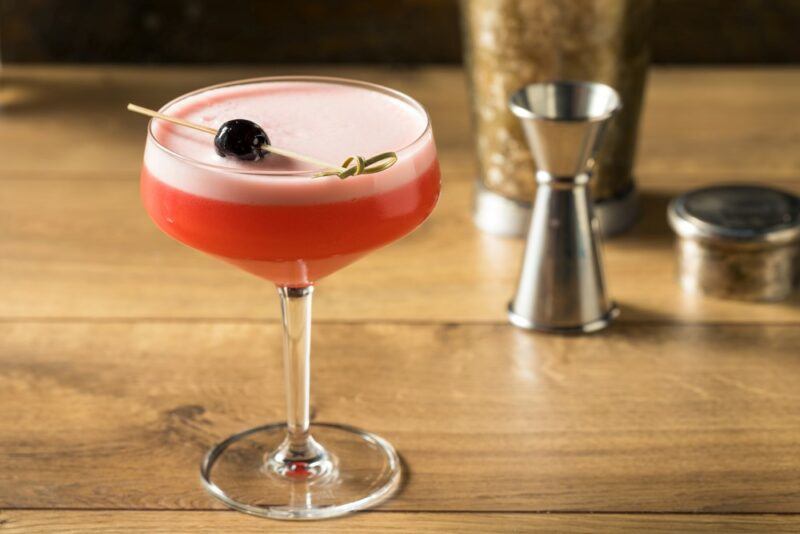 The name says it all. This cocktail combines the flavor of a negroni with the traditional sour approach. To do so, it includes gin, sweet vermouth, and red bitter liqueur, along with lemon juice and sugar syrup.
As with a traditional sour, you can also use an egg white for texture or skip it entirely. Either way, you get a sour and intense cocktail, one that's best when sipped slowly.
Aviation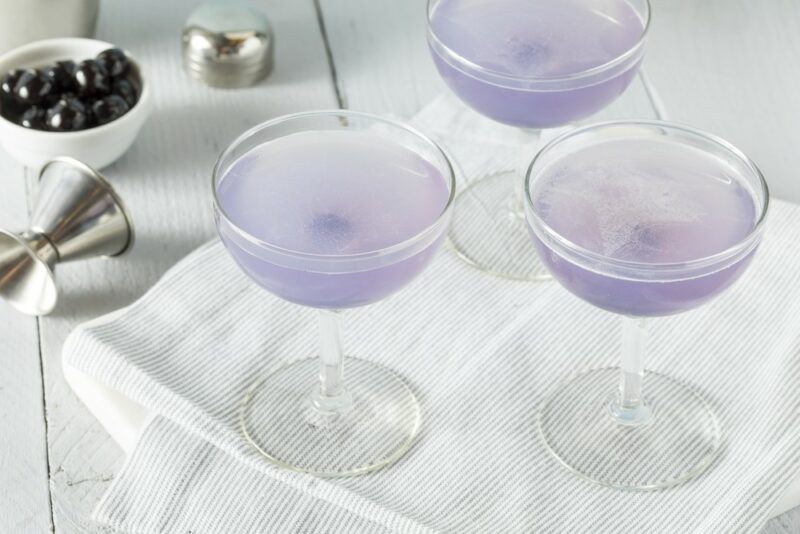 The aviation is a classic cocktail, one that was popular in the roaring 20s. It has a distinctive light purple flavor, which comes from crème de violette liqueur. That liqueur adds an herbal flavor to the drink.
Maraschino liqueur is present too. This is known for its cherry notes and nicely complements the crème de violette. Gin rounds the drink off, while lemon juice adds some acidity and sourness.
Like other classic cocktails, there are plenty of variations.
There's the clean aviation, which uses vodka instead of gin and adds a little absinthe into the mix. Those are just slight changes, but they make a world of difference to the cocktail.
The Biggles aviation follows a different style, using ginger liqueur instead of maraschino liqueur. A little sugar syrup is added as well, so the cocktail isn't quite as sour as the traditional version.
Appletini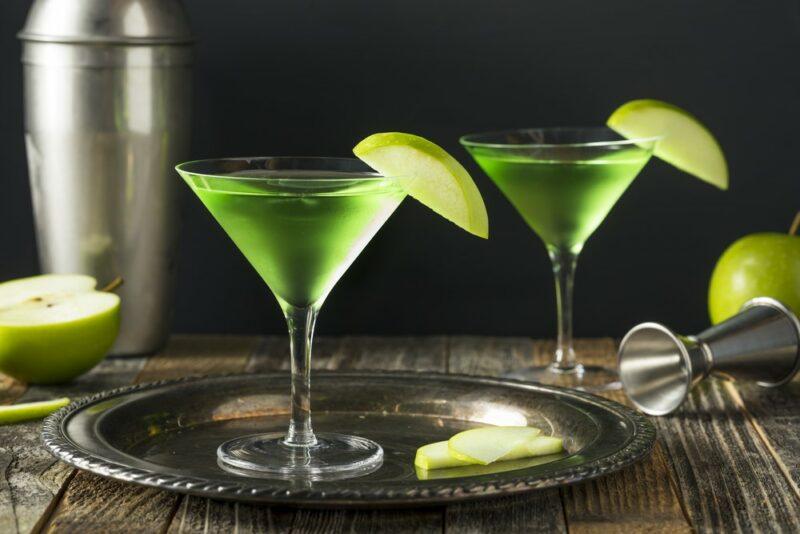 The appletini can be a sour cocktail. Whether it is or not depends on how it's made. Some versions rely heavily on vibrant apple schnapps and sour mix, creating an artificial-tasting drink that's surprisingly sweet with just a hint of sourness.
Other versions lean more heavily into sour ingredients, often relying on lemon juice rather than an artificial sour mix. Such cocktails can be much tastier – and a much better use of your time.
Kamikaze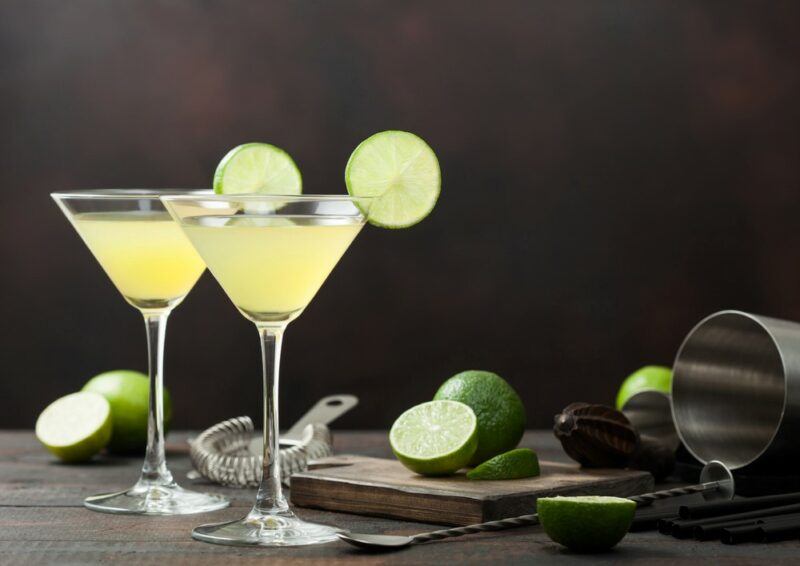 The kamikaze is a much simpler and cleaner drink than the appletini. It's a variation on a vodka sour – using vodka, triple sec, and lime juice as the only ingredients.
While the triple sec adds some sweetness into the mix, there's no getting away from the sourness of the lime juice.
Corpse Reviver Cocktails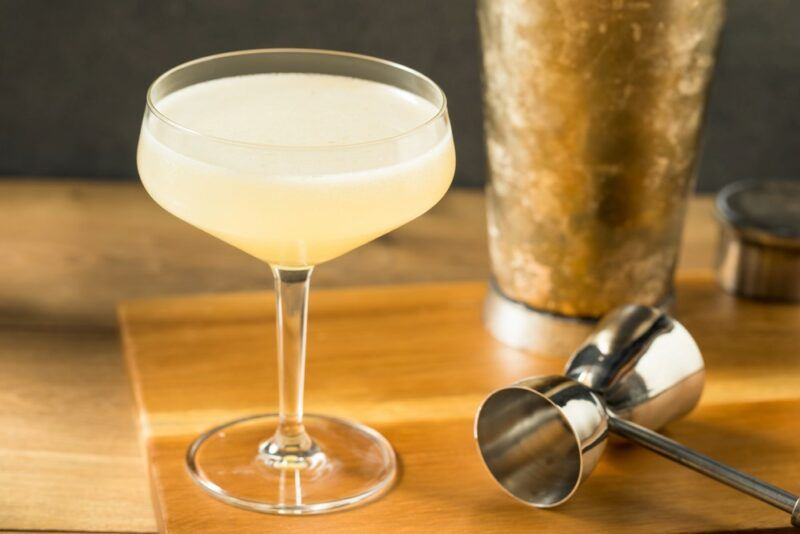 Corpse reviver cocktails get their name from the strength of the drink. They're also classic sours, but despite their sharp flavor, they're also well balanced.
The corpse reviver #1 is gin based, using equal measures of gin, triple sec, white vermouth, and fresh lemon juice, with a little absinthe. If it's a bit too much, try decreasing the lemon juice content.
The corpse reviver #2 is gin based as well. It's very similar, except that it's generally made using lillet blanc or cocchi americano rather than the triple sec. This is the most popular version and can be purchased in some bars.
There's also the corpse reviver #4. This is a modern variation, as the original corpse reviver #4 isn't known.
The modern version is notable as it uses tequila rather than gin. The other ingredients are similar, except that some sugar syrup is added to help balance some of the sourness.
Barracuda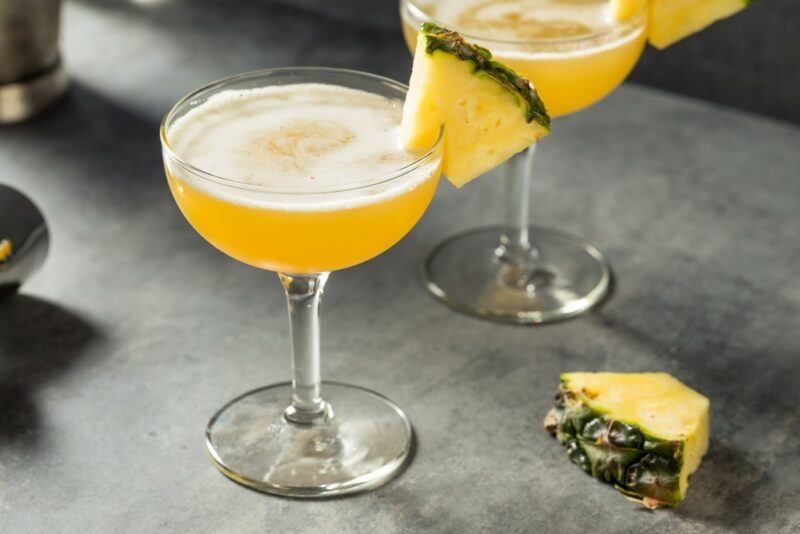 The barracuda is ideal if you want something vibrant, as the cocktail has a bright yellow color from pineapple juice and gold rum.
Other ingredients include lime juice, sparkling white wine, and fresh lime juice. Some versions include sugar syrup for extra sweetness, while others skip it.
The cocktail isn't as sour as some others on this list, but it's sour enough to be included (particularly if you skip the sugar syrup).
You'll have a much better experience if you make the cocktail with freshly squeezed pineapple juice, rather than anything store-bought. This is true for all fruit juice based cocktails, as packaged fruit juice is often sweeter and has a duller flavor than freshly squeezed juice.
Margarita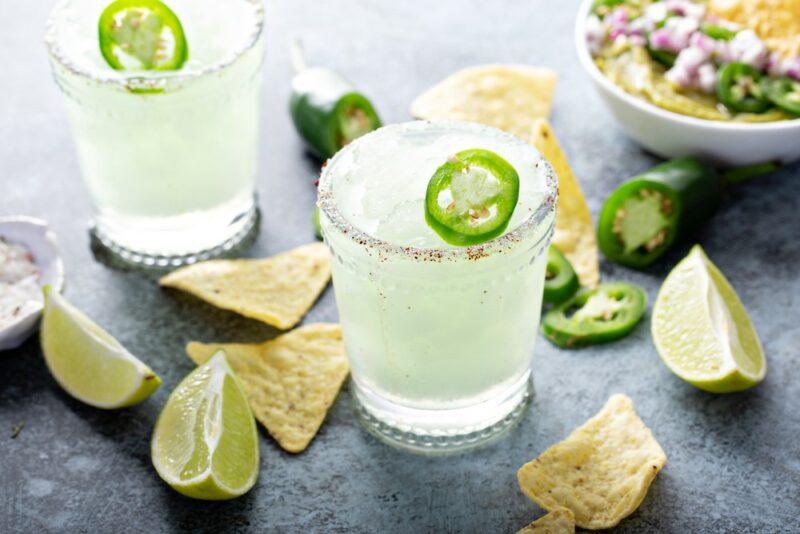 The margarita is a classic sour cocktail. It uses the standard combination of liquor, citrus, and sweetener, plus some triple sec for extra sweetness.
Tequila is the star player in any margarita, giving an earthy quality and some interesting flavor notes. That said, you can use mezcal instead of tequila, which tweaks the flavor a little.
It must be said, though, that margaritas aren't always sour. Sometimes you end up with a sweet version instead, particularly if you're ordering a frozen margarita. This can be frustrating, but thankfully, plenty of bars make their margaritas correctly.
Bee's Tease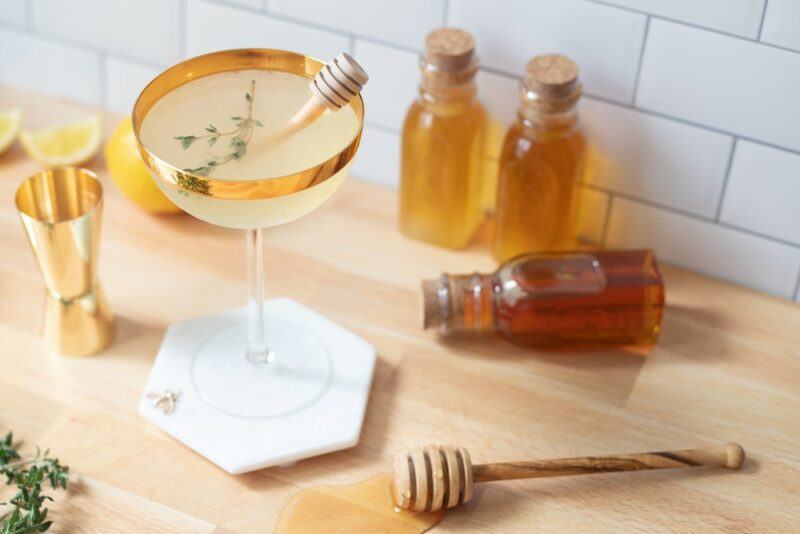 The bee's tease is a variation on another sour cocktail – bee's knees. The bee's knees is a Prohibition era cocktail that used honey and lemon juice to disguise the flavor of bathtub gin.
Bee's tease is similar, except that it also includes a shot of cold tea. The tea adds a whole new depth to the drink.
While this cocktail is meant to be served cold, you could easily warm it. The warmed version would be perfect on cool fall or winter days. .
Jack Tar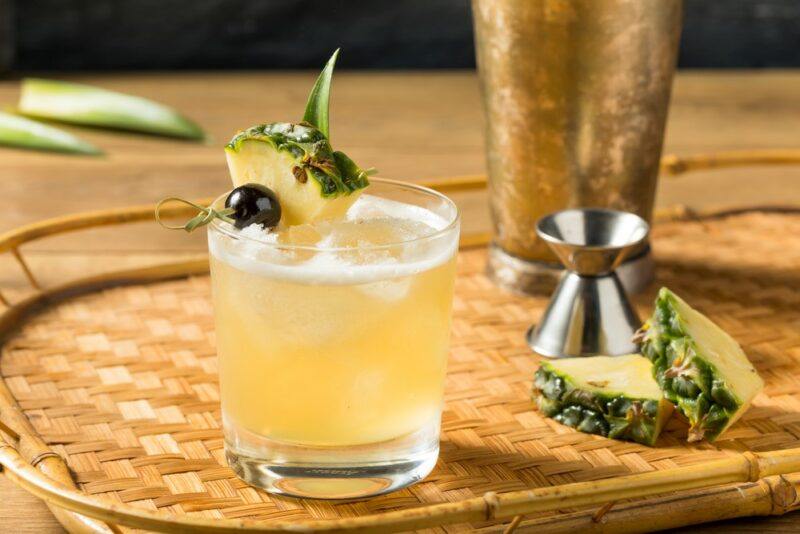 This spirit heavy cocktail is fantastic if you want something strong and not overly sweet. Navy rum leads the flavor profile, with bourbon and gin featuring as well.
The spirits are complemented by lemon and lime juice, plus brown sugar syrup. This is a fantastic choice if you find regular sours a little boring.
Navy Grog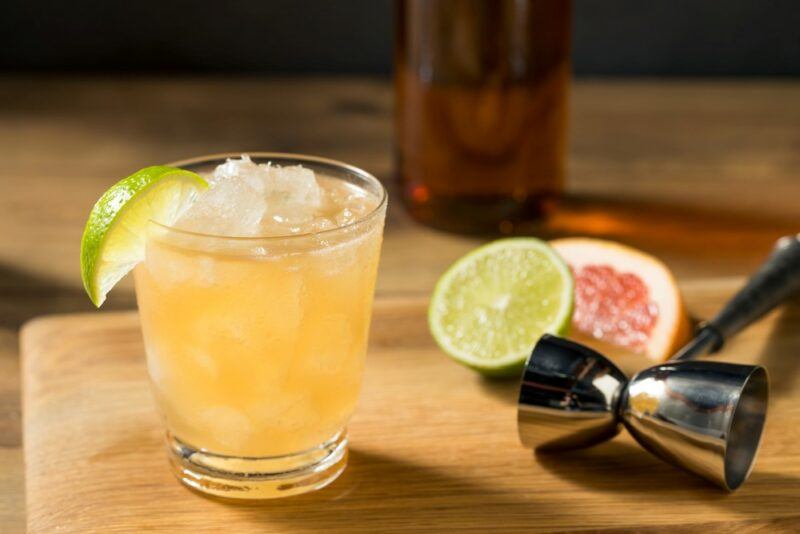 The Jack tar cocktail has a distinct navy influence. The same is true for navy grog. This cocktail includes an impressive three types of rum (including navy rum, which has 54.5% ABV).
Other ingredients include honey syrup, brown sugar syrup, pimento dram liqueur, pink grapefruit juice, and lime juice. The ingredients are all blended with ice to give you a refreshing drink.
There's a lot going on with this cocktail, but somehow it all comes together perfectly.
Tweaks are sometimes made, like leaving out the pimento dram liqueur and adding in some club soda. Regardless, it's always an exceptionally strong cocktail. Some places even limit you to two of them per sitting.
Nuka Nuka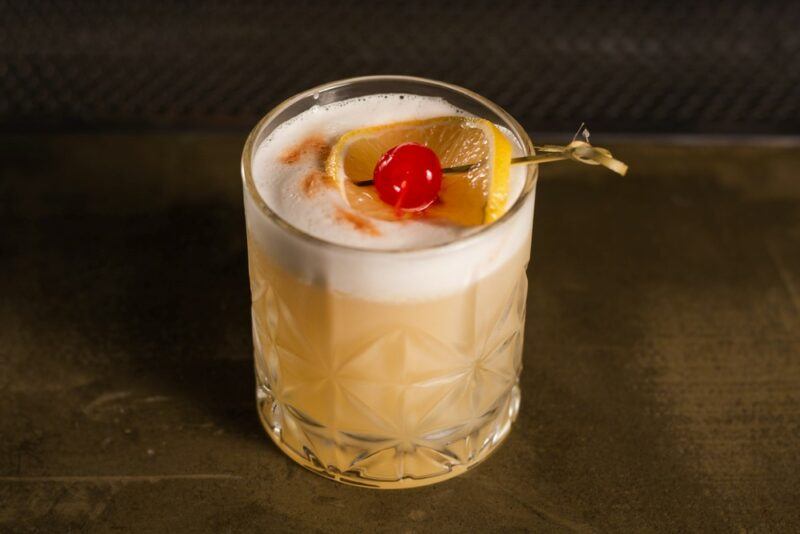 Here's another tropical rum cocktail. This one takes it a bit easier, as there's only one type of rum included. Fruit juice, bitters, and almond syrup help to balance the flavors out.
An egg white is often included too. This provides texture and a frothy head on the cocktail, but can be skipped if you're not a fan of the style.
Lemon Beat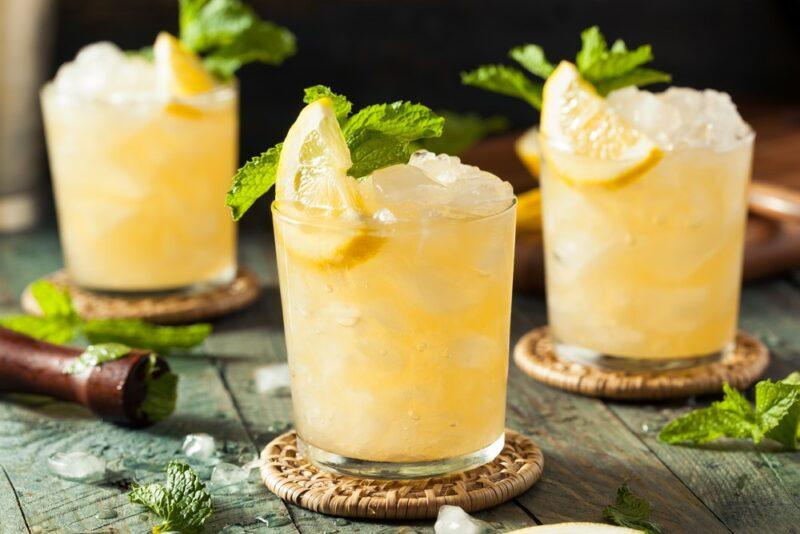 This cocktail is an interesting variation on the traditional sour, one that uses honey syrup rather than sugar syrup.
What's even more interesting is that the recipe relies on cachaca, which is a fermented drink made using distilled sugar cane. It doesn't feature in many cocktails and really brings the lemon beat to life.
Between The Sheets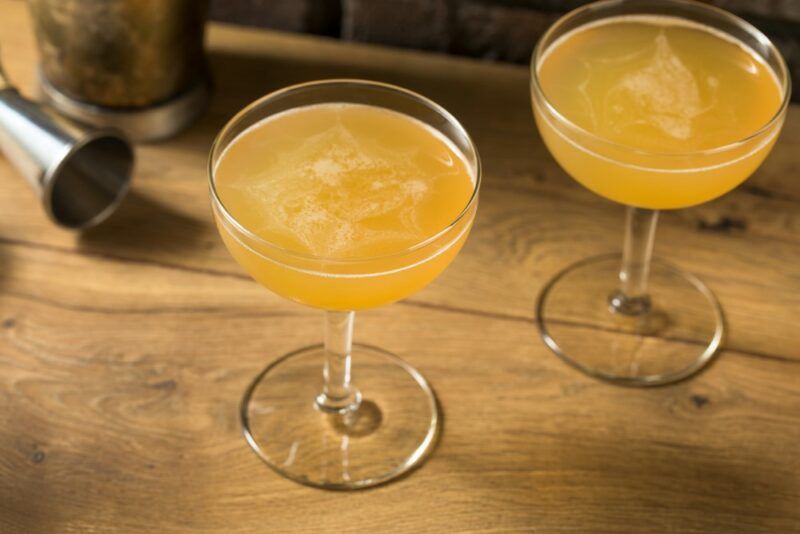 Looking for a strong and sour drink? Between the sheets is a good bet.
The cocktail simply combines equal measures of light rum, cognac, and triple sec. A little lemon juice is used to bring it all together – and that's it.
However, between the sheets has varied over its lifetime. One uses a combination of brandy, dry gin, and triple sec, while another uses dry gin, white rum, and triple sec.
All of these versions use equal measures of each spirit, plus a small amount of lemon juice.
Hawaiian Sea Breeze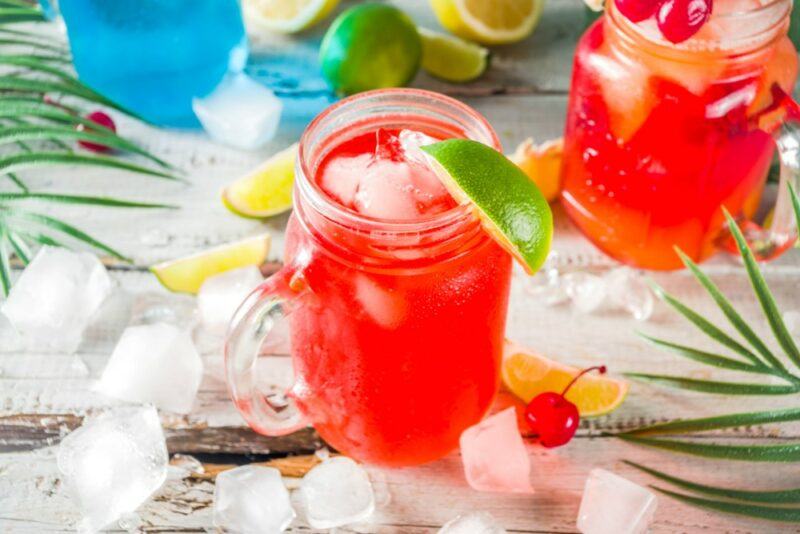 Most tropical cocktails are fruit and sweet, often with bright colors. The Hawaiian sea breeze is bright red, but it's much more refreshing than most tropical cocktails.
It's also an easy cocktail to make, as it combines vodka, pineapple juice, and cranberry juice. The bitterness of the cranberry is what stops this drink from getting too sweet.
If that version isn't sour enough, try adding a little lime juice. This creates a more intense version of the drink.
Spring Feeling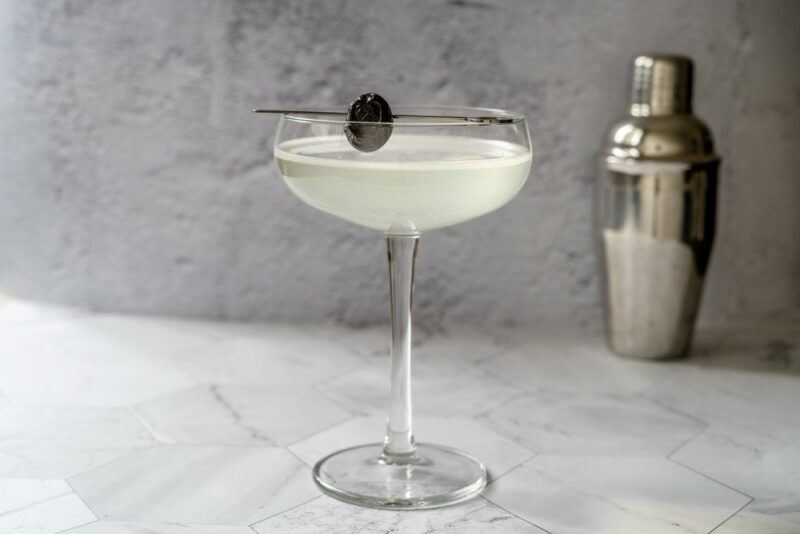 This spring feeling cocktail was inspired by the classic last word. But, while the last word relies on dry gin, green chartreuse, maraschino liqueur, and lime juice, the spring feeling leaves out the maraschino liqueur and swaps the lime juice for lemon juice.
Either cocktail will do the trick if you're looking for something tart. However, the spring feeling version is easier to make at home, as there are fewer ingredients.
Besides, the last word is a well-established cocktail. It's always nice to try something a little bit different.
Daiquiri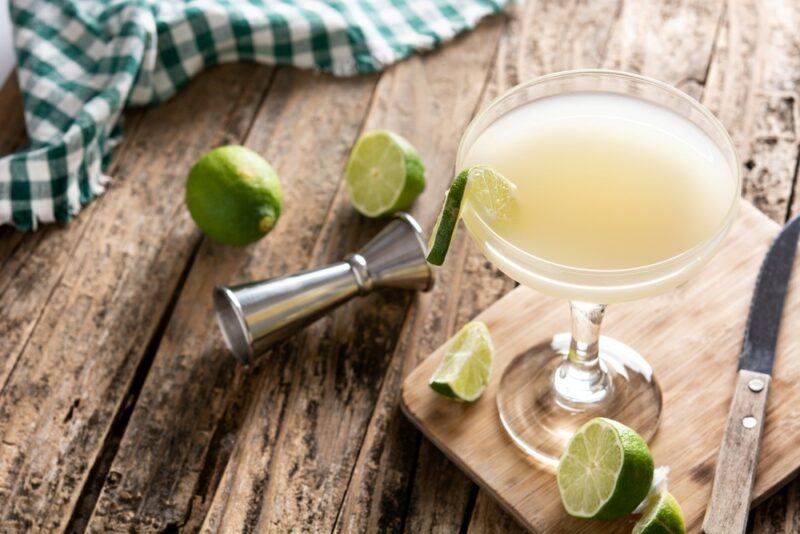 We can hardly talk about sour cocktails without mentioning the daiquiri. After all, this is one of the classic cocktails that's served time and time again.
The basic version of the cocktail is just your traditional sour, made using rum, lime juice, and simple syrup.
Most of the time, daiquiris are made using white rum, but you're not locked into this approach. There are plenty of variations to experiment with, including some that use spiced rum.
If you find the original daiquiri too boring, why not try out some of the alternate recipes? Many of them, including frozen daiquiris, will have the same tartness found in the traditional recipe.
Swamp Frog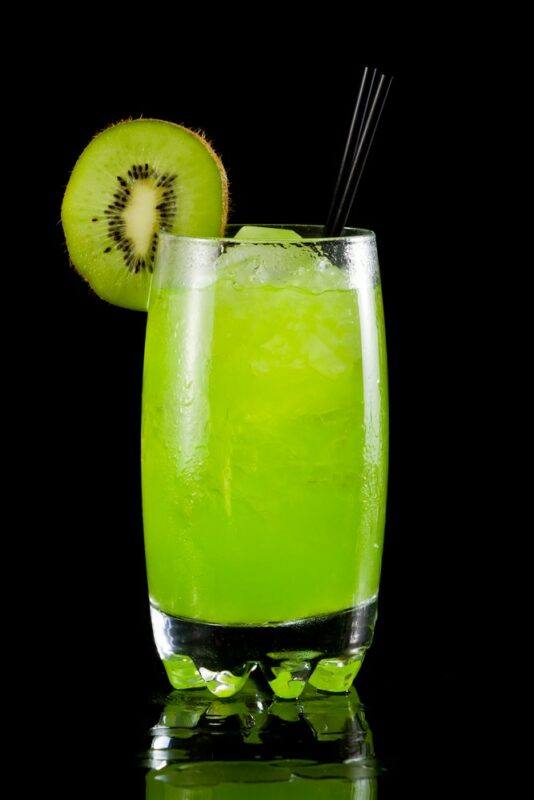 Here's a modern cocktail that you're not likely to forget. It relies on Mountain Dew, Everclear, vodka, sour apple pucker, and concentrated lime mixer.
This collection of ingredients gives you a bright green tart drink. Even the sweetness of the Mountain Dew isn't enough to offset the sourness of the other ingredients.
Gin Fizz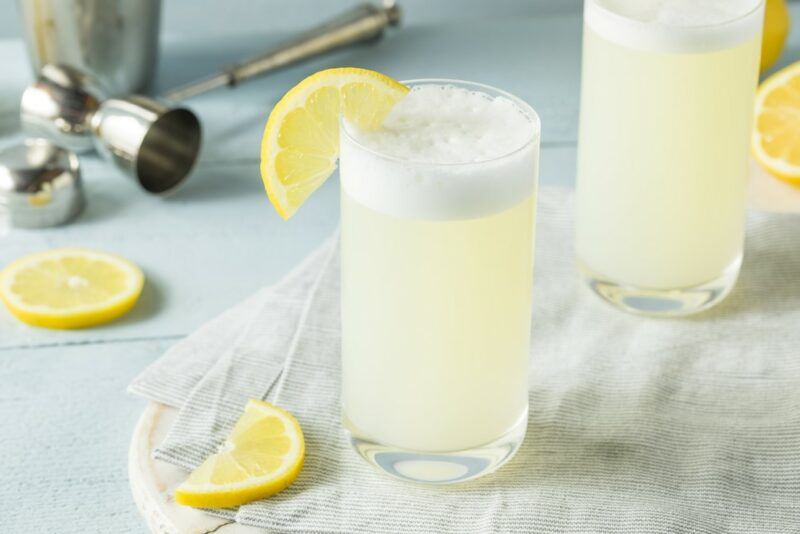 Let's end this list on a simple and elegant note. A gin fizz is a simple sour cocktail that also includes an egg white and club soda.
The cocktail is generally well shaken, which gives it the distinct fizzy head.
Because the cocktail uses minimal ingredients, the botanicals in your gin will really shine through. As such, changing the gin will have a strong effect on the final flavor profile.