It took a little while for the daiquiri cocktail to build popularity overseas but it was immediately accepted by those in Cuba who first tried it. The most popular and widely accepted story credits the drink's creation to an iron miner by the name of Jennings Cox. The American-Spanish war had just come to an end and Cox had landed in a town called daiquiri where he took up residence.
He lived near the beach and was entertaining some friends and co-workers one night. They were enjoying some gin – that is until they ran out. Not wanting to end the party, he went out and grabbed the easiest and cheapest liquor he could find.
This just so happened to be rum. He added some things he had around the house and voila – a brand new cocktail that everyone loved! The best rum for daiquiris is one like Cox used – cheap and available, especially if you're making a lot of them. In terms of flavor, your best bet is something sweet and/or citrusy as this will complement the flavors already present.
The ingredients he chose were lemons, sugar, and mineral water. The guests loved it so much they wanted to know what it was called. Not having a name for it, he decided to name it after where they were – Daiquiri. His initial thought was to call it a "rum sour" as this described it accurately (making the drink similar to a whiskey sour), but he didn't like how it sounded. Either way, the infamous daiquiri was born and it would eventually travel to the United States and beyond as tourists visited and fell in love with the drink.
The Best Rum for Daiquiris
1. Plantation 3 Stars White Rum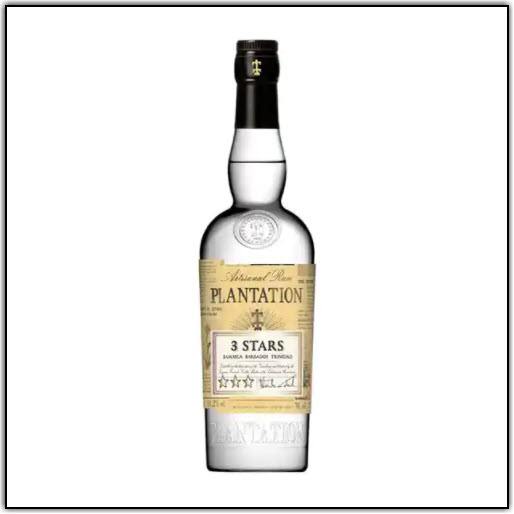 Plantation 3 Stars White Rum is part of an award-winning collection of rum that's been expertly handcrafted by the experts at one of the world's most prominent rum producers- Cognac Ferrand. After selecting only the best rums mostly from Latin America and the Caribbean the rums are then refined and aged further in their own special cognac barrels.
This one was the first white rum added to the collection and it's made from a blend of aged and unaged rum. The aged rums are between three and twelve years and come from Trinidad and Jamaica. The unaged portion also comes from Jamaica and some from Barbados.
Once blended, the rum is carbon filtered for clarity and to remove heavy tannins. This also preserves the complex profile it developed by aging.
On the nose, you'll find floral notes on the front followed by bright, sweet notes of tropical fruit, brown sugar, banana, and citrus. The palate opens with gentle spice, ripe fruit, and fresh herbs. In the middle, these flavors merge with spicier notes of ginger followed by vanilla on the finish. It's a perfectly balanced, medium-bodied spirit that adds a lovely complexity to your cocktails.
2. El Dorado 3 Year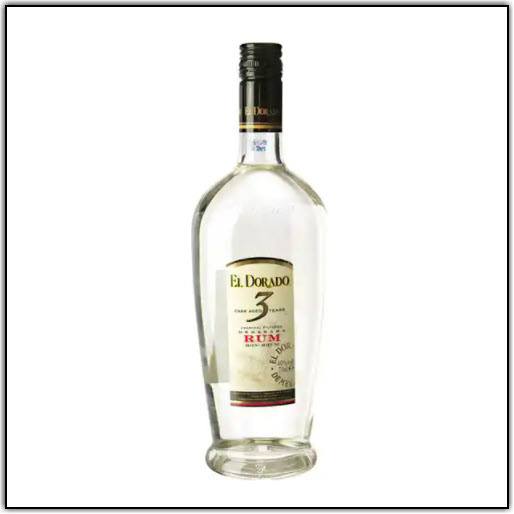 Aged for only three years, El Dorado 3 Year is young but it offers a lot of value considering it's pretty cheap. The El Dorado line of rum is made by Demerara Distillers LTD and they have a nice collection of rums bearing a variety of age statements.
Even though this is a young rum that's definitely meant as more of a mixer, the time is still taken to age it right and put it through a charcoal filter. This is, in part, why it offers such a nice profile after spending only three years in the barrel.
On the nose, it offers a whiff of demerara and a series of subtle fruity notes. The palate is more complex, opening with orange, lemon peel, and cane sugar sweetness. The sweetness continues to the mid-palate before turning slightly bittersweet with hints of berries and tropical fruits. The finish goes in another direction completely with bitter molasses and a touch of cacao.
3. Ten to One White Rum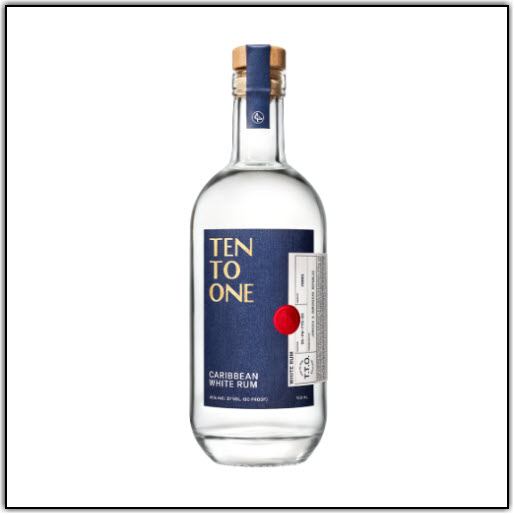 Ten to One White Rum is a unique and complex rum featuring an unaged blend with rums from both Jamaica and the Dominican Republic. The two are combined in a 90-proof expression and it made its way quickly to the top of the white rum game. It won a platinum medal from the 2020 LA Spirit Awards where it was also named "best rum."
Ten to One owner and founder has a vision for the company and its rum that goes beyond just bringing Caribbean rum to the United States. He aims to broaden the horizons of rum, challenge the perception about it, and make it a more versatile and ready choice for a variety of occasions.
The white rum is crystal clear in the bottle and opens with notes of jasmine, citrus, pepper, lemongrass, and coriander on the nose. The palate is rich with fruity notes and citrus undertones followed by a warm, spicier finish with more lingering notes of fruit. For a white rum, it's wonderfully layered and complex which makes for an amazing, premium cocktail.
4. Equiano Rum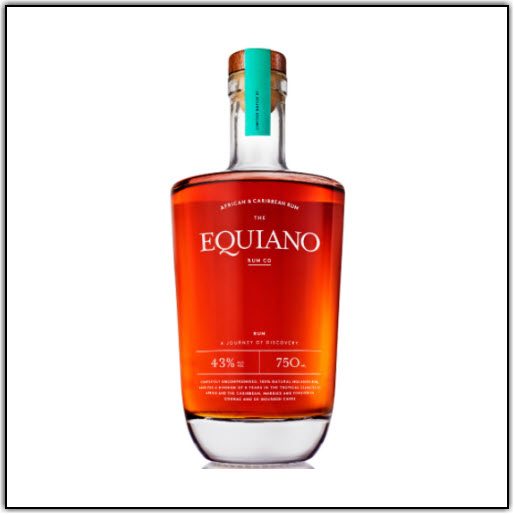 Equiano Rum is named for the notorious freedom fighter named Olaudah Equiano. It's a unique expression that's doing something brand new. It's a combination of ten-year-old African rum and eight-year-old Caribbean rum. It's the first rum to bring these two together in a marriage of both cultures and flavors.
Equiano was born in Nigeria in 1745 and was enslaved as a youth. Wanting to be free, he traded rum until he finally saved up enough to buy his way out. He was also one of the first African writers to be published in the United States and the UK. So not only is he a strong and revolutionary figure in history but he was connected to rum from the very beginning.
Equiano Rum is an award-winning spirit that's bottled at 86 proof and is 100 percent natural with no added sugars or artificial flavors.
On the nose, you have a lovely combination of toffee, vanilla, oak, and fruit. The palate is fruity as well with notes of raisin and banana with plenty of citrus. The finish is quite long but perfectly balanced with oak and spice with a burst of sweetness on the end.
5. Flor de Cana 4 Year Extra Seco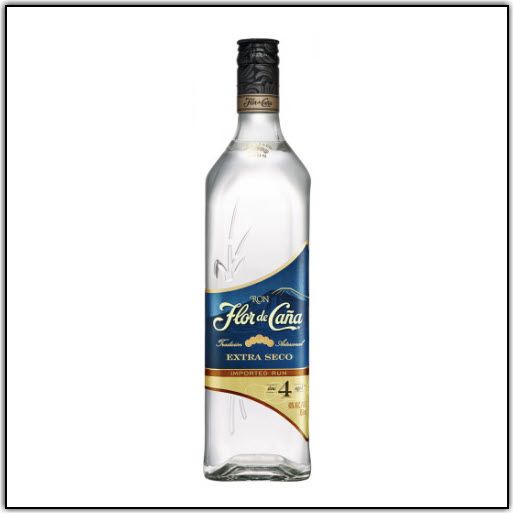 Flor de Cana is a fifth-generation single-family estate consistently producing premium spirits that are at the top of their game in all categories. The estate is located by an active volcano and they age everything naturally, never adding any sugar or other artificial flavors or additives. They're also proud to distill everything with 100 percent renewable energy.
The 4 Year Extra Seco is a light-bodied rum that's extremely pure with a transparent color in the bottle. The aroma is rich with almonds and sweet vanilla. The palate opens with white chocolate and orange which lead into toasted wood and coconut. The finish is clean and dry.
It's not a bad sipper for being only four years old, it's sweet and refreshing. However, it does best in tropical or fruity cocktails or mixed with sparkling water.
Unique Daiquiri Variations

Today, the daiquiri is an absolute classic. Even certain variations on the original recipe have become classics themselves because they turned out so great. It's a great recipe to play around with and it's also a great recipe to test out new rums. Because there are no other spirits present in the basic recipe it can tell you a lot about how a spirit will fare in a cocktail.
With that being said, here are a couple of super unique daiquiri variations for you to try if you want to mix things up a bit:
The Hemingway Double
This is a variation created for Ernest Hemingway himself – a famed lover of the cocktail. He reportedly loved this combination so much he always ordered it as a double.
Ingredients:
2 ounces white rum
¼ ounce maraschino liqueur
¾ ounce fresh grapefruit juice
½ ounce fresh lime juice
¼ ounce simple syrup
Optional – grapefruit twist to garnish
To make the drink simply combine all the ingredients in your cocktail shaker with ice, shake it well, and strain into a chilled glass. Garnish with the grapefruit twist if you wish, and you're all set to party like Hemingway!
Paddington Cocktail
This one is an interesting mix that pays homage to none other than Paddington bear and his love of marmalade. It was created by David Slape who was the first bartender to be hired at PDT in NYC, where they have their very own Paddington bear in the venue.
Ingredients:
1.5-ounce white rum
½ ounce Lillet blanc
½ ounce fresh grapefruit juice
½ ounce fresh lemon juice
One spoonful of orange marmalade
1 dash of absinthe
Optional grapefruit twists to garnish
To make the drink:
Combine all ingredients except the absinthe into a cocktail shaker with ice and shake well
Add absinthe rinse to glass
Strain the shaken mixture into the glass
Garnish with the grapefruit twist
Though there is an extra step here, it's worth it for the fresh and unique blend that comes with this cute cocktail.