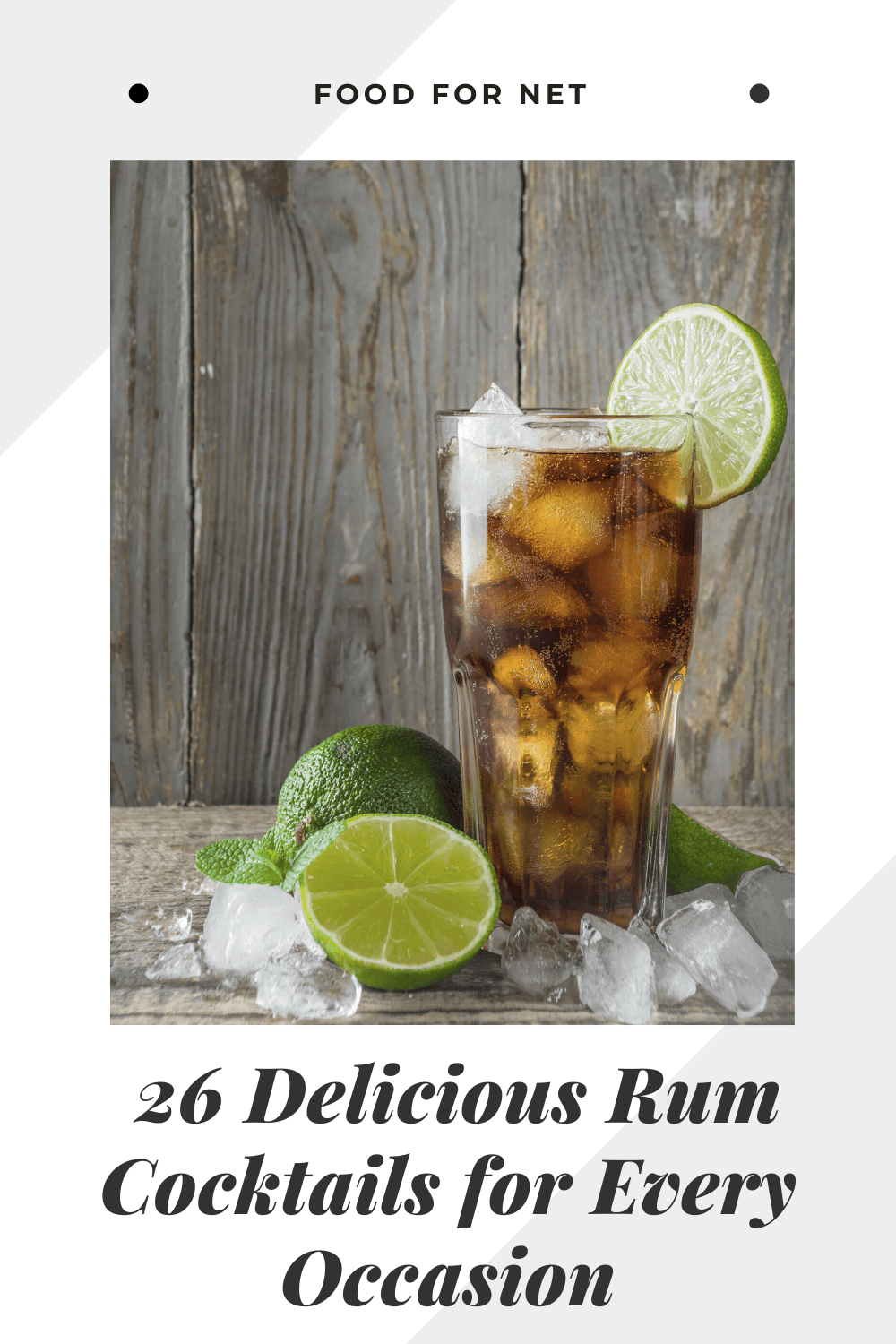 Distilled from fermented sugarcane juice or sugarcane molasses, rum is a spirit with a long history and almost limitless variation. The number of different options can make rum confusing for beginners, but this shouldn't stop you from experimenting with rum yourself. In this post, we're highlighting the best rum cocktails, as these are the perfect place to get you started on your journey.
First though, let's talk about rum itself. There are various grades of rum, including light rums, golden rums, and dark rums.
Dark rums are aged in barrels, which produces a darker color and richer flavor. On the other hand, light rum goes through multiple filters and isn't aged much at all. As a result, light rum tends to have a milder flavor and fewer distinctive flavor notes.
Gold rum tends to fall somewhere in the middle. Some gold rum may use additives to create the right color, but this isn't always the case. Finally, you'll find spiced rum from time-to-time. Spiced rum tends to have extra coloring and spices added in. Captain Morgan is a classic example.
Because of the distinctive flavor differences, many cocktail recipes will specify which type of rum you should be using. Some others may work well with any type of rum, although you'll need to experiment to find the flavor balance that suits you the best.
Best Rum Cocktails
Mojito
Pina Colada
Mai Tai
Rum Runner
Cuba Libre
Daiquiri
Strawberry Daiquiri
Planter's Punch
Nevada Cocktail
Millionaire
Dark 'N' Stormy
Bushwacker
Painkiller
Goombay Smash
Hurricane
Zombie
Hot Toddy
Hot Buttered Rum
Rum Eggnog
Chicago Fizz
Cable Car
Jungle Bird
Rum And Coke
Jean Harlow
Knickerbocker
Surfer On Acid
Mojito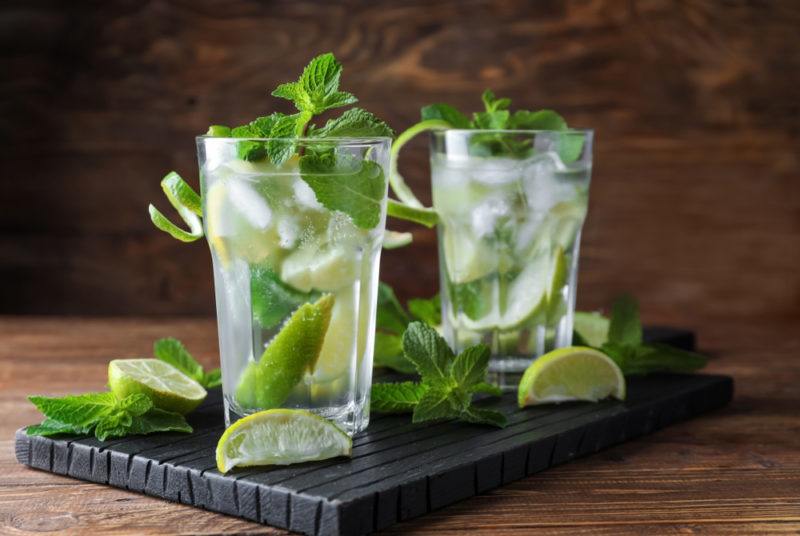 The mojito is one of the most famous rum cocktails out there. It has often been linked to Earnest Hemingway and has its origins in 1930s Cuba.
The cocktail is made using four parts of Cuban rum, one part simple syrup, mint leaves (eight or so), lime wedges, and three brown sugar cubes. The non alcoholic ingredients are added to the cocktail shaker first, followed by the rum.
The shaker is then filled to the top with crushed ice and shaken. Finally, the drink is poured into a glass.
Once again, there are many variations on the recipe. These keep the main flavors of mint and lime the same while changing other aspects. For example, this recipe from Gimme Some Oven uses honey as the main sweetener and adds a little soda water as well.
Pina Colada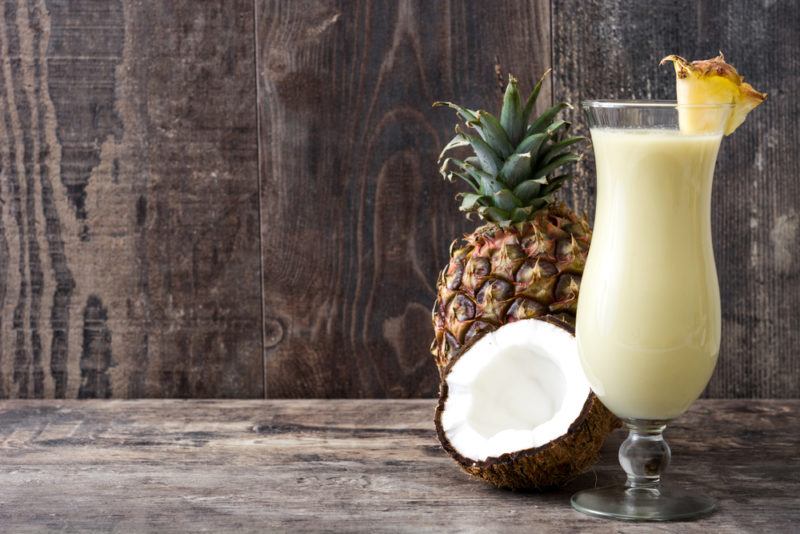 Here's a classic that you don't want to miss. The pina colada has a long history and continues to be popular, especially for women. The drink typically relies on equal parts of white rum and dark rum, along with pineapple juice and coconut cream.
A pina colada often ends up being relatively low in alcohol. For example, you might have three ounces of rum and nine ounces of coconut cream and pineapple juice in the finished drink.
Some recipes do call for more alcohol, but even so, coconut cream and pineapple juice tend to be more prominent. The large amount of pineapple juice also makes this a very sweet and fruity cocktail.
Mai Tai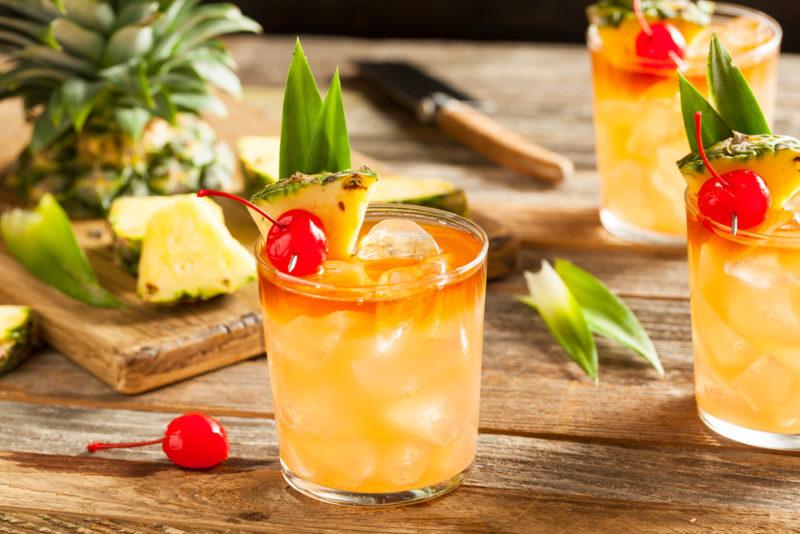 A Mai Tai is another classic rum cocktail. This one is often associated with the Caribbean and with tiki themes. Many versions of the drink rely on a combination of white rum and dark rum. Others use spiced dark rum instead.
Fresh lime juice, almond syrup, and simple syrup are other traditional ingredients.
However, you'll find that the Mai Tai is often interpreted entirely differently. Many bars rely on fruit juices or syrups as key flavors, which dramatically changes the flavor profile of the drink.
If you're going for a Mai Tai, the original version is seriously worth trying. It has a much more appealing flavor balance, along with a strong alcohol kick. Other versions of the Mai Tai can easily be excessively fruity and sweet.
Rum Runner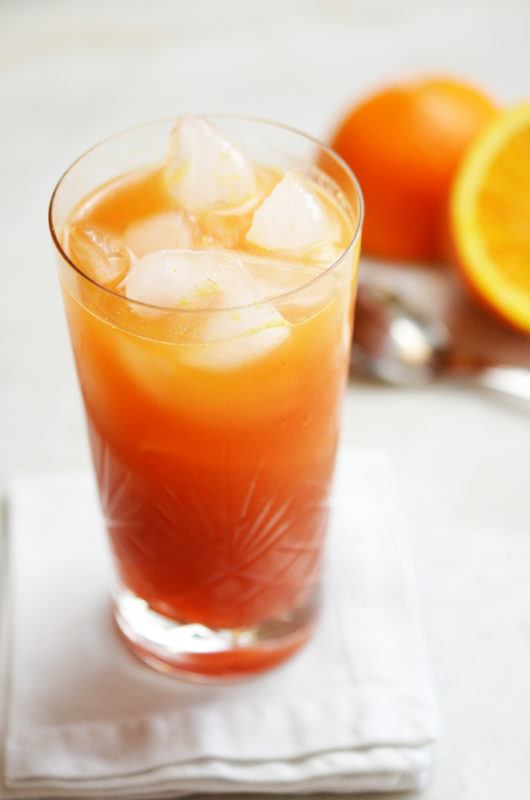 This cocktail features light rum and dark rum, along with a surprising variety of other ingredients. Recipes vary, but the most common feature is that you're using various fruit juices and some fruit liqueurs, like Chambord.
For example, one recipe from The Spruce Eats relies on blackberry liqueur and banana liqueur, along with orange juice and pineapple juice. Other recipes use a different combination of ingredients, such as versions that heavily rely on orange juice.
Regardless of the recipe that you use, a rum runner tends to be a refreshing and fruity cocktail.
Cuba Libre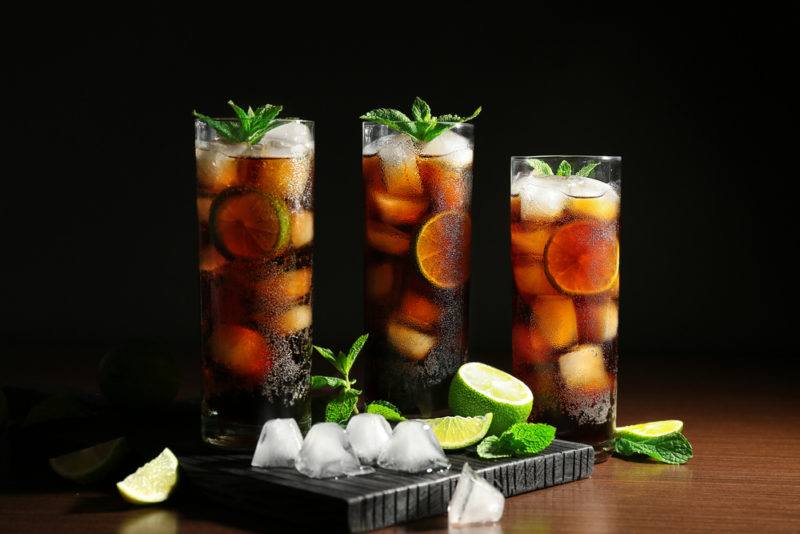 With a Cuba Libre, the type of rum that you choose matters. Cuban rum is the best, as this offers the exact flavor profile that you need. Bacardi is a good second choice if Cuban rum isn't an option.
The cocktail itself is easy. Start off by half filling a highball glass with alcohol. Then pour in four parts of rum and the juice of half a lime. Stir these and then pour cola over the top to fill the glass.
Daiquiri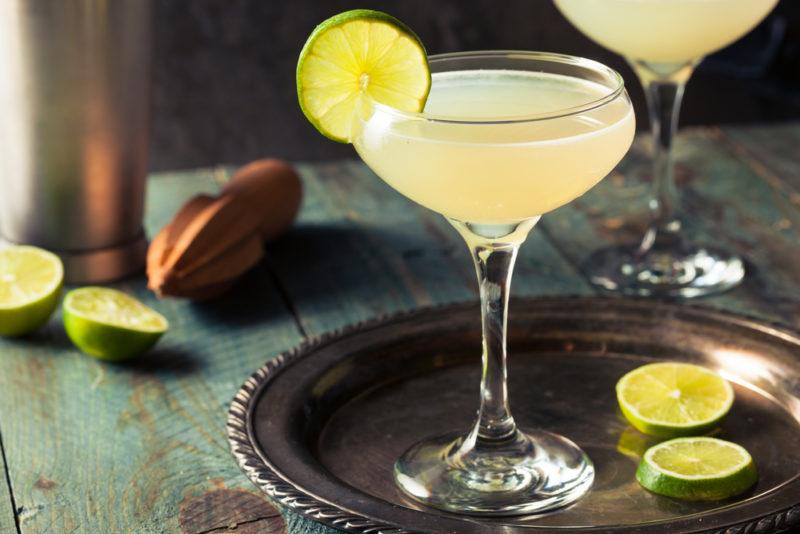 The daiquiri is another Cuban cocktail and relies on white rum as the main ingredient. There aren't even many other ingredients in this simple cocktail.
You just need to mix together four parts white rum, some sugar or simple syrup, and the juice from half a lime. These are shaken over ice in a cocktail shaker and then strained into a cocktail glass.
The drink is often served with sugar along the rim, although this isn't essential.
Strawberry Daiquiri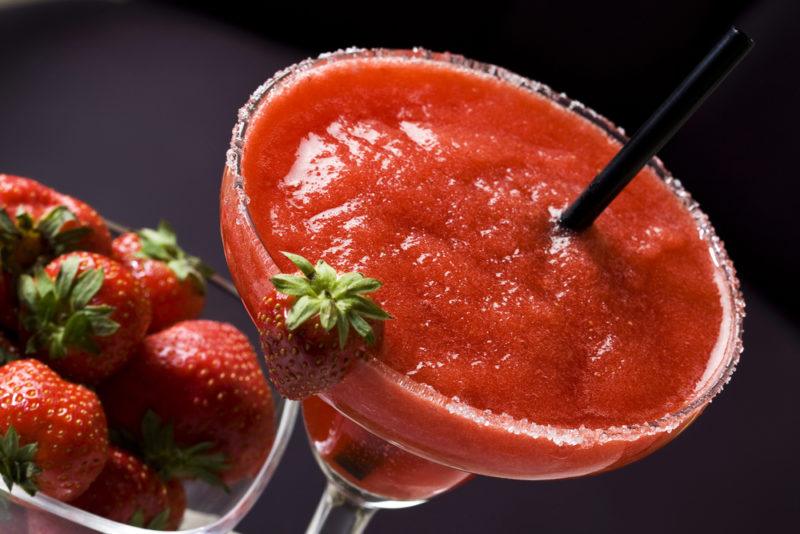 The strawberry daiquiri is one of the few cases where a derivative drink has become as well-known as the original, if not more so. The fresh and fruity strawberry daiquiri is particularly popular in hot weather and the drink is often served as a slushie.
Key ingredients include strawberries, rum and lime juice. Some recipes rely on ice as well, while others use frozen strawberries instead. Blending the ingredients together creates a delicious frozen drink that has just the right balance of sweetness and complexity.
You can use any type of rum with a strawberry daiquiri. A white rum will keep the strawberry flavors at the forefront, while a dark rum will add to the complexity of the drink.
Planter's Punch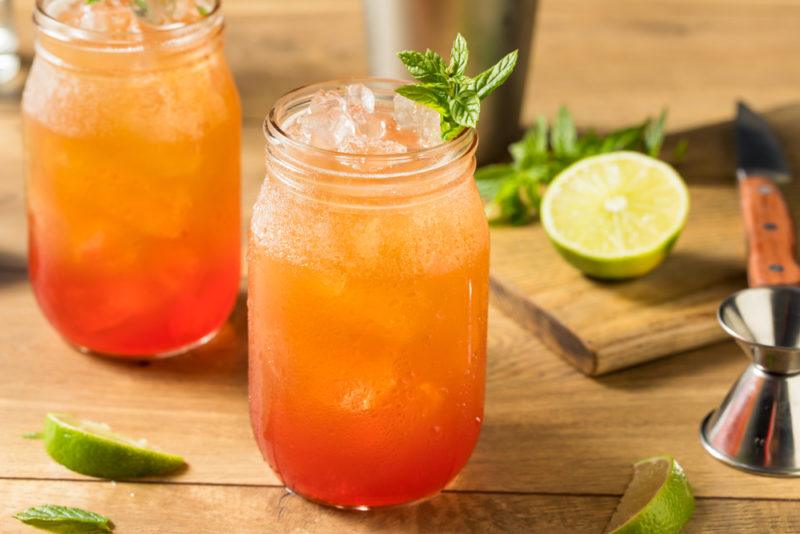 While the planter's punch might not be as well-known as some other rum cocktails, it is still a fantastic drink. The idea is that the drink has four key flavor elements: sour, sweet, strong, and weak.
A classic version of the punch includes two parts white rum, two parts dark rum, one part lemon juice, one part simple syrup, and orange juice. A dash of grenadine and a dash of triple sec are included as well.
This is a cocktail that you can easily customize to meet your own preferences, so there are countless variations for you to try. One example comes from the site The Spruce Eats. Their version is much simpler and includes dark rum, pineapple juice, and grenadine as the main ingredients.
Nevada Cocktail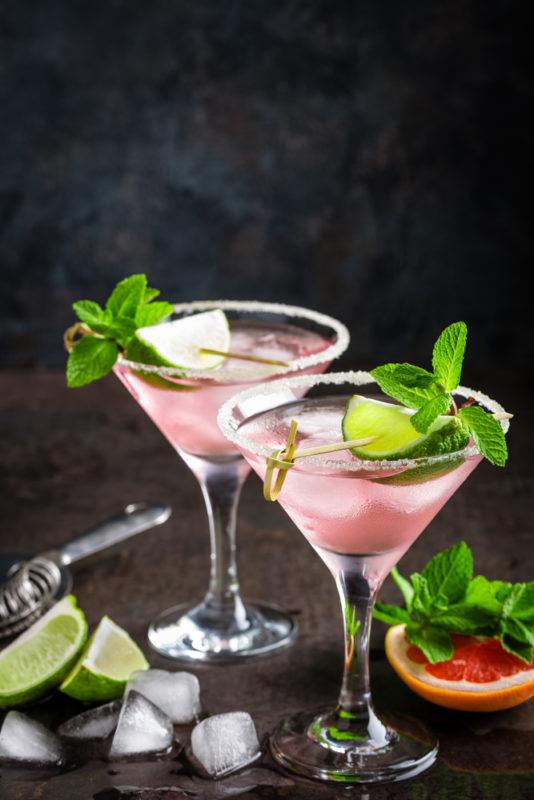 This simple cocktail relies on grapefruit juice and light rum as the base ingredients, with a few extra ingredients to help balance the flavors nicely. The exact ingredients and their proportions tend to vary, but one classic approach involves 1.5 ounces of light rum, 1.5 ounces of grapefruit juice, 1 ounce of lime juice, a little sugar, and a dash of bitters.
The ingredients are added to a cocktail glass, shaken over ice and then strained.
Another version relies on navy rum instead, which has a higher than normal alcohol content and an intense flavor profile. You may also see the cocktail called by other names, such as Nevada daiquiri or simply the Nevada.
Millionaire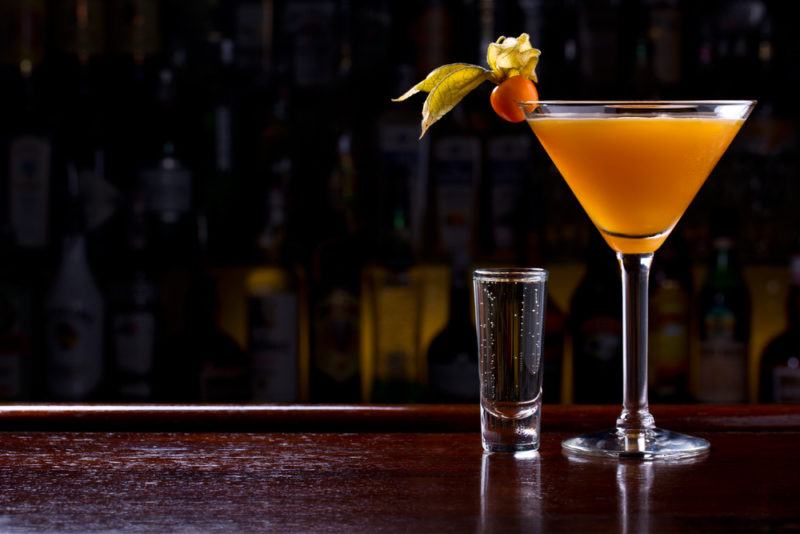 There are multiple versions of the millionaire cocktail, but today we're interested in one that involves three key ingredients – sloe gin, Jamaican rum, and apricot brandy. The three are included in equal measures, making this an easy cocktail to prepare.
The only other ingredients that you have to worry about is some lime juice and a dash of grenadine. All of the ingredients are simply combined in a cocktail shaker, shaken over ice, strained, and served.
You may see variations on this recipe, such as ones that call for specific brands of the ingredients or that change up the proportions. Despite these differences, the flavor profile of the finished drink is often similar.
It is, however, worth mentioning that the sloe gin that the recipe calls for is not a type of gin. Instead, sloe gin is a sweet liqueur that uses sloe berries for flavoring.
Dark 'N' Stormy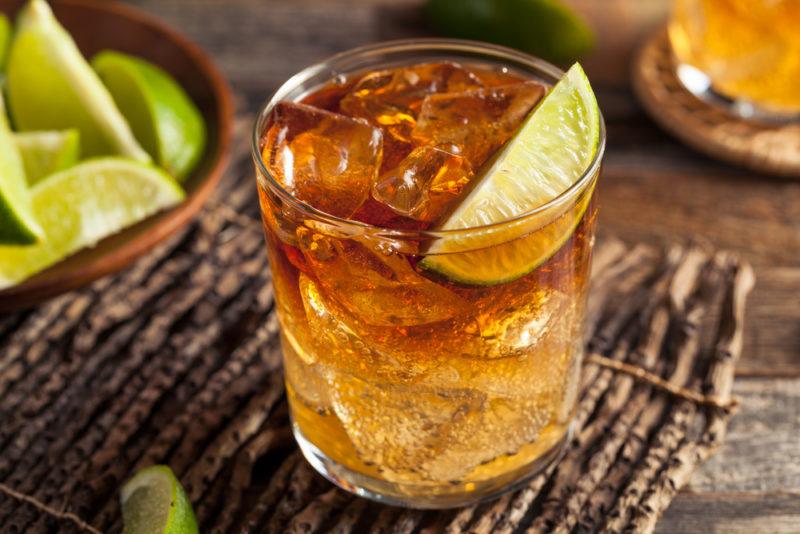 Technically speaking, a dark and stormy should be made exclusively with Gosling's Black Seal Rum, as Gosling's was the company that developed the cocktail. The name is even trademarked, but that doesn't stop people from using another type of rum instead.
To make the drink truly pop, you're looking for a dark rum that has a rich flavor. Plantation O.F.T.D. is another type that can work well, along with Denizen Merchant's Reserve 8-Year Rum.
As for the cocktail itself, you're simply combining dark rum and ginger beer. That's it. The most common ratio is two parts dark rum to three parts ginger beer, although the ratio can easily be changed.
While some consider it sacrilege, you can also add some lime juice to the cocktail. This adds an extra layer of complexity and slightly tones down the intensity of the drink.
Bushwacker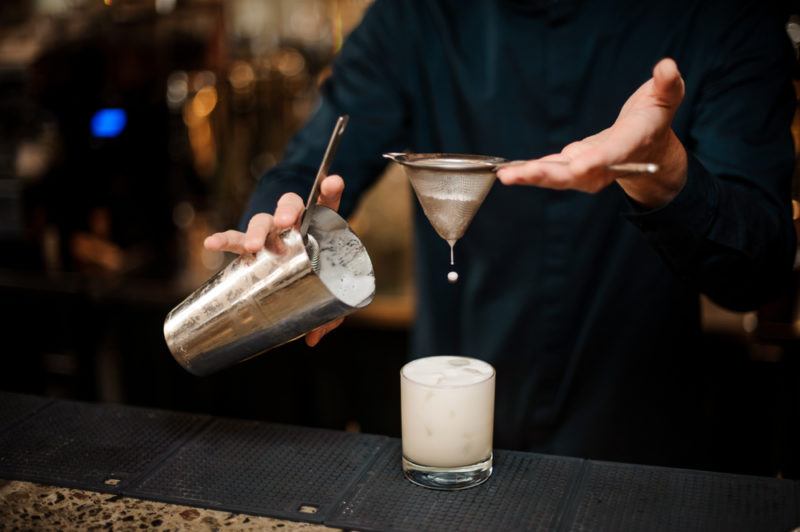 The bushwacker cocktail is often called an alcoholic milkshake. The cocktail relies on dark rum, Kahlua, and dark crème de cacao as key ingredients, along with cream of coconut and milk.
This combination creates a creamy and delicious drink that tastes more like dessert than anything else. The crème de cacao provides the cocktail with a chocolatey flavor, but one that isn't overwhelming.
While most versions of the bushwhacker are similar, there is always the potential for variation. For example, some people add white rum as well, while others use vanilla ice cream to make the cocktail creamier still.
Painkiller

The painkiller is an appealing variation on a pina colada. The cocktail retains the key flavors of pineapple and coconut, but doesn't have the same rich creaminess that you find with a pina colada. The difference can be appealing, as a pina colada can be overwhelming at times.
There are just four ingredients in a painkiller: pineapple juice, orange juice, cream of coconut, and rum. Pineapple juice makes up close to half of the volume, but the orange juice helps to stop the sweetness from being too much.
Choosing a flavorful rum helps to bring this drink up a notch too. Try to avoid any rum that is very smooth or subtle, as you risk the flavors getting lost entirely.
Goombay Smash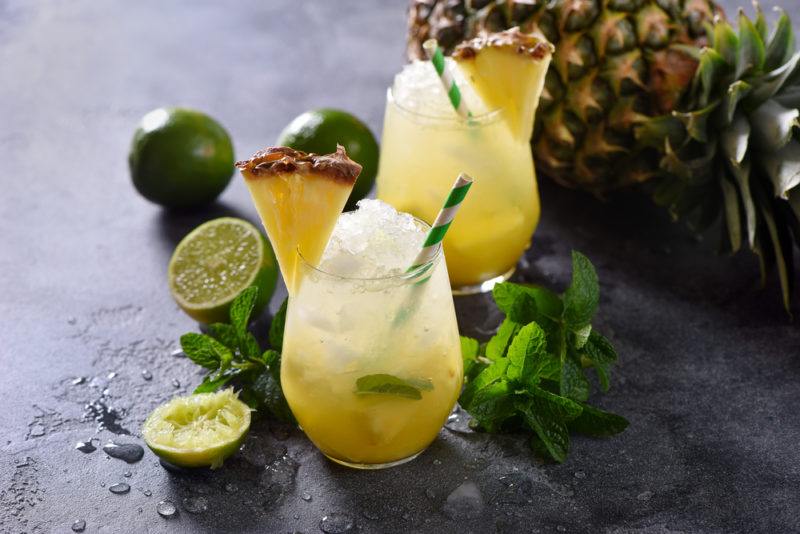 Here's another cocktail that heavily relies on Caribbean flavors. Once again, you're using dark rum and pineapple juice.
However, with this cocktail, the coconut flavor comes from coconut rum. You're also including some Cointreau and lime juice in the mix.
Using coconut rum means that the coconut flavor is relatively subtle, making the other flavors more prominent. There are plenty of variations of this cocktail out there, partly because the original recipe is a secret.
Hurricane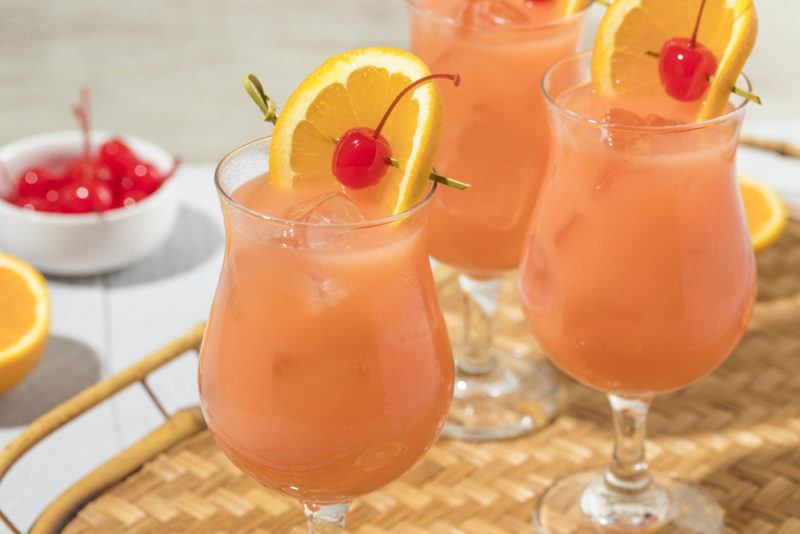 If the previous cocktails seem too sweet for you, the hurricane could be a better choice. The cocktail is interesting, as it relies on dark rum, fresh lemon juice, and passionfruit syrup. That's it, three ingredients.
The combination of passionfruit syrup and lemon juice is especially unusual, as one is very sweet and the other is tart. Still, the ingredients complement one another surprisingly well, especially once the rum is added.
Zombie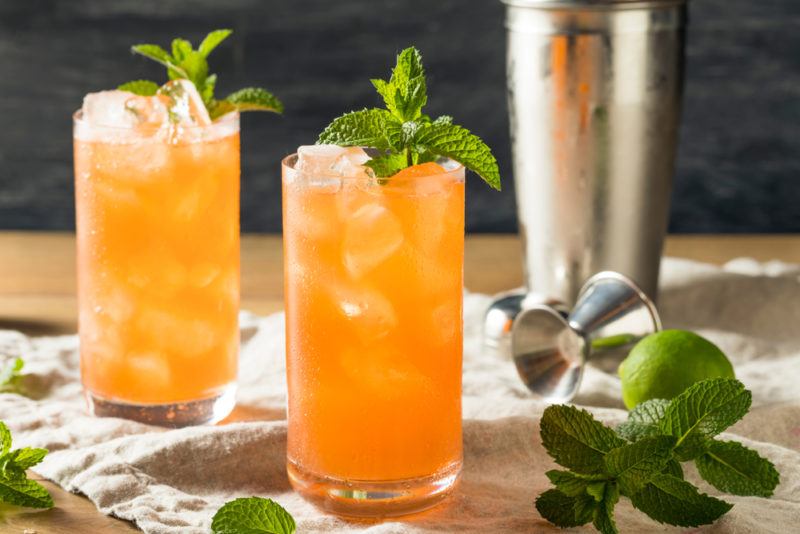 We can't make a list of rum cocktails without including the zombie. But, let's be clear, this cocktail isn't for the faint-hearted. It relies on four different types of rum, along with plenty of fruit juice and sugar.
The end result is an intense drink that is sweet with a considerable alcoholic hit.
Some people love the flavor of the cocktail or the amount of rum that it contains. Others don't like the cocktail at all. You'll need to try it for yourself to see what you think.
Hot Toddy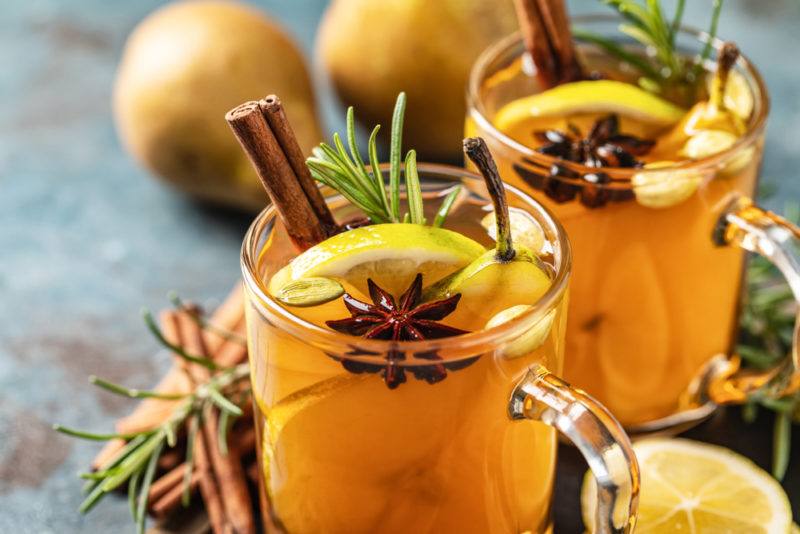 A hot toddy is a classic cocktail to make at home. The drink is perfect for cold winter nights or for any time where you are feeling run down. The use of ingredients like lemon and honey can help to soothe a sore throat or reduce congestion, while the hit of alcohol is relaxing and may help you to drift off to sleep.
Common ingredients in a hot toddy include lemon, honey, cinnamon, ginger, and hot water, but there is no single recipe. The drink is prepared in countless different ways.
Even the spirit that you use can change. Rum works well, especially a dark rum, as the spicy undertones contrast nicely against the other ingredients.
Hot Buttered Rum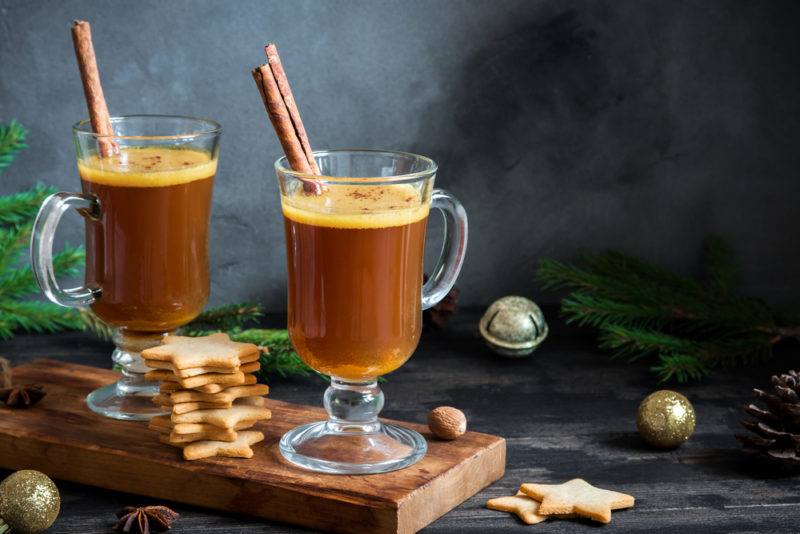 Hot buttered rum is another popular hot drink. In case you're not familiar with it, the cocktail relies on butter, brown sugar, rum, water, and various spices.
This combination of ingredients makes it taste similar to many other seasonal drinks. However, the buttery texture is unusual and is one reason that hot buttered rum stands out.
It is also possible to create a dairy free version by using coconut oil instead of butter. Doing so changes the flavor profile and the texture somewhat, but many people do enjoy the coconut oil version.
Rum Eggnog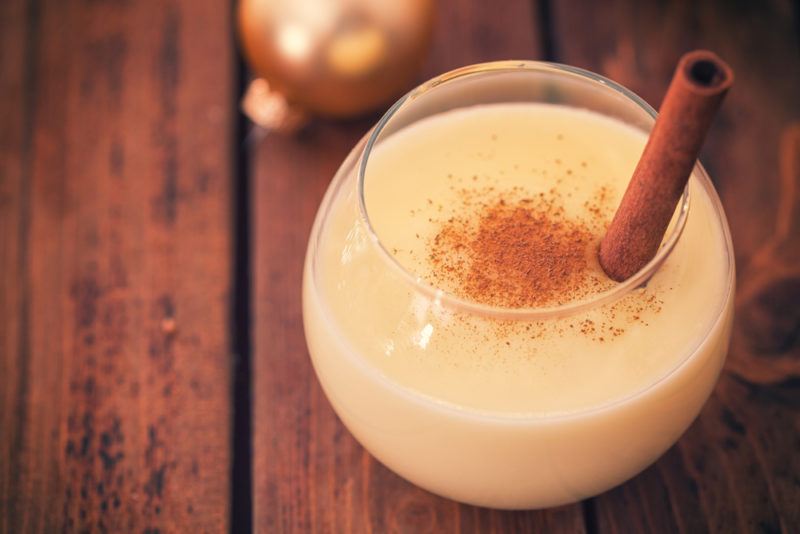 Eggnog doesn't need an introduction. The drink is incredibly popular in its own right and there are countless versions out there. Recipes tend to rely on eggs, heavy cream, and milk, along with spices like cinnamon.
While eggnog can be made without alcohol, many people add one or more spirits. Rum is a popular choice. Dark rum works well here as the flavors complement the eggnog nicely. You could also combine rum and cognac for an interesting flavor balance.
It's even possible to spike store-bought eggnog with rum. The results won't ever be as good as eggnog that you made yourself, but you still end up with a delicious drink.
Chicago Fizz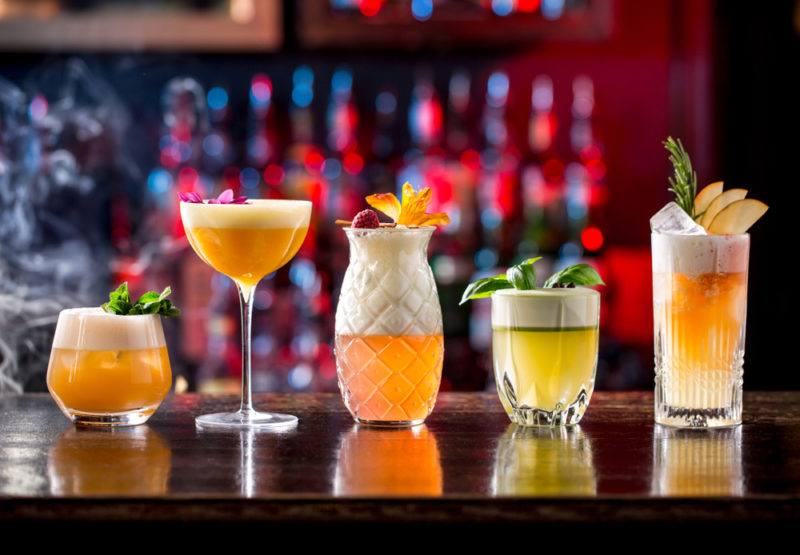 The Chicago fizz is a classic drink, one that is thought to have been developed before Prohibition. However, the exact history of the drink has been lost to history. The cocktail isn't as popular as many others from its era, but it does have a certain appeal.
The cocktail uses dark rum and ruby port as the base, creating a rich and flavorful drink. An egg white is included as well, along with lemon juice and sugar. The entire cocktail is topped off with club soda.
As is often the case, the egg white doesn't affect the flavor of the drink. Instead, it plays a key role in the texture of the cocktail, creating a creamy drink. Because you're using raw egg, it's important to pay extra attention to the shaking step and make sure that you shake the drink for at least 30 seconds.
Cable Car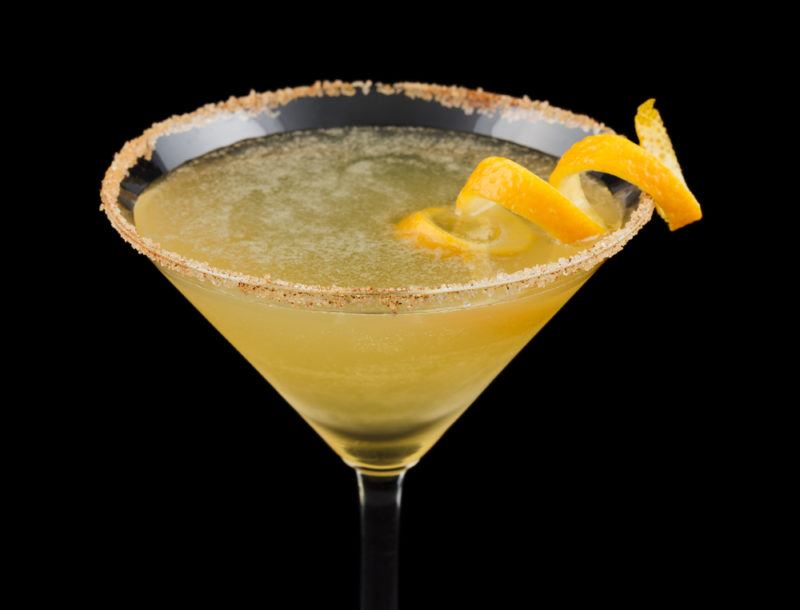 Created in 1996, the cable car is a fairly new cocktail and it specifically relies on Captain Morgan Spice Rum. The recipe uses equal parts of the rum and lemon sour, along with half as much orange curacao.
These three ingredients play against one another nicely, creating an interesting balance of sweetness and sourness in the cocktail. The drink is best served in a glass with a sugar rim.
Jungle Bird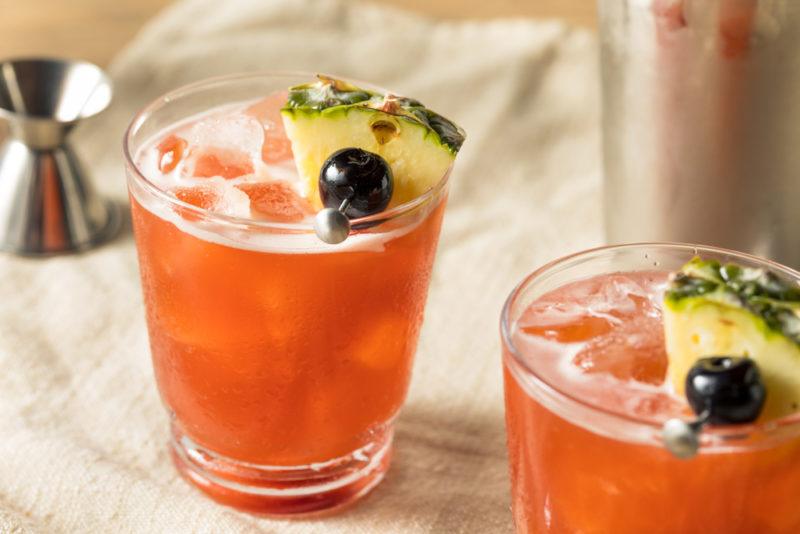 As you might be able to guess, the jungle bird cocktail uses classic tiki flavors of rum, pineapple, and lime. This creates a sweet tropical drink, especially as the recipe often includes simple syrup as well.
One interesting aspect is that you're using dark rum rather than light rum. As such, the rum ends up imparting a complex flavor to the rest of the drink.
The jungle bird also uses Campari, which is incredibly unusual for a tiki drink. Campari has a bitter taste, which helps to balance out the other ingredients.
The drink also has a distinctive garnish, often made from a pineapple wedge and leaves, along with a maraschino cherry. The garnish ends up looking like a bird. It is surprisingly easy to make too.
Rum And Coke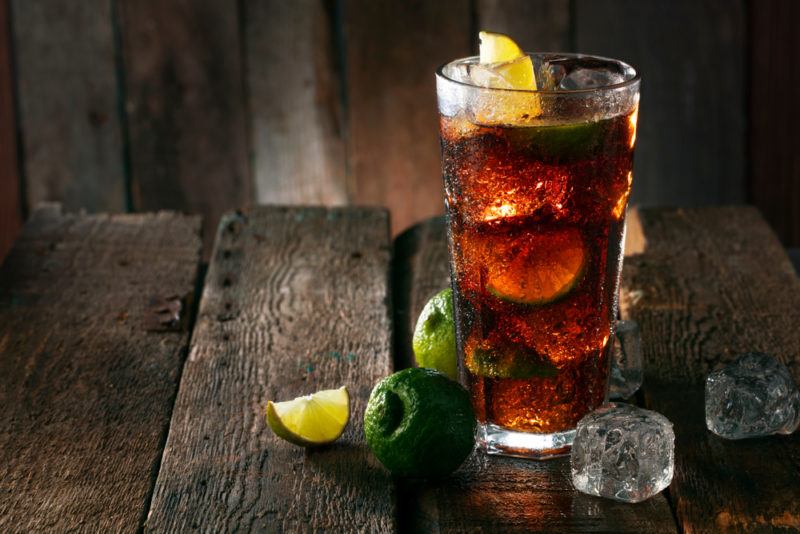 With just two ingredients, a rum and coke is one of the simplest rum cocktails – and one of the most popular. Still, getting a rum and coke wrong is surprisingly easy.
The problem is that many people overpour either the rum or the coke, creating a balance that just doesn't work. Using a rum to coke ratio of 1:2 or 1:3 tends to be a good starting point, giving you a nice balance of the two ingredients.
Jean Harlow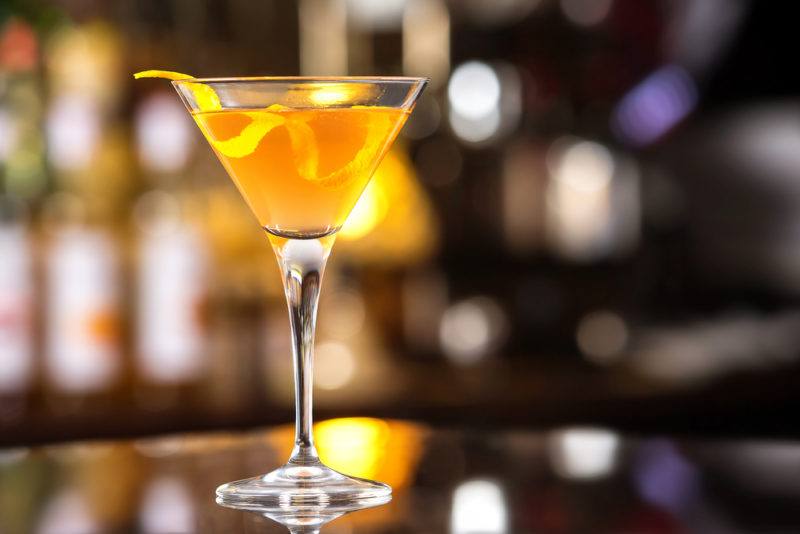 This cocktail is essentially a sweet rum martini. It's an incredibly simple drink, as you're just combining equal measures of light rum and sweet vermouth.
The ingredients are shaken together in a cocktail shaker with ice, strained, and then served.
Knickerbocker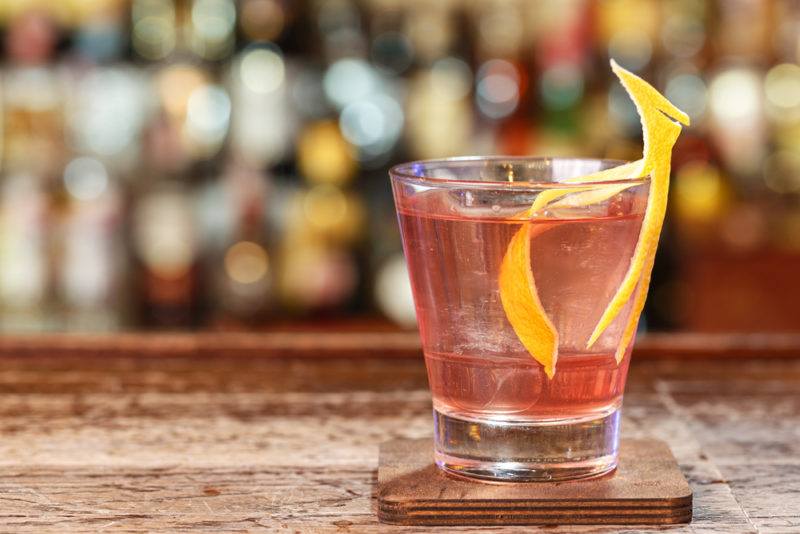 The knickerbocker is one of those cocktails that has developed and evolved over time. The current classic relies on gold rum, raspberry syrup, orange curacao, and lime juice.
Raspberry and lime always make a vibrant flavor contrast, which pairs perfectly with the other ingredients in the cocktail. The cocktail is generally served over crushed ice, although you serve it straight in a cocktail glass if you would prefer.
Surfer On Acid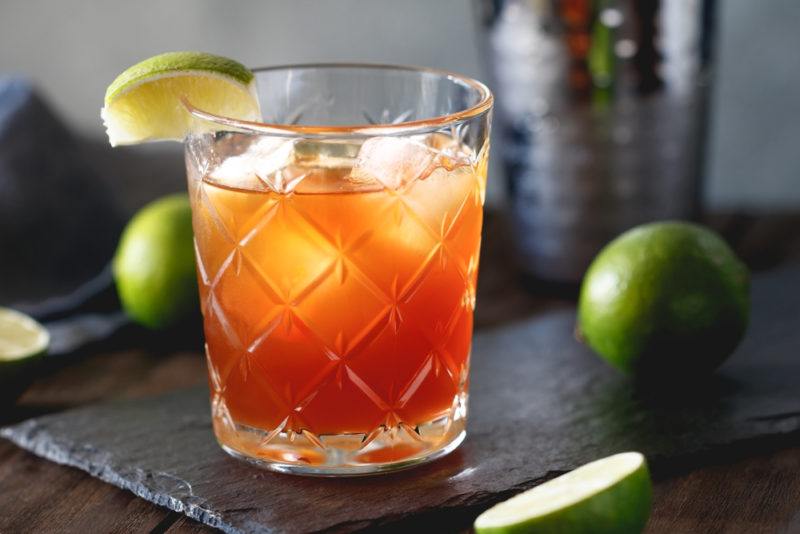 Surfer on acid is a perfect place to round off this list, as the cocktail has such a fantastic name. It's unusual in other aspects too. The cocktail relies on equal measures of coconut rum, Jägermeister, and pineapple juice.
This is an extremely uncommon combination of ingredients. The drink was originally served as a shot. These days, it's more common to see the cocktail served on the rocks or in a cocktail glass.