When the weather is cold, the last thing that many of us feels like is a chilled cocktail, especially one that is served over ice. Sure, the alcohol is warming enough, but standing around with something icy in your hands is not fun when the weather is cold. Thankfully, there are many hot cocktails out there too.
These cocktails are perfect for taking the edge off the cold weather, warming you from the inside out, while keeping your hands nice and toasty too. They're excellent in the evenings too.
The cocktails we're featuring here come in a variety of styles. Some of them are common recipes that you'll have seen around before, others are variations on classic cocktails or are even entirely new.
Most of the time, you can easily tweak the ingredients of the cocktail to create a flavor profile that interests you. For example, hot toddies and mulled wine are some of the most common hot cocktails and there are countless variations on each of these. 
Hot Cocktails For Winter
Hot Toddy
Mulled Wine
White Mulled Wine
Warm Old Fashioned
Irish Coffee
Spiked Pumpkin Spice Latte
Hot Coffee Alexander
Spiked Hot Chocolate
Eggnog
Hot Gin And Tonic
Hot Apple Cider
Wassail
Hot Buttered Rum
Vegan Buttered Rum
Tom And Jerry
Hot Punch
Boozy White Hot Chocolate
Milk And Honey Cocktail
Hot Toddy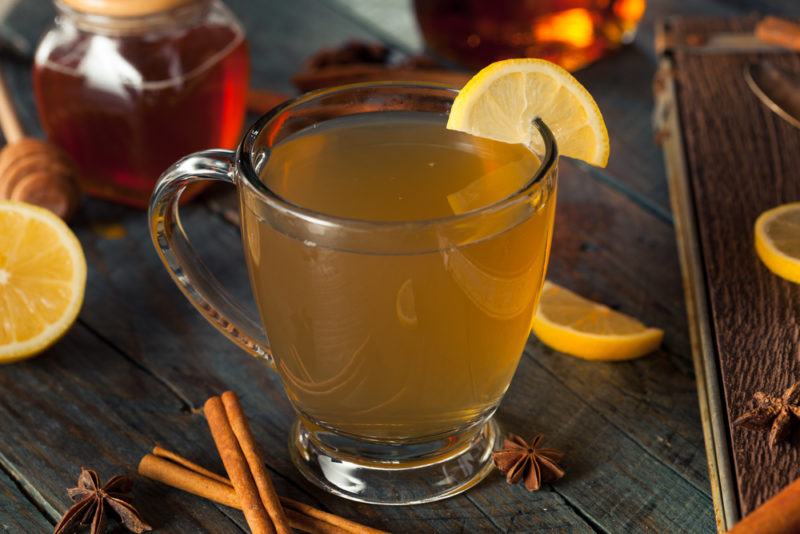 A hot toddy is the best place to start our list – as this is probably the most famous hot cocktail out there. The simplest way to make a hot toddy is with whiskey, sugar, warm water, and some lemon. Another classic is to use lemon, honey, whiskey, ginger, and hot water, which can be ideal for anyone suffering from a cold.
Of course, there are countless variations.
Some people rely on cider rather than hot water, which can create a much sweeter drink. Likewise, some versions heavily rely on spices to make the cocktail more interesting.
All of these variations have their place, but really, whiskey should be a key component of this hot cocktail no matter what. It simply isn't the same when the flavors of the whiskey get overpowered.
The same is true if you're relying on a different spirit for your whiskey. The cocktail is always better when you have a variety of flavors in play, rather than an overwhelmingly sweet drink.
Mulled Wine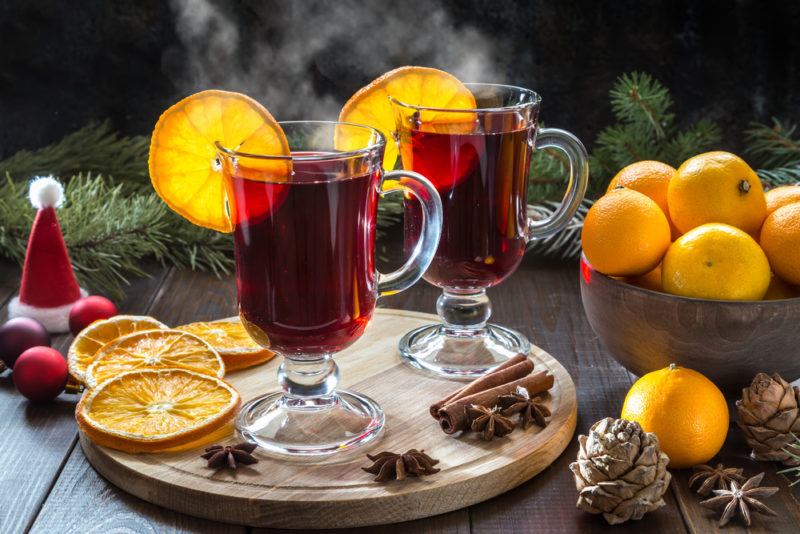 Mulled wine is another classic hot cocktail, especially because it is easy to make and you can prepare enough to serve a crowd at one time. The drink is generally made using red wine and a variety of mulling spices, such as cinnamon, cardamom, and star anise. Sliced oranges or orange wedges may be included as well.
The drink is a flexible one, so you can play around with the ingredients to find the best balance of flavors for the wine that you're using. Just be sure to avoid ground spices. These tend to float on top of your wine and give it an odd texture.
You may need to add some extra sweetness to the wine too. Some people turn to sugar, brown sugar, or honey. Apple cider can be used as well, especially as the apple flavor of the cider perfectly complements the rest of the wine.
Finally, you can spike the mulled wine with brandy or another spirit before serving. This provides an extra alcoholic kick, helping to offset any alcohol that was lost through evaporation.  
White Mulled Wine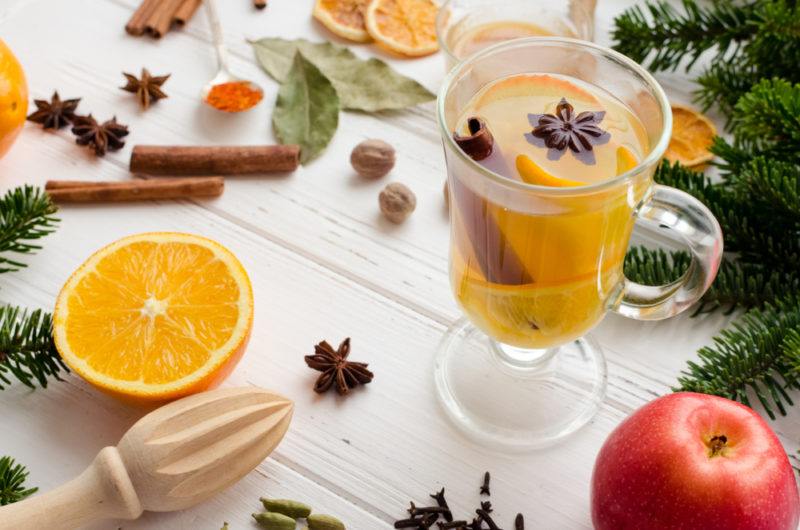 Red mulled wine might be a well-recognized classic, but white mulled wine has its merits too.
The first step is to choose your wine well. You'll need a white that isn't too acidic or you'll get some odd flavors when it is heated. An oaked Chardonnay is a good choice to begin with or perhaps a Viognier.
The process of making white mulled wine is the same as red mulled wine. You're even using many of the same ingredients, such as star anise, orange peel or orange slices, and cinnamon. Once again, you can play with the ingredients until you get a flavor profile that you love.
Both types of mulled wine can be made in a pot on the stovetop or in a slow cooker. A slow cooker is a useful approach, as you don't need to worry about the wine boiling and you can easily keep your mulled wine warm.
Warm Old Fashioned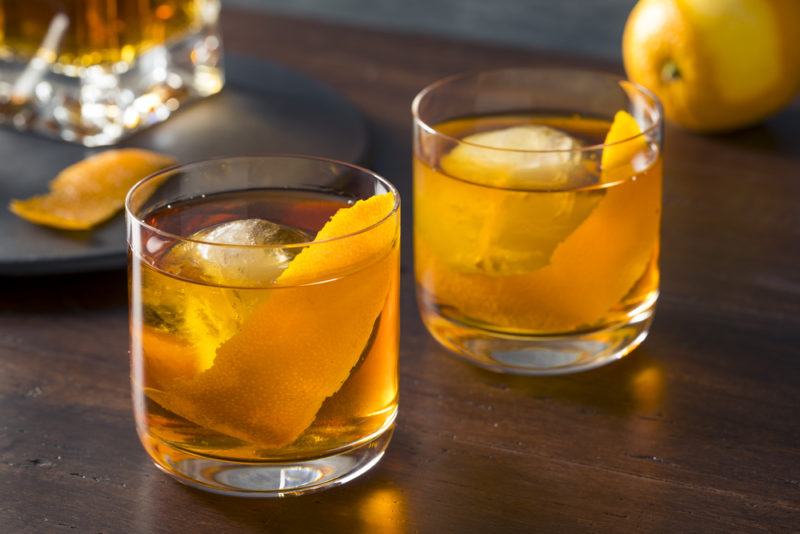 While an old fashioned is traditionally a cold drink, you can make warm versions of the cocktail too. This can be done using the same ingredients as a traditional old fashioned, including bitters, sugar, whiskey, a slice of orange, and a little club soda.
The difference is that you finish the whiskey off with hot water. Doing so doesn't just make the drink warm, it also changes the flavor profile.
You'll find that some of the traditional flavors become more prominent, while others blend together. The end result is a soothing drink that is a nice change from mulled wine or a hot toddy.
Irish Coffee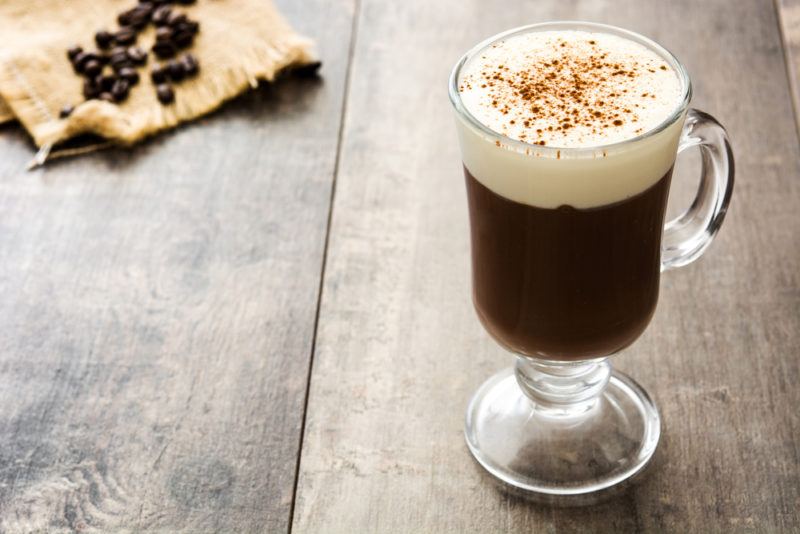 Irish Coffee is a classic that is hard to ignore. The simplest version of the cocktail just involves adding whiskey to coffee. However, the traditional approach involves using Irish whiskey and brown sugar, then topping off the drink with whipped cream.
You don't need to follow the traditional recipe unless you want to. You could even just make coffee the way that you normally do and spike it with whiskey or another type of spirit.
Spiked Pumpkin Spice Latte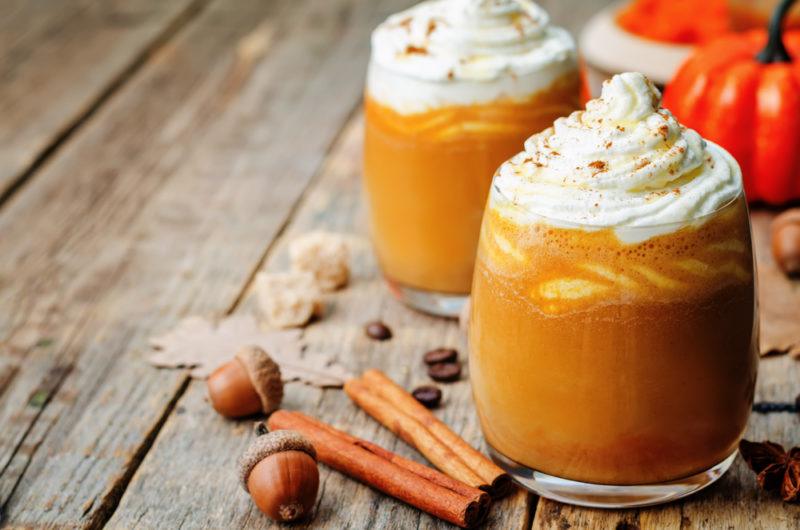 Despite the large number of coffee variations out there, the pumpkin spice latte remains incredibly popular. So, why not take full advantage of the flavors and create an alcoholic version?
One example of this comes from the site Crazy for Crust. The recipe relies on pumpkin pie spice coffee creamer as the source of the pumpkin flavor. Alternatively, you could make your own pumpkin spice latte from scratch and then spike it with your favorite spirit.
Hot Coffee Alexander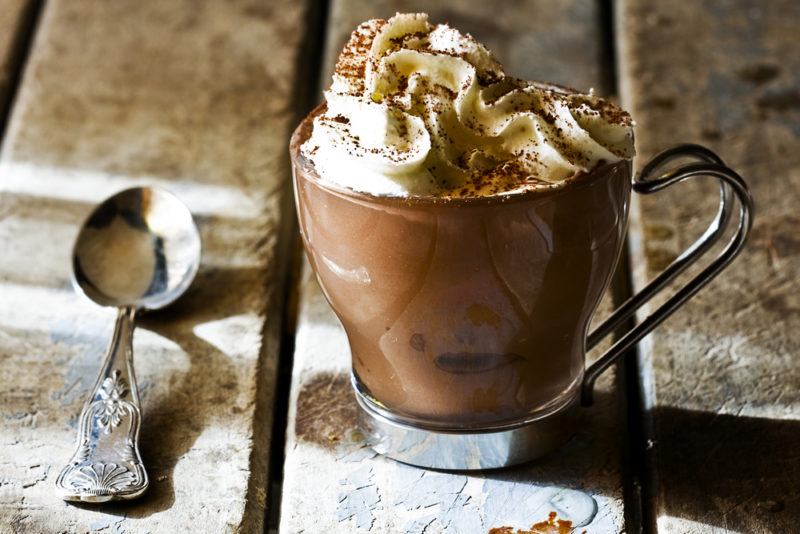 The classic Alexander cocktail is cold and relies on cognac (or sometimes brandy), crème de cacao liqueur, and cream. This version is similar, except that you're including hot coffee as an ingredient.
Additionally, you're using whipped cream on top of the coffee, rather than mixing cream in with the rest of your cocktail.
The flavor profile ends up being similar to a spiked mochaccino, making it an ideal drink on a cold day. It's also nice to enjoy something a little more complex than simply spiking your coffee.   
Spiked Hot Chocolate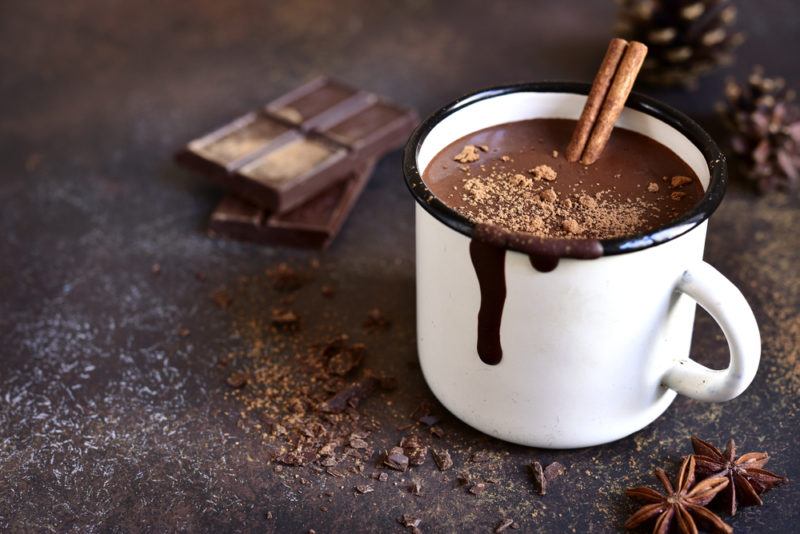 There are countless recipes for boozy hot chocolates. None of them are as famous as an Irish coffee, but they're all appealing in their own right.
For example, Serious Eats has a recipe that they call Tequila Mint Hot Chocolate. This one provides two hits of alcohol, one from the tequila and another from peppermint schnapps.
Another recipe is Orange Brandy Hot Chocolate, which comes from the Food Network. It uses orange brandy as the alcohol of choice, while orange bitters and orange zest add in extra kicks of orange.
As with coffee, you could simply take your favorite hot chocolate recipe and add alcohol to it. Creamy alcohol options work well here, such as Bailey's Irish Cream.
Eggnog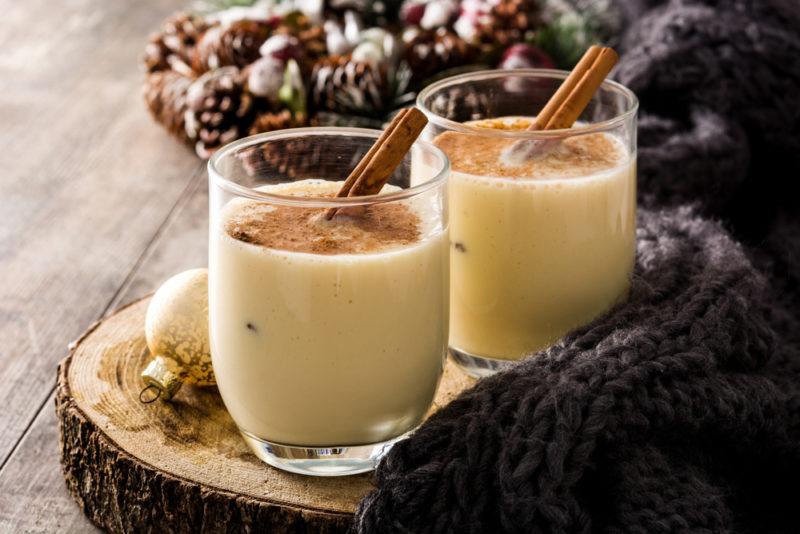 Eggnog is a classic that can't be ignored. Key ingredients include sugar, spices, milk or cream, an egg, and an alcoholic spirit. The spirit that you choose can strongly influence the flavor of the drink.
For example, brandy tends to add sweetness to the eggnog, with a noticeable flavor that isn't too overwhelming. Rum, on the other hand, has a subtle flavor, one that you might miss entirely.
Whiskey tends to produce the strongest flavor, which is perfect if you're not a fan of the regular taste of eggnog.
Of course, the specific whiskey, rum, or brandy that you use will also make a difference. This is especially true for whiskey, as the whiskey flavor stands out so much.
While eggnog is often served as a cold drink, you can easily have it warm as well. The cocktail can taste even better warm, especially on cold evenings or afternoons.
Hot Gin And Tonic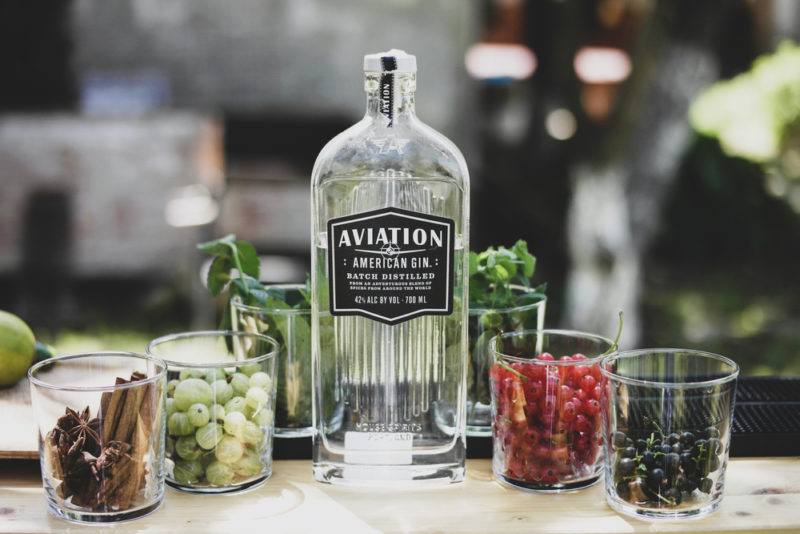 While a gin and tonic is traditionally served cold over ice, making a hot version of the drink is surprisingly easy. All you need to do is skip the tonic water and use tonic syrup instead, then rely on hot water instead of soda water.
There are now many different brands of tonic syrup to choose from. Some of these use botanicals to create an interesting flavor profile, while others focus just on the quinine.
The simplest type of hot gin and tonic involves mixing together gin, hot water, and tonic syrup. You'll probably want some simple syrup too, but that's about it. You could leave the drink as-is or expand it by adding in some spices, such as cinnamon, ginger, or nutmeg.
Gin is a subtle spirit, so a hot gin and tonic doesn't have the same in-your-face flavor that you get with a hot toddy. The drink ends up having more complexity too, especially as gin can have multiple aromatics that influence its final flavor.
Hot Apple Cider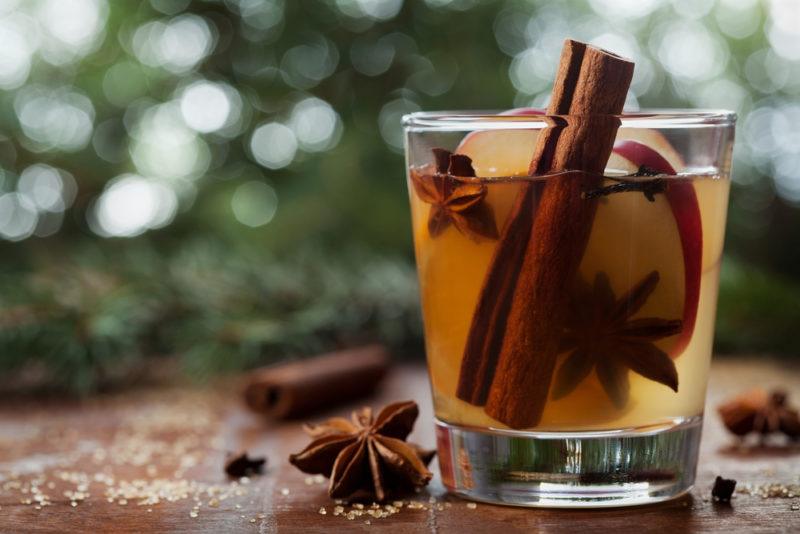 Hot apple cider is a common drink in the cooler months, but there isn't a single recipe to turn to. Instead, people make hot apple cider in a variety of ways.
Some versions are spiked apple cider, where apple cider (or occasionally apple juice) is used as the base of the drink. Various other ingredients are used for flavor, including options like cinnamon sticks, cloves, star anise, and allspice.
The drink is then spiked with a spirit to create a hot alcoholic cocktail. Spiced rum is a popular choice in this type of cocktail, as the flavors of the rum perfectly complement the other ingredients. Bourbon is another common choice.
You can also create a basic cocktail by heating up hard apple cider. This is less powerful, as hard apple cider is often carbonated and carbonated drinks don't tend to heat well.
Wassail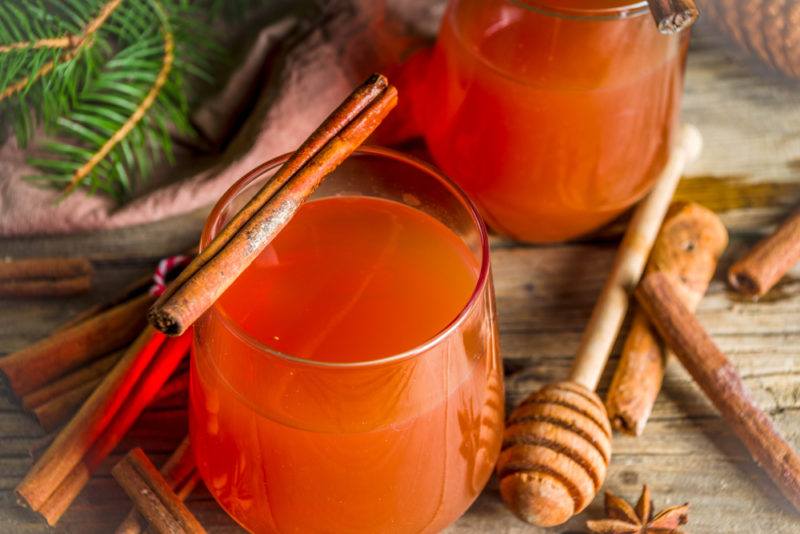 Wassail is a traditional mulled cider drink that has a long history. While the drink was originally created using warmed meat, these days cider tends to be used instead.
The process is similar to making mulled wine, where you are combining the various ingredients in a pot or a slow cooker and then heating them. There is no significant difference between mulled cider and wassail, except that wassail is a more traditional name.
Hot Buttered Rum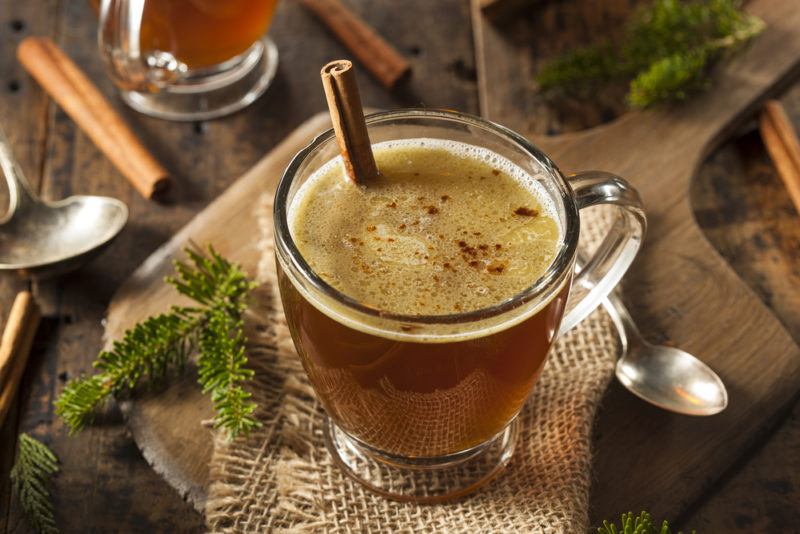 While hot buttered rum has become a famous cocktail, it is also a slightly odd idea if you haven't tried it before. As the name suggests, the cocktail uses rum and butter as key ingredients. Once again, spices are added to create a complex flavor profile.
Some variations of the recipe include other ingredients, such as softened ice cream to create an even more creamy drink. Apple cider may be added as well, which provides extra liquid and an appealing depth of flavor.
Vegan Buttered Rum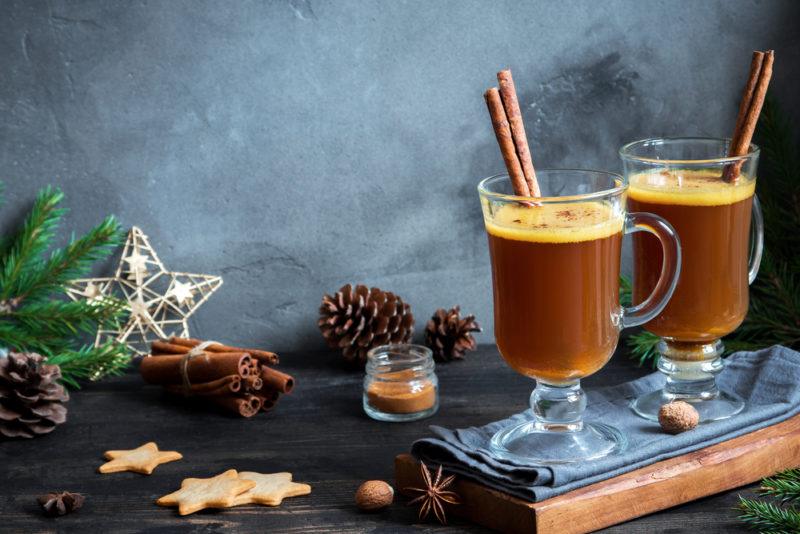 If the traditional hot buttered rum isn't for you, then you could try a vegan variation instead. This hot cocktail still aims for the same texture and flavor profile as regular hot buttered rum. The difference is that you're generally using coconut oil as the main source of fat, rather than butter.
This type of cocktail isn't just for vegans either. Coconut oil is often considered to be good for your health, partly because of the MCTs that it contains. You might also find that you prefer the flavor of coconut oil over butter, which is another reason to consider the cocktail.
Tom And Jerry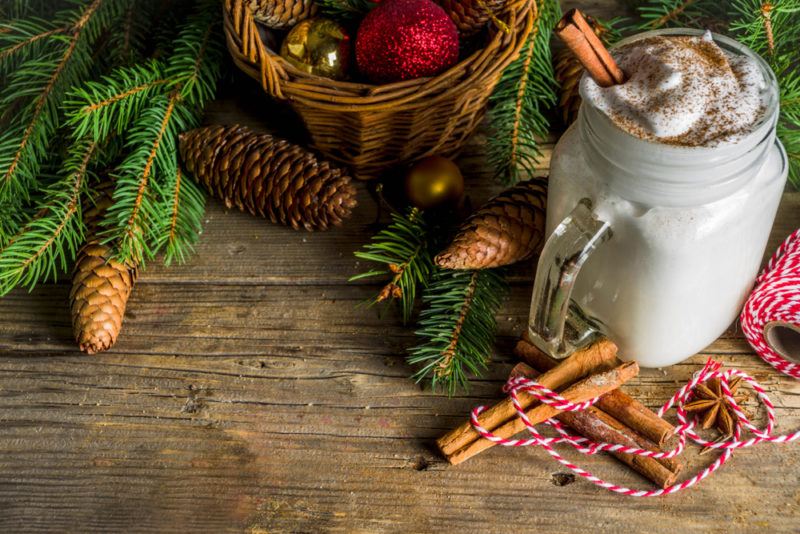 The Tom and Jerry is a variation on a classic eggnog cocktail. There are a few key differences. One is that the Tom and Jerry is almost always served warm, while eggnog may be served warm, but often isn't.
Another difference is the alcohol. The Tom and Jerry uses cognac and rum, rather than just one type of alcohol.
Finally, there are texture differences. The Tom and Jerry cocktail tends to have a whipped texture that is lighter than you'll generally find with eggnog.
Hot Punch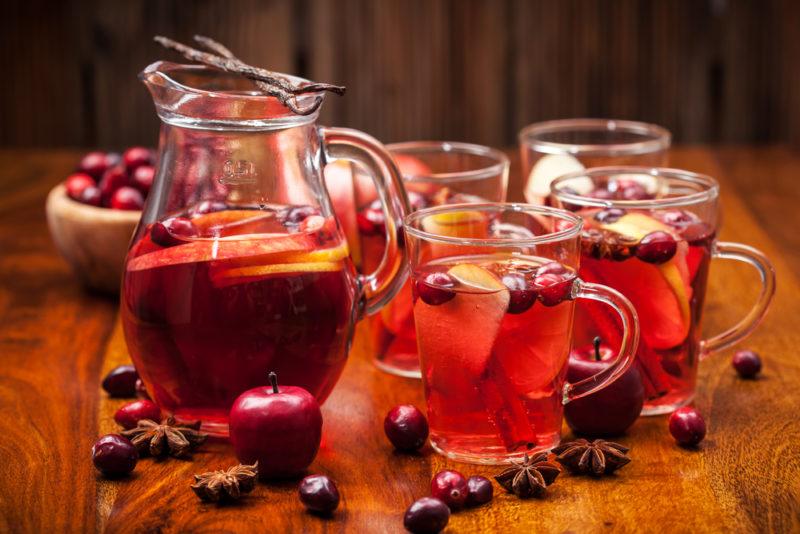 Punch tends to be a cold drink that is served at parties, but there are many hot punch recipes that you can try out too. Many of these follow the themes of other items on this list, such as punch that is based on a hot toddy, apple cider or mulled wine.
Aside from taste, one of the most important goals with punch is to allow you to serve a crowd of people. A slow cooker can be a good tool for this task, as it allows you to keep your cocktail warm and serve it easily.
Alternatively, you could simply prepare a batch of the hot punch and then immediately serve it to your guests.
Boozy White Hot Chocolate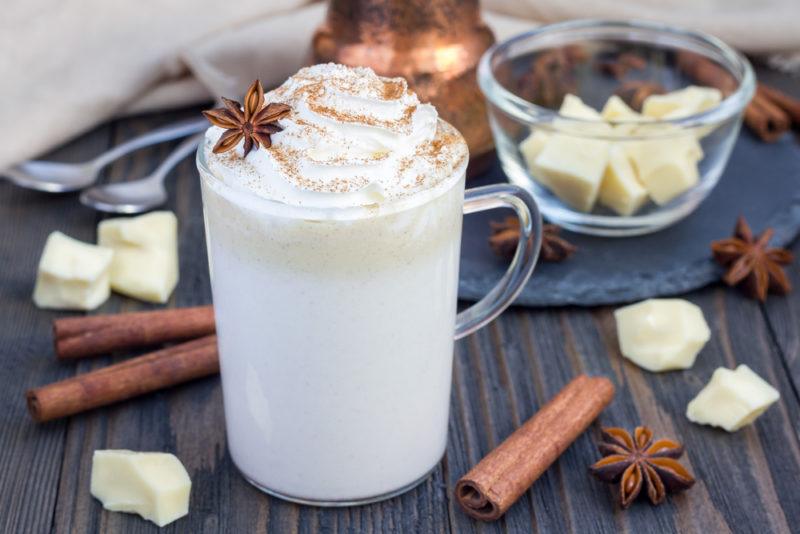 We mentioned a spiked hot chocolate earlier in this list, so why not do something similar with a white hot chocolate? This type of drink is perfect for white chocolate lovers or for anyone with a sweet tooth.
An easy approach is to use milk as the base for the hot chocolate and to include white chocolate chips for the chocolate flavor. Various spices can be added in too, along with whichever spirit or liqueur takes your fancy.
You could turn to a powered white hot chocolate mix instead, just make sure to choose the brand carefully. Some white hot chocolate mixes contain excessive amounts of sugar and little else.
Milk And Honey Cocktail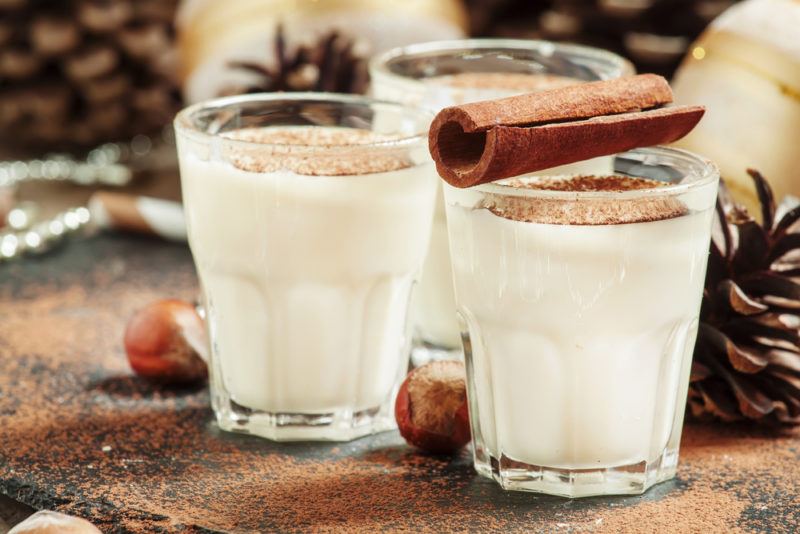 This simple cocktail relies on just two ingredients – milk and Benedictine. Benedictine is a herbal liqueur that has a complex aromatic profile and includes distinct honey notes.
The combination creates a simple drink that can be enjoyed hot or cold. This is a fantastic way to fully enjoy the flavors of Benedictine, as there are no other ingredients to drown the Benedictine out.
Christmas Mule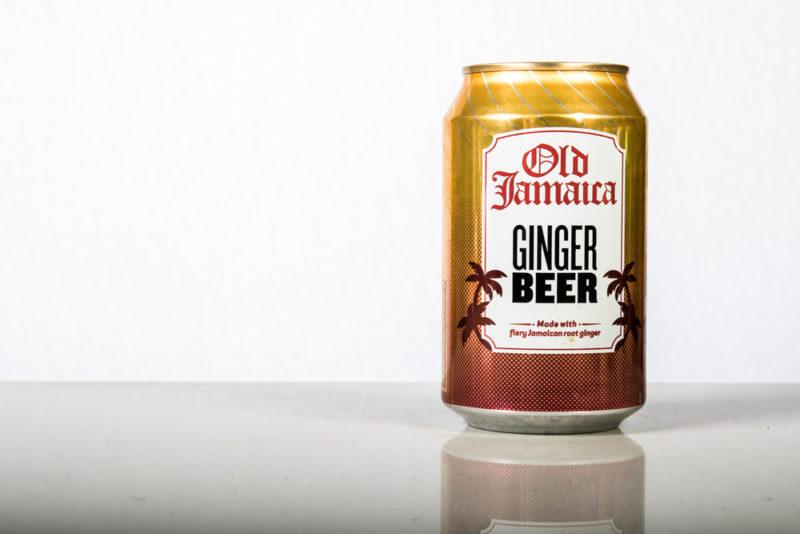 This cocktail is a variation on the Moscow mule. It is a simple cocktail, as you only have three ingredients to worry about – pear vodka, ginger beer, and a cinnamon stick.
Preparing the cocktail does require a bit of effort, as you need to slowly warm the ginger beer. You can do this in a microwave, but a stovetop will tend to work better because it's important to warm the ginger beer slowly.
Rapidly increasing the temperature of the ginger beer will cause it to lose carbonation, which isn't ideal.