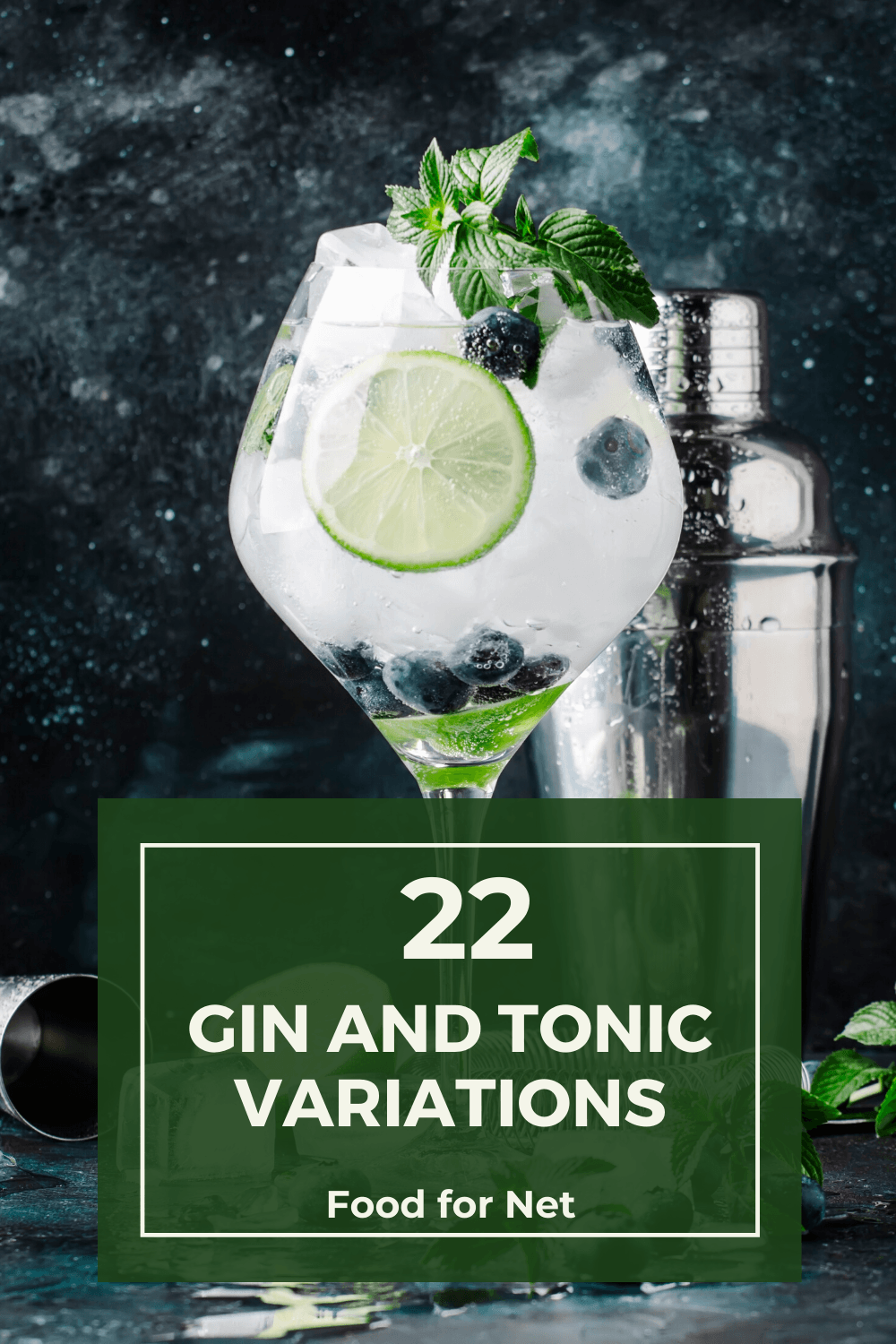 A gin and tonic is one of the classic cocktails, partly because the flavor balance works well and partly because there are only two ingredients to worry about – the gin and the tonic (plus possibly some lime wedges). But, the cocktail can also get boring quickly. Gin and tonic variations are a fun way to change up the cocktail, giving you an interesting drink that still has the basic flavor profile that you love.
The approaches in this list cover a range of styles. Some of them are simple variations, where you might just be adding a single ingredient or getting creative with garnishing. Others are more complex variations, where you almost end up with an entirely new gin cocktail.
Don't be afraid to experiment for yourself either. The ideas in this list can be powerful as a starting point for your own cocktail creations.
Besides, it's hard to ruin a gin and tonic. The cocktail is incredibly forgiving, making it the ideal place to start if you haven't played around with your own creations before.
Just be aware that the gin you choose will influence the final cocktail. Different gins have their own balance of botanicals. You may find that a particular balance of botanicals works well with a particular gin and tonic version, while another does not.
Gin And Tonic Variations
Try Premium Or Flavored Tonic Water
Use Tonic Syrup Instead
Change The Ratio
Aromatic Gin And Tonic
Muddle Your Aromatics
Add Infused Simple Syrup
Earl Gray Gin And Tonic
Use Grapefruit Juice
Try Other Fruit Juices
Flavored Syrups
Los Gintonic
Add Bitters
Use A Liqueur Too
Combine Approaches
Mother-of-Pearl
Stack Your Flavors
The Parisian
Make A Hot Gin And Tonic
Spiced Gin And Tonic
Add Sweet Vermouth
Gin, Tonic And Whiskey
Make Herb-Infused Ice Cubes
Try Premium Or Flavored Tonic Water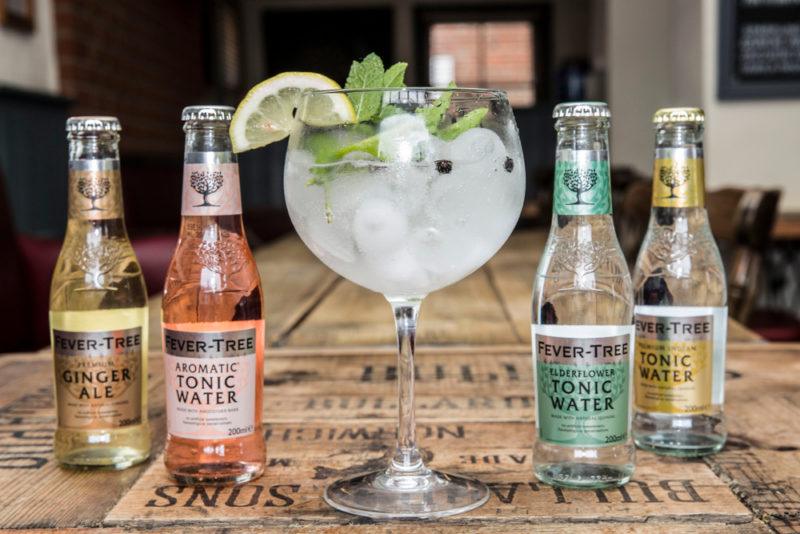 Regular tonic water isn't your only option. Companies have started to create their own craft versions of tonic water. Some of these simply focus on being higher quality, while others flavor their tonic water too.
Even without added flavoring, high-quality tonic water is worth trying out. These brands tend to rely on actual quinine rather than flavoring. They also use natural sweeteners rather than high fructose corn syrup or skip the sweeteners altogether.
Flavored tonic water is a way to add extra complexity to your cocktail. Most of the time, the tonic water only has a subtle flavor, so you're not overwhelming your drink.
The brand Fever-Tree is a great example of this pattern. Their tonic water products are specifically designed to mix with gin. Examples include elderflower tonic water, aromatic tonic water, and lemon tonic water. It's easy to see how these flavors perfectly complement the botanicals in gin.
Use Tonic Syrup Instead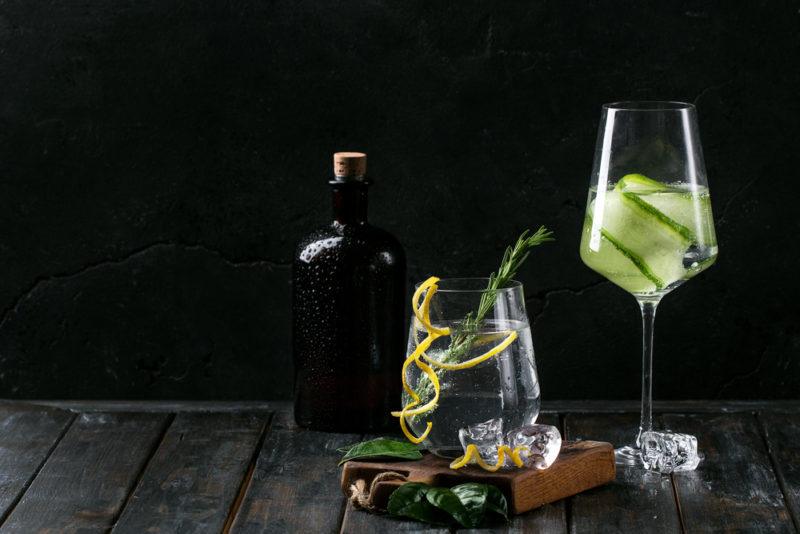 Tonic water isn't the only way to get the classic flavors of a gin and tonic. Some brands have been creating tonic syrup instead, which is an interesting variation on the theme.
A tonic syrup is a concentrated liquid that you use with soda water to create your gin and tonic. You can find some flavor combinations in tonic syrup that you can't with tonic water, but this isn't the main reason for focusing on tonic syrup.
Instead, the biggest advantage of the syrup is control.
Tonic syrup gives you the chance to carefully control the amount of sweetness of your cocktail, along with the strength of the tonic flavor. Not a huge fan of tonic water? Use less tonic syrup and more soda water.
This style is also ideal for parties, as you can easily create drinks of different intensities.
Change The Ratio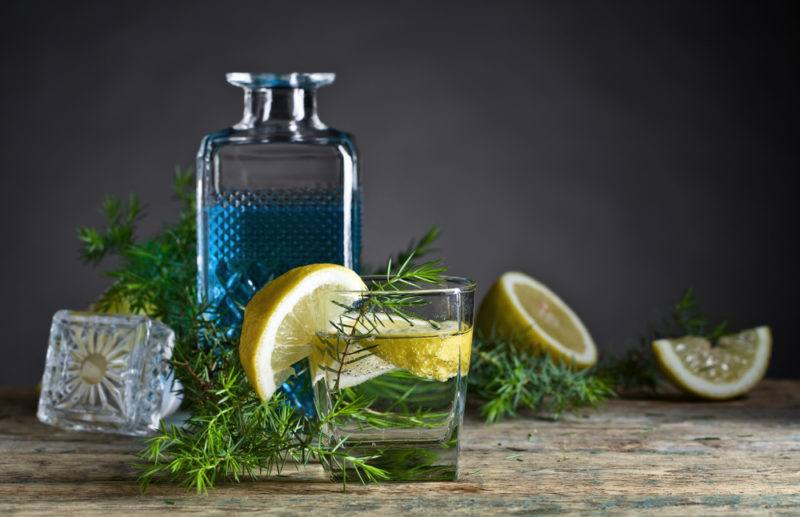 Changing the ratio of gin to tonic water is one of the simplest ways to alter a gin and tonic. It's easy to rely on a single ratio, perhaps because you are following a recipe or because you were introduced to a specific gin and tonic ratio. However, you can easily change up the ratio to create something entirely different.
Some common ratios of gin to tonic are 1:1, 1:2, and 1:3, but other ratios can work too. As an indication, a drink that is one part gin and two parts tonic ends up being roughly 14% ABV, once you account for the way that ice dilutes the drink.
Aromatic Gin And Tonic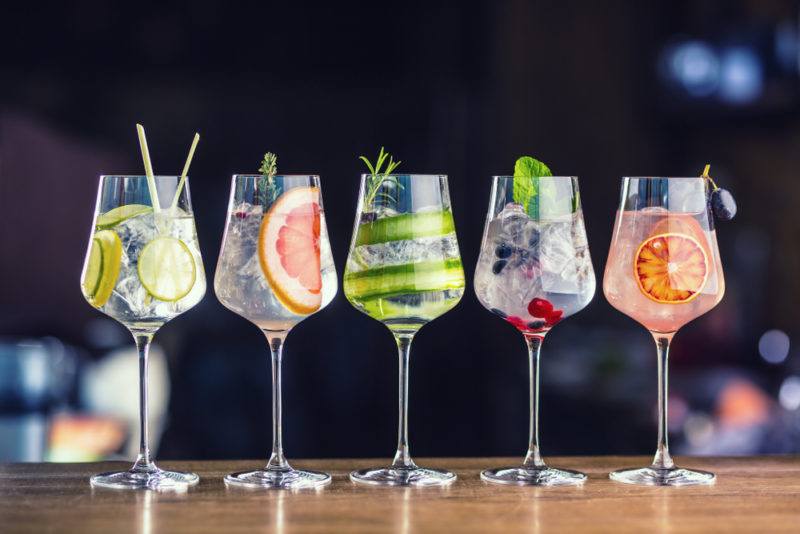 An aromatic gin and tonic follows the classic approach to a tee. The difference is that you're also including various aromatic ingredients in the cocktail glass. Examples include citrus slices or peel, cucumber slices or ribbons, fresh herbs, dried juniper berries, sliced strawberries, fresh berries, and dried peppercorns.
Needless to say, you're not going to include all of these ingredients at the same time. Instead, you pick and choose the ones that you're interested in.
The ingredients all add extra flavor to the cocktail. Many of them, like sliced strawberries, can be fun to eat once you've finished the cocktail too, as they become infused with some of the gin and tonic flavors.
You can let your imagination go wild with the aromatics that you use, but here are some popular combinations to get you started:
Sliced strawberries and cracked pepper
Lime slices, juniper berries, and lemon peel
Grilled lemon slices, rosemary, peppercorns, and juniper berries
Lime wedges, juniper berries, peppercorns, and mint sprigs
On a side note, ribbons of cucumber are an especially good choice. Not only does the flavor of cucumber complement gin well, but cutting cucumber into ribbons means that the vegetable's flavor easily infuses into the drink, giving you a refreshing summer cocktail.
Muddle Your Aromatics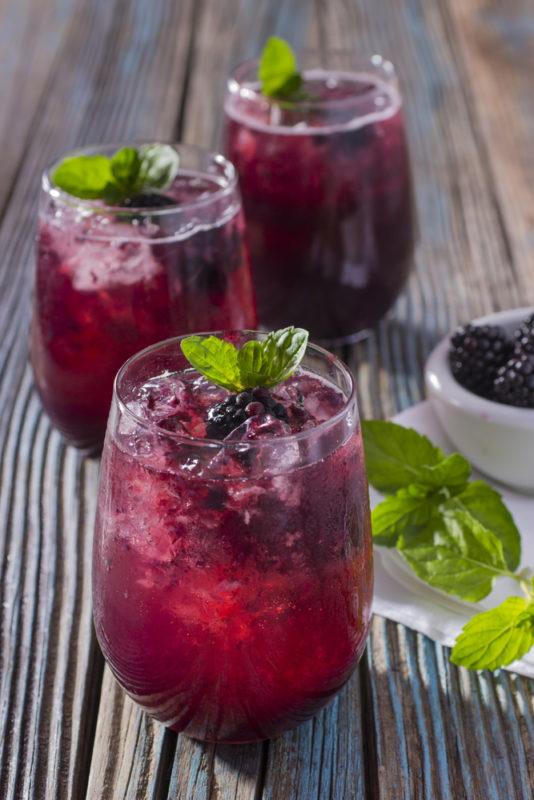 For even more flavor, consider muddling an aromatic or two in with your gin. For example, you could do so with sliced strawberries, to give your cocktail a reddish color from the strawberries and a more intense strawberry flavor.
Some recipes suggest that you muddle an herb instead, like rosemary. Muddling herbs gives you a more subtle flavor hit than you get when muddling berries, but the effect is still worth it.
Add Infused Simple Syrup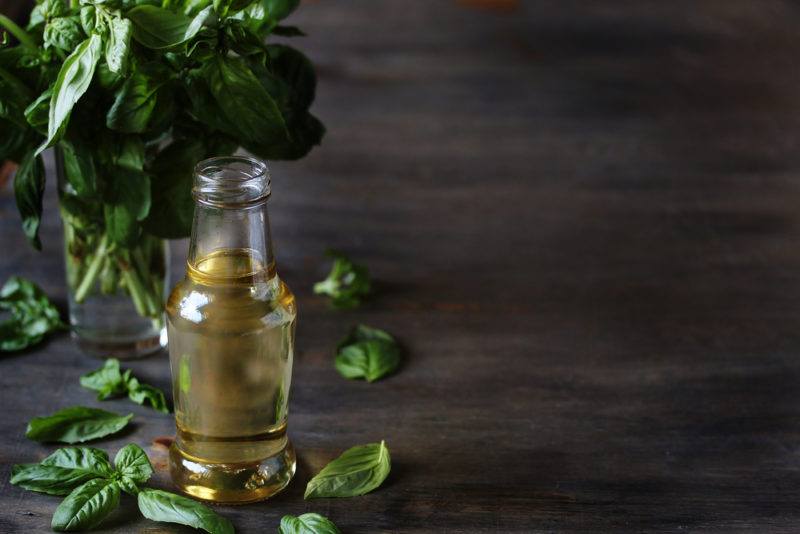 Muddling isn't the only way to add more depth to a gin and tonic. Another approach is to make your own infused sugar syrup. Doing so is similar to making regular sugar syrup, except that you're simmering the sugar and water with one or more herbs.
The approach provides some extra flavor to your drink, without overwhelming the botanicals of the gin.
Using sugar syrup also provides extra sweetness. This could be perfect for people who find that a traditional gin and tonic is a little too tart.
Earl Gray Gin And Tonic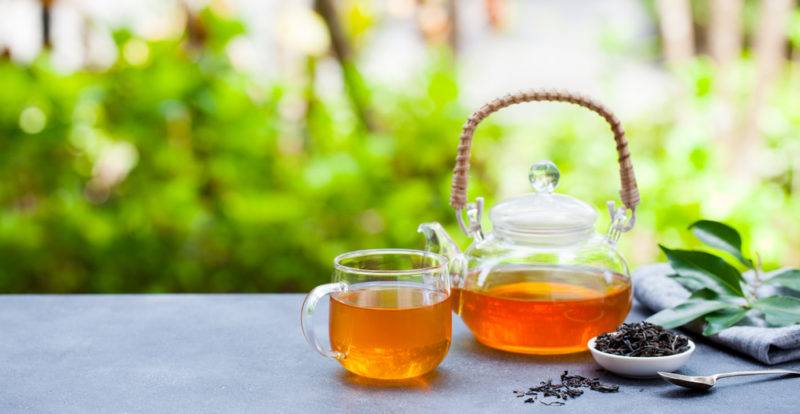 This cocktail is an unusual one. The trick is to first infuse your gin with the flavor of earl gray tea. You can do this by steeping a bag of the tea in roughly a cup of tea. Allow it to steep for a while, but no more than an hour.
Once you've done so, the gin can be used as normal to make your gin and tonic. Garnish the drink with a lemon slice or two and then you're good to go.
Use Grapefruit Juice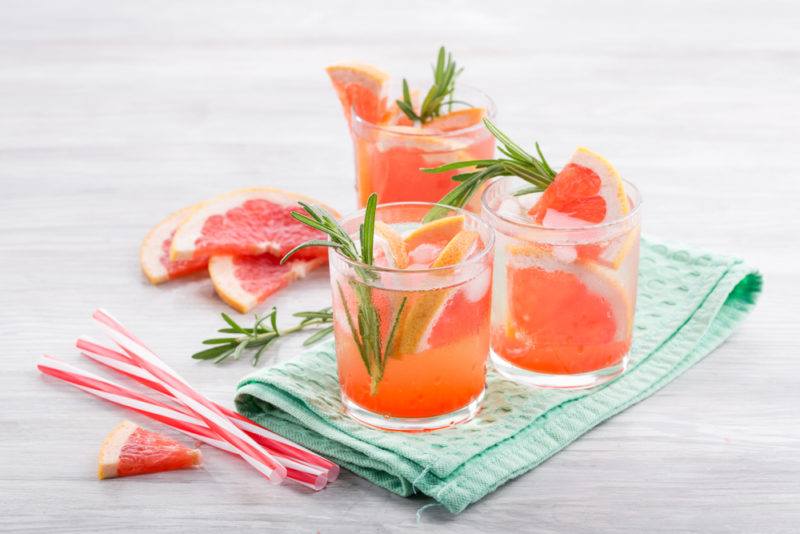 Adding grapefruit juice to your gin and tonic is an easy way to add complexity and interest to the drink. The amount of grapefruit juice you use really depends on your own preferences.
For example, you could include a decent amount, in which case your gin and tonic would taste mostly of grapefruit juice and tonic. Alternatively, you might just add a splash of grapefruit juice – just enough to make the flavor profile interesting.
To make the addition more complex, try muddling some fresh rosemary with the grapefruit juice. The flavor of the rosemary complements the grapefruit and the gin well.
Try Other Fruit Juices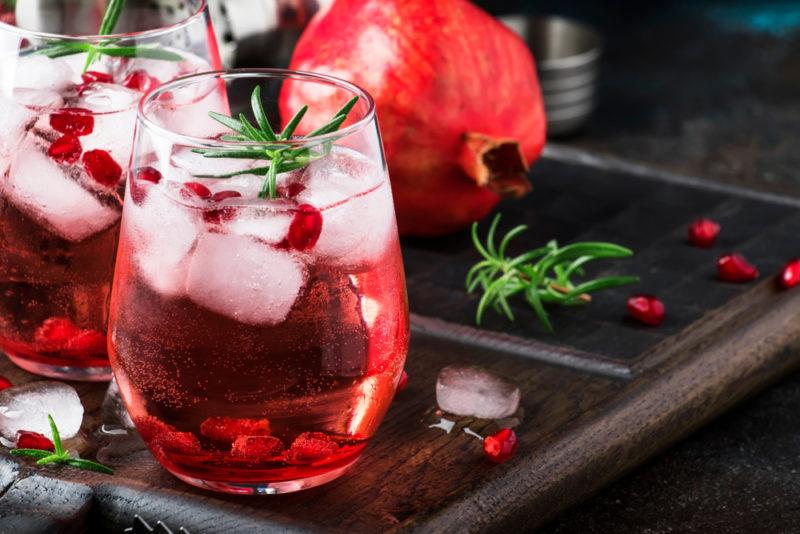 Some other juices can complement a gin and tonic as well. Cranberry juice is a good place to begin, as this has noticeable tartness of its own. Pomegranate can be appealing too and there are plenty of other good examples.
Including juice will involve some trial and error. While juices are a fantastic way to add to the flavor of your drink, they can also be very sweet and risk overpowering the other ingredients. Because of this, it's best to start with small amounts of juice and go from there.
You might find that you only need a little juice to make your drink taste fantastic.
Flavored Syrups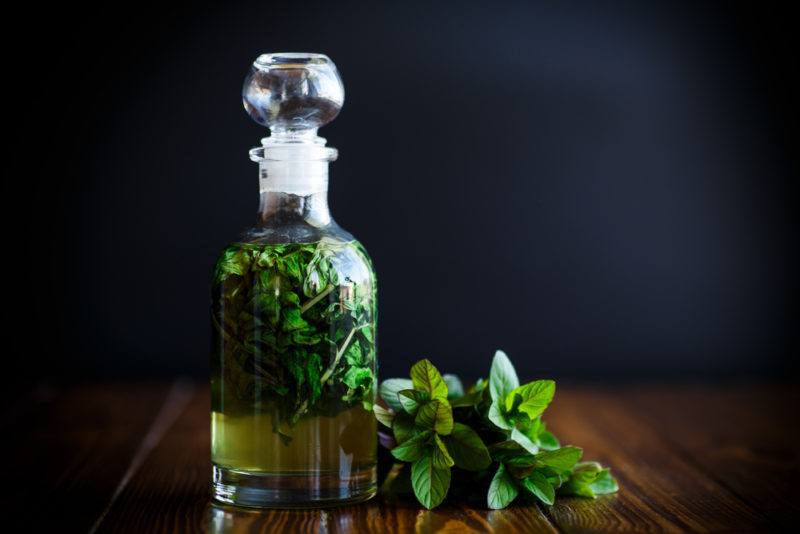 A syrup is another easy way to add flavor. You're getting less liquid than with fruit juice, which can make syrups easier to use. For example, a little blackcurrant syrup could easily kick a gin and tonic up a notch.
You could also consider using mint syrup. After all, mint leaves are already a common addition to a gin and tonic, so it's clear that the flavor combination works well with gin.
Los Gintonic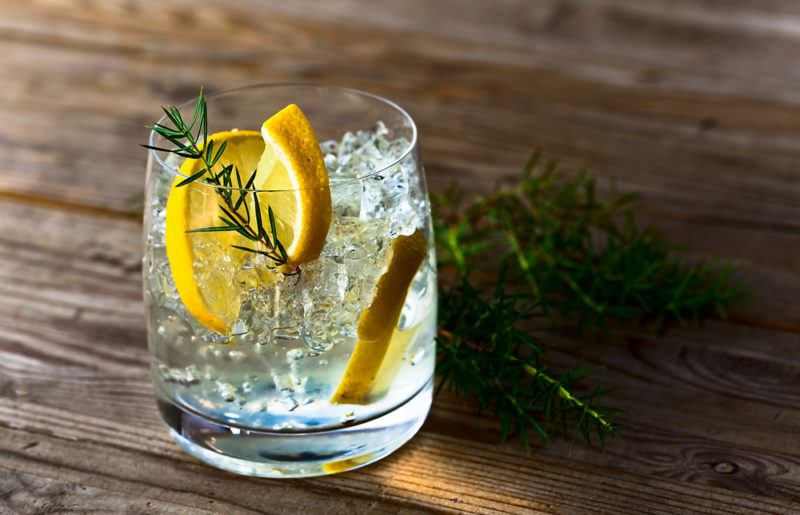 This variation makes two changes to the traditional gin and tonic recipe. The first is to use bitter lemon tonic water, while the second is to include sweet vermouth.
The sweetness of the vermouth and the sharpness of the bitter lemon balance each other well. Plus, the combination provides extra complexity and interest to the drink.
Add Bitters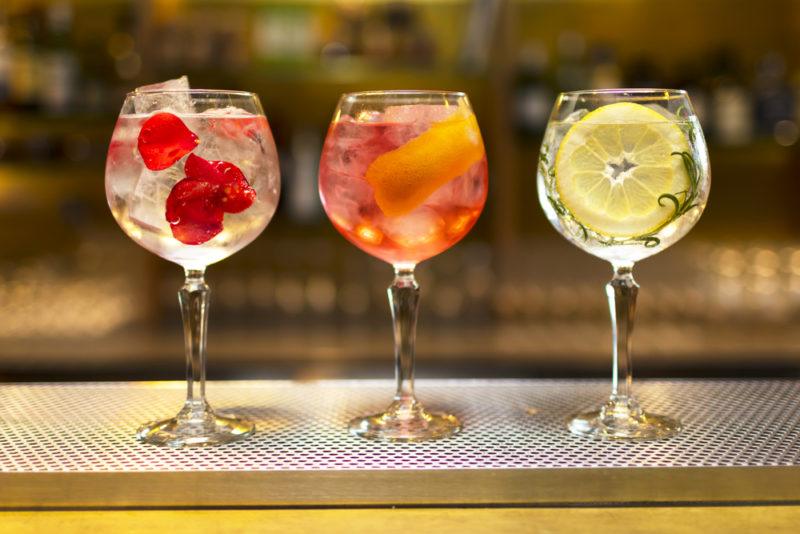 Adding some dashes of bitters is a simple way to elevate your gin and tonic to an entirely new level.
For example, The Pretty Tony cocktail uses ten dashes of Angostura bitters. The bitters add spicy notes to the cocktail, while also giving the drink a slight orange tinge.
Other types of bitters can be used too. Each type will have its own impacts on the finished drink, but all will help to make your gin and tonic more interesting.
Use A Liqueur Too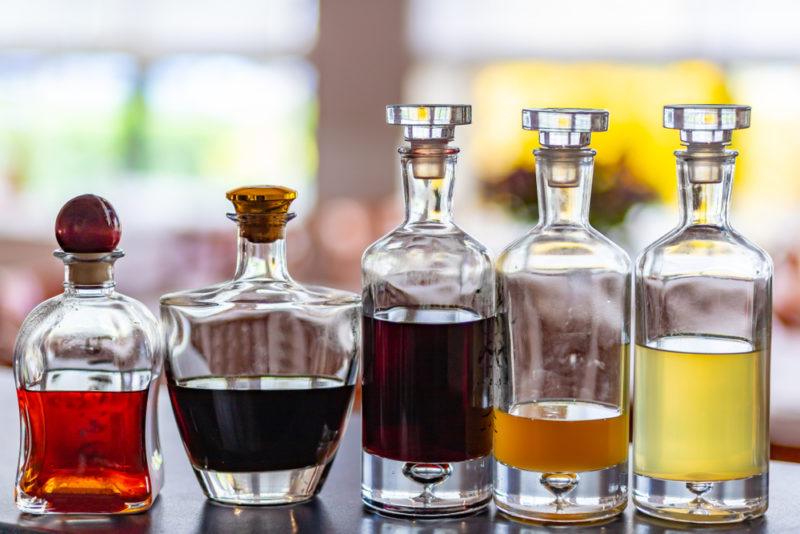 Using a liqueur is another way to provide extra flavoring for your drink. Doing so also adds in some extra alcohol, which could be an appealing outcome.
The approach can be seen in the Nuestra Casa cocktail, which is a gin and tonic that relies on crème de poire liqueur, lime juice, and allspice. The cocktail is ideally made using Oxley gin, although another type of London Dry gin could be used too.
The crème de poire in that recipe could be replaced by another type of liqueur or an ingredient like peach schnapps. Regardless, you end up with a refreshing drink that tastes as good as it looks.
Combine Approaches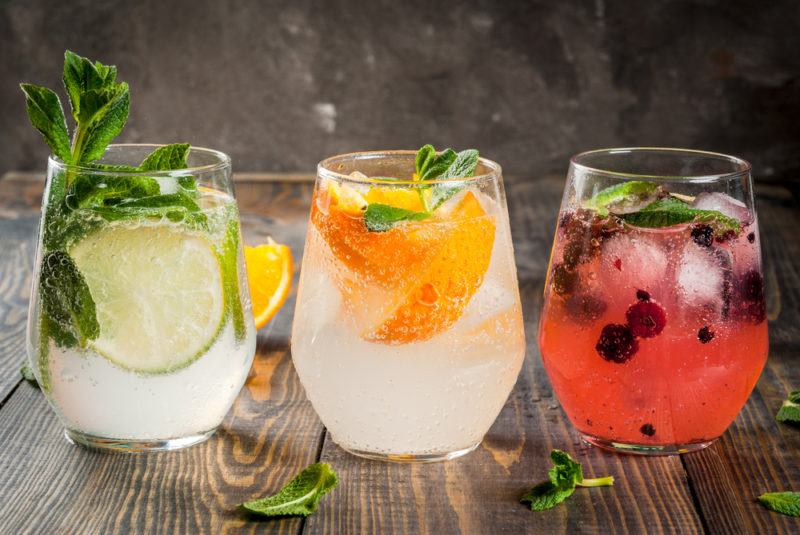 Options like adding aromatics, bitters, liqueur, or juice are all good ways to make your gin and tonic more interesting, but you don't need to just stick with one of them.
You could easily use multiple such approaches at the same time, like adding in aromatics and bitters, or using some fruit juice and pieces of the same fruit in your drink.
When making your own gin and tonic variation, it's important to pay close attention to the flavors. You want the different ingredients you use to be complementary. They shouldn't overwhelm one another or taste weird.
Thankfully, there's no harm in experimenting. Good flavor combinations are often pretty obvious too. If you're stuck, think about the aromatics present in the gin that you've chosen. Using similar flavors in your cocktail will often create a delicious outcome.
Mother-of-Pearl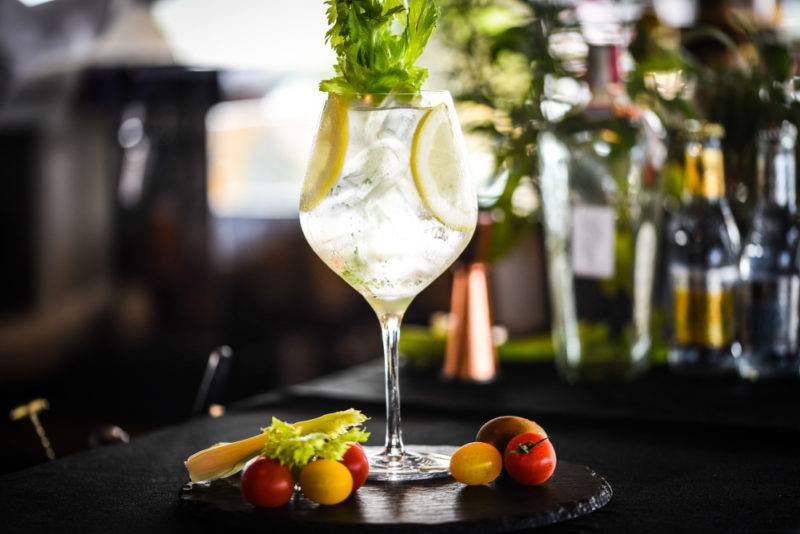 One particularly interesting recipe to mention is Mother-of-Pearl, which is an aromatic gin and tonic that heavily relies on celery. The cocktail is a fantastic example of how flavors can be layered to create an amazing result.
In particular, the cocktail adds celery bitters to the traditional gin and tonic. A salt rim is used for the glass too, which includes celery salt and regular salt. Finally, a sprig of celery is used as a garnish.
While celery might seem like an odd choice for a cocktail, the savory ingredient complements the aromatics of gin perfectly. The flavor isn't overwhelming either, so the finished drink is simply a subtle variation on a traditional gin and tonic.
Stack Your Flavors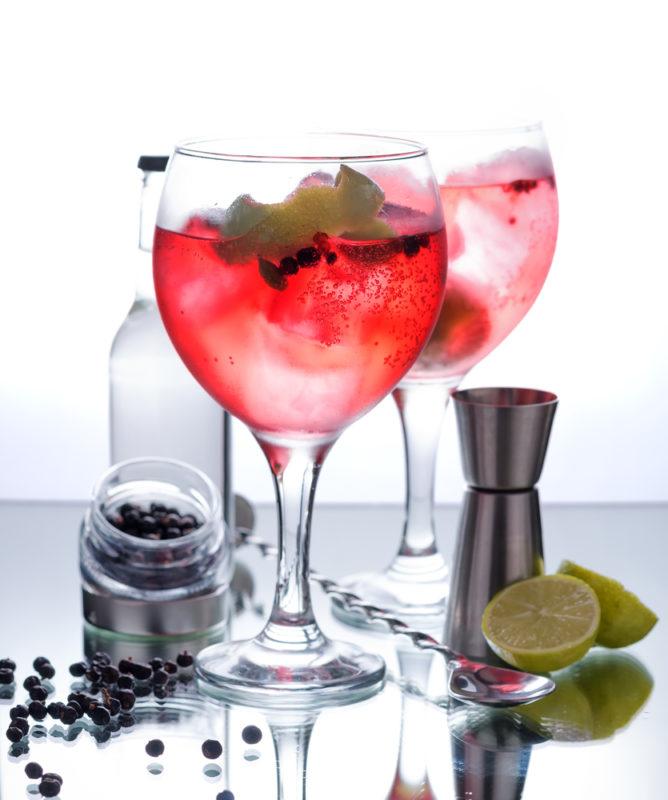 The Mother-of-Pearl cocktail uses multiple sources of celery flavor. You can do the same thing with many other flavors or flavor combinations too.
For example, what about adding pineapple juice into your cocktail and using pineapple pieces in the drink itself too? You could add a little lime juice if the combination ends up being too sweet.
The Parisian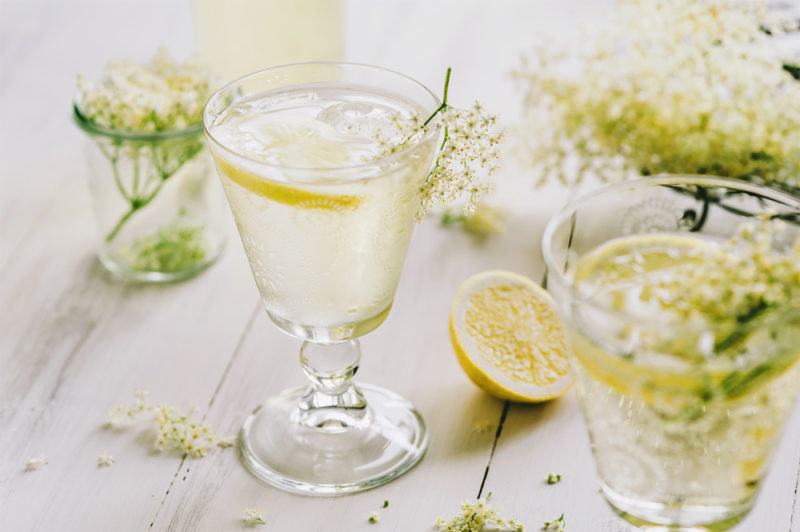 Here's another cocktail that uses liqueur, although this time the focus is on elderflower liqueur. Elderflower is often combined with gin in cocktails, as the two ingredients complement one another extremely well.
However, The Parisian doesn't stop there. Instead of relying on tonic water alone, the cocktail uses equal parts of champagne and tonic water.
The approach means that there is more alcohol in the finished cocktail. The fact that you're relying on less tonic water could be perfect for anyone who is isn't fully in love with the intensity of tonic water.
Make A Hot Gin And Tonic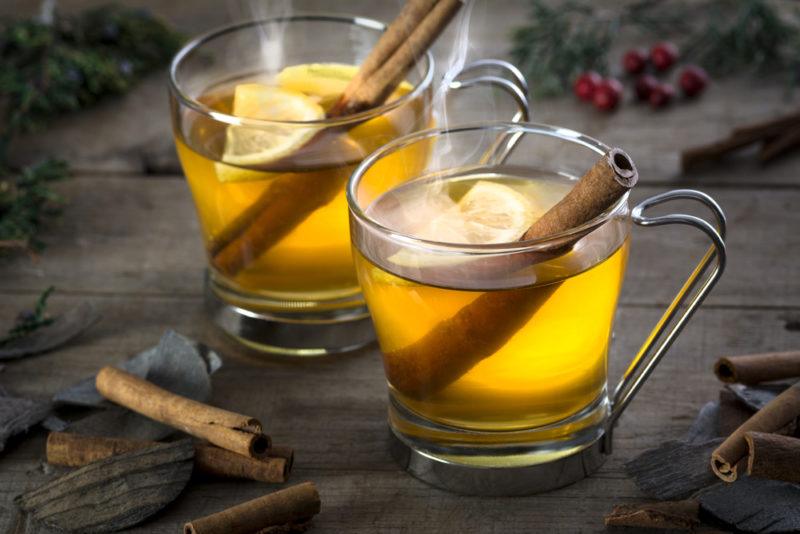 Gin and tonic is almost exclusively served cold, normally over ice, but you can actually make a hot version too. In fact, hot gin and tonic is a fantastic winter drink, as the botanicals in the gin create a complex and delicious cocktail.
The trick is to skip the tonic water entirely – as carbonated drinks don't behave well when they are heated up. Instead, make the drink using tonic syrup, gin, and hot water. You might add in some sugar syrup too to provide extra sweetness.
Spiced Gin And Tonic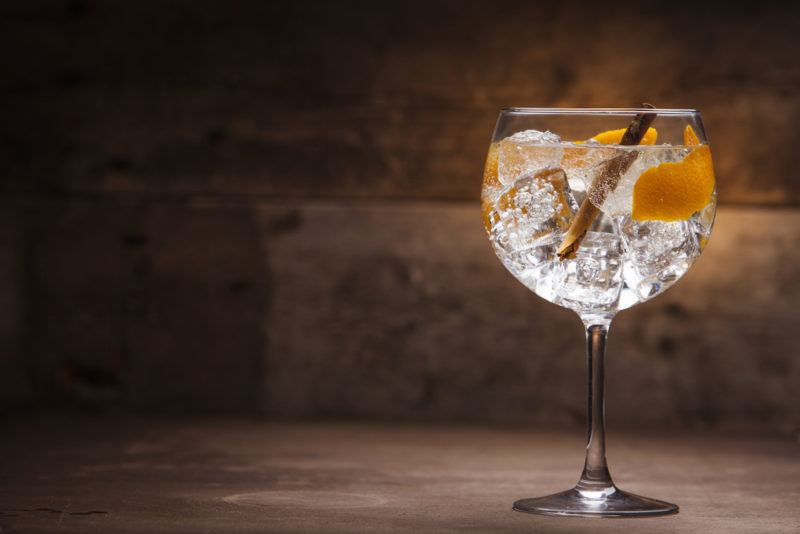 A spiced gin and tonic is another style to play around with. This approach takes a little more work than some of the other options, as you can't simply dissolve spices in cold tonic water.
However, you can infuse tonic water with flavors from ingredients like orange peel, peppercorns, and cardamom pods. This recipe from Chow Hound is one example of how you can make your own spiced tonic water.
Add Sweet Vermouth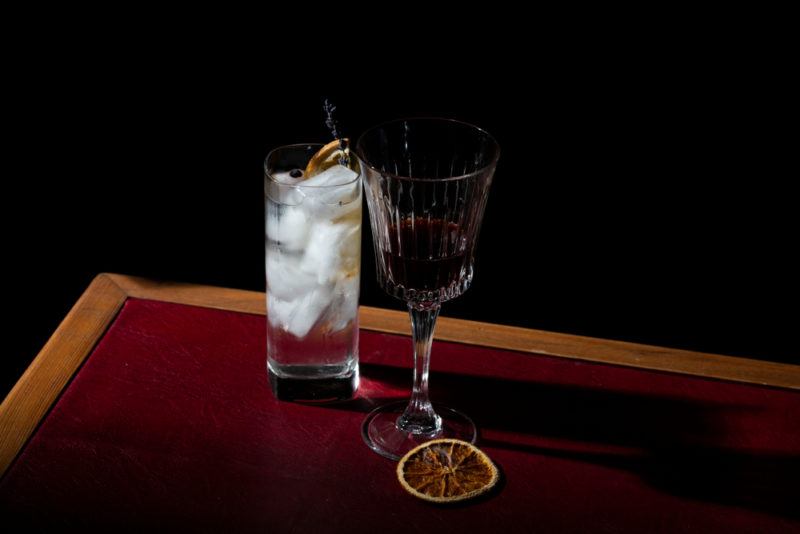 Sweet vermouth is a classy way to change up your gin and tonic. The combination works best if your gin has citrus notes, but you can still use sweet vermouth if it doesn't.
For the ultimate version of this drink, consider using some bitters as well, such as peach bitters or orange bitters.
Gin, Tonic And Whiskey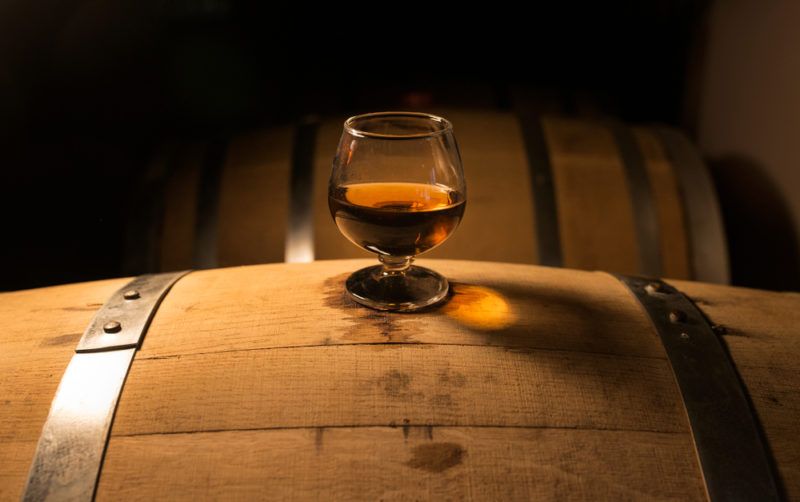 Here's another alcohol-based addition – whiskey. While whiskey isn't often added to a gin and tonic, the resulting drink is pretty amazing. The smokiness of the whiskey contrasts the gin and the tonic perfectly, giving you an unusual drink with a strong alcoholic edge.
Make Herb-Infused Ice Cubes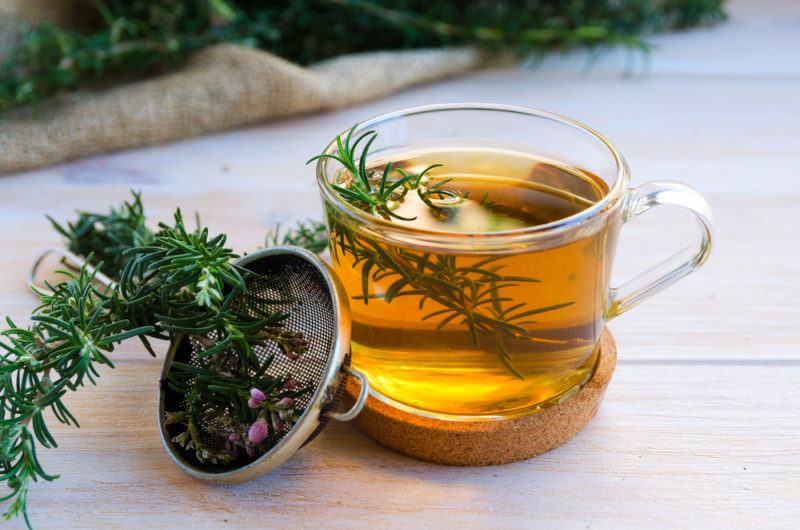 This approach works well if you want to add subtle flavor to your gin and tonic. The first step is to boil water with herbs. The process infuses the water with the flavor of the herbs. Rosemary is a good starting point, although you can use any herbs that complement gin.
Once the water is infused with flavor from the herbs, you allow it to cool and then freeze it into ice cubes. These ice cubes can be used with making your gin and tonic.
While the ice cubes won't have much effect at first, they'll start to release their herbal flavor as they melt into the drink. This style means that the flavor of your drink subtly changes as you drink it, which is pretty cool.