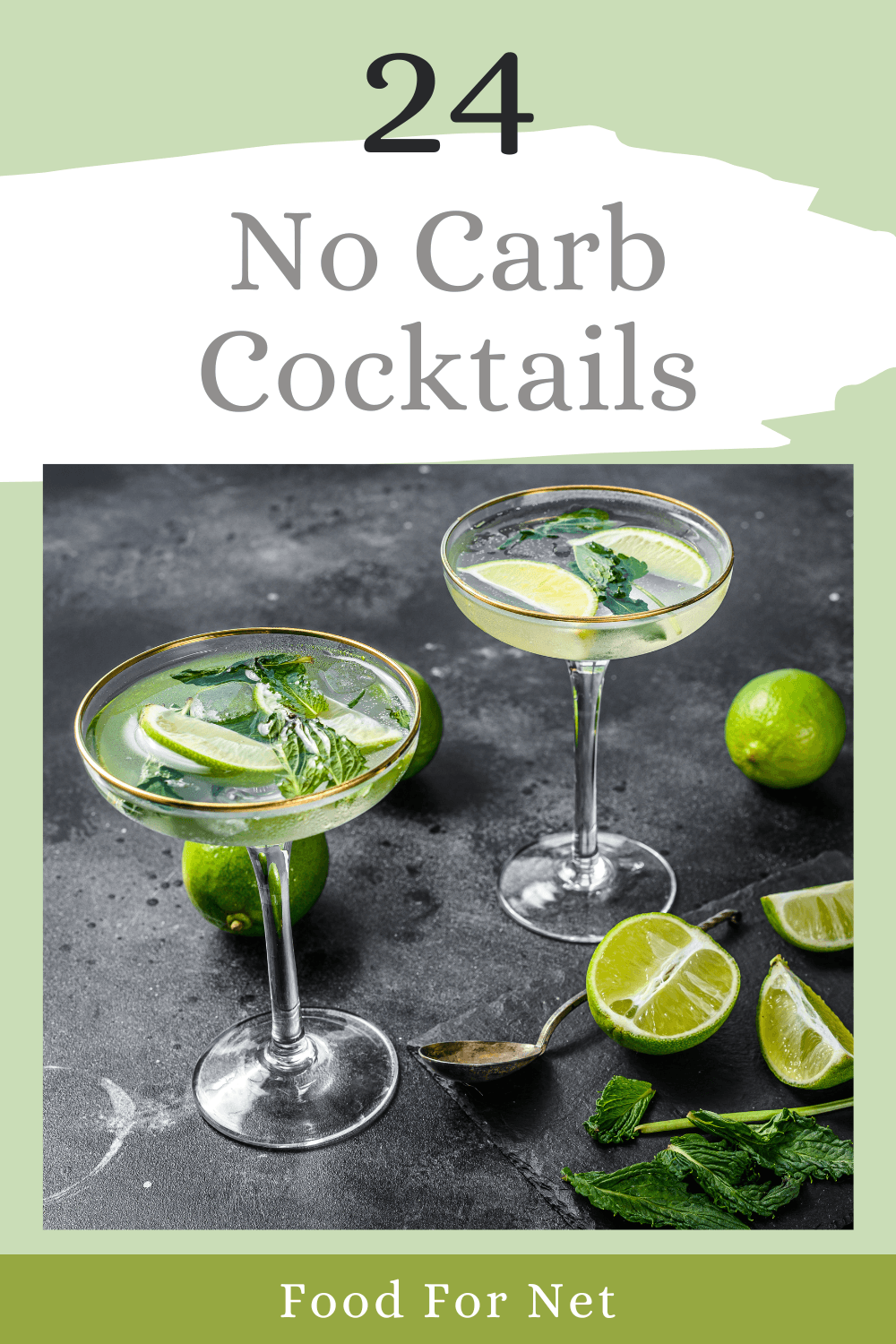 By now, we all know that carbs can be a serious problem. They're a valuable energy source, true, but they also spike our blood sugar, may promote inflammation, and cause plenty of other issues. Plus, modern diets seriously overdo it with carbs. Even if you're not following a low carb or keto diet, you may still want to cut down your carb intake. No carb cocktails are an excellent approach here.
After all, pure spirits don't contain any carbs and give you an excellent base to work with. The trick then is to start looking for carb free mixers. Soda water, sugar free tonic water, and even crystal light drink mix are sometimes used.
Avoiding carbs doesn't mean your cocktails need to be boring. You just need to be a little creative. Thankfully, there are plenty of fantastic cocktail recipes to get you started.
One final thing… while some of these cocktails are completely free from carbs, some contain a small amount, often from a little lime juice or something similar. After all, you're going to need some flavor to your cocktail and processed sugar free syrups aren't always the way to go.
Cocktails aren't the only where you might cut down your carb intake. Why not turn to no carb breakfast foods or no carb noodles as well? These show that you can still eat well, even while avoiding carbs entirely.
No Carb Cocktails
PS. We have another list of keto cocktails to try as well.
Margarita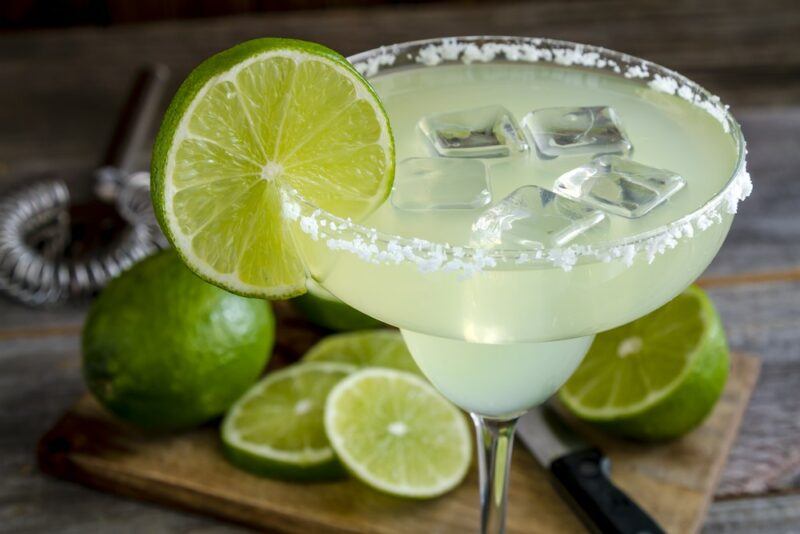 So, the classic margarita isn't great for carbs, as it's typically packed with sugar. Thankfully, you can easily make an almost zero carb version.
This is also a pattern you'll see many times on this list – taking a regular cocktail and tweaking it to reduce the carbs. After all, the well-known cocktails already have a fantastic flavor balance, so why reinvent the wheel?
A classic margarita combines lime juice, tequila, and triple sec, often with ice. The triple sec is the biggest issue for making a low carb cocktail, so you'll need to drop this out.
Orange extract can be used instead. Then you just need sweetness. A low carb simple syrup is an easy way to do this. There are plenty of recipes out there, which can be as easy as boiling a low carb sweetener with water.
You could also look for a sugar substitute that dissolves in water or a pre-made low carb simple syrup.
Singapore Sling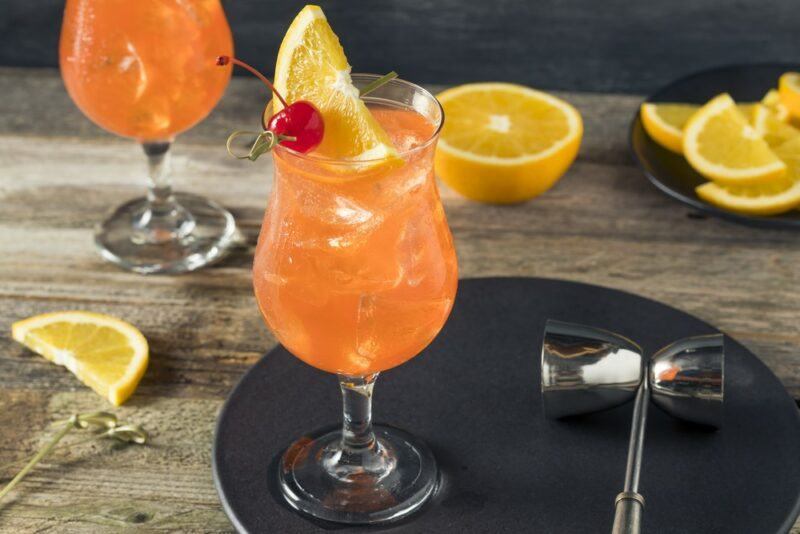 The Singapore sling is traditionally a fruity gin cocktail, so making a low carb version requires some creativity.
The simplest way is to look for a low carb sparkling cherry-flavored water or cherry soda. There are even low carb black cherry drops, which you simply add to water. Any of these options will give you the desired flavor balance, while keeping the carbs down. Then, you just need gin and lime juice.
You could add brandy to the cocktail as well. This would boost the alcohol content without adding many carbs at all.
The finished flavor profile isn't quite the same as a traditional Singapore sling, but you still get a delicious cocktail.
Moscow Mule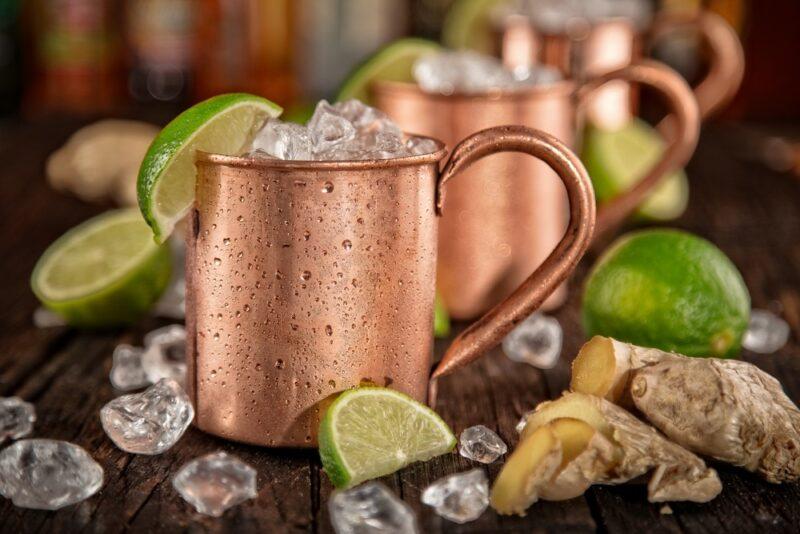 The Moscow mule traditionally combines vodka, ginger beer, and lime juice. It's easy to make a low carb version – you just swap the ginger beer for your favorite low carb or keto brand.
For an even more impressive drink, you could try making the ginger beer yourself at home. This isn't as difficult as it sounds and allows you to avoid additives as well as sugar.
You could also experiment with some of the mule variations, particularly those that use a different spirit. For example, the Mexican mule uses tequila, the Irish mule relies on Irish whiskey, and the Kentucky mule uses bourbon. Those are all zero carb spirits, so they give you easy low carb cocktails.
Caipirinha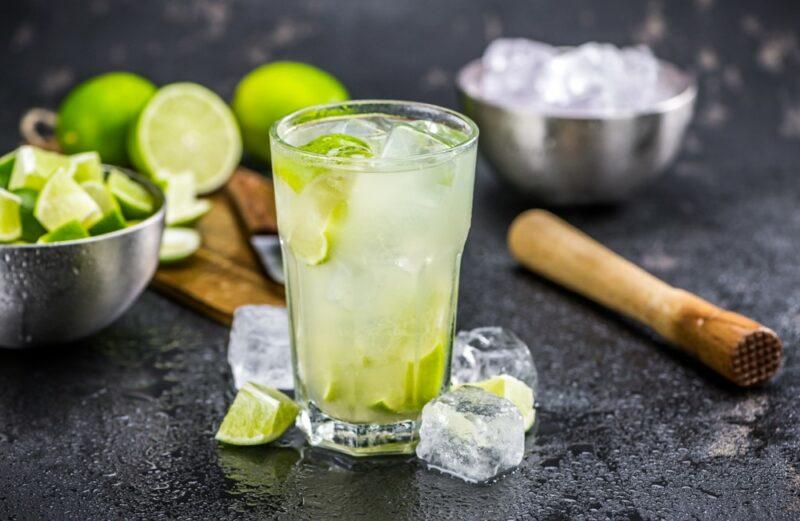 The caipirinha is an unusual cocktail, as it relies on a type of Brazilian spirit called cachaça. Cachaça is pretty similar to rum, except that it is made from fermented sugar cane, while rum uses molasses instead.
You normally combine cachaça with sugar and lime when you make a caipirinha. So, for a low carb version, you'll need an alternative to the sugar. Most low carb sweeteners will work perfectly, particularly those with a brown sugar style.
Lemon Drop Martini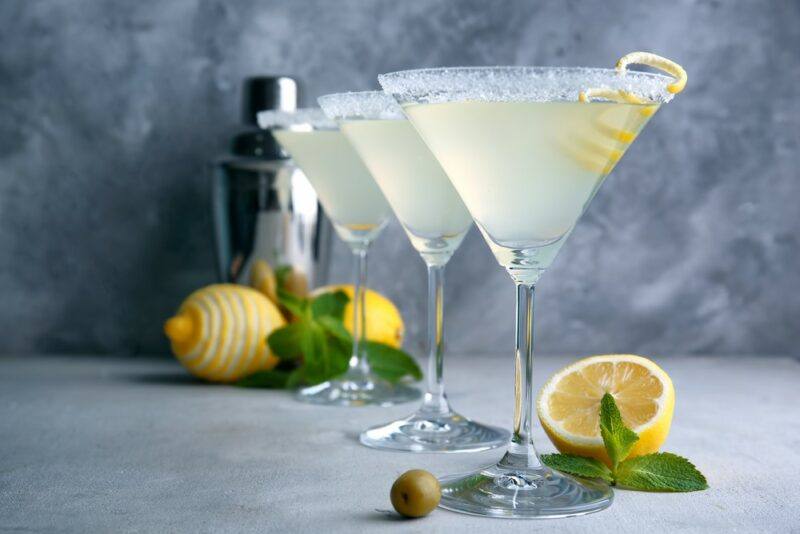 Lemon drop cocktails get plenty of vibrancy from the lemons, but they don't need to be sour. Many versions use a balance of sweet and sour flavors.
You could make this by using low carb simple syrup, plus lemon juice and vodka. However, the cocktail will be even better if you use a sugar-free lemon syrup plus fresh lemon juice.
The syrup will give you the sweetness you need and adds to the lemon flavor. Some brands are also bright yellow, which makes your cocktail look fantastic.
Mojito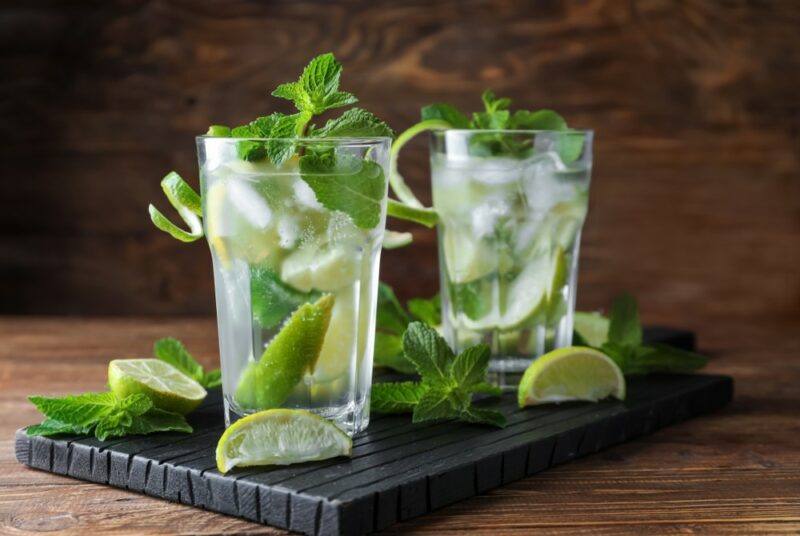 Mojitos are pretty low in carbs anyway, so it's easy to make a keto version. The first trick is to muddle mint leaves in the bottom of your glass.
Then you'll need to add rum, lime juice, ice, and low carb sweetener into a cocktail shaker. Any sweetener that dissolves in cold water will work well.
Once the ingredients are shaken together, you can strain them into the cocktail glass and top the drink off with soda water.
The lime juice will add some carbs to the cocktail, but not many. After all, limes are pretty low in carbs anyway and you're only using a little juice in your cocktail.
Keto Whiskey Highball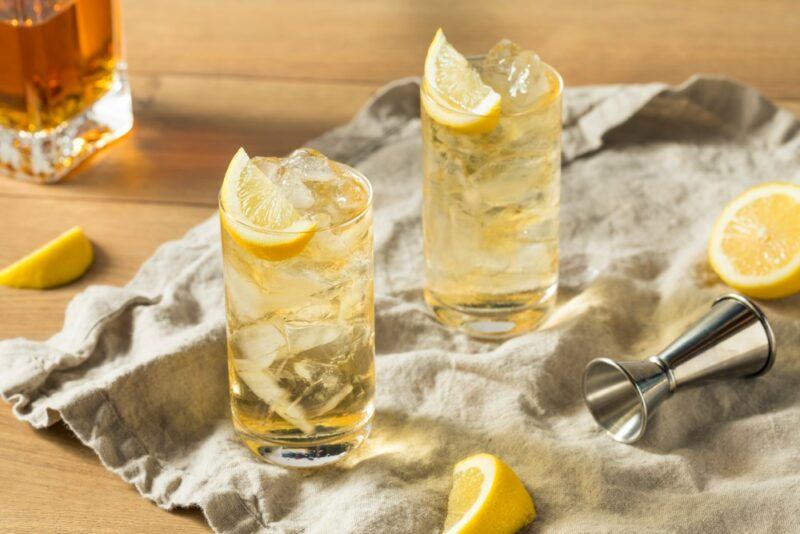 Highball cocktails generally a spirit and soda in a tall glass with plenty of ice. You can make a whiskey version by using just whiskey and club soda. This is naturally low in carbs, but isn't very sweet.
Or, to make things more interesting, try ginger ale. This is the most common approach and gives you a tasty drink.
To do this, you simply need sugar free ginger ale. Plenty of brands offer this or, again, you could easily make your own.
Chocolate Cream Cocktail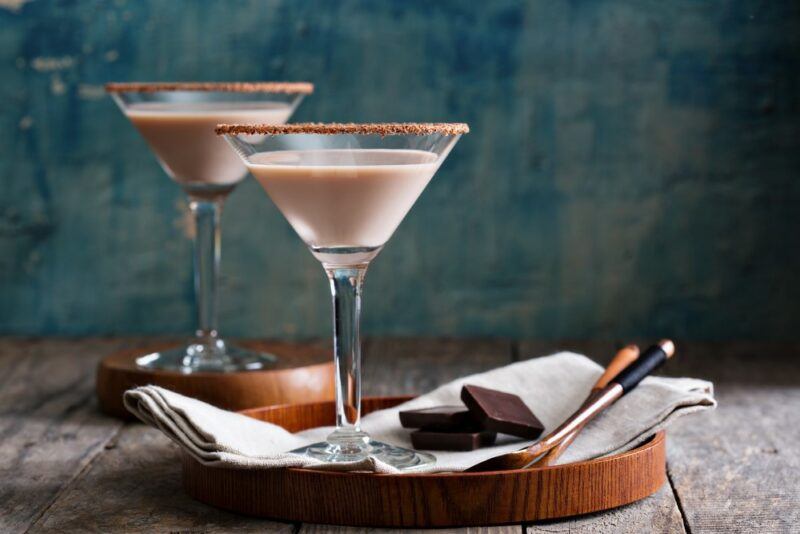 This cocktail can be found at Step Away from the Carbs and is a nice change from the traditional cocktail riffs. It's a creamy cocktail that relies on flavored syrups, heavy cream, and vodka.
These ingredients make it taste much like some of the classic creamy cocktails, while also keeping the carb content very low.
Ocean Breeze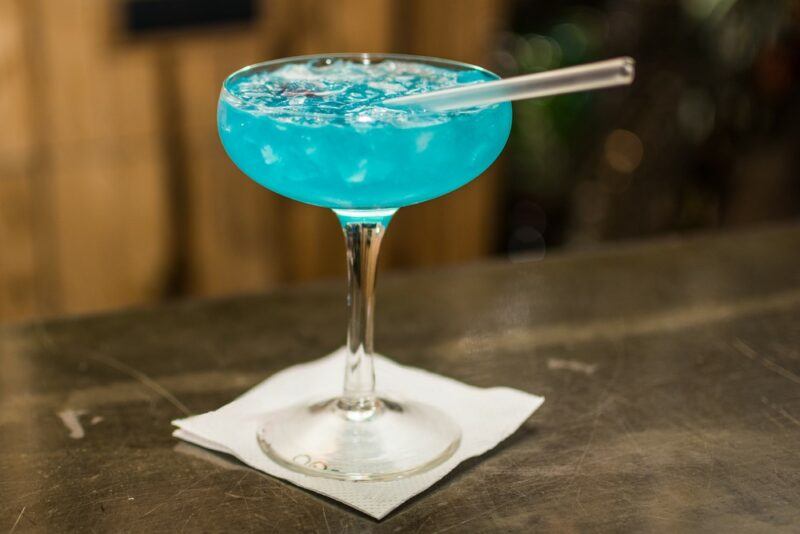 Bright blue ocean breeze cocktails always look amazing, but they rely on lemonade and blue curacao, so they're pretty high in carbs. Thankfully, you can make low carb versions too.
One way is to still use the blue curacao, but use seltzer lemon water and lemon or lime juice instead of the lemonade.
There's a more complex option over at Low Carbology, which drops out the blue curacao as well. Sugar free syrups are used for flavor and to give you the blue color.
Vodka Chata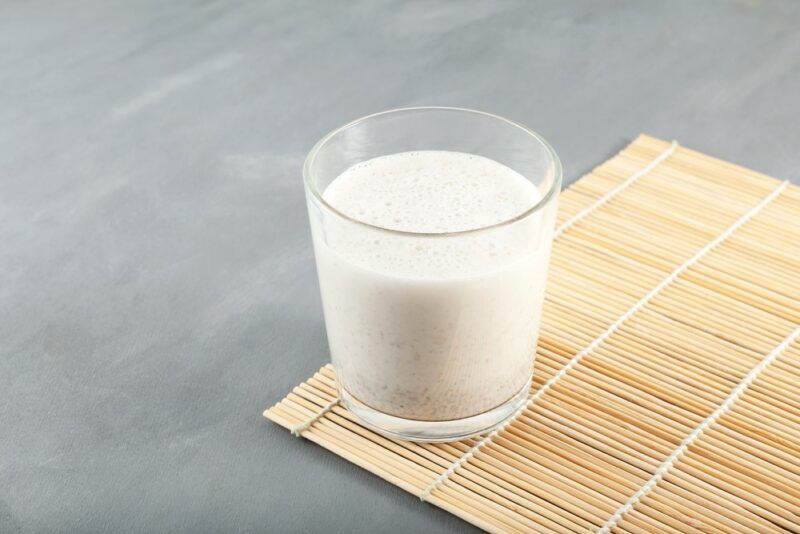 This modern creamy cocktail comes from My Life Cookbook and it's a delicious riff on RumChata. You don't need any flavored syrups for this cocktail. Instead, it relies on familiar kitchen ingredients, including vanilla extract and cinnamon.
The ingredients give you an amazing cocktail, one that easily rivals its carb heavy counterparts.
Whiskey Sour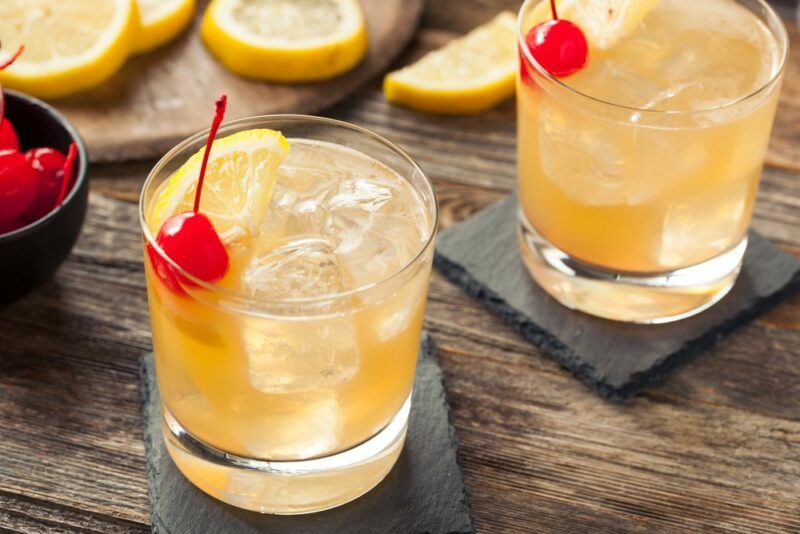 The classic sour cocktails combine a spirit with lemon juice and simple syrup. They can be sour, but often have a delectable sweet-sour balance instead.
There's just one ingredient to change if you want a low carb version – the simple syrup. Thankfully, you can easily make sugar-free simple syrup by using a sweetener like Swerve.
You're not limited to whiskey sours either. You can also make sours with other spirits, including gin, vodka, and even tequila.
Vodka Lemonade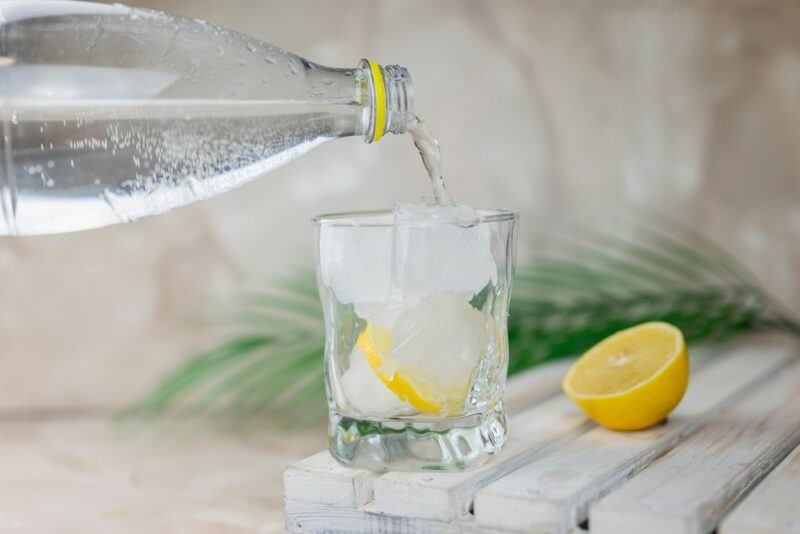 The name says it all. Vodka lemonade is simply vodka and lemonade.
The trick is keeping your lemonade sugar free. So, why not prepare it yourself? You don't need many ingredients, just lemon juice, water, and some type of sweetener. Plus, because this relies on soda, it's an easy no shaker cocktail.
There are also some processed low carb lemonade products, including powder that you just add water to. These will work as well, although they won't taste as amazing as the homemade version.
Rum And Coke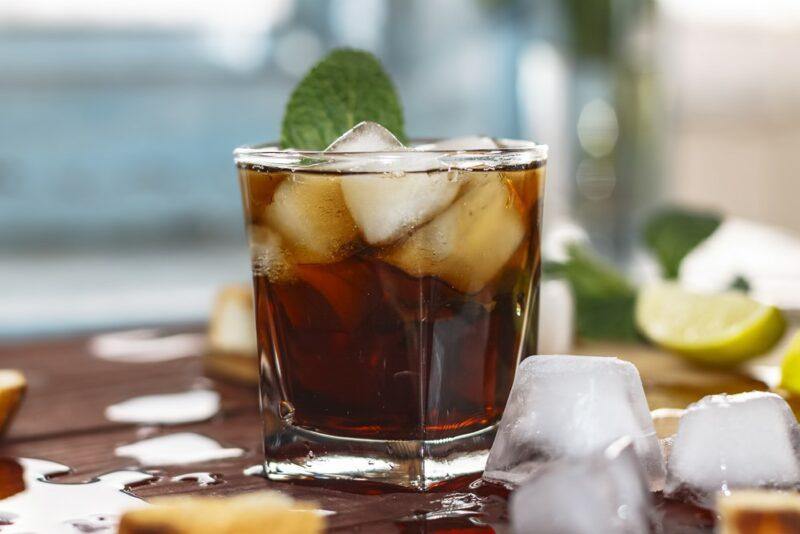 This one barely needs an explanation. A rum and coke simply combines rum, coke, and sometimes a little lime juice.
So, you just need sugar free cola. Plenty of brands offer this.
There's one trick, though – the ratios. It's easy to go overboard with the coke in this recipe, to the extent that you can barely taste the rum. Rum heavy versions of this cocktail are often much tastier.
Strawberry Lemonade Mojito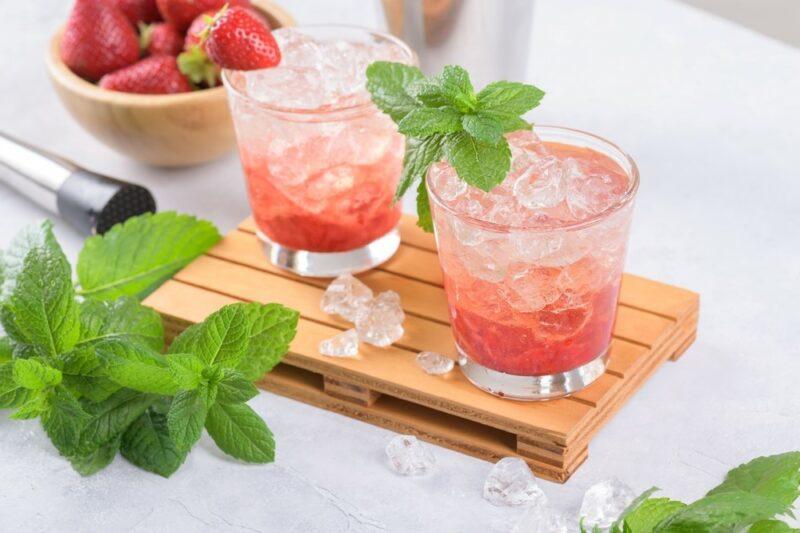 Low carb mojitos are easy enough to make. They can also get a little boring. So, rather than sticking with mint and rum, why not mix things up a bit? This vibrant cocktail would be fantastic as a before noon treat.
The simplest approach is to use sugar free strawberry lemonade. This is often sold as a powder that you can mix with water. You could even look out for one that has been sweetened with stevia and avoids any additives.
Sex On The Beach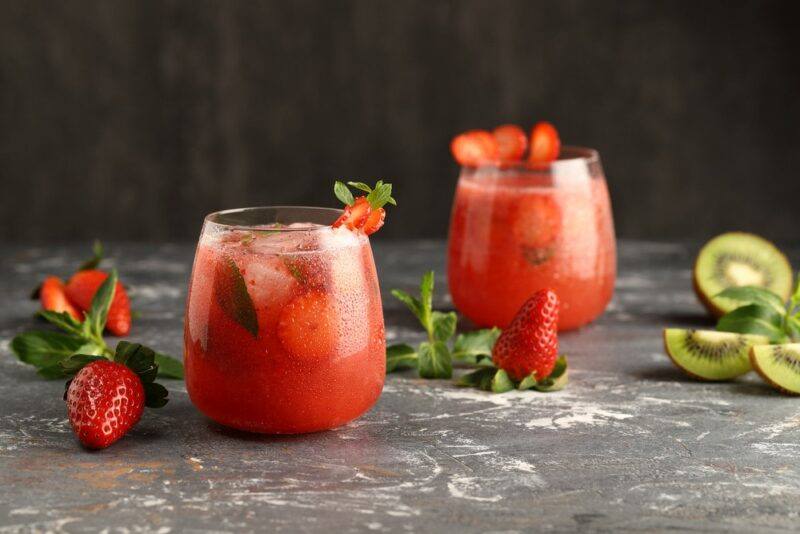 Because the sex on the beach cocktail is fruity, making a low carb version is a little complicated. Thankfully, there are some excellent recipes out there, including one over at Cocktails with Kiera.
The cocktail isn't as low carb as some on the list, as it relies on diet cranberry juice. But, it's still delicious and could easily be included on a keto diet. You could also decrease the amount of cranberry juice to make the drink even lower in carbs.
Long Island Iced Tea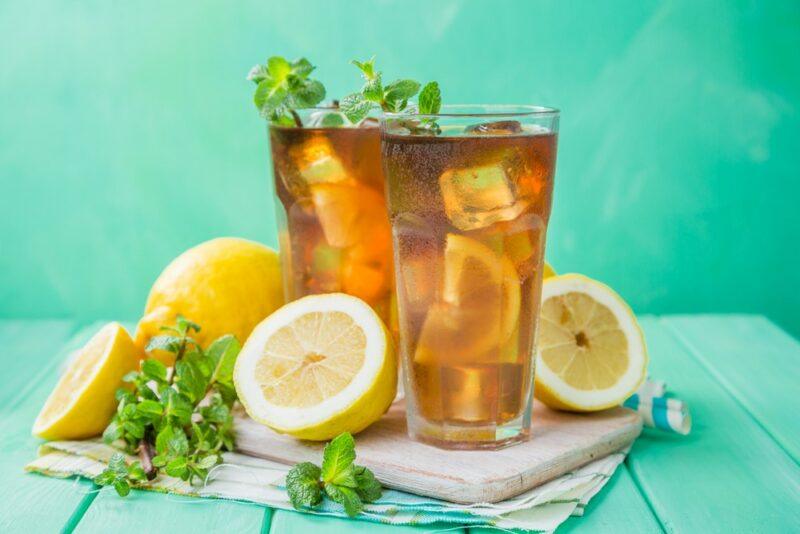 The classic Long Island iced tea is spirit heavy, so making a low carb variation isn't too tough. The simplest approach is to just swap the cola for low carb cola. This drops the carb content down dramatically, while retaining the classic flavors of the cocktail.
However, this approach still leaves you with the triple sec, which contains more carbs than you might like. To decrease the carb content still further, you could use low carb simple syrup and lemon juice instead of the triple sec. This changes the flavor profile, but is excellent for carbs.
You could also play with a low carb sweet and sour mix. Combining this with simple syrup and lemon juice should get you closer to the traditional Long Island iced tea.
None of these approaches give you a perfect substitute. Still, this shouldn't matter too much – the alcohol is the main point of a Long Island iced tea, rather than the flavor profile.
Old Fashioned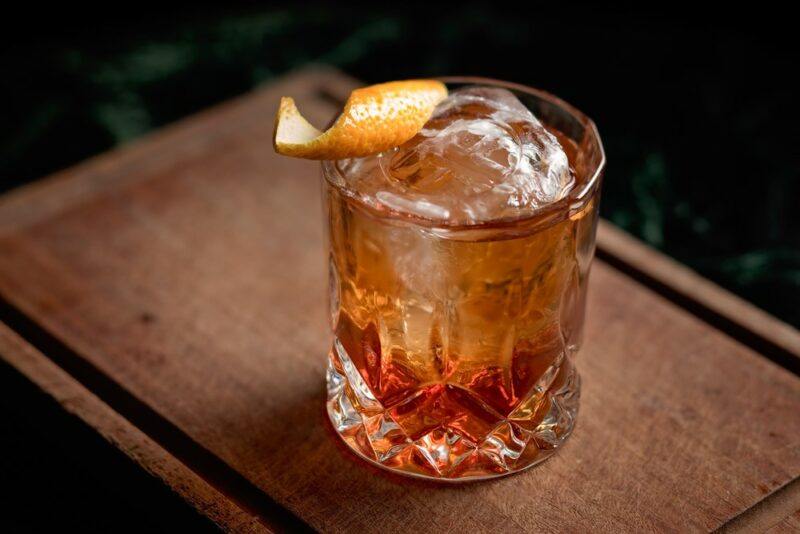 The old fashioned is a simple cocktail, making it a perfect candidate for creating a low carb version. The traditional cocktail is made by muddling a sugar cube in the base of the glass with some bitters, often with a little water. The whiskey is then poured over the top.
Many people mix things up by using simple syrup instead of the sugar cube. Doing so gives you a more consistent drink, as it's often difficult to get the sugar cube to fully dissolve.
And, if you can make an old fashioned using sugar syrup, you can make one using low carb sugar syrup, right?
Champagne Cocktail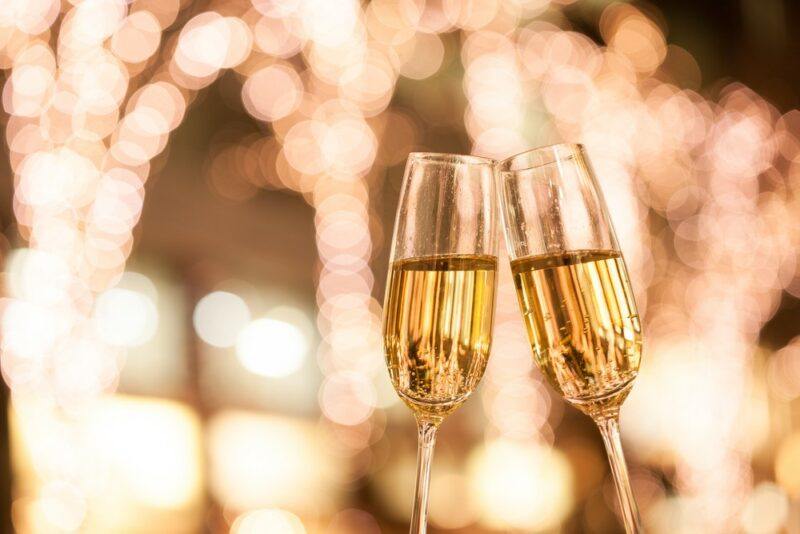 Like an old fashioned, a champagne cocktail traditionally starts with a sugar cube and bitters. The difference is that you're pouring champagne over the sugar, rather than using whiskey.
So then, it's another easy cocktail to vary. You can try a low carb simple syrup again or even just liquid stevia.
You will get some carbs from the champagne, so this isn't an everyday drink. Sticking to dry champagne should help. Besides, it's always nice to be able to join in with everyone during a celebration.
Negroni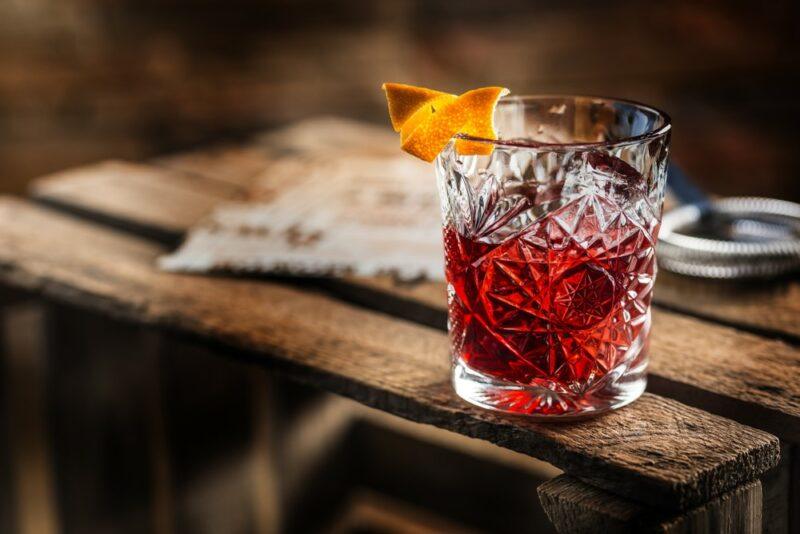 A classic negroni combines gin, sweet vermouth, and campari to give you a strong and somewhat bitter drink.
You can easily create a low carb version by playing with the vermouth. Rather than using sweet vermouth (which is surprisingly high in carbs), you can turn to dry vermouth and some stevia.
Other recipes take things a step further. For example, you can use diet pomegranate juice or unsweetened cranberry juice instead of the campari. While this changes the flavor profile, it could actually make the cocktail even tastier.
Paloma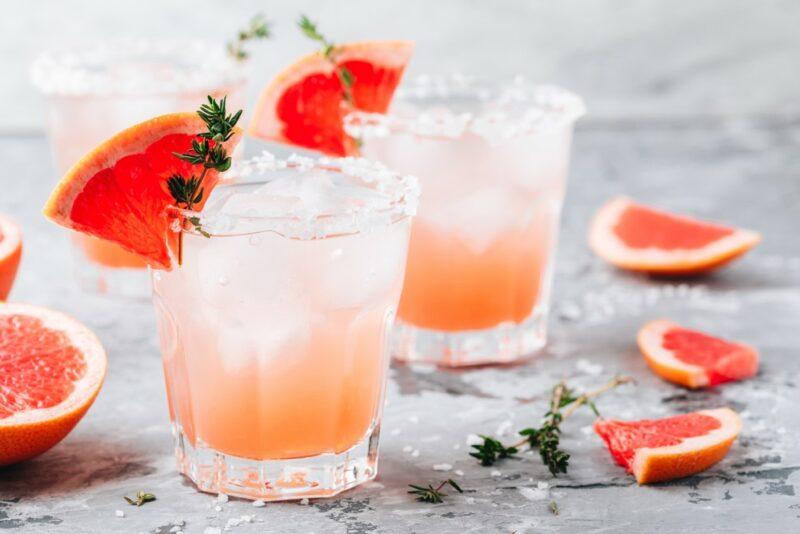 Here's an easy one. The paloma traditionally combines tequila, grapefruit soda, and lime juice. To make a keto version, you just need sugar free grapefruit soda. Fresca is the easiest brand to find and makes for an excellent paloma.
It's still possible to build this cocktail without grapefruit soda. However, you'll need to get creative and your cocktail will be a bit more carb heavy.
One way to do so is to combine lime seltzer with grapefruit juice, and some type of sweetener. The grapefruit flavor won't shine through quite as much here, although the cocktail will still be delicious.
White Russian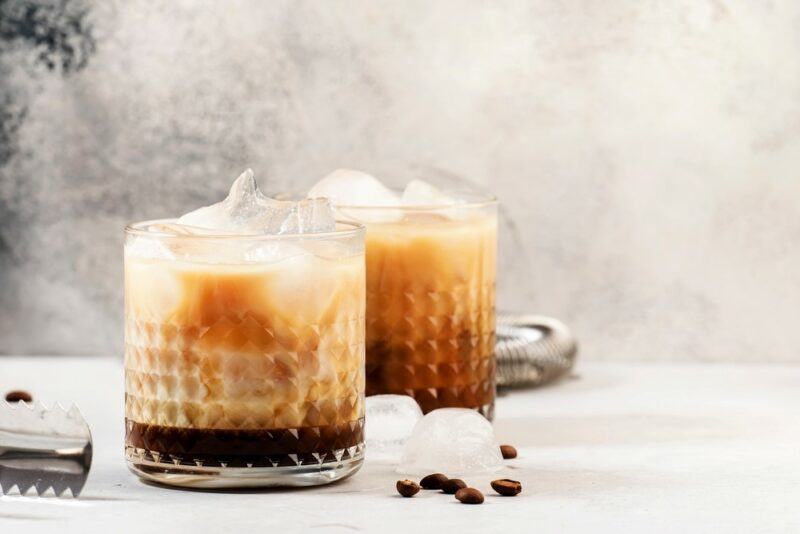 White Russians are easy – coffee liqueur, vodka, and cream. The liqueur is the problem, as it's often sweetened, so contains a decent number of carbs. If you have the time and patience, you could make your own keto Kahlua.
Alternatively, you can skip the coffee liqueur entirely. Try a combination of cold brew coffee, water, and sweetener instead. This approach changes the flavor profile of the cocktail, but not in a bad way. You might even prefer this to the traditional white Russian.
Cosmopolitan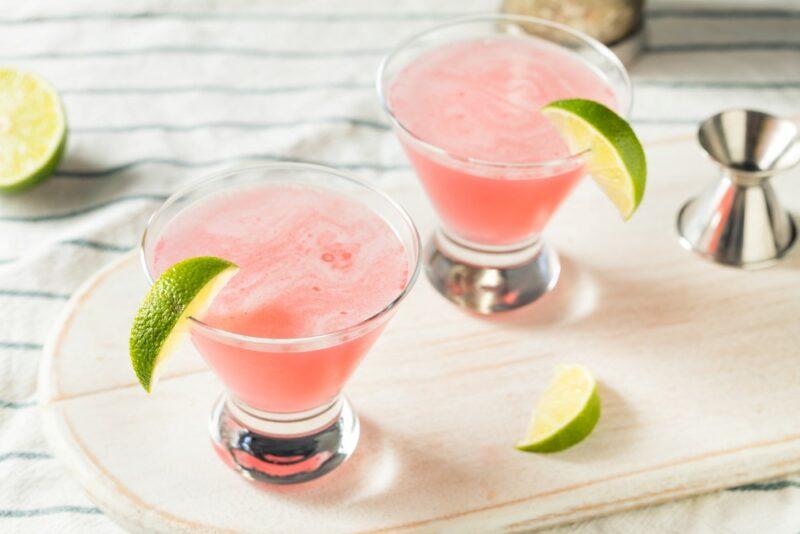 Making a zero carb cosmopolitan would be almost impossible, but you can make a low carb version with a few tweaks. One trick is to keep things as they are and just use diet cranberry juice instead of regular cranberry juice. This helps a little, but you still get some carbs from the cranberry and from the triple sec.
You could get rid of the triple sec too, replacing it with some orange extract. You might need some type of sweetener as well. This is easily achieved with low carb simple syrup or liquid stevia.
Bourbon And Water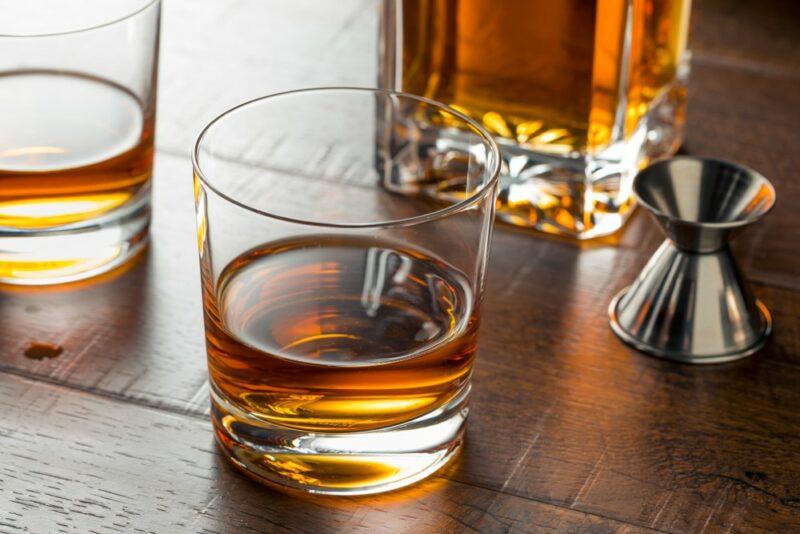 Here's a cocktail that requires no tweaks at all. Well, calling it a cocktail is a bit of a stretch, as we really are just talking about bourbon and water. Most of the time you're just using a splash of water – enough to open up the water without diluting it too much.
This approach works best with high proof whiskeys, particularly those above 100 proof. If the whiskey is 80 proof or below, then it's already been cut down somewhat. Adding water risks diluting the flavors too much and losing the nuances of your whiskey.
Espresso Martini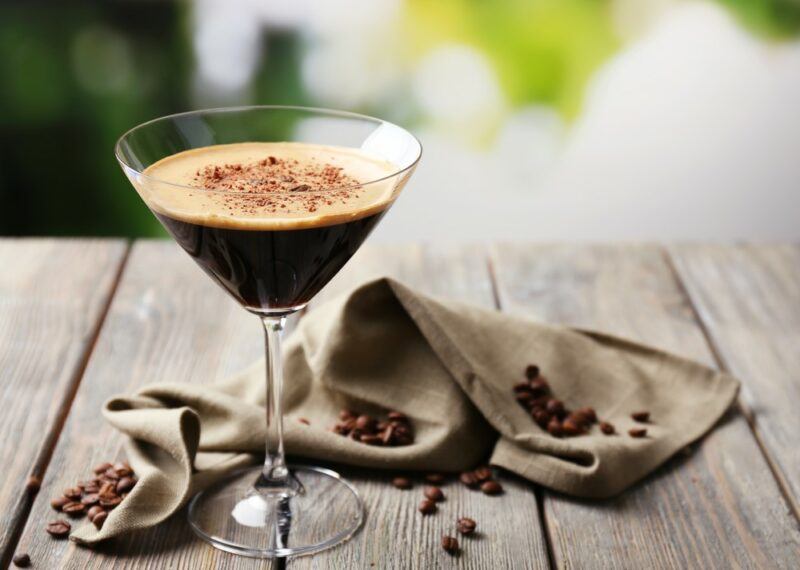 The traditional espresso martini is often a bit high in carbs, most of which come from the coffee liqueur. So, the trick is to simply drop the coffee liqueur out (or make your own low carb version).
One alternative is to build your cocktail with a combination of espresso, espresso powder, cocoa powder, heavy cream, vodka, and stevia. The espresso and espresso powder combination is perfect, giving you a double hit of espresso and creating a potent drink.
The finished cocktail isn't quite the same as the traditional espresso martini. Don't worry too much about that, though. You still get a delicious drink worth returning to time and time again.
How To Build Your Own No Carb Cocktails
These recipes are all excellent starting points, but what if you want to build your own cocktails? Doing so isn't difficult. In fact, you've probably already noticed some trends.
For most cocktails, there are three key ingredients: the alcohol, the mixer, and the sweetener. There are low carb versions for all of these.
Low Carb Alcohol
Alcohol is the easiest part, as most spirits are already carb free. Rum, tequila, brandy, and vodka are all fantastic choices. Whiskey works too. It does contain some carbs, but the amount is so tiny that whiskey is essentially carb free too.
Wine and beer contains some carbs, but some types are better than others. Light beer is often a good bet. You can also look for companies that market their products as being low carb.
As for wine, the drier, the better. Sauvignon blanc, dry riesling, and merlot can all work well, but remember that you'll still get some carbs per serving.
Also, remember that some alcohol does contain carbs. Sweet vermouth, for example, is surprisingly high in carbs – so martinis aren't as low carb as you might expect.
Low Carb Mixers
Then there are the mixers. Club soda and seltzer water both work well. However, they don't add any flavor to your cocktail.
Diet soda is a popular alternative. This gives you fizz, sweetness, and flavor all in one go. The ingredients in these drinks differ, though, so you may need to choose carefully. Be particularly cautious if you're trying to avoid artificial colors and sweeteners.
Carb free flavored water and seltzers work well too. Brands like Le Croix are exceptional, as they rely on natural essence oil rather than alternative flavors.
Heavy cream sometimes features in cocktails too. This works well if you want a creamy drink, as long as the other ingredients match the style.
Zero Carb Sweeteners
The best sweeteners are carb free and are already liquid (like liquid stevia). Otherwise, you need to be able to make them liquid. That involves focusing on products that dissolve in cold water or on making keto simple syrup.
You can also buy flavored sugar free syrup. Torani is a famous brand here, although there are many others. These work well for sweetness and flavor.
Should You Drink On Keto?
The cocktails on this list are all very low in carbs. Some are almost completely carb free.
But, carbs aren't the only thing to consider. Many keto dieters still choose to avoid alcohol.
While alcohol won't knock you out of ketosis, it does change your body's priorities. It goes from focusing on ketosis to trying to get the alcohol out of your system instead.
This effect decreases the benefits you're getting from a keto diet.
Is this a dealbreaker? Probably not, unless you're drinking a decent amount of alcohol most nights. Still, it's worth remembering that carbs or no carbs, these cocktails will still impact you.
Related Content