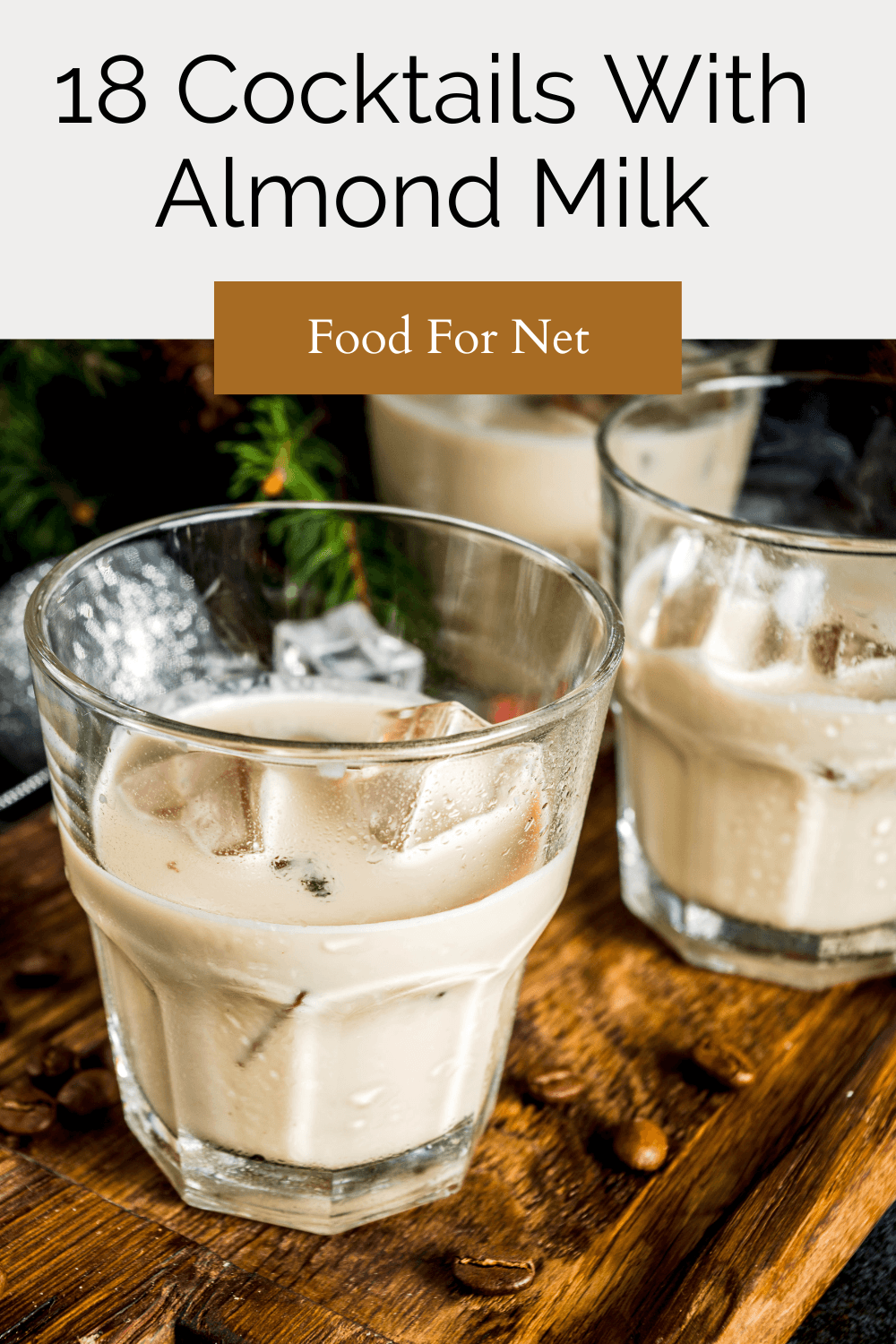 Milk cocktails are a delicious alternative to all the fruity drinks out there, not to mention the spirit heavy cocktails that are often quite intense. However, delicious as they are, milk-based cocktails are no good for anyone who's lactose intolerant. Many of them also rely on cream, which can make them overwhelmingly rich. This is where almond milk cocktails come into play.
Many of these recipes avoid dairy ingredients entirely, making them perfect for vegans and anyone who is lactose intolerant. The drinks are often lighter too, so they're much better when you're watching your weight
Be sure to check the ingredients first, though, as cocktail creators put their own spin on their recipes. Sometimes you're getting exactly what you expect. Other times, not so much.
For more ideas, why not experiment with coconut milk cocktails? These are often creamier than almond milk ones. Many of them taste amazing too.
Almond Milk Cocktails (With Pictures!)
Vegan White Russian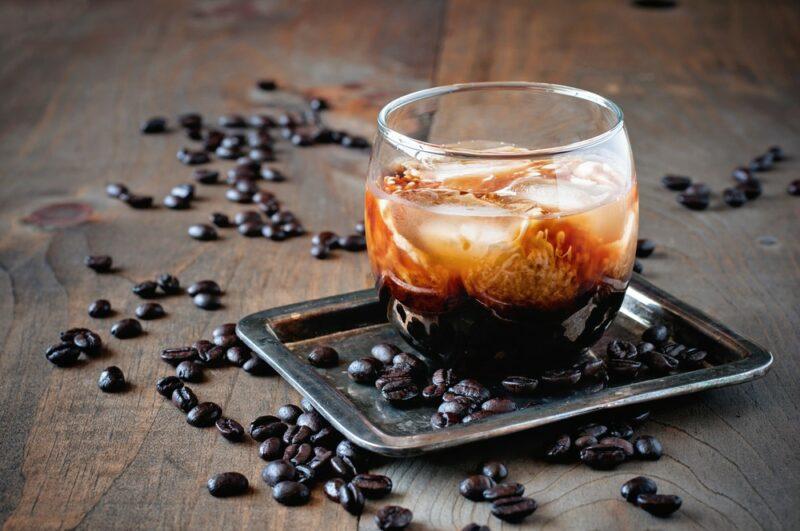 Traditionally, the white Russian cocktail uses three ingredients: vodka, coffee liqueur, and cream. The cream is delicious, but creates a rich drink that is high in calories and certainly isn't lactose free.
An almond milk white Russian simply swaps the cream for almond milk. The new cocktail isn't as rich as a regular white Russian, so you can enjoy it more often. You've also created a drink that's both lactose free and vegan friendly.
Almond Spiced White Russian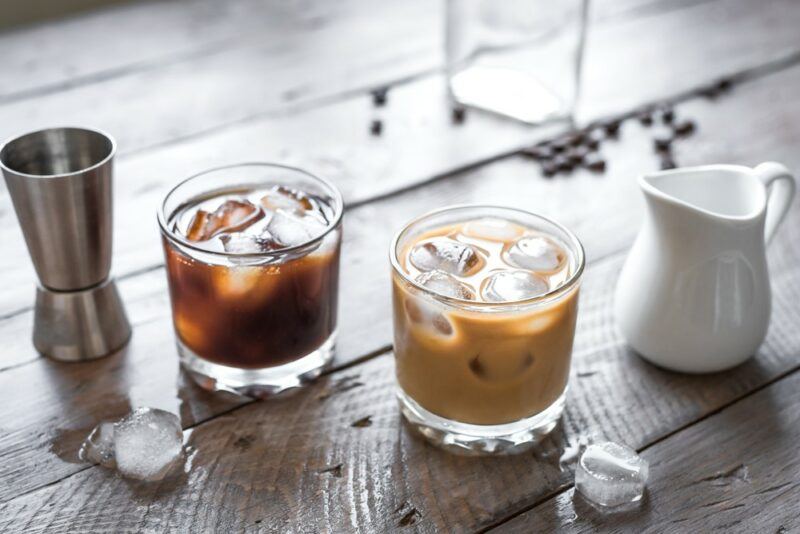 Rather than just making a vegan white Russian, why not add extra flavor at the same time? This version includes ground nutmeg, allspice berries, cinnamon sticks, and maple syrup to add plenty of extra depth.
The cocktail is meant to be served cold, but you could easily warm it up instead. Doing so would be ideal on those cold days when you're looking for a comforting treat.
Pumpkin Spice White Russian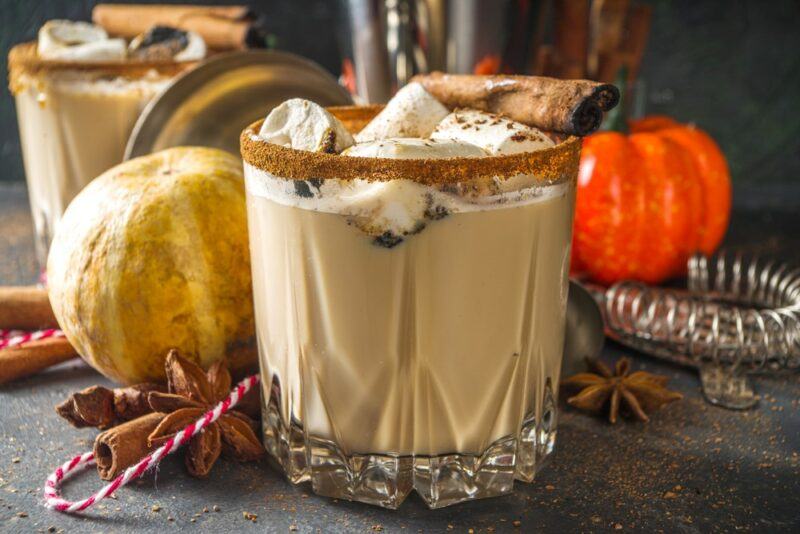 This cocktail mixes things up in a different direction. It still contains vodka, coffee liqueur, and almond milk, but this time pumpkin puree, cinnamon, and pumpkin pie spice are included too.
As such, the drink takes inspiration from the white Russian and also from pumpkin spice lattes. It's a fun drink in the fall, whether for your own pleasure or to serve at a party.
Bourbon Milk Punch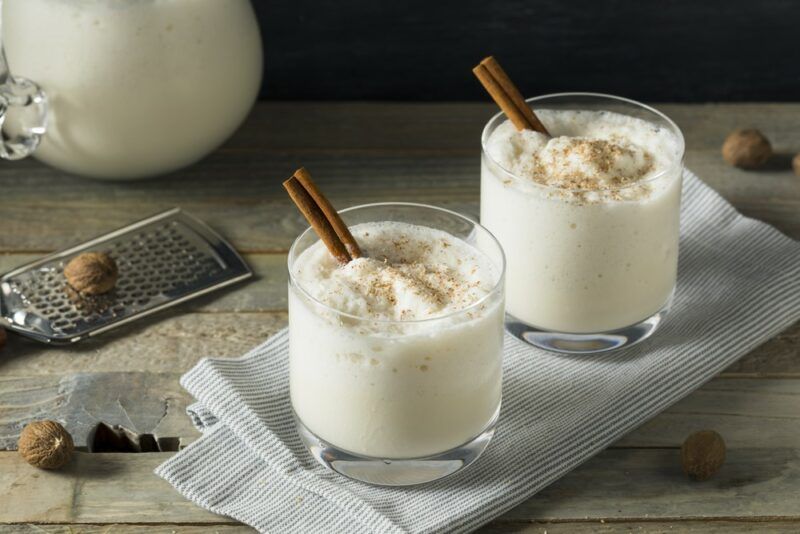 Milk punches are traditional creamy cocktails that may date all the way back to the 1600s. Some milk punches are clarified to create a clear drink that lasts a long time.
Others are more familiar, using ingredients like bourbon or brandy, milk, simple syrup, and vanilla extract. This is the type we're talking about here.
An almond milk version is exactly what you'd expect – a regular milk punch that uses almond milk instead of regular milk. Unsweetened almond milk works best, allowing you to easily balance the sweetness with sugar syrup.
The drink isn't quite as creamy as the traditional milk-based version, but it's still a delicious drink that's easy to enjoy.
Thandai, Rose, Fennel, And Almond Milk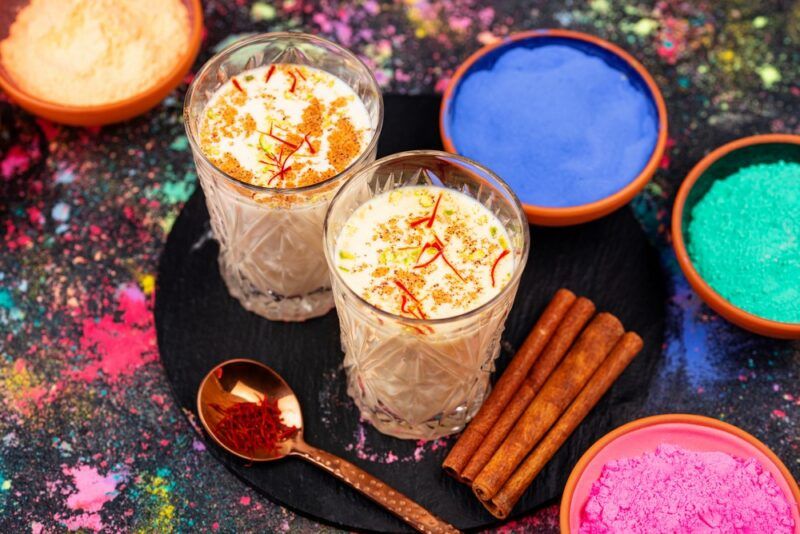 I love the complexity of this cocktail. It's based on thandai, a traditional cold Indian drink that uses almond milk, fennel seeds, saffron, and various other ingredients.
While thandai doesn't traditionally include alcohol, you can easily make an alcoholic version, as this recipe shows. The author suggests using gin or vodka. Vodka doesn't add much to the flavor profile at all, while the botanicals of gin complement your other ingredients.
The traditional recipe has been varied in other ways too, to focus on almond milk and on ingredients that you're likely to have at home. After all, it's frustrating to have to go to the store just to try out a new cocktail.
Chocolate Almond Milk Martini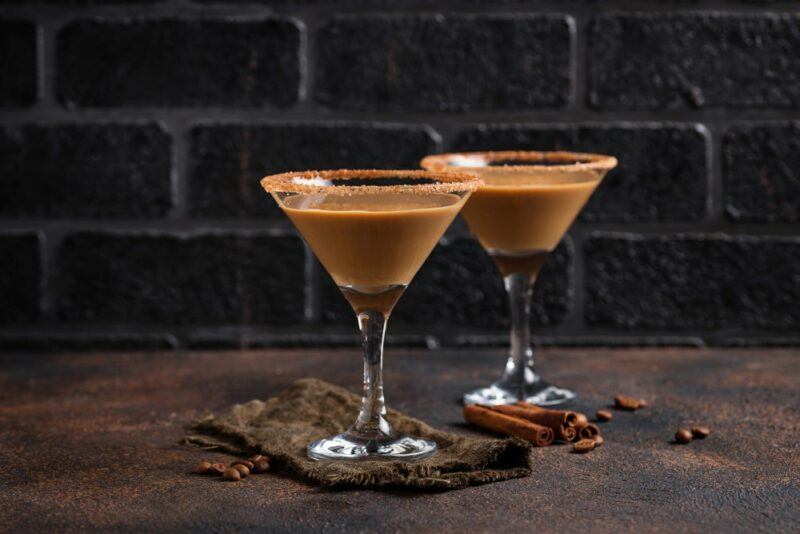 Chocolate martinis are always delicious. So, what about making one with almond milk instead? Doing so creates a dairy free version that isn't as overwhelmingly rich.
The simplest approach is to use store bought chocolate almond milk as the base for the cocktail. Or, you could use regular almond milk and combine it with cocoa powder.
If you're willing to do the work, the cocktail will taste even better if you make your own chocolate almond milk. Doing so gives you full control over the sweetness and intensity of the milk, allowing you to get the chocolate martini exactly how you want it.
Hot Rum Horchata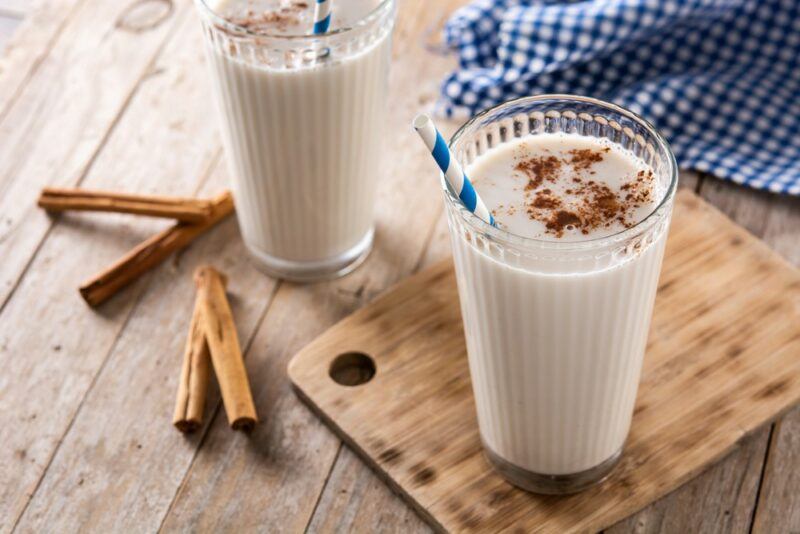 Okay, so there are many ways to make horchata. Some of them rely on dairy ingredients, while others focus on plant-based options instead.
This version is interesting, as it manages to use coconut milk, almond milk, and rice in the same recipe. The instructions involve using the rice to make your own rice milk, but you could simply buy rice milk and use that instead.
While using three types of plant-based milk might seem like overkill, doing so provides more nuance than you'll get with a single type of milk.
Mexican Style Almond Milk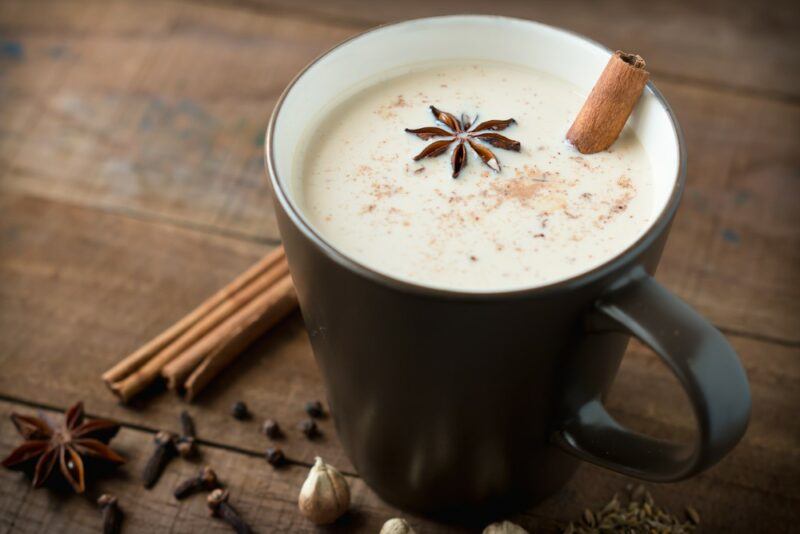 This hot cocktail combines almond milk and rice milk with amaretto and spices. You're warming the ingredients together over medium heat, then allowing everything to infuse.
It's a simple drink, but one that is also very delicious. It would be a fantastic alternative to eggnog in the winter.
You could also experiment with the alcohol. For example, bourbon would go well in the cocktail, either instead of the amaretto or along with it. Spiced rum could be a delicious addition too.
Almond Milk Eggnog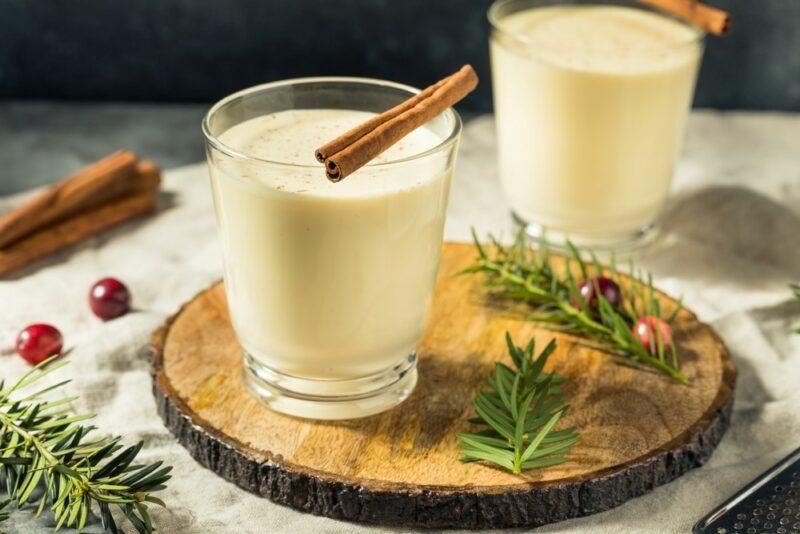 While eggnog traditionally uses dairy milk, you can easily make an almond milk version instead. Doing so can be as simple as replacing the regular milk with almond milk.
Some versions call for coconut milk as well, as this makes the cocktail creamier.
You can take the recipe a step further too, by leaving out the eggs. The drink isn't technically eggnog anymore, but you can't keep the eggs in there if you're trying to make a vegan cocktail.
Thankfully, even with almond milk and no eggs, you can still have a delicious seasonal drink. You can even spike the drink with rum or brandy.
Almond Milk Chai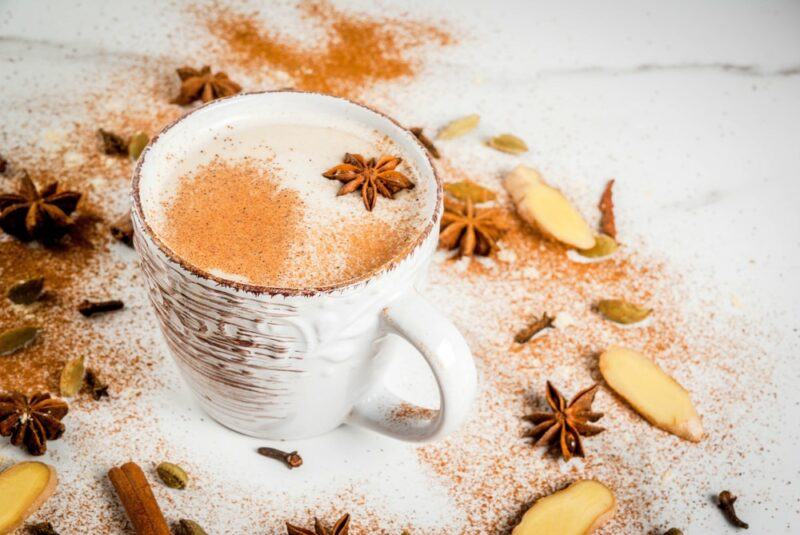 Chai is another traditional drink that can easily be made using almond milk instead of dairy milk. There are countless recipes for this version, most of which taste amazing.
There are also plenty of almond milk chai cocktails, like this one, which combines chai tea with vanilla almond milk, orange juice, and whiskey. You could also skip the orange juice to create a creamier drink that is just as delicious.
Vanilla Chai Hot Toddy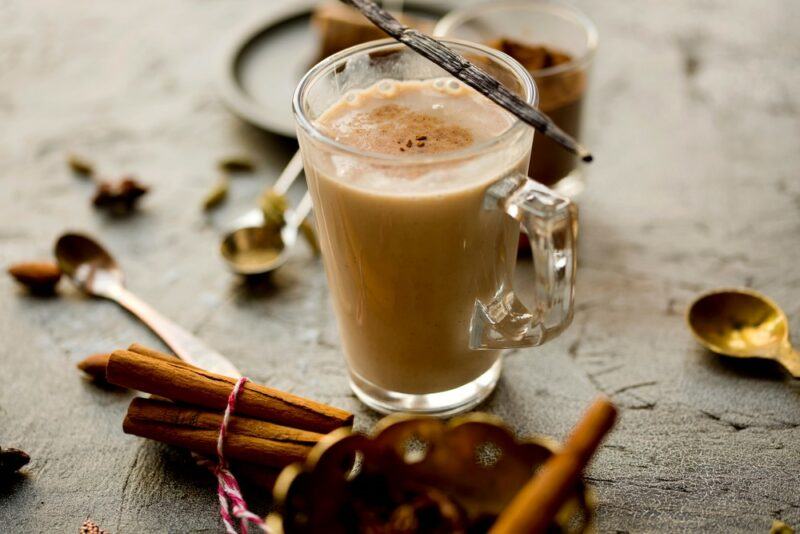 This cocktail mixes two drinks into one – a hot toddy and chai tea. You end up with a creamy hot drink that is sweetened with both honey and brown sugar, then balanced by dark rum.
You could add cream to the cocktail too, which would make it richer. However, that only works if you want to have dairy. Thankfully, whether you use cream or not, this is still a delicious and comforting drink.
Belvedere Air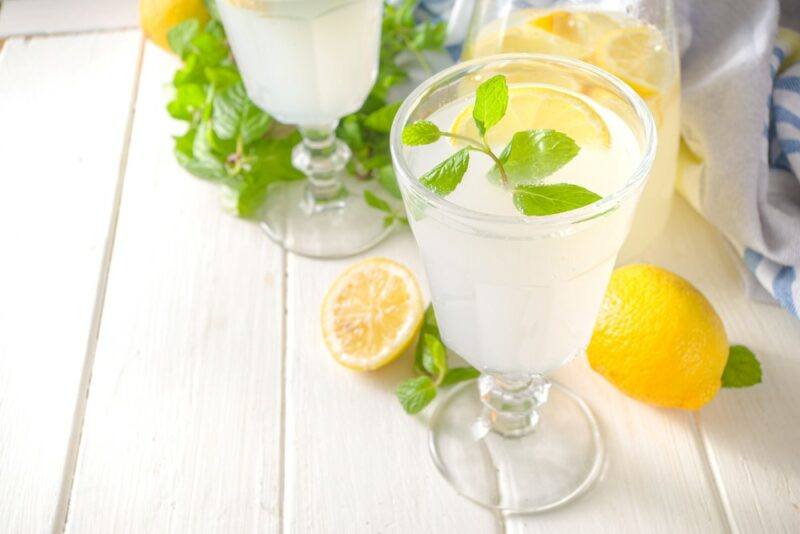 The belvedere air is fresher than most other almond milk cocktails. It's a little like a traditional sour, as it relies on vodka, fresh lemon juice, and honey simple syrup.
The big difference is that you're also adding almond milk. The ingredients are all shaken together with ice, which gives you a light and refreshing cocktail.
Plus, the cocktail entirely relies on common ingredients, ones that you're likely to have around the home. You could even try making it using flavored vodka and see how the flavor changes.
Matcha Highball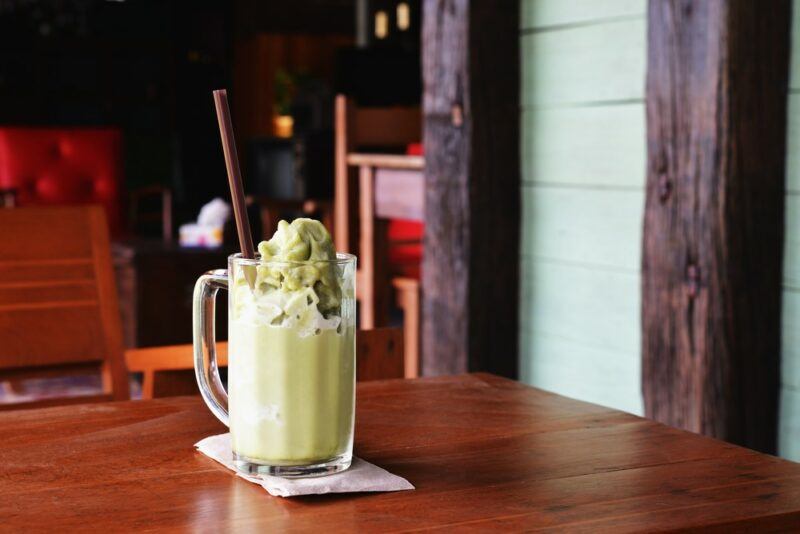 I love how this cocktail breaks the mold. The ingredients are similar to a matcha smoothie, except that you're also including lemon juice, honey, and whiskey in the mix.
The honey, lemon, and whiskey all work well together, while also complementing the matcha.
While this is designed to be served as a cold drink, you could easily heat it up instead. Doing so would give you something akin to a matcha hot toddy.
White Wedding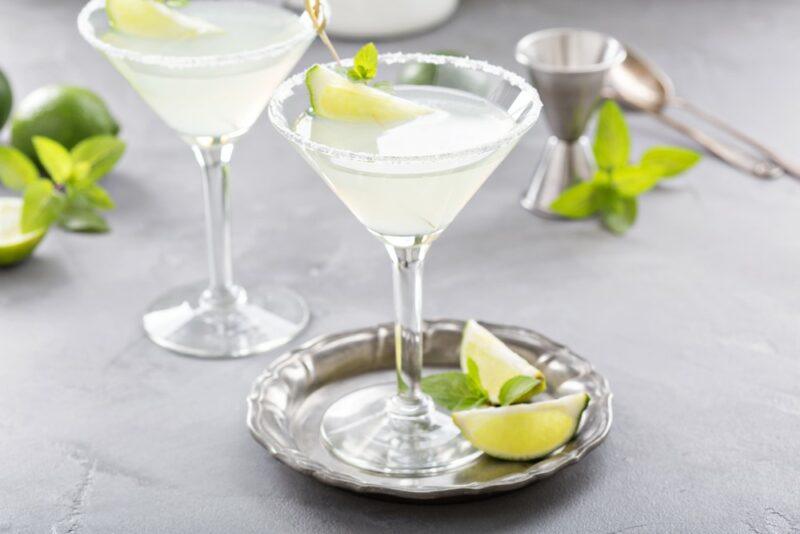 There are two aspects to this drink – cucumber ice cubes and then the cocktail itself. The cucumber ice cubes aren't strictly essential (you could make the cocktail using regular ice cubes too). However, they add important nuance to the drink.
The cocktail itself relies on a combination of lime juice, almond milk, gin, sake, and fresh cucumber. The combination of gin and sake is amazing, as the two spirits play off each other well.
The use of gin and cucumber also makes this an excellent summer drink.
Almond Milk With Rum And Santuario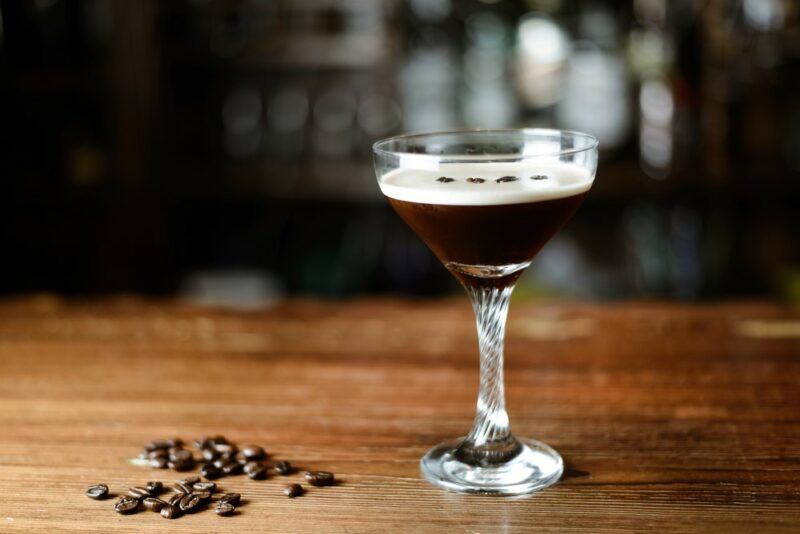 This cocktail is considerably simpler. First, you brew coffee and use it to make coffee ice cubes.
Once frozen, these ice cubes are placed in the bottom of a glass and then almond milk is poured on top. After this, you can add the rum.
The flavor of your drink will slowly change as the ice cubes melt, with the coffee becoming more intense as you go. Alternatively, if you don't want to wait, you could blitz the coffee ice cubes, almond milk, and rum together in a blender.
Keto RumChata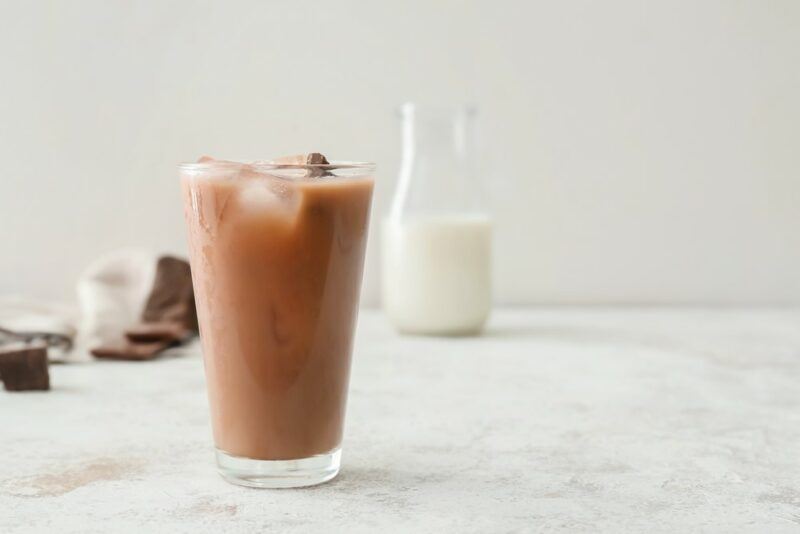 RumChata is a popular liqueur that takes the flavors of horchata and makes them much more accessible. However, both RumChata and horchata tend to be high in carbs, making them a poor choice for keto dieters.
This recipe focuses on the same flavors, but keeps the carb content much lower. It's also a delicious drink in its own right.
There's one catch though. To get the creaminess while keeping the carb content low, the recipe does use a tiny bit of heavy cream. You may need to skip the cream if you're vegan or are highly sensitive to lactose.
Luxardo Sour Cherry Ramos Gin Fizz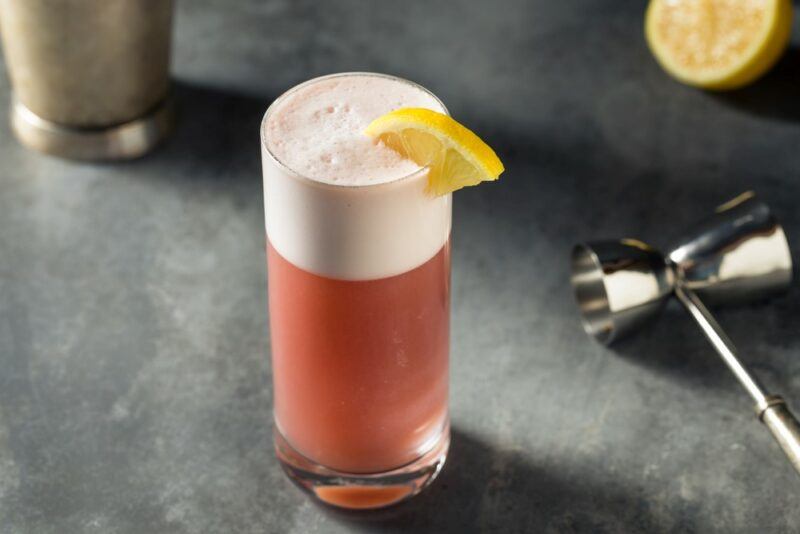 The Ramos gin fizz is tricky, requiring a decent amount of shaking and also care when you're pouring the cocktail. It is delicious though, with a fantastic balance of sweet and sour flavors.
The traditional version of the drink relies on cream or half and half, but you can make a version with almond milk too.
The sour cherry Ramos gin fizz mixes things up even more by using almond milk, maraschino liqueur, and sour cherry gin. These ingredients create a distinct cherry and almond flavor in the cocktail.
Also, while the cocktail famously needs to be shaken for 12 minutes, it can be made with much less shaking. Careful technique cuts the shaking time down considerably, while still giving you a delicious cocktail.
Guinness Chocolate Milk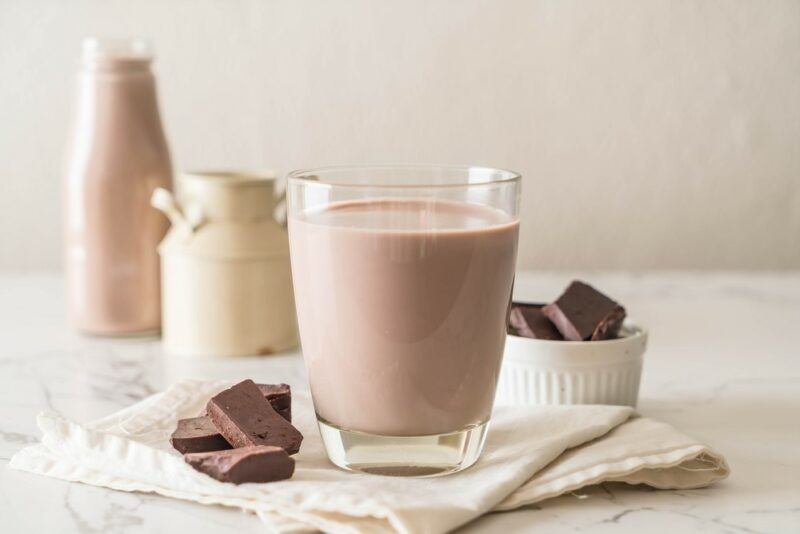 Did you know that Guinness works surprisingly well in mixed drinks? Seriously, there are many delicious Guinness cocktails. The malty flavor and slight bitterness contrasts well against many other ingredients.
Guinness chocolate milk is one way to have some fun with Guinness. The cocktail simply combines Guinness with the regular ingredients for chocolate milk, including cocoa powder, sugar, and vanilla extract. Such ingredients work well with regular milk or with almond milk.