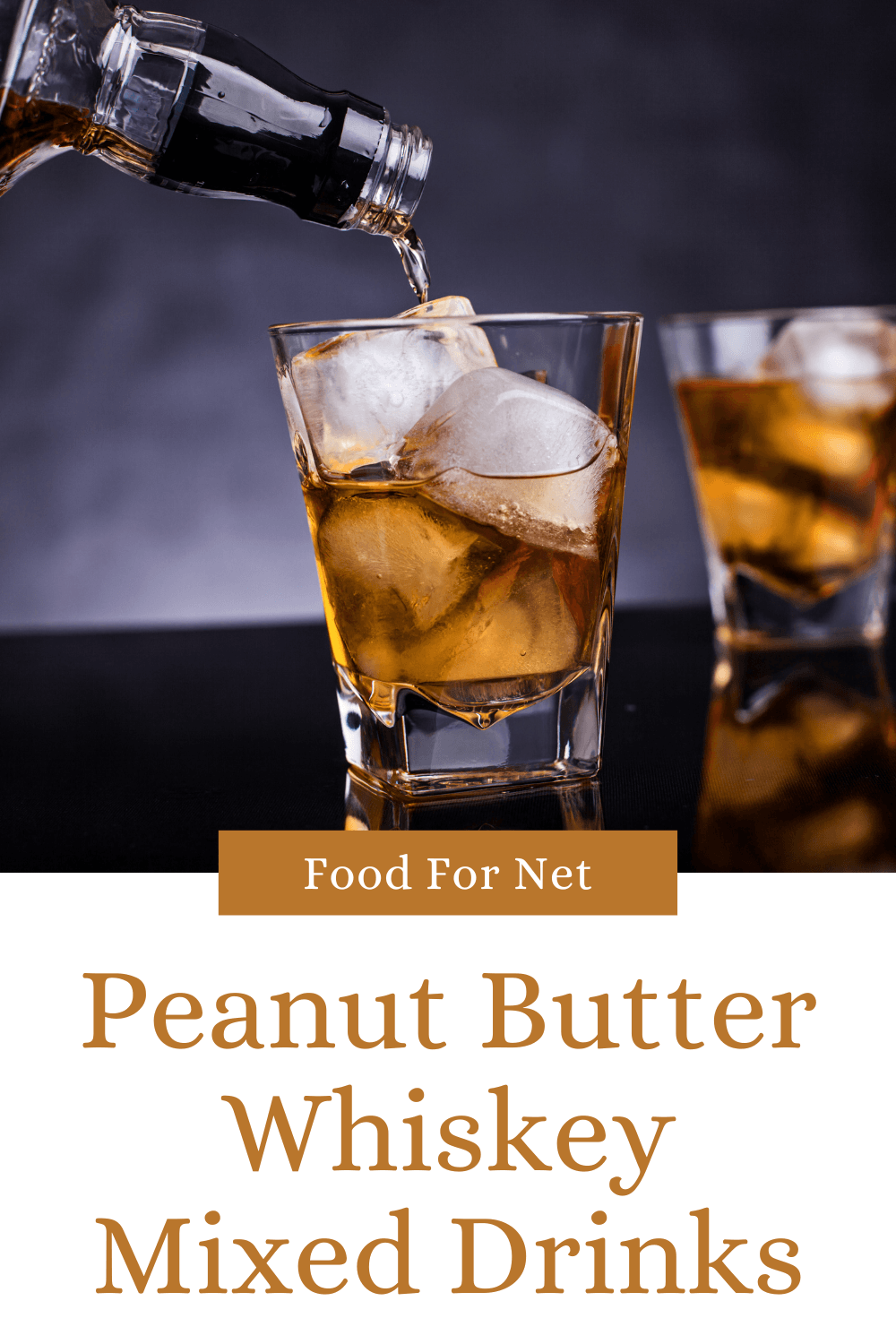 Peanut butter whiskey sounds like a gimmick, like a spirit that is going to have an artificial and probably over-the-top flavor, and isn't suited for serious drinkers at all. Yet, peanut butter whiskey can be surprising – and peanut butter whiskey mixed drinks even more so.
For one thing, the peanut butter flavor doesn't stand out as much as you'd expect. Instead, it's both deeper and more nuanced. It can even taste a little like hazelnuts at times, rather than the bright and bold taste of peanuts.
While the whiskey can be easily sipped on its own, it's also a good addition to cocktails. The question is, which cocktails?
This is where things get tricky, as cocktail crafters tend to focus on either a peanut butter and jelly flavor riff or one that plays on peanut butter and chocolate. Thankfully, there are exceptions, plus some excellent well-balanced examples of those themes.
In most cases, we're not talking about particularly strong mixed drinks. Many of them rely heavily on mixers instead. Still, there are some strong drinks in the mix and you can easily raise the alcohol content of whatever cocktail you prepare.
Peanut Butter Whiskey Mixed Drinks (With Pictures!)
Peanut Butter Old Fashioned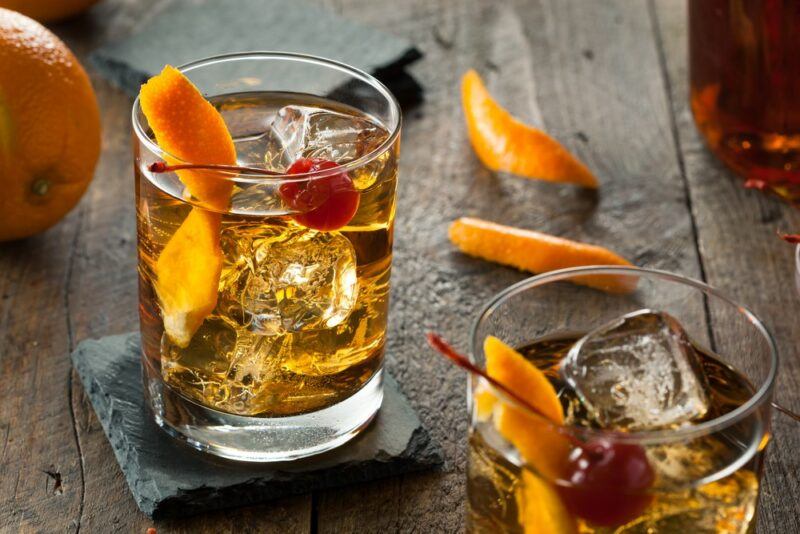 Not surprisingly, this cocktail is a variation on the classic old fashioned cocktail.
Traditionally, the old fashioned involves muddling a sugar cube with a little water and bitters, then topping the cocktail up with whiskey. The sugar and bitters complement the flavor of the whiskey, while making it a little easier to drink.
A peanut butter version is as simple as using peanut butter whiskey instead of regular whiskey.
Some people also skip the sugar cube and use a few splashes of bitters in their peanut butter whiskey. This works well too, as peanut butter whiskey is already sweeter than plain whiskey.
Chocolate Peanut Butter Old Fashioned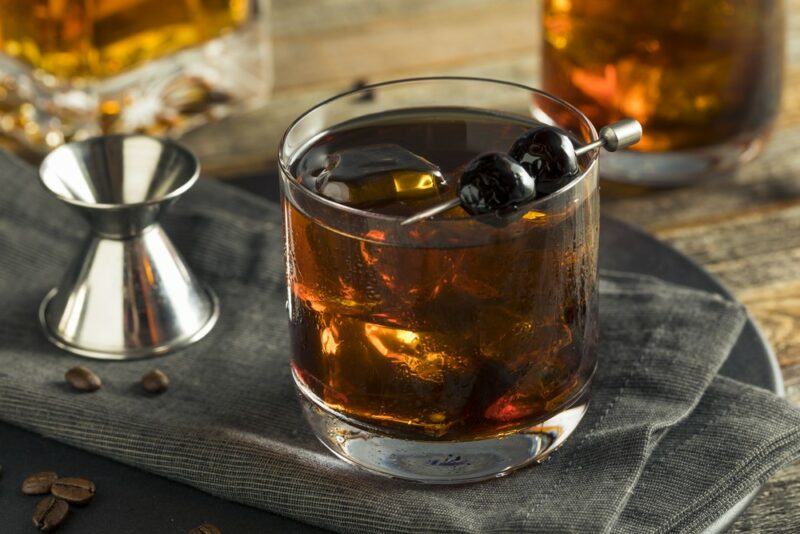 This drink is similar to the previous example, except that it also brings in some chocolate flavor.
One way to do this is to play around with the bitters. You can actually get chocolate bitters, which are perfect. You might include other types of bitters at the same time, like walnut bitters, to amplify the nut flavors further.
Alternatively, you could make the cocktail using a combination of bourbon, peanut butter whiskey, and either crème de cacao or chocolate whiskey (just be sure to choose a non creamy version). Such a cocktail is more complicated than the previous example, but does give you a more intense chocolate flavor.
Don't forget about your glass either. A little chocolate syrup is a great way to add extra chocolate flavor – and looks pretty fantastic too!
Peanut Butter Cup Whiskey Cocktail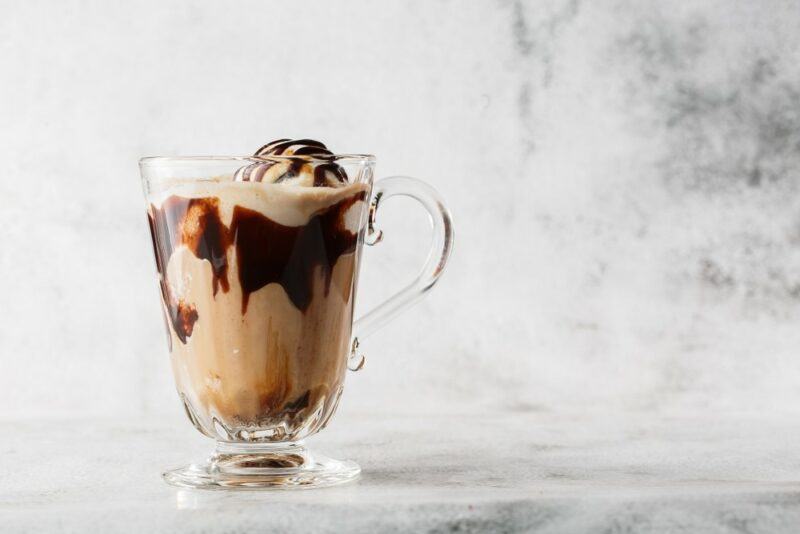 This is a creamy cocktail that relies on peanut butter whiskey, milk, and chocolate liqueur. You can choose a creamy chocolate liqueur or a non-creamy one. Either type would work well for this.
There are plenty of options for the milk too. You could even choose half and half or cream rather than milk for something truly decadent.
Or, you could go in another direction and focus on plant-based milk. Almond milk is particularly good here, as it has a slight nutty flavor that complements the whiskey.
Chocolate And Peanut Butter Cocktail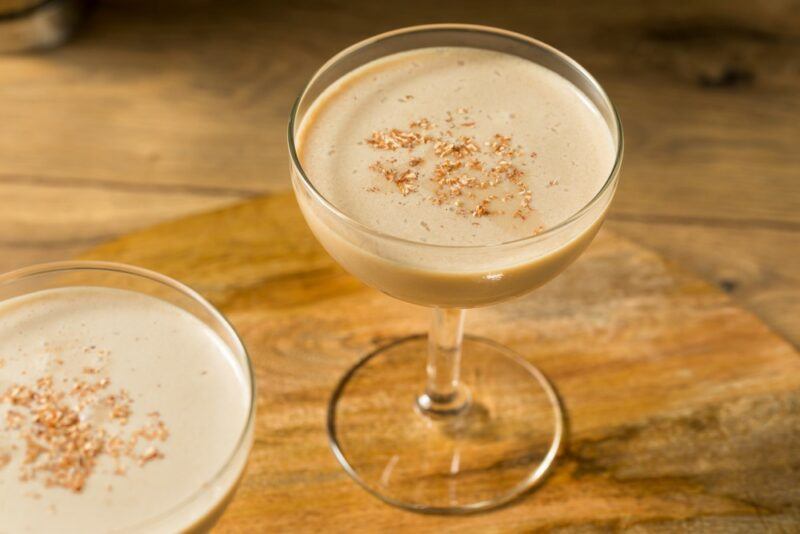 Another version of these flavors uses a combination of crème de cacao and a creamy chocolate liqueur. These are combined with heavy cream, brown sugar syrup, chocolate bitters, the whiskey, and even a little peanut butter.
This combination of ingredients gives you a creamy drink that's heavy in both peanut butter and chocolate flavor.
The use of peanut butter makes the cocktail a little tricky to prepare. But, you could easily leave this ingredient out. The cocktail will still taste fantastic.
Peanut Butter And Jelly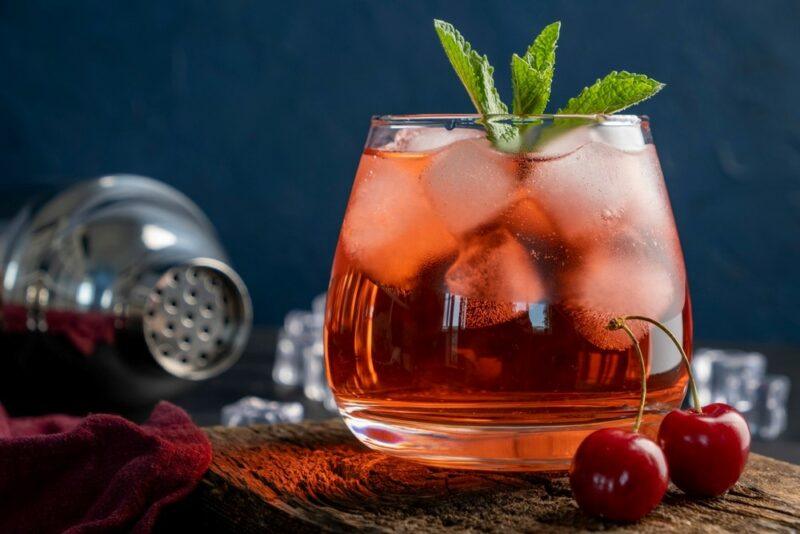 No surprises here, this cocktail attempts to mimic the flavor a peanut butter and jelly sandwich in cocktail form. Actually, it's more accurate to say 'these cocktails', as plenty of recipes riff on this theme, using similar names.
One version simply combines Chambord liqueur with peanut butter whiskey. It works best when you add Chambord to the glass first, then slowly pour the peanut butter whiskey on top. This way you get a slight layered effect and some interesting flavor contrasts.
Another version uses grape jelly to make a simple syrup that can be combined with the whiskey. This gives you a lower ABV cocktail and a more authentic jelly flavor.
Finally, you can try combining the whiskey with cranberry juice and a little Cointreau. The flavor is different again, but it's still reminiscent of peanut butter and jelly.
Peanut Butter Whiskey Sour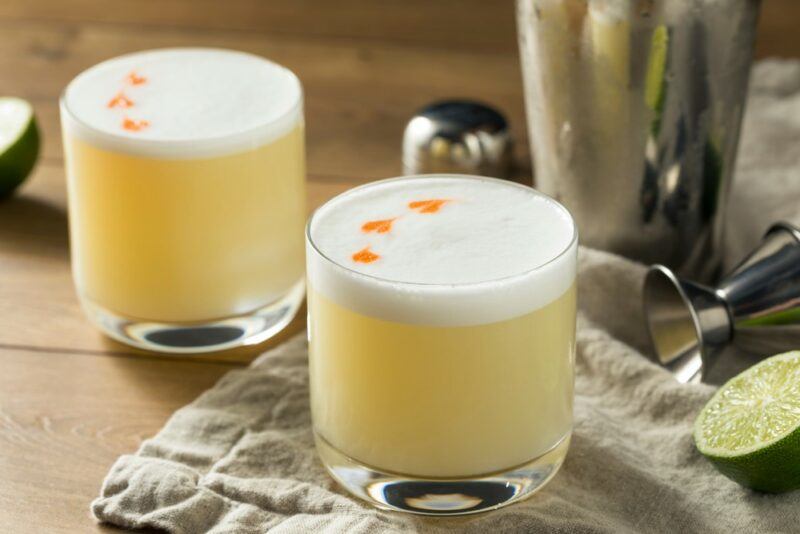 A traditional whiskey sour relies on whiskey (normally bourbon), simple syrup, lemon juice, an egg white, and sometimes a splash of Angostura bitters. That balance of spirit, sweetener, and lemon juice is seen over and over again in sour cocktails.
This cocktail follows the same theme, except that you're using peanut butter whiskey instead of bourbon. This is an excellent way to use peanut butter whiskey, as there aren't too many dramatic flavors to contrast it.
There's one other change too, which isn't apparent from the image. You can use dark cherry juice on top of the cocktail to add a flavor contrast. If you flick the juice onto your cocktail, it looks like blood, making this useful as a Halloween-themed cocktail (which is what it was originally created as).
If you don't want artificial blood spatter on your cocktail, you could drizzle the juice and make it look prettier. Or, simply skip the juice entirely.
Goddamn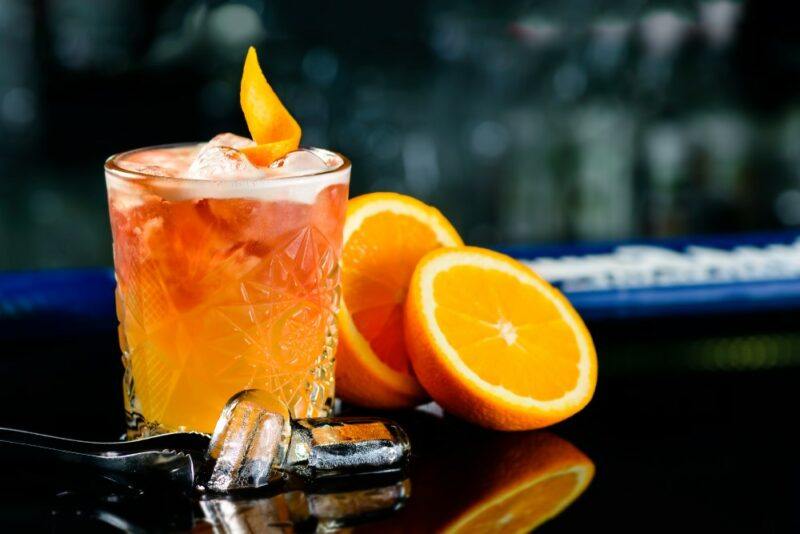 This cocktail riffs on the classic Godfather, which is where the name comes from. For a Godfather, you're combining Scotch whiskey with amaretto.
With this version, you're using bourbon and peanut butter whiskey. The best ratio of the two will depend on how sweet you like your cocktails. But, two parts bourbon to half a part of peanut butter whiskey is a good starting point.
This cocktail is excellent if you like peanut butter whiskey but want to tone it down a little.
The Elvis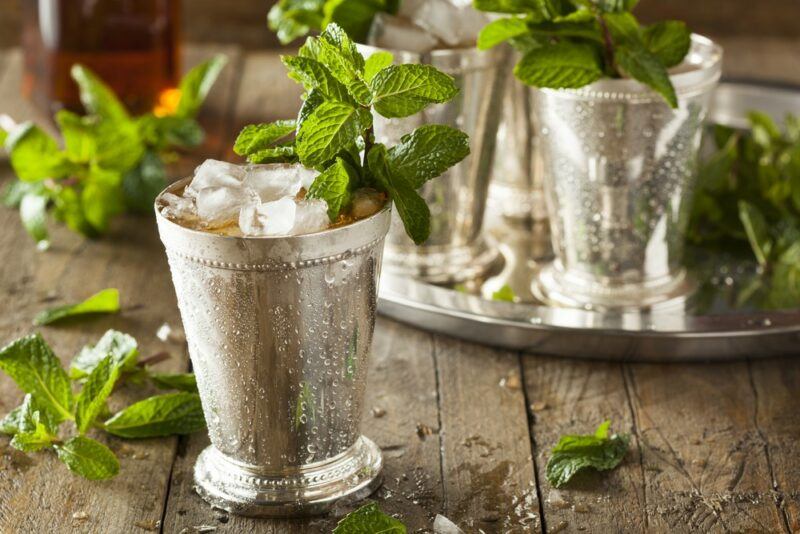 Here's a chance to break away from the classic peanut butter whiskey flavor combinations.
Rather than relying on jam or chocolate flavors, this cocktail uses banana liqueur instead. The banana flavor really does complement the peanut in your whiskey.
This is another cocktail that benefits from a combination of bourbon and peanut butter whiskey. Adding the bourbon stops the sweetness and nuttiness of your peanut butter whiskey from overpowering the other flavors.
Apple Cider Peanut Butter Whiskey Cocktail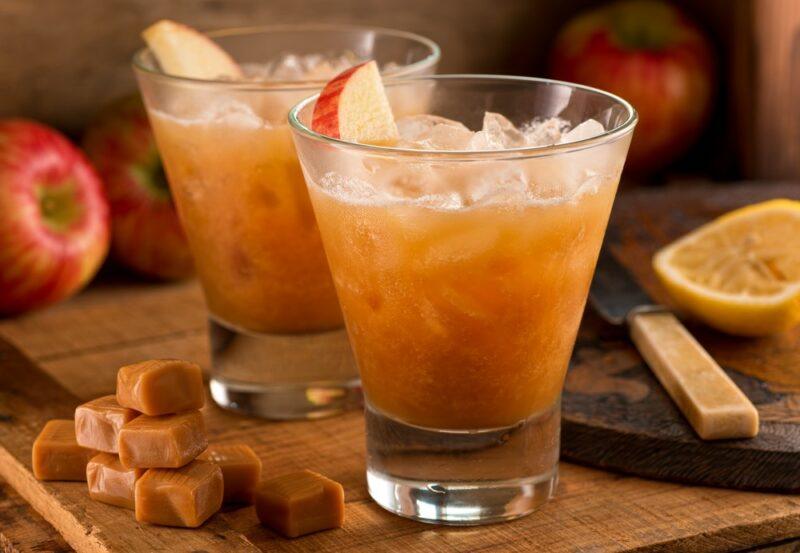 Here's another interesting flavor combination to try. This time, the cocktail combines peanut butter whiskey with apple cider and cinnamon.
To make this cocktail even more fun, you could try giving it a peanut butter, brown sugar, and cinnamon rim. To do so, you first dip the glass in peanut butter, then in a mixture of brown sugar and ground cinnamon.
This step enhances the peanut butter flavor of your cocktail. It also makes the glasses look much more interesting.
Skrewball White Russian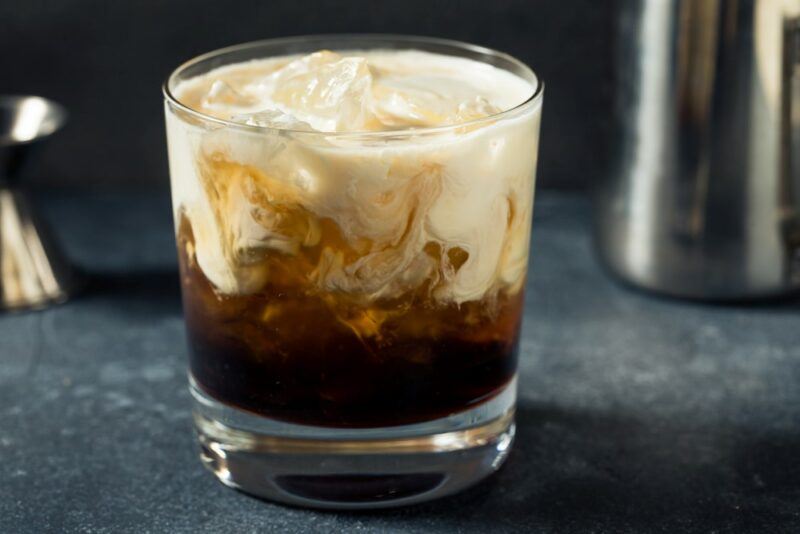 So, for a regular white Russian, you combine vodka, Kahlua, and milk (or half and half or even cream). You often start with a mix of Kahlua and vodka in your glass, then slowly pour the milk on top to create a layered effect.
The cocktail can be shaken too. This mixes the flavors together and gives you a frothy drink.
A Skrewball white Russian gets its name from Skrewball Peanut Butter Whiskey. So, not surprisingly, you're simply using peanut butter whiskey instead of vodka. Or, if you want a particularly boozy drink, why not use peanut butter whiskey and vodka?
Reese's Manhattan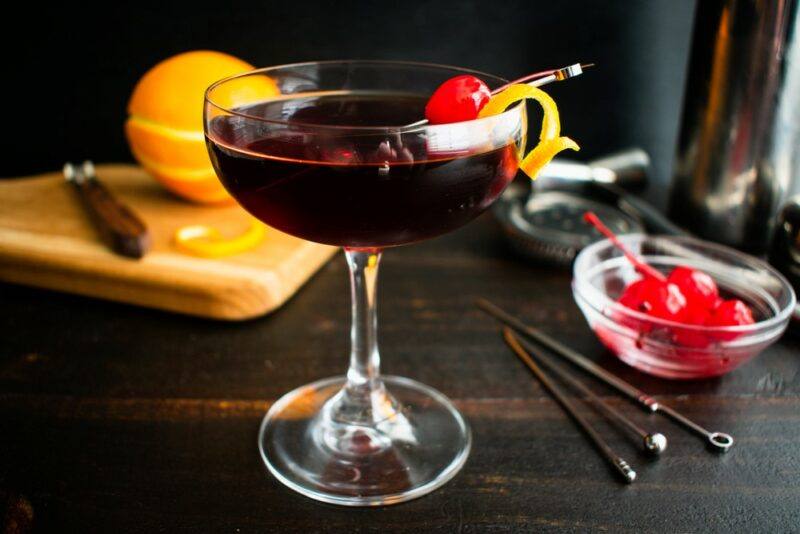 Traditionally, a Manhattan is a refined cocktail that combines bourbon with sweet red vermouth, and angostura bitters. Some versions add orange bitters as well, for extra nuance.
The Reese's Manhattan changes things in a few ways. First, you're using a combination of peanut butter whiskey and rye whiskey. The cocktail is actually designed to use peanut butter chocolate whiskey, but if you can't find that, regular peanut butter whiskey should be just fine.
Instead of red vermouth, you're using Amaro Averna, which has an herbal and somewhat sweet flavor profile. You're also using chocolate bitters, to help with the chocolate flavor of the drink.
Peanut Butter Coffee Cocktail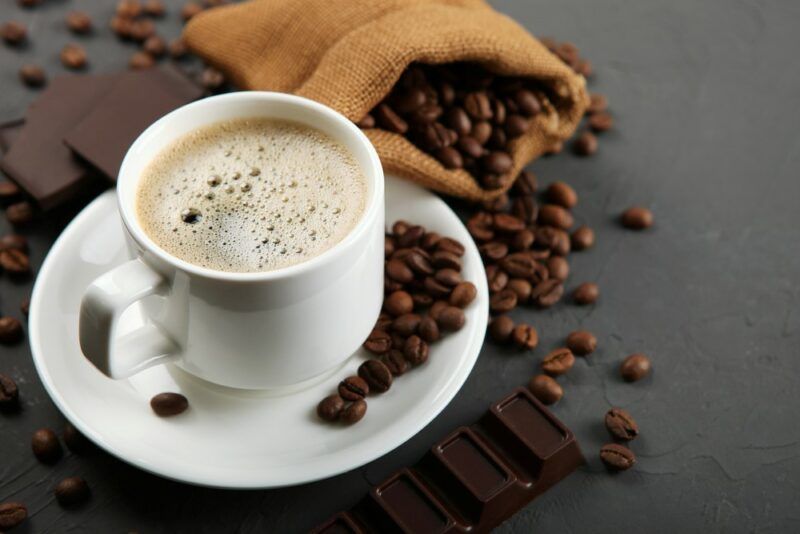 This cocktail is simplicity itself. You're basically just spiking your coffee with peanut butter whiskey. You can add some coffee liqueur or chocolate liqueur to make the drink even more decadent.
You don't need to stop with regular hot coffee either. The same ingredients work well with iced coffee too. You can also choose whether you want to add milk, creamer, or sugar to your drink, or leave it as-is.
Tropical Paradise Peanut Butter Whiskey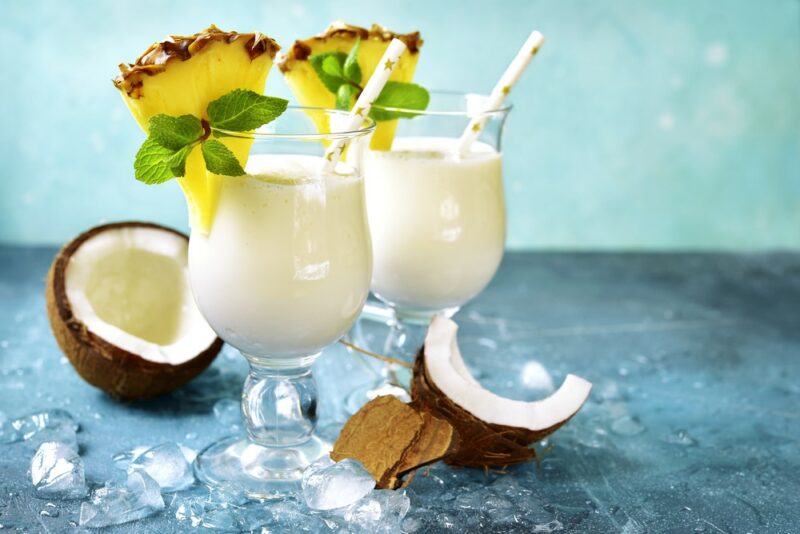 Peanut butter whiskey can pair with some unexpected flavors too. This tropical cocktail proves this, as you have a combination of rum and peanut butter whiskey, plus cream of coconut, pineapple juice, cinnamon, and bitters.
The cocktail starts out with your classic tropical flavors, which are then balanced by the peanut butter flavor notes. It's a surprising combination and one that works very well.
Skrewball Screwdriver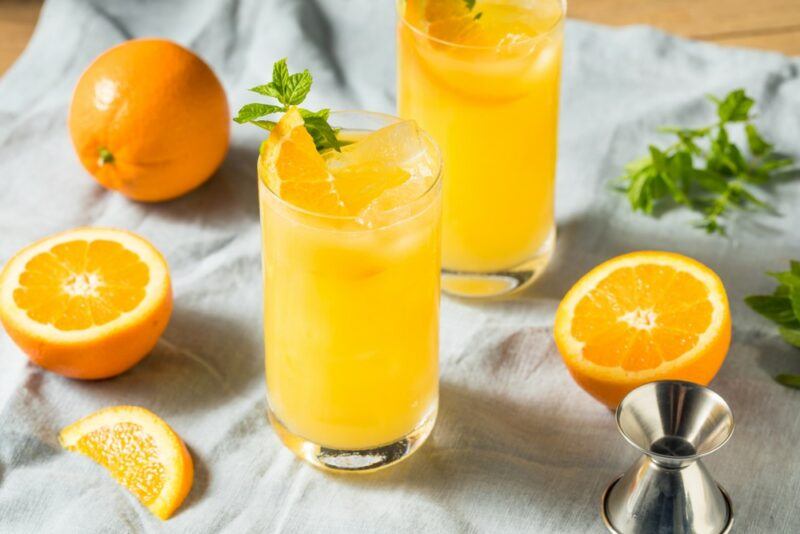 You can probably guess the recipe for this drink from the name alone. That's right, it's the classic screwdriver, just made using peanut butter whiskey instead of vodka.
The whiskey gives the cocktail a slightly nutty aftertaste. The flavor isn't dramatic though, so this cocktail isn't likely to shock anybody.
Peanut Butter Irish Coffee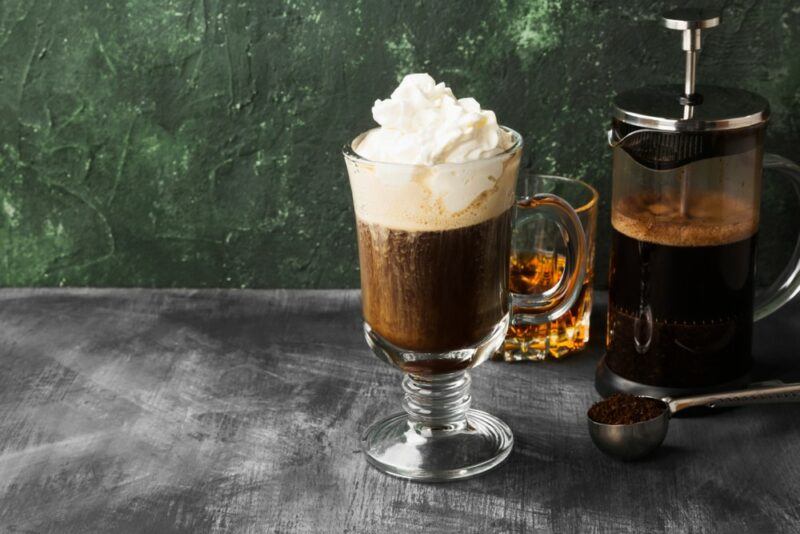 Earlier on, we talked about simply adding peanut butter whiskey to your regular coffee. This cocktail follows a similar theme, except you're making something much more exciting.
In particular, a true Irish coffee uses sweetened whipped cream to create soft peaks. You can do something similar with vegan whipped cream too.
For this cocktail, you could replace the Irish whiskey with peanut butter whiskey or use a mix of the two types. Combining the two would give you a subtler peanut flavor and a drink that's not quite as sweet, which could be appealing.
Peanut Butter Whiskey Moscow Mule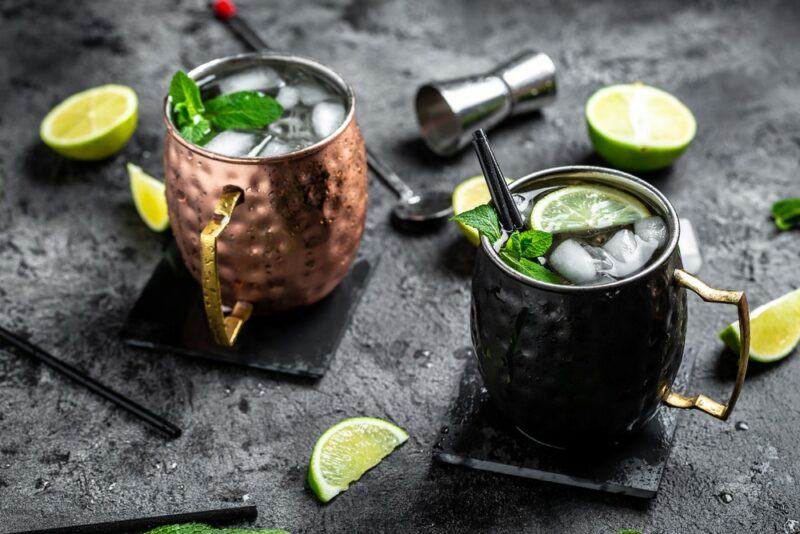 You're familiar with the Moscow mule, right? This classic cocktail combines ginger beer with lime and vodka. It's actually a very simple cocktail, but stands out because it is traditionally served in a copper mug.
Making a peanut butter version is as simple as swapping the vodka out for peanut butter whiskey. Adding this to a ginger beer cocktail might seem strange, yet somehow the flavors still work.
Alternatively, you can make this with a combination of vodka and peanut butter whiskey. Here too, the use of two spirits helps to stop the peanut butter flavor from being too intense.
Salted Peanut Butter Hot Chocolate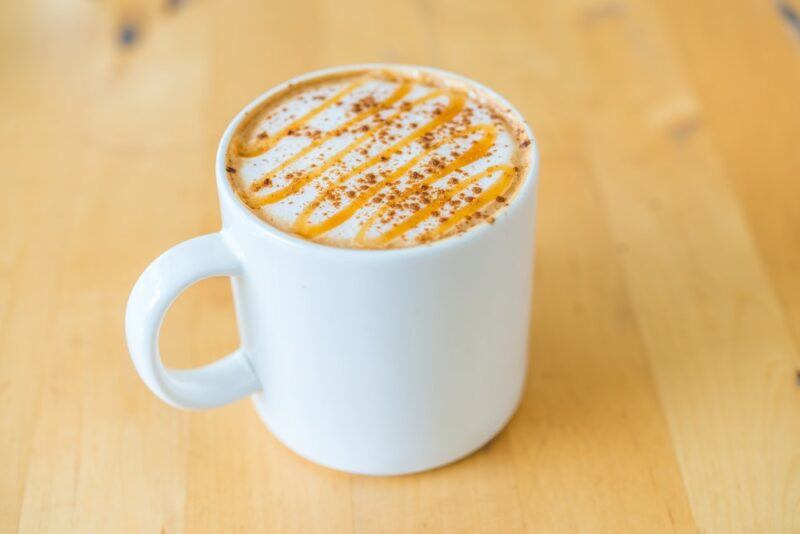 Instead of using peanut butter whiskey in your coffee, how about adding it to a hot chocolate instead? Doing so is perfect if you want an evening drink, one that won't keep you awake for half the night.
There are plenty of different ways to make this drink. You could prepare your regular hot chocolate and add peanut butter whiskey to it, plus a little salted peanut butter for extra flavor.
Or, you could create a richer hot chocolate, like one that uses heavy cream, chocolate chips, and sweetened condensed milk. This version is much higher in calories, but would also taste amazing.
Peanut Butter Whiskey Martini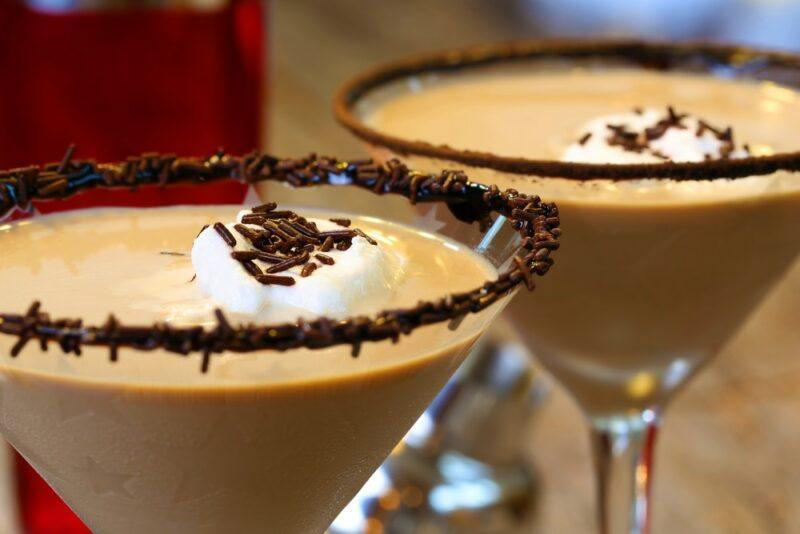 This peanut butter whiskey martini is similar to other cocktails we've been talking about, except that it is much easier to make.
There are only two main ingredients: chocolate liqueur and peanut butter whiskey. If you pick a creamy liqueur, like Godiva, you'll get a creamy cocktail. Otherwise, the texture will be similar to a glass of whiskey.
Either way, you get a delicious drink.
To make it more exciting, you could try making a grated chocolate rim for your glass or adding some chocolate syrup to the glass before pouring your cocktail in.
Peanut Butter Whiskey Milkshake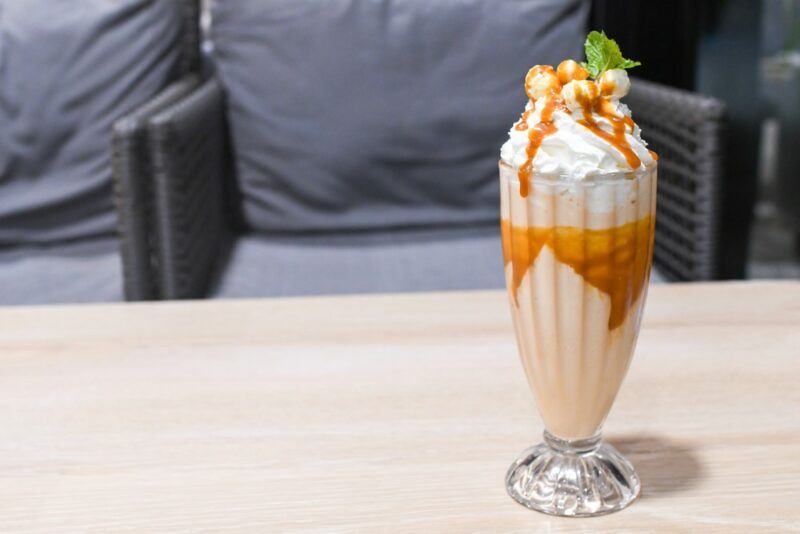 This is another easy cocktail. You're basically making a milkshake, then adding peanut butter whiskey to it.
A chocolate shake works particularly well. You can even mix in some peanut butter at the same time. Just make sure the chocolate flavor isn't too strong.
You could experiment with other options too. For example, peanut butter would probably work well in a caramel milkshake or perhaps a vanilla one.
Screwed Up Manhattan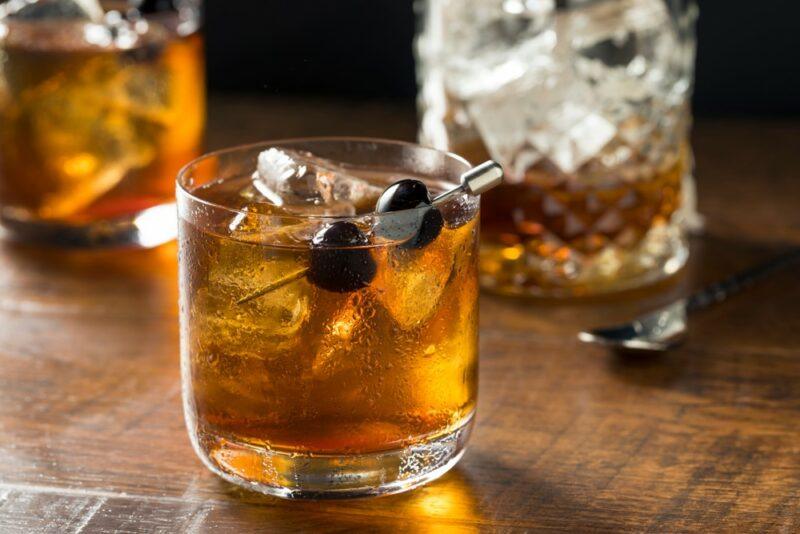 Here's another riff on the classic Manhattan. The name comes from Skrewball Peanut Butter Whiskey. But, you could easily use a different type of peanut butter whiskey.
The rest of the ingredients are what you'd expect for a Manhattan – red vermouth and bitters. The peanut flavor in the whiskey comes through in the final cocktail, making this more interesting than a regular Manhattan.
Peanut Butter Fizz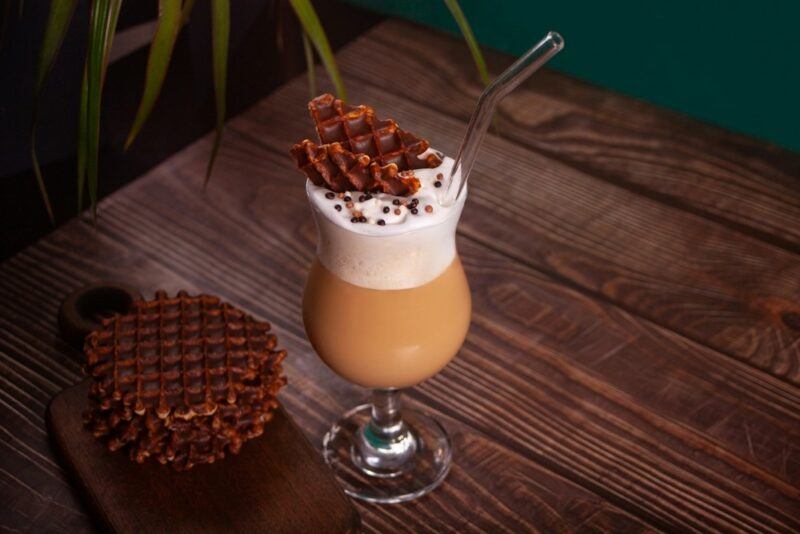 This cocktail is a variation on traditional fizzes, which means you're using egg whites and soda water. If you're concerned about raw eggs, you can buy pasteurized egg whites from grocery stores.
You could make the cocktail using peanut butter whiskey as the main ingredient. However, this version is even better, as you have coffee liqueur and cognac in the mix too.
You'll also need some type of milk. Anything will do, including plant-based milk. However, options like coconut cream and half and half will give you a richer and creamier drink than low fat milk or almond milk.
The best type will depend on what you're looking for in your cocktail.
Peanut Butter Whiskey With Red Bull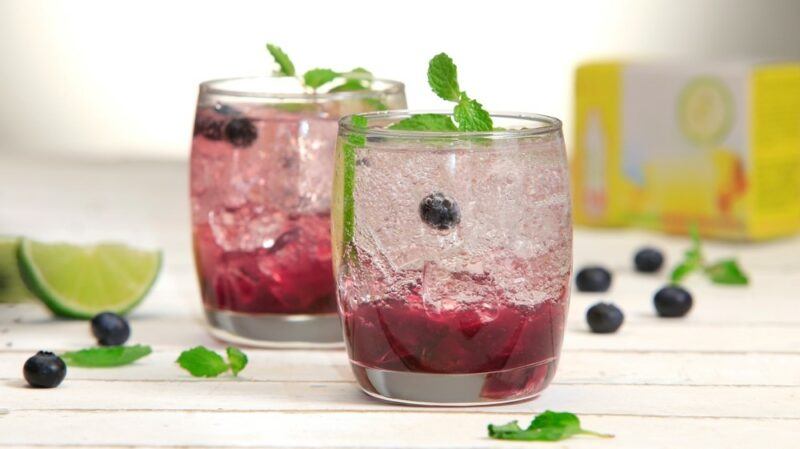 Rather than combining Red Bull and vodka, how about pairing Red Bull's Blue Edition with peanut butter whiskey?
This is one of those combinations that doesn't sound appealing at all, yet the flavors pair excellently with each other.
Peanut Butter Hot Toddy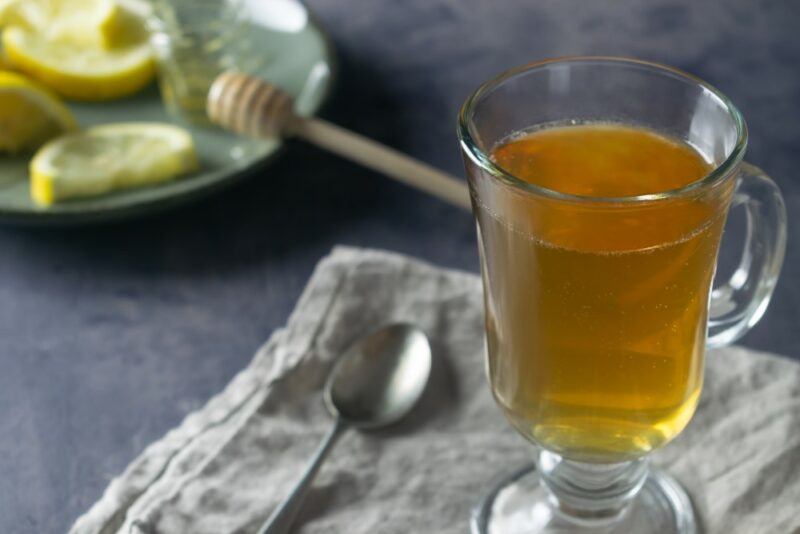 Hot toddies are the perfect winter drink, regardless of whether you have a cold or not. You can also customize them as you see fit. Honey, ginger, lemon juice, whiskey, hot water, and apple cider are all common ingredients, but you don't need all of them.
Peanut butter whiskey adds an exciting peanut butter note to the cocktail. The peanut butter works well, complementing all the other flavors.
If the flavor seems too intense, you could try a mix of regular whiskey and peanut butter whiskey. This should tone down the peanut flavor without decreasing the ABV of your drink.
Sugar Cookie Cocktail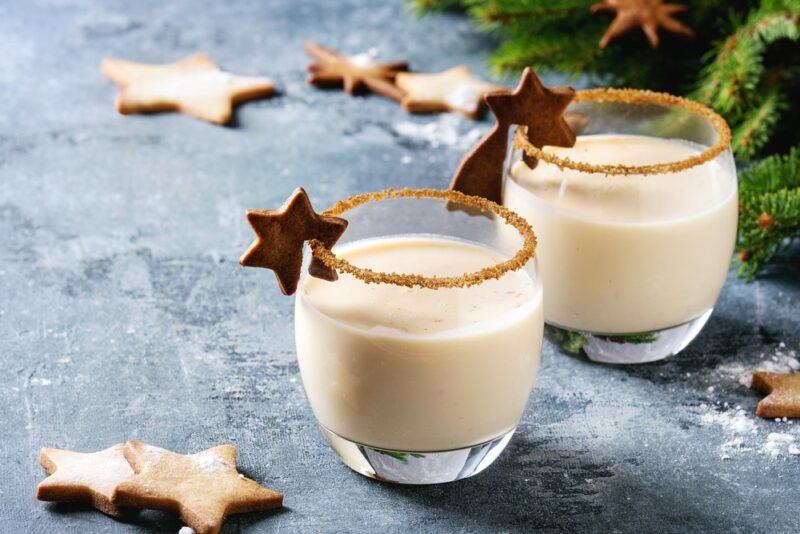 This cocktail says dessert like nothing else. It combines peanut butter whiskey with Irish cream, vodka, and cream of coconut, to give you a cocktail that's boozy and creamy.
Other ingredients are then used to balance and contrast the flavors, including orange bitters and ground cinnamon. Creating a brown sugar and cinnamon rim makes this drink even more unique, but you can skip this if it feels like too much work.
Peanut Butter Jelly Thyme Cocktail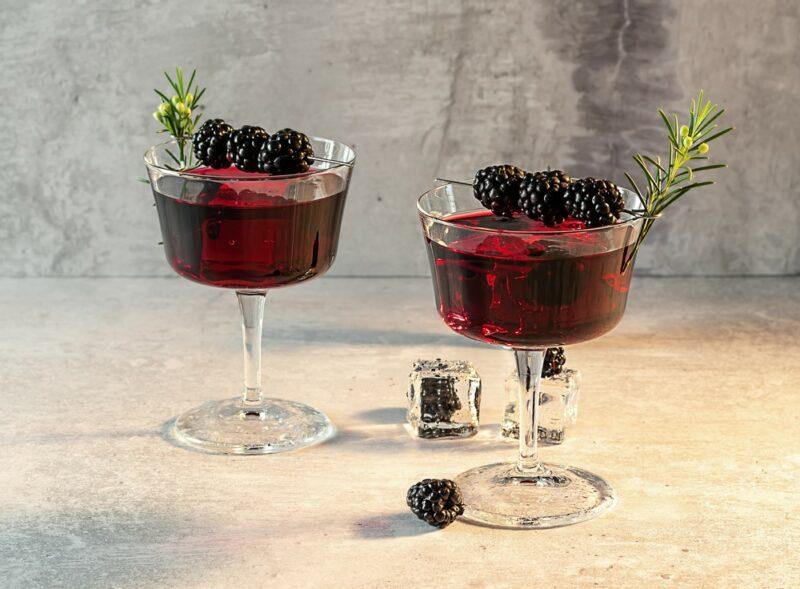 Here's another riff on the peanut butter and jelly cocktail idea. However, this version is more refined than most others.
It uses blackberry liqueur for the berry jam aspect of the flavor, then some Angostura bitters to balance things out.
The thyme is typically used as a garnish. However, you could create a thyme simple syrup and add this to the cocktail too. Doing so would sweeten it, while heightening the herbal flavor.
Skrewball Paloma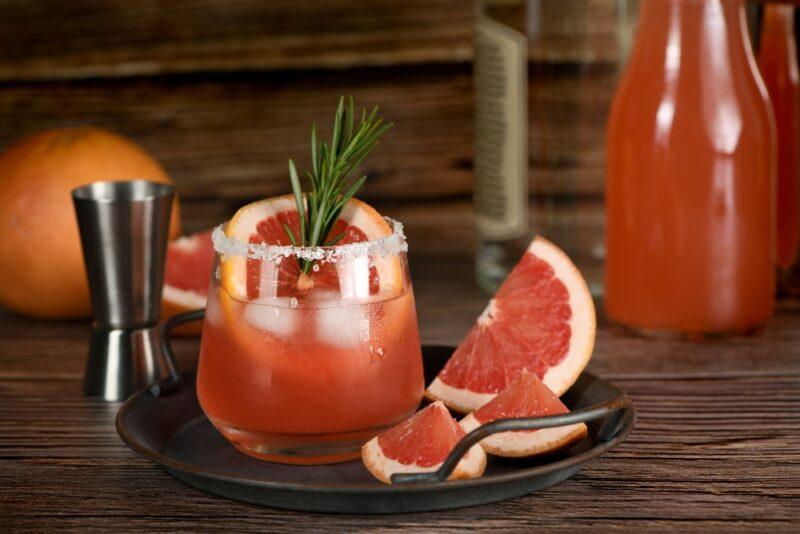 No surprises here, this cocktail is a riff on the paloma. You could make a version by just using grapefruit juice and peanut butter whiskey, but that mightn't taste very good.
The company behind Skrewball Peanut Butter Whiskey recommends a different approach, where you're balancing the whiskey with Aperol, grapefruit juice, and soda water. These ingredients give you quite a different cocktail, one where every sip tastes delicious.
Bonus: Whiskey Peanut Butter Cup Shots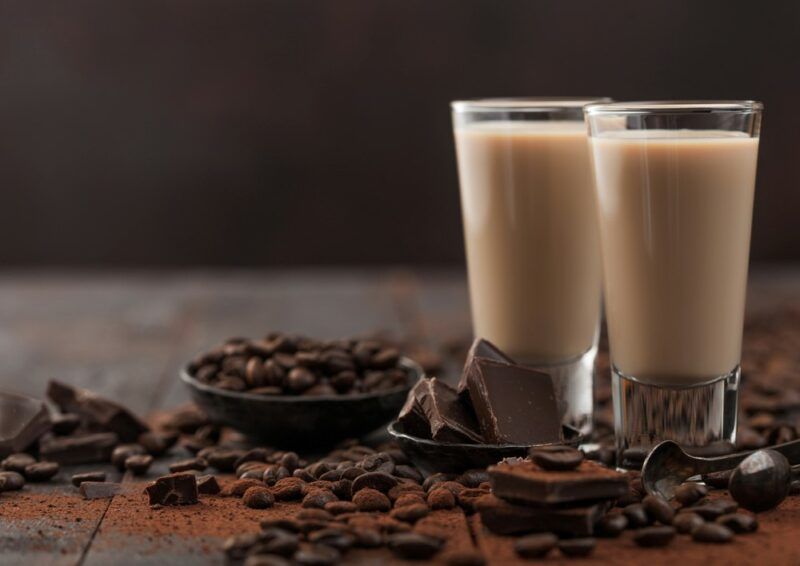 We've been focusing on cocktails, but these little peanut butter whiskey shots are too good to pass up.
They just combine equal measures of peanut butter whiskey, coffee liqueur, and whatever milk you like.
Adding a chocolate rim or even a baby peanut butter cup as a garnish makes the shots look even better. But, if you're making a lot these for an event, you might want to skip the rim.
Related Content