Good whiskey is deep, complex, aromatic, and flavorful. Whiskey is also versatile, delicious on its own, and featured in many classic cocktails. Apples in general can be anywhere from sweet to tart, and even downright sour. But, they're also versatile. Apples themselves make a great snack and apple cider is the perfect fall drink.
It makes sense, then, to bring the two together. The best apple whiskey features fresh, ripe notes of apple with the perfect balance of sweet, sour, and whiskey flavors. Such whiskies can be incredible on their own and they make amazing cocktails.
There are lots of options out there, though many of the best ones are still fairly new in the grand scheme of things. Even so, there are plenty to choose from and plenty of potential mixed drinks, as well. What ruins an apple whiskey is too much sweetness, too bitter of an apple flavor, or just too much apple. It's apple whiskey, after all, so you still want the whiskey to be there.
While we're on the topic, why not look at some other flavored whiskies, like honey whiskey or cinnamon whiskey? Both types can be delicious treats on their own or in cocktails.
The Best Apple Whiskey
1. Bird Dog Apple Flavored Whiskey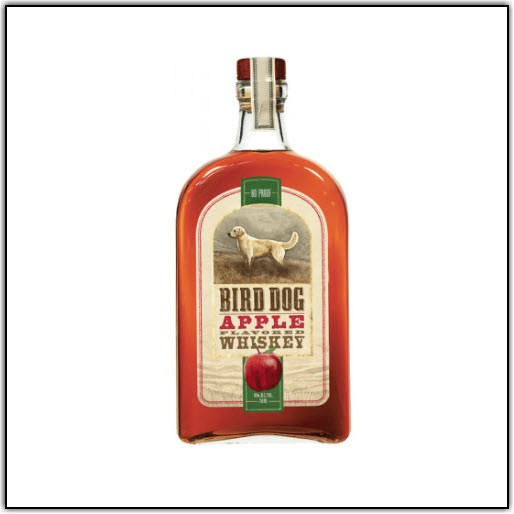 Bird Dog Apple Flavored Whiskey comes "highly recommended" by The Beverage Tasting Institute. Bird Dog is a unique whiskey company based in Bowling Green, Kentucky. They're known for producing good-quality, great-tasting, and uniquely flavored whiskies.
In addition to this delicious apple spirit, they've also got blackberry chocolate, black cherry, and honey-jalapeno – a particularly interesting combination.
This particular expression not only comes recommended but it's won numerous awards over the years. Fresh, ripe apples burst onto the nose, followed by a smooth, succulent palate featuring many different types of apples. The finish is just as sweet and smooth with the apples fading into bourbon and leaving a warm, lingering cinnamon zest behind.
2. Rattlesnake Rosie's Apple Pie Whiskey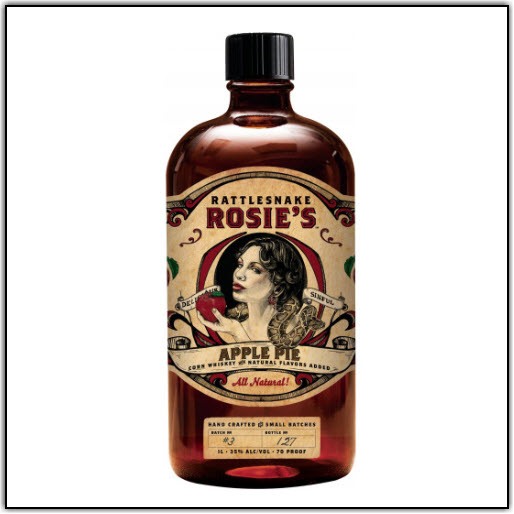 Rattlesnake Rosie's Apple Pie Whiskey originally came from the mind of Tommy Burnett, frontman of The Tommy Burnett Band. The group regularly tours around Upstate New York and is well known in the area for great original songs as well as quality covers of Billy Joe Shaver and Johnny Cash.
Burnett was on the road one day when he had the thought to create a whiskey that truly embodied the spirit of rock and roll. He partnered with Master Distiller Drew Wescott and together they formed Iron Smoke Distillery.
Committed to authenticity and quality, they distill their whiskey using only fresh, local ingredients that they source from farms around them in the Finger Lakes region. This expression is made with 100 percent corn whiskey and is mixed with apple cider made locally in New York. Ultimately, the drink is a fresh take on the apple pie moonshine recipes that have been floating around for generations.
The bottle has a cloudy amber appearance in the bottle and enticing aromas of cinnamon, molasses, vanilla, and barrel char. The palate is oily and sweet with notes of pie crust and baked apples. Apple pie dominates the finish with notes of waffles and fruitcake.
3. Evan Williams Apple Bourbon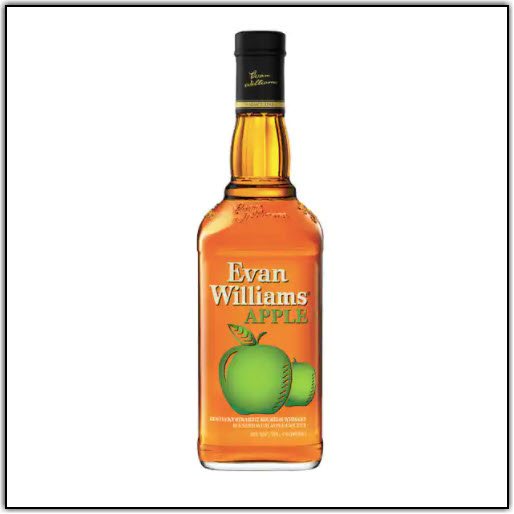 Evan Williams opened Kentucky's very first distillery in 1738. Located along the Ohio River, a passion for bourbon was born and he was committed to doing it right. All these years later, the company still follows in his footsteps and has not forgotten the time-honored, tried, and true methods of making amazing bourbon.
Evan Williams Apple Bourbon features their smooth Kentucky Straight Bourbon blended with the crisp flavor of fresh green apples for a delicious, refreshing, and perfectly tart drink. It tastes great on its own, makes a great shot, and does well in a nice cocktail.
It has a simple profile, with crisp green apples greeting you on the nose with a bit of bourbon in the background. The palate offers a flavor of juicy, sweet apples with a touch of caramel and some subtle spice. The finish consists of more green apple and a long, lingering burst of bourbon on the end.
4. J. Seeds Apple Whiskey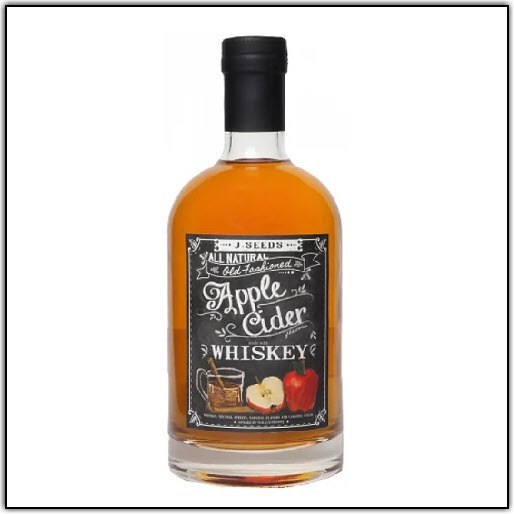 J. Seeds Apple Whiskey comes with a funny story – supposedly, it was created in 1921 by a man named Johnny Seeds. The story says that he brought two bottles of homemade cider, made with apples from his Washington orchard, to visit his uncle, who owned a distillery in Kentucky.
He was cleaning the distillery when he "accidentally" mixed a bottle of his cider with a bottle of whiskey. He went on to enter the drink in the state fair where it won first place. Though not an impossible tale, the protagonist of the anecdote has a suspiciously similar name to the famous Johnny Apple Seed, who was also involved with apples. Despite the obvious correlation, they're sticking to this as their origin story!
Because the combination drink won the contest, they decided to officially recreate it, and the result is their apple whiskey that is still sold today. Whether or not you believe the crazy story, it's a good bottle of apple whiskey.
The palate offers the perfect balance between sweet, crisp apples and aged whiskey. Neither flavor overpowers the other, it's just an enjoyable taste of both. Refreshing and smooth, the whiskey is perfect neat or in a variety of cocktails.
5. Jim Beam Apple Whiskey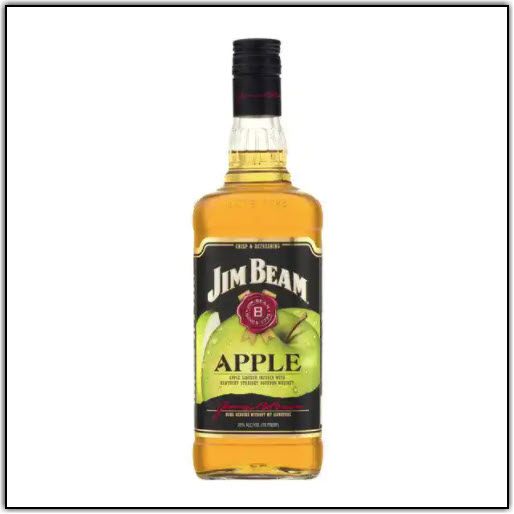 Jim Beam's Kentucky Straight Bourbon Whiskey is already as popular as ever, and for good reason. It's a solid whiskey, so it makes sense to use it as the base for their delicious apple rendition.
Its incredibly sweet flavor makes it not suitable for everyone, but those who love it, love it. The Apple Whiskey has amassed quite the loyal following and has become a fall staple in many households.
The nose comes in strong with prominent aromas of apple cider, though not overwhelmingly so, and not sickly sweet. Notes of cinnamon and vanilla are underneath.
The palate is quite sweet, the green apple flavor likening itself to a green jolly rancher. For fans of such a flavor or anyone with a strong sweet tooth, this sweet, tart delight will feel like a godsend. It's an easy one to drink neat and will, of course, sweeten up many cocktails.
Amazing Apple Whiskey Cocktails

Whether you need some comfort on a cool, fall day, or you're just a big fan of apples, these apple versions of some classic cocktails are sure to hit the spot.
Old Fashioned Apple
The old fashioned is about as classic as they come. The drink has a solid following and it's not going anywhere any time soon. It also has a unique flavor – one that many agree is wonderfully enhanced with the use of your favorite apple whiskey.
Ingredients:
2 ounces apple whiskey of choice
5-10 dashes of orange bitters
½ teaspoon sugar (or one sugar cube)
½ teaspoon water
A strip of orange zest
2 cocktail cherries to garnish
Start by adding your sugar to a lowball glass. Add the bitters until the sugar is saturated. Add your strip of orange zest and muddle until the sugar is dissolved – should be about one minute. Then, add the apple whiskey and stir it up to combine. Garnish with your cherries and you're good to go!
Whiskey Apple Cider
Perhaps the classic of all classics – at least during the fall – is apple cider. It's good warm or cold and it's a staple once you get that late-night campfire started. Adding whiskey itself is already a good idea, so why not make it apple whiskey? The drink already features apples, so an apple whiskey can only make it better and it's super easy to make.
Ingredients:
1 ounce of whiskey
½ ounce lemon juice
4 ounces of apple cider
This one is best served cold so fill up a cocktail shaker with ice and pour everything in. Shake it well and pour over ice.
Homemade Apple Whiskey Cocktail
If you don't have any apple whiskey on hand, or just want to experiment a little, you can create your own apple-infused whiskey to use in a simple but delicious cocktail. Infusing the whiskey is easy – chop your desired apples into cubes, combine them with your desired whiskey, and let them sit for 24 hours. Two cups of each should suffice.
The fun part here is pairing whiskies with apples. There are so many different kinds, the flavor potential here is almost unlimited.
Once you've created your infusion, you'll need a few more things:
½ ounce sweet vermouth
½ cherry liqueur
A splash of grenadine
2 ounces of your infused whiskey
Making the drink is as easy as any other cocktail. Add the ingredients to a shaker with ice and shake well until chilled. Then, strain into a glass with ice and enjoy! This is a fun one to share with friends and family and perhaps get their input on your chosen flavors. You could even come up with your own signature infusion if you find one that really works!