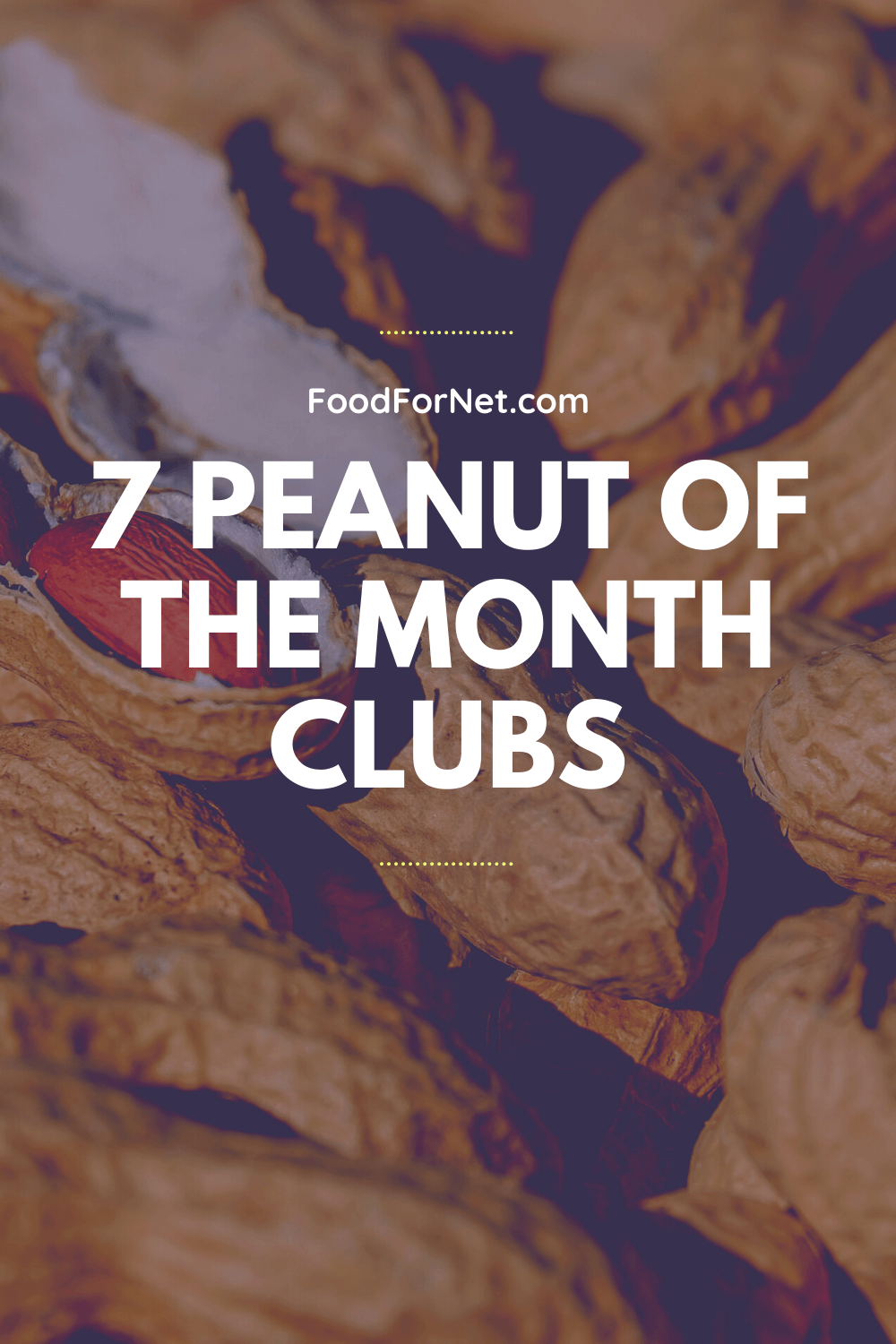 Most of us have been tricked into thinking that peanuts are nuts. The truth is peanuts are not nuts and are instead in the legume family. I'm not sure there's a demand for a "legume of the month" club, but there's definitely enough demand for a peanut of the month club that I was able to find a couple companies with this type of service.
A legume is a plant with a pod containing an edible seed. A nut is a fruit that does not open to release its internal seed when it reaches full maturity.
Peanuts originated in South America, likely in Brazil or Peru, though there is no known scientific proof as to where the first peanut was discovered. What we do know is that signs of peanuts showed up as early as 3500 years ago, often in the form of jars or art.
Though peanuts originated in South America, they were not introduced to the US by South American culture. Instead, they took a very indirect route through Spain and into Africa. And from Africa, they came to the US in the 1700s.
Since the arrival of peanuts in the US, they have become a popular snack and favorite butter. Peanut butter is one of the best condiments ever invented, plus it is incredibly versatile in the culinary world.
Though there are only four primary types of peanuts Runner, Virginia, Spanish and Valencia, there is a multitude of flavors like:
Honey Roasted
Wasabi
Roasted Garlic
Smokehouse BBQ
Old Bay
Butter Toffee
Savory Dill Pickle
But beyond the deliciousness of peanuts, they are also very nutritionally rich. They are protein-dense and full of fiber. Plus it has an abundance of vitamins and nutrients like:
Potassium
Phosphorus
Magnesium
Vitamin B
For all of us who are peanut lovers and would like to sample all the many different flavors available in the world, a peanut of the month club can help make that happen. Peanut subscriptions might sound funny, but since they have several health benefits signing up for a peanut of the month clubs sounds like a smart decision.
The best peanut club on the list is going to vary based on what you expect. Some clubs just send a pack of the same kind of peanuts each month (for those who have a favorite brand), and some send a variety of nut mixes each month (not only peanuts.
However, what I really liked was the peanut butter of the month club from Amazing Clubs because the focus is shipping a variety of artisanal products to your door each month. I think it's pretty cool that they source craft peanut butter from around the country!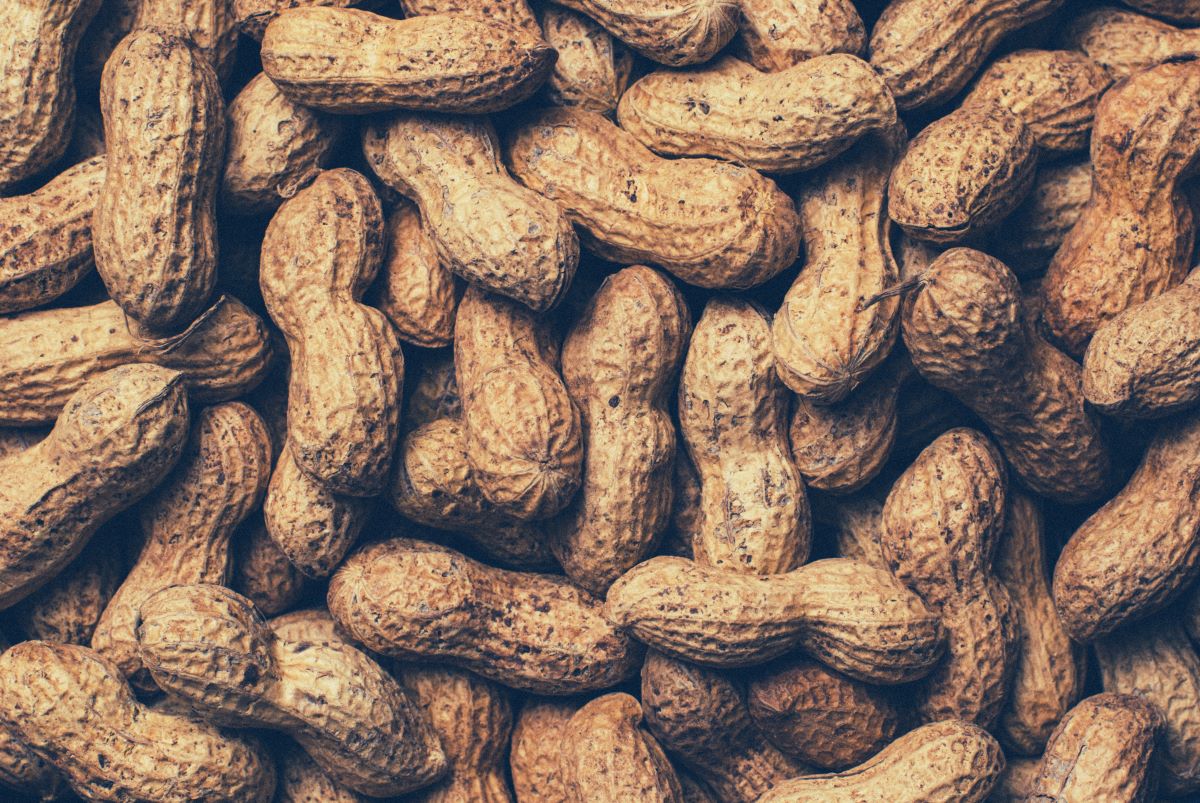 Peanut of the Month Clubs
Whitley's Peanut Factory
Hubs Peanut Club
Feridies
Pacific Beach
Peanut Butter Club
Peanut Gift Baskets
Whitley's Peanut Factory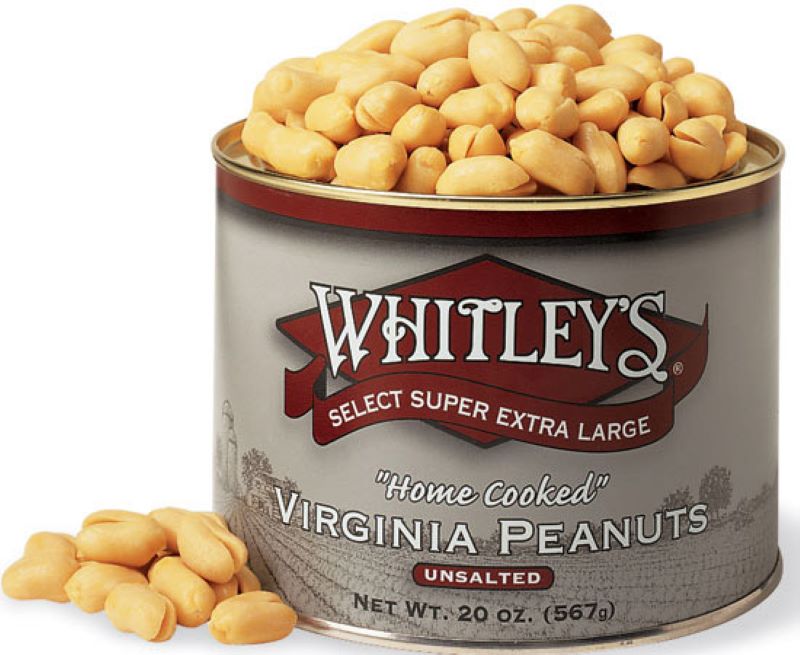 Whitley's Peanut Factory, based out of Virginia, is a local favorite in Virginia homes. Whitley's first opened in 1986 by father and son duo, Marion and Craig Smith.
They started with a small retail shop and factory in Gloucester, VA. However, they soon realized they needed more than one small batch roaster and retail store to meet the needs of the public. They later expanded into Williamsburg, VA, opening another retail store and a new production factory in Hayes, VA.
Now over 30 years later, they own three retail locations and two distribution centers in Virginia. The current president, Todd Smith, continues to grow his family's business successfully.
In addition to plain peanuts, Whitleys also offers a variety of peanut-based snacks:
Chocolate covered Peanuts
Peanut Brittle
Peanut Gift Boxes
Boiled Peanuts
Roasted in a Shell
Peanut Butter
Support Our Troops Tins – Portion of the proceeds go to military troops suffering from brain injuries and psychological trauma
In addition to their wide selection of peanut products, they also offer a peanut of the month club. This membership is the perfect way to try a mix of their products.
There are four club options:
6 Month Variety Club $159.95
12 Month Variety Club $299.45
Club Plan Salted Virginia Peanuts Starts at $85.60
Club Plan Unsalted Virginia Peanuts Starts at $85.60
The Variety Clubs include:
1 – 18 oz – 24 oz canister of peanuts per month
Shipments are every other month for the 6-month club
Regular Ground Free Shipping
Peanuts are delivered the first week of the month

The first shipment will be sent immediately

Unique shipment each month
Snack options included are:

Sea Salt & Black Pepper Peanuts
"HC" Salted Peanuts
Butter Toffee Peanuts
Salted Redskin Peanuts
Peanut Brittle
The Club Plans contain only peanuts of either salted or unsalted peanuts. Options for this club are:
Quarterly, Bi-Monthly, or Monthly
32 oz Tin or 20 oz Tin
Hubs Peanuts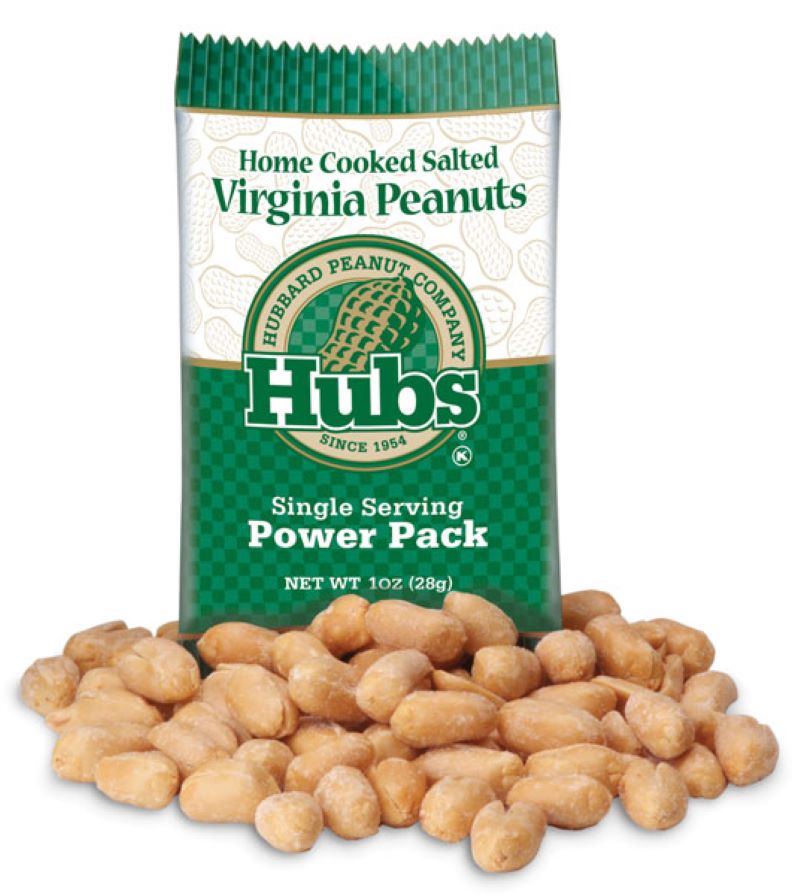 Hubs Peanuts, initially founded by Dot Hubbard in 1954, is still headquartered in Sedley, Virginia. Mrs. Hubbard had initially been a school teacher. But when she opted to stay home and raise her children, Mrs. Hubbard still wanted to have an income.
So, she started cooking peanuts and selling them to friends and family. Soon the word got out, and she was packing and mailing peanuts all over Virginia.
Not long after the start of her business, her husband, HJ, and local engineers created equipment that could help better meet the high demands of the customers.
Over the years, Hubs has continued to expand and now ships their peanuts worldwide, but even global expansion didn't interfere with the high standards originated by Dot. Hubs Peanuts is the oldest Virginia family-owned and operated peanut company.
Hubs' offers a variety of peanut-based products like:
Sweet Heat peanuts
Choco Covered peanuts
Cremes – Chocolate covered peanut butter
Peanut Brittle
Honey Kissed
Peanut Clusters
Raw Peanuts
Red Skin Peanuts
Hubs also has a peanut of the month club membership. There are two primary memberships Salted and Unsalted. Plus, the peanut clubs come in a variety of sizes:
Sedley Peanut Club 20 oz. Cans
Southampton Peanut Club 32 oz. Cans
Virginia Peanut Club 40 oz. Cans
Each subscription has the following delivery options:
Monthly
Bi-Monthly
Quarterly
Feridies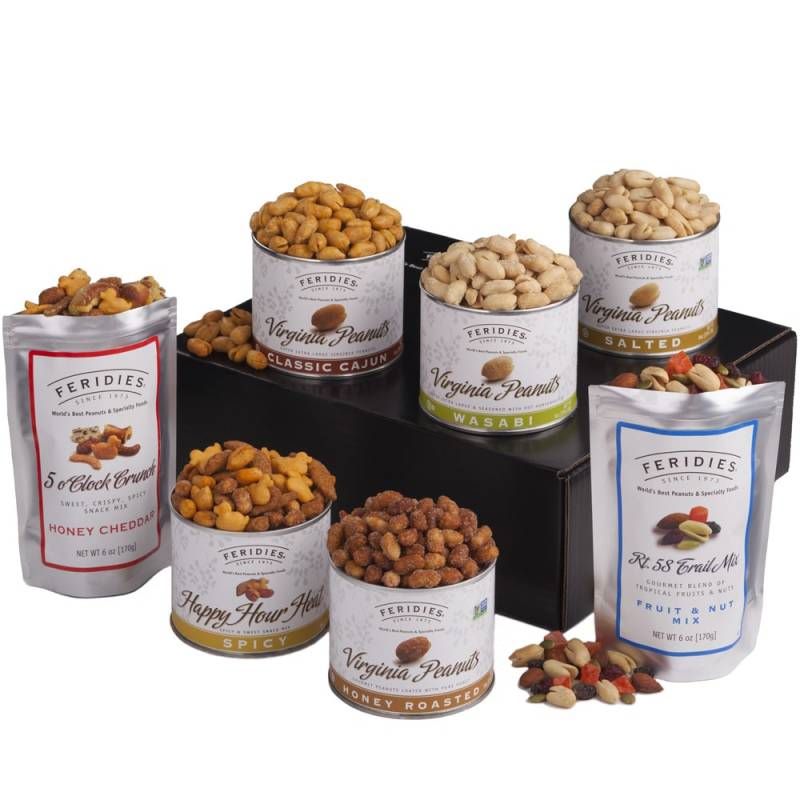 Feridies didn't get its start as a peanut production company. Instead, it got its start in 1973 as the Peanut Patch, a furniture stripping business and boutique-style store. The shop offered everything from antiques to sandwiches and everything in between.
Because the Peanut Patch opened in the heart of peanut country in Virginia, they offered peanuts. However, it wasn't long before they started selling their homemade roasted peanuts. From there, their peanut business exploded and soon was a nationally recognized brand.
It was at that time their peanut business needed its own identity, so they re-branded to Feridies. The name is a combination of the three families' last names that got the peanut company started.
Today, Feridies peanuts are available for purchase online and at retail stores all over the country. Their primary focus is still peanuts, but they offer other products such as:
Various nuts like cashews, pistachios, and almonds
Trail Mix
Peanut Candy
Specialty foods like sweet potato biscuits, ham, and cheese straws
Additionally, they offer five different peanut of the month clubs, which is the perfect way to try a variety of their flavors. The five clubs are:
Variety Club Plans
Salted Peanuts Club Plan
Unsalted Peanuts Club Plan
Redskin Peanuts Club Plan
Cajun Peanuts Club Plan
The Variety Club includes:
9 oz (6 oz. to 11 oz. can) or 18 oz canister (14-16 ounce can depending on the type)
Free Shipping in the US
Variety of flavors like:

5 O'clock Crunch
Milk Chocolate Covered Virginia Peanuts
Honey Roasted Peanuts
Peanut Brittle Crunch
Salted Virginia Peanuts
Redskin Virginia Peanuts
Classic Cajun Virginia Peanuts
Salted Cashews
Cajun Peanuts Club Plan:
18 oz canister
Monthly, Bi-Monthly, or Quarterly
The Salted, Unsalted, and Redskin Peanuts Club Plans:
18 oz or 40 oz canister
Monthly, Bi-Monthly, or Quarterly
Amazing Clubs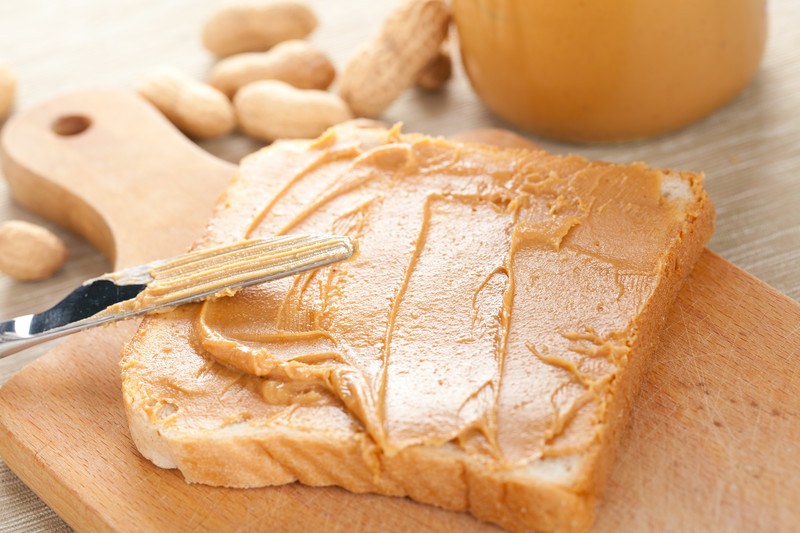 For those of us who prefer peanut butter over peanuts, Amazing Clubs offers a peanut butter of the month club. In fact, Amazing Clubs offers over 40 unique monthly clubs, ranging from anything from food to teddy bears to neckties.
Amazing Clubs started in 2003 when the founder realized there was a lack of premium gift of the month clubs. So, what began as one club, turned into seven clubs the next year, and then continued to expand into the company it is today.
Featured on several TV programs like The Today Show, Good Morning America, and The Early Show, Amazing Clubs soon gained global recognition.
And for the last seven years, they have been voted by a third party the #1 gift of the month club company.
Their peanut butter of the month club sources their peanut butter from boutiques around the nation. The subscription includes:
Two jars of small-batch gourmet peanut butter
Free shipping
Choice of:

3 Months $28.95/Month
Quarterly Deliveries $28.95/Month
6 Months $27.95/Month
12 Months $26.95/Month
Plus, you never have to be concerned if the recipient doesn't love it because the 100% satisfaction guarantee covers each club membership.
Pacific Beach


Pacific Beach peanut butter was started when the founder, Matthew Mulvihill, was out of ingredients to make a PB&J and couldn't find a local sandwich shop that made them. So, Mulvihill came up with the idea of making and selling PB&Js on the beaches in San Diego.
However, he felt it would best if he made his own premium peanut butter. After doing some research on the production of peanut butter, he realized there was a market for flavored peanut butter.
With support from his family, he was able to get his peanut butter dream off the ground. Soon he was selling his flavored PB at farmer's markets, and it didn't take long for his business to take off.
Pacific Beach offers its peanut butter by the jar, 6-pack, gift box, or monthly Subscription.
There are two monthly subscription options:
6 Months $119.99
12 Months $219.99
Each Subscription includes two jars of peanut butter per month. The prices listed above do not include shipping. Some of the flavors that might be included in the peanut butter club are:
Child's Play
Chocolate
White Chocolate
Cinnayum
Signature
Organic Valencia
Butterscotch
But if you are looking for a one time gift, check out one of their PB Lovers gift boxes. Prices range from $24.99-$39.99; this does not include shipping. The gift boxes offer 3-4 jars of peanut butter, and depending on the box may consist of other sundries.
Peanut Gift Baskets
The Peanut Shop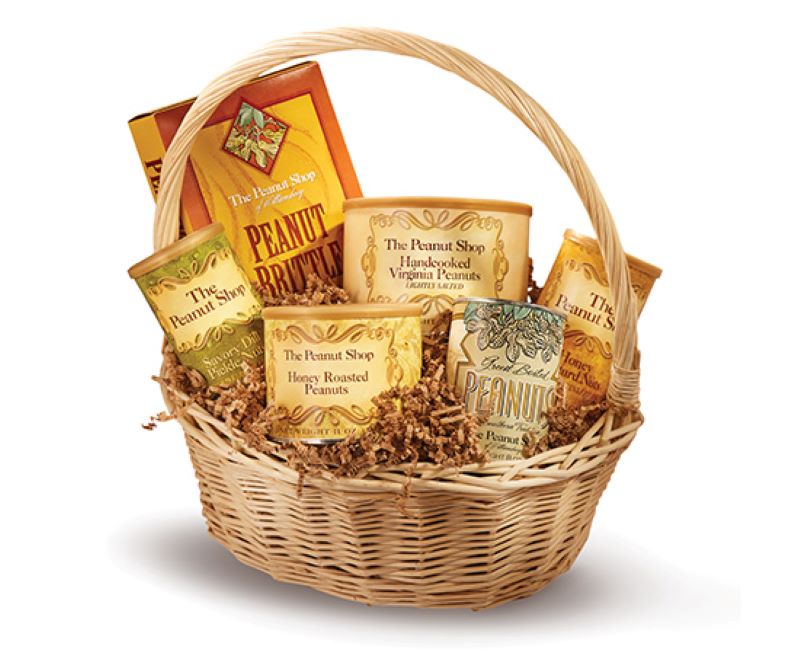 The Peanut Shop, located in Colonial Williamsburg, Virginia, has been roasting peanuts for over 40 years. Their peanuts are all small-batch roasted and never include additives or preservatives.
The Peanut Shop offers a variety of options, including:
Pistachios
Peanut Butter
Nut Brittles
Chocolate Treats
Almonds
Pecans
Candied Nuts
Pet Treats
However, one of their biggest sellers is their gift baskets. They offer several different gift ideas:
Business Gifts
Holiday Tins
Father's Day Gifts
Baskets and Sets
They have three main gift baskets:
Southern Nut Sampler $69.99

Salted Hand cooked Virginia Peanuts
New Orleans Creole Style Peanuts
Crab Town Peanuts
Hot Southern Jalapeno Peanuts
Praline Glazed Georgia Pecan
Honey Toasted Cashews

Peanut Shop Sampler $69.99

Hand prepared Virginia Peanuts Lightly Salted
Honey Roasted Peanuts
Dill Pickle
Honey Mustard
Boiled Peanuts
Peanut Brittle

Chocolate Lover's Sampler $59.99

Double-dipped Milk Chocolate Peanuts
Milk Chocolate Brittle Bites
Milk Chocolate Almonds
Dark Chocolate Cashews
Dark Chocolate Espresso Beans
Two creamy Milk Chocolate Peanut & Caramel Clusters
B. Happy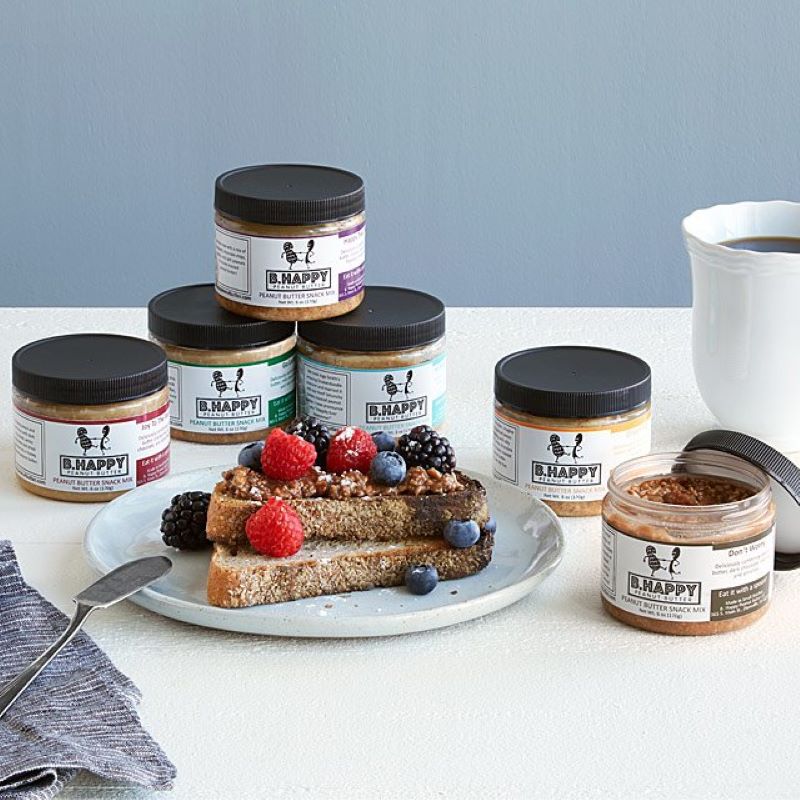 B. Happy, founded by former teacher Kathy Weed, started in April 2013. It began as a lesson to her children on how to run a small business and turned into a peanut butter empire.
This small-batch handmade gourmet peanut butter is produced and shipped from Zionsville, Indiana. Their peanut butter is perfect for any occasion, from wedding favors to birthday gifts.
If you have a peanut butter lover in your life, send them a gift they'll love, a Peanut Butter Sampler. The sampler is sold through a third party, Uncommon Goods. The sampler pack includes:
6 Delicious Flavors

Dream Big – White Chocolate Pretzel
Joy To The World
Happy Trails Mix
Peanut Butter with Coconut, Almonds and Dark Chocolate
Go Lucky – Chocolate Toffee
So Happy Together – Snickerdoodle
However, you can always purchase individual jars and make your own sampler pack too. B. Happy, offers nine flavors in total, so in addition to the above six they also have:
Keep Smunchy
Count Your Blessings – Chocolate Cherry
Pay It Forward – Apples Cinnamon