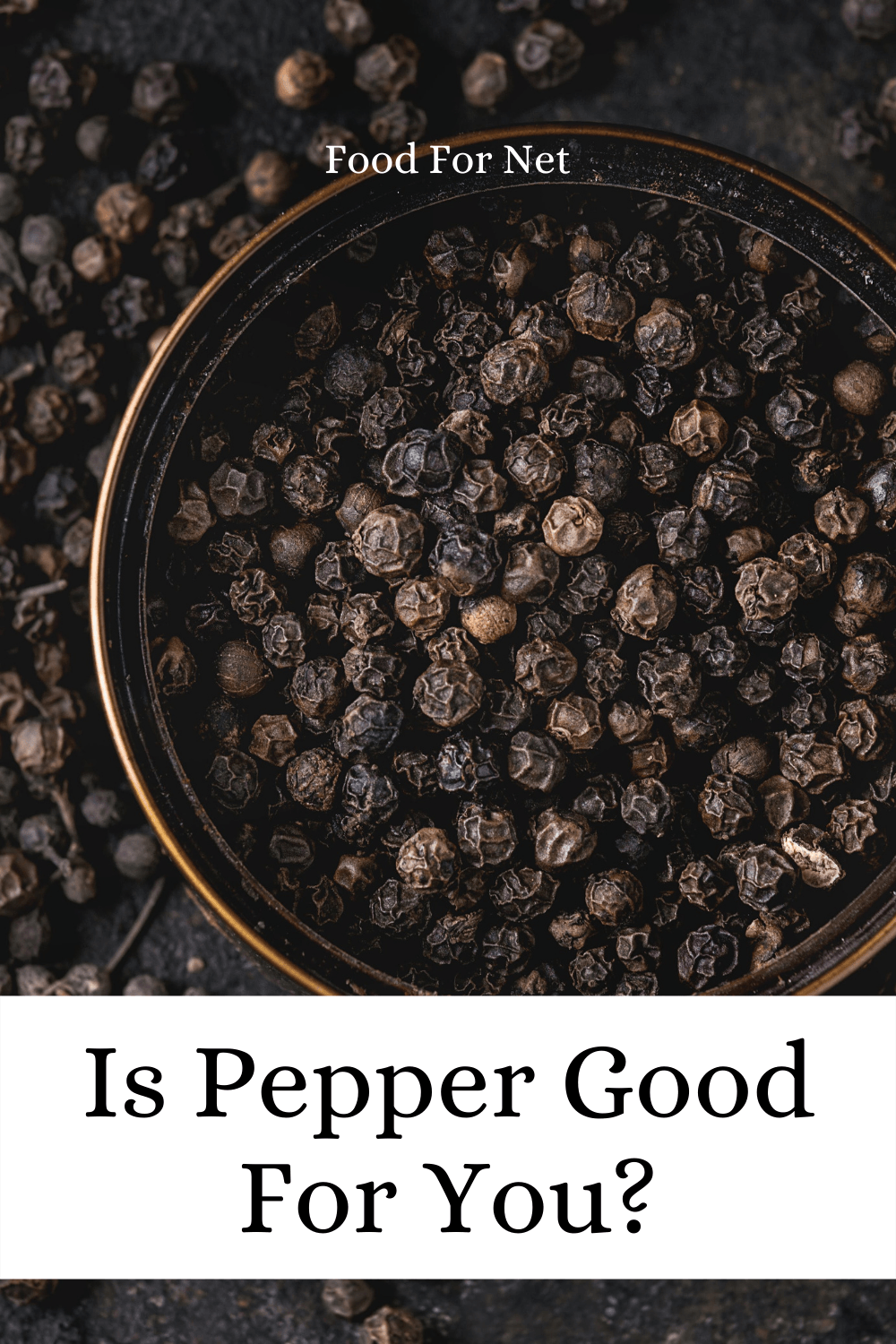 Black pepper, sometimes known as peppercorns, is one of the most popular types of spice, one that has an extremely long history. It was once incredibly valuable and rare. Pepper was even used as currency and was highly sought after.
These days, pepper is much easier to find, but its popularity hasn't really waned. In some ways, pepper is more popular than ever before, as it's so affordable and easy to access.
Much of the popularity, of course, comes from the vibrant flavor that pepper adds to your meals. What about the health effects though? Is pepper good for you? Despite not being seen as a superfood like turmeric, ginger, or matcha powder, pepper has been linked to many benefits, including some unexpected ones.
It's not a spice to take lightly though, as pepper interacts with a surprising number of medications as well.
Is Pepper Good For Your Health?
What Is Pepper?
Benefits Of Pepper
How Pepper Could Be Harmful
Are Peppercorns Related To Peppers?
What About Other Colors?
Are Black Pepper Supplements Useful?
Final Thoughts
What Is Pepper?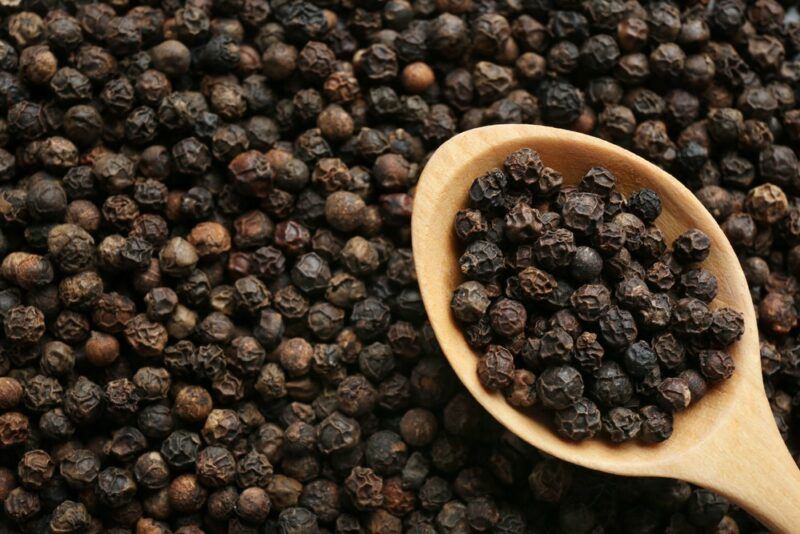 The pepper that we use for seasoning comes from the species Piper nigrum. The small black peppercorns are simply berries from this species that have been allowed to partially ripen and are then dried.
Pepper is popular because it offers a mild spicy flavor, one that makes meals more interesting, without providing the strong kick that you find with hot peppers. Plus, black pepper doesn't increase blood pressure in the way that salt does.
There are other colors too, which we'll talk about later. These provide many of the same benefits but differ in flavor and appearance.
Benefits Of Pepper
Pepper is much more than just a spice. It has been used in Ayurvedic medicine for more than a thousand years – a testament to the spice's role in health.
Even these days, there's plenty of interest in how pepper influences our health, along with many research studies digging into the topic. There have been some fascinating outcomes too.
Has Antioxidant Properties
Antioxidants are always important for your health. They help to decrease oxidative damage from free radicals. In the process, they can decrease our risk of disease as well.
Indeed, if you're not consuming many antioxidants, you might be at risk for increased inflammation, heart disease, and early aging. Not fun, right?
While you can find antioxidants in many fruits and vegetables, black pepper is particularly important because of piperine. This antioxidant isn't just important for decreasing oxidation. It can also help in many other ways.
Can Lower Inflammation Too
One effect of piperine is that it can help to decrease inflammation. Like oxidation, inflammation is a natural process that is essential and offers many benefits. However, both oxidation and inflammation can easily be excessive, at which point we start to experience health problems.
Finding ways to keep inflammation and oxidation in balance can help to protect us and lower the risk of disease.
The anti-inflammatory effects of piperine haven't been studied as much as the antioxidant effects, but they're likely to be significant. Besides, black pepper has plenty else to offer as well.
Improves Absorption of Curcumin and Beta Carotene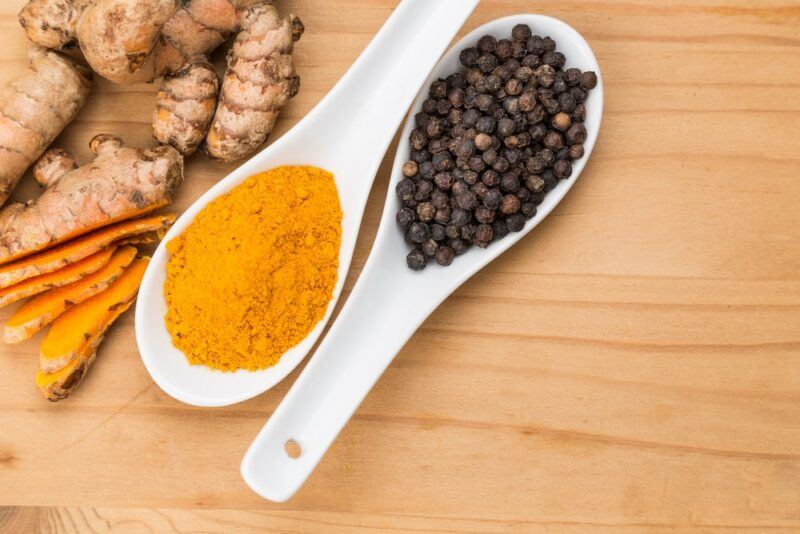 Perhaps the most interesting feature of piperine is that it increases the absorption of some compounds – particularly curcumin and beta carotene. Curcumin is particularly exciting here, as this is the active compound in turmeric, the one responsible for most of the benefits of that spice.
The relationship between curcumin and piperine is so significant that many turmeric supplements include piperine to help maximize absorption. If you're using turmeric in your diet instead, pairing it with pepper can help you to get the most benefits.
Curries are a fantastic way to do this, as many already use turmeric and pepper as ingredients. You'll also see turmeric and black pepper feature together in various healthy drinks, like turmeric lattes.
The effect of piperine on beta carotene is important too. Beta carotene is an antioxidant that is converted into vitamin A. Using a spice like black pepper or ginger at the same time may increase this conversion rate, giving you more vitamin A. 
Could Help With Digestion
Pepper has some interesting impacts on digestion too, helping to stimulate hydrochloric acid in your stomach and promote digestive enzyme release, which then improves your ability to digest foods.
Surprising as it may seem, some of the compounds can decrease gas and discomfort. This means that pepper might actually reduce symptoms and strengthen your digestive system, even for people with sensitive digestive systems. Indeed, pepper has even been linked to decreased diarrhea
Pepper can also help to slow down the digestion of your foods. This effect helps you to feel full for longer and gives your body more time to extract nutrients from your food.
Has A Long History Of Safe Use
Black pepper doesn't just have a long history. It's also used regularly, with some of us including some pepper in almost every dish we prepare. We might even add it as seasoning too.
This history, combined with all the research into black pepper benefits, confirms that pepper is indeed a safe ingredient. If there were any serious issues, we'd know about them by now. Instead, the research keeps showing benefit after benefit.
Provides Flavor Without Raising Blood Pressure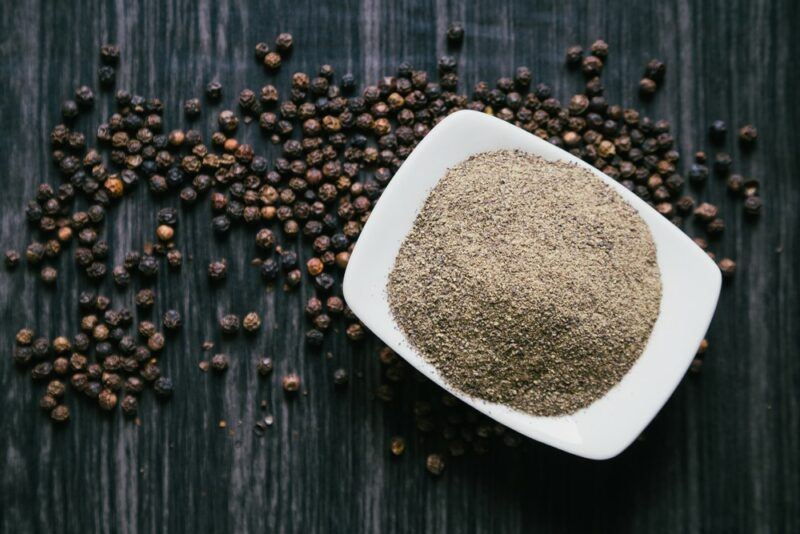 Black pepper has a fantastic flavor that enhances many dishes. It's also a fantastic choice because, unlike salt, black pepper won't raise blood pressure levels.
You can easily create healthy and delicious meals by relying on black pepper and a variety of spices, without adding any salt at all. This is perfect for anyone who needs to follow a low sodium diet.
Here's another cool thing – black pepper is low in FODMAPs, making it useful on low FODMAP diets too.
This ability to add flavor shouldn't be underestimated. Making healthy food taste good is critical for helping us to enjoy it, which then reduces the risk that we'll turn to unhealthy snacks instead.
May Decrease Heart Disease Risk
Animal research suggests a link between compounds in black pepper and decreased cholesterol levels. This effect is relevant for your heart health, as high cholesterol levels are a risk factor for heart disease.
Most of the research for this topic has been conducted on animals, not humans, so there are still gaps in our knowledge. However, we do know that pepper acts as an antioxidant and that antioxidants can help with heart health, so the chance for black pepper to help with heart health isn't surprising at all.
Might Help With Cancer Risk
A similar pattern is true for cancer risk as well, as animal studies suggest that pepper could help to lower cancer risk. This effect may not be true for humans or may require higher levels of piperine than we find in black pepper itself. Still, the potential is interesting and is another reason to consume black pepper regularly.
Provides Some Nutrients
Black pepper isn't an amazing source of nutrients, but you do get some. Manganese, vitamin K, and iron are the most significant, while there are smaller amounts of potassium, calcium, copper, and vitamin C.
The biggest issue is that you're normally using tiny amounts of black pepper at a time, so you're not going to be getting that many nutrients per serving. Still, the nutrient content does add up, especially if you're using black pepper in most recipes and also have a pepper grinder on your table. 
How Pepper Could Be Harmful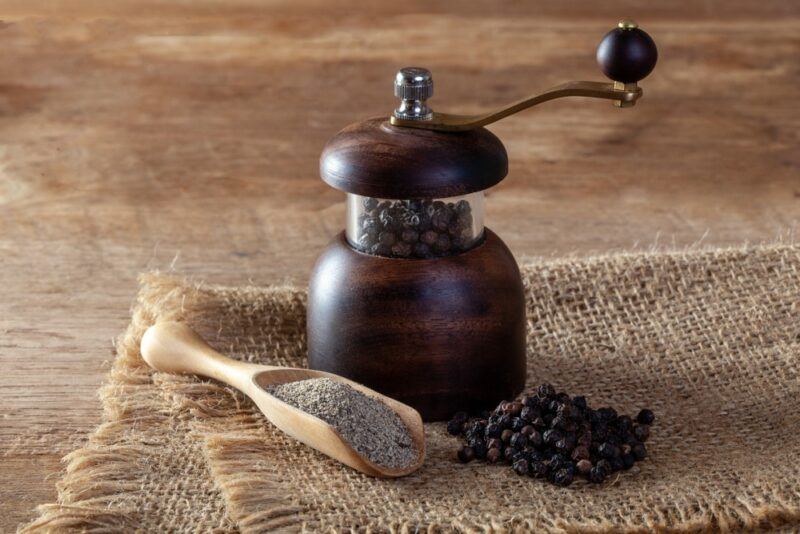 Could Interact With Some Medications
Perhaps the biggest problem with black pepper is that it interacts with a variety of medications, influencing the way that they are absorbed by the body. Such interactions can easily lead to too much or too little of a given medication in your bloodstream and could even be dangerous.
Medications for diabetes and blood clotting are relevant here, along with the medications propranolol, cyclosporine, and many others.
These interactions may not be a big problem if you're using black pepper for seasoning meals and nothing more (although, it's still worth talking to your doctor about potential interactions first).
The interactions become a much bigger issue if you're using large amounts of black pepper or are taking black pepper in a supplement. So please, always talk to your doctor about supplements, particularly if you have a serious health condition or are taking medication.
Can Cause Side Effects
Even if you're not taking medication, black pepper can cause side effects, particularly if you consume large amounts. This includes stomach cramps and a burning sensation in your throat.
However, there's nothing unusual about these effects. You'll find something similar for most other herbs and spices. Such effects are a reminder to keep your portions reasonable.
Research Into Large Doses Is Limited
For that matter, there isn't much information about large doses of black pepper, particularly not over extended periods of time. For example, having multiple black pepper turmeric lattes in a day, while also using black pepper in your cooking could easily be too much.
Paying close attention to how your body reacts can help you work out how much black pepper is safe for you. If you start to experience side effects regularly, it might be time to cut back.
Are Peppercorns Related To Peppers?
When talking about pepper, there's an automatic comparison between peppercorns and the bright peppers that we use as ingredients, including sweet bell peppers, spicy jalapenos, and many other types.
Despite having the same name, there's barely any relation between peppercorns and fresh pepper. The two ingredients don't even come from the same genus. Not surprisingly, then, the health impacts are vastly different as well.
What About Other Colors?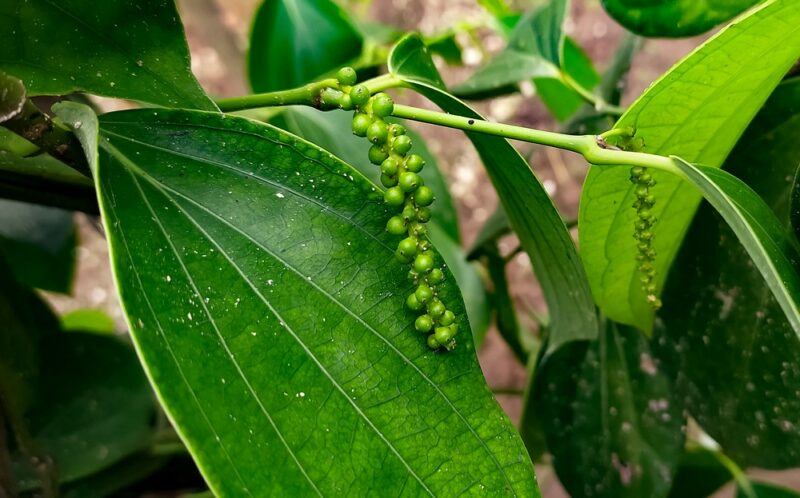 We've been focusing on black pepper, but this isn't your only option. You can also find white, red, and green peppercorns. The green, white, and black forms all come from the species Piper nigrum. The color differences come from when the pepper is harvested.
Green peppercorns are produced by harvesting the peppercorn very early on, when the fruit is nowhere near being ripe.
Black pepper is harvested later, when the fruit has started to become red. After drying, the color changes to create the black pepper that we're so familiar with. 
White pepper isn't harvested until the fruit has ripened all the way. The fruit is red at this stage, but the outer coating is then removed to give you a white peppercorn.
Finally, there are red peppercorns (not to be confused with flakes of red pepper or cayenne pepper). Red peppercorns don't come from the Piper nigrum species at all. They're often from the plant Schinus mole instead.
Because black, green, and white peppercorns all come from the same plant, they should offer similar benefits to one another. This isn't true for red peppercorns.
That said, black and white peppercorns do taste different. Black pepper tends to be spicier, while white pepper is milder and has a more complex flavor profile. This is why white pepper often features in sauces when you want a smoother flavor.
Are Black Pepper Supplements Useful?
The benefits and risks we've talked about so far are related to using black pepper as a spice. However, some people turn to black pepper supplements instead. Some of these rely on black pepper itself, while others use an extract that's high in piperine.
Such supplements mean you're getting more beneficial compounds per serving, which could lead to more health benefits as well.
There are a few problems though.
First, black pepper supplements aren't nearly as safe as black pepper itself. They don't have the same long history of use and they haven't been researched as heavily. Plus, studies tend to use different types of supplements and different doses, making it very difficult to work out the best type and amount for your health.  
Second, supplements are notoriously under-regulated. You don't really know whether the claims on the label match the product at all. Some companies take numerous shortcuts, enduing up with an inferior product.
Finally, the increased concentration of black pepper supplements may mean that any pepper side effects become more pronounced, including interactions with medication. Anyone using such supplements should pay close attention to how their body responds to make sure there are no significant side effects.
Collectively, these risks make black pepper supplements a poor choice. You'll get plenty of benefits by focusing on black pepper as a spice, while also keeping your risk low.
Final Thoughts
The list of benefits for black pepper is seriously amazing, especially for an ingredient that's inexpensive and easy to find. Increasing your pepper intake is as simple as using it more as an ingredient or experimenting with turmeric lattes.
Even so, it's important to be wise when using black pepper, as the spice isn't benign at all. The spice interacts with an incredible number of medications and some of those reactions can have serious impacts on your health.
If you plan to increase your black pepper intake, it's best to do so slowly. This gives your body the time it needs to adjust and should reduce the risk of side effects. Pay close attention to how your body reacts as well, then talk to your doctor if any reactions concern you.
Frequently Asked Questions
Does Pepper Expire?
Black pepper generally doesn't go moldy and won't make you sick. However, the flavor of the spice does decrease over time. For ground pepper, you'll get around two years where it tastes good, while whole peppercorns last three to four years instead.
After this point it's normally best to throw the pepper out and start again. Continuing to use it won't cause you any harm, but you won't be getting much flavor either.
Is Black Pepper Spicy?
Black pepper has a sharp, distinctive, and hot taste, especially when you use a large amount of it. This flavor comes from the compound piperine, which is also an antioxidant and has been associated with a variety of benefits.
That said, the spiciness of black pepper isn't the same intensity as hot peppers, like jalapenos. So, people sensitive to the heat of peppers might still be able to eat black pepper regularly.
Does Pepper Dissolve In Water?
While salt dissolves in water, pepper doesn't dissolve at all. It will still mix into water though.
Is Pepper Good For Weight Loss?
The piperine in black pepper could theoretically boost metabolism a little and perhaps even decrease the amount of fat you put on. However, such effects tend to be very small, so they won't revolutionize your weight loss journey.
While you could try black pepper supplements, the best approach is to simply add black pepper to your meals. Doing so gives you plenty of benefits and the pepper will complement your meals anyway.
Does Pepper Contain Sodium?
Black pepper doesn't contain any sodium at all. So, if you're on a low sodium diet you can still enjoy back pepper (just not salt).