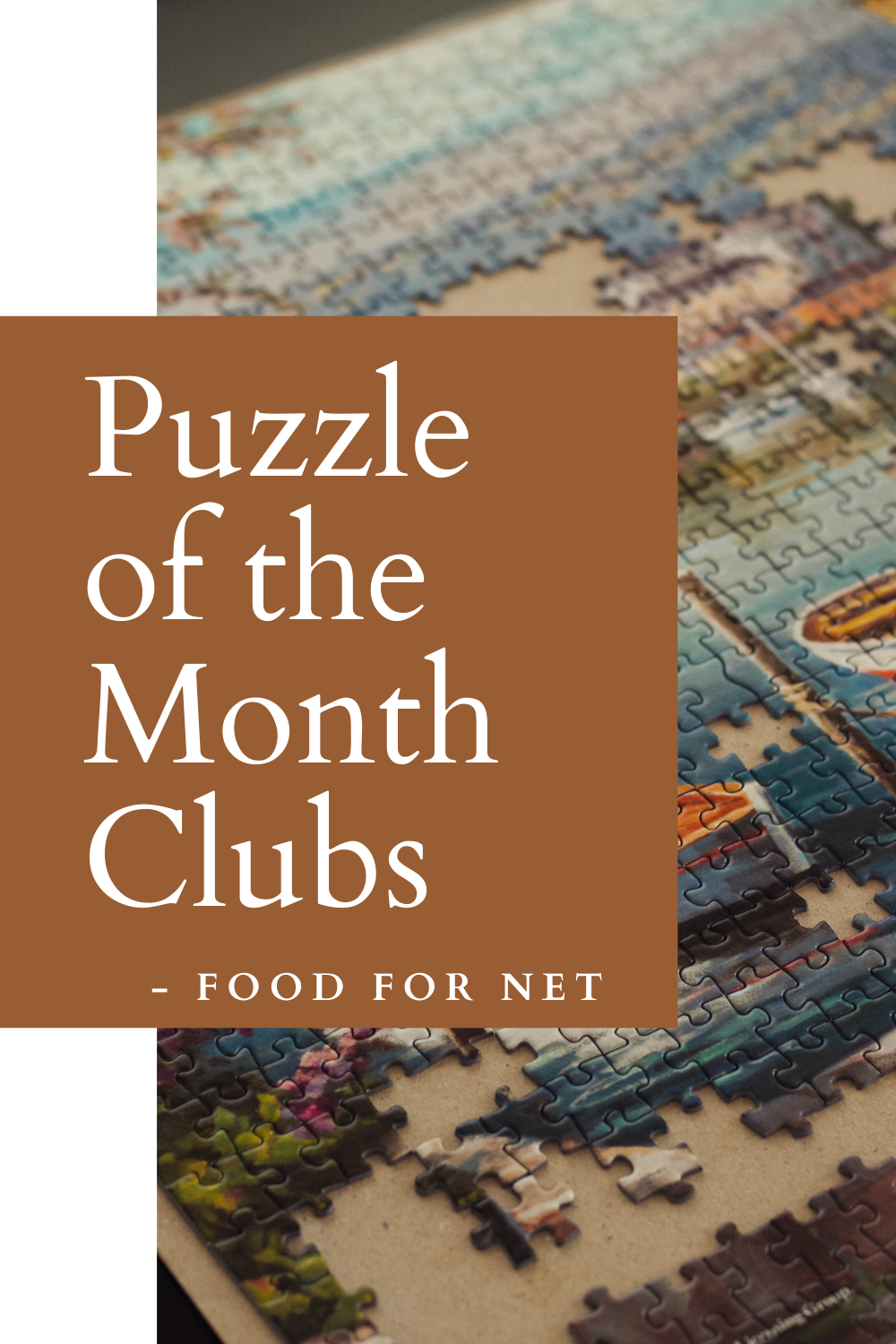 With more people staying home in 2020, there has been an upsurge in puzzle sales. Puzzles are a great way to spend time with family and provide hours of entertainment at a reasonable price. Puzzle of the month clubs provide you with regular puzzles that you can enjoy.
Puzzles have a long history dating back to 1767 when John Spilsbury of London created the first puzzle out of a map of Europe, designed for children. The idea was to market this puzzle map to aristocracy to help teach their children their geography. However, it didn't take long before the puzzles' subject transformed to include nursery rhymes and fairy tales.
Soon puzzles became a favored pastime for adults too. And by the early 1900s, puzzle fever hit the US. At the time, puzzles were still cut out of wood. Because puzzles were handmade, they were far more expensive than today, making them only a favorite pastime for the wealthy. Because puzzles were frequently seen at get-togethers on the weekend, puzzle sales went through the roof on Saturday mornings.
And puzzles were far more challenging back then than today, with a lack of transition pieces, no interlocking pieces, and no guide picture. Often puzzles were sold in a nondescript box with a title that could be vague or misleading, adding to the puzzle's difficulty.
By 1909, Parker Brothers had joined the puzzle-making business, and because puzzle sales were so high, they stopped making games and devoted all of their efforts to puzzle production. And Parker Brothers was not the only puzzle maker taking advantage of the puzzle craze; their biggest competitor was Pastimes.
Finally, by the early 1900s puzzle companies introduced interlocking peices.
Though the first die-cut puzzle was invented in 1890, this type of puzzle was not brought to mass production until the early 20th century, which proved to be a pivotal moment in puzzle history. The advent of die-cut cardboard puzzles allowed for mass production and more economical pricing.
These new die-cut cardboard puzzles brought life back to the puzzle industry. They became so popular that in 1932 weekly jigsaw puzzles were invented. Every Wednesday and new jigsaw puzzle was released, and it wasn't long before several puzzle companies joined the bandwagon, including B-Witching Weekly, Jiggers Weekly, and Picture Puzzle Weekly.
So it is no wonder that today in 2020, there are several puzzle of the month subscription boxes. Puzzle of the month clubs are the perfect gift for any puzzle enthusiasts.
They're not the only entertaining subscription box out there either. You can turn to book clubs, craft subscription boxes, or even ones for adult coloring books too.

Puzzle of the Month Clubs
Puzzle Warehouse

Puzzle Warehouse has the largest jigsaw puzzle selection in the country. However, they carry much more than just jigsaw puzzles. Puzzle Warehouse also carries brain teaser puzzle boxes, 3D puzzles, games, and puzzle accessories like puzzle preserver.
The jigsaw puzzles they offer come in various sizes, from small ones for beginners that are 100 pieces up to extremely difficult puzzles that have 6,000 or more pieces. They have many different themes available, including nature, fine art, landscapes, animals, hobbies, and cartoon puzzles. Also, they carry the top puzzle brands such as Sunsout, Cobble Hill, Buffalo Games, and Ravensburger.
If you're looking for the perfect gift for a puzzle enthusiast, you can purchase either a gift card or a puzzle of the month subscription. The puzzle of the month club is not just a great gift; the puzzles are also perfect for family time.
Puzzle of the month clubs start at $19.99 a month and are available in three different puzzle difficulties 300 pieces, 500 pieces, or 1,000 piece puzzles. Plus, there are three puzzle of the month subscription box durations to choose from monthly, bimonthly, or six months bimonthly.
For the bimonthly puzzle club memberships, recipients will receive two puzzles every other month. And for the monthly puzzle subscription, the member will receive one puzzle each month.
Before receiving your new puzzle, you will get an email notifying you of that month's puzzle choice. The Puzzle Warehouse allows its members to swap the upcoming puzzle if it's not one that you are interested in.
To swap out your puzzle, you can either contact them by phone or log into your online account to make the changes.
Mary Maxim

Mary Maxim is an online craft store. They carry everything any crafter could need, including knitting and crocheting materials, patterns, apparel, gift ideas, and puzzles.
Mary Maxim also carries a variety of different puzzles, which come in many themes such as animals, country scenes, seasonal, holiday, and landscape images. In addition to their puzzles, they also offer puzzle accessories such as puzzle tables and easels.
And Mary Maxim has a variety of monthly clubs such as plastic canvas club, quarterly knit afghan club, crochet club, and the puzzle of the month club.
The puzzle of the month club comes in three difficulties 300 pieces, 500 pieces, and 1000-piece puzzles. The puzzle subscription box is a month-to-month flexible membership and can be canceled or paused anytime. The first month is $9.99, with each following month billed at $14.99. These prices do not include shipping.
Each month the recipient will be sent two puzzles. The puzzle subscription boxes ship out on the 10th of each month. If, for whatever reason you are unhappy with the puzzle you received, you can return it unopened within six months.
Puzzle Subscription Box

The name says it all. The Puzzle Subscription Box is just that, a company focuses on shipping fun puzzles directly to your door. The Puzzle Subscription Box strives to make puzzle nights easier.
The Puzzle Subscription Box offers two different types of subscription boxes monthly or quarterly. All puzzle subscription boxes include a 1,000 piece puzzle, which is hand-selected by an expert puzzle curator.
The puzzles offered by the puzzle subscription box include puzzles from the top puzzle companies in the nation. Some of the puzzles in your monthly subscription will include images of animals, nature, landscape, famous artwork, and gradient color puzzles.
After signing up for the puzzle of the month club, your first puzzle will ship out in one to three days. After that, your puzzle ship out on the same date of the following month or quarter, depending upon which membership you chose.
All subscription boxes are flexible and can be canceled or paused anytime. Subscription boxes cost $24.95 per month or per quarter. Shipping is included in all domestic memberships but not on international orders.
Stave Puzzles

Stave Puzzles founded in 1974 by Steve Richardson offers beautifully created wooden puzzles. These high-end puzzles are some of the most challenging puzzles found in the world.
The puzzles created by Stave Puzzles are not only unique in design, but no two puzzles or puzzle pieces are the same. Each of these handcrafted puzzles is cut one piece at a time by a skilled craftsperson; no computer programs or mass production equipment is used.
When you purchase a Stave puzzle you can expect heirloom quality and design sure to delight any puzzle enthusiast. And when finished, each puzzle is carefully packed in an embossed blue and green box.
Though they create traditional jigsaw puzzles, they are best known for their premium puzzles such as:
Multi-puzzle – Multiple puzzles that come together as one, such as The Paris Set, five 3D puzzles in one set
Two Solution Puzzles – These puzzles can be put together two different ways, like the Wishful Thinking Genie in a Bottle puzzle
Custom Puzzles – Personalized puzzles you can make your own, like the 3D puzzle League of Your Own, where you choose the teams and score of the game
Tormenters – The extreme challenge puzzle, with overlapping pieces that creates a 3D design like the Ring of Fire
Though some of their puzzles do have the traditional borders of a rectangle or square, many of these puzzles do not and instead take on the shape of the image. Additionally, several of the more challenging puzzles include empty space as part of the design, adding to the puzzle's overall difficulty.
If you think you are up to a challenge for a Stave Puzzle or know someone who is, the best way to experience a myriad of their puzzles is to sign up for their puzzle of the month club. They have two different puzzle of the month club options, Trick Collection and the Teaser Collection.
Trick collection:
3 month club $2,795
6 month club $4,595
12 month club $7,495
Teaser collection:
3 month club $1,195
6 months club $1,995
12 month club $3,795
The Jigsaw Junction

The Jigsaw Junction is an online puzzle store that offers a variety of puzzle types, including jigsaw puzzles, brain teaser box puzzles, escape room puzzles, 3D puzzles, and a variety of puzzles like games. Jigsaw Junction offers puzzles for all ages, from kids to adults.
Although you are welcome to purchase any puzzle individually Jigsaw Junction does offer three puzzle of the month clubs. The benefit of signing up for a puzzle subscription box with Jigsaw Junction is that they take on the work of scouring their store looking for the perfect puzzle.
Jigsaw Junction handpicks each puzzle based upon your preferences and ships it conveniently to your door each month. The three puzzle of the month subscriptions available are:
Novice: $24 for one puzzle per month
Pro: $34 for two puzzles per month
Master: $44 for three puzzles per month
All of the puzzle clubs include a surprise gift and free shipping. Jigsaw Junction tracks which puzzles they send you to avoid sending you duplicates.
All three clubs come in three different durations options month-to-month, three months, and six months. After choosing your subscription term, you will be asked a few questions for your puzzler profile.
Some of the questions include what size puzzles you are looking for, the puzzle's difficulty, the style of puzzles you enjoy, preferred designs, and any puzzle types you wish to exclude. This helps the curators at Jigsaw Junction select the perfect puzzle for you.
If for some reason, you are unhappy with the puzzle you received that month, you are welcome to return it as long as you have not opened it yet.
All of the puzzle subscriptions are flexible and can be canceled anytime.
Wooden Jigsaw Puzzles

Artifact Puzzles was founded in 2009 and is located in Menlo Park, California. Artifact Puzzles create wooden artisanal laser-cut jigsaw puzzles. They offer two different puzzle types the glossy line and their ecru line; the ecru line is a matte finish puzzle designed to be displayed.
All of their puzzles are designed with soy-based ink and environmentally friendly plywood. Plus, the puzzles are created in-house by Artifact Puzzles' artists. Each image is carefully designed to be charming and challenging.
Artifact puzzle offers various puzzles, including mystery puzzles, 3D puzzles, double-sided, and irregular edge puzzles. Plus, their puzzles are available in a variety of difficulty levels.
You can purchase their individual puzzles online or you can sign up for their puzzle of the month club. Their puzzle of the month club is like no other. This subscription allows its members to borrow as many puzzles as they would like over the course of the subscription length.
Though you do not get to keep each puzzle, you do have the opportunity to work on multiple puzzles each month, without the high price tag associated with wood puzzles.
The Artifact Puzzle subscription library has more than 400 puzzles to choose from.
The Artifact Puzzle subscriptions come in two duration terms: 6 months for $195 or 12 months for $360. Those prices don't include shipping.
Buffalo Games & Puzzles

Buffalo Games is a big player in the game and puzzle industry. They sell many different puzzles, which you can order individually. Or, you can sign up for their monthly subscription box.
You get your first puzzle shortly after you sign up. After that, puzzles are sent to you on the 15th of each month. Before that, at the start of the month, you're sent an email with details of the chosen puzzle for the month and two alternates. You can choose which puzzle you want. If you don't respond to the email, then you receive the puzzle that was initially chosen.
There are three sizes to choose from for this subscription:
300/500 pieces: $78 for a 6-month subscription or $156 for a 12-month
750/1000 pieces: $84 for a 6-month subscription or $168 for a 12-month
2000 pieces: $96 for a 6-month subscription or $192 for a 12-month
Unusually, there are no month-to-month subscriptions with Buffalo Games. You need to sign up for at least 6 months to join one of their clubs.