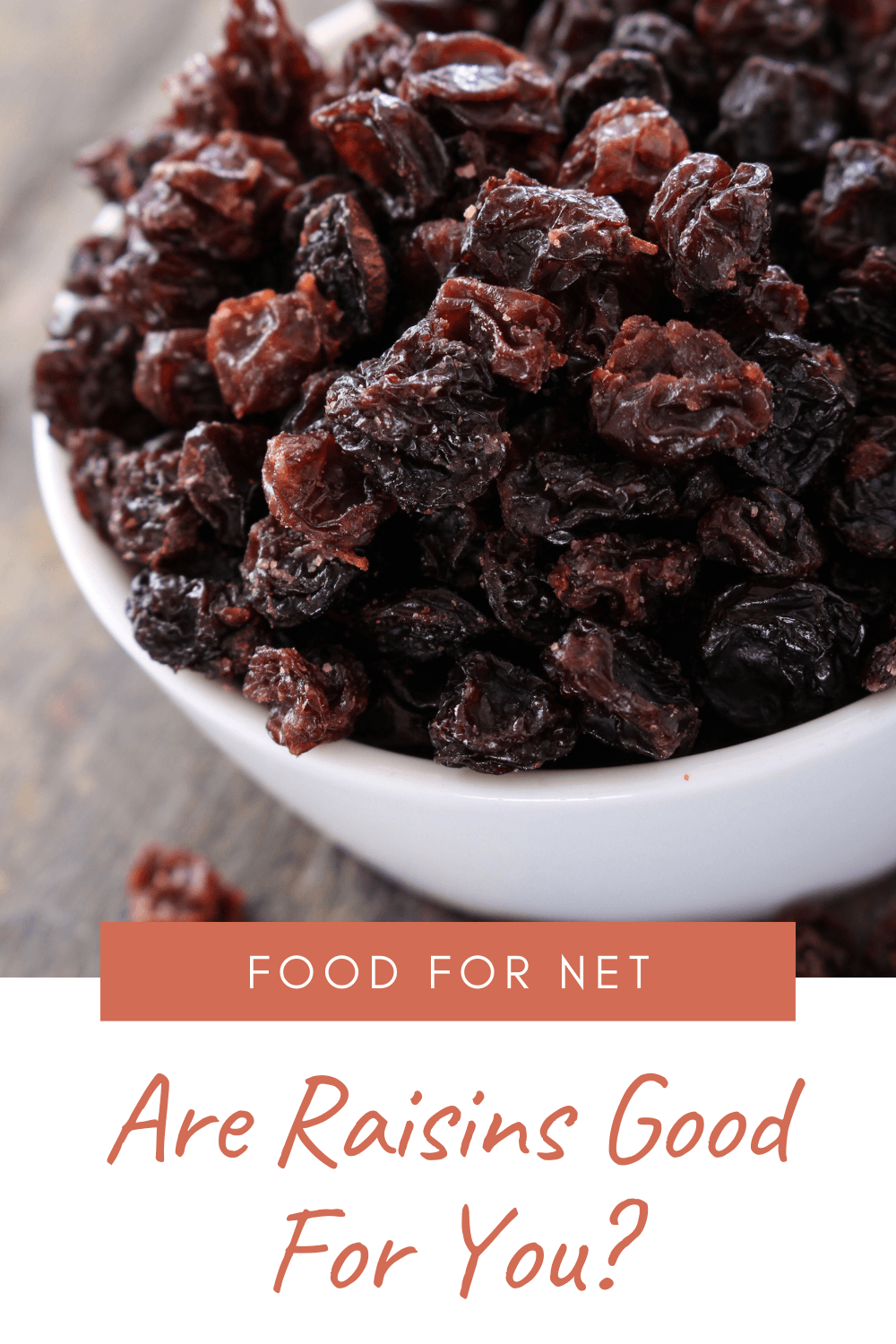 Raisins are an interesting snack. They're often seen as being healthy or at least as healthier than treats like candy. They're also a fantastic ingredient in baking, providing plenty of sweetness without the need for refined sugar. So then, are raisins good for you? Could they be used as a way to improve your health?
The answer to this question partly comes down to interpretation. What makes a given food healthy versus not?
At Food For Net, we look at the balance of positive and negative features – because each food has some of both. Understanding both perspectives can help you to make wise decisions about your diet.
After all, it's not the individual foods you eat that define your health, but your overall diet and lifestyle. The goal is to get all the vitamins, minerals, antioxidants, protein, fiber, and other compounds that your body needs, without going overboard on any of them.
Doing so doesn't need to be difficult. It's often simply a matter of focusing on healthy nutrient dense foods and avoiding processed ingredients as much as you can.
Are Raisins Good For You?
What Are Raisins Anyway?
Benefits Of Raisins
How Raisins Can Be Harmful
How Many Raisins Should You Eat?
Why Might You Soak Raisins?
Is Raisin Water Healthy?
Are Raisins Healthier Than Grapes?
Can Raisins Help You Lose Weight?
Final Thoughts
What Are Raisins Anyway?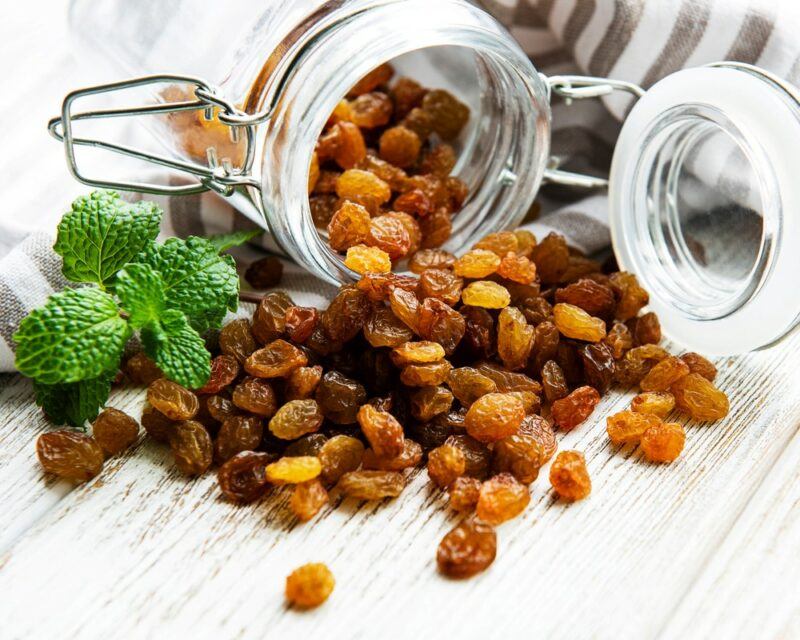 Raisins are simply dried grapes. However, the term can get a little confusing, as it's used in slightly different ways depending on where you are.
In particular, you'll find raisins, sultanas, and currants, which are all technically a type of dried grape.
Raisins: These are dried white fleshed grapes. The grapes used typically have green skin, which darkens as the grapes dry, to create dark-colored raisins with an intense sweet flavor and small seeds.
Sultanas: These dried grapes are typically made using seedless grapes with pale yellow skins. This time the skin doesn't darken during drying, creating a light-colored treat. Sultanas absorb liquid more easily than raisins. They're also a little sweeter and are smaller.
Zante Currants: These currants, also called dried currants, are different than the fresh currant fruit. They're not really currants at all. Instead, they're dried versions of tiny grapes, including black Corinth and carina varieties. These have an intense flavor, with a balance of tangy and sweet.
If you're in the United States, then you'll probably use the term raisin for both raisins and sultanas. The types may be distinguished by calling the latter golden raisins.
Despite their differences in appearance and flavor, these three types of dried fruit are all made from grapes using similar processes, so their nutritional profile ends up being similar as well.
For the purposes of this discussion, we're focusing on dark-skinned raisins. However, all of the risks and benefits that we're highlighting apply to sultanas and even to zante currants as well.
Benefits Of Raisins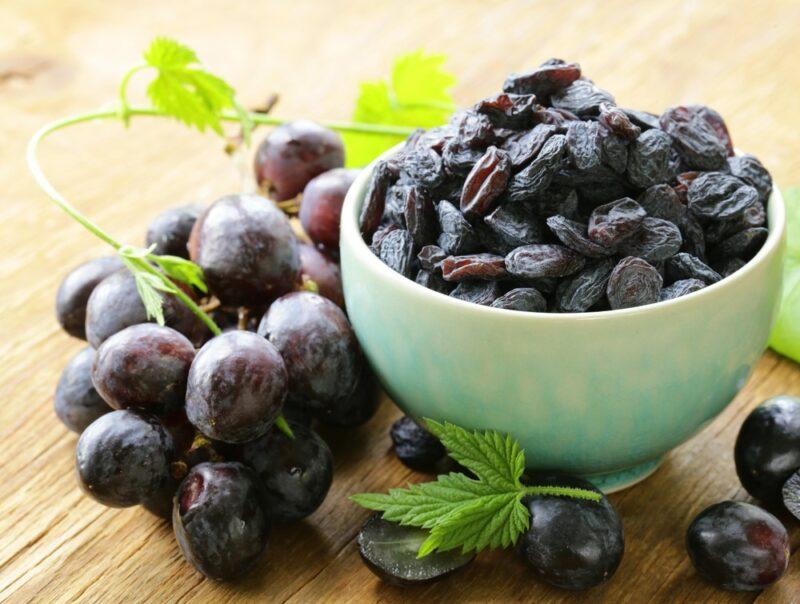 A Decent Source Of Iron
Raisins are a surprisingly decent source of iron. You actually get close to 25% of your daily iron intake from a single cup of raisins. Even a handful of raisins could be an easy way to boost your iron intake.
Doing so matters, as iron plays vital roles throughout our bodies, including playing a critical role in oxygen transport. Yet, despite the importance of the mineral, iron deficiency is also surprisingly common, even in the United States.
Getting enough iron can be particularly difficult for anyone following a plant based diet. So, why not use raisins as a way to boost your iron intake?
Provides Other Nutrients Too
Of course, iron isn't the only nutrient that you'll find in raisins. There are other important ones as well, including copper, magnesium, folate, zinc, and selenium. The amounts of each nutrient can vary from product to product, due to differences in the grapes used and the processing methods.
Nutrients mightn't sound that exciting, as there are some in all of the foods we eat. Even so, they're not something to take lightly. Our bodies need a wide range of vitamins and minerals to function optimally. We can't make these ourselves, so they must come from our diet.
The vitamins and minerals in raisins all contribute to our nutritional needs. This could even mean that raisins indirectly help to decrease your risk of some diseases.
Promote Healthy Digestion
Raisins are a decent source of fiber, including soluble and insoluble types. Both types of fiber help with your digestion, increasing the volume of your stool and allowing it to pass more easily.
That's not all. Getting enough fiber helps to decrease your cholesterol levels too, promotes weight loss, and helps with your blood sugar levels.
There's also the fact that it's easy to miss out on fiber. Many of us aren't getting enough of this macronutrient, perhaps because we're eating too much processed food and not enough vegetables.
You get roughly 2 grams of fiber per ounce of seeded raisins, less if the raisins don't contain seeds. Still, even seedless raisins give you some fiber and every little bit helps. The digestion effect is likely to be even stronger if you're consuming something like Raisin Bran, which offers whole grains and is designed to be high in fiber.
Offer A Decent Amount Of Antioxidants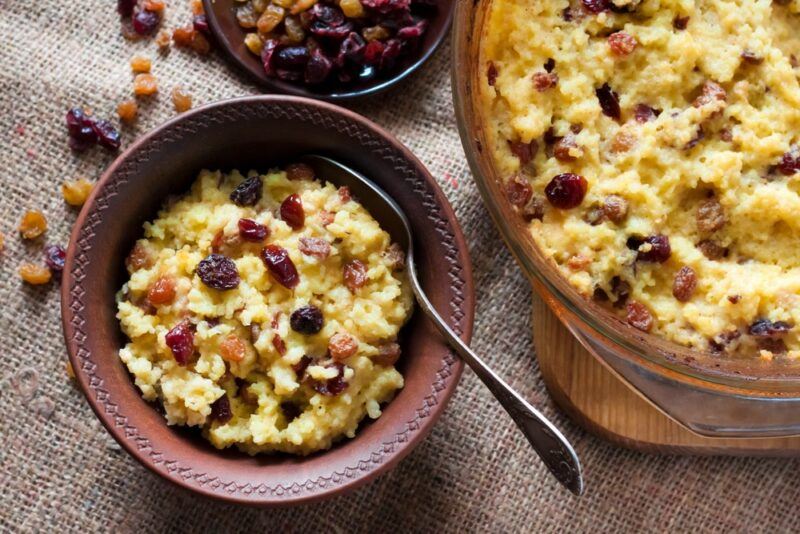 You've heard about antioxidants, right? They're pretty famous these days and are very relevant for your health.
They matter because they target free radicals in your body, preventing them from causing oxidative damage. By doing so, antioxidants help to lower your risk of disease and keep you healthy for longer.
Raisins are important here, as they offer some of the same antioxidants found in grapes and grape juice.
A Heart Healthy Food
The antioxidants we talked about earlier are very relevant to your heart health. By reducing levels of oxidation and inflammation, they may notably lower your risk of heart disease. Perhaps the most powerful effect is the potential to protect against LDL oxidation.
Some of the nutrients in raisins are relevant too. For example, raisins offer potassium, which is known to help decrease your blood pressure (a key heart disease risk factor).
An Easy Source Of Energy
Raisins contain a decent amount of sugar, but that's not always a bad thing. Sometimes you do need the fast energy release that comes from sugar.
Athletes, in particular, often rely on sports chews and other products to give them a fast hit of energy. Raisins have much the same effect, while also being much less expensive.
How Raisins Can Be Harmful
The Calorie Content
A single raisin contains roughly the same amount of calories as a grape. However, because raisins are smaller and contain less water, it's easy to eat more at a time.
In doing so, you can easily consume more calories than you mean to. This same issue is true for most types of dried fruit. It means that you should always pay close attention to your portion sizes.
Also, watch out for foods that use raisins as an ingredient, including trail mix, baking, and products like raisin bran. While such products often look healthy, they're often high in sugar.
Side Effects From The Fiber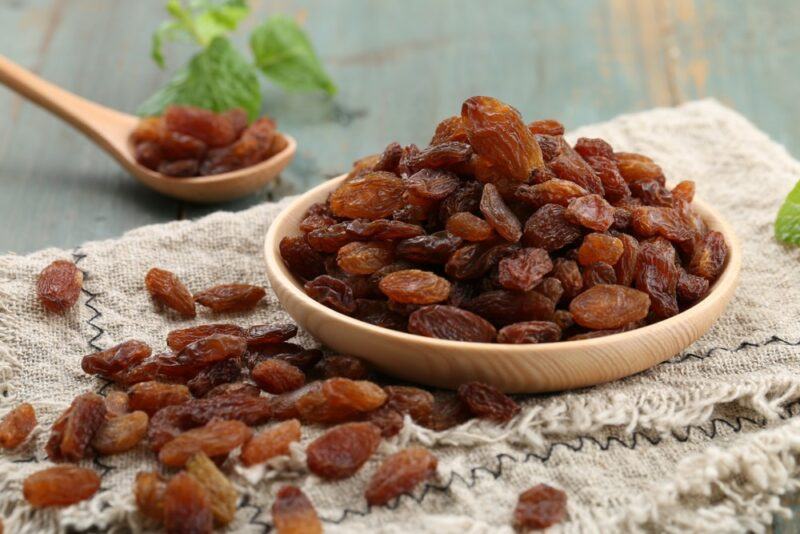 Raisins are also a concentrated source of fiber. This fiber is useful in small doses, but if you're consuming too much, you may end up with side effects like stomach cramps, bloating, gas, and even constipation.
These side effects can also occur if you're increasing your fiber intake suddenly. It's always best to start slowly and drink plenty of water. And again, watch your portion sizes.
While you can get side effects like these from any fiber rich food, dried fruits are a common culprit. Part of the problem is that dried fruit is sweet and delicious. It's easy to forget about the fiber and eat more than you intend to.
They Can Make Sleep Difficult
Sleep is surprisingly complicated. Some habits, foods, and drinks make falling asleep much easier, while others have the opposite effect.
Most of us already know to avoid caffeine and very fatty foods, but some snacks are less familiar.
As it turns out, dried fruit (including raisins) is a bad choice right before bed. Dried fruit tends to be high in sugar and fiber, but doesn't contain much water. There's the sorbitol as well, which isn't ideal last thing at night.
This combination of features can be a recipe for disaster, potentially giving you stomach cramps and gas while you're trying to sleep. Even if the side effects are minor and you can sleep through them, your quality of sleep might be reduced.
Can Spike Your Blood Sugar
Despite their fiber content, raisins can still spike your blood sugar, especially if you have a large amount of them.
This isn't too surprising, as raisins aren't a low sugar snack. In fact, half a cup of loosely packed raisins contains around 215 calories and 43 grams of sugar. That's more sugar than you get in a can of coke!
There is fiber in raisins too, but not nearly enough to offset the blood sugar spike. This means you need to be careful with your portions. A serving of perhaps 100 calories or so (like in the small raisin boxes that are often sold) shouldn't have too much of an impact. More than that could easily be a problem.
May Be Contaminated With Pesticides
If the grapes used to make raisins were sprayed with pesticides, then pesticide residues may be present on raisins. That's not all, raisins have even featured in some lists of concerning ingredients due to their pesticide levels.
We don't really know how pesticides on food influences human health. The levels are low, so there might be no impacts at all, but that's not a guarantee. It's easy to see how pesticides could have subtle or not-so-subtle impacts on human health.
Remember too that we're talking about raisins – a common snack for kids. Do we really want to be giving our kids snacks covered with chemicals that are probably safe, but might not be?
Choosing organic raisins is an easy way around the problem, giving you a snack that you can be confident about.
Some Are Treated With Sulfur Dioxide
Sulfur dioxide is sometimes used as part of the raisin drying process. While this compound is generally seen as safe, some people are sensitive to it and may see an increase in asthma-like symptoms.
If this is the case for you, look for products that avoid sulfur dioxide. Some may be marketed as 'natural sultanas'. Organic brands are often a good choice too, as these shouldn't use sulfur dioxide as part of their process.
If you're worried about sulfur dioxide and can't find good alternatives, why not skip raisins entirely? You could just focus on fresh grapes instead. These have most of the same benefits as raisins anyway and haven't been through any drying process.
Can Be A Choking Hazard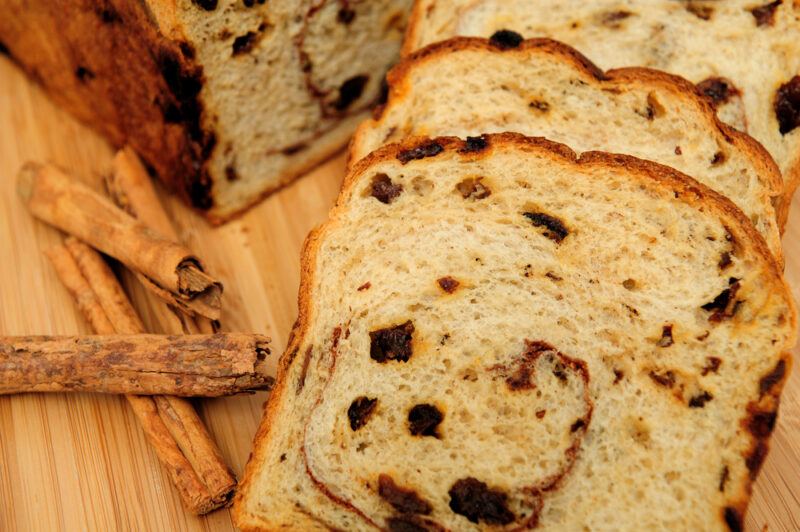 The small size of raisins might make them a problem for anyone prone to choking, including small children. One way around this is to cut the raisins up into smaller pieces. This makes them easier to swallow and reduces the risk of choking.
However, this issue isn't as bad as it first sounds. There are few reports of children actually choking on raisins. Other foods pose a much higher choking risk, including hot dogs and peanuts.
How Many Raisins Should You Eat?
You could theoretically eat a cup of raisins every day, provided the sugar and calorie content fitted within the rest of your diet. However, that's probably too much for most people.
A more useful serving size is around quarter of a cup, which comes in at a little over 100 calories. This serving size gives you plenty of antioxidants, while the sugar and calorie content isn't excessive.
Honestly, more raisins than this won't help you at all. Not only are raisins pretty high in sugar, but their nutrient composition isn't exceptional. You'll get more nutrients from other ingredients, including dark leafy greens and legumes.
As for how often you eat them, this depends on your needs. You could potentially have some raisins every day or you might just eat them every so often. There's no right or wrong answer here – as we all have different dietary patterns and needs.
Why Might You Soak Raisins?
Some people choose to soak raisins before using them. There are two main reasons for doing so.
First, soaked raisins work well in many recipes, while dried raisins often end up being tough and fibrous, especially after being baked. Soaking the raisins first can often be the difference between a delicious piece of baking and something that no one wants to touch.
Second, soaking raisins may make some of their nutrients easier to absorb.
You also get more water with soaked raisins than unsoaked ones. This could be helpful, as the combination of water and fiber can be powerful for your digestion, much more than dried raisins on their own.
How To Soak Raisins
There are multiple ways to soak raisins, along with different durations. They all yield similar results, although many cooks have a single technique that they prefer. Here are some of the main options:
Place water and raisins in a bowl. Microwave them for 2 to 3 minutes, then leave the water and raisins to sit for a further 10 to 15 minutes.
Use room temperature water and leave the raisins to sit in it for roughly half an hour.
Add water and raisins to a pot, heat the mixture until it boils. Then, take the pot off the heat and leave it to sit for 10 to 15 minutes.
Pour hot water over the raisins and leave them to sit for 10 to 15 minutes.
Soaking the raisins for hours or even overnight. The longer soaking won't make the raisins any plumper but might increase the bioavailability of some of the nutrients.
Is Raisin Water Healthy?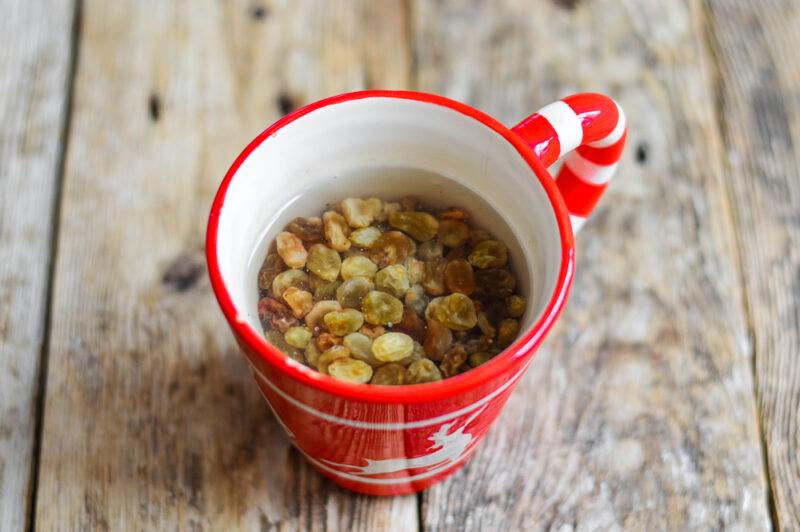 Raisin water also goes by the name kishmish water and is promoted as a way to detox and improve digestion. Interestingly, raisin water is made by first soaking the raisins in water overnight. Then the raisins are strained out and the water is heated.
Most of the time you're not actually eating the raisins, so you won't get all the benefits we've highlighted in this list. However, some of the nutrients and antioxidants from the raisins may have leached into the water, so raisin water could provide some benefits.
The health effects aren't clear at all, as raisin water itself hasn't been researched.
Articles on the water mostly talk highlight the same benefits that you get from raisins, which isn't realistic. However, if nothing else, raisin water should help keep you hydrated and isn't likely to cause harm, so it might still be worth trying.
Are Raisins Healthier Than Grapes?
Raisins are made from grapes. So, not surprisingly, you get many of the same benefits, regardless of whether you eat raisins or fresh grapes.
The biggest difference is the water content. Grapes are roughly 80% water, while raisins are close to 15% instead. This is why a grape weighs more and is much plumper than a raisin.
The loss of water makes raisins a more concentrated source of nutrients. So, a 100 gram serving of raisins will be packed with antioxidants and contain much more fiber than a 100 gram serving of grapes.
Does this make raisins healthier? Well, not necessarily, as raisins are also more sugar dense.
There's another difference too. The drying process used to make raisins does influence the nutrients. In particular, raisins tend to be lower in vitamin C and vitamin K than fresh grapes. This makes them less powerful.
Still, whether you choose grapes or raisins, you are getting a decent amount of fiber and antioxidants, along with nutrients like potassium, calcium, and iron.
The best choice really comes down to your needs. If you're looking for an ingredient to use in your baking, raisins are the clear winner. If you want a snack, then either could work – raisins last longer, while grapes are more hydrating and refreshing.
Either way, keep an eye on your portion size, as the sugar and fiber in raisins (and grapes) can easily sneak up on you.
Can Raisins Help You Lose Weight?
Raisins are sometimes promoted as a type of weight loss food. Some sites say that raisins help to keep sugar cravings in check, without adding to your calorie intake.
I'm shocked at just how common that claim is, as it's completely absurd.
Let's be clear. While dried fruit is healthier than a candy bar, it still contains a substantial amount of sugar and calories. You can gain weight by eating too many raisins just like you can from eating too much chocolate.
If you're very careful about the amount you eat then, yes, raisins could help you to lose weight. The fiber makes them more filling than a candy bar and they easily could knock the edge off your appetite.
Just don't go thinking that they're some kind of magic weight loss solution. Any effect they have on your weight is going to be subtle, not dramatic.
Final Thoughts
Raisins often seem like a healthy snack. They do even important benefits, including antioxidants, iron, and fiber. Yet, dried fruit is often called 'nature's candy' and for good reason.
Just like other type of dried fruit, raisins contain a decent amount of sugar. It's easy to go overboard with them, as they're sweet and delicious. To get the most from raisins, it's important to keep your portions in check.
For most people, half a cup of raisins per day is a good upper limit. Even that might be too much, as there are plenty of better foods for nutrients and antioxidants.
Frequently Asked Questions
Are Raisins Good For Diabetics?
People with diabetes can consume raisins, but they need to be cautious, as raisins are fairly high in natural sugar. As such, they can easily spike your blood sugar levels.
It's often best to focus on fresh fruit rather than dried fruit, as the sugar in dried fruit is more concentrated. It's also easy to overdo it with raisins because they're so small and tasty.
If you are looking for dried fruit, prunes are a better choice. These offer plenty of fiber and have a lower glycemic index than raisins.
Can Raisins Cause Diarrhea?
Raisins contain a sugar alcohol called sorbitol, along with a decent amount of fiber. These two features can have a laxative effect, which can lead to diarrhea. The risk of diarrhea is much higher if you're eating a large number of raisins in a sitting.
Thankfully, raisins aren't the worst culprit. Prunes tend to have an even stronger laxative effect (that's useful if you are constipated but frustrating if you're not).
Are Raisins Keto Friendly?
Most of the time, no. Raisins are a poor keto choice, as their carb content is far too high.
You might be able to include small servings of raisins if you kept your carb intake very low elsewhere. There's little point though, as plenty of other fruits are lower in carbs and just as nutritious (including many berries).
Do Raisins Cause Gas?
The soluble fiber in raisins does sometimes cause digestive side effects, including bloating, gas, and even stomach cramps. This often happens if you're consuming too many raisins at a time.
Alternatively, you might have gone from consuming very little soluble fiber to consuming a decent amount. This can also trigger digestive side effects.
If you do experience gas, decreasing your raisin intake could help. You can start to eat more raisins once your body has had time to adjust.
Are Raisins Low FODMAP?
Raisins are considered low FODMAP, as long as you stick to a single tablespoon or less. Going beyond this could trigger IBS symptoms, as raisins contain a decent amount of fructans.