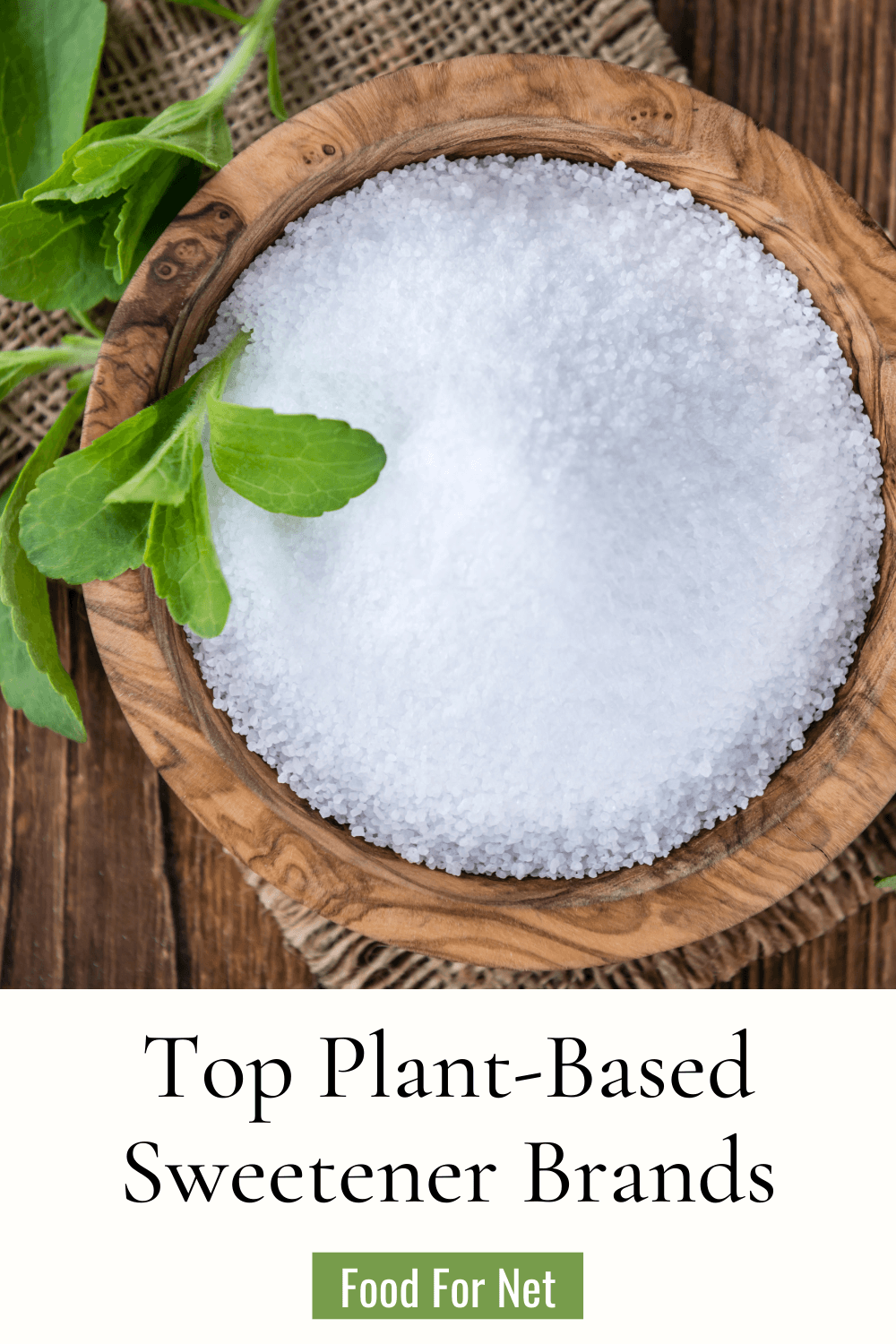 While we all have different favorites when it comes to sweets and treats, we've all got some kind of sweet tooth. Whether it's candy, chocolate, pastries, cake, ice cream, or a sweet drink, we all deserve a treat sometimes, even on the strictest of diets.
It's unfortunate, though, how many of these things contain even a small amount of animal byproduct and therefore aren't vegan-friendly. Even if you're not vegan, eating excessive amounts of sugary food or adding too much sugar to what you're eating or making is, in the long run, detrimental to your health.
This is where plant-based sweeteners come in. These products avoid animal-based ingredients entirely, making them much better for you. Some are entirely natural, while others use plant-based ingredients as a base and are refined from there. Many allow you to sweeten your coffee or tea guilt-free, or make your favorite baked treats without any "real" sugar. There are plenty of options out there so there's no excuse to be loading up on sugar when these plant-based sweeteners are readily available and so much healthier.
The Best Plant-Based Sweetener Brands
1. Bob's Red Mill Coconut Sugar

Coconut sugar is an amazing tool that comes straight from nature. It's a wholesome alternative to plain white sugar that comes from the nectar of coconut palm tree blossoms. It has a sweet and gentle caramel-type flavor and it acts as a direct substitute for sugar in any way.
It's great for baking cakes, cookies, or even bread. You can even stick some in your coffee for a nice twist on the taste.
Another great thing about coconut sugar is that it's often cheap and pretty easy to come by, but you do need to be careful that what you're getting is natural. Bob's Red Mill's Coconut Sugar is organic, vegan, non-GMO certified, and paleo-friendly. The only ingredient is natural coconut sugar – nothing else.
This is the coconut sugar you want, whether you're making a cake or sweetening your coffee. It can also be sprinkled on fruit, waffles, pancakes, and so much more! It's essentially a healthier version of sugar, whatever you'd use regular white sugar for, replace it with coconut sugar!
2. Splenda Stevia

When it comes to sugar substitutes and more natural sweeteners, Stevia has very much taken center stage in recent years. This is because it's healthier than sugar, contains zero calories, and works just the same to sweeten popular things like coffee, tea, oatmeal, cereal, and more.
Splenda's Stevia was the first one to make it "big" so to speak, to the point that the Splenda brand has become synonymous with stevia, where many people refer to their sweetener as "Splenda."
While Splenda is not the only brand of stevia around, it's popular because it's good. Not only does it offer the taste and sweetness people are after but it does so with no calories, no gluten, no GMOs, and is even keto-friendly. The sweetener contains nothing but stevia leaf extract and a little erythritol, another natural sweetener.
3. Now Foods Erythritol

While erythritol is often an ingredient in other natural and plant-based sweeteners, it can also be bought and used on its own. It's a granulated sweetener meaning it's easily used in place of sugar for baking, to sweeten drinks, etc. Now Foods sources and packages erythritol for you in a healthy and convenient way so you can easily obtain and use it in your daily life.
Their product is keto and diabetic-friendly as well as vegan and non-GMO verified. Erythritol is a sugar alcohol that has 95% fewer calories than sugar, doesn't contribute to tooth decay, and has a low glycemic impact. It's also about 70% as sweet as sugar. This means you won't get the exact same impact by replacing sugar with erythritol one for one, but it's still sweet enough to get the job done.
It'll satisfy your craving for sweetness without causing the energy crash and health problems that come with traditional white sugar. This product is also made in a nut and peanut-free facility and is soy and dairy-free, making it suitable for many diets, allergies, and intolerances.
4. Splenda Monk Fruit Sweetener

While Splenda may have done well with Stevia, their Monk Fruit Sweetener is just as good and even better for baking! Monk fruit has actually been used as a sweetener for many years in some places around the world. It's a small, round fruit that's found in Southeast Asia and has been used in Chinese medicine for hundreds of years.
In its natural state, monk fruit is actually about 1-200 times sweeter than traditional sugar. While many have an intense sweet tooth, this is excessive! This is why monk fruit sweeteners will be toned down with other natural ingredients like inulin to erythritol, to reduce the intensity and make it usable.
Because of its amazing sweetness, though, it's the perfect replacement for sugar. When brought down to appropriate levels of sweetness, it can be a direct 1:1 substitute.
Because monk fruit as an official sweetener was only approved for use in 2010, there is still much research to do in terms of health benefits, but early studies have already found antioxidant and anti-cancer properties. So, not only is this not as unhealthy as regular sugar, but it may also benefit you in the long run!
5. Truvia

Truvia is another plant-based sweetener that uses stevia to achieve its desired results. The difference here is that Truvia is a little sweeter than other brands, requiring you to use less while getting the same results. Stevia leaf extract is still the main ingredient, with erythritol and natural flavors also contributing.
Truvia comes in a convenient spoonable container that you can just keep on the counter for maximum convenience if sweetener is something you use regularly. It's perfect for sweetening coffee, tea, and other beverages as well as healthy treats and snacks like fruit, yogurt, or oatmeal. It's the perfect solution for sweetening up your life without the health risks and blood sugar spikes.
Raw Sweeteners From Nature

Plant-based sweeteners are in high demand, and it's no surprise. People love sweet things, from baked goods to sugary treats like candy. Things like stevia and coconut sugar are granulated sugar replacements that are perfect for cooking and baking when you want to maintain a recipe while making it healthier.
But, if all you're looking for is a shot of sweetness for your morning coffee, your nightly tea, or something similar, nature itself has plenty of options for you. These things might not help you create a healthier cake or cookie, but they're perfect for beverages or drizzling on top of some fruit or even pancakes.
Why use these things over granulated sugar substitutes? Because they go beyond simply removing the health concerns of traditional sugar by providing real, substantial, and proven health benefits of their own.
Raw honey. This is perhaps the best one of all. Raw honey contains a long list of powerful compounds like enzymes, antioxidants, zinc, calcium, vitamin B6 and so much more. These things work to neutralize free radicals while supporting the growth of healthy bacteria in the body. It's also one of the sweetest things to come from nature. If you opt for honey, just make sure it's raw. Once pasteurized, like much of what you see on store shelves, it loses almost all of its nutritional value.
Pure maple syrup. Like honey, maple syrup is often overprocessed and filled with additional sugar. If you keep an eye out for pure maple syrup, though, you'll be getting a superfood filled with things like calcium, zinc, potassium, and significant antioxidants. Even better than buying it pure and local – if you're lucky enough to live in the right area, harvest it yourself! With the right tools, it's not as difficult as you'd think.
Agave syrup. Agave syrup is slowly catching up to maple syrup in its use as not only a natural sweetener but as the traditional topping for pancakes and waffles. Agave syrup is extracted from the agave plant, most commonly known for being the source of tequila. It has a similar consistency to honey but offers a much lower glycemic index. This makes it a better choice for diabetics who still want something nice and sweet.
Blackstrap molasses. Not as well known or as easily accessible, but blackstrap molasses is another great option if you're looking to get crafty. There are many different kinds of molasses, but this one is highly nutritious, offering copper, iron, potassium, selenium, and vitamin B6. Iron and selenium are key here as you don't often find these in something like a sweetener! Blackstrap molasses also has even more antioxidants than honey. Blackstrap molasses is achieved by boiling raw molasses three times, a process that concentrates the nutrients and creates a deep and rich flavor.