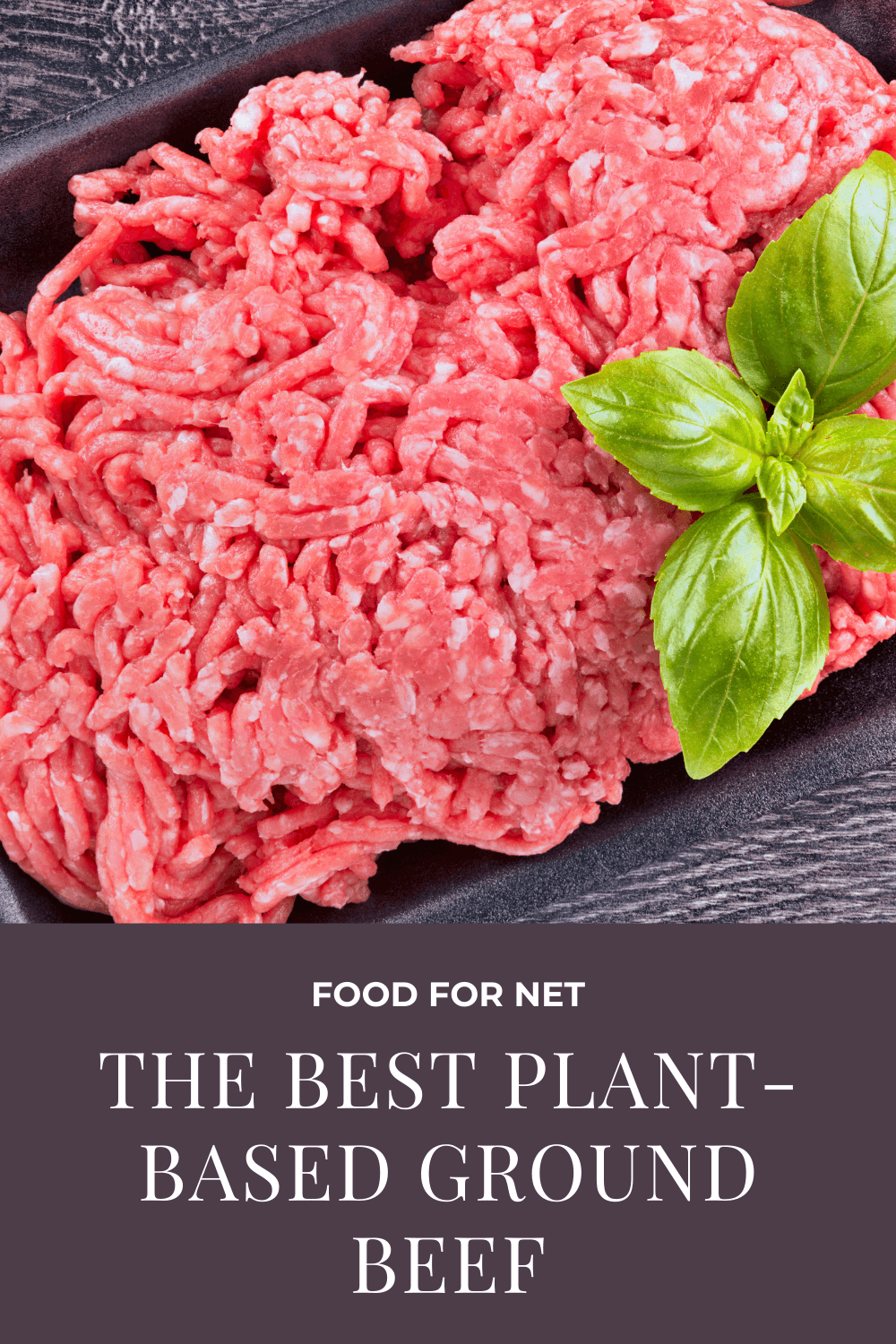 Ground beef is among the most versatile of meats as you can not only use it for many dishes but mold it into other things if you wish. You can use it for DIY burgers or sliders, sausages of all shapes and sizes, and pretty much anything else your imagination can drum up. The key to finding good ground beef is getting both the flavor and texture right. This becomes even more difficult if you're looking for plant-based ground beef.
Thankfully, there are plenty of premium products such as Beyond Beef out there that have done a fabulous job recreating the taste and texture of ground beef for your vegan cooking delight. You can cook it up as is and use it for tacos, nachos, or even salad. You can also use it to create delicious plant-based burgers, just like with "real" ground beef.
The other great, versatile thing about ground beef is that you can create the perfect flavor for your dish. Some products may come with flavor and spice built-in, but it's very easy to add other herbs and/or spices when cooking it up, allowing you to customize the experience. If your family and friends are divided on taste, you could even make separate batches, one mild and one spicy! The options are endless when you find the right plant-based ground beef.
The Best Plant-Based Ground Beef Brands
1. Beyond Beef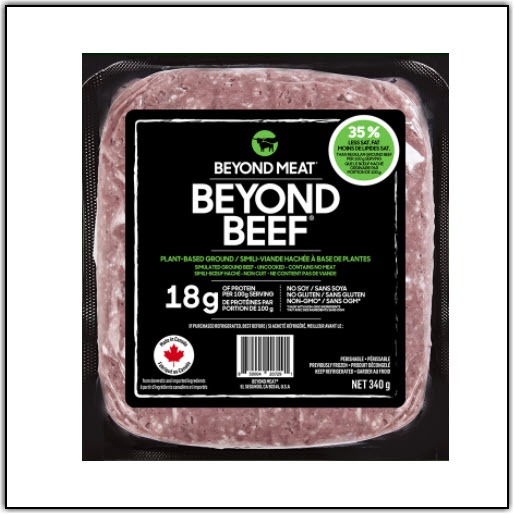 Beyond Meat is a staple in the vegan world, with its Beyond Beef ground "meat" coming in just as strong as its other impressive and delicious products. This versatile ground meat replacement is soy-free, gluten-free, non-GMO, kosher, 100 percent vegan, and plant-based.
The ingredients include things like pea protein, mung bean protein, apple extract, and a long list of vitamins and minerals. One serving of these grounds is about 100 grams and contains 250 calories, 18 grams of protein, and plenty of other nutrients, including but not limited to calcium, iron, potassium, niacin, folate, vitamin C, and vitamin B12.
Some recommended uses for this ground meat include tacos, sauce, chili, or homemade meatballs! Some instructions and cooking guidelines for these are on the product page, but of course, the only limit here is your own imagination! Anything you'd use "regular" ground meat for, you can sub in Beyond Beef no problem – you'll hardly notice the difference!
2. Impossible Ground Beef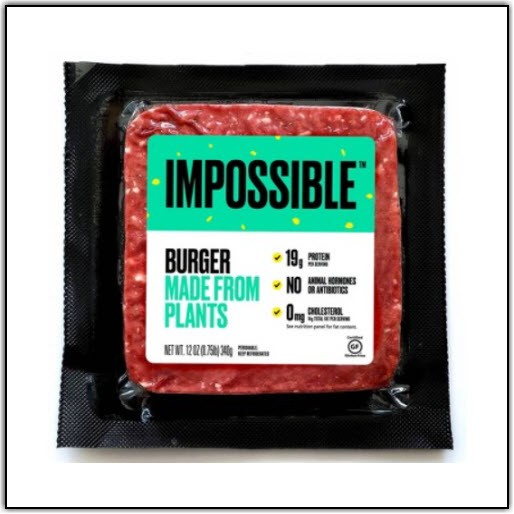 Impossible Ground Beef has truly done the impossible – their plant-based ground meat product is so deliciously close to "real" meat that you can do just about anything with it. From homemade meatballs and tacos to burgers and even special empanadas, it's all possible.
The protein in this ground meat comes from soy and potato proteins. Each "burger," or 113g of the grounds, is about 240 calories and has 19 grams of protein. Other nutrients include potassium, calcium, folate, zinc, and lots of iron, vitamin B12, and niacin. There are so many amazing plant-based ingredients in here that help you create what may be your most nutritious meal of the day.
In terms of flavor, they've done all the research here to ensure they get it right. They've replicated the taste of meat with a molecule called heme that is present in all plants and animals. They've harnessed the power of this molecule, sourced only from plants, to recreate the perfect meat taste using no meat whatsoever.
3. Noble Plate Meatless Crumbles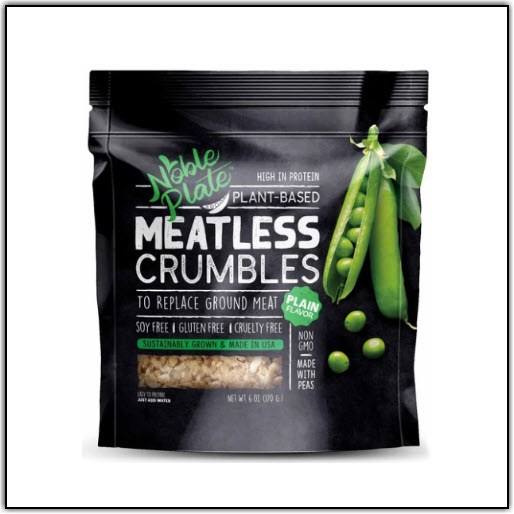 Noble Plate Meatless Crumbles are plant-based, of course, but they are also paleo, gluten-free, soy-free, high in fiber, high in protein, and low on carbs. And, they taste amazing! It doesn't get much better than that in a plant-based meat replacement. It's also worth noting that, unlike many meat replacement products that contain many different ingredients to hold things together, this one is made entirely from non-GMO pea protein, and nothing else.
Even with just one ingredient, they've managed to recreate the taste and texture of ground meat for a unique and authentic experience. It's also incredibly easy to work with, being ready in just five minutes and only requiring you to add water. It's also shelf-stable which makes it easy to store if you don't want to use it all up right away. It can replace real meat in just about any recipe that calls for ground beef, and it offers comparable nutritional value with an impressive 45 grams of protein per serving as well as some calcium, iron, and potassium.
4. Morningstar Farms Incogmeato Ground Beef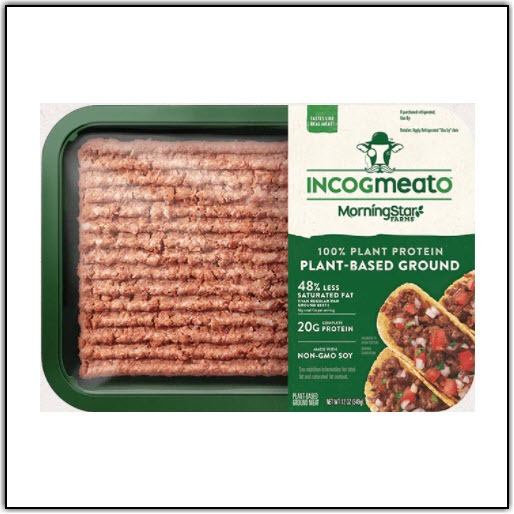 Morningstar Farms Incogmeato Ground Beef is your next go-to classic ground beef. It looks, tastes, and cooks up just like real ground beef with flavor and texture like no other. It's also just as versatile – whatever use you can possibly think up for regular ground beef, you can use this stuff just as well.
Ingredients include soy protein, potato starch, apple juice powder, vegetable juice, and more. Ultimately, it offers just as much nutritional value as real meat ground beef, if not more. There are 260 calories in a serving, along with 20 grams of protein and varying amounts of calcium, iron, potassium, magnesium, phosphorus, and 100 percent of your daily B12 requirement!
Morningstar Farms is passionate about plant-based everything, which is why this exceptional ground beef is only one piece of a large and delicious collection including plant-based "chicken" tenders, sausages, and more. Every product is made with the same care and quality as their amazing ground beef, and just as much nutritional value, as well.
5. Open Nature Plant-Based Ground Beef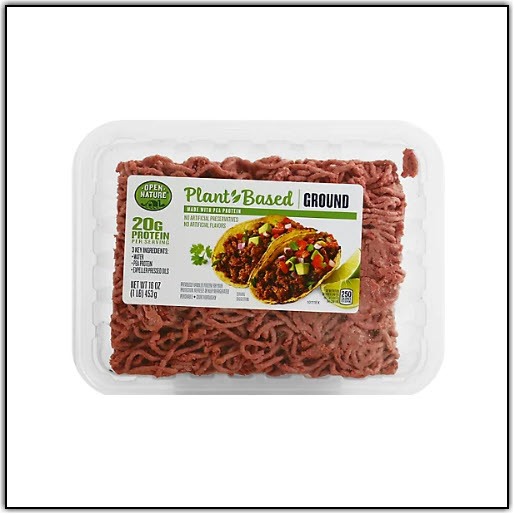 Open Nature Plant-Based Ground Beef is made with a base of incredibly healthy and nutritious pea protein. It offers 20 grams of protein per serving and contains no artificial flavors or preservatives. One serving has about 250 calories and offers other nutrients such as calcium, iron, a little fiber, and no cholesterol at all.
The cooking instructions are simple, easy, and quite similar to regular meat. They're also a convenient choice as you can refrigerate for a time or refreeze if you need them to last even longer. They'll cook up well even if you're cooking from (re)frozen.
The ingredients used in this ground beef are minimal, meaning they're suitable for many different diets and/or lifestyle choices, and you can easily customize the flavor and amount of heat you want it to have – whether you're making tacos or turning them into meatballs for your favorite plant-based pasta dinner!
Creative Vegan Ground Beef Recipes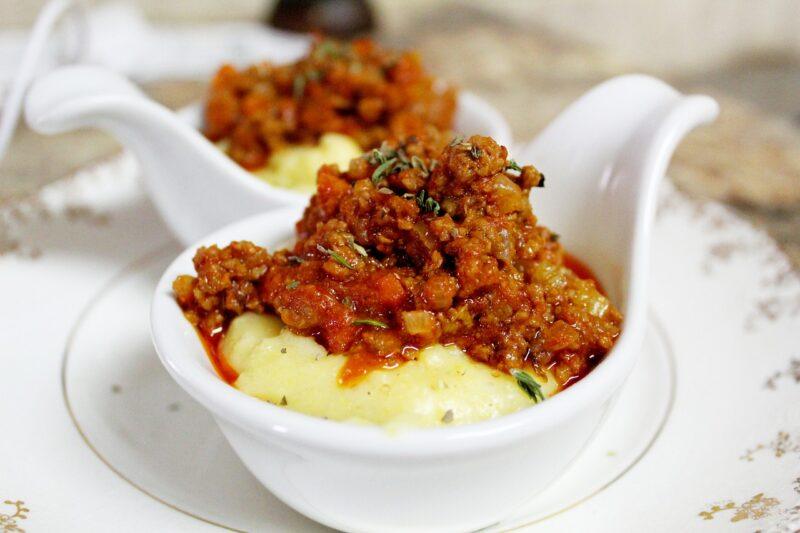 Things like tacos and homemade burgers are common ways to use ground beef, whether you're vegan or not. These can still be mixed up quite a bit with different sauces, spices, and toppings, but it may still get a little old or boring doing the same things over and over again.
Some of the products listed here have some fun ideas on the website, but there are plenty of ways to mix things up if those specific recipes don't suit your fancy. Try one of these creative and delicious vegan recipes for something a little different:
Black Bean Burger Soup
This recipe uses (plant-based) ground beef to replicate the "burger" taste and texture within this delicious soup, and it teams up with the super nutritious black beans for a protein-packed meal. It's a hearty, chunky soup featuring many other ingredients on top of ground beef and black beans, including chopped celery, cubed sweet potatoes, fresh baby spinach, and more.
A carefully curated assortment of other ingredients, powders, broth, and spices creates a mouth-watering, powerful array of flavors for you to enjoy. One serving of this soup has about 295 calories and about nine grams of protein – the recipe makes about six servings when made as described. In addition to protein, the list of other vitamins and nutrients is long and impressive.
Vegetarian Meat Lasagna
With the help of some plant-based ground beef, you can now enjoy the taste of meat lasagna without the meat! The recipe as-is is only labeled vegetarian, but can easily be converted to plant-based by using vegan noodles and cheese.
The rest of the recipe is perfectly vegan-friendly and the result is a classic, delicious dish of tender, layered lasagna with bold flavor. Ingredients like onion, garlic, your favorite tomato sauce, and fresh herbs and spices create the mix of tastes you know and love. Or, you can add/remove/exchange herbs and spices at will and/or use a stronger sauce to create different flavors altogether, while still achieving the texture and overall experience of flawless vegan meat lasagna!
Related Content