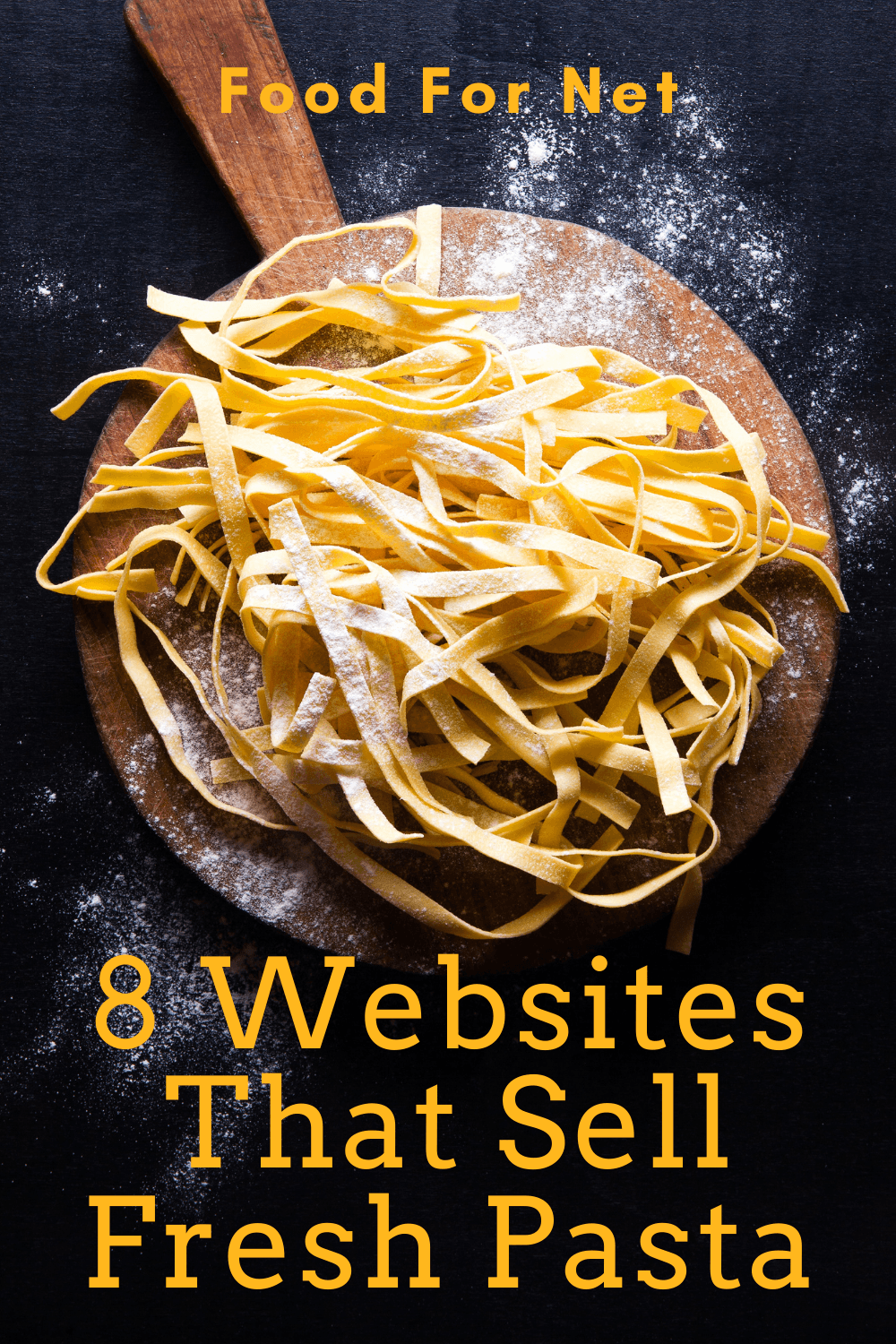 With so many varieties, styles, flavors, and possible combinations, pasta is perhaps one of the most versatile foods out there. There is something for almost everyone.
That being said, not all pasta is readily available at the grocery store. Popular variations like spaghetti and tortellini can often be found easily. If you want to get a little fancier or different, however, it might not be so simple.
There's also the fact that most of the time, pasta in the store is dried. This makes sense, as it gives it a much longer shelf-life, both in the store and once brought home by the customer.
However, fresh pasta does have it's benefits and many people prefer it. But, it's not as common and therefore it's probably best that you look to buy fresh pasta online instead.
Not only does this open up a whole new world of possibility in terms of flavor and style, but it means you won't even have to leave the house. You can't beat the ease and convenience of home delivery. Why not get other fresh foods delivered too, like tomatoes to go with your pasta or perhaps a selection of vegetables?
Where to Buy Fresh Pasta Online
Fresh Pasta
Pappardelle's
Lilly's Fresh Pasta
Eataly
Melina's Pasta
The Pasta Shop
Pastosa
Italian Food Online Store
1. Fresh Pasta

Fresh Pasta is the online store for Florentyna's Fresh Pasta Factory. It was founded in 1983 and has always been a family-owned company that is passionate about the fresh pasta industry. Their pasta is served in hundreds of fine restaurants around the world, and now you can order online to make it in your own home.
Ordering pasta from them is a simple, somewhat old-fashioned process, but it works. Instead of an online store, they simply have an order form for you to fill out where you can indicate which pasta you want and the quantity.
They have a variety of basic pasta like fettuccine and spaghetti as well as special pasta for ravioli and lasagna. They also have a series of stuffed pasta available as well as a number of premium, fresh sauces. They deliver only within the continental U.S.
2. Pappardelle's

Pappardelle's was founded by two partners in 1984 who were on a mission to make top-notch, delicious, fresh pasta in an array of flavors. At the time, pasta pretty much just came in one flavor and that was plain. They made it their mission to change this.
In the beginning, their small batches were made almost entirely by hand and had only six flavors available: egg, spinach, cracked pepper, lemon pepper, garlic parsley, and tomato basil.
Today, they have all kinds of pasta available in so many unique and interesting flavors. You can get most of their pasta dry if you wish, and some varieties are available fresh as well. They also offer a number of original pasta sauces and their website contains plenty of recipes you can browse and try.
3. Lilly's Fresh Pasta

Lilly's Fresh Pasta is a gourmet pasta shop that specializes in homemade, fresh pasta – specifically ravioli, tortellini, tortelloni, and gnocchi. They are always made fresh and are never pre-cooked. They use only the best ingredients – semolina flour, grade A eggs, and filtered water, nothing else.
While they specialize in the above-mentioned pasta varieties, they do have more than 150 to choose from. For those that need a little direction, their website also contains plenty of fun and interesting recipes to try featuring their pasta varieties.
If you're overwhelmed by the options, you can request samples before placing a larger order!
4. Eataly

Eataly is a huge, online Italian store that works hard to bring the magic of Italy right to your doorstep. Their "pasta and pantry" section has a lot to offer including a huge selection of long, short, and flavored pasta. In this section, they also have pesto, rice, crackers, vinegar, spices, sauces, and more. Everything you need to stock your pantry.
Beyond pasta they also offer specialty extra virgin olive oil, coffee, and other drinks, an assortment of sweets, among other things.
The company was founded in 2002 by a man who loved Italian food and simply wanted to share his passion with the world, offering all the best-quality products he could find in one place.
5. Melina's Pasta

Melina's Pasta was founded by a woman named Carmella who was the first of her family to be born in the United States. She wanted a better connection to the place the rest of her family called home, so she took up the Italian tradition of crafting homemade pasta.
She began her journey at pasta making school which is where she got her foundation. Today, Since the pasta is homemade they will always have a different selection, which they keep as updated as possible on their website and Facebook page. They also sell an assortment of sauces and fully baked meals.
6. The Pasta Shop

The Pasta Shop has been making fresh pasta for more than 30 years. They're passionate about it, and they're good at it. Each day, they produce more than 2,000 pounds of pasta, with their most popular pasta being their ravioli.
They also have a variety of rolled and extruded pasta as well as some handcrafted sauces. The Pasta Shop has worked hard to keep up with the times, now offering a variety of vegan and gluten-free pasta options for those that wish to stick to these diets.
When it comes to flavor, they like to take advantage of what's in season at any given time. This means that throughout the year you'll see many different vegetable-flavored pastas pop up, so you can keep it new and interesting all year.
The Pasta Shop is part of a group of food companies called Market Hall Foods. There is a link on the website to the store from which you can buy their pasta.
7. Pastosa

Pastosa is a third-generation family-owned and operated specialty Italian company that began in 1966. They have worked hard over the years to maintain both quality and tradition. Today, they are known as one of the finest resources for ravioli, fresh pasta, and other Italian specialties and delicacies.
They are a household name throughout New York, but they do currently ship their products nationwide. You can save some money by purchasing a pre-made meal box with an assortment of food. If you want something specific – just pasta, perhaps – you can build your own box and they'll ship it right to your door.
In addition to pasta, they also offer sauces, cold cuts, and a variety of cheeses.
8. Italian Food Online Store

Italian Food Online Store is exactly what it sounds like – a large online store for Italian food. It was founded by an Italian immigrant who quickly realized that "American Italian" food isn't quite the same as authentic Italian food.
He wanted to create a place where people could find and experience real, authentic Italian food. He especially wanted to target fellow immigrants like himself who were nostalgic for proper Italian food and struggles to find it in America.
They have a wide variety of pasta available as well as sauces, spices, olive oil, vinegar, rice, and more. Other categories include snacks, bakery, gluten-free, truffles, kitchen, wine, and beer.
Things to Consider When Buying Fresh Pasta Online
When it comes to pasta, your options are so vast. Do you want something super plain, or stuffed with spinach and cheese? You also need to think about the type of noodle, sauces, flavors… the list goes on.
So, where you buy fresh pasta from is important. Especially if you're one who likes to mix it up and get different things all the time, you need to find the right place to buy from.
The Variety
This one is huge, considering the sheer amount of different types of pasta you can get. If you think you've heard of them all, you probably haven't. Especially if you ask a specialty Italian store, they'll show you some new ones.
So, you need to know what you want. Is there a specific type you're looking for? Do you want to try something new each time? Do you just want some fresh pasta with no specific preference?
These things will influence your decision. If you're looking for some varieties that are rarer, you'll probably want to find an authentic Italian place as they'll be better equipped to find the specialty stuff.
If you just want something simple, a regular online store that carries fresh pasta will probably do.
The Extras
When you're making pasta, you need more than just the noodles! Ideally, you should be able to get your desired sauce and/or seasoning in the same place. Especially if you plan to follow their recipes, using the ingredients that are actually in the recipe will usually yield the best results.
If you're more experienced, perhaps just buying the pasta and getting everything else separately works just fine for you.
The Cost
Lastly, consider the cost. Fresh, specialty pasta is likely to cost more than your run-of-the-mill spaghetti purchase. Especially if it's handmade, it won't be cheap. Consider this before you get your heart set on a certain type of pasta.