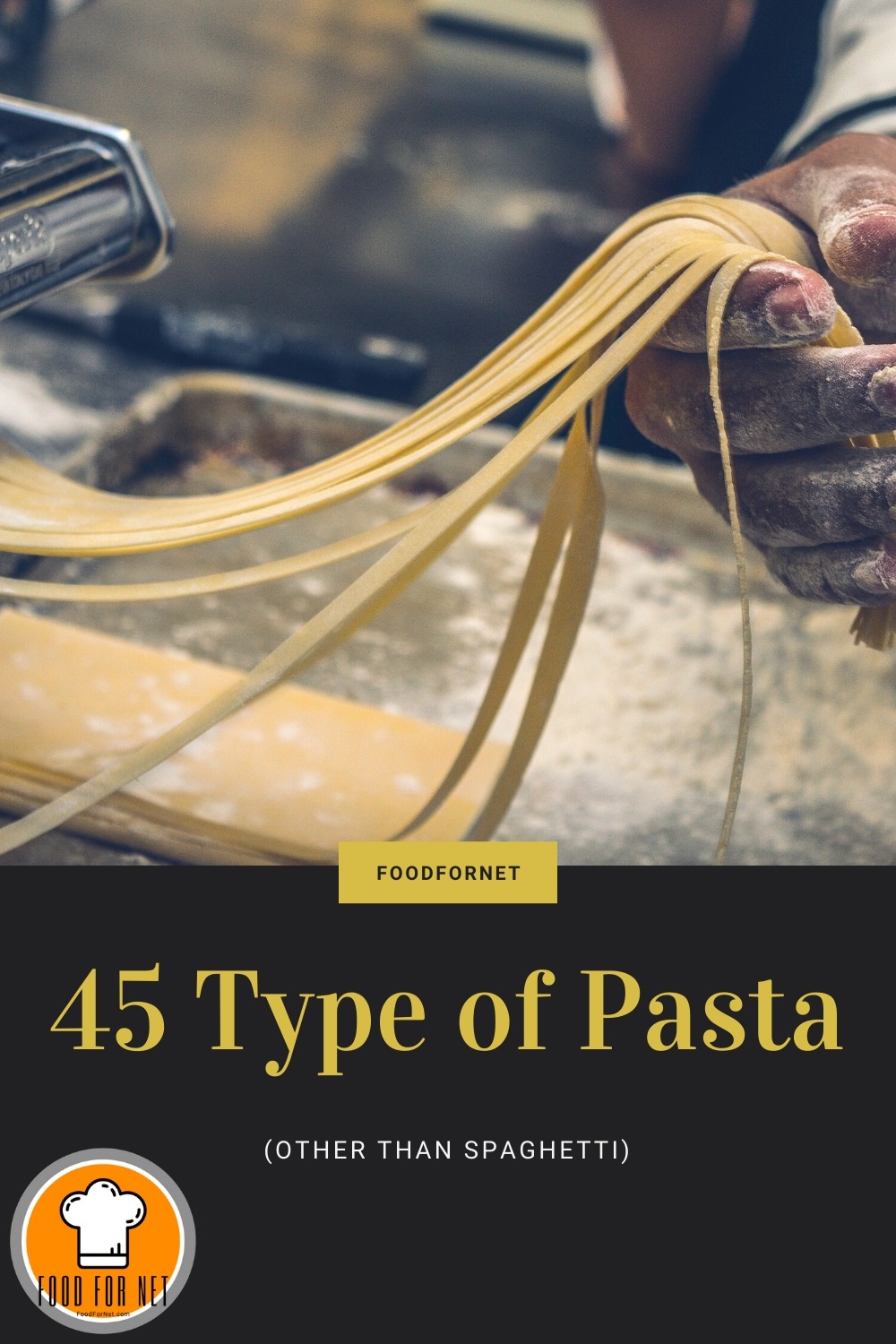 Gluten-haters, stay away! Anti-carbers, close your eyes. This is a strictly a pro-gluten, pro-carb post, aimed at readers who love pasta and want to find more ways to get it in their body.
Pasta is a wonderful thing, and sometimes spaghetti carbonara just isn't going to cut it. Some pasta's are filled like, tortellini, ravioli, and cannelloni. Some are layered like lasagne, or are variations on long noodles like tagliatelle or bucatini.
To be Adding sauce variations like pesto, tomato, or cream based you could probably have pasta every day of the week and never run out of dishes.
I tried my best to find as many variations as possible, but I know I left some out. What did I miss, and what's your favorite type?
PS. I'd also like to emphasize that these are specifically pasta, so are basically the same ingredients of wheat flour and water. There are many other types of noodles that are made out of different ingredients like rice, vegetables, and other types of grains.
Types of Pasta
Angel Hair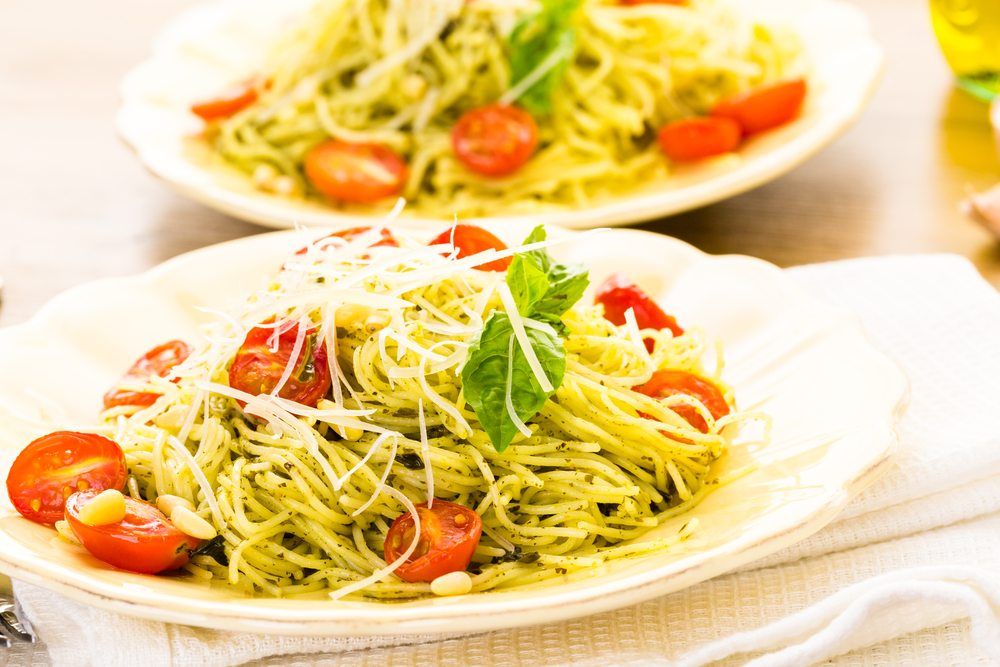 You've probably seen angel hair pasta around before. It is an exceptionally thin type of long pasta, which makes it very fine and a little bit challenging to use.
Of note, the pasta takes very little time to cook so care has to be taken not to overcook it. The fine nature of the pasta means that it works best in delicate sauces, including sauces that are tomato-based and those that are not.
Orecchiette

The name orecchiette comes from the meaning 'small ear', which really is a good description of this type of pasta.
The ears have a variable texture, with the outside being chewy while the center of the ear is much softer. They are particularly good for saucy dishes, as the sauce will collect in the hollows.
Pappardelle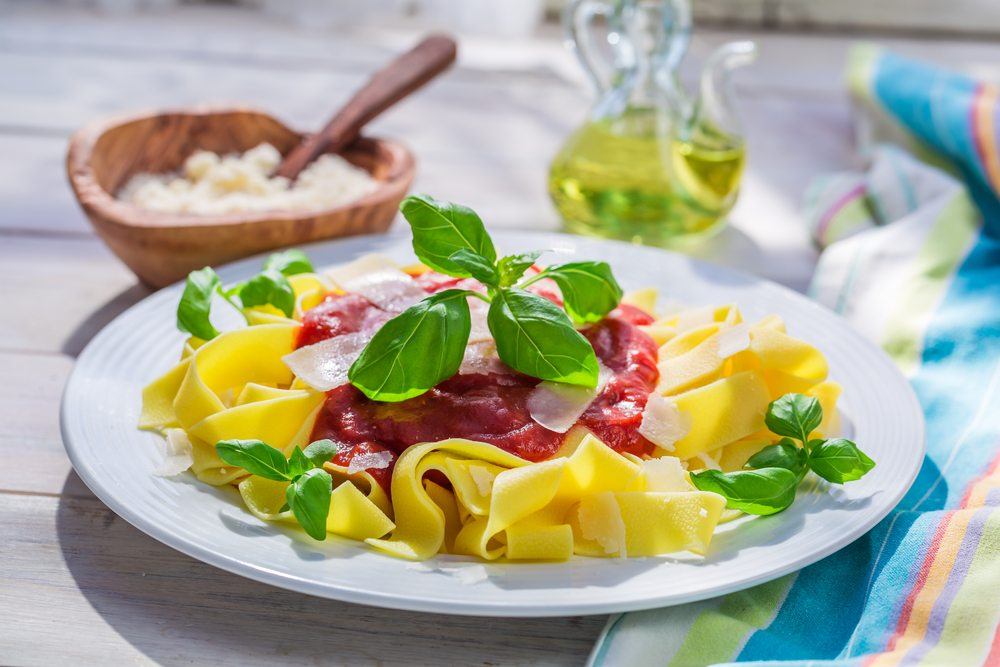 You can find the flat-cut ribbons of pappardelle either fresh or dried, and either variety is good. Often the noodle will be in the form of egg pasta, but this isn't always the case.
The wideness of the noodle makes this pasta great for grabbing onto sauce and the pasta is often paired with rich sauces. Bolognese sauce is one example of this, but the pasta is also commonly used with cream-based sauces.
Tortellini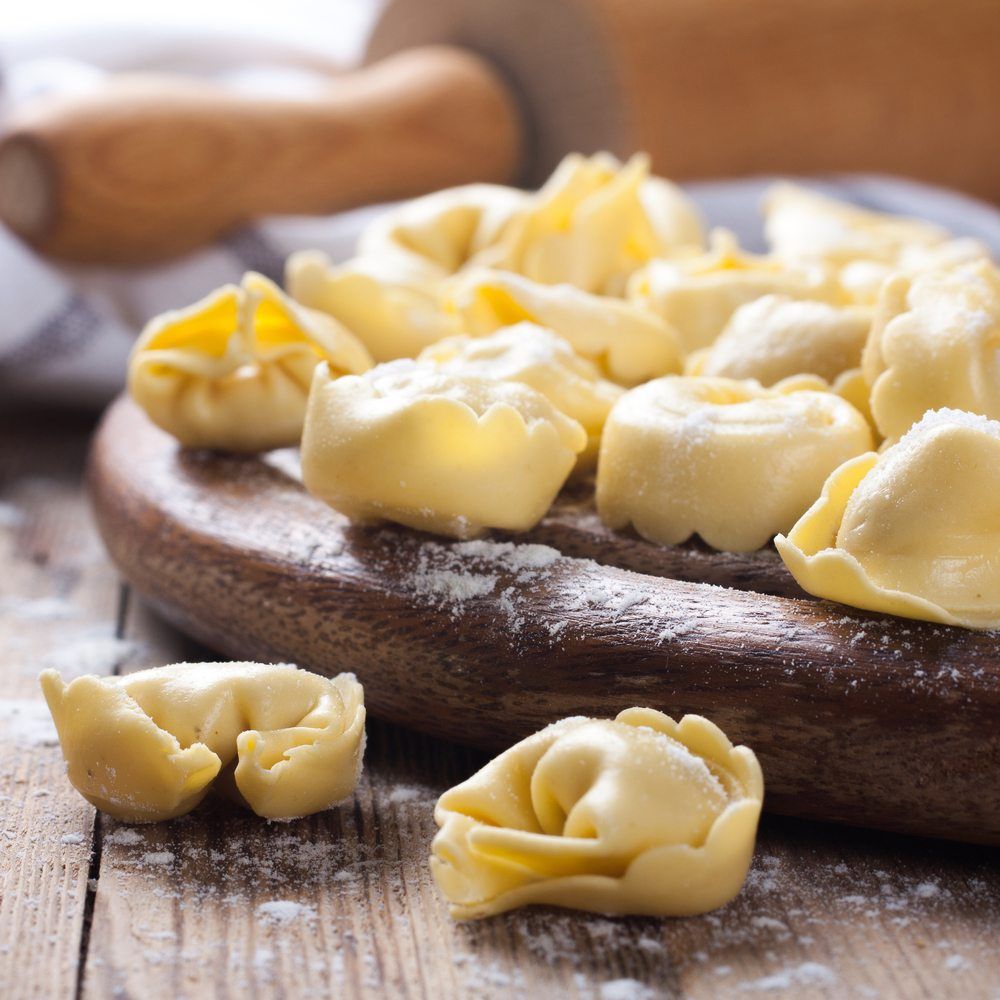 Tortellini pasta is ring shaped and sometimes called belly button pasta because of this. The pasta comes in all different types, with the key difference being the stuffing.
Traditionally, the pasta is stuffed with of meat and/or cheese. The stuffing means that the pasta can be used to make particularly filling dishes although the meat filled ones are unsuitable for vegetarians.
Rotelle (wagon wheel)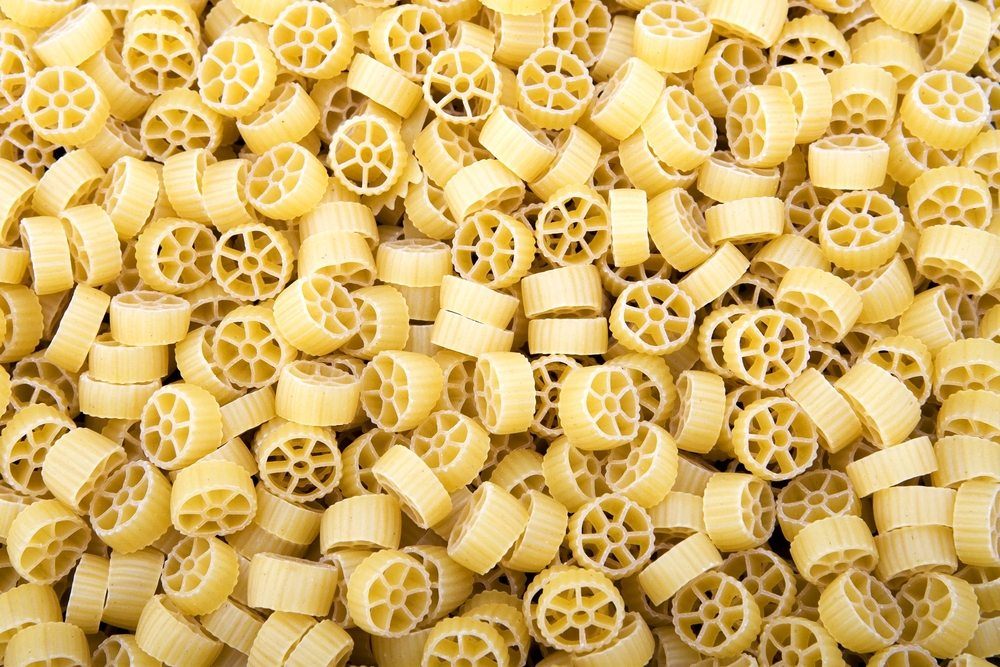 Rotelle pasta is great fun, especially if you are looking for something a little bit different. The ribbed exterior of the pasta creates an interesting texture and works well with most sauces.
The name specifically refers to pasta with the distinctive wagon wheel shape, but some manufacturers apply the name to other shapes of pasta, which can be confusing.
Ziti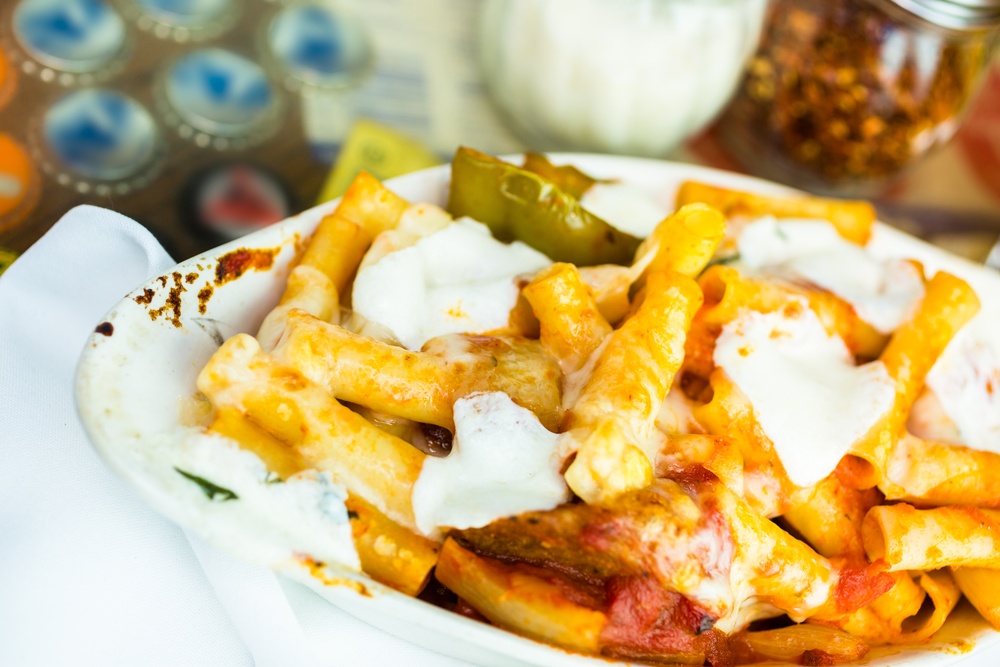 There are many similar looking examples of tubular pasta and ziti is one example of this. Typically the different tube pastas can be substituted for one another in recipes without making much of a difference.
One key difference with ziti is that the ends are cut straight, rather than at an angle. Ziti can come in a range of different lengths, but in the United States it is mostly sold in short tubes, of similar length to penne pasta.
Orzo (risoni)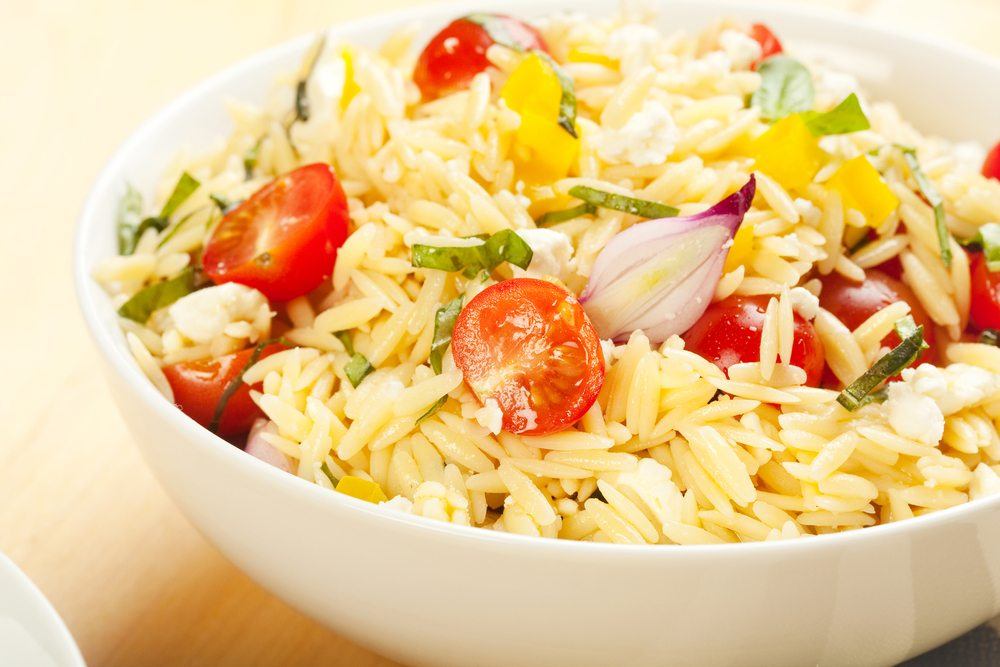 Orzo is a great way to confuse people, because the pasta is shaped exactly like a grain of rice. In dishes like the one above it is very difficult to tell whether you are looking at orzo or rice, unless you are pretty familiar with the pasta.
Orzo is also often boiled and then fried, to create an even stronger resemblance to rice. The pasta is also frequently included in soups like minestrone where its small size makes it easy to scoop out with a spoon.
Farfalline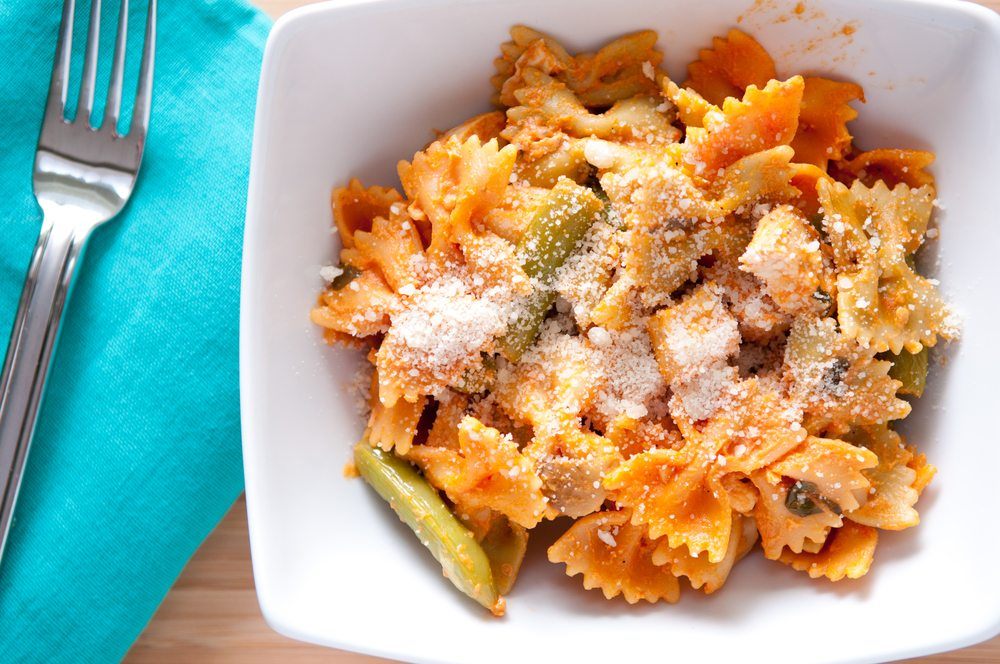 A good way to remember this name is to think of a fan. Of course, most of us tend to forget the actual names of pasta pretty fast, so you might simply call this one bow tie pasta or butterfly pasta. Shaped pasta like this can be used in any type of sauce.
However, it works best with sauce that has a texture, such as ones containing pieces of meat or vegetables. Those small pieces can get trapped in the pasta, making it much more interesting to eat.
Rigatoni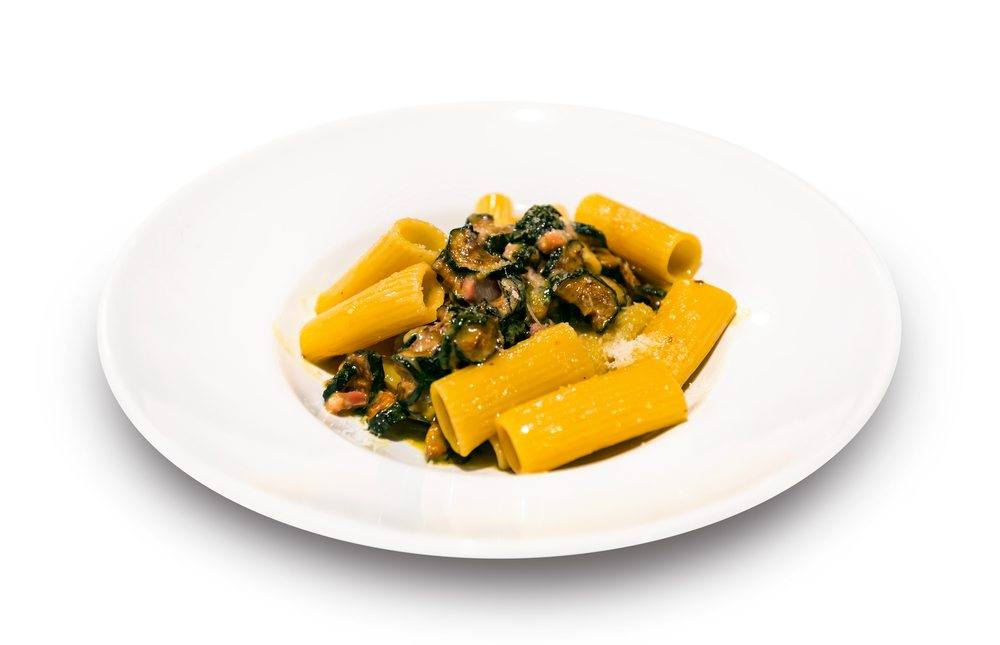 The size of rigatoni varies considerably, but it tends to be larger than ziti and penne, with a ribbed exterior. They are also slightly curved and tend to flatten somewhat once they have been cooked.
The tubes tend to be too large for simple sauces that don't have much texture, but they work great for thick or textured sauces, which can often get caught within the tubes.
Rotini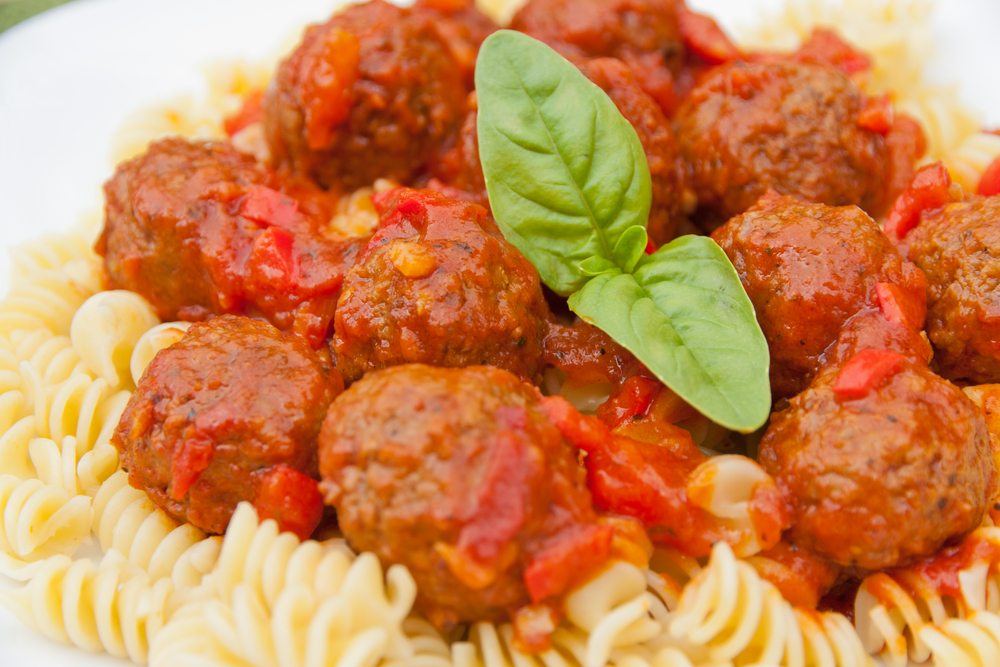 This spring-shaped pasta is pretty popular, and its twists and turns are a perfect way to catch seasonings, sauces and small pieces of meat or vegetables.
The twists are considerably larger than fusilli, which is the more common twisted pasta, but the two types do tend to be used in similar dishes. I particularly like this pasta with a creamy macaroni and cheese dish, especially one with small pieces of meat as they get easily lost in the twists of the pasta.
Tagliatelle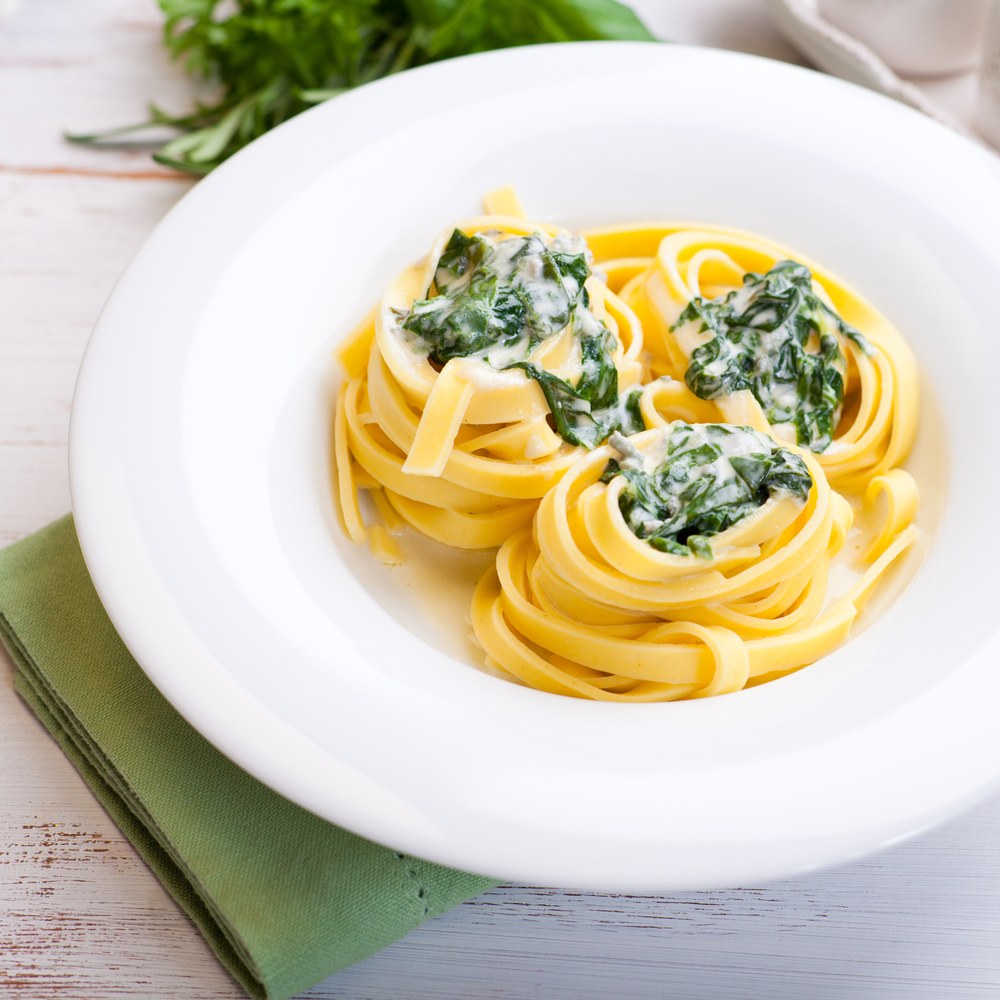 Like fettuccine, tagliatelle is a ribbon pasta, although it is a little bit narrower than fettuccine. The pasta tends to be sold fresh, which gives it a rough texture that works perfectly for thick sauces, especially meat-based ones.
The pasta is sometimes sold in nest-like shapes and can be cooked as-is. However, they will often fall out of the shape as they cook and need to be re-spooled.
Farfalle (bowties)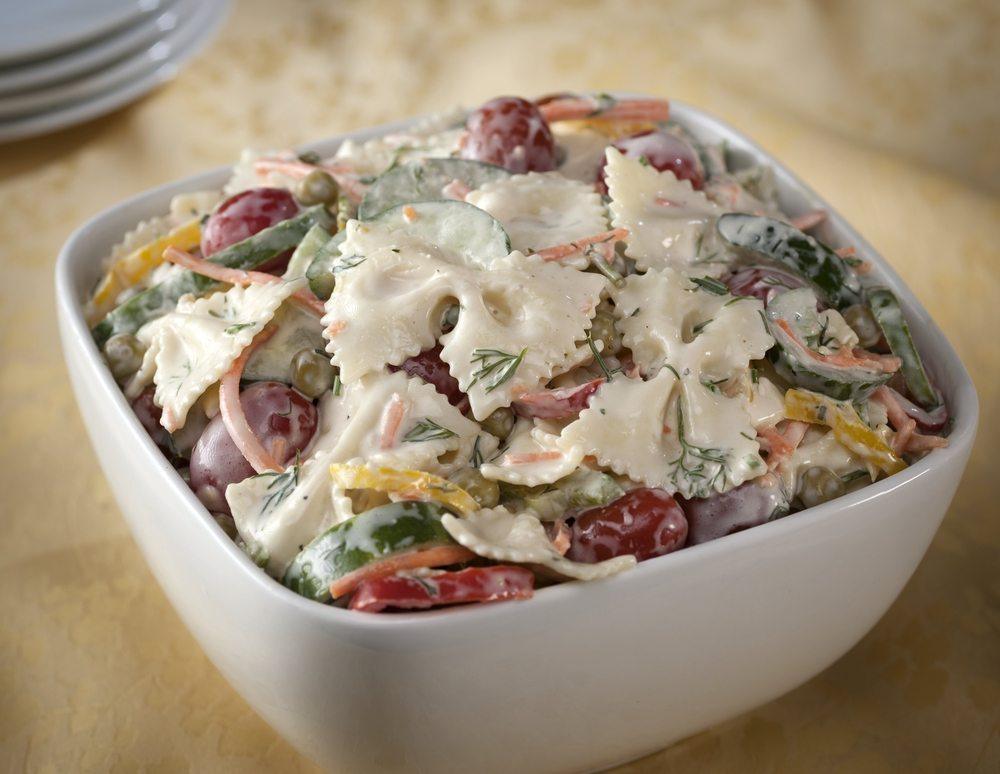 Farfalle looks almost identical to the farfalline I showed earlier. Both types of pasta have that distinctive bow-tie shape that catches sauce well. The difference is in the size of the pasta, and farfalle is the larger of the two.
The pasta can also be found in different varieties, including spinach and tomato, as well as the plain version. Most of the time the different varieties are sold in a single packet and this can make a visually appealing dish if a relatively clear sauce is used.
Cannelloni

Cannelloni is used differently than most other types of pasta. The cylinders are typically stuffed and then the pasta is covered with a sauce and baked. Some types of cannelloni do need to be boiled first, while other types can be filled and baked while the pasta is uncooked.
A typical approach is a meat-based filling combined with a bolognaise sauce, but there are many different variations. Another common approach is a spinach and cheese filling, which can be a good option for vegetarians.
Elbow macaroni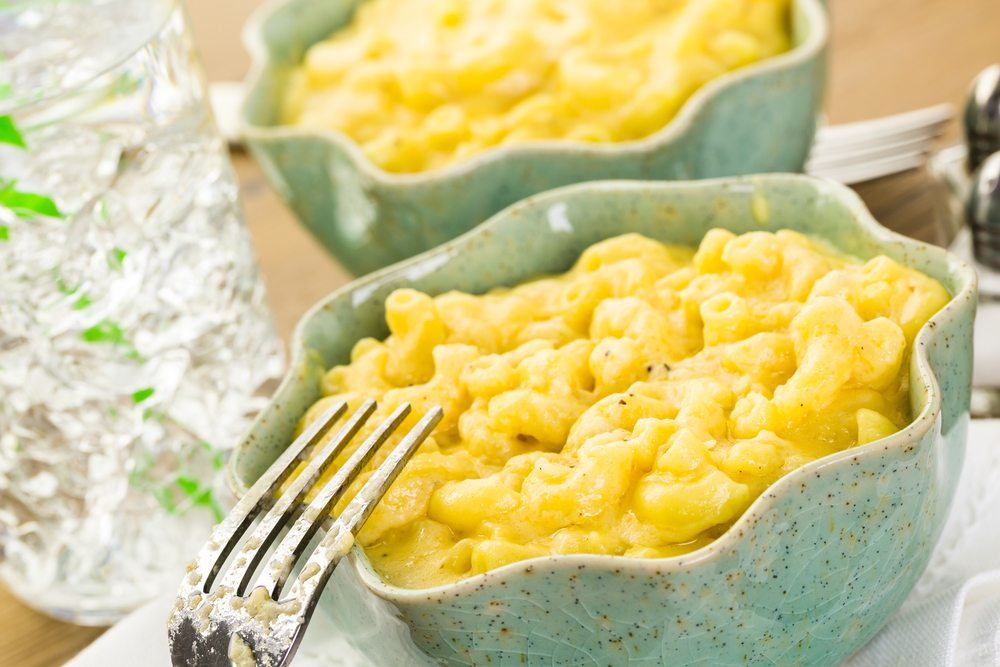 Elbow macaroni is one of the more common types of pasta and this one is especially common in macaroni cheese. Typically the elbows are relatively small, so they don't work well with highly textured sauces.
However, they are a good match for creamy sauces, as anyone who has tried really good macaroni cheese can probably attest.
Fettuccine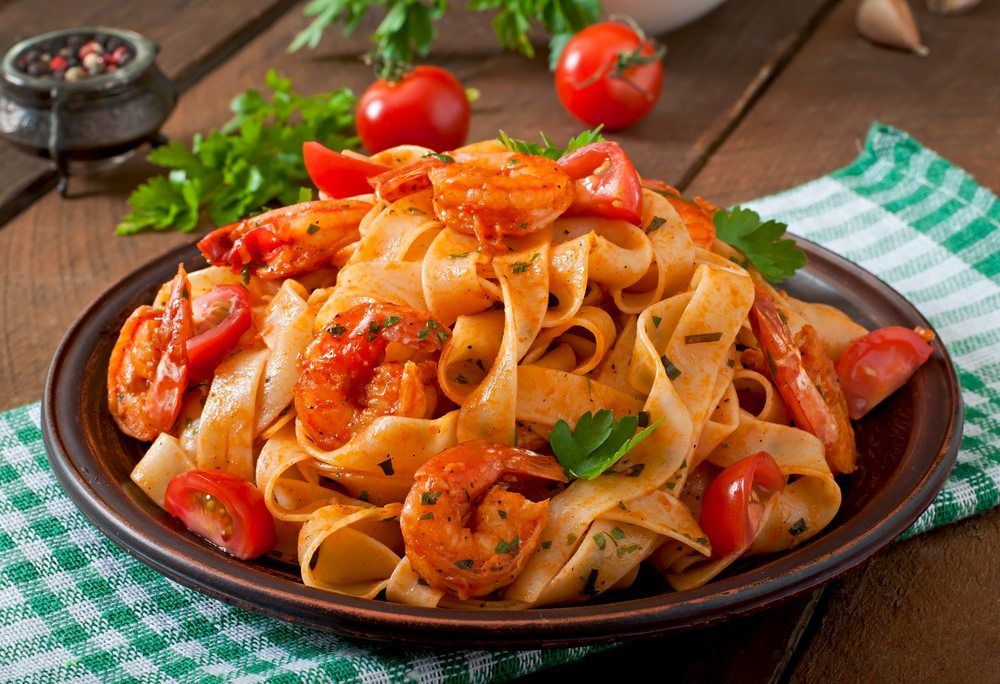 Fettuccine is probably the most common type of flat ribbon pasta and it is a particularly popular one. This is another type of pasta that is commonly found fresh or dried.
When fresh, cooking the pasta is very fast, and it has a texture that works well with creamy sauces. If you are including vegetables in a dish with fettuccine, one good trick is to cut them lengthwise. This makes the dish blend better and also makes it easier to eat.
Fusilli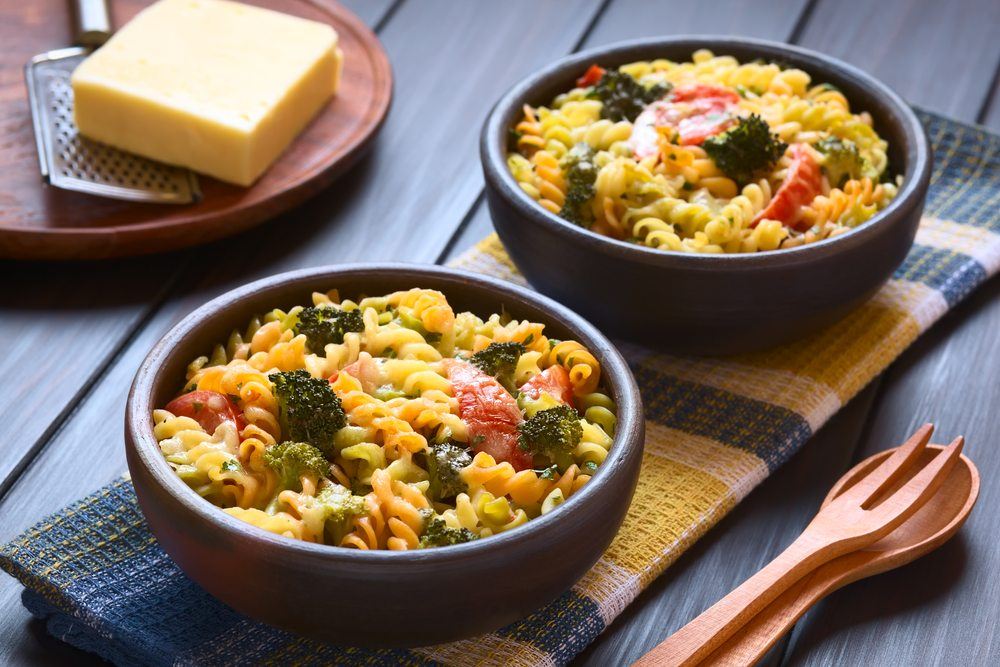 Fusilli is another type of corkscrewed pasta. It tends to have a looser spiral than rotini, although at a glance the two pasta types can look similar. Like other shaped pasta, fusilli works well in textured sauces and isn't a good match for sauces without much substance.
If you have a thick sauce, it will tend to stick well to the pasta, making for a pleasant mouthful. In contrast, a thin sauce will often slight off this type of pasta.
Lasagna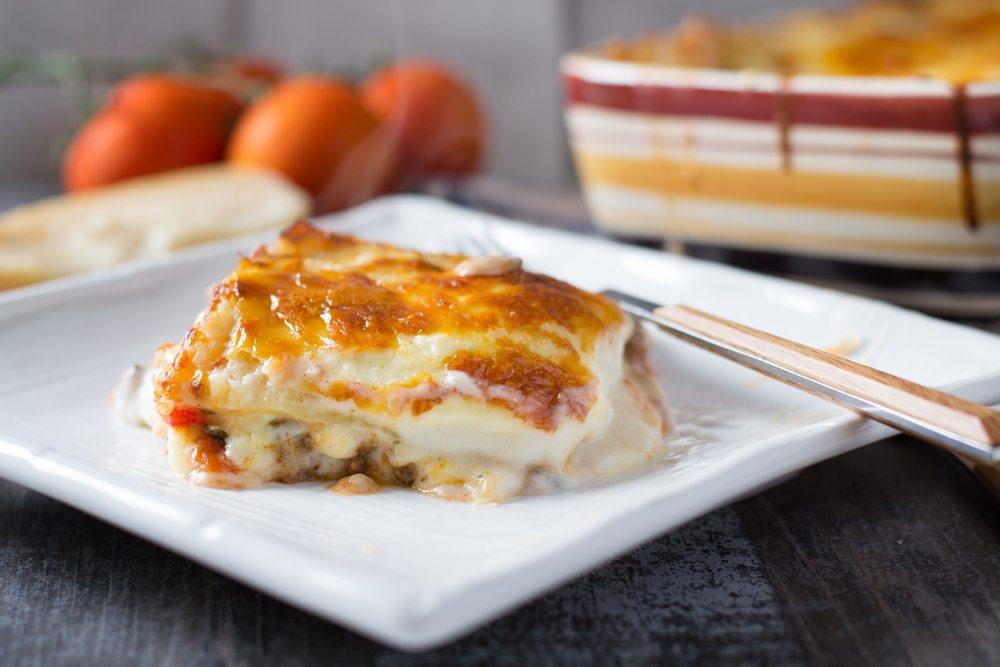 Lasagna has the unfortunate luck of being the name of a dish as well as a type of pasta. The pasta tends to be wide and flat, and the dish is made from the pasta layered with other ingredients, including (but not limited to) meat, béchamel and tomato sauce.
The pasta can be found as fresh sheets as well as the more common dried sheets. In some cases the edges of the sheet may also be curled.
Linguine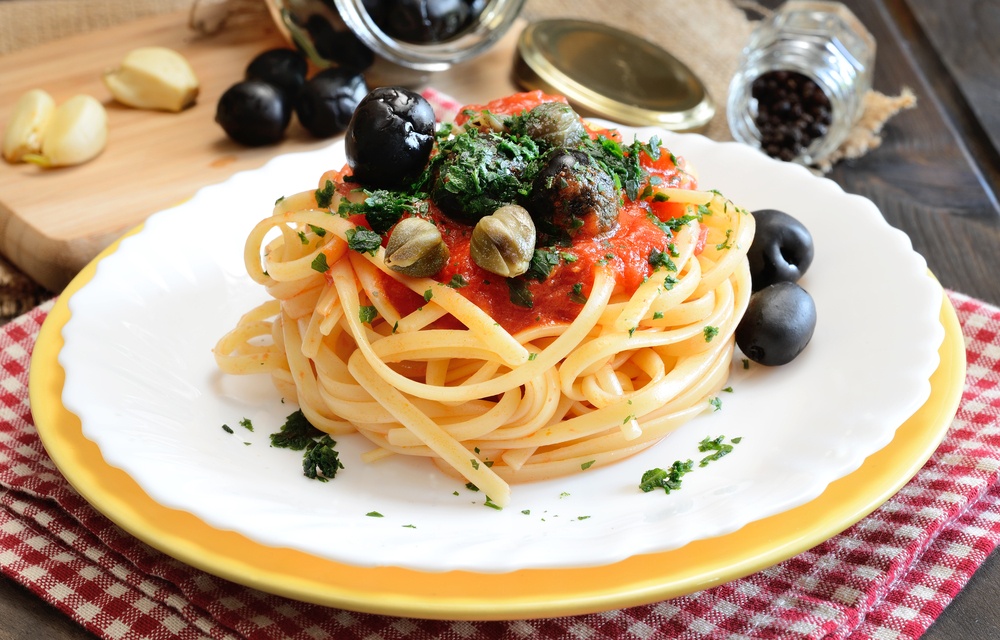 Linguine has a lot of similarities to fettuccine and similar pastas, however, it is elliptical rather than being flat. This pasta is wider than spaghetti but is still considerably narrower than fettuccini.
It is a good option for dishes that need something a little bulkier than spaghetti. The pasta is frequently used with pesto- or seafood-based dishes, although it can also be used as a replacement for spaghetti.
Spaghetti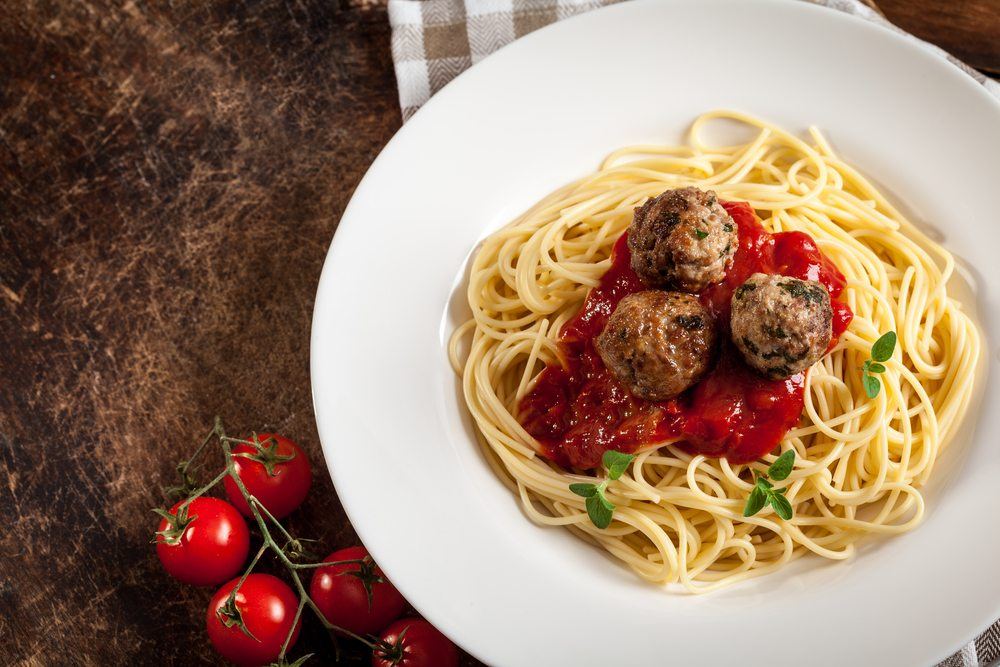 Spaghetti is one of the first types of pasta many of us are introduced to. It is also one that people tend to view as typically American, while other pastas may seem more Italian – although the distinction isn't accurate.
Spaghetti is typically used in meat dishes with tomato-based sauces. Spaghetti and meatballs and spaghetti bolognese are both examples of this pattern.
Gemelli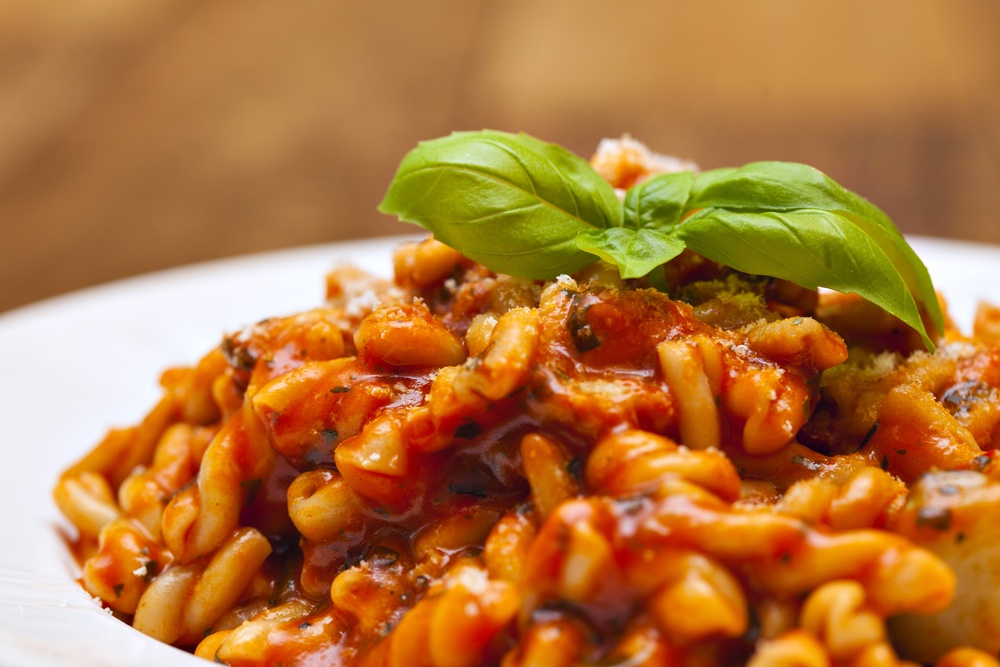 Gemelli is an interesting one. It is actually a single strand of S-shaped pasta that has then been twisted so it forms a loose twisted pasta.
The name actually comes from the Italian word for twins, which seems fitting – because it does look like two pieces of pasta twisted together at first. This shape is perfect for catching thick sauces and it is also a good choice for making a pasta salad.
Gigli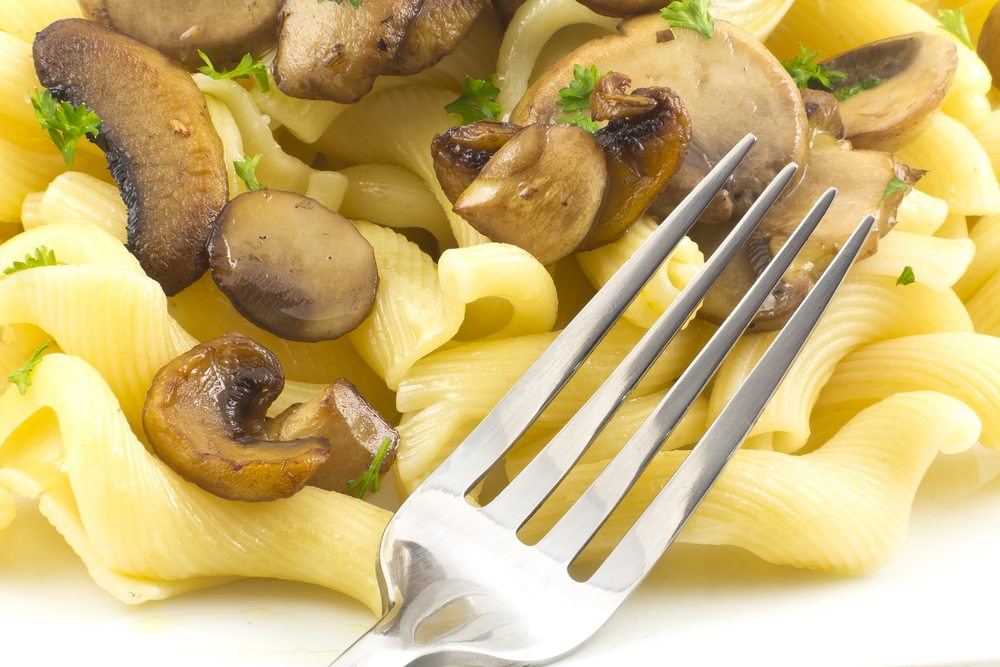 Gigli is a fluted type of pasta that is named for lilies. The name is fitting, because the pasta really does look like a cone-shaped flower. This is a fantastic option for heavier sauces, especially as it is often ribbed, so it will tend to grip the sauce well.
The pasta is also often included in casseroles and it is hearty enough to perform this role well. This pasta is pretty uncommon, so it might be a bit difficult to find, but it can make a dish stand out simply because it is so unusual.
Mafalda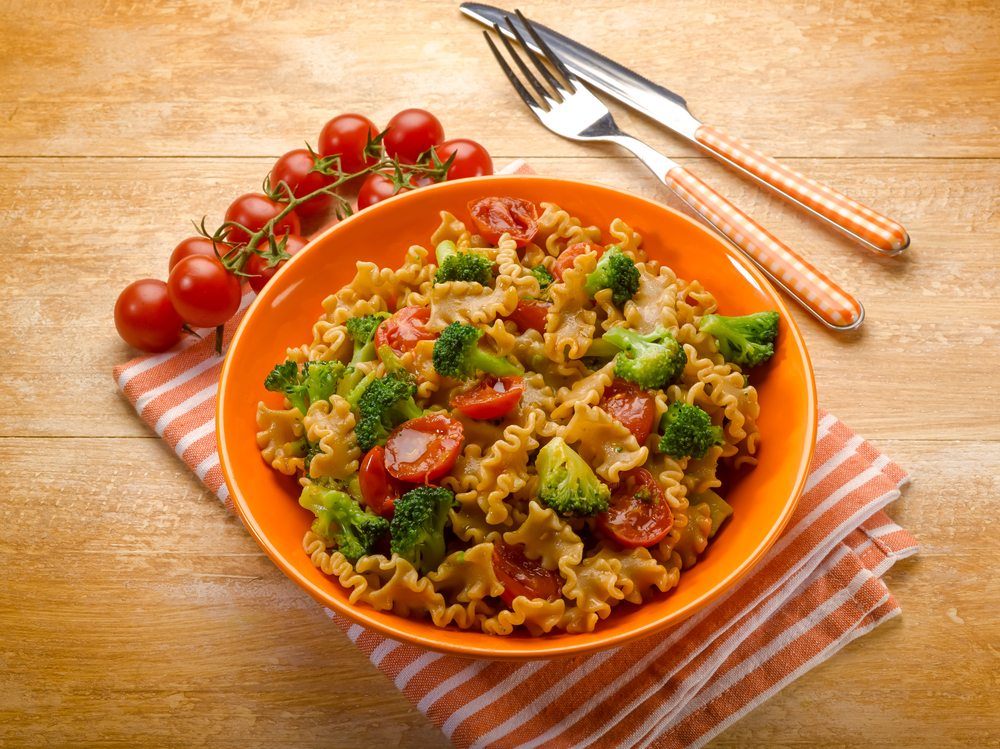 Mafalda is actually another flat ribbon pasta, although it doesn't really look like it. Unlike most other ribbon pastas, mafalda has curled edges, which also makes it look a bit like miniature lasagna noodles.
The pasta can be found as long noodles and also as short lengths, although the shorter ones tend to be more common. By tradition, this type of pasta tends to be paired with a delicate sauce.
Tortiglioni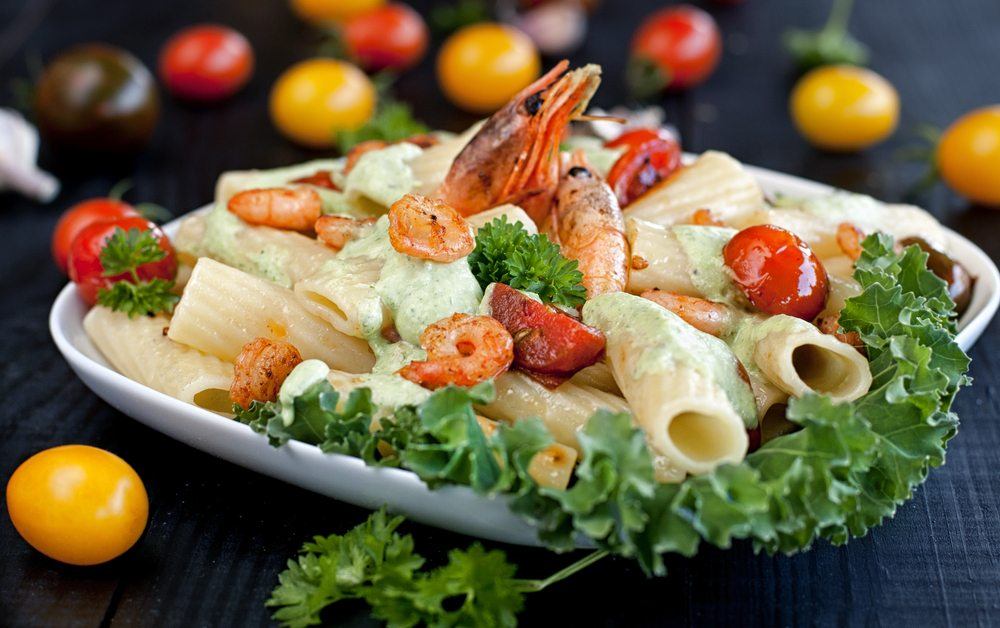 Tortiglioni is essentially a narrower form of the rigatoni that I talked about earlier.
Like rigatoni, this pasta is ridged, allowing it to grip pasta easily. It is a great decorative shape and tends to work well with simple sauces, which makes it a common choice for pasta salads.
Tripolini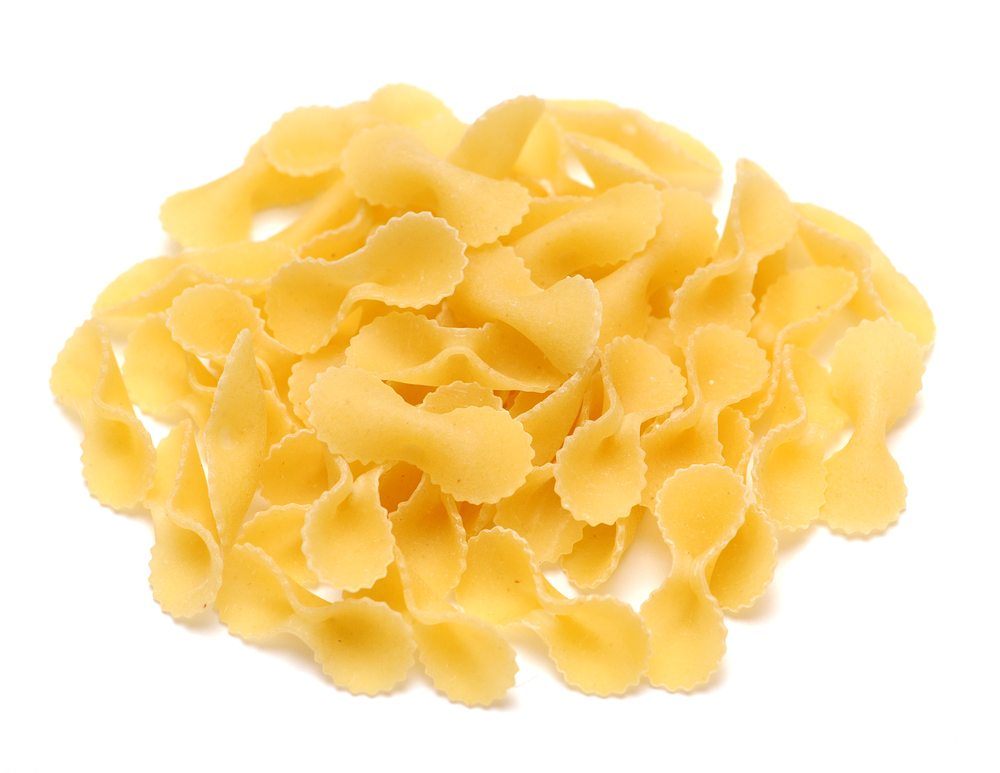 This one is another example of a bow-tie pasta, although it is much smaller and simpler than the other ones that I've mentioned. This tiny pasta is often chosen for pasta salads, although its small size also means that it works well in soups.
The shape of the pasta can work well for catching sauce, but this only works with relatively simple sauces, rather than heavy sauces. Sheets of pasta with wavy edges will also sometimes use the name tripolini, although that is less common.
Tubini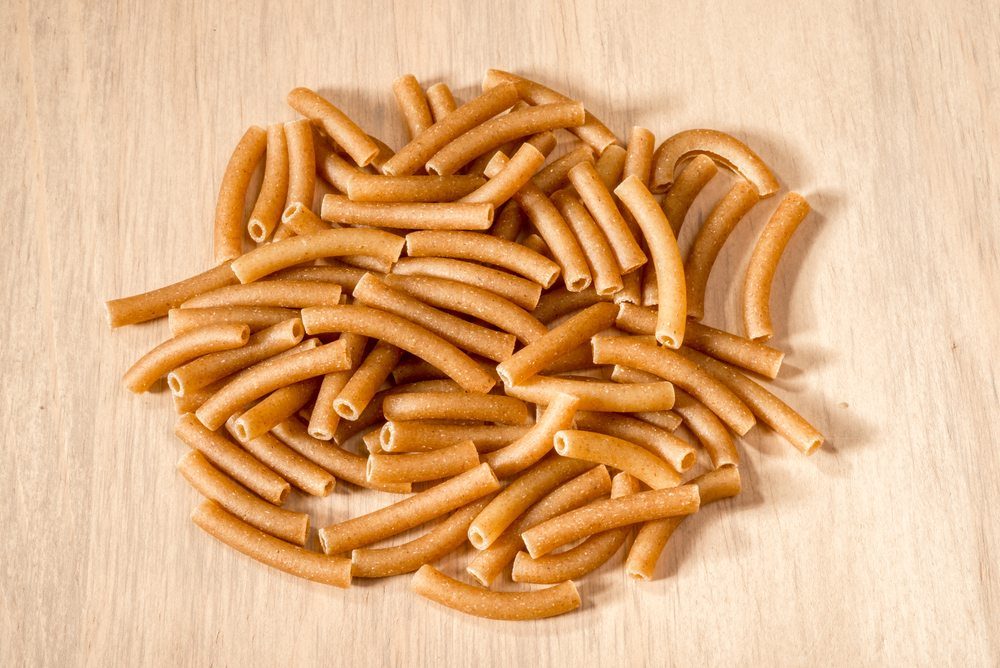 Tubini really lives up to its name, and it can be a fun pasta to work with. Unlike most tubular pastas, tubini has a relatively thick wall compared to its hollow part.
This means that it requires a little more cooking than you might expect otherwise, but beyond that it works as you would expect. It is a good option for meat dishes and for chunky sauces, although it can also work very well in baked dishes.
Acini di Pepe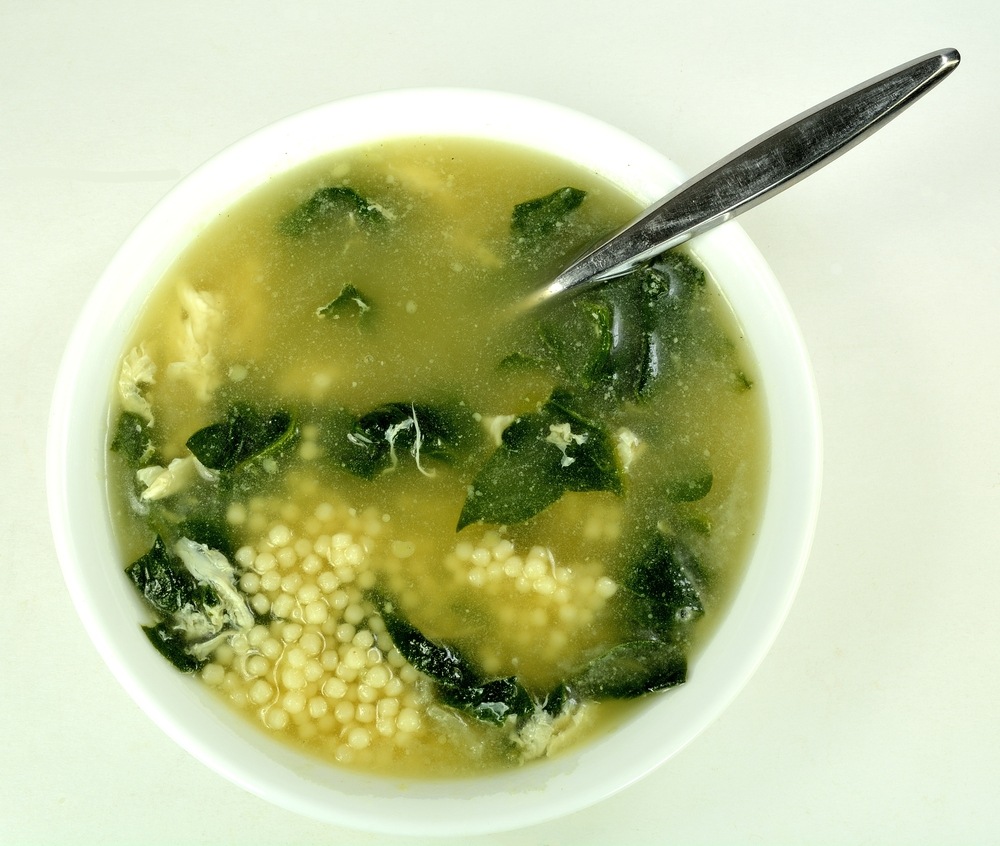 Acinia de Pepe is another pasta that doesn't really look like pasta. If anything, it looks like some type of grain, but its size makes it a perfect choice for soups.
In some cases, the pasta is also used in salads or in a similar manner to couscous. Nevertheless, soups tend to be the most common application and the tiny balls of pasta can be especially appealing for kids.
Campanelle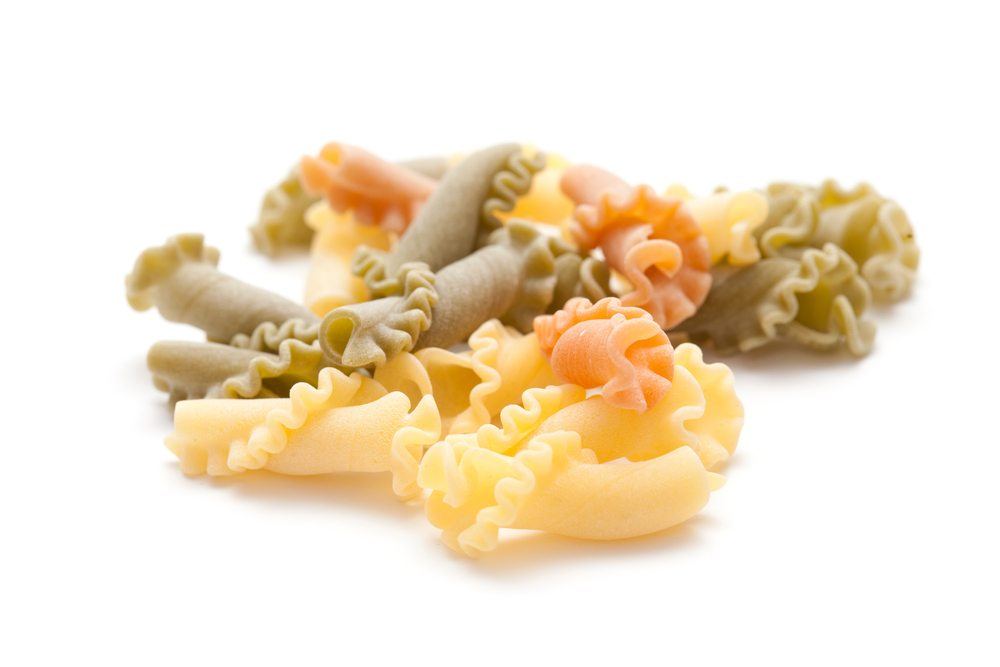 Visually, campanelle is pretty similar to gigli pasta, and both shapes stand out well in salads. These little bells are good for catching little bits of meat, sauce or vegetables, which makes it a good option in dishes with textured or thick sauces.
The solid nature of the pasta shells also makes it a good option for casseroles or in baked dishes.
Bucatini AKA Perciatelli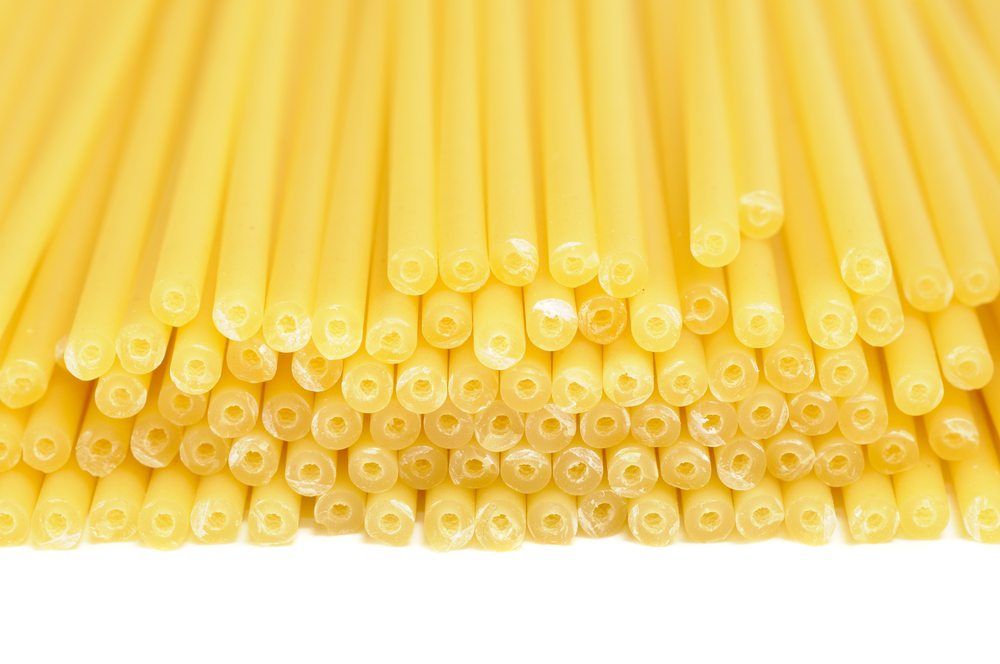 Bucatini is a bit like a thick strand of spaghetti, except for its hollow center. This structure makes it work well for just about any sauce. The pasta is actually very similar to ziti, except for the fact that ziti tends to be found cut in the United States, rather than long like bucatini.
When used in a dish, bucatini tends to look almost exactly like thick spaghetti, so its hollow nature can surprise some people who haven't tried it before.
Pasta al Ceppo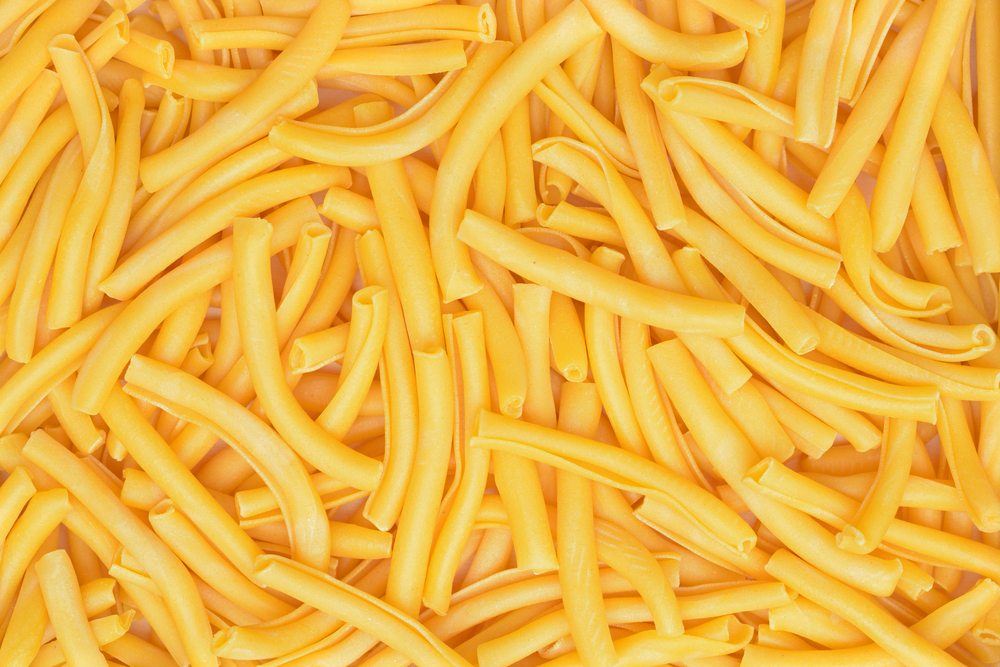 Pasta al Ceppo is cool. It's basically a tube pasta, but the rolled over structure makes it visually different. This shape makes the pasta more chewy than most and the hollow of the tube captures pasta better than most other type types.
This pasta is best when combined with a sauce that is thin enough to get caught, although figuring out the right match can take a bit of experimentation.
Cappelletti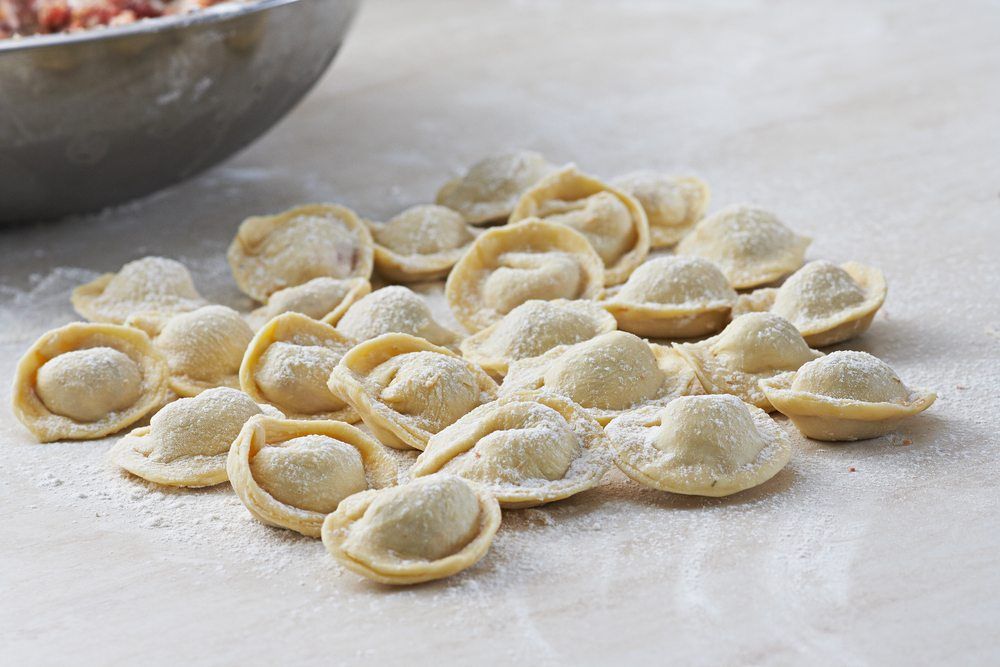 Cappelletti pasta is pretty similar to tortellini, although the word means 'little hat', which is a pretty good description. Essentially, the difference between this and tortellini comes down to relatively minor differences in shape, although cappelletti also tends to be a bit smaller.
Of the two, cappelletti is much more obscure and the name isn't used all that often. If you do find it, the pasta can be used in the exact same way as tortellini.
Casarecce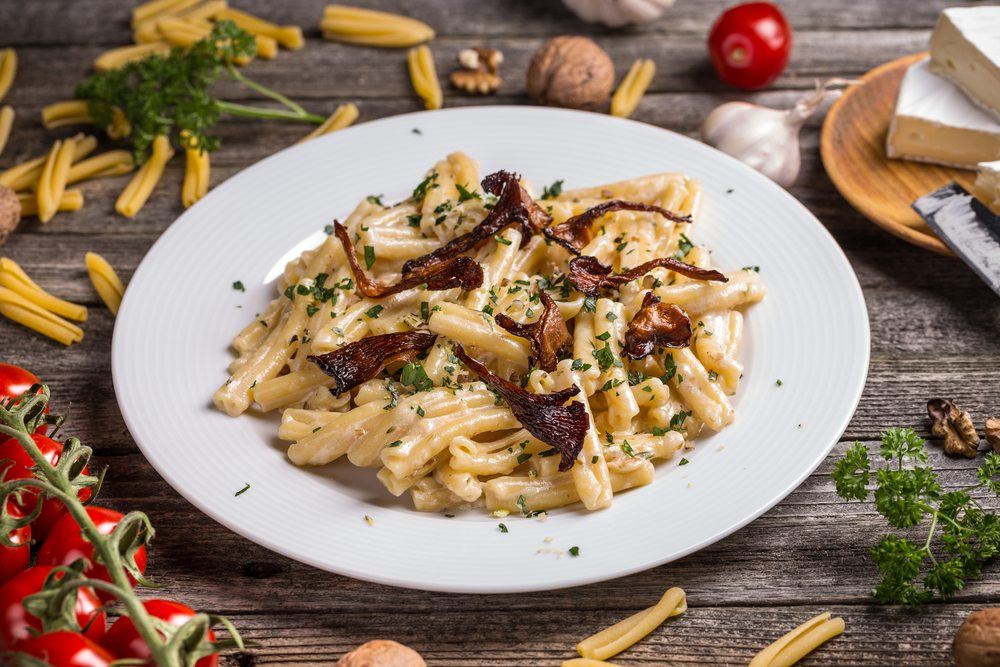 Casarecce is a bit like gemelli, but with much less twisting. Often this pasta will take on a relatively loose shape, especially after cooking. The shape works well for catching sauce and small pieces of vegetables or spices. However, it is a pretty versatile pasta and you can experiment with it to your heart's content.
Conchigliette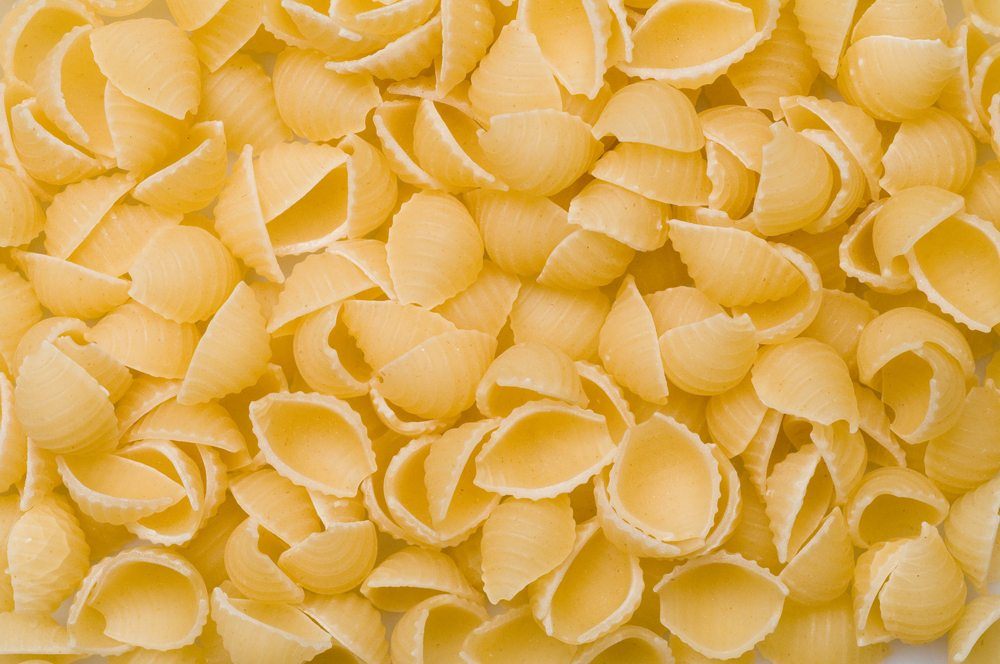 Conchigliette is a pretty common pasta shape, although most of the time you find them simply called shells or small shells. This type of pasta is actually a smaller version of another pasta, called conchiglie and you can find both smooth and ridged versions.
The small size of the shells makes them a common option for soups. However, they also work well for pasta salads and will tend to catch the salad dressing well.
Large Shells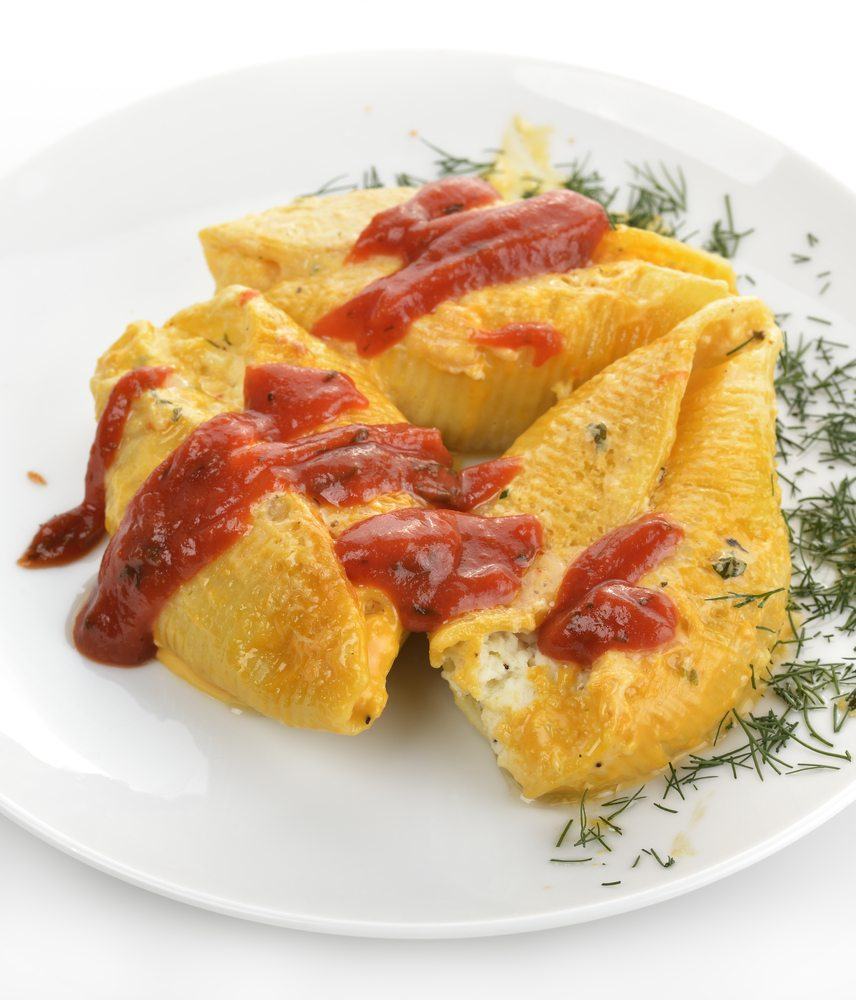 These are actually another variation of conchiglie, although they are used more like cannelloni. They can be stuffed with various combinations of cheese, vegetables and meat, depending on your preferences.
Some people choose to make Mexican variations using taco seasoning for the meat and topping it off with salsa. However, there are many different approaches that you can try.
Penne

Penne pasta is the tube pasta that most of us are familiar with. There are both ridged and smooth variations of this pasta, and it can be paired with just about any sauce or any dish.
The size of the tube makes them a good pick for chunky sauces, but creamy sauces work equally well. Technically speaking, the ridged version of penne is known as penne rigate, although that distinction is often ignored.
Ravioli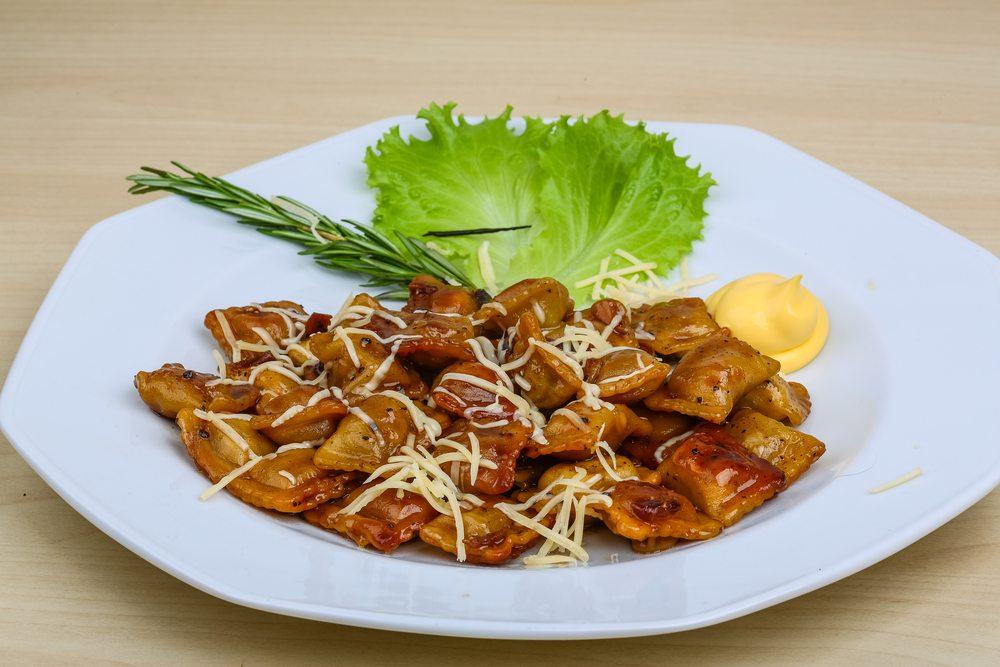 Ravioli is the other filling-based pasta, and you can find them in both square and round versions. Like the other filled pastas, these tend to be filled with some combination of vegetables, cheese, meat and seasonings.
This pasta works very well with a red sauce or with a cream-based sauce, although they can also be served (as pictured) in a very light sauce. Often the seasoning choice will depend on what the ravioli is stuffed with.
Cavatappi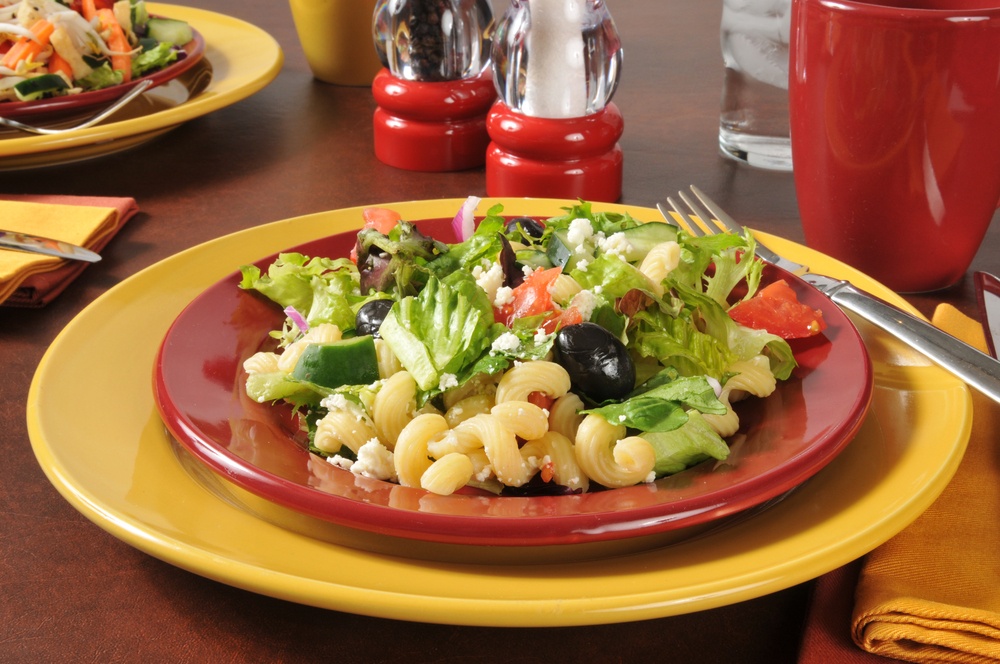 Cavatappi is a little like multiple pieces of elbow pasta joined together. The corkscrew of the pasta is quite fun and it does a good job of capturing sauce.
Even though this pasta is pretty easy to find, it isn't used all that often, and it's a great way of making a dish stand out. The pasta also works well in macaroni cheese and it offers a good way to make that overused dish just a little bit different.
Cavatelli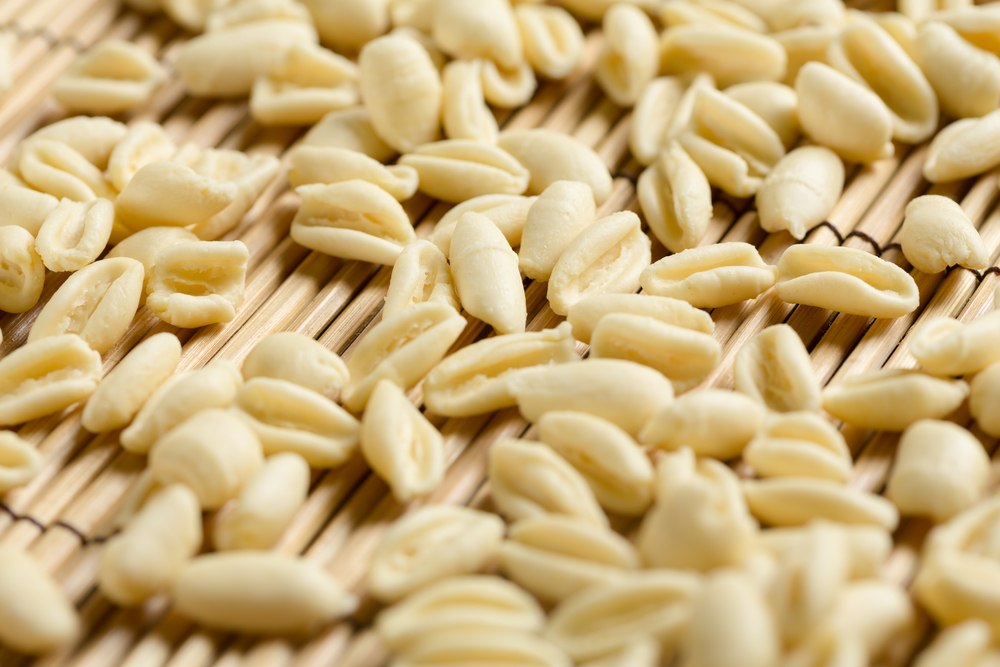 Depending on your point of view cavatelli can look like hotdog buns or like small seeds. Either way, this pasta is a little unusual and it's one that you don't see used all that often. It can be used in the same way as any of the smaller shell pastas and works with most types of sauces.
Ditalini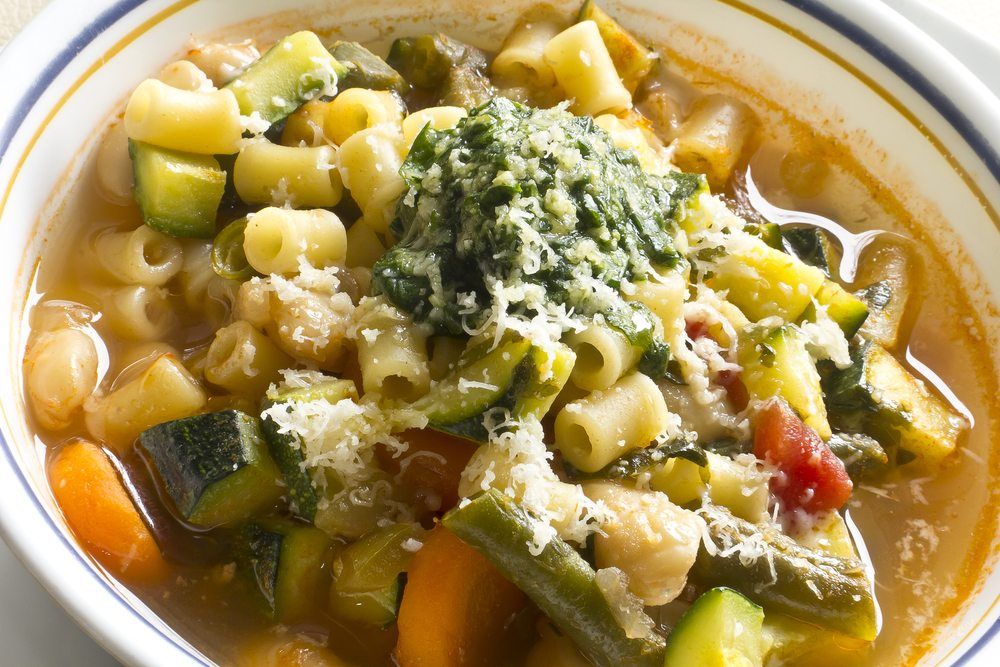 Ditalini has a great shape. This is yet another tube pasta, but it's much shorter, which makes it a lot easier to use.
The smaller versions of this pasta are often used in minestrone and they are best suited for soups. However, the larger versions can be used like any other tube pasta, especially in recipes with lots of different components.
Manicotti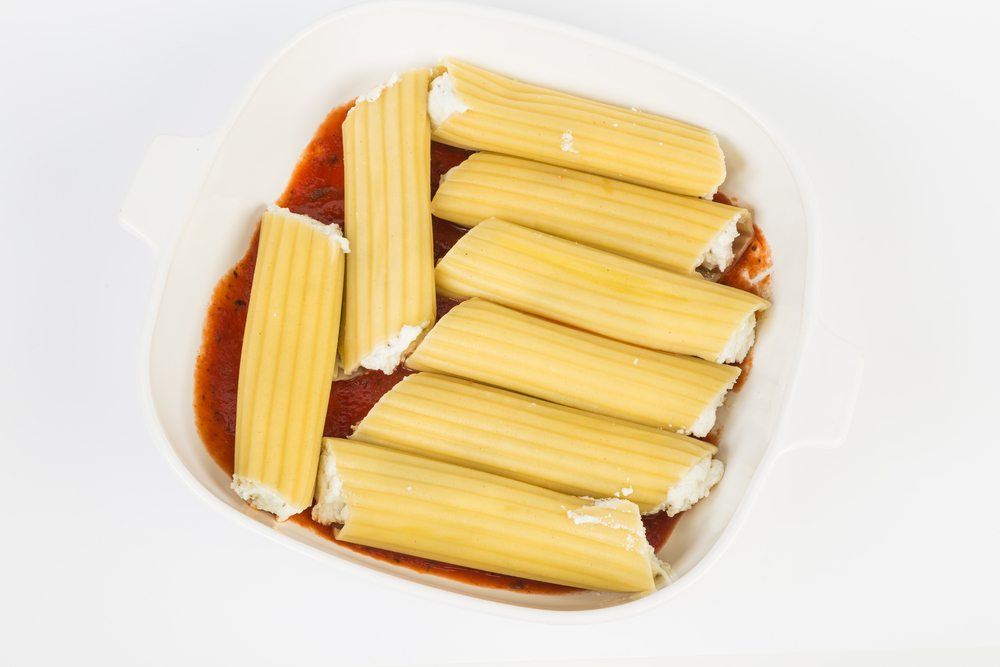 Manicotti is very similar to cannelloni and the two types of pasta are used in much the same way. The difference between the two is related to the way that they were originally made, with manicotti being savory crepes, rather than pasta.
Nowadays, the two are presented as types of pasta and are essentially the same (at least commercially). Instead, the names are used to refer to differences in the ultimate dish rather than the pasta itself.
Midolline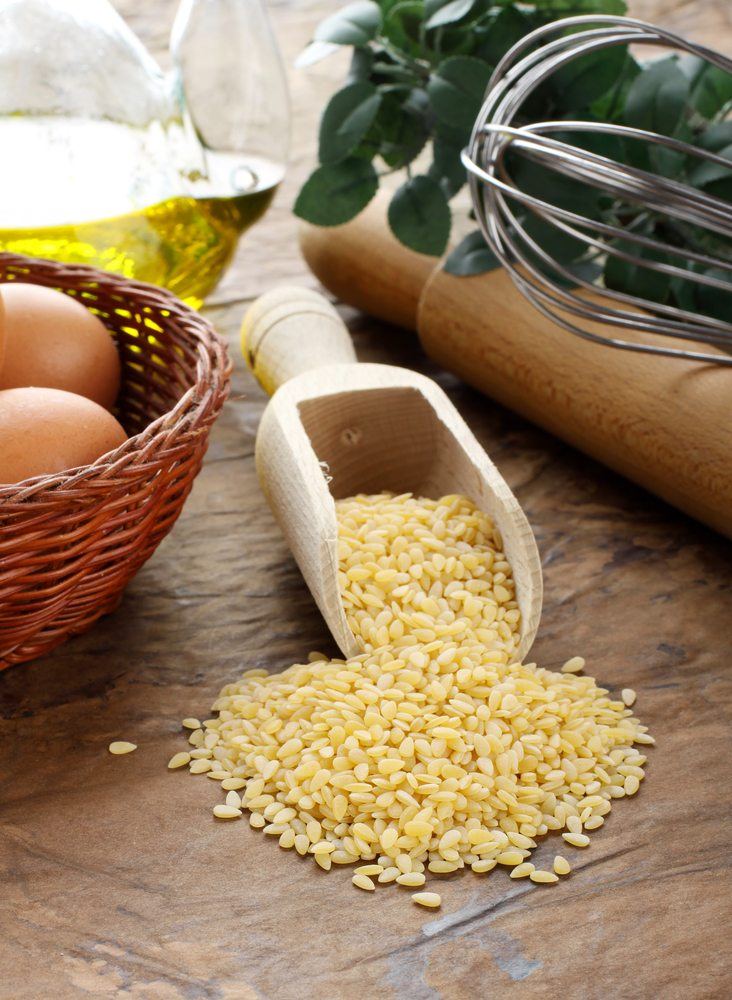 Midolline is pretty similar to orzo, but it is teardrop shaped, rather than shaped like a grain of rice.
As with orzo, this pasta is often used in soup and when cooked looks visually similar to rice. Alternative uses include having the midolline as part of a pasta salad or using it along with a larger type of pasta.
Pipe Rigate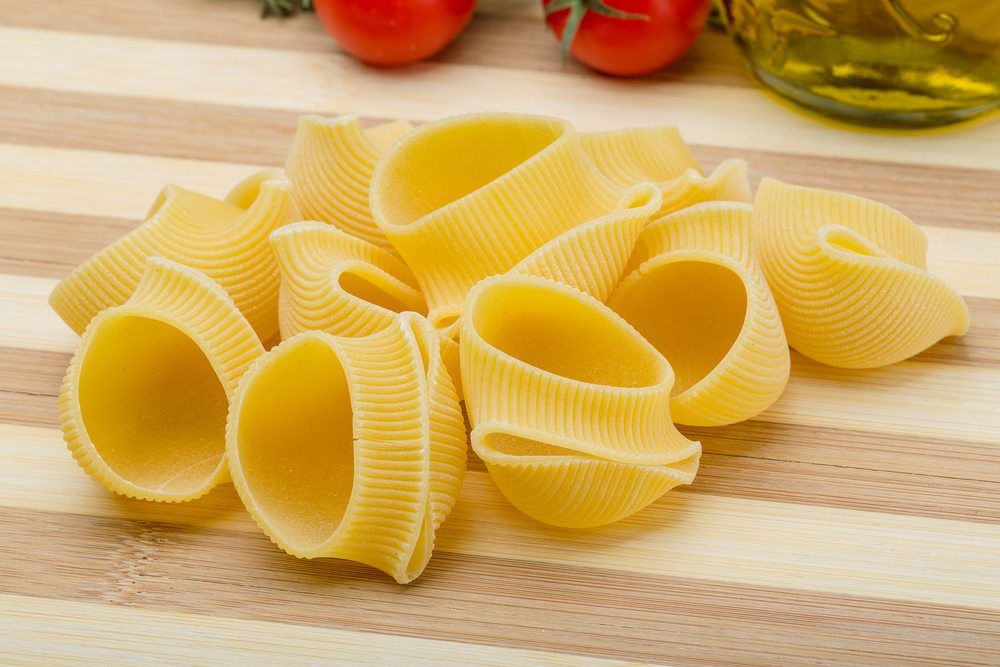 To me, pipe rigate looks like giant pieces of elbow pasta, although these are also sometimes described as a snail shell. Like in the image, one end is wide open while the other is flattened and mostly closed.
Sauce will typically pool in these and it is easy for chunks of meat or vegetables to get caught in them as well. This makes the pasta especially good with creamy or chunky sauces and it is a poor choice of pasta for very light sauces.
Radiatori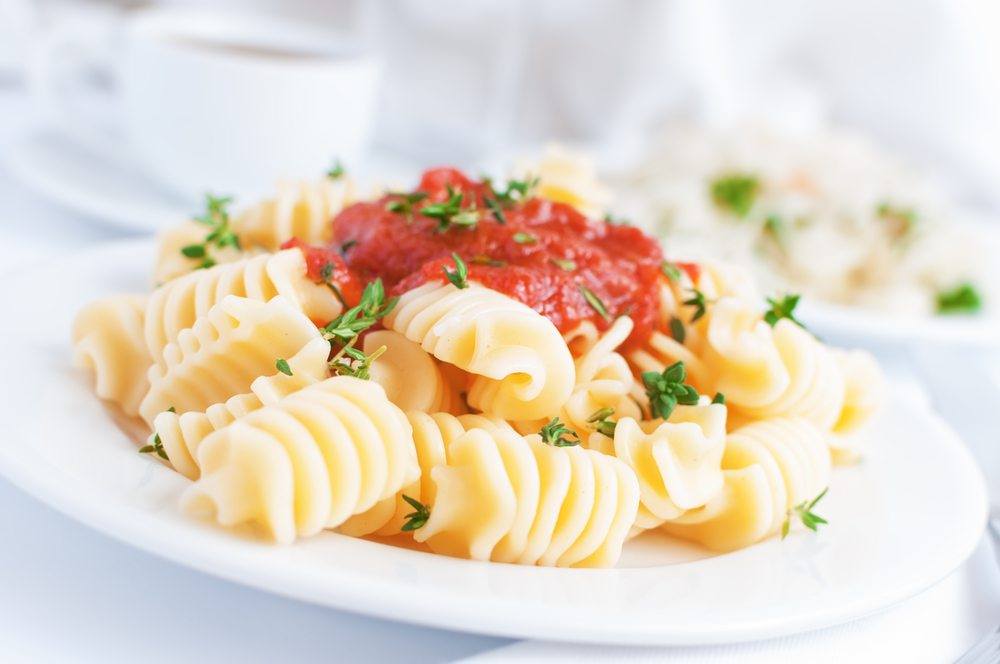 From one side, this pasta looks a lot like some of the other spiral pastas, but that isn't really the case. Instead, radiatori has multiple large ridges on one side, while it is partially open at the back.
The pasta actually does get its name from radiators and is thought to have been created in the 1960s with that design in mind. This type of pasta can be used in any dish that would normally use fusilli or rotini.
Reginette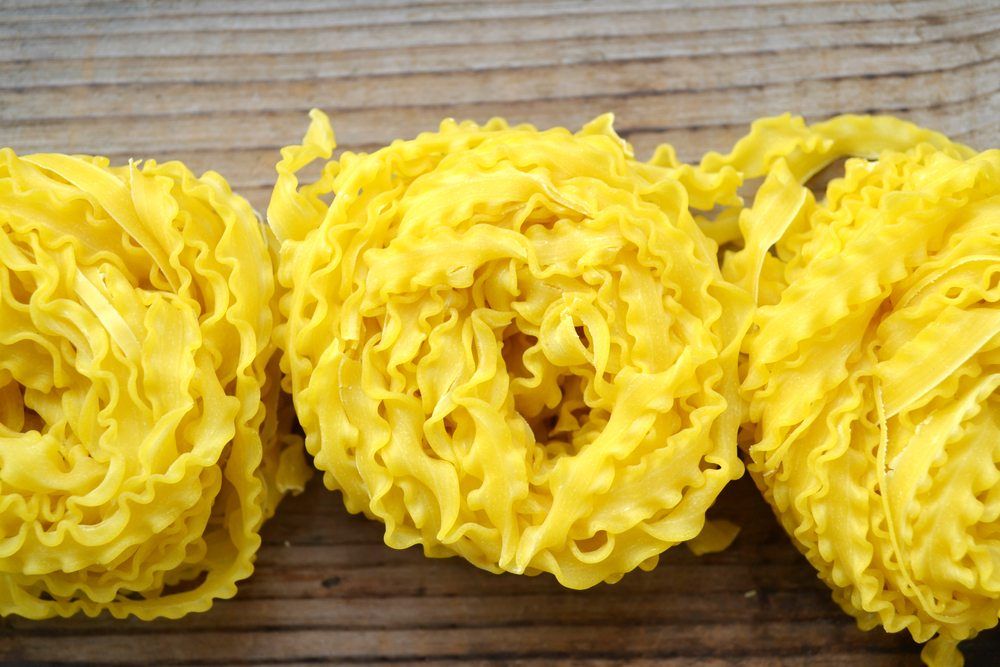 Although it doesn't really look like it in this image, reginette is another ribborn pasta with wavy edges. The pasta turns out to have a number of different names, including mafaldine and mafalda.
I already talked about mafalda earlier and I was surprised to realize that this pasta is exactly the same. The internet should make it easy to figure out stuff like this, but it really doesn't, because no one can seem to agree on anything.
Riccioli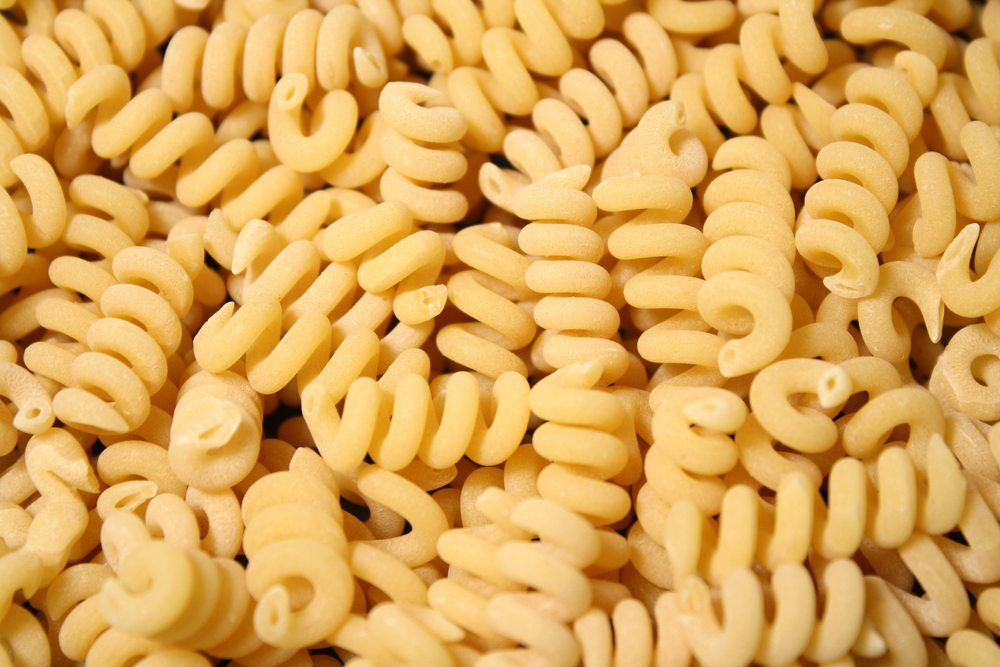 Riccioli is a really good example of where pasta gets confusing. Riccioli is a twisted pasta, but it is described and pictured differently depending on where you look. In some cases, it's like the image here, where a tube of pasta is twisted into a spiral.
In other cases, riccioli is flat pasta twisted into a spiral. I'm sure there is a technically correct definition, but with so many discussions online, it's pretty hard to work out. Which name you use doesn't really matter anyway, it's more a matter of picking the pasta type that is going to work best for your use.
Paccheri

Paccheri is a very large example of tube pasta. Sometimes this pasta is stuffed, but other times it is used like a typical tube pasta.
Because of the large size of the tubes, when the pasta isn't stuffed it tends to flatten out and looks almost like a pocket rather than a tube. Even when flattened the pasta can still be striking in a dish and ingredients can get caught in the hollows during cooking.