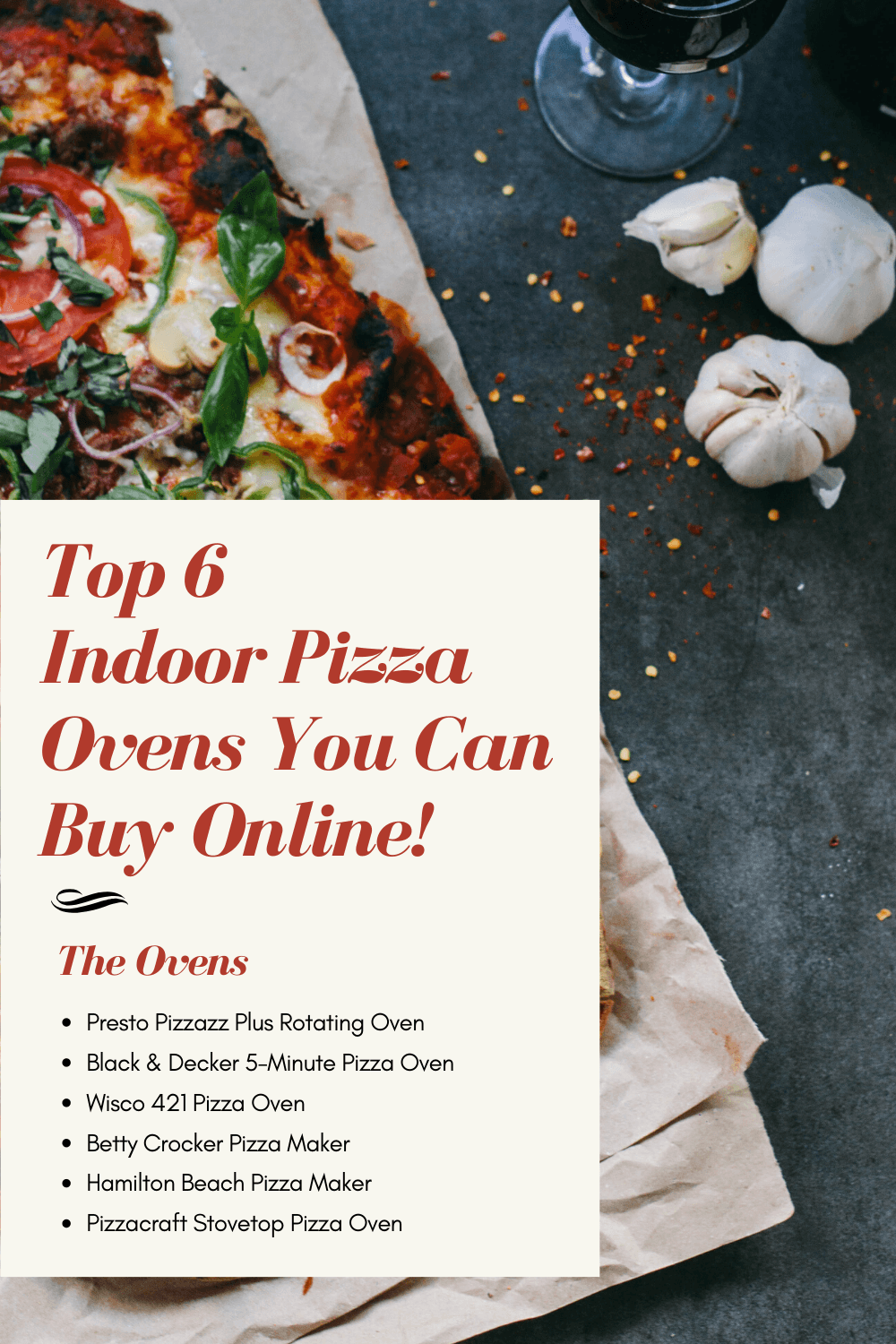 Wood fire pizza ovens are amazing ways to cook high quality authentic pizza. The end result of doing so is always far better than anything you could make in a conventional oven you find in most home kitchens. It's tasty, it's fun, and gets you involved in cooking much more than just making frozen pizza!
But, as amazing as they are, wood fire pizza ovens often aren't practical. Not everyone has the space or money to build one, and not everyone wants to invest a lot of resources just for making pizza. That is where indoor pizza ovens for your own kitchen are incredibly relevant.
After all, outdoor pizza ovens are typically bulky and can take a considerable amount of work to set up. In many cases, they are also expensive, often costing thousands of dollars, especially if you are buying a complete oven. That's a lot of money and/or effort to get a working pizza oven. If this is viable for you, great. But, it won't be the best answer for everybody.
Besides that, a full pizza oven simply isn't going to work in many environments. Winter time? Good luck making pizza in the snow! Also, if you're renting or if you don't have much outdoor living space – a bulky pizza oven probably isn't for you.
What about just making pizza in a conventional oven? Well, that could work, but not everyone has one of those. Small apartments sometimes only have a hot plate, or maybe your oven just isn't very good. Or maybe it's summer and you don't want to bake a pizza at 400º for 30 minutes while it's 100º outside.
So, why not go for an indoor, stand-alone pizza oven? They tend to be much smaller and more practical. For example, you can often set them on your counter top and use them like any other kitchen appliance.
This means that you can still get amazing pizza in the comfort of your own home, regardless of any space limitations. So then, what are some of the options and how do they compare?
Of all the choices below, the #1 option is obviously the Presto Pizzazz Plus Rotating Pizza Oven. It's actually good for making a lot of things (with its rotating plate for even cooking), but everyone seems pretty impressed with it's cooking capabilities.
Sale

Presto 03430 Pizzazz Plus Rotating Oven,…
Rotating tray turns continuously to assure even baking.
Top and bottom heating elements bake foods from both sides. Heating elements are separately controlled, allowing you to select top, bottom, or both elements for perfect results every time.
Timer signals end of cooking time and automatically turns off heating elements.
Saves as much as 60% in energy compared to a conventional oven.
Removable nonstick baking pan is easy to clean and store.
It's racked up over 5,000 reviews on Amazon, with some reviewers saying that their machine is still working after 8 years of use, plus some pizza pictures and videos as well.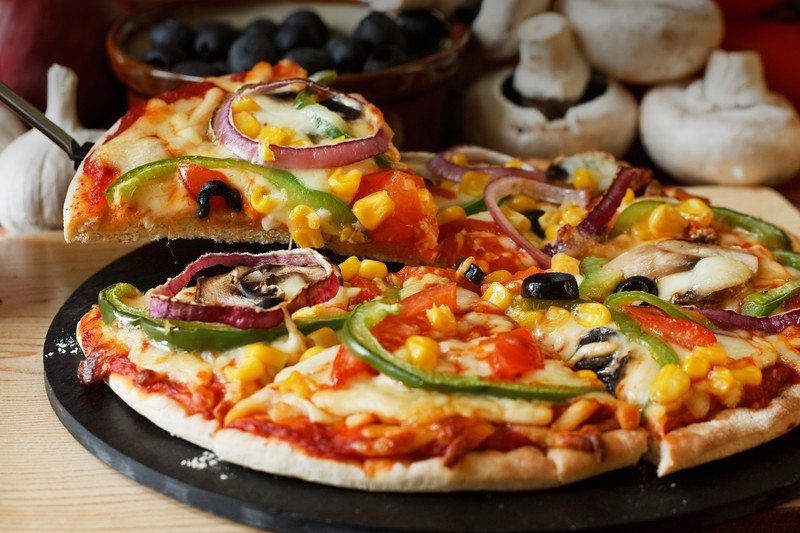 Top Indoor Pizza Ovens
Presto Pizzazz Plus Rotating Oven
Black & Decker 5-Minute Pizza Oven
Wisco 421 Pizza Oven
Betty Crocker Pizza Maker
Hamilton Beach Pizza Maker
Pizzacraft Stovetop Pizza Oven
Presto Pizzazz Plus Rotating Oven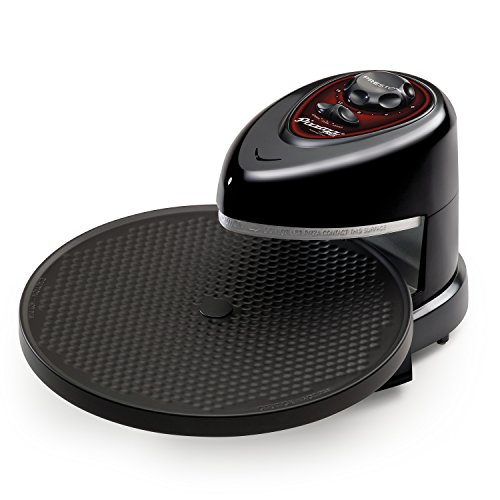 I'm actually very surprised at how well this device works, and how well it's received by people online. It looks like couldn't cook much, and is nothing more than a warming plate. But from the pictures I've seen, it works great for pizzas.
The Presto Pizzaza is a 'pizza oven' that uses an unusual style. It looks like a clothes iron hovering over a spinning plate.
Basically, the style here makes it easy to bake a large range of different foods, including pizza. You also get the chance to closely watch your pizza as it cooks, giving your more control than most other products. The base does also rotate, giving you an even cook overall.
For regular cooking, I can see the appeal of this oven. But for pizzas, not so much. Realistically, the machine isn't going to get anywhere near as hot as a pizza oven. The temperature also isn't as concentrated, so your pizza would turn out differently. I've really got to try this one out to see if it can cook raw dough well versus just heating up frozen pizza, and just how crispy the crust gets. Full review coming soon!
One big advantage of this product is the multi-purpose uses! Some commenters have said to throw away your microwave. It's also quite inexpensive compared to some other choices on this page, so it makes it easier to buy and try out.
Considering the advantage of having a small appliance that can cook pizzas, as well as other things, and taking into the consideration all the positive things being said online, this product would be my #1 choice for someone looking to add a pizza-related appliance to their kitchen (that doesn't require a stove or any external gas source)
= = > Get Presto Pizzazz Plus Rotating Oven Here
Black & Decker 5-Minute Pizza Oven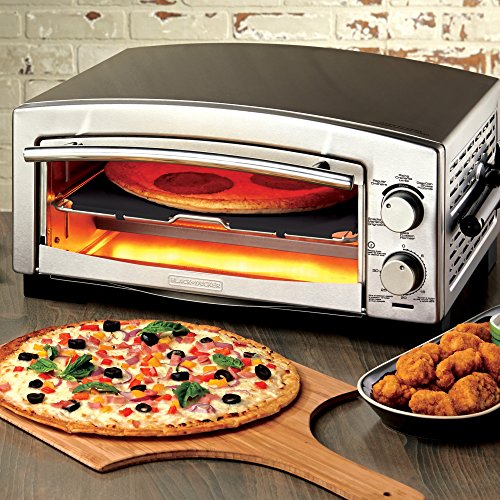 This pizza oven is a fairly common style for an indoor pizza oven and is mostly just a variation on a traditional toaster oven. For that matter, the full title of the product also calls it a snack maker and a toaster oven. This approach is both good and bad.
On the plus side, it gives you a versatile tool for the kitchen, one that fills several roles. There are also specific settings for cooking, which include the ability to choose the type of pizza crust that you are working with. The viewing window also makes it easy to keep an eye on your cooking throughout the process.
But, as you can probably guess, the style has limitations for making pizza. For one thing, there is no pizza stone, just a ceramic-coated tray.
One other thing to mention is that this pizza oven isn't particularly well received. While some people have had great experiences with it, others have found that the product cooks unevenly or doesn't have a very long lifespan. Plus, if you already have a toaster oven, it might seem like a waste to buy another one, just because it's a little bigger (big enough to fit a pizza)
= = > Get Black & Decker 5-Minute Pizza Oven Here
Wisco 421 Pizza Oven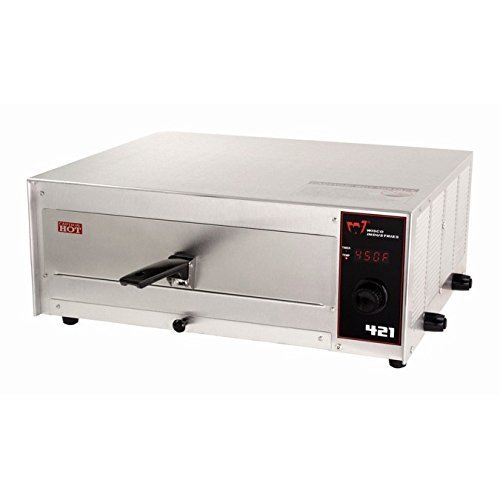 Visually, this pizza oven isn't particularly exciting, but it does look professional. And, if you're after authentic results, who cares what the appliance looks like. Instead, the style here is more commercial in nature and would also work very well with a pizza peel. Information from customers does also show that you end up with pizzas that taste great.
The oven does underperform compared to a traditional pizza oven because the default settings are 450°F for 10 minutes. That's much lower than you should be using to get the authentic taste and texture of a Neapolitan pizza. This pattern is common among the various indoor pizza ovens and you'll find that most cannot get to the temperatures that outdoor alternatives can reach.
Even with that limitation, it's easy to see how this pizza oven would work for some people. It's a great option for someone without a conventional oven that wants a cooker big enough to make some pizza pies. If nothing else, the product is an efficient oven that cooks pizzas fairly quickly, along with a range of other products.
The same company does also offer other similar products, which tend to differ slightly from one another in design.
= = > Get Wisco 421 Pizza Oven Here
Betty Crocker Pizza Maker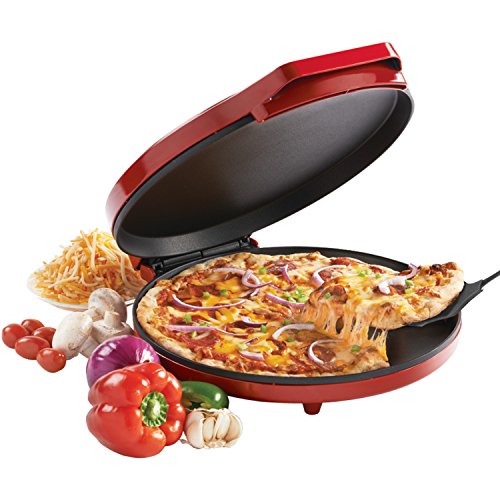 This product is touted as a pizza maker, although the company does also suggest that you can cook a range of things in it. The overall style works well for trapping in the heat, helping to ensure that your pizzas cook well, cooks evenly, and cooks quickly too!
But, there are limitations too. The most significant one is that the pizza oven only goes up to 400°F, which is on the low side for cooking pizza. Additionally, there is no way to adjust the temperature. The lack of adjustment means that you have little control over your pizza and no way to ensure perfect outcomes. Likewise, you're not going to get authentic homemade pizza at just 400°F.
Still, it's small size makes it easy for storage, and it's got an nice look to it as well.
Another downside is that all your pizzas will turn out the same size, and you can only make one at a time.
= = > Get Betty Crocker Pizza Maker Here
Hamilton Beach Pizza Maker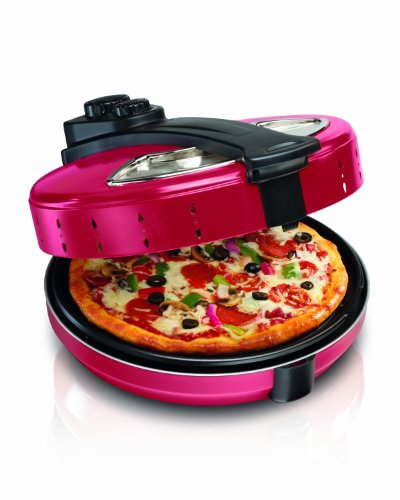 Hamilton Beach is another brand that has tried to cash in on the pizza making craze. The product here is almost identical to what Better Crocker had to offer and, as such, has the same overall advantages and disadvantages.
Generally speaking, either option would work well enough if you wanted to quickly cook pizza (or other foods). The products can also be fun to use and fairly easy to clean. So, in that sense, they are appealing.
In comparison to the Betty Crocker product shown above, this one seems to have more room on top for the crust to expand.
= = > Get Hamilton Beach Pizza Maker Here
Pizzacraft Stovetop Pizza Oven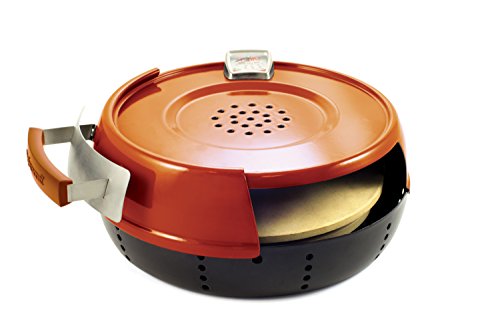 Pizzacraft is a popular brand for pizza ovens, including indoor and outdoor options. But, this particular pizza oven is certainly unusual. As the name suggests, the tiny 'oven' is designed to be used on a stovetop, meaning that your gas stove burners acts as the heat source.
One catch is that it only works for gas ovens and even then some styles are excluded. Make sure you're running 9500-15000 BTU NG or LPG!
But the thing I love about this option is that it's more of an authentic pizza-making experience than the other options on this list. This would be my first choice to go with, despite lukewarm opinions from some reviewers. You get to use a pizza peel, and make your pizza on a real pizza stone! You can't replicate the smokiness of a wood-fired oven, but it's still pretty close.
It reaches a full 600°F which, although it's not the 800º of a legit oven, is still pretty good for indoor cooking on a gas stove. This is higher than a conventional oven and most other options on this list. If you really want to step up your pizza game, you need to get outdoors though. You can actually convert your gas barbecue with homemade barbecue conversion hacks.
Just considering indoor cooking, this would be my #1 choice to go with if you have a gas oven with burners.
= = > Get Pizzacraft Stovetop Pizza Oven Here
Final Thoughts
Within this list, there are a few different styles of indoor pizza ovens. But, for the most part, they are all just conventional ovens with some tweaks. Some of them go to a higher heat than others but they won't actually offer an authentic pizza-making experience and the final product is compromised as well.
In many cases, this outcome is completely fine. After all, you can still use homemade pizza dough recipes in this type of product and you have considerable flexibility in what you create.
Still, if you're wanting a more authentic experience, you may need to branch away from indoor pizza ovens. Portable outdoor options [LINK], are one way of doing so. Alternatively, you can just take the experience outdoors entirely. Doing so is lots of fun and you can even take advantage of your own grill to cook pizzas.