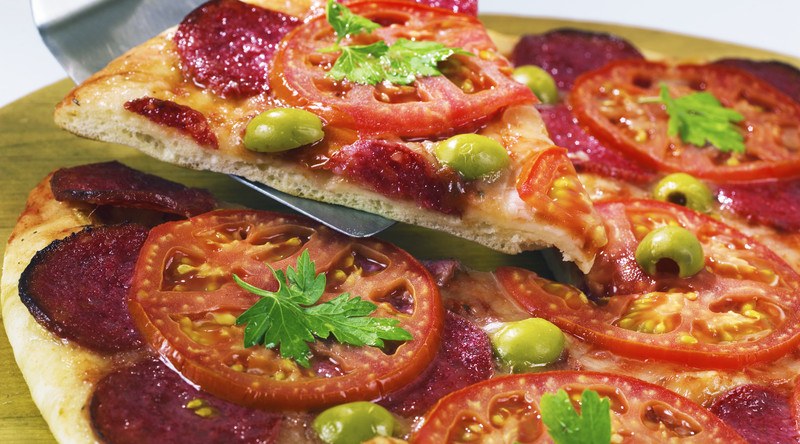 Pizza is an incredibly common food and it's also an amazing food because it can be used in so many different situations. An even more amazing thing is that there are so many combinations of flavors.
Some of those combinations are just about everywhere, like pepperoni and cheese, Hawaiian or meat-heavy pizzas, but others are much more obscure. In fact, there are some flavors out there that probably taste amazing, even though you've never heard of them before and have certainly never tried them.
So, let this list inspire you and let me show you some of the more unusual flavors of pizza out there. Some of them might be downright weird, but that won't stop them tasting good.
Texas Margherita Pizza
Fried green tomatoes, jalapenos and who knows what else. The pizza does look good though.    
Spicy Pizza

The poster doesn't describe this one, but it looks pretty spicy to me, which could be fun.
Chocolate Pizza
Personally, I love dessert pizzas, but chocolate and berries can certainly seem like a strange pizza flavor to some.  
Pretty Colors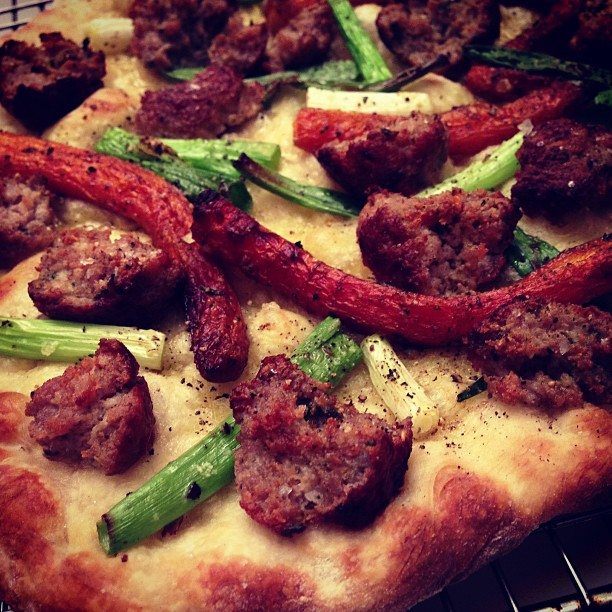 Here's another one where the author doesn't bother to explain what's going on. It doesn't look like a normal pizza though – but it would probably taste great.   
Curried Chicken and Yam
Curry-based pizzas are really unusual, but that flavor combination would probably work very well.
Egg and Greens Pizza
People seem to freak out about the idea of egg on a pizza. I don't know why, this one looks like a really good balance of flavors (and colors).  

Chicken and Spinach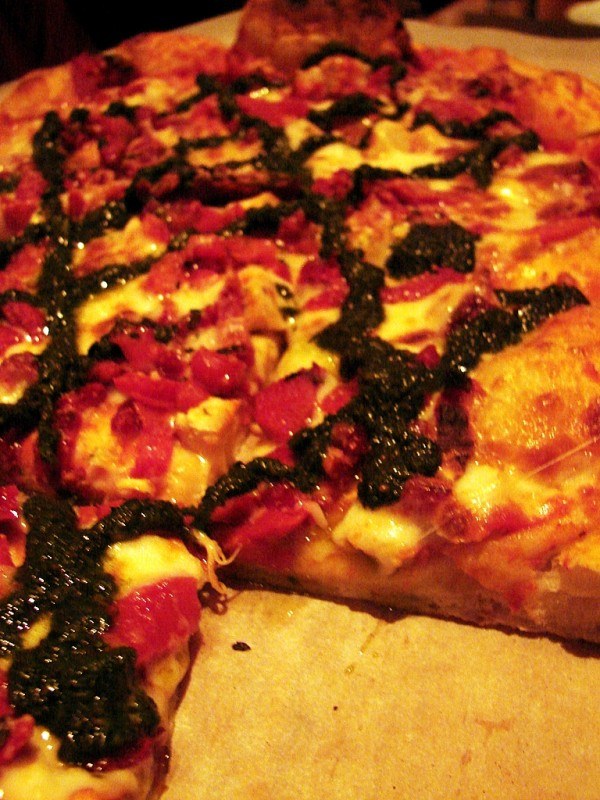 You can't really tell by looking, but this one was chicken with a spinach sauce. Odd presentation, but those flavors do work well together.   

Homemade Chicken, Spinach and Extras

This version is a homemade approach, also using spinach and chicken, along with a number of other ingredients. Looks good.
Meatball Pizza
Meatballs on a pizza is a seriously tasty option, although this type of pizza can be a bit tricky to eat.  

Cookies and Cream Pizza
The person who posted this pizza didn't seem to enjoy it, but honestly, it could be a pretty neat option for something a little bit different.   

Thai Chicken
This doesn't look like a pizza that you would normally find, but the flavors of a Thai chicken dish could actually work really well on a pizza.
Chicken Chipotle Pizza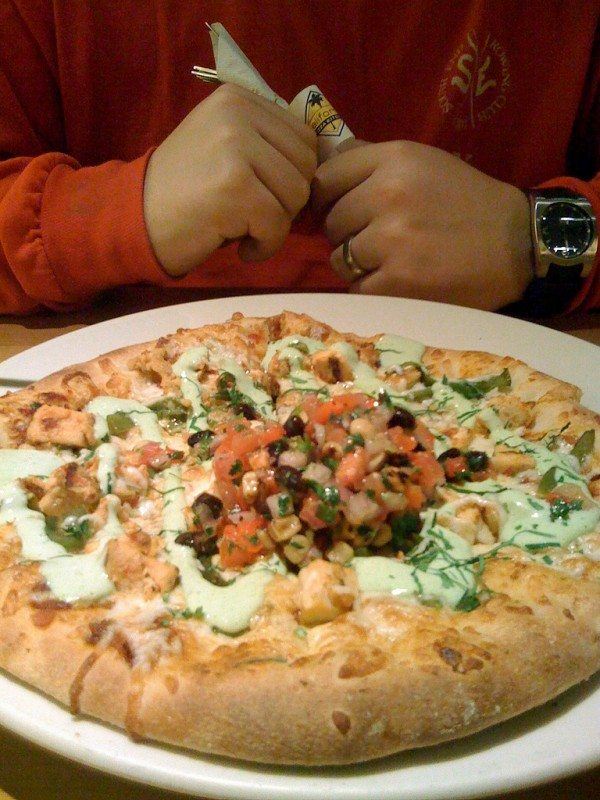 I think this pizza manages to look weirder than it actually is. The flavor of the whole thing is chicken chipotle, but you wouldn't know that from looking at it.
Spinach, Feta and Octopus
I'm not so sure about this one, spinach and feta work well together, but octopus? That might be appealing to the seafood lovers out there.   

Perogi Pizza
This pizza is pretty common in Pittsburgh and it is literally a mashed potatoes pizza. It's a very unusual idea, but honestly, I'd love to try it.
Hot Dog Crust
Okay, this is just a pepperoni and cheese pizza, but take a look at that crust.
Deep Dish Cheeseless Pizza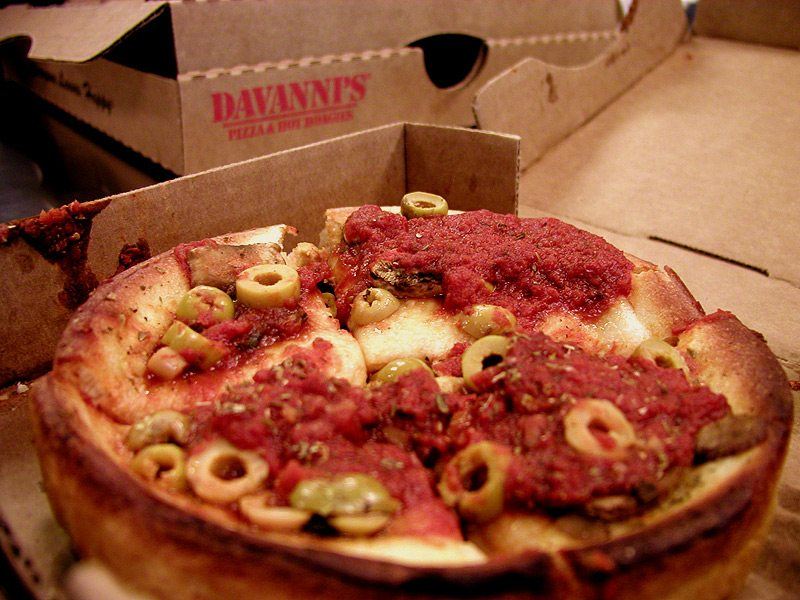 I'm not sure what to think about a cheeseless pizza. It could be good though, especially as you'd taste the other flavors better.
Another Weird Crust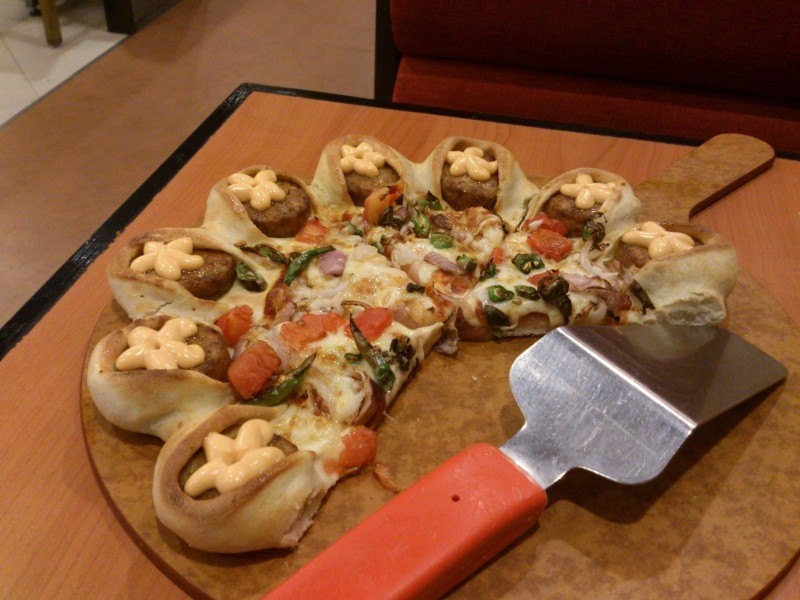 Who says that weird flavors are limited to the pizza itself?
Banana Pizza
Putting bananas on pizza seems to be much more common than I expected. It could taste quite good actually, because the sweetness of the bananas would balance out the saltiness of the rest of the pizza.   

Leftover Pizza

Why not make pizza out of leftovers? This one is essentially herbs, olives and cheese and those flavors do work well together.
Shepard's Pie Pizza?
What do I say about this one? Everything on here looks unusual for a pizza, but the whole thing still looks strangely appealing.   

Pizza with Squid

This combination would be awesome if you like squid – but pretty unappealing if you don't.
Another Margherita Variation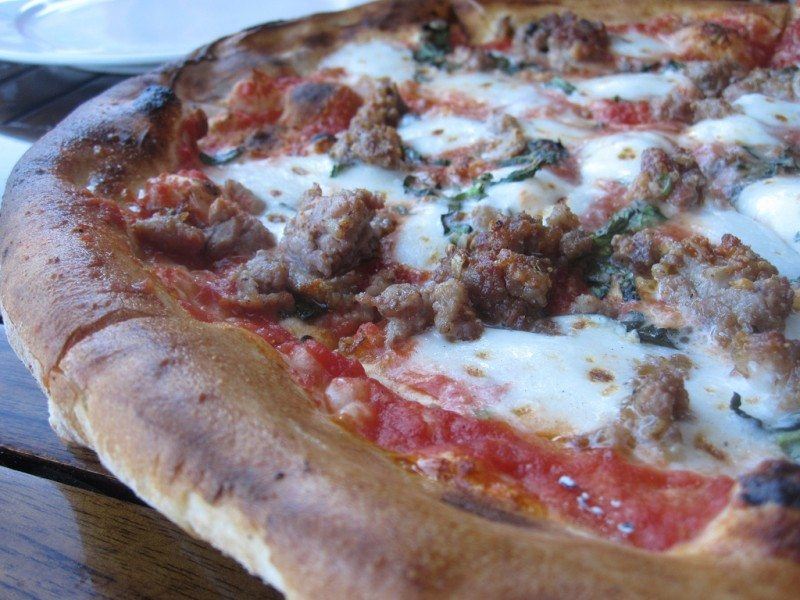 I love the way the meat is piled on here. It looks a bit unusual but certainly appealing.
Corn Chip Pizza
Okay, there aren't actually corn chips on this pizza, but the flavors are what you would expect with corn chips.   

Caramelized Onions, Blueberries and Peppers
I imagine this pizza would have a weird balance between sweet and sharp, which could actually work surprisingly well.
Dinuguan Pizza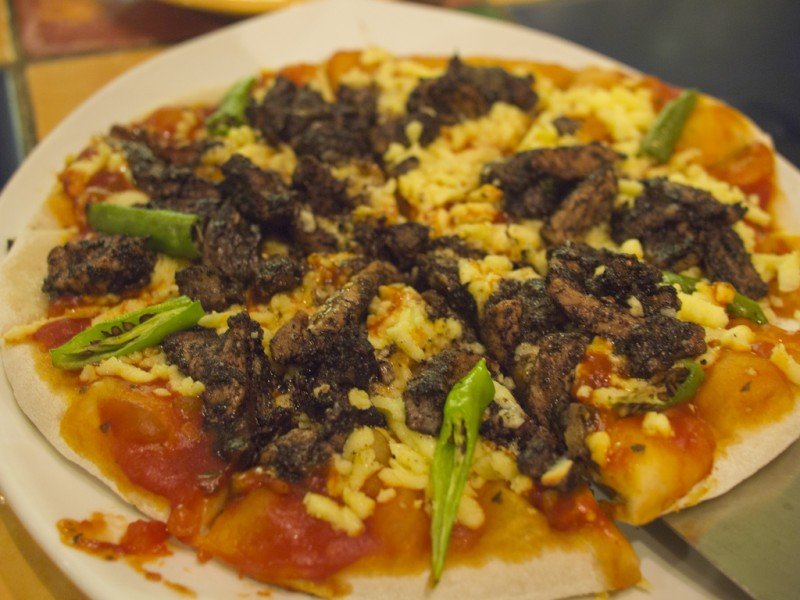 This pizza uses dinuguan meat (go on, look it up, I'll wait), which is an odd choice. Still, that's a savory meat, so it could work well on pizza.
Sweet Potato Pizza
This is a healthy approach to pizza, with a sweet potato sauce and kale as a topping. The addition of bacon isn't exactly healthy, but it would help to make the whole thing taste good.  

Egg Again
If it wasn't for the egg, this pizza would seem pretty normal. I don't know though, egg seems like it could taste pretty good on a pizza.
Nutella Dessert Pizza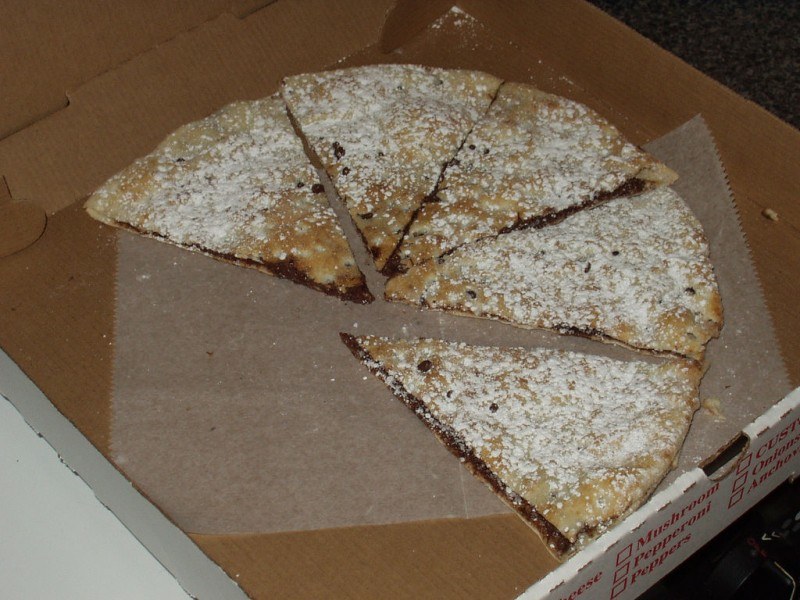 This might be a variation on the traditional construction of a pizza, but hey, just about anything with nutella is going to taste good.
Avocado and Goat Cheese Pizza
Here's a flavor combination you've probably never thought of – avocado and goat cheese. What do you think? Would it be any good?  

Cookies and Cheese
Here is a dessert pizza with a twist, it's cookies and cheese. Honestly, I don't know how those flavors would work together, but clearly someone likes the idea.

Cheese Pizza and Gherkins
It's a normal pizza except for the gherkins. But hey, why not?  

Vegan Pizza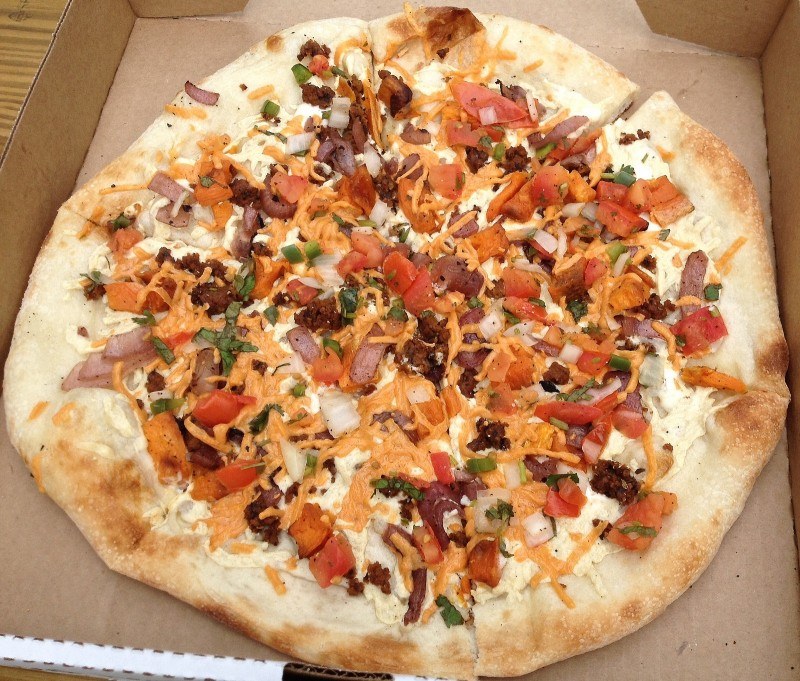 This pizza offers up vegan versions of meat and cheese along with a whole host of other ingredients, including sweet potatoes. 

Sweet Potato with Paprika Chicken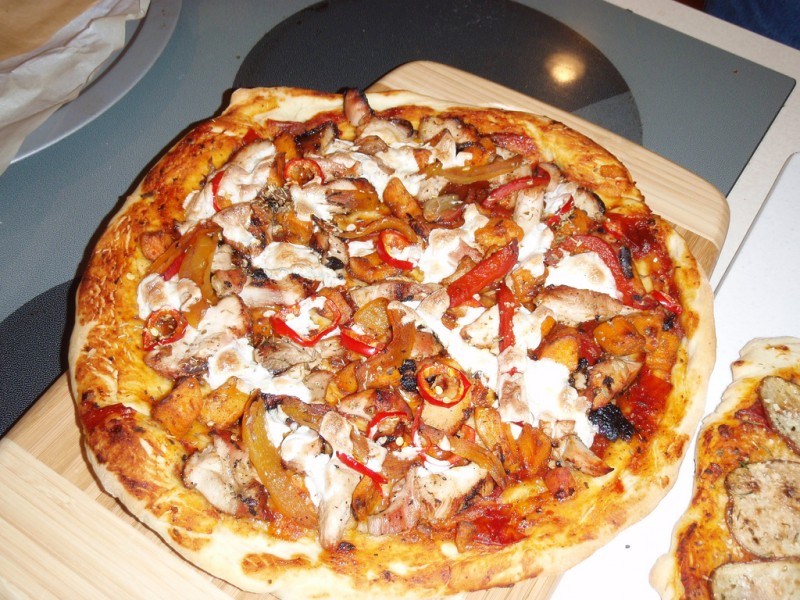 This is another sweet potato pizza, this time relying on paprika chicken as well.
Goat Cheese, Honey and Sweet Potato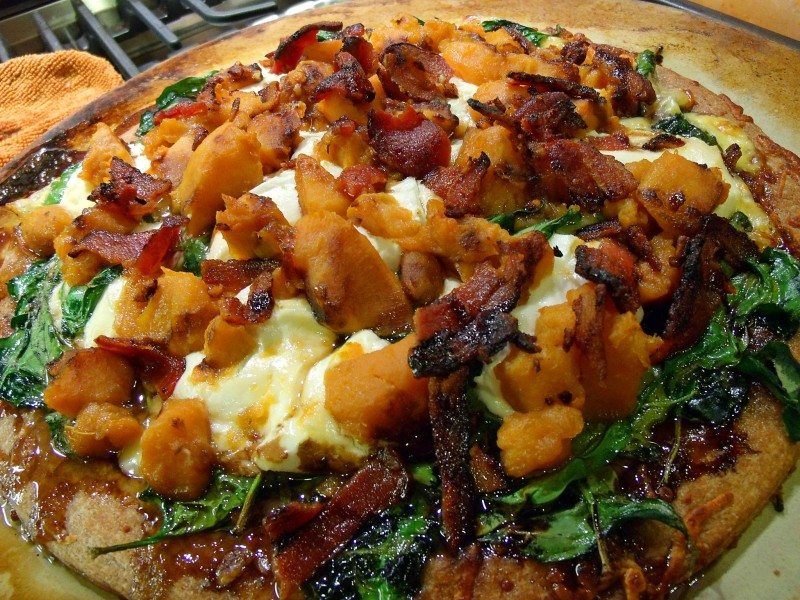 There's a lot going with this pizza, including goat cheese, honey, sweet potato and what looks like bacon.
Breakfast Pizza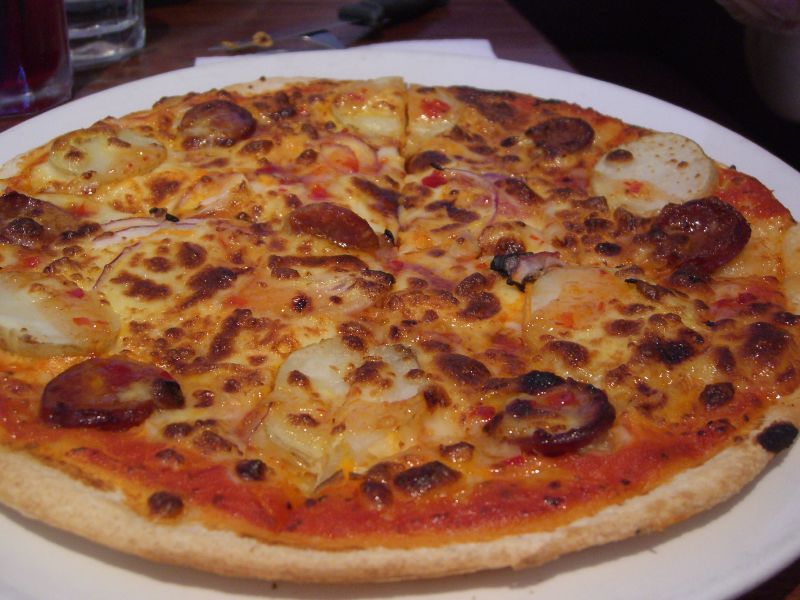 Chorizo, potatos, red onions and sweet chili sauce… what's not to like?

Beef Pizza with Lots More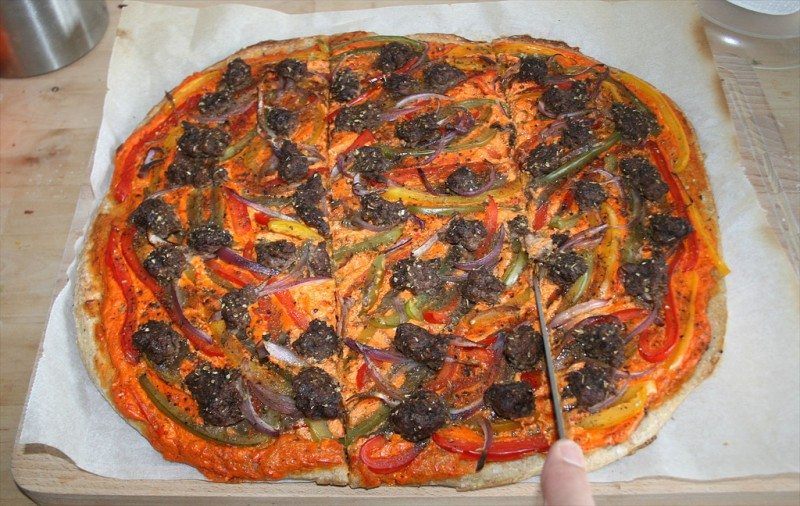 Beef on a pizza isn't too odd, but this one also has potatoes and cream cheese in the mix. 

Stuffed Potato Pizza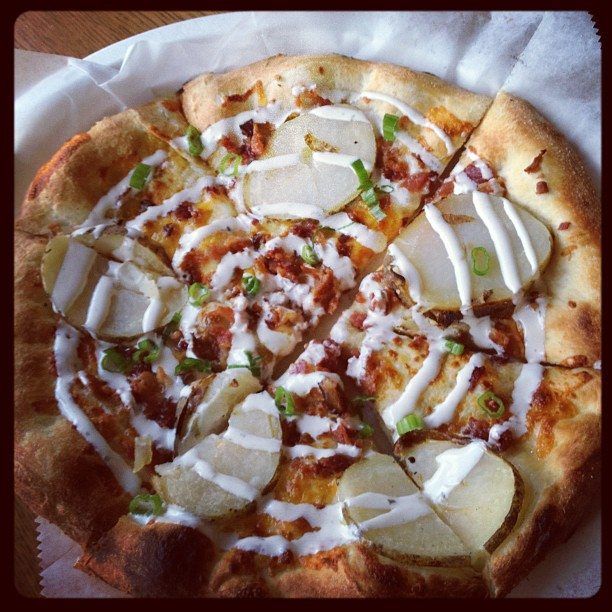 With potatoes, bacon and cheese, this pizza just sounds wonderful to me.

Kale Pizza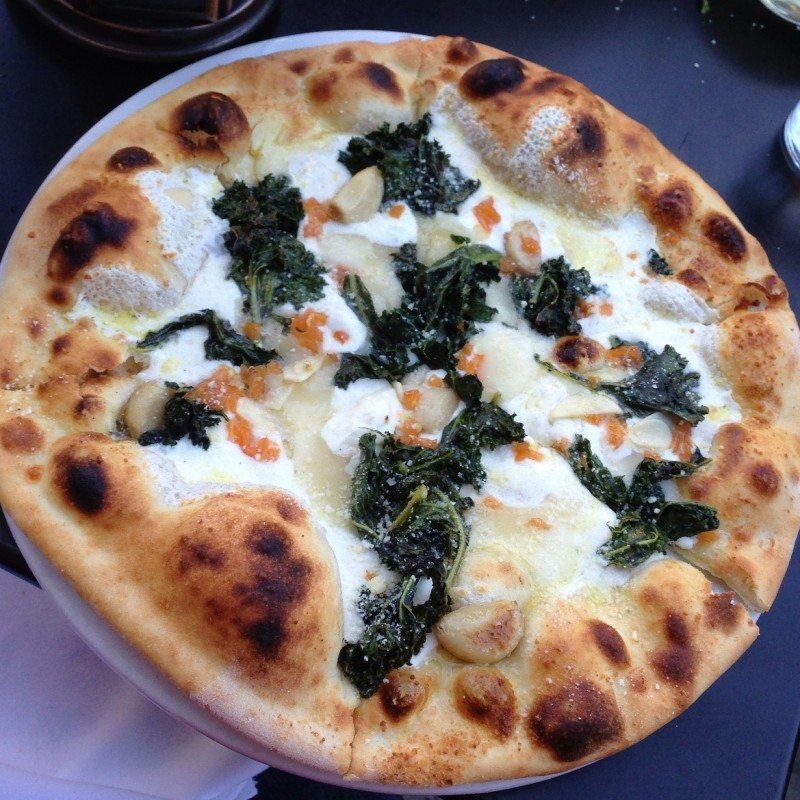 Here's a modern type of pizza, this one has kale and it kind of looks like a little bit of salmon too.
Another Vegan Option

This one is another vegan pizza, this time in a Mediterranean style.

Huevos Rancheros Pizza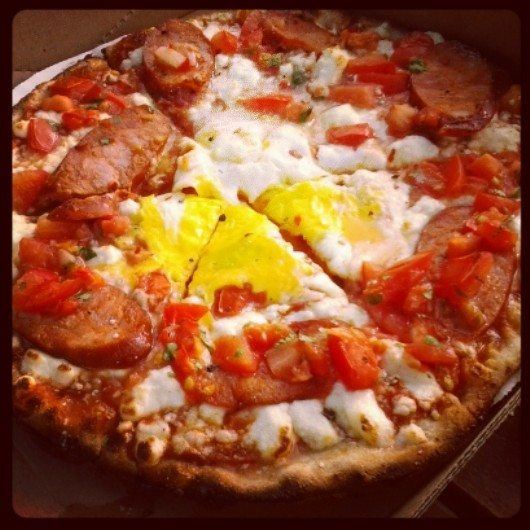 This Mexican combination of flavors isn't really unusual, but it is odd to see it on a pizza.

Complex Personal Pizza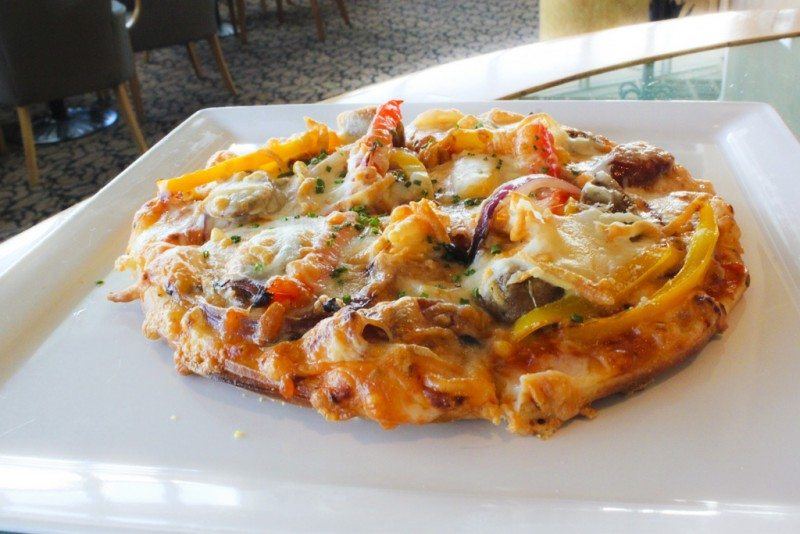 This little pizza has so many toppings that it's difficult to tell what's going on, but that doesn't stop it from looking good.
Grape Dessert Pizza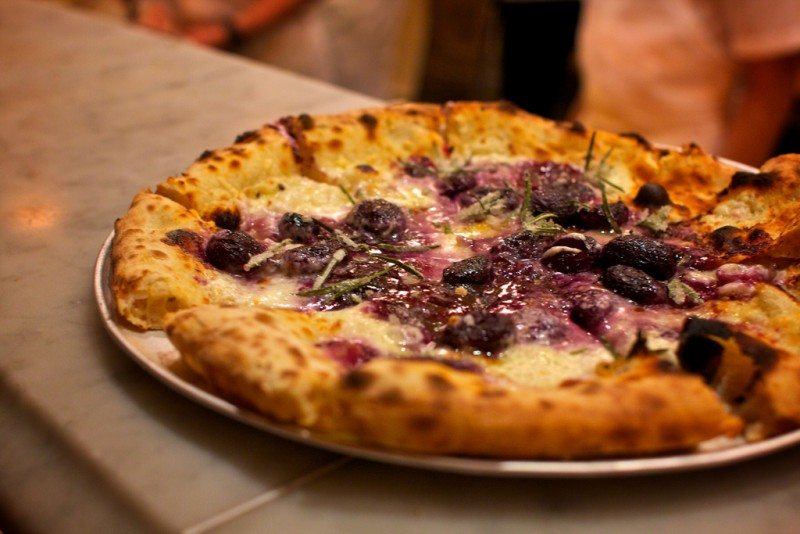 The grapes look surprisingly cool on the pizza.

Cherry Tomatoes!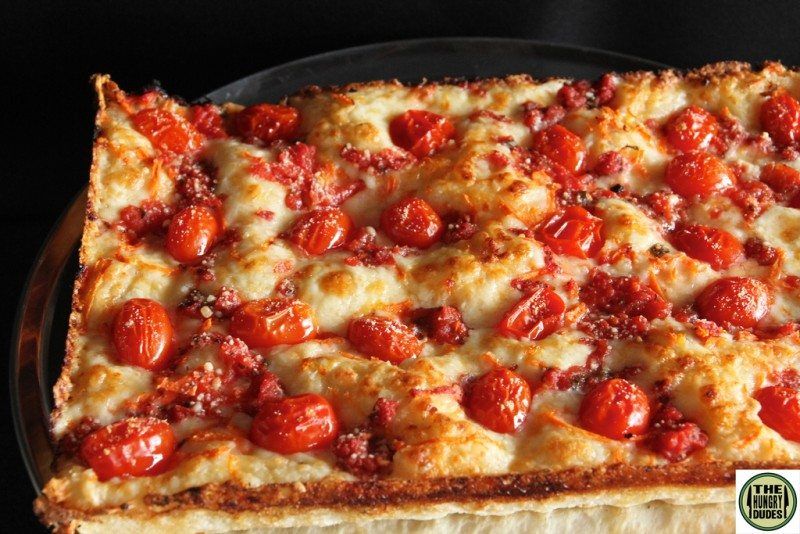 I love the way the cherry tomatoes on this pizza look, especially as the pizza isn't saturated with a ton of different toppings.
Greek Pizza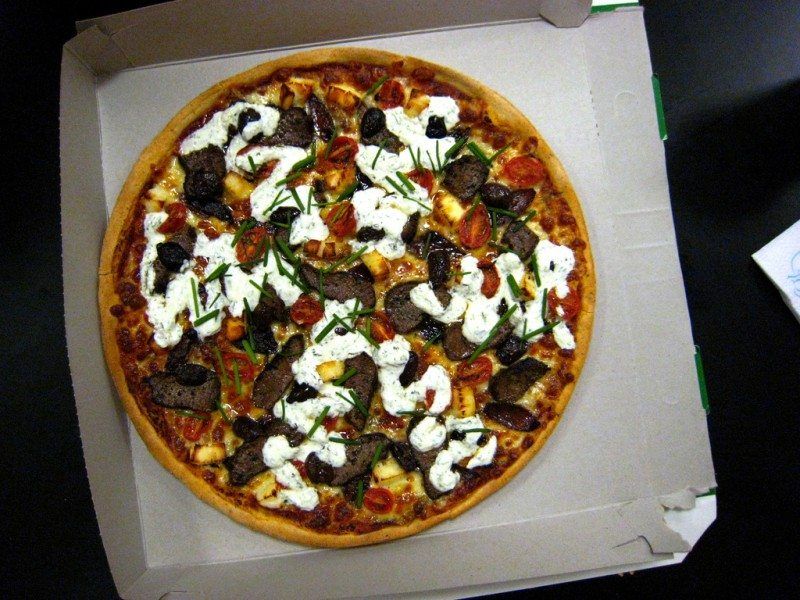 This pizza looks unique and probably tastes it too, because it uses lamb, grape leaves, olives, feta and a souvvlaki sauce.
Three Cheese Broccoli Rabe Pizza
Throwing broccoli and rabe on a pizza isn't normal, but it would work well, provided that you like both of those vegetables. 

Sweet Potatoes, Green Peppers, Parmesan Cheese… Yum!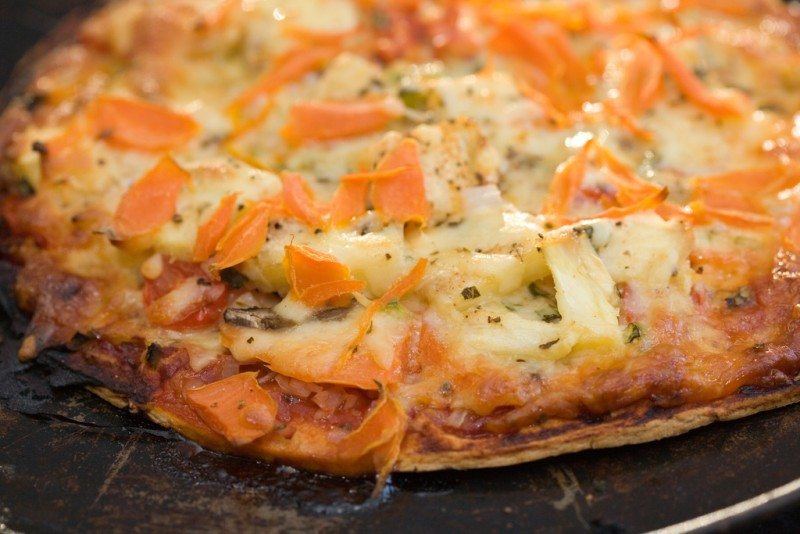 It amazes me just how many pizzas there are that use either regular potatoes or sweet potatoes. Even though those tastes are pretty unusual, they are also apparently popular. 
Chicken and Pesto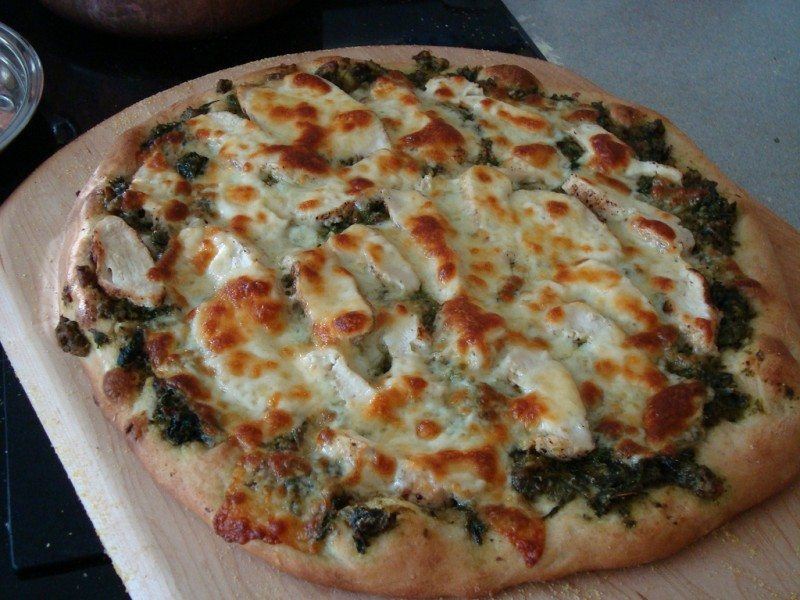 Who needs the traditional pizza sauce when you can have pesto? After all, chicken and pesto do go really well together. 
Unearthly Dessert

This pizza is actually from a pizza chain (but not an American one) and has berries, bananas, white chocolate, milk chocolate and custard. Yum!