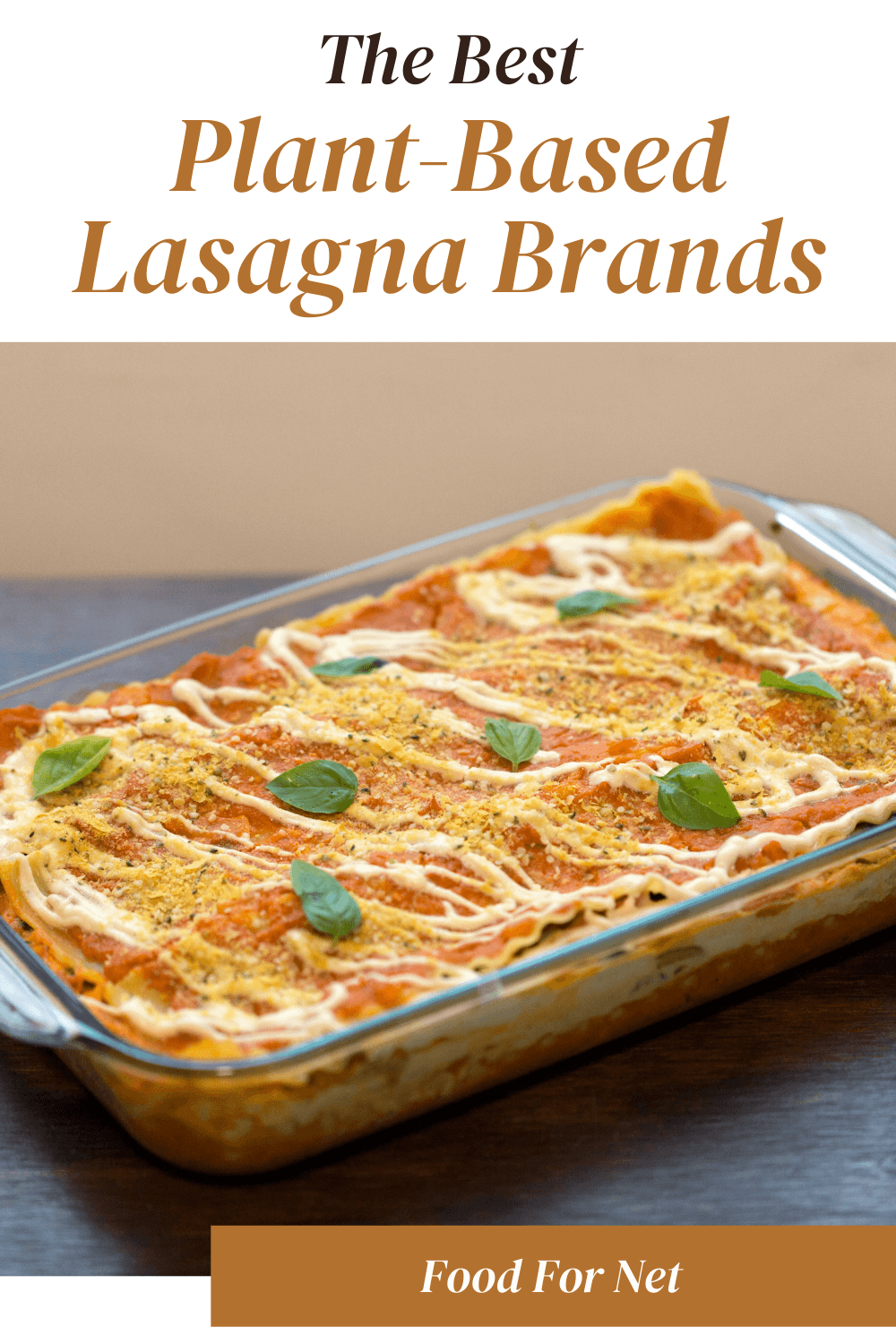 Lasagna is a universal pasta dish that so many people love. It's thick, tender, layered, and so versatile. From veggies to meat and all kinds of cheeses, you can put just about anything in lasagna to create many different flavor and texture combinations. And while vegetarian lasagnas do exist, not all of them are guaranteed to also be vegan.
If you want to remain entirely plant-based, pasta can be a tough one. There are plenty of plant-based lasagnas out there but simply having this label doesn't automatically make the pasta healthy and delicious. It's hard to make it good, and many companies simply don't accomplish the goal.
It is possible to make your own vegan lasagna from scratch, but it's not an easy feat. Even regularly, making lasagna noodles by hand is one of the harder kinds of pasta to do well. Thankfully, some brands have done it well and they're conveniently listed here.
The Best Plant-Based Lasagna Brands
1. Skinny Pasta Lasagna Shape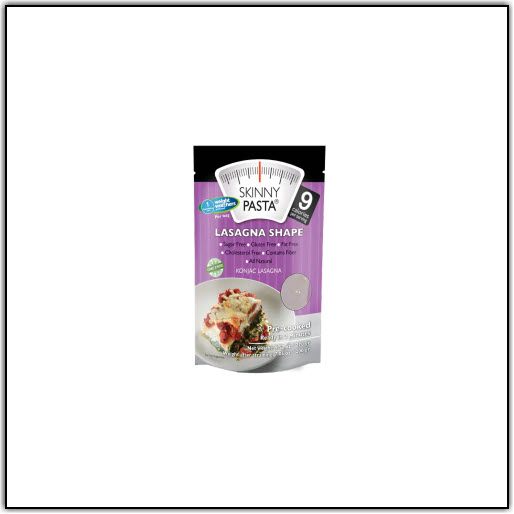 Skinny Pasta may not be high in protein or packed to the brim with nutrients and vitamins like many other plant-based foods, but this is because they focus on a different goal. They're the perfect pasta for those on a diet and/or trying to lose weight. They're also good for diabetics!
One serving of their lasagna contains only nine calories! That's almost nothing especially when you consider that one serving is half of the bag and still enough for a full meal.
The lasagna-shaped konjac noodles are perfect for creating your own light and healthy lasagnas, giving you the freedom to use as many or as few other ingredients as you want. The noodles are sugar-free, gluten-free, GMO-free, cholesterol-free, fat-free, and kosher!
The one thing these noodles really do have going for them in terms of nutrition is fiber. There are five grams of fiber per 100g serving as well as small amounts of calcium and iron. The same brand also makes several different types of pasta so you can mix it up while maintaining the same dietary standards and calorie amounts.
2. Explore Cuisine Green Lentil Lasagna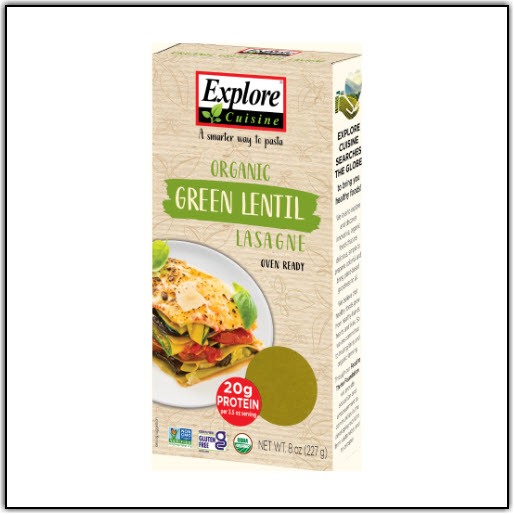 Explore Cuisine's Green Lentil Pasta is an extremely healthy option. With lentils as the base, you've got lots of protein per serving at 11 grams as well as four grams of fiber and decent amounts of potassium and iron.
They also have a delicious and unique taste with firm but tender noodles and a wonderful texture. There are only a handful of ingredients here, and they're all organic. This includes green lentil flour, green pea flour, and organic brown rice. That's it. This may just be the cleanest, simplest lasagna noodles you'll ever find.
Explore Cuisine is passionate about health and nutrition, as evidenced by its large selection of wholesome, plant-based pasta for all occasions. They've got spaghetti, fettuccini, penne, and many others, all made from things like beans, lentils, chickpeas, and more. They've also got lots of tasty, healthy recipes on their website featuring their own products if you're looking for help or inspiration.
3. Natural Heaven Lasagna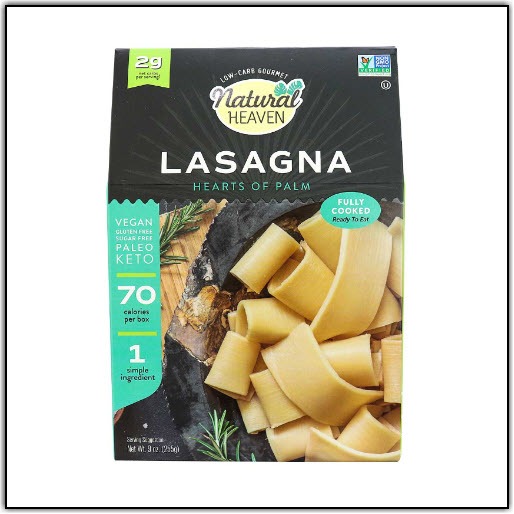 Natural Heaven Lasagna is a plant-based lasagna-style noodle made from palm hearts. It's quite different from the lentils and beans, but the final product is just as delicious and versatile. The palm hearts help create a noodle that gives you the perfect al dente finish with a classic flavor and texture.
This palm heart pasta might just be the cleanest and simplest pasta you'll ever make, too, given that peach palm hearts are the only ingredient. The noodles are gluten-free, vegan, paleo, non-GMO, dairy-free, and even keto-friendly.
There are only 25 calories per serving, no cholesterol, and small amounts of protein, fiber, and potassium. They go great with classic pesto and marinara recipes but they're plain and versatile enough for any sauce or recipe you can come up with! They're also incredibly easy, requiring only two minutes in the microwave before being ready.
4. Palmini Hearts of Palm Lasagna Sheets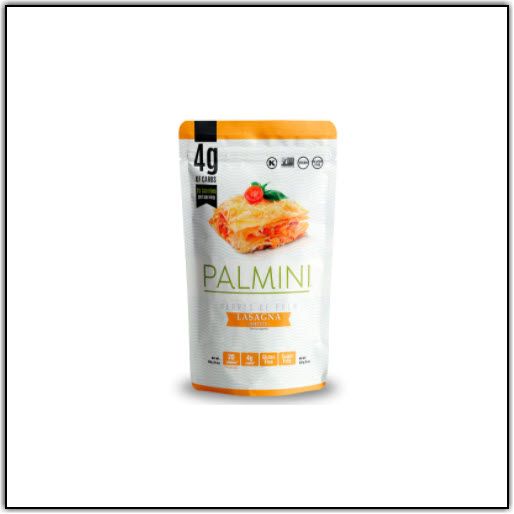 Palmini Hearts of Palm Lasagna Sheets is another vegan lasagna option that's made from the hearty, healthy hearts of palm. Other than sliced hearts of palm, the ingredients list consists only of water, citric acid, and natural sea salt. The noodles are vegan, gluten-free, non-GMO, and kosher.
Each serving of this pasta has only 20 calories, perfect for adding to any lasagna recipe you can think up, whether you're keeping it simple with some plant-based cheese or filling it up with lots of yummy veggies.
It doesn't stop with lasagna, if you like this product from Palmini they have plenty of other pasta to enjoy, such as linguine and angel hair. They also have other things like rice and mashed potatoes that are also made with delicious and versatile palm hearts.
5. Chickapea Organic Oven-Ready Lasagna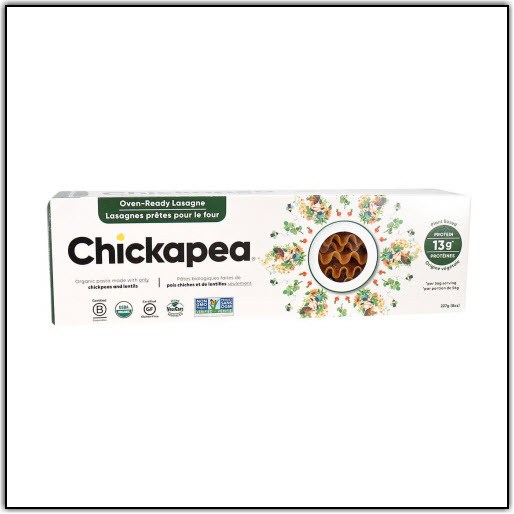 This Organic Oven-Ready Lasagna is as easy to use as it is healthy! There are only three ingredients here, chickpea flour, yellow lentil flour, and red lentil flour, and all three are organic. The chickpeas and lentils work very well together to create a delicious, tender, classic-tasting lasagna. Not only that but they're ready to go in the oven, saving you some time.
Simply pair them with the sauce and other ingredients of your choice and you're ready to start baking. The noodles are vegan, gluten-free, non-GMO, kosher, and high in protein with 13 grams per serving.
Not only are they quick and easy to make but they promise to be even more flavorful than traditional wheat lasagna, which isn't hard to believe as the only ingredients are whole foods. Chickapea offers many other forms of organic pasta, allowing you to mix it up and create all kinds of fun and unique recipes, all healthy, and all easy to use.
Plant-Based Homemade Pasta Sauce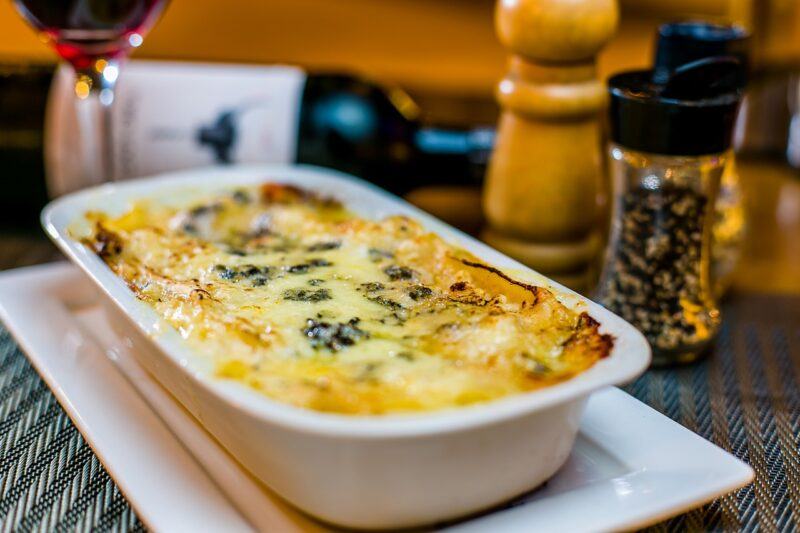 Lasagna is a delicious and popular form of pasta, and with the help of these brands, even those sticking to vegan and plant-based diets can enjoy it! One of the most important parts of lasagna, though, is the sauce. If you're buying one of the above brands, you still need to decide on a sauce and other ingredients.
If you're trying to go DIY all the way through, there are plenty of plant-based pasta sauce recipes out there that you can easily make yourself at home. These can work for lasagna but most of them are pretty versatile – if you like them, try them out on a different type of pasta, too!
Vegan Alfredo Sauce
Alfredo sauce is right up there with tomato and marinara in how popular and common it is. The issue with alfredo sauce is that it's often quite calorie-heavy and also filled with sodium. But it is ever delicious with its thick and creamy texture and rich flavor.
This recipe shows you how to make your own vegan, much healthier version using cashews. When blended up properly, cashews provide a wonderful base for anything that requires a creamy texture. Other ingredients include onions, garlic, cloves, lemon juice, black pepper, and rosemary. These things work together to create an alfredo sauce that works with any pasta you desire!
Vegan Pesto Sauce
Pesto is another popular sauce that many love on their pasta. This recipe helps you make a healthier, plant-based version that'll fit right into a fully vegan diet. It's wonderfully easy and requires only five ingredients – basil, garlic, pine nuts, olive oil, and vegan parmesan.
There are only two steps to follow to complete the sauce, and it keeps well in the fridge if you don't finish it all or want to make it ahead of time.
If you can't find any vegan parmesan near you, or you just prefer making it yourself, this is a great recipe. The cashews come out strong once again to create the creamy thickness that you want and expect from cheese.
More Classics
If you're looking for additional classic recipes that are easy to make and follow, check out this post. Here you'll find an alternative pesto recipe using kale along with a classic tomato sauce and a yummy, creamy vegan cheesy sauce.
Tomato sauce is perhaps the most versatile, while the cheese sauce will satisfy the craving of any vegan who misses the taste and texture of cheese on their pasta. All three of these recipes have minimal ingredients and easy instructions. They're also versatile enough for lasagna or any other form of pasta you want to make!