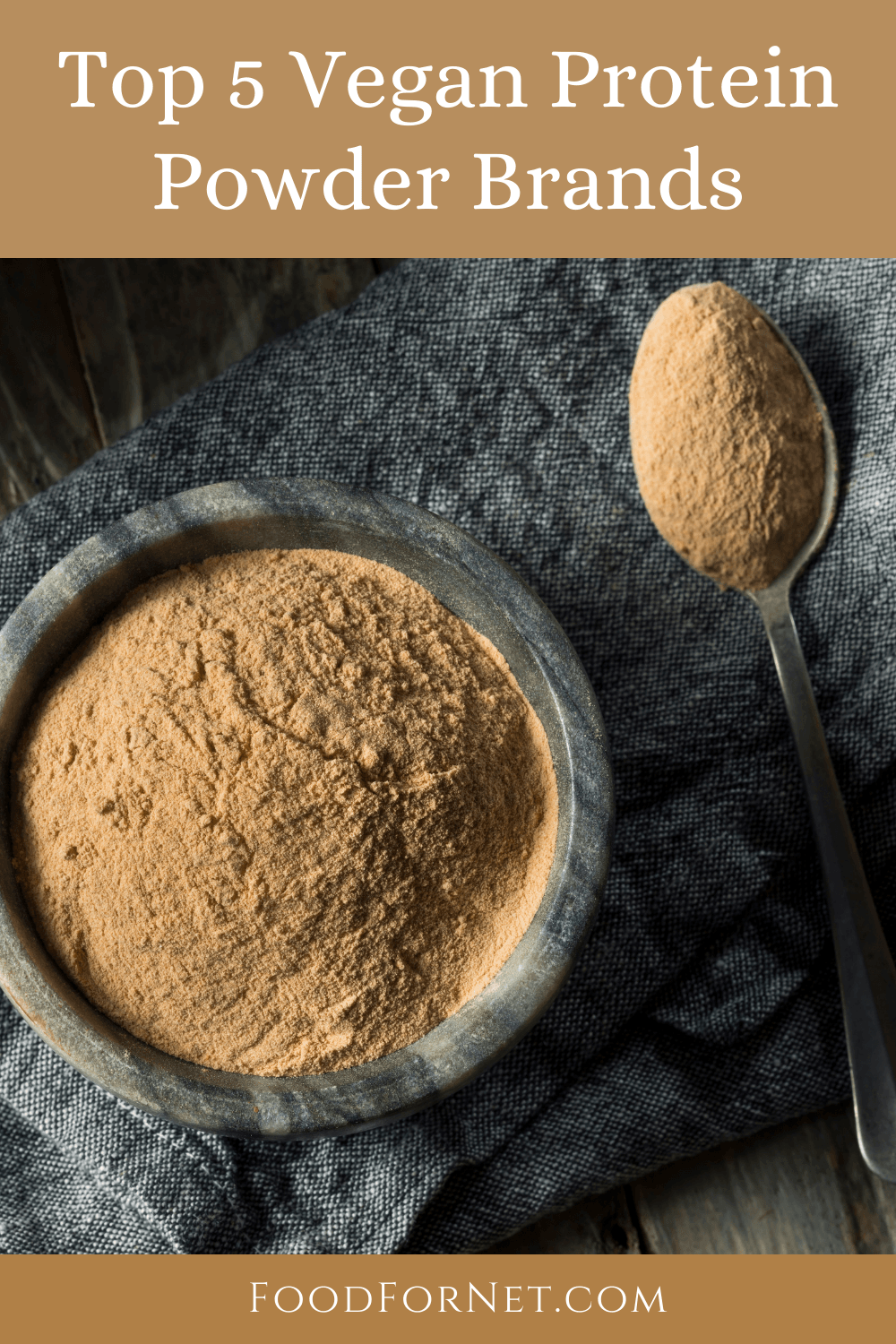 Protein powder is a huge staple in the lives of many – from bodybuilders and gym rats to those simply looking to up their protein intake for a healthier diet. It's also commonly used by those looking to lose weight as good protein powders are lean and contain little else but protein. Just as common protein food sources include a long list of animals, protein powder isn't always free from animal influence, either.
Thankfully, though, the vegan protein powder category is quite robust. This is one area where those sticking to vegan and plant-based diets won't struggle to find a good product for themselves. This is partly because of the surge of new vegans in recent years, but also because vegan protein powder is the cleanest. Often, even those who aren't strictly vegan will seek out a plant-based protein supplement simply because it's healthier and more natural.
There are many vegan protein products out there, but even still, not all are made equal. Some will try to jump on the bandwagon with cheaply made powders to make a profit. With all the options out there, you must stay vigilant. The following are a handful of the best out there, in terms of quality, taste, and adequate protein content.
The Best Vegan Protein Powder Brands
1. Ora Organic Protein Powder

Ora Organic Protein Powder is jam-packed with nutrients from more than 20 superfood ingredients – all of which are organic. It also delivers a full amino acid profile and two servings of greens. It offers a strong 21 grams of protein per serving, making it perfect for daily shakes or smoothies.
They've also included a full spectrum of digestive enzymes to ensure proper absorption and support digestion. This means it's easy on the stomach and you don't have to worry about protein bloat.
In addition to the many health benefits, they've even worked with chefs to create the smoothest possible texture and delicious but wholesome flavors. The available flavors currently include chocolate, vanilla, and vanilla chai. Vanilla is a great universal flavor that goes well with just about anything.
The main ingredients here include pea protein, rice protein, hemp protein, cranberries, and sacha inchi. Sacha inchi is a lesser-known protein source that is high in fiber and omega fatty acids that also help your brain produce serotonin. Other ingredients include quinoa, turmeric, broccoli, coconut milk, and a whole host of fruits. This protein powder is so packed with amazing nutrition that it's a great choice whether you're working out regularly or just want to enhance your diet!
2. Nuzest Pea Protein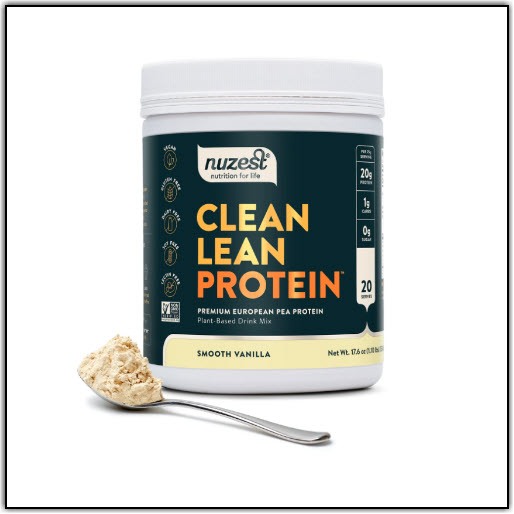 Nuzest's Clean Lean Protein is an extremely clean and extremely powerful plant-based pea protein powder that contains all nine essential amino acids and 20 grams of protein. It's also a fantastic source of iron. In addition to muscle growth, this protein powder supports overall recovery, strength, and energy maintenance. They also use the cleanest processing they can to ensure that it's good for you and the environment.
They have a variety of flavors available as well as a plain, unflavored version. The natural powder has just one ingredient: pea protein isolate. That's it, nothing more. Other flavors include vanilla, strawberry, chocolate, coffee, and more. These flavors are just as committed to being clean, including only a small handful of additional ingredients like organic cocoa powder, beet powder, maca powder, etc.
The powders do great in shakes and smoothies but that's only the beginning. You can also make things like overnight oats, protein bars, yogurt snacks, and more. If you're looking for some inspiration, they have plenty of recipes on the website.
3. Vega Sport Premium Plant-Based Protein Powder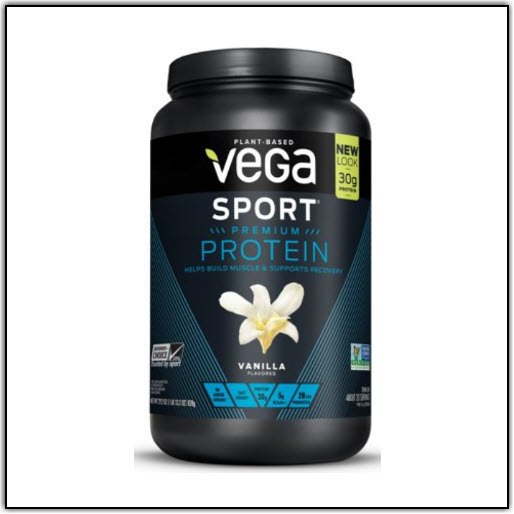 Vega Sport Premium Protein Powder is the perfect protein powder for gym rats, athletes, and anyone who loves to work out or engage in lots of intense physical activity. It's made for strong, peak performance with an impressive 30 grams of protein per serving.
It also has five grams of BCAAs built-in as well as probiotics for maximum recovery and sustainability. This is the protein powder for building muscle quickly and efficiently. This protein powder does come in a few delicious flavors, but they are made with zero added sugars. The formula is also keto-friendly.
To top it all off, they work very hard to be as careful with the environment as they are with the health and performance of their customers. They are committed to carbon neutrality and conscious waste reduction. They also source all their pea protein from regenerative farms in North America.
The powder is ideal for shaking up in water or blending into a smoothie, which is easy and convenient, especially after a taxing workout.
4. Naked Pea Protein Powder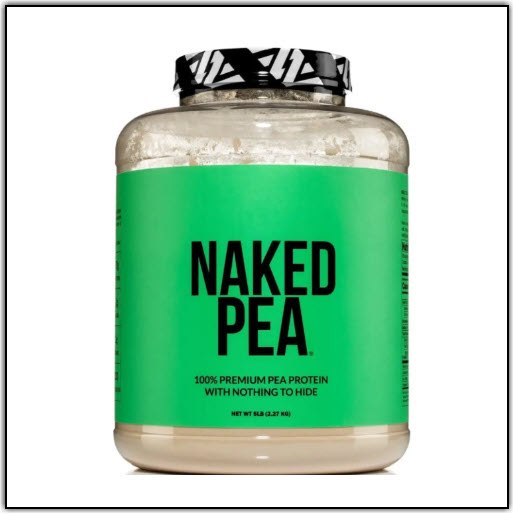 Naked Pea Protein Powder is another excellent pea protein product that's extremely clean. The only ingredient here is pea protein itself, taken from yellow split peas, grown on both Canadian and American farms. Pea protein absorbs into the body easily, making it a strong alternative to whey protein, which is quite popular but comes from dairy.
This premium quality protein is free from all additives and fillers, meaning every single ounce is filled with nutrition. It also means their processes are leaner and cleaner, giving more mind to the environment. The supplement is also third-party tested for heavy metals to ensure cleanliness.
In addition to their plain protein powder, they do offer chocolate and vanilla flavors, which are still about as clean as it gets. The chocolate contains only cacao powder and coconut sugar in addition to pea protein, and the vanilla has natural vanilla and coconut sugar – still, nothing to hide in their sweetened versions! Each serving has 25 grams of protein and strong iron content. It also has a strong amino acid profile.
5. Garden of Life Sport Organic Plant-Based Protein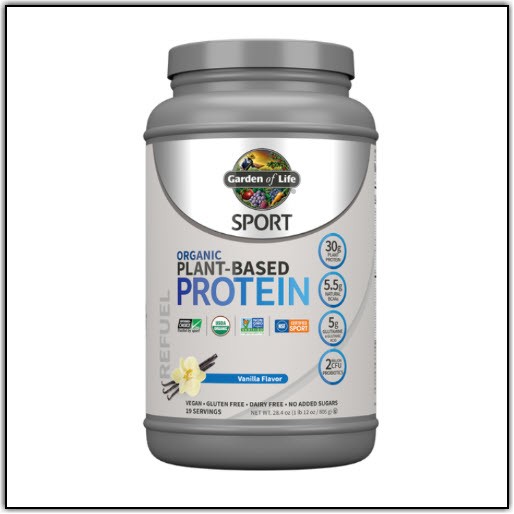 Garden of Life Sport Plant-Based Protein is another excellent choice for passionate gym-goers and athletes. It has an above-average dosage of protein at 30 grams per serving, making it ideal for intense physical activity and efficient muscle growth and recovery.
It also has 5.5 grams of amino acids which is also slightly above-average, as well as 5 grams of glutamine for even more enhanced recovery and sustainability. The ingredients here are also completely organic and include no banned substances for sports. The formula is pretty clean, containing only pea protein, sprouted navy bean, sprouted lentils bean, sprouted garbanzo bean, and cranberry protein.
The amino acid profile is quite robust, including a combination of essential amino acids and branched-chain amino acids. Garden of Life does have a collection of products, so if you're not an athlete or intense workout enthusiast, you're not out of luck! They have several other protein powder options with a lower protein content that still supports muscle growth and recovery without catering directly to super-intense activity.
Unique Protein Powder Recipes

Protein shakes and smoothies are common and popular, likely due to their ease, convenience, and versatility. You can create many different flavors and they're pretty quick to drum up. But, what if you get a little bored of constant smoothies and shakes? Or, maybe you just want a nicer variety regularly. There are many different things you can do with protein powder, most of it just takes a little more effort. Try one of these to get started:
Protein Rice Krispie Treats
Rice Krispie squares are a popular treat – they're sweet, simple, and convenient. However, whether store-bought or homemade, they're often full of sugar. This recipe for a protein rice Krispie treat is a little different and offers more health benefits than your run-of-the-mill sugary square.
There are no marshmallows needed here, the squares are held together with peanut butter and brown rice syrup. The natural vanilla flavor adds sweetness, and you can enhance this flavor by using vanilla protein powder.
Gingerbread Baked Oatmeal
This fun and versatile protein recipe is great for a quick, healthy breakfast but also makes for a great snack, especially when it's cold out! It's crispy and hearty while the ginger adds a nice warmth.
It's packed with wholesome, healthy goodies like flax seeds, oats, almond milk, dates, cinnamon, and more. The nutrition in these bars is as far off the charts as the flavor is!
The recipe does call for an egg, but this is easily left out or replaced with a plant-based egg product if you wish! Omitting the egg doesn't even take too much away from the protein content considering the oats and flax seeds have some protein to offer, in addition to your choice of protein powder.
Each of these bars contains about 240 calories, making it a great snack or a great protein add-on to any healthy breakfast! You could even crumble it over some fruit and yogurt for a different effect.