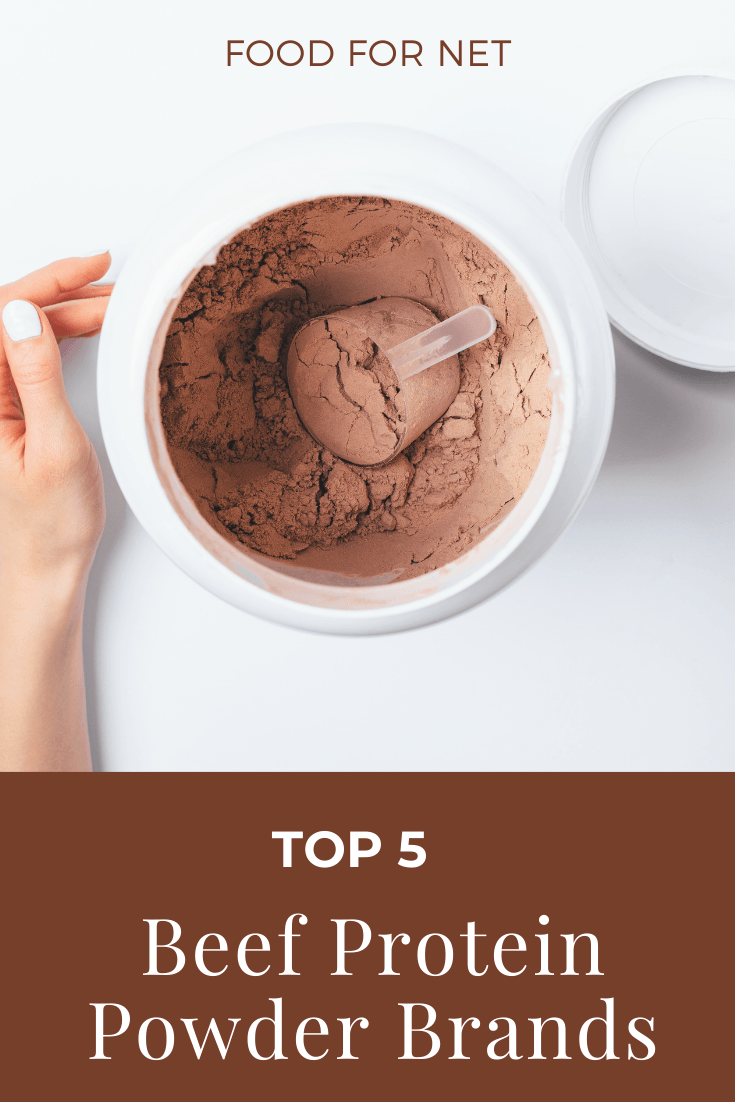 There are many types of protein powders out there, both plant-based and otherwise. Whether you're looking to boost your nutrition, sustain your energy, or build muscle, there's a protein powder out there for you. Beef protein powder is a great option for many different purposes, and it's been shown as particularly effective for those who train hard and want to increase their muscle mass.
In addition to this, several other benefits come with beef protein powder that might not be as common in other options such as rice protein powder. First of all, it contains decent amounts of all the essential amino acids that humans need, which makes it a complete protein source. It also offers the added benefit of collagen. Many protein powders have collagen added to them, but the beef itself is a good source of collagen so it's a natural bonus. Collagen supports everything from joints and bones to the health of your hair, skin, and nails.
Beef protein powder is also low in fat and higher in iron than many other protein sources while also offering added creatine and no cholesterol. These are some of the amazing things you'll enjoy when you try one of these fantastic beef proteins for yourself.
The Best Beef Protein Powder Brands
1. Muscle Meds Carnivor Beef Protein Isolate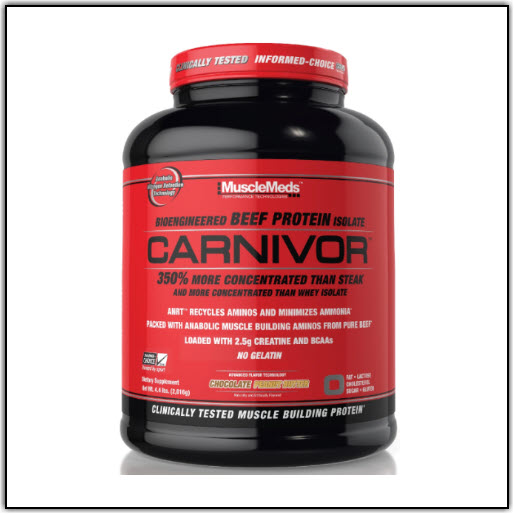 Muscle Meds Carnivor Beef Protein Isolate is a gentle, easily digested beef protein made with USDA inspected beef. A lot of beef consumed by people is filled with unhealthy and unnecessary fat and cholesterol, but this company is committed to providing you with a clean, pure product that contains none of either.
It offers 23 grams of hydrolyzed beef protein with a smooth, delicious taste that works for many purposes including protein shakes and smoothies. It's also free from lactose, sugar, and dairy with 120 calories per serving. It also provides a small amount of iron, and potassium, as well as a more concentrated profile of amino acids than even steak. It also comes with two and a half grams of creatine for maximum muscle-building power.
Lastly, the protein is Informed Choice approved which means it's been tested for more than 200 banned substances and is produced in a compliant facility. Not only can you be confident in its quality but you can take it without worry.
2. Olympian Labs Beef Protein Isolate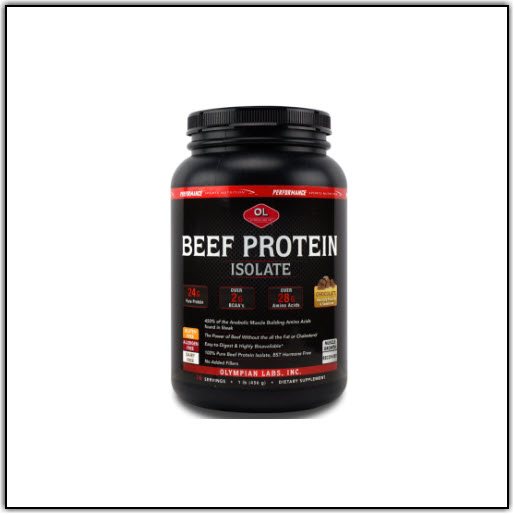 Olympian Labs Beef Protein Isolate is another beef protein that's made only from USDA inspected beef to ensure that you're only getting the cleanest and highest quality products possible. It cuts out all the fat and cholesterol that so often comes with beef so you're only getting the healthy, important stuff – protein and amino acids.
The formula is easy to digest, highly bioavailable, and high in alanine to help you fuel even the most intense workouts and helps you build strong lean muscle. It offers 24 grams of protein and an impressive 28 grams of amino acids, which is more than four times the amount you'd find in steak.
It's low on sodium and carbs and is free from many common allergens including gluten and dairy. It works great when taken either pre-workout or post-workout – or a little bit of both! It'll support your muscles during the workout and support their recovery after.
3. Paleo Thin Grass-Fed Beef Protein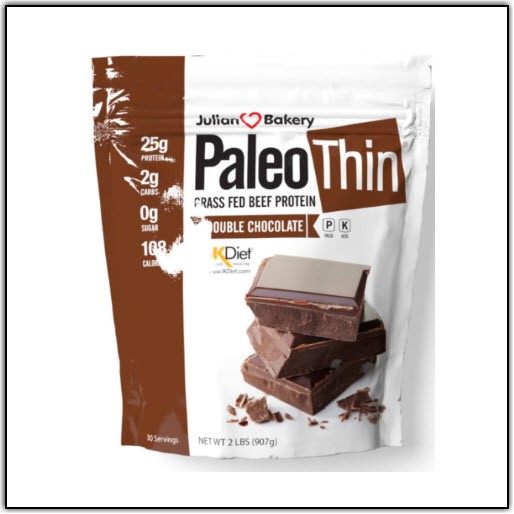 Paleo Thin Grass-Fed Beef Protein is a paleo and keto-friendly protein made from well-treated, grass-fed cows. Other than the beef itself, the only other ingredients are natural flavorings, sea salt, and organic stevia leaf extract. There is nothing artificial or harmful in the formula.
It offers 25 grams of premium quality protein with only 108 calories per serving. It has no cholesterol, only one gram of fat, two grams of sugar, and two grams of carbs.
The chocolate flavor is particularly popular, especially since they doubled the amount of chocolate in each scoop. It's rich, creamy, and so decadent without sacrificing any of the health benefits! It makes an amazing chocolate smoothie, delicious chocolate protein pancakes, and the list goes on.
4. Prime Protein Grass-Fed Beef Protein Isolate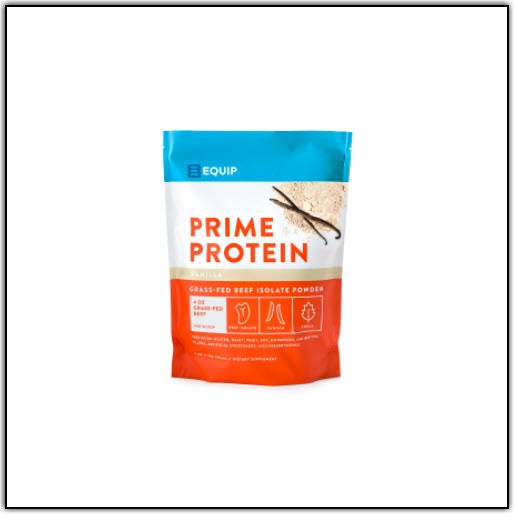 Prime Protein Grass-Fed Beef Protein Isolate is a complete source of delicious, clean grass-fed beef protein meant to fuel your body and sustain your workouts. When you're done, it supports your muscles as they recover and grow.
Each scoop contains the nutrition of about four ounces of beef, giving you plenty of protein as well as plenty of amino acids and other nutrients. They use no fillers, artificial coloring, binding agents, or anything else undesirable – just healthy, whole-food protein. The formula was developed by doctors and is paleo-friendly. It also only has two or three grams of carbs depending on the flavor you select, so it's good for keto dieters, too.
You'll get around 20 grams of protein per serving along with low sugar and fat and 100-110 calories. They offer three different flavors – chocolate, vanilla, and strawberry. This selection allows you to use the protein for just about anything, whether you're looking for something light and fruity, rich and decadent, or warm and sweet. Each flavor is sweetened and flavored naturally with ingredients like organic coconut cream, stevia, and cacao powder.
5. True Nutrition Grass-Fed Beef Protein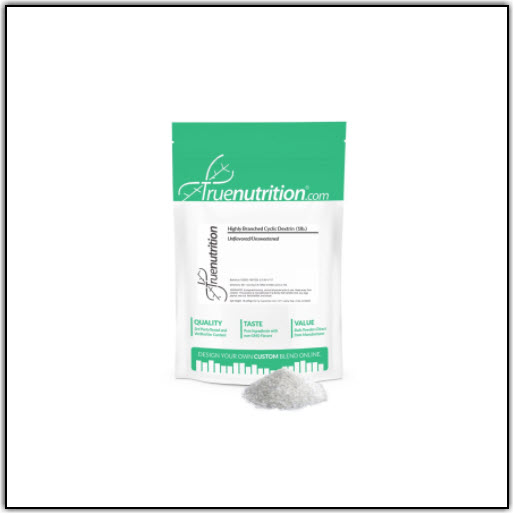 True Nutrition Grass-Fed Beef Protein is an amazing beef protein option for athletes, weightlifters, or anyone who lives a very active or demanding lifestyle. Each serving contains an above-average 29 grams of protein with no fat, no sugar, no carbs, and 120 calories.
It's free from gluten, soy, dairy, lactose, and hormones/antibiotics. It's third-party tested and paleo-friendly with more than 20 flavor options.
This protein is also unique in that you can customize it to both your flavor preferences and goals. You can add up to ten "boosts" to your formula that may help with whatever your goals and purposes are for the supplement.
These boosts include things like electrolytes, minerals, BCAAs, mushroom powders, super greens, carb enzymes, collagen, and more. This allows you to tailor the protein to exactly what you may need or want.
You also have the option of leaving it as is and using it as a fantastic, clean protein boost in your shakes, drinks, and baked goods. You can also mix and match flavors, of which there are so many to choose from. From light and sweet fruit punch to a decadent chocolate fudge brownie flavor, they've got something for everyone. You can also mix them to create your own new, adventurous, and one-of-a-kind taste!
Easy Beef Dinner Recipes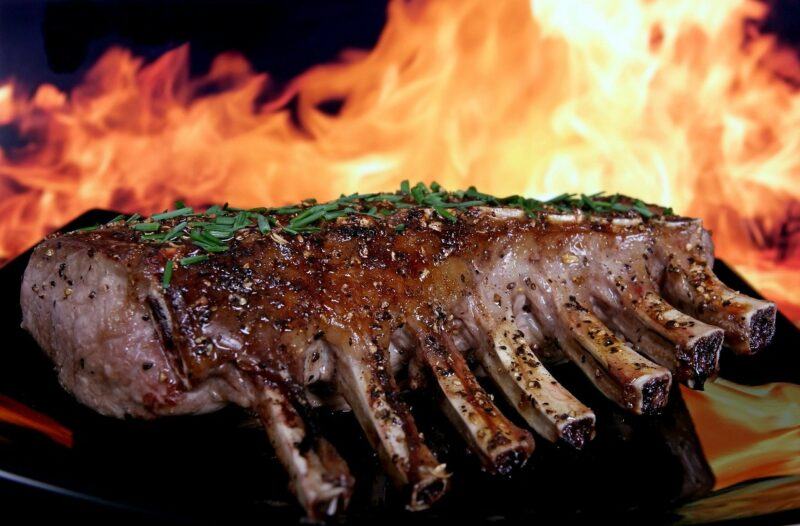 While beef is an awesome source for many great protein powder supplements, it's also a great source of whole food protein to have in your diet. Beef can be prepared in many different ways for any meal, whether you're making hamburgers or a stir-fry. Not all recipes are easy though and these days, many of us are pressed for time and have a busy schedule.
If you're looking for some quick, easy, beef recipes for a healthy family dinner, try one of these delicious options:
Greek Tortellini Skillet
This is a healthy, delicious dish that's full of protein and lots of healthy veggies. In addition to the obvious – tortellini pasta and ground beef – the ingredients here include zucchini, onion, pepper, tomatoes, feta cheese, olives, and fresh basil. If these aren't to your taste, you can always add some other veggies and seasonings or remove the ones you don't like.
Once you've gathered the ingredients, making the dish is as easy as cooking the pasta according to the instructions, cooking the veggies and other ingredients in a skillet, and eventually adding them together. Exact instructions and times are included with the recipe here but it's very easy to follow and won't take too much time at all!
Dill Pickle Hamburger Pizza
This recipe is an interesting and unique dish that offers a bold combination of flavors and will be fun for the whole family to try. It's also a lot healthier than a frozen or delivery pizza, and it's customizable if you prefer to add or remove toppings.
The recipe calls for a prebaked pizza crust and this would certainly be the fastest, easiest option. However, if you did have more time on your hands and wanted to make the dish even healthier and more customized to your taste, you could make your own crust.
Other ingredients include ground beef, cheddar cheese, dill pickles, lettuce, onion, and some other condiments. It's a little less saucy than a traditional pizza with more focus on the toppings, but it's still nice and cheesy and the dill pickle adds a bold punch of unique flavor. It's a great way to mix up family dinners, and if you have someone who doesn't like pickles, it's easy enough to leave it off half the pizza because you're making it yourself!