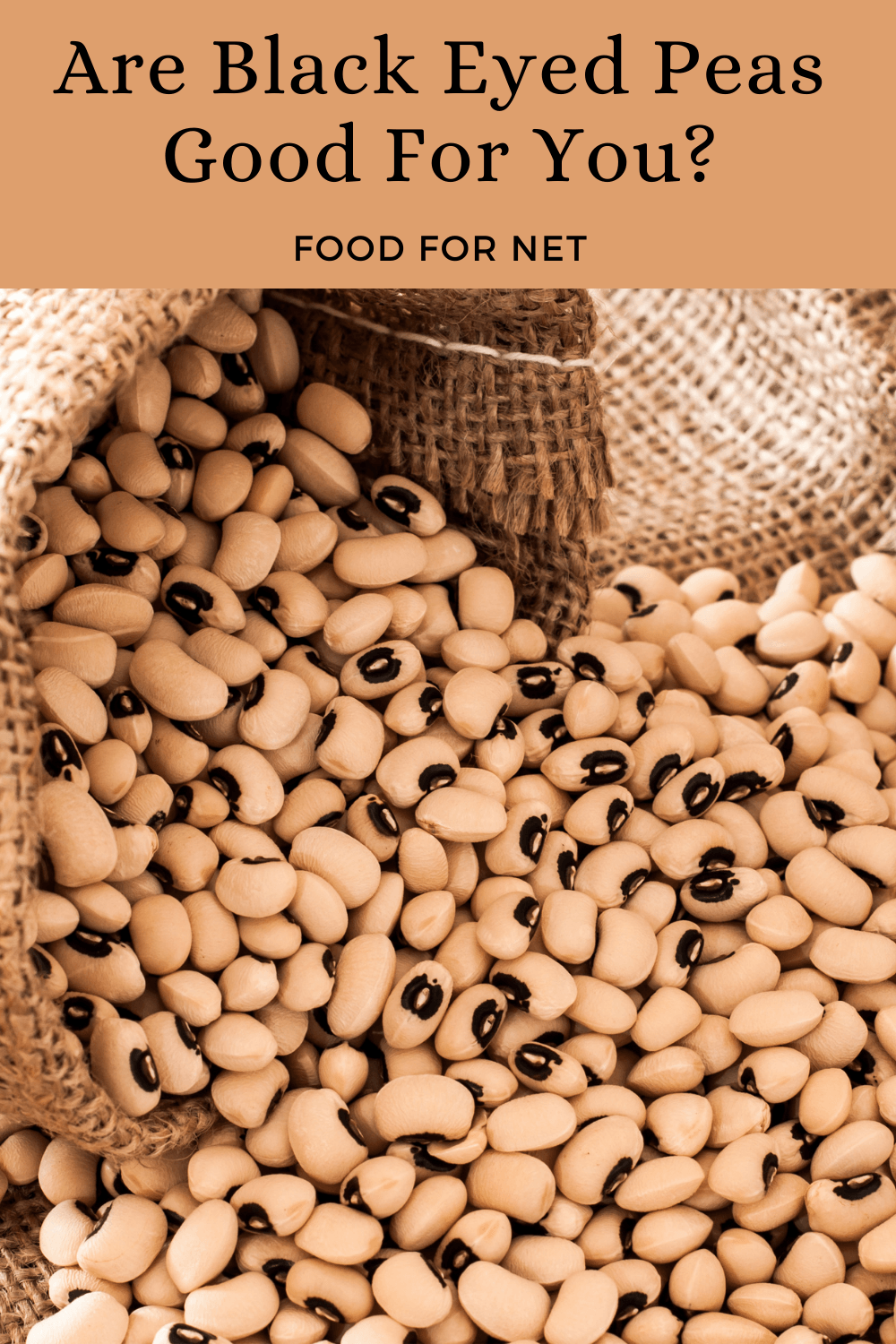 Black eyed peas are slightly confusing. They sound like they should be a type of pea, but these legumes are actually beans instead. They share many common features with other types of dried beans, including red beans, pinto beans, and black beans. You can even use them in the same way.
You'll also see them called cowpeas at times and the beans are famous for being mostly pale with a dark spot that looks much like an eye (hence their name). The beans have a somewhat intense earthy flavor, so you'll often find them in rich dishes, like stews and casseroles.
The peas are particularly popular in the South. There's even a tradition of eating black eyed peas and collard greens for New Years, based on the idea that doing so will bring you luck.
What about nutrition then? Are black eyed peas good for you? It's easy to see how they could be. But, as with all legumes, there are some areas of concern as well. The question isn't just whether black eyed peas provide benefits, but whether these benefits outweigh the risks.
Are Black Eyed Peas Good For Your Health?
Black Eyed Peas Nutrition
Benefits Of Black Eyed Peas
How Black Eyed Peas Could Be Harmful
Do Black Eyed Peas Give You Gas?
Should You Soak Black Eyed Peas?
What About Canned Black Eyed Peas?
Final Thoughts
Black Eyed Peas Nutrition

Let's begin with the nutrient profile. For a cup of cooked black eyed peas, you're looking at this balance:
194 calories
Protein: 13 grams
Carbs: 35 grams
Fiber: 11 grams
Fat: 0.9 grams
Folate: 88% of the recommended daily value (DV)
Copper: 50% DV
Thiamine: 28% DV
Iron: 23% DV
Magnesium: 21% DV
Phosphorous: 21% DV
Zinc: 20% DV
That's not all either. Other nutrients are present in smaller amounts, including potassium, selenium, and vitamin B6.
This profile already highlights one critical feature of black eyed peas, that they're nutrient dense. You get a decent amount of nutrients, protein, and fiber, while the calorie content isn't that bad at all. Impressive, right?
Benefits Of Black Eyed Peas
An Excellent Source Of Protein And Fiber
As a type of bean, black eyed peas are naturally rich in fiber and protein – a combination of features that's always powerful.
For one thing, protein helps to keep us satisfied. It's the main reason that meals are filling, making it vital when you're trying to watch your calorie intake. Protein also contains the essential amino acids that our bodies need.
Then there's the fiber. You know about this one, I'm sure. Fiber is essential for digestion, helps to feed your gut bacteria, and reduces the risk of constipation.
That's not all. Having enough fiber helps to balance both your blood sugar and your cholesterol levels. Those effects could even decrease your risk of heart disease and diabetes, while protecting your health in other ways as well.
It's clear then that protein and fiber are both critical. Being able to get a decent amount of each from the same ingredient is incredibly powerful.
They're Good For Your Heart
Black eyed peas can improve your heart health in a few ways.
The first is by substitution. If you're eating black eyed peas instead of a saturated fat rich source of protein (like red meat), then you're cutting down on unhealthy fat, which should then lower your heart disease risk.
Second, the fiber in the peas can help to balance your blood cholesterol levels. High blood cholesterol is a risk factor for heart disease, so decreasing cholesterol should work in your favor.
Research has also shown that eating legumes regularly truly does lower cholesterol, so the effect isn't just theoretical.
There's inflammation to think about too. Eating legumes has been linked to decreased inflammation and chronic inflammation can increase the risk of many health problems, including heart disease.
Finally, you're often eating black eyed peas as part of a nutrient dense meal, perhaps one that heavily relies on vegetables. This is great for your heart too.
A Practical Way To Boost Nutrient Intake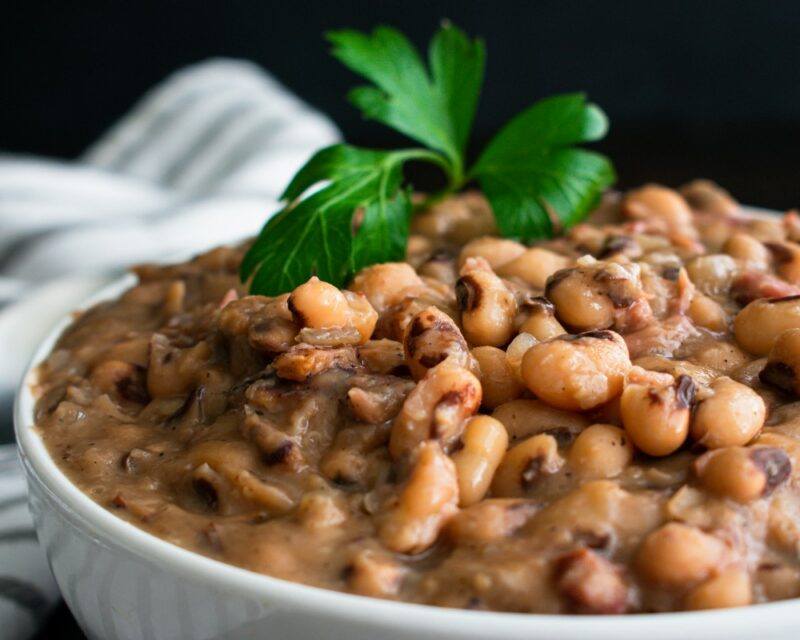 As we mentioned earlier – beans are nutrient dense. This means you're getting a lot of nutrients for barely any calories.
As such, beans are a simple way to increase your nutrient intake. You can even simply include black eyed peas in a meal that you're already cooking (perhaps a soup or a stew).
Black eyed peas are practical too. Seriously, they have a long shelf life and tend to be inexpensive. What could be better?
They're Plant-Based
Most of us need to more plants in our diets. Regardless of how you feel about meat, it's clear that plant-rich diets offer the most benefits.
Beans are excellent in this sense. Not only are they plant-based, but you can also use them instead of meat in many cases. You can even make meat-like dishes if you get a bit creative – like this recipe for vegan black eyed peas with ground 'beef'.
You can also use beans as a way to cut down your meat intake. So, rather than creating a meatless meal, you might cut the amount of meat in half and replace it with beans. This is an easy way to increase your intake of plants, while still enjoying the meals you love.  
Can Promote Weight Loss
Black eyed peas are excellent for weight loss too. After all, they contain a decent amount of fiber and protein, but they're lower in fat and calories than most cuts of meat.
Even just swapping meat for beans in some dishes could be enough to help you lose weight.
Improve Your Gut Health
The fiber in black eyed peas has another benefit that's easily missed – it acts as a prebiotic.
The word here is prebiotic, not probiotic and that distinction is important.
Probiotics are famous. They provide healthy microbes that can add to the microbes in your gut. The effect is seriously important. The microbiome in your gut is even sometimes called a second brain – that's how much it influences your health.
Prebiotics, on the other hand, are a source of food for the microbes in your gut, helping to keep the microbes healthy and functioning well.
So then, the prebiotic fiber in black eyed peas ensures the microbes in your gut are doing well. This effect helps to support your health overall, perhaps even reducing the risk of some diseases.
You Get Antioxidant Benefits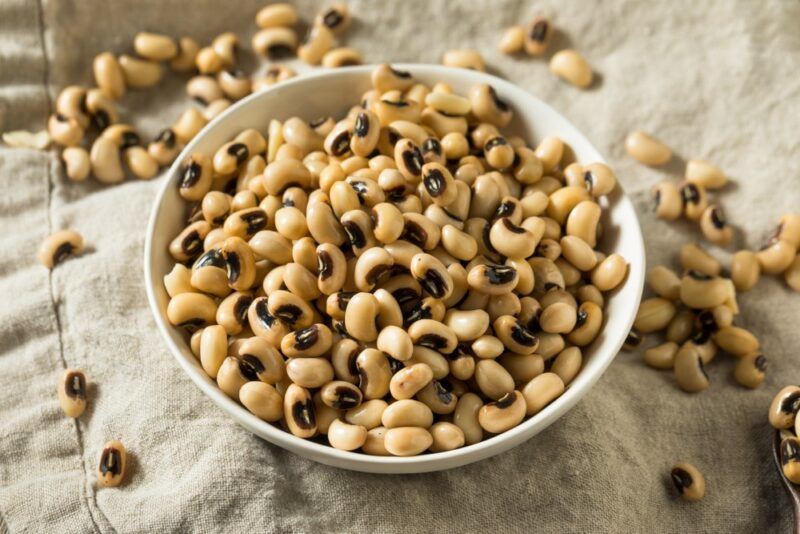 Antioxidants aren't just found in brightly colored fruit. Other plant-based ingredients provide the compounds too, including beans.
The benefits of antioxidants are well-known at this point. The plant-based compounds do what their name suggests, helping to decrease potentially dangerous oxidation and protect your health in the process.
That's not all. Antioxidants have other effects in your body as well, so they can promote health in a variety of ways.
How Black Eyed Peas Could Be Harmful
There's a classic set of problems that come up for most legumes, including black eyed peas. As we dive into them, remember that for most people, the benefits of legumes far outweigh the risks.
After all, legumes are a low calorie and nutrient dense ingredient that can be exceptional for your heart health and might promote weight loss. Other sources of protein often fail in one or more of those areas.
Their Carb Content
Black eyed peas are a source of complex carbs, which is often seen as a good thing. But, there are still concerns that any type of carb may be a problem for your health.
For one thing, carbs may lead to increased inflammation, along with spikes and dips in your blood sugar levels. Those effects can then raise the risk of some types of disease.
These problems are most significant if you're focusing on processed foods and simple carbs. Still, some might also happen with sources of complex carbs.
Black eyed peas are also a no-go for anyone following a keto diet. The carb content is simply too high and would quickly knock you out of ketosis.
Antinutrients
Like other legumes, black eyed peas contain compounds known as antinutrients.
Antinutrients get their name because they decrease the absorption of some nutrients, including magnesium and zinc. Some theories suggest they cause other problems too, like increasing inflammation and causing damage to the lining of your intestines.
Thankfully, soaking beans helps to lower their antinutrient content.
Antinutrients mightn't be as bad as they seem anyway. Most types of antinutrients can even provide health benefits in some situations. Plus, if you're eating well, you should still be getting enough nutrients from your food, even if antinutrients do decrease absorption a little.  
Relatively High In FODMAPs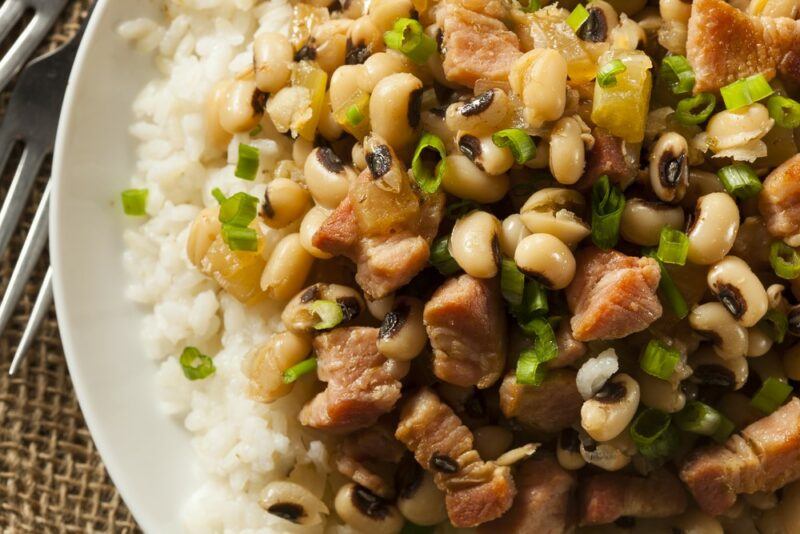 Beans also contain fermentable carbs known as FODMAPs. These can cause digestive issues for some people, particularly if you have irritable bowel syndrome.
Black beans appear to be the lowest FODMAP choice, however, not all types of beans have been tested. Little is known about the FODMAP content of black eyed peas, but they're likely to be moderate or high in FODMAPs simply because they're a type of bean.
Canned black eyed peas should be lower in FODMAPs than fresh ones, as some of the FODMAPs leach out into the liquid. If you drain the liquid and rinse the beans, you should be removing some FODMAPs in the process.
The FODMAPs suggest that you should be cautious with black eyed peas. Even so, people vary in their responses to different high FODMAP foods. For example, you might be sensitive to onions and garlic, and fine with black eyed peas.
Can Cause Side Effects
Beans can cause a number of side effects, including stomach cramps, gas, diarrhea, and more. These effects are sometimes associated with the FODMAPs and antinutrients in the beans.
Other times, the fiber itself is the cause – because your body needs a little time to adjust when you notably change your fiber intake. This may mean you get side effects for a few days or even a week or two, when you first start eating beans.
Soaking the beans first can help. It's also worth starting with small servings of beans and increasing your intake gradually. Doing so can help you avoid the worst of the side effects.
Do Black Eyed Peas Give You Gas?
Beans are famous for their gas-giving side effects. For some, this is simply an amusing effect. For others, it may be a reason to avoid beans entirely.
Interestingly, the flatulence effect mightn't be as bad as we think. Many people don't experience issues at all, or they only get gas when they first start eating beans. The side effect tends to go away once they've been eating beans for a little while.
The effect does vary depending on the type of bean you choose. Black eyed peas can be a fantastic choice, as they lead to less gas than pinto beans baked beans, and possibly other types too.
Should You Soak Black Eyed Peas?
There's a surprising amount of debate about soaking beans. Doing so decreases the antinutrient content and makes beans more digestible. However, cooking beans without soaking them can give you a better texture.
It's often best to experiment for yourself.
This might include starting off with soaked beans. Once your body has adjusted to these, you can swap to unsoaked beans and see whether you get any extra side effects.
You might be completely fine; many people are. Plus, black eyed peas have thin skins, which also decreases the need for soaking.
The main catch is that soaking shortens the cooking time of beans – and unsoaked black eyed peas take an hour to cook. This can be frustrating when you want to get dinner on the table quickly.
You can get around this issue by preparing the beans in a pressure cooker. A slow cooker works as well, as this means you can put the beans on before you leave for work, then have a tasty meal ready when you get home.
What About Canned Black Eyed Peas?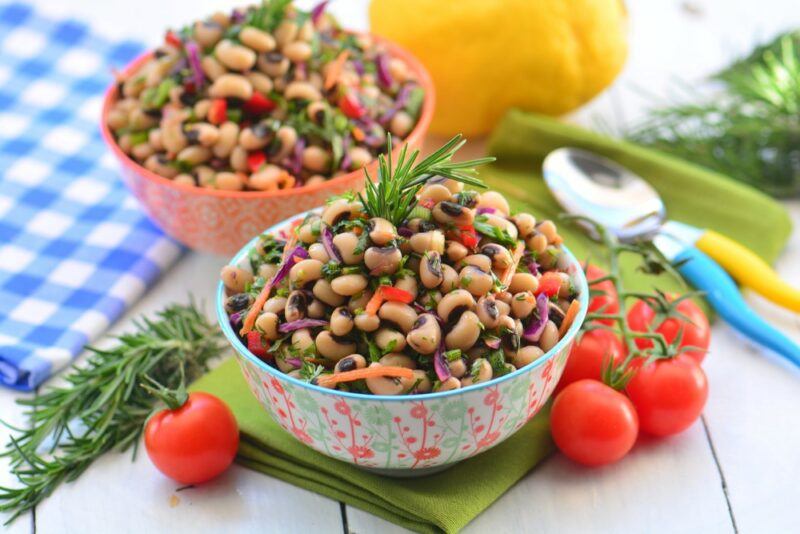 There's no denying it – canned beans are incredibly useful. They're already cooked, so you can use them as-is. In contrast, dried beans take longer to cook, particularly if you're soaking them first.
Still, canned food is never as good for you as fresh.
One problem is the sodium content. Canned beans tend to be loaded with sodium, which you don't need. Rinsing the beans before you use them helps to lower the sodium content, but a decent amount still remains.
Thankfully, you can find low sodium black eyed peas. Some of these have no added salt at all.
You'll need to watch out for additives too. Some canned beans have added sugar, while others may have preservatives.
To get around this problem, keep an eye on the ingredients label and look for cans that contain the beans and little else. There are plenty of healthy products to choose from, as preservatives aren't needed to keep canned beans fresh.
Finally, there's concern that the can's lining might leach into your food, causing all kinds of health issues. BPA is a famous for this effect and really does end up in your food. The problem has been well-recognized, though, and many companies are working to phase out BPA.
Despite all the concerns, canned beans can be healthy. They're an easy and inexpensive way to increase your nutrient intake. That's a combination of features that many families desperately need.
Focusing on BPA-free products with no additives can help you to avoid the worst issues with canned products and get as many benefits as possible from your black eyed peas.
Final Thoughts
Beans are surrounded by controversy.
Sometimes they seem like an amazing ingredient, one that's nutrient-dense, low in calories, inexpensive, and an excellent source of protein. Other times, it sounds like they harbor many types of harmful compounds and are best avoided entirely.
Which perspective is true?
Well… experts often say that the benefits outweigh the risks. As in, there are risks of beans, but these are low, while there's no shortage of benefits.
This might still sound like a reason to skip black eyed peas. Why eat food that is risky?
Here's the rub. Nutrition is complex. All the foods we eat contain a large number of compounds and most of those compounds have multiple effects in our bodies – including positive and negative effects.
So then, every type of food out there is going to have some risks for someone in some situations. The goal isn't to avoid risk, but to make wise decisions.
Like other beans, black eyed peas do have a lot to offer. They really could boost your health. However, it's best to experiment for yourself.
Pay attention to how your body reacts to the beans. Do you lose weight or gain it? Do you get serious side effects? Do you feel full? Those questions will help you work out whether black eyed peas are a good choice for you.
Frequently Asked Questions
When Do You Eat Black Eyed Peas?
You can eat black eyed peas at any time of the day or year. However, there is a tradition of eating black eyed peas for New Year's. The peas are thought to help bring you luck and prosperity for the entire year.  
How Long Do You Soak Black Eyed Peas?
Many people say you should soak beans. Doing so may reduce their antinutrient content and make them easier to digest. If you are going to soak them, then you'll need to soak them for around 6 hours. You could also leave them overnight, which is often easier. 
Are Black Eyed Peas Keto Friendly?
Almost all beans are high in carbs, including black eyed peas. This makes them poor choices for keto dieters. 
That said, the keto diet doesn't actually exclude many foods. You can still include black eyed peas in your diet if you're very careful with your portion sizes.  
Are Black Eyed Peas Fattening?
Legumes like black eyed peas don't tend to promote weight gain. They're more likely to help you lose weight instead, as they're relatively low in calories and contain a decent amount of protein. 
Of course, black eyed peas can be fattening if you consume large amounts of them. This is true for any type of food, healthy or not.  
Are Black Eyed Peas Good For Diabetics?
Despite being relatively high in carbs, black eyed peas can be excellent for diabetics. For one thing, the beans contain a decent amount of soluble fiber, which helps to balance blood sugar levels.
They're also an excellent source of complex carbs. These carbs digest slowly and provide a variety of health benefits.