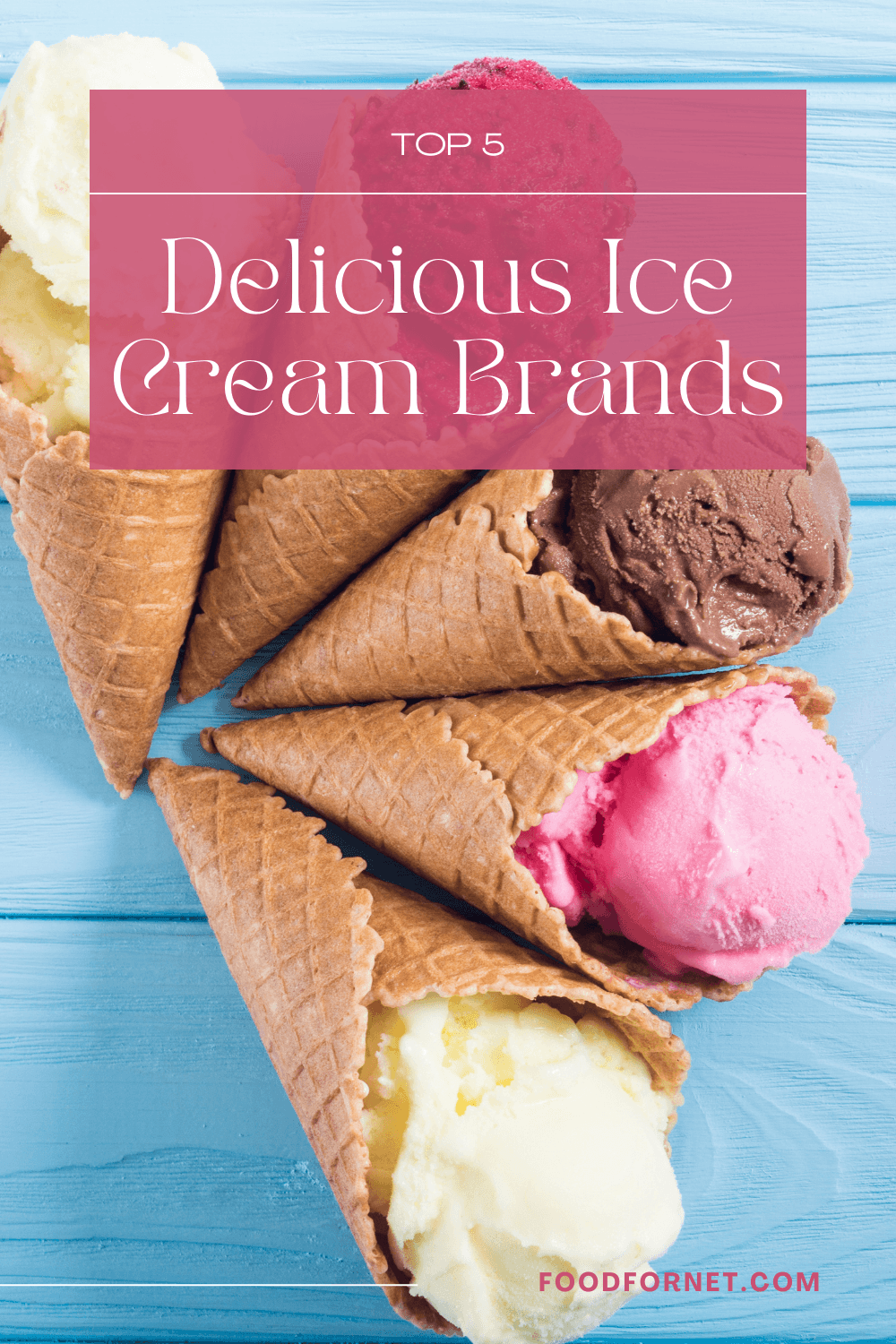 Ice cream is a classic warm-weather snack for children and adults alike! Its sweet, creamy texture and cooling effects make it the perfect treat. Summertime is the most common time to enjoy it but there are no official limits! Even if it's cold out or there's snow on the ground and you want some ice cream, no reasonable person will stop you! Instead of sticking with whatever's in the ice cream truck, try some of the best ice cream brands and embrace the moment with quality ice cream.
While it's a popular treat, it's also true that not all ice cream is made the same. The best ice cream brands not only offer many flavors but also focus on quality. Unfortunately, it's easy to go cheap when it comes to ice cream. Artificial flavors and cheap ingredients can make for a sweet but unsatisfying taste.
Good ice cream is made from real milk and real, rich flavors. The best ones use real fruit, chocolate, and other goodies to enhance the taste. There's no denying that ice cream has plenty of sugar and is not exactly a health food. But, some brands do it better than others. It's important to look at the ingredients and determine how many real ingredients are in there, and how much of it is artificial.
When it comes to taste, quality, and authenticity, these are some of the best ones on the market:
The Best Ice Cream Brands
1. Ben and Jerry's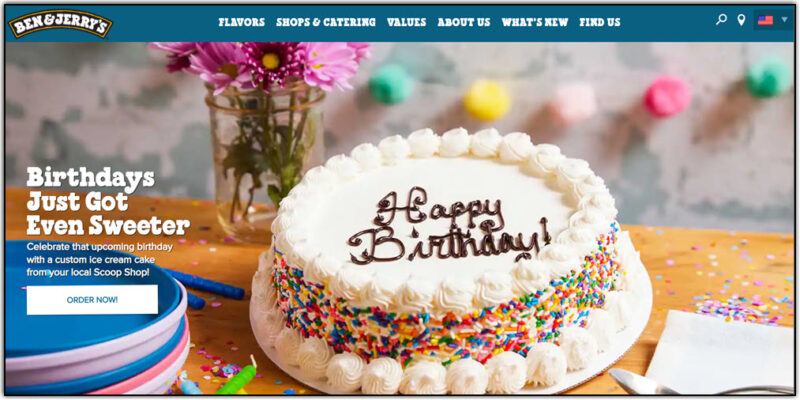 You can never go wrong with a classic like Ben and Jerry's. They have a strong reputation for being the best, and it's well-earned. It all started in 1978 with two guys and a dream – today their ice cream is enjoyed around the globe Ben and Jerry opened their first ice cream shop within a small gas station in Burington, Vermont.
They had a few thousand to invest and a five-dollar ice cream making course to get them started. It was a humble start that blossomed into an absolute legend. Not only are they known for quality, but they're known for the wild array of flavors available. Of course, you can find all the plain vanilla and chocolate you want – and sometimes that's all you need!
But, you can also go crazy with things like cookies, brownies, candies, chocolate, and more all being swirled together to go beyond the imagination of ice cream. They also have a selection of certified gluten-free flavors and some that are dairy-free. With Ben and Jerry's everyone can enjoy ice cream!
2. Haagen-Dazs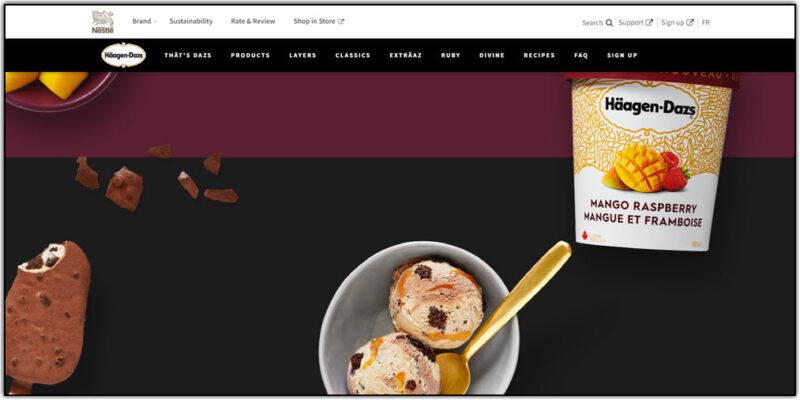 Haagen-Dazs is another staple in the world of ice cream – known everywhere for its premium quality and decadent flavors. While their legend has been multiple decades in the making, their commitment to quality began on day one. Their goal was always to create an ice cream like no other, and that's exactly what they did.
You can enjoy classic, simple flavors like vanilla and strawberry, or choose from one of their many unique and innovative flavor combinations. Their top-notch ice cream can also be found in other related products like their equally delicious and decadent ice cream bars.
If you're looking to mix it up a little or take your ice cream to the next level, they also have a page full of fun and delicious ice cream based recipes. This includes things like an ice cream pie, brownie-based ice cream sandwiches, and even pineapple coconut cream meringue. Make these for an indulgent weekend breakfast or a delicious dessert for the whole family.
3. Dreyer's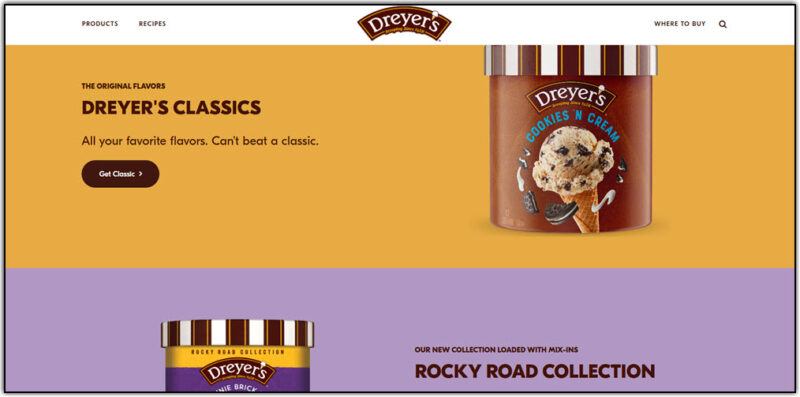 Dreyer's has been scooping ice cream since 1928 and has since gained a reputation for being the perfect family ice cream! Their ice cream is broken down into three categories to help you choose: classics, rocky road collection, and slow-churned.
The classics speak for themselves – simple, familiar flavors that they've been producing and perfecting for many decades. Sometimes the simplicity of a simple scoop of vanilla is all you need!
The rocky road collection is filled with fun, adventurous flavors with multiple mix-ins. They're popular with the kids but there's no age limit! This collection includes the classic rocky road combination as well as things like cookie cobblestone, brownie brick road, and mocha almond avenue. They all follow the same theme but there is a great variety to pick from.
Their slow-churned ice cream is their lighter option, with fewer calories and less fat, but still with all the creamy goodness of ice cream. Here, you'll find flavors like classic vanilla, cookies and cream, caramel, chocolate, and more.
They also have a few recipe collections you can browse if you want to turn your ice cream into something new and interesting. The categories include things like summer recipes, cakes and pies, holidays and parties, drinks and floats, and even a whole list of kid-friendly recipes like cones and ice cream snowballs.
4. Tillamook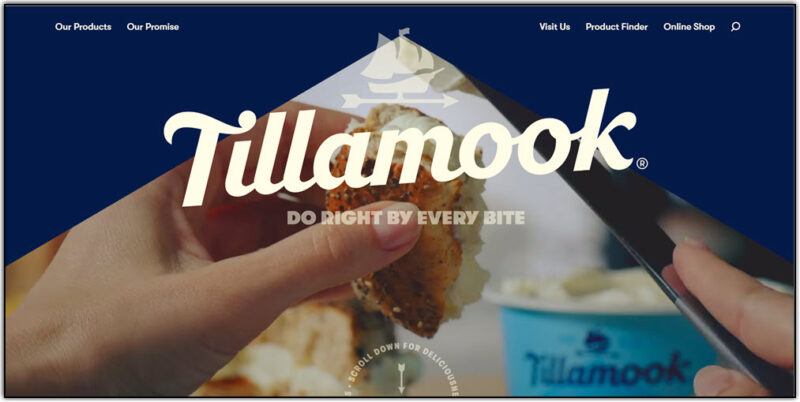 Tillamook got its start way back in 1909. It began as a family effort and it remains a family company to this day. They were founded on strong values and a commitment to quality. They never cut corners. They want to provide products that are not only downright delicious but made with high-quality, authentic ingredients that are good for you instead of cheap and toxic.
They maintain that their ice cream tastes better because it's made better. Not only do they use only the best ingredients but they add a little extra cream. This creates the most decadent and irresistible texture that people keep coming back for.
Their flavors include your favorite classics and beyond! They have ice cream for every corner of the imagination, with fruity flavors galore and extra sweet treats like birthday cake, mudslide, hazelnut and caramel, huckleberry, and so much more.
In addition to ice cream, they put just as much care, effort, and quality into a range of dairy products. They've got cheese, butter, yogurt, sour cream, and cream cheese spread. Each of these is just as creamy and delicious as the ice cream and offers a quality base for plenty of baked goods and other recipes.
5. Talenti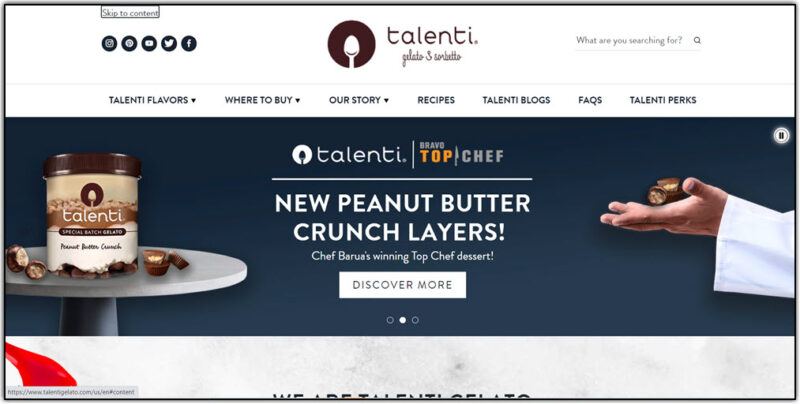 Talenti was born from one man's love of gelato. Talenti founder Josh Hochschuler first fell for gelato when he was living in Buenos Aries, where he was immediately drawn to the people, food, and culture. He set out to make the best gelato there is, both in taste and quality.
To achieve this, Talenti scours the globe for only the best and most authentic ingredients. Then, they slow cook their ingredients for the optimal amount of time to extract maximum flavor. There are no corners cut in their quest for the best taste.
They offer an impressive collection of gelatos and sorbettos in a wide variety of flavors. You can go simple, or you can mix it up with some of their layered products. They also have a selection of organic options as well as egg-free, gluten-free, and even dairy-free collections. These are made with just as much care and quality as the rest – they don't want anyone missing out on their incredible flavors.
Talenti is available in a variety of stores and you can also order online for quick delivery right to your home!
Make Your Own Ice Cream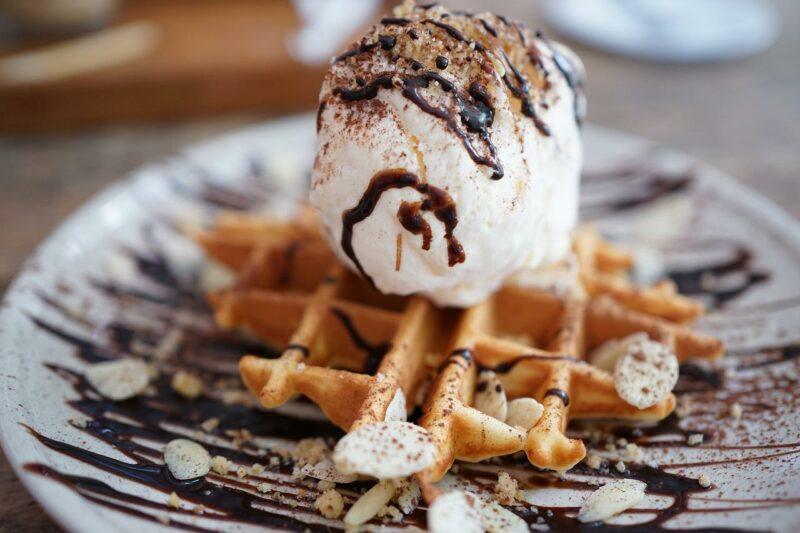 There's no denying these are some of the best ice cream brands on the market. But, that doesn't take away from the charm of making your own! Homemade ice cream is a fun activity that you can do alone or with the whole family – either way, the result is a tasty, customized treat.
Even better, it's a treat where you get to pick the ingredients and know exactly what's in it.
There are many different ways to make your own ice cream, but this post here outlines a very easy and beginner-friendly recipe and method. It's a simple recipe that is tasty when made as is, or you can easily add a few extras to enhance and change up the flavor.
This basic recipe calls for simple ingredients like heavy cream, whole milk, sugar, salt, and vanilla extract. This is all you need for the ice cream itself, but they also suggest simple add-ons like brownies, blondies, or cookies!
The instructions are pretty easy. You just have to pay attention and do things in the correct order for it to taste right!
No Ice Cream Machine Needed
If you don't have an ice cream maker, that's totally fine! Some recipes call for one and the machines are certainly handy, but they're not always necessary. This recipe is beyond easy. It has only two ingredients and doesn't require an ice cream maker at all.
All you need for this basic recipe is two cups of cream and sweetened condensed milk. This will make sweet but plain ice cream and is a lovely recipe to add to. You'll see the post itself recommends some fun flavors like cheesecake and mint chip – and offers up the necessary extra ingredients to create these versions too.
Related Content