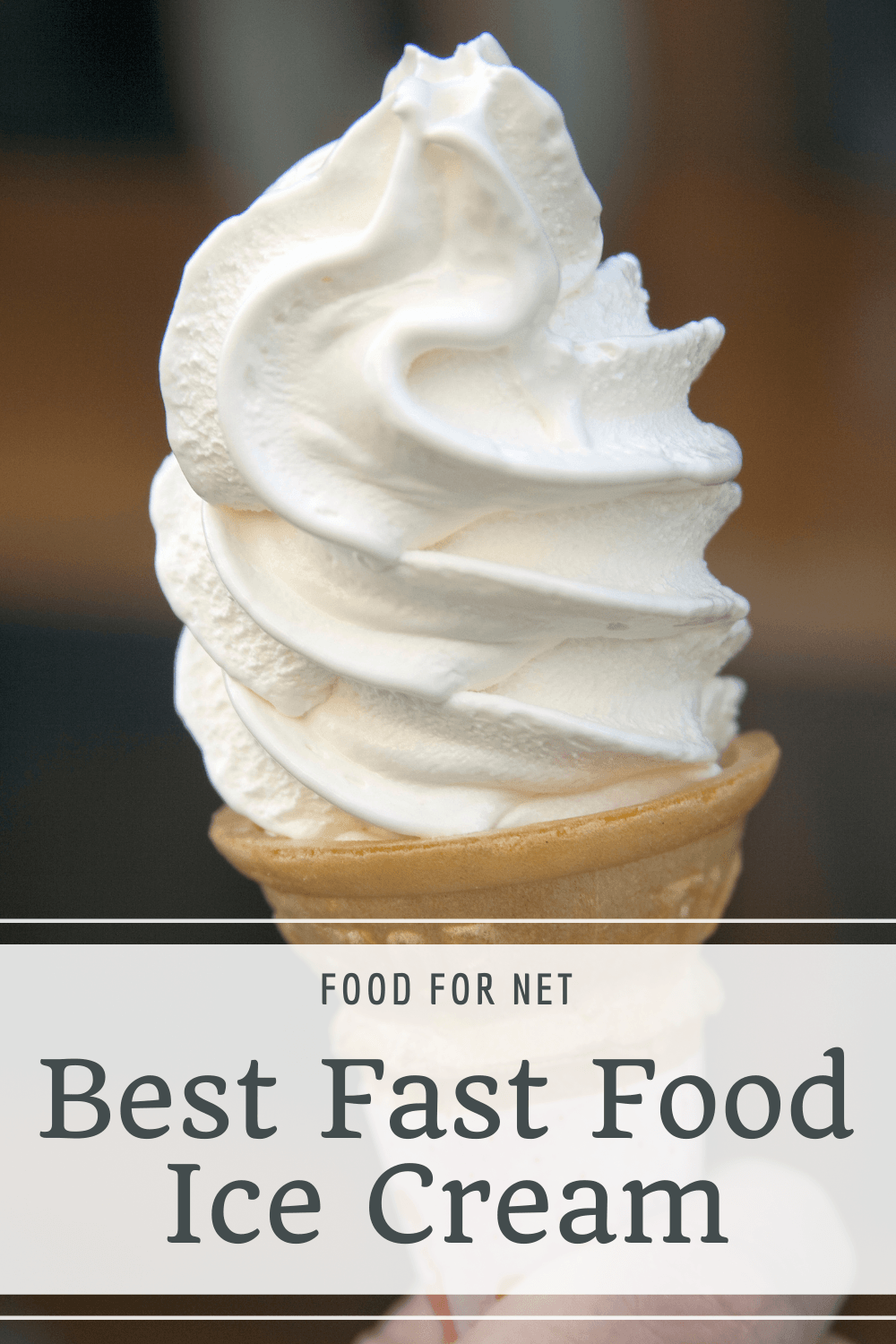 No fast food joint would be complete without America's favorite quick and easy fast food dessert – ice cream! Such a simple treat with so many possibilities, you just can't go wrong with a cold and delicious ice cream cone to wash down your yummy burger and fries.
Unfortunately, like anything else, not all ice cream is made equal, especially in the fast food space. In an attempt to live up to their name and be, well, fast, some chains go cheap and low-quality on the ice cream. You may get some texture and a faint hint of chocolate or vanilla, but many of them ultimately fall short.
The best ice cream is ice cream that's paid attention to. Attention to detail is key – you need the right texture, the right flavor, and the right ingredients. Too much vanilla is overpowering, but not enough is disappointing. Too many candies mixed in make it too crunchy, but not enough leave too much to be desired. Too much hot fudge melts it too fast, but too little and it's just not satisfying. You get the idea.
When you think about it this way, ice cream may not be quite as simple as it sounds. Another thing to consider is the sugar and fat content and the fact that many people are trying to cut back these days. This is why some places are growing wise to the times and creating a different kind of "frozen dairy treat" that closely mimics ice cream but is technically something different – because it contains less fat!
A perfect example of this is the Icedream cone at Chick-Fil-A. This dessert is well-loved by regulars and visitors alike, with its guilt-free texture and flavor that is so like the perfect scoop of soft-serve ice cream.
There's also a matter of flavors. For whatever reason, Oreo-based ice cream treats are among the most popular. This has prompted some version of an Oreo ice cream or milkshake at many different fast food chains.
In addition to Oreo though, you can find all kinds of sauces, candies, chocolates, sprinkles, and other sweets to go with your ice cream. Some are piled on top, others are spun together with the ice cream. How you get them is ultimately up to personal preference and/or what mood you're in that day.
With so many ice cream fails out there, the good ones stand out from the crowd. Check out these places for the best fast food ice cream:
Top Ten Best Fast Food Ice Cream
Culver's Ice Cream Sundae
Shake Shack's Shack Attack
Dairy Queen Blizzards
Wendy's Black and White Frosty
McDonald's McFlurry
Dairy Queen Soft Serve
Burger King's Vanilla Ice Cream
Chick-Fil-A Icedream
A&W's Soft Serve
McDonald's Ice Cream Cone
1. Culver's Ice Cream Sundae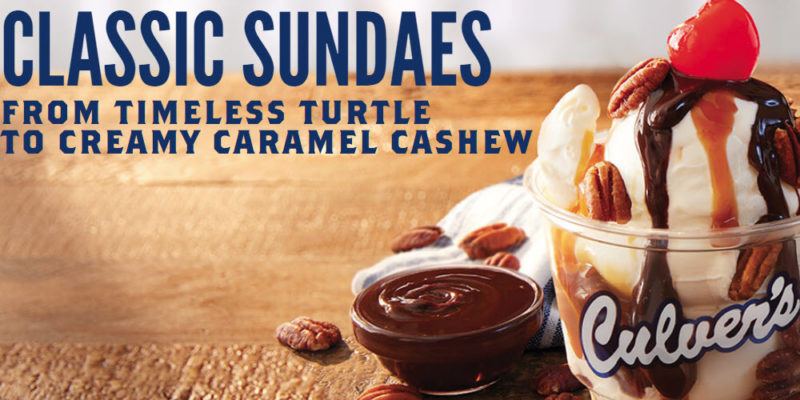 Culver's is most known for its deep-fried comfort food like chicken sandwiches, tenders, and yummy French fries. They don't advertise themselves as a dessert dynasty or anything but their ice cream sundaes need to get the credit they're due.
Rich, creamy, and fresh the ice cream is perfect and the sundaes are amazing because they're totally customizable. You can get the standard caramel or hot fudge or jazz it up with a bunch of extras! This includes berries, nuts, toffee, candies, brownies, and more. You can choose between one and three scoops, then mix and match as you please. Or, you can try one of their pre-made combinations like a turtle sundae or the banana split.
2. Shake Shack's Shack Attack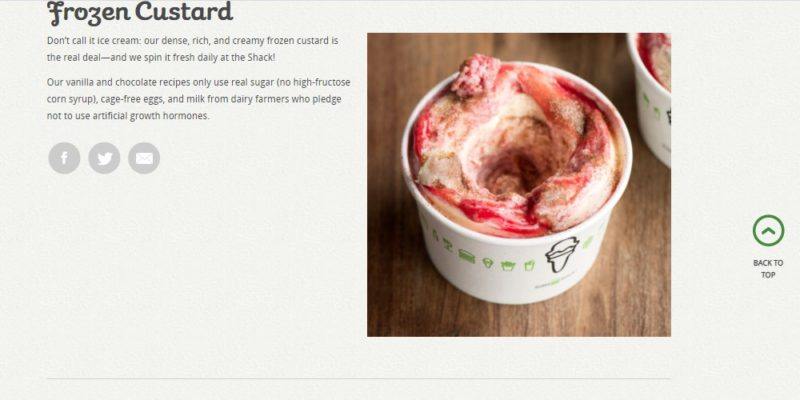 It's no secret that Shake Shack has some great shakes – it's right in their name! But they certainly don't slack off in the ice cream department either. Their sundaes, which they call "concretes" are made with frozen custard that is freshly spun every day and made with no artificial growth hormones.
There are many flavors and combinations to choose from, but the "shack attack" is among the most notable. It's a chocolate lover's dream, mixing chocolate custard mixed with chocolate chunks, chocolate sprinkles, and all kinds of chocolatey goodness.
3. Dairy Queen Blizzards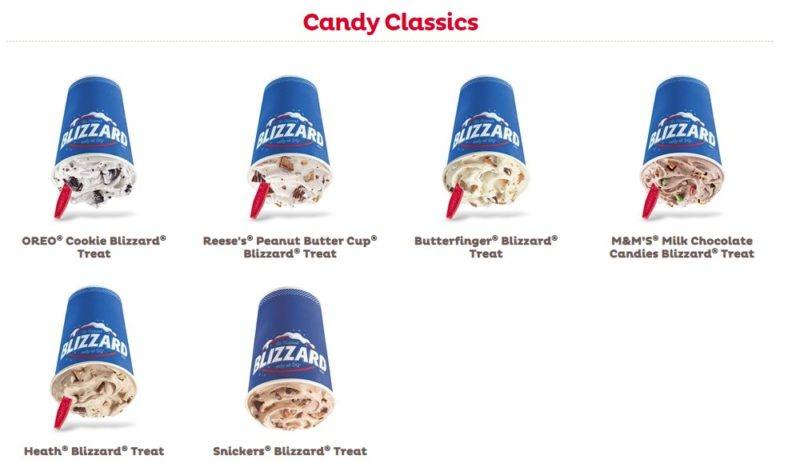 Dairy Queen's blizzards are, of course, iconic. They're a staple sweet treat in the summer and everyone loves to watch as the staff flip it over to prove it's so thick and creamy that it won't even fall out.
Different flavors come and go with the seasons and sometimes they'll create fun, limited-edition flavors just because and make them available for a short time. But, there are a few favorites that are permanent fixtures on the blizzard menu, including the wildly popular Oreo blizzard. This crunchy, chocolate delight has chunks of an oreo cookie, some big and some small, spun into their delicious vanilla ice cream.
4. Wendy's Black and White Frosty

Everyone knows the glory of a Wendy's frosty. Available in two signature flavors, it's creamy goodness is something special and unique. It makes great dipping for French fries and it's a great budget treat if you've only got a few bucks.
If you want to mix things up a little though and experience something new, try asking for a "black and white" frosty, wherein they simply mix the chocolate and vanilla flavors together. This creates an all-new experience and offers a third option.
5. McDonald's McFlurry

The McFlurry is another fast food ice cream staple and its status is rightly earned. It's similar to Dairy Queen's blizzards, but McDonald's has created some unique flavors and they make it using their beloved soft-serve ice cream. Everyone loves the soft serve on its own but soft serve also lends itself so nicely to the McFlurry, becoming extra thick and creamy as it mixes with your chosen toppings.
Their standard flavors include Oreo, M&M, and Skor, with Oreo being the unsurprising leader in popularity. But, other flavors are rotated in and out throughout the year and many limited edition creations have been released in the past.
6. Dairy Queen Soft Serve

While the blizzards are something special, Dairy Queen has mastered the art of basic soft serve ice cream as well. The website touts is as original and "world-famous." You can get the cone in any one of four sizes – kids, small, medium, or large.
By default, it comes in a simple, crispy cone. If you want to jazz it up a little, you can have the cone dipped in chocolate which will add a nice little chocolatey crunch. It's also the same ice cream they use for their sundaes which can be topped with hot fudge, strawberry, caramel, peanut butter, or pineapple sauce.
7. Burger King's Vanilla Ice Cream

Despite their obvious focus on burgers, Burger King also offers up a fantastic plain vanilla ice cream cone. The general consensus is that their vanilla cone is sweet and delightful without being overpowering. The texture is described as light and creamy and it leaves a sweet vanilla aftertaste behind, too.
The cone is thin but crispy. While the ice cream is amazing, the cone is known for being a little crumbly so make sure you've eaten up a good amount of excess ice cream that might drip before you dig into the cone. They also offer chocolate and strawberry sundaes if you want to add a little extra flavor to the delicious soft serve experience.
8. Chick-Fil-A Icedream

Chick-Fil-A's Icedream is a wildly popular fast food dessert for many reasons. Firstly, it's creamy and delicious, as any good ice cream should be, and it has the perfect, old-fashioned vanilla taste. Second, it's a slightly healthier choice for those who want to enjoy a sweet treat without the guilt.
This is because it's actually not technically ice cream. With only three grams, it doesn't have enough fat to be officially considered ice cream. But, Chick-Fill-A has done a fantastic job at emulating the texture, flavor, and consistency of ice cream for those who either can't have it or want a healthier option.
9. A&W's Soft Serve

A&W offers a lesser-known gem in the world of fast food desserts. Their signature vanilla soft serve is delightfully sweet and creamy with just the right amount of vanilla. It's served on a cone or in a cup and is surprisingly delicious despite the chain's focus on hamburgers.
Each day, they also offer a "flavor of the day" which you can select in place of vanilla, or get the two flavors combined in a twist. The traditional vanilla is always available and their daily rotating flavors give you a great chance to experience something new whenever you want.
10. McDonald's Ice Cream Cone

Last but not least is the classic soft serve vanilla cone from McDonald's. McDonald's is famous for having some of the best soft-serve ice creams around, making for a great treat on its own or great in a chocolate, caramel, or strawberry sundae.
The small cone also goes great as a way to finish off any meal on the menu. It's served in a light, fresh, crispy cone that many also enjoy eating once they finish off all the ice cream.