Much like a classic hamburger, fish sandwiches are a fast food staple and customers everywhere love them. The problem with fast food fish sandwiches though, is that they're not always easy to find for most of the year.
Fish sandwiches are readily available all over the place during Lenten season – a time of year where some people choose to give up certain things for 40 days. It's a common religious practice, and fast food chains are quick to capitalize on this by offering fish as a meat alternative.
When lent comes to an end, fish sandwiches become much less sought-after and are often removed from menus, with fans having to wait another year to enjoy them again.
That being said, some chains choose to keep their fish sandwich on the menu year-round, much to the delight of fish lovers everywhere. Most notably are McDonald's and their filet-o-fish and Checkers crispy fish sandwich which remain on their respective menus all the time.
Another reason fish sandwiches are so popular is that they tend to be a slightly healthier option. Not that fast food is ever the first choice for a healthy meal, but the fish sandwiches aren't terrible (there are other healthy fast food options too). They tend to have fewer calories than most other sandwiches, and fish do come with many health benefits including nutrients like iron and potassium as well as healthy fats.
Most fish sandwiches tend to have a pretty universal makeup – a breaded fish filet with tartar sauce and lettuce. Even though so many of them are so similar, different restaurants make them their own with different tartar sauce recipes and doing different things with the buns. This includes using sesame seed buns as opposed to plain, toasting them, or even lightly buttering them.
If you love a good fish sandwich, take advantage of Lenten season when they all come available and try a few out. Even if you've got an established favorite, you might find another place that does it just as well but in a different way. You can also try a premium or deluxe version of the fish sandwich, offered by many places in addition to the regular recipe. These include additional ingredients like tomatoes, cheese, and pickles.
Top Ten Best Fast Food Fish Sandwiches
Long John Silver's Cod Sandwich
Culver's Cod Filet Sandwich
McDonald's Filet-o-Fish
White Castle Fish Sliders
Arby's Crispy Fish Sandwich
Dairy Queen's Crispy Fish Sandwich
Chick-Fil-A's Crispy Fish Sandwich
Arby's King Hawaiian Fish Deluxe
Wendy's Premium Cod Cilet
Checkers Crispy Fish Sandwich
1. Long John Silver's Cod Sandwich

Long John Silver's keeps it simple with their seafood selections. Their fish sandwich is made with a fresh piece of breaded North Pacific cod and is served with pickles and tartar sauce. This simple but delicious combination is served on a fresh bun.
The same cod is also available in a combo meal which includes two pieces of the fish, two hushpuppies, and your choice of two additional sides. This is a great option when you want a nice full meal, or share with someone as a light lunch for two.
2. Culver's Cod Filet Sandwich

Culver's also serves fresh cod on their fish sandwich, caught in the North Atlantic and hand cut before being hand-battered and cooked fresh to order. They serve the fish on a fresh hoagie roll, lightly toasted and buttered.
Also included are fresh lettuce, Wisconsin cheddar cheese, and tartar sauce. While tarter sauce is a common additive to a fish sandwich, Culver's uses a special, traditional family recipe that includes olives, capers, and sweet relish. Their special recipe gives the simple sandwich a unique and personal touch that helps make it a favorite among fast food fish sandwiches.
3. McDonald's Filet-O-Fish

McDonald's filet-o-fish sandwich is so delicious and iconic that it has an almost cult-like following. Its fanbase is so dedicated and many people make a point to eat the sandwich regularly.
It's not particularly fancy, featuring the standard fish filet with tartar sauce and cheddar cheese with a simple, lightly steamed bun. Whatever it is about this sandwich, they're doing something right because it's an absolute fan favorite and it's not slowing down any time soon.
For those who want a little extra bulk, they also offer the double filet-o-fish which is the same as the regular but with two fish filets instead of one.
4. White Castle Fish Sliders

White Castle is widely known as the "slider expert" as they offer many fun and delicious burger and sandwich options but on a smaller scale. Known as sliders, these tiny sandwiches are quick and easy to eat and are often consumed in multiples.
Their fish sliders are no different, containing small pieces of fish and a small slice of cheddar, American, or jalapeno cheese on a soft, fresh bun. You can order as many as you'd like, though they have a series of standard slider combos, which come with 2-4 sliders each, french, fries, and a drink.
Outside of these pre-determined combos, you can choose the amount that you order. The great thing about these sliders is that they're so small you can mix and match and eat a few of them no problem.
5. Arby's Crispy Fish Sandwich

Arby's has a series of fish sandwiches that they serve up for a limited time each year. They are all a little different, but their original crispy fish sandwich is often the favorite. It's a simple sandwich, featuring a crispy Alaskan pollock filet, tartar sauce, and shredded iceberg lettuce on a sesame seed bun.
Perhaps it's the simplicity that makes it a favorite, with the other two featuring additional ingredients like cheddar cheese, tomatoes, and different buns. One of its major selling points is the size, it's a big sandwich with a piece of fish that's even bigger than the bun. You're getting your money's worth with this one.
6. Dairy Queen's Crispy Fish Sandwich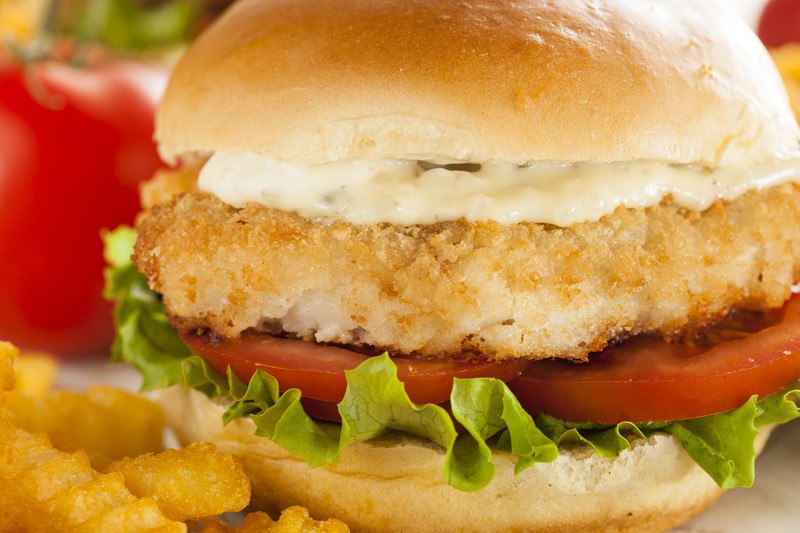 Dairy Queen has a classic crispy fish sandwich that is only available for a very limited time each year. It's a favorite for many during the Lenten season which is when it tends to hit the menu. Like many others, it's a simple sandwich with a tender, breaded fish filet, your standard tartar sauce, and crispy, fresh lettuce.
It's all nestled into a fresh, toasted sesame seed bun. They use wild-caught Alaskan pacific cod. This means it was caught in the wild and not specifically farmed. Many prefer this as it's more authentic and often more sustainable.
7. Chick-Fil-A's Fish Sandwich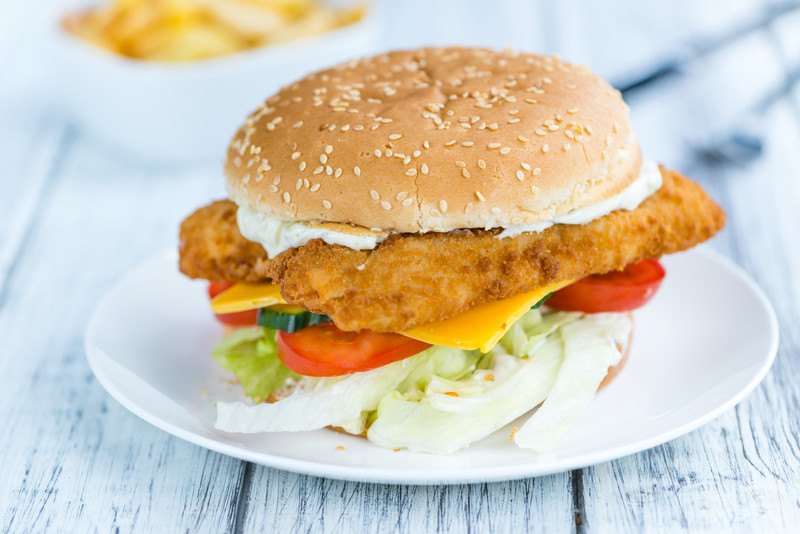 Chick-Fil-A has an amazing fish sandwich that many regard as the best in the business. The problem with the sandwich is that it can be hard to find. Like many food chains, their fish sandwich is only available for a limited time each year, but it's also not always available at every location, meaning not everyone has access to it.
If you can find one, their traditional fish sandwich is known for being made to order, meaning it's extremely hot and fresh. Their basic fish sandwich features a piece of breaded Pacific cod filet with pickles and tartar sauce. For a little more bulk, you can get the deluxe version which includes tomato, cheese, and lettuce as well.
8. Arby's King Hawaiian Fish Deluxe

Arby's King Hawaiian Fish Deluxe sandwich is another favorite from Arby's that offers a larger, fuller alternative to their original fish sandwich. This sandwich features a piece of wild-caught Alaskan pollock with tartar sauce, lettuce, tomato, and cheese on a special kind of sweet, fluffy bun that comes from right from Hawaii.
In addition to the extra ingredients on the sandwich, what gives this one its "deluxe" title is the sheer size of the fish. It's an extremely generous serving of fish that far exceeds even the size of the bun.
9. Wendy's Premium Cod Fillet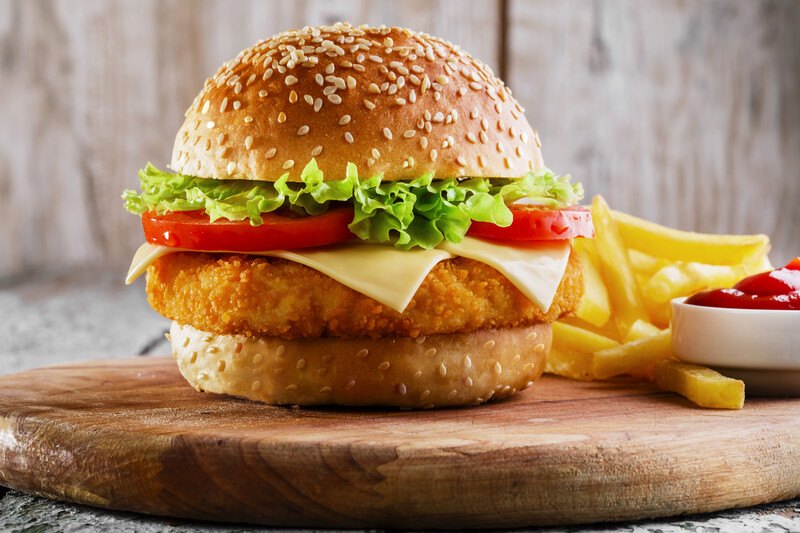 Wendy's has a delicious, premium fish sandwich that features a breaded filet of wild-caught North Pacific cod with creamy dill tartar sauce, dill pickle slices, fresh lettuce, and a soft, lightly toasted bun.
While many restaurants have a "deluxe" version of their fish sandwiches or alternate options with additional ingredients, Wendy's offers more by default. Pickles are typical, but tomatoes are rarely included in a basic/original fish sandwich. They want their fish sandwich to be known as premium from the start.
10. Checkers Crispy Fish Sandwich

Checkers is one of the few places that offer their fish sandwiches year-round. While many people wait in great anticipation for their favorite fish sandwiches to become available each year, Checker's lets you satisfy the craving at any time.
Not only is it readily available whenever you want, but it's good. It's your typical fish sandwich, offering a breaded filet with shredded iceberg lettuce, tartar sauce, and a lightly toasted sesame seed bun.