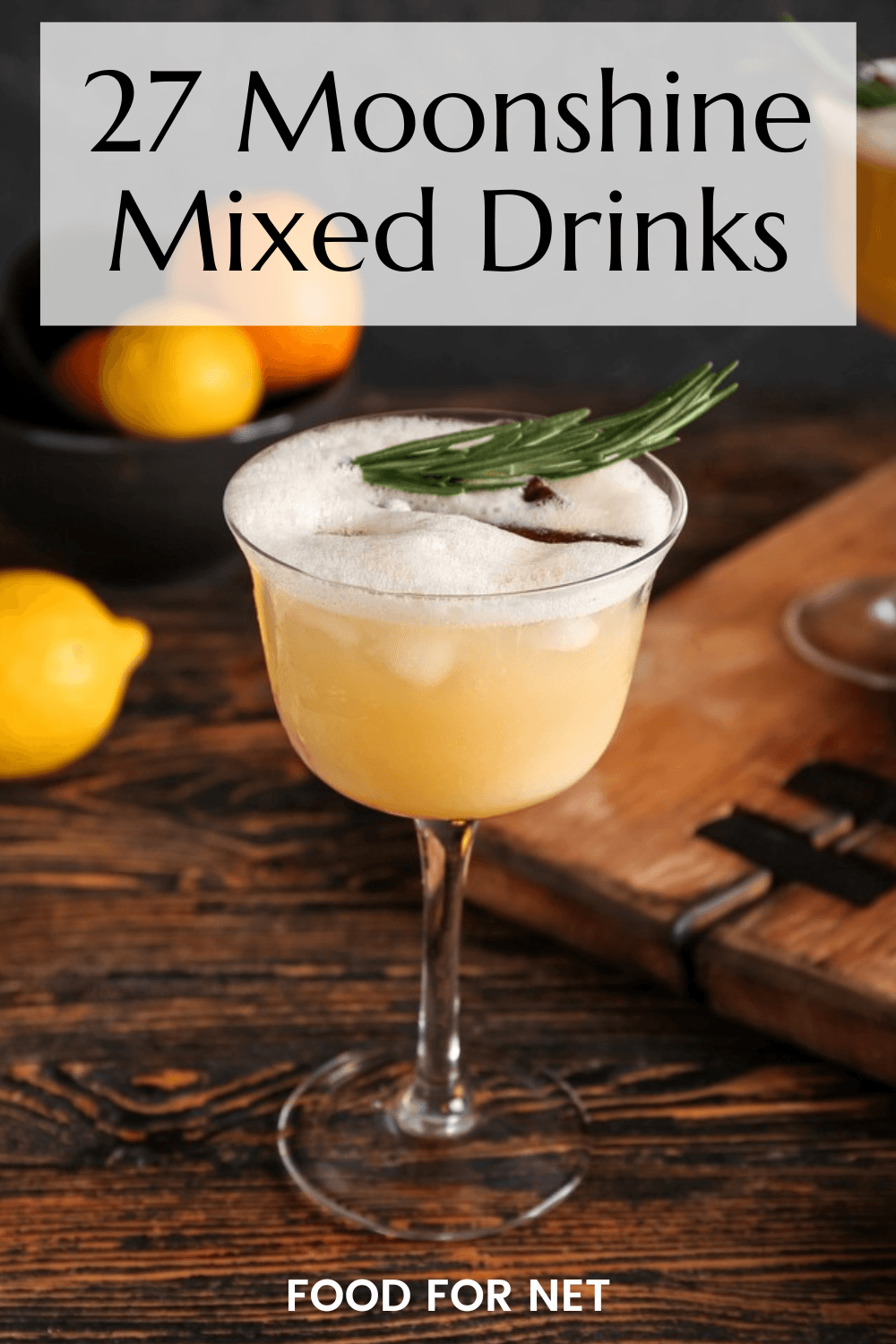 Moonshine is hardly the most refined spirit. When made well, it doesn't smell like much on its own, but the intensity of the alcohol can hit you hard, which might make you wonder why anyone would want to drink the stuff. Yet, drink it they do, which is why moonshine mixed drinks are so important.
Combining moonshine with other ingredients helps to knock the edge off it. You end with something that actually tastes half decent, while still letting you lean into the passion and history surrounding moonshine. And, not surprisingly, there are a few strong mixed drinks in the collection.
However, before we talk about the drinks, a few words need to be said about moonshine itself.
The term moonshine is basically a catch all for any type of illicitly distilled spirit. If you're making whiskey, vodka, or some other spirit at home or in the backwoods, then it's moonshine.
Prohibition might be long past, but the laws against home distilling are still in place – and come with some hefty penalties! The laws aren't there to be controlling either. Making spirits at home can be seriously dangerous, especially when you're still learning what to do.
Homemade spirits can't be taxed either, which is another reason that the laws are in place. But, we're not going to debate that topic here. The laws are what they are. Whether you agree or not, you can't change them.
The alternative to an illegal product is the moonshine you see in local stores. This is legally created, although companies try to replicate the spirit and nuance that you find in backwoods moonshine. As such, the legal stuff still packs a punch. You can drink on its own, but it's even better as part of a mixed drink.
Moonshine Mixed Drinks (With Pictures!)
Thyme To Shine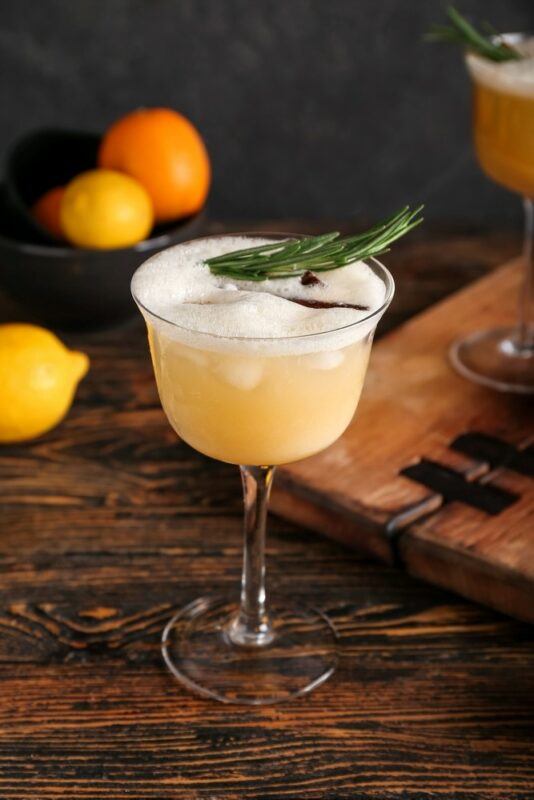 This cocktail is surprisingly nuanced, as it combines moonshine with a thyme simple syrup, plus bitters and lemon juice. There's an optional egg white too, which adds texture and foam to the finished drink.
The use of a spirit, lemon juice, and simple syrup might look familiar, as that's the basic formula for a traditional sour. This cocktail simply mixes things up by adding bitters and thyme to the equation.
Those two ingredients bring the sour up to a new level. The nuances of your moonshine really come into their own in this cocktail, so the product you choose will make a huge difference.
Apple Pie Moonshine Cocktail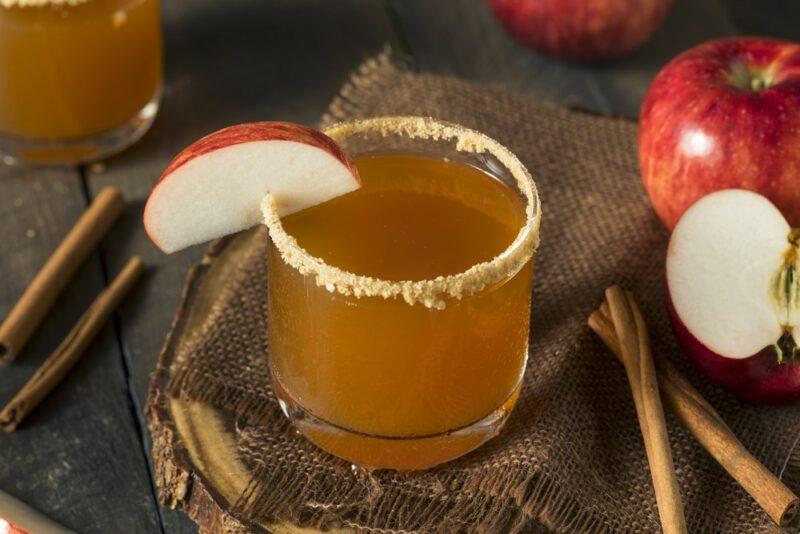 This is one of many recipes that relies on flavored moonshine. Specifically, apple pie moonshine. There are a few ways to make it, depending on the flavors you're looking for.
For a sweet and spirit heavy version, try combining apple pie moonshine with vanilla vodka, simple syrup, and apple cider. Regular vodka can be used too, but the vanilla version adds an amazing apple pie flavor to the drink.
Alternatively, you could simply try apple pie moonshine, apple cider, lemon juice, and cinnamon simple syrup. This version has an interesting sweet-sour balance, while the cinnamon adds just enough complexity.
Dreamsicle Moonshine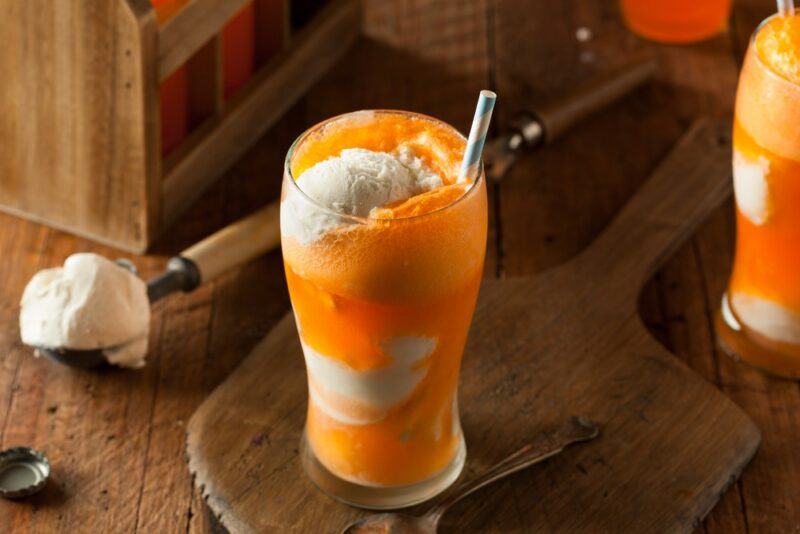 This cocktail has a fantastic texture. It's also delicious and a bit too easy to drink. You might end up having a couple of them before the alcohol hit catches up to you.
The other cool thing is that the cocktail uses familiar ingredients, like vanilla extract, sugar, powered French vanilla coffee creamer, and plenty of orange juice. The juice first needs to be boiled, then the sugar, creamer, and vanilla extract mixed in.
Once the drink has cooled, you can add your moonshine – and there you have it. The coffee creamer provides plenty of creaminess, while also adding to the cocktail's flavor. You can even add ice cream to the drink to create a float like cocktail.
You can drink the cocktail as soon as it is prepared or leave it in storage containers for a while. It will taste best if you let it sit for at least a few days. This gives the flavors the chance to mellow out.
Frozen Toasted Coconut Moonshine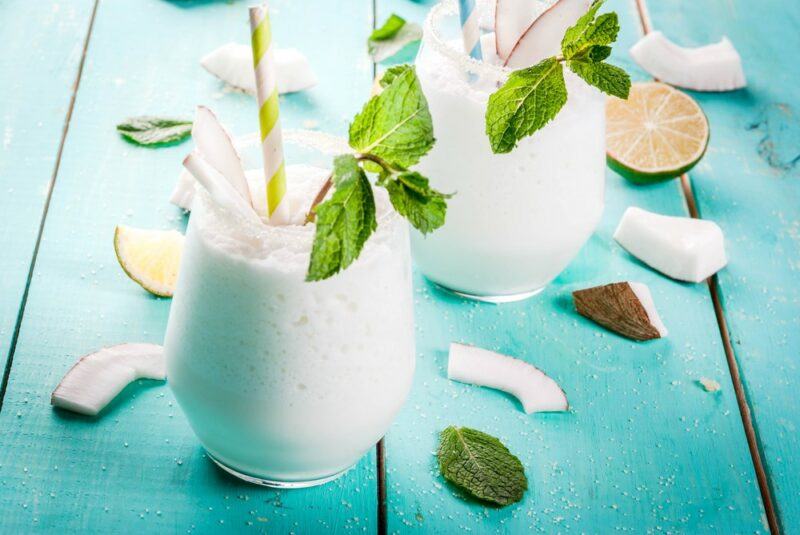 This cocktail relies on coconut milk, lime, and plenty of mint. Those flavors always meld together well, so it's fantastic to see them in a moonshine based cocktail.
But, rather than just combining lime juice, coconut milk, moonshine, simple syrup, and ice, this recipe takes things one step further. You start off by preparing a mint simple syrup. This increases the mint flavor of your drink, especially if you also use mint leaves in the cocktail itself.
If you don't like frozen cocktails, you could easily skip the ice and serve this drink straight instead. However, blending it up as a slushie makes the cocktail much more amazing. It's a style that's worth trying at least once.
Sex In The Woods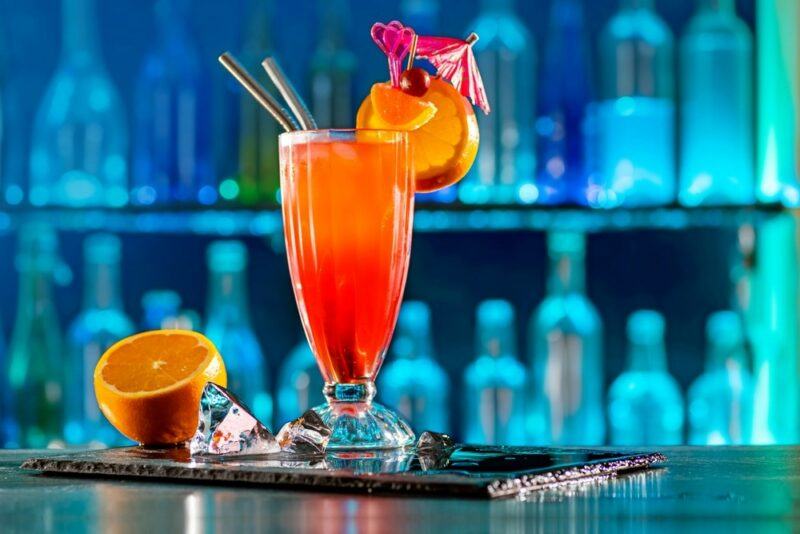 No surprises here – this drink is a riff on the traditional sex on the beach cocktail. The original one relies on vodka, peach schnapps, cranberry juice, and orange juice.
This version is exactly the same, except that you're using moonshine instead of vodka. The moonshine doesn't dramatically change the flavor profile, but adds enough nuance to keep things interesting.
Climax Moonshine Banana Drops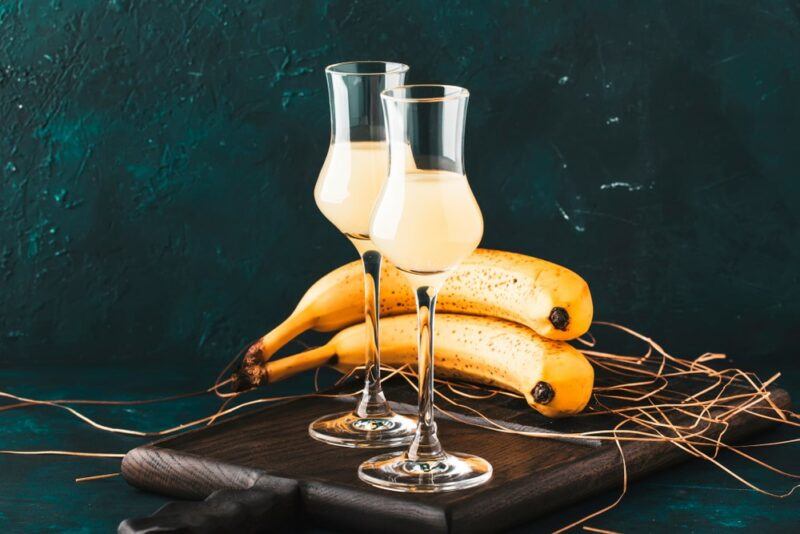 These are shots rather than full mixed drinks, but they're too fun to ignore. To make them, you simply combine moonshine, Licor 43, and banana liquor.
Licor 43 is the most interesting addition. It is a bright yellow liqueur with a vanilla flavor. If you don't have it on hand, you can use any other vanilla liqueur, including Galliano. Most other types don't have the same bright yellow coloring as Licor 43, but that's okay.
To make the shots even more special, try making a sugar and cinnamon rim for your glasses. This looks fantastic and makes the shots taste even better.
Strawberry Salty Dog Moonshine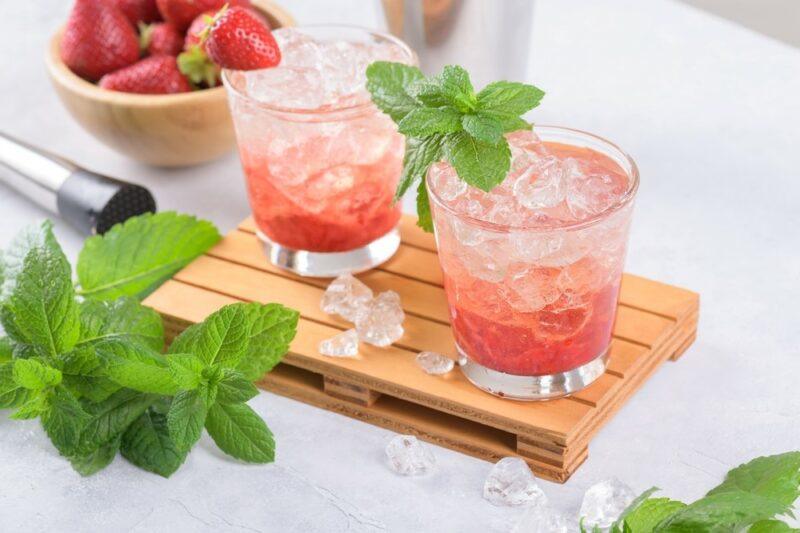 The traditional salty dog cocktail combines gin and grapefruit juice, and is served with a salt rim. The salt rim is essential – as without it you just have a greyhound cocktail.
This recipe makes a few changes. First, obviously, you're using moonshine instead of gin. Then you're adding in strawberry juice. You'll probably need to make this yourself, as few companies sell strawberry juice. That's okay, though, as fresh juice always tastes better.
Adding strawberry juice into a salty dog is a genius move. The juice adds plenty of sweetness and makes the cocktail's flavors much more complex.
Toxic Tonic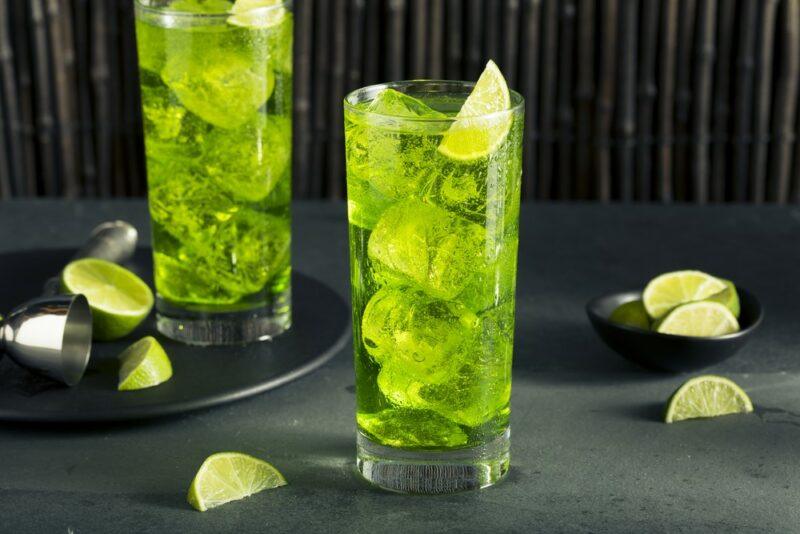 This cocktail's bright green color makes it look truly amazing. Not surprisingly, the color comes from Midori. The cocktail also includes both pineapple rum and moonshine, plus a touch of pineapple juice and plenty of tonic water.
These ingredients combine to give you a sweet and boozy cocktail, with a fantastic flavor contrast from the tonic water.
Strawberry Jam Moonshine Cocktails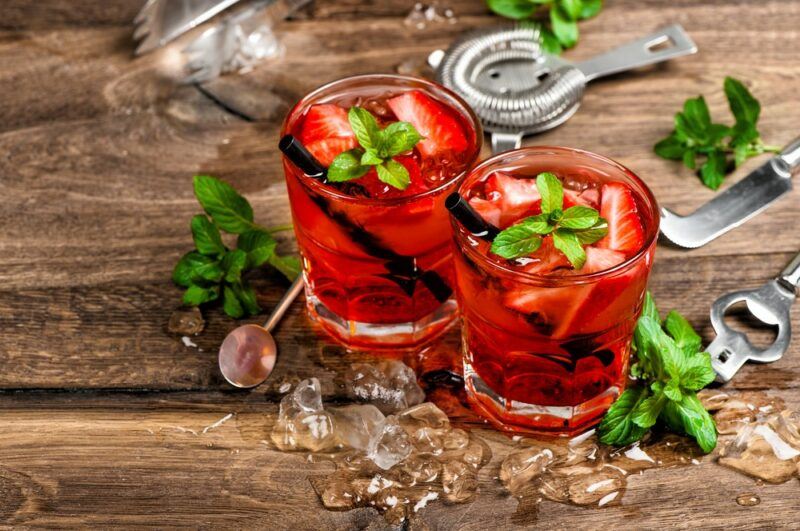 The most unusual thing about this cocktail is that it really does contain strawberry jam. You're not heating the jam with other ingredients until it fully dissolves, either.
Instead, you're shaking the jam together with moonshine, ice, and lemon juice. The drink is then poured into a glass and topped off with soda water.
This approach means you still get some of the texture from your jam, plus plenty of flavor.
Crescent Cooler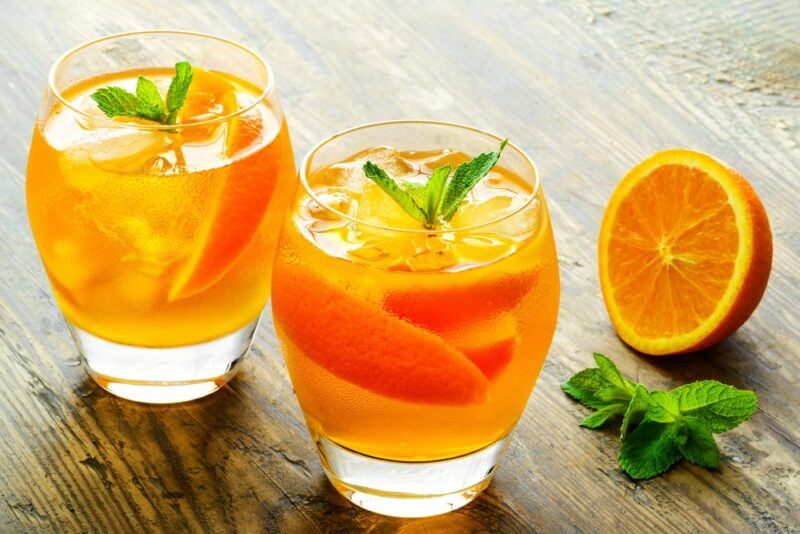 This tall cocktail combines moonshine with orange juice, lime juice, sugar syrup, and mint leaves. The recipe doesn't skimp on the moonshine, so you get a potent cocktail that's not too sweet.
You can top it up with soda water to notch down the intensity, giving you a perfect drink for a hot summer's day.
Peach Cobbler Moonshine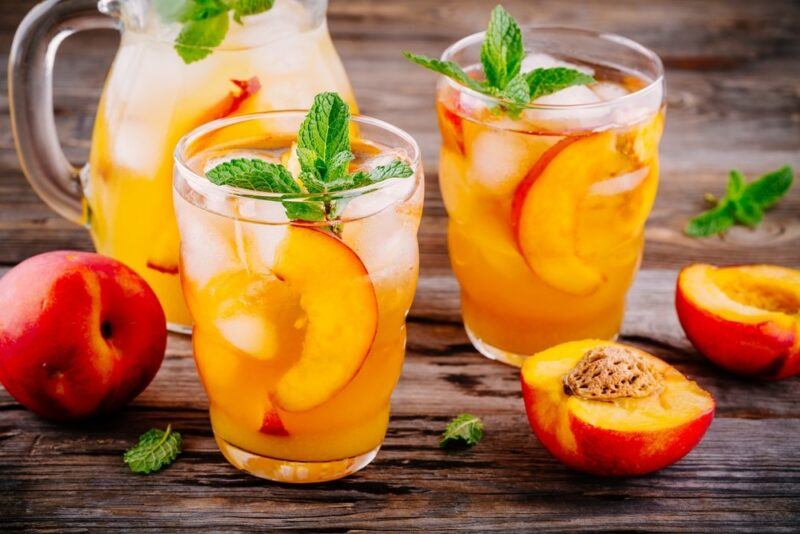 This cocktail is named for the peach cobbler dessert, so it's not surprising that it contains plenty of peach flavor too.
The best approach is to start out with fresh sliced peaches. Boil these together with brown sugar, cinnamon sticks, and some juice to create a pot of deliciousness. Then, once the ingredients have cooled, you can add moonshine and peach schnapps. The final step is simply to strain the cocktail into glasses.
It's easy to scale up this recipe and create enough of the cocktail for a crowd. You could also play on the peach flavor more by using peach moonshine, rather than regular moonshine. However, this isn't strictly necessary.
There are plenty of other ways to tweak the recipe as well. However, it's worth trying to original version as-is first, as it is truly amazing.
Moonshine Margarita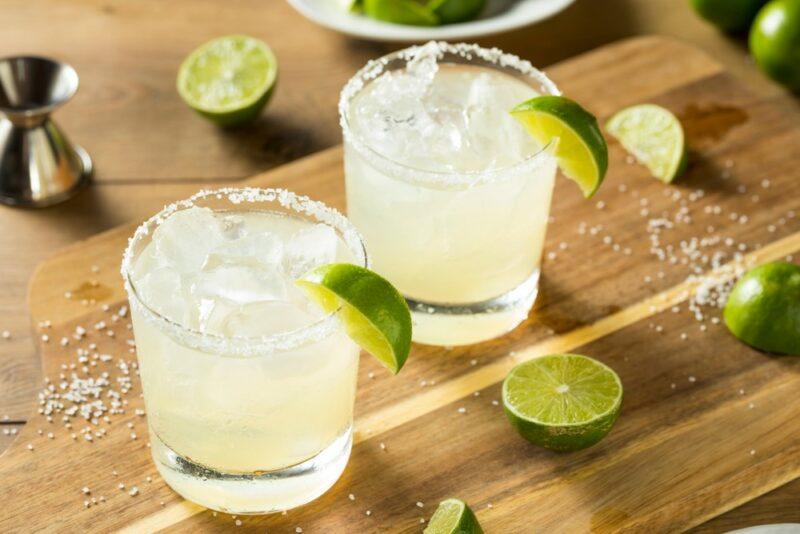 What about using moonshine instead of tequila in a traditional margarita? Doing so works surprisingly well, especially if you choose smoky moonshine.
Beyond the moonshine, you simply need lime juice, simple syrup, and triple sec – making this an easy cocktail to prepare. You could even use a margarita machine.
Or, why not add moonshine to a twist on the traditional margarita, like a spicy margarita, Tommy's margarita, or even a frozen margarita?
Moonlight Paloma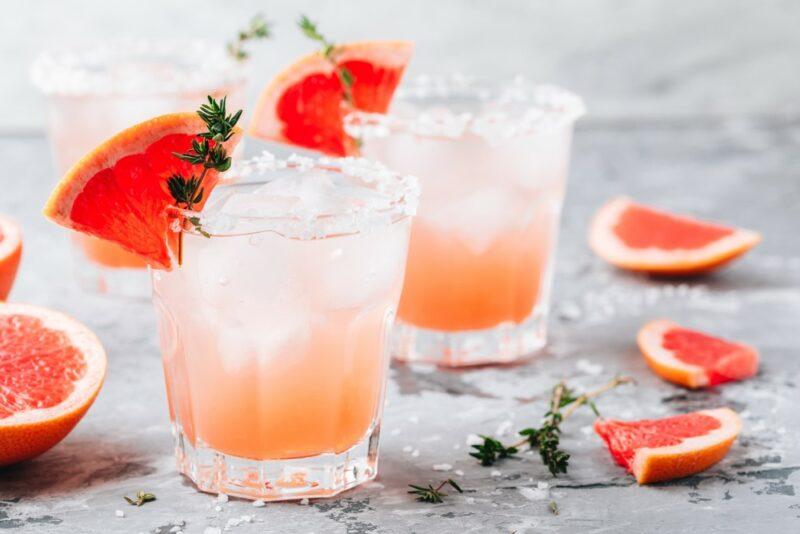 This simple cocktail is a twist on the paloma. It combines pink grapefruit juice with a little lime juice and soda water, plus plenty of moonshine.
You could also make a version using grapefruit soda, instead of the grapefruit juice and soda water. Or, why not take things a step further and use grapefruit hard seltzer? This is an easy way to raise the alcohol content of your drink without taking away from the flavor.
Hot Toddy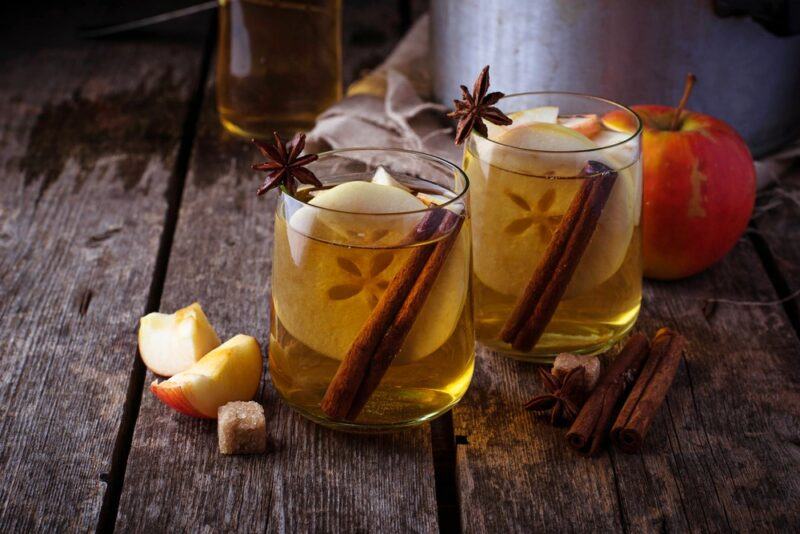 A hot toddy is a classic cold weather drink. It's also easy to vary. It can be as simple as your spirit, hot water, honey, lemon juice, and cinnamon, or much more complicated.
Some people even add apple cider into the mix for extra sweetness and flavor, while others leave it out.
Hot toddies normally rely on whiskey, as this imparts a rich flavor. However, you can easily make a version using moonshine instead. Apple pie moonshine is particularly good, as this adds the flavor of apple to your cocktail. You could include apple cider as well or leave that out.
An Ode To Moonshine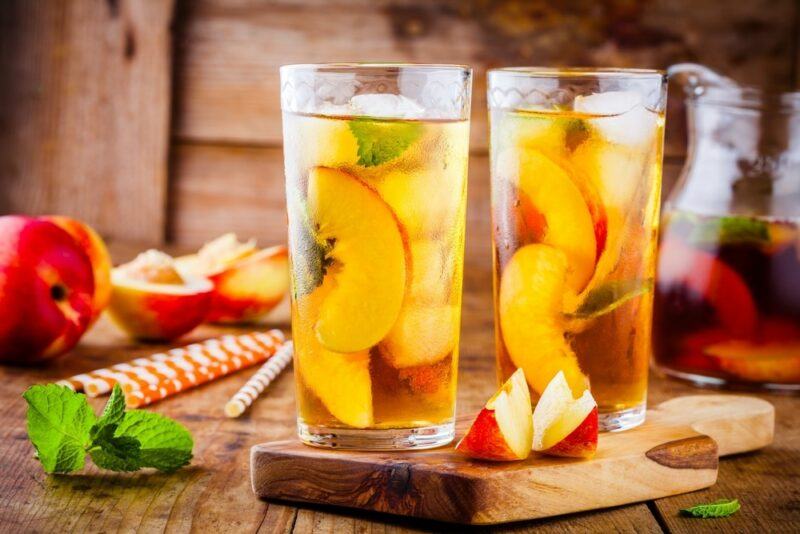 This recipe really is a love letter to moonshine. It tastes best with peach moonshine, although you use plain moonshine in a pinch.
The cocktail itself is a riff on sparkling sweet tea. The first step is to prepare the sweet tea. The next is to use the tea as the base of your cocktail. Moonshine is added during both steps, so you're guaranteed to get a boozy cocktail.
The original recipe just makes two drinks, but you could easily scale this up and create enough hard iced tea to serve at any event.
Basil Peach Moonshine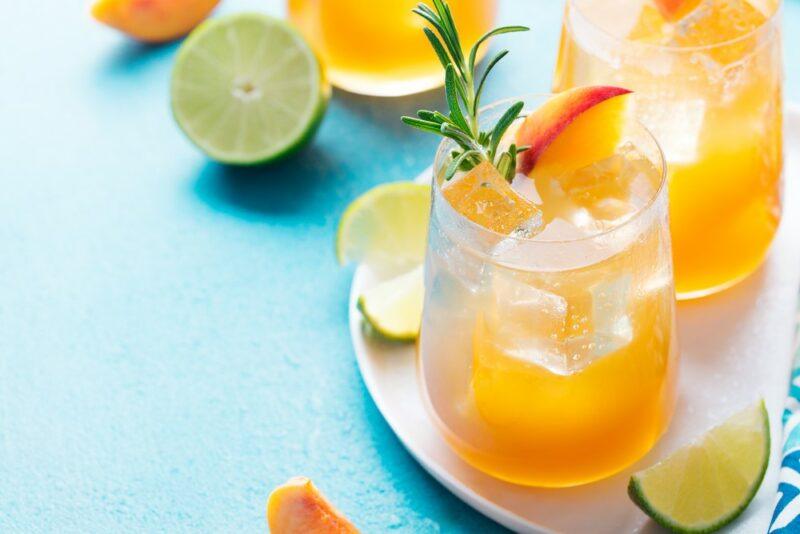 Here's another cocktail that relies on peach moonshine. This time, though, the cocktail works best if you use a 2:1 ratio of regular moonshine to peach moonshine. This way you get some peach flavor without it being too overwhelming.
Beyond this, you're going to want some peach slices, basil leaves, and simple syrup.
The most interesting thing is that there's no mixer in this cocktail. You're just relying on the fruit, basil, and simple syrup to tone down the moonshine. Surprisingly, the combination works well. It also looks amazing in the glass.
You could easily tone it down with soda water if the original version feels too intense.
New Moon Mai Tai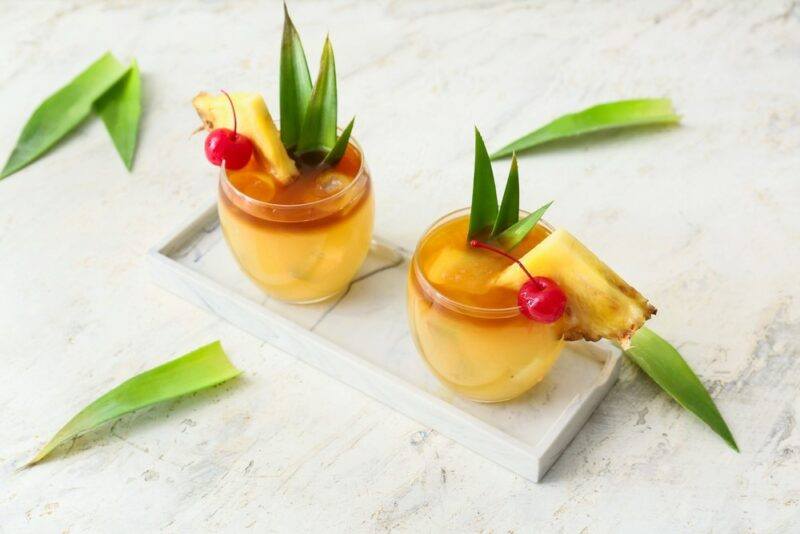 This cocktail lives up to its name, as it really is a riff on the traditional mai tai. It's a simple one too, using moonshine, orange juice, pineapple juice, and Mac. Liqueur.
The Mac. Liqueur is the most unusual ingredient. It's an Australian product that relies on macadamia nuts and wattleseed. It's not a common liqueur, so you could sub it out for another macadamia liqueur in a pinch. While doing so will change the cocktail's flavor profile, you'll still end up with a tasty drink.
Spicy-Shine-Tini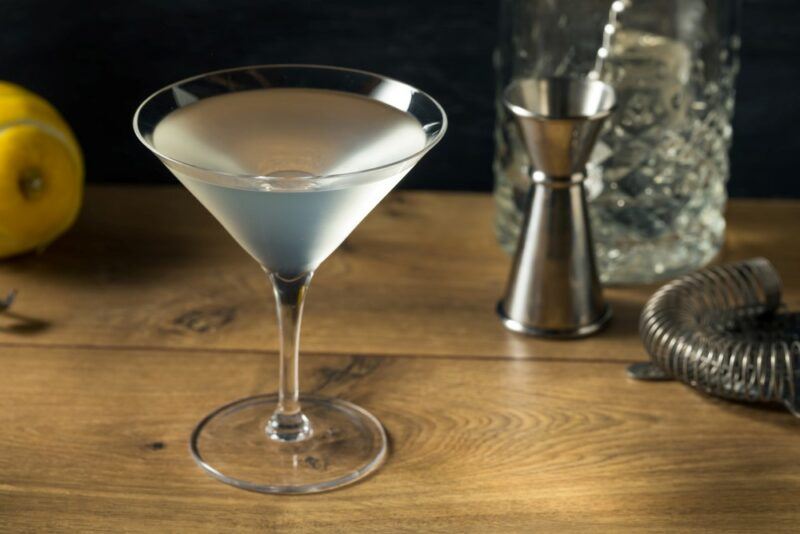 This isn't a true martini, as it doesn't rely on vermouth. However, it's still a fun and delicious cocktail.
To make it, you need simple syrup, pineapple juice, moonshine, and a chili pepper. The chili pepper can be muddled together with your simple syrup, which passes on some of the intense flavors.
It helps to deseed the pepper first. This stops things from getting too intense and means there are no seeds in your finished cocktail. If one pepper is easy enough to handle, you could always use two or three.
Irish Daddy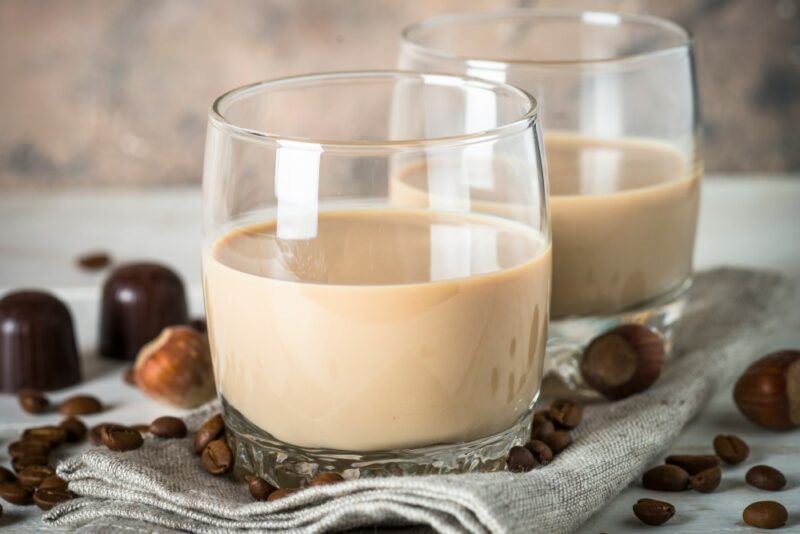 Simple yet delicious, this cocktail just combines Irish cream and moonshine in a 1:1 ratio. The Irish cream gives you a creamy drink and mellows out the moonshine.
You could stick with regular moonshine for this cocktail. But, to make it even better, look for spiced moonshine. This adds an extra layer of flavor, which is exactly what the drink needs.
Blackberry Moonshine Margarita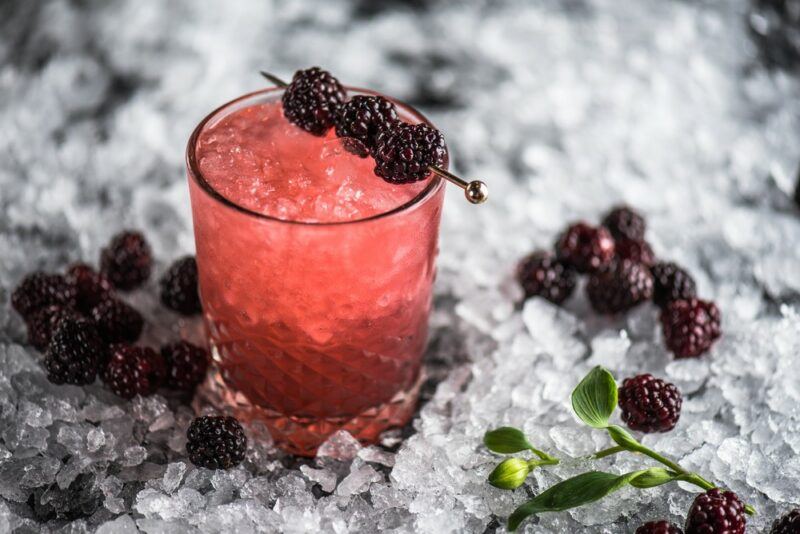 This cocktail is a little like a margarita, in that you're using orange liqueur, lime juice, and simple syrup. However, there are plenty of tweaks to the recipe too.
The first is simply swapping the traditional tequila for moonshine. Then you also add lemon juice and orange juice. These ingredients add to the sweet-sour contrast and provide plenty of citrus flavor too.
You're also going to want fresh blackberries. Blending these and then straining them will give you rich blackberry juice that is an excellent contrast to the other ingredients.
French Quarter Smash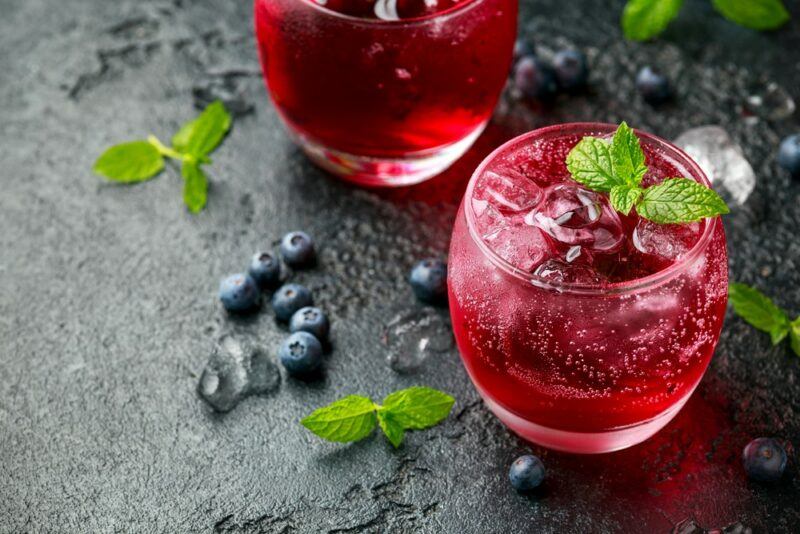 While this cocktail looks like the previous entry, it relies on blueberry preserves, rather than fresh blackberries. Using blueberry preserves means you can make this fruity drink at any time during the year.
There are some other interesting things about this cocktail too, including the fact that you're adding brandy and almond syrup into the mix. The brandy is a great way to increase the alcohol content of the drink, while the almond syrup makes the flavor profile much more exciting.
Moonshine Mule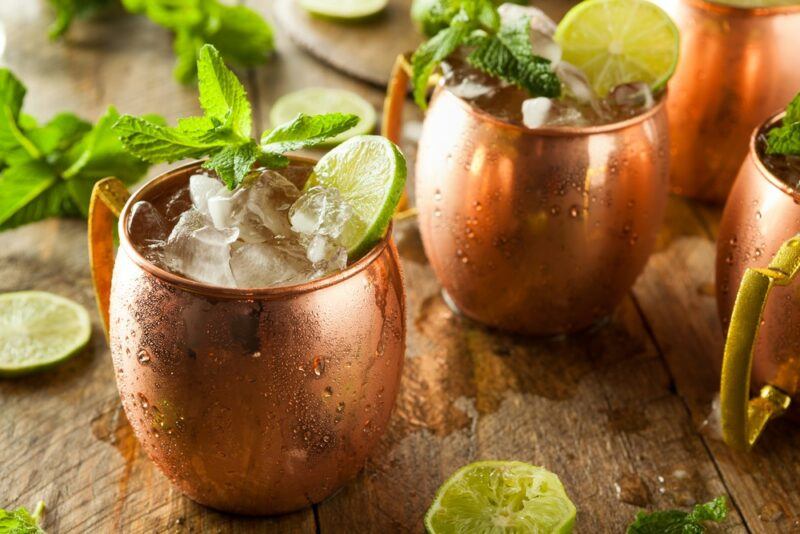 The original Moscow mule is both famous and simple. It just combines ginger beer, vodka, and lime juice.
So, why not a moonshine version? To make it, you just swap out the vodka for moonshine.
You can also make the flavors more intense by muddling fresh ginger in your mug before adding the rest of the ingredients. This is perfect if your ginger beer is a bit too sweet.
Chocolate Butterscotch Gold Dessert Martini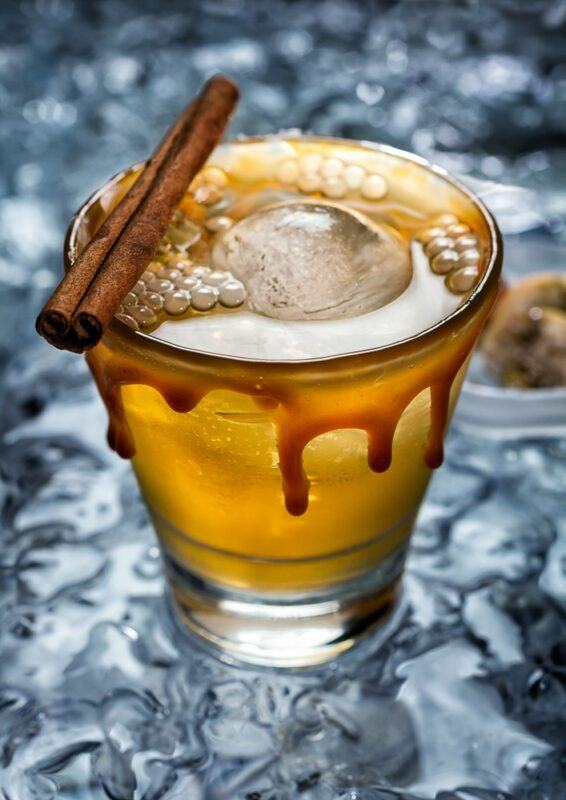 This cocktail stands out for its color and its flavor. It's also a very simple drink, as it uses just two ingredients.
The catch is that this martini will only work with the right type of moonshine. The recipe calls for Sugarlands Shine Butterscotch Gold Moonshine, which is then combined with clear chocolate liqueur.
You might be able to use a different type of dessert moonshine or even some flavored vodka. However, any substitution will change the flavor profile of the cocktail.
Candy Corn Moonshine Martini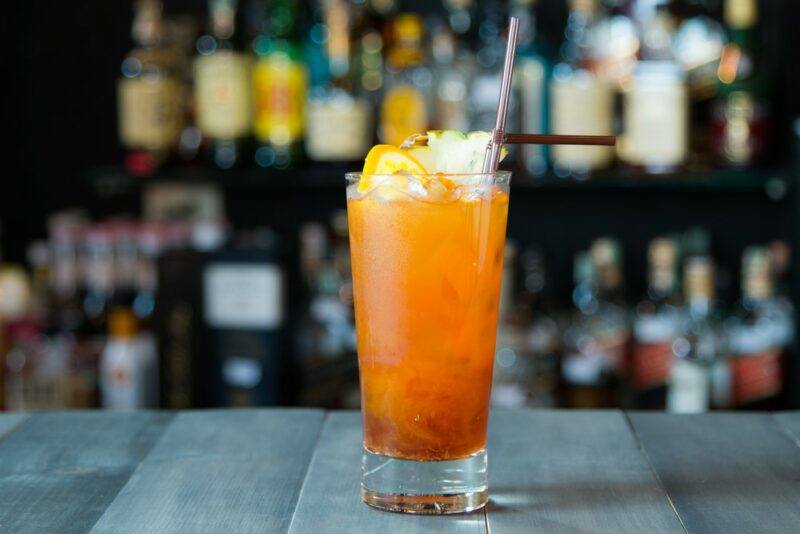 Here's another dessert drink. This really is a variation on a martini, as it includes moonshine and vermouth as the base ingredients. You're also adding some apple cider and angostura bitters for extra flavor.
Again, the taste will depend on the type of moonshine you choose. You could run with regular moonshine, which would allow the apple cider to shine through.
However, the recipe suggests candy corn moonshine instead. You can make this yourself by infusing regular moonshine with candy corn. Doing so gives your moonshine an incredible orange color and a surprisingly tasty flavor.
Moonshine Martini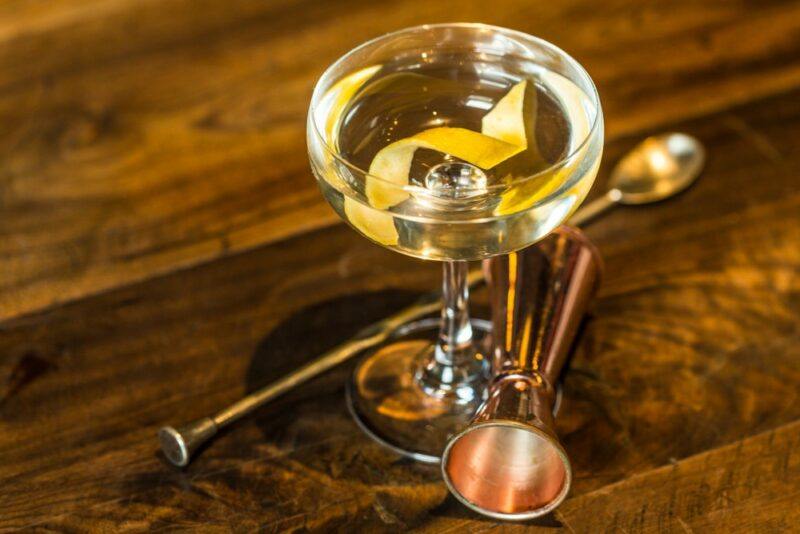 If the previous cocktail feels like too much, how about just making a simple martini? You only need two ingredients – regular moonshine and vermouth.
A ratio of 2:1 moonshine to vermouth is an excellent starting point. However, you can easily tweak this ratio. Perhaps you want a more moonshine heavy cocktail or one that relies heavily on vermouth instead.
Key Lime Pie Moonshine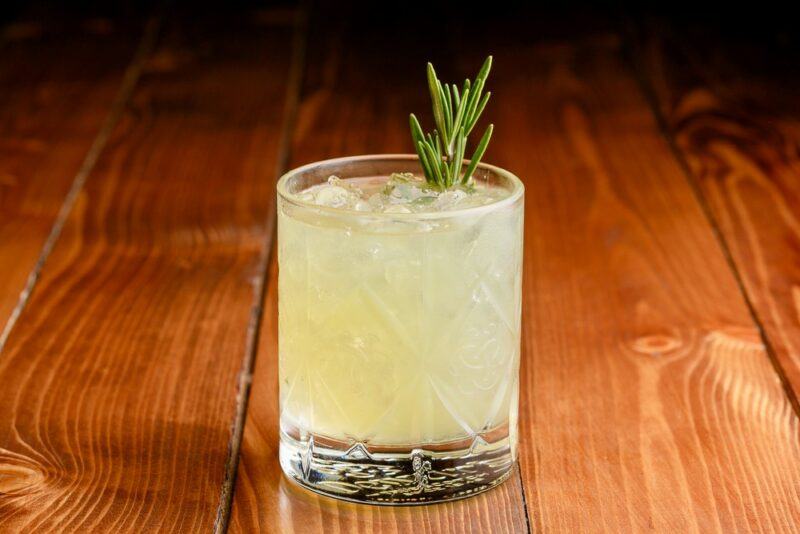 We talked about apple pie moonshine earlier on. So, what about key lime pie moonshine instead?
The simplest approach is to combine moonshine with key lime juice and some simple syrup. Adding slices of lime to the cocktail makes the lime flavors even more noticeable.
Don't worry if you can't find key limes. The cocktail will still be excellent using regular
Lemon Blueberry Moonshine Slush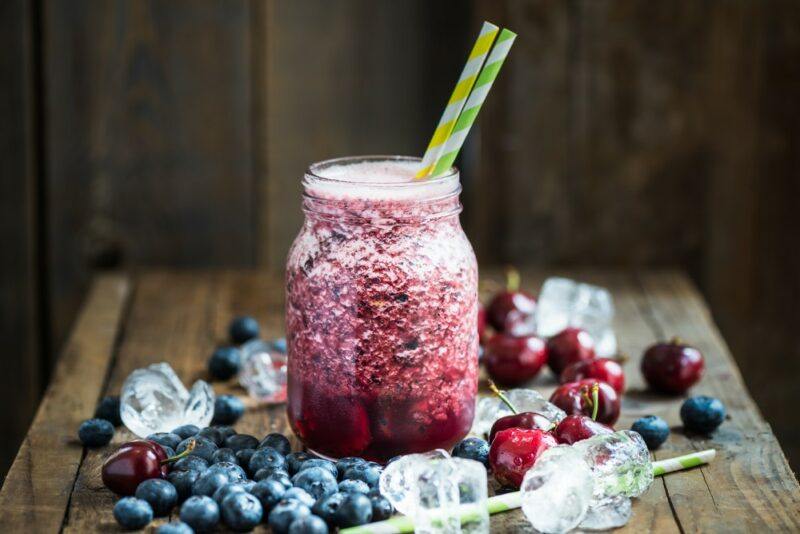 Slush cocktails are fun when you want to entertain guests, particularly on hot days. Making a moonshine version is easy. All you really need is the alcohol, ice, and some ingredients for flavor.
For a lemon blueberry slush, you're going to be using blueberries and lemon juice. Fresh blueberries will impart the most flavor, but frozen ones are an option too. You'll need some extra sweetness too, probably from honey or sugar.
You could simply blend all the ingredients together, like you were making a smoothie. However, you'll get a stronger flavor if you heat all the ingredients together first. Doing so gives your drink a much better balance.
Once you've made a few slush cocktails, you can start to experiment with the flavors. Almost any type of fruit will work, particularly if you're matching it to unflavored moonshine.