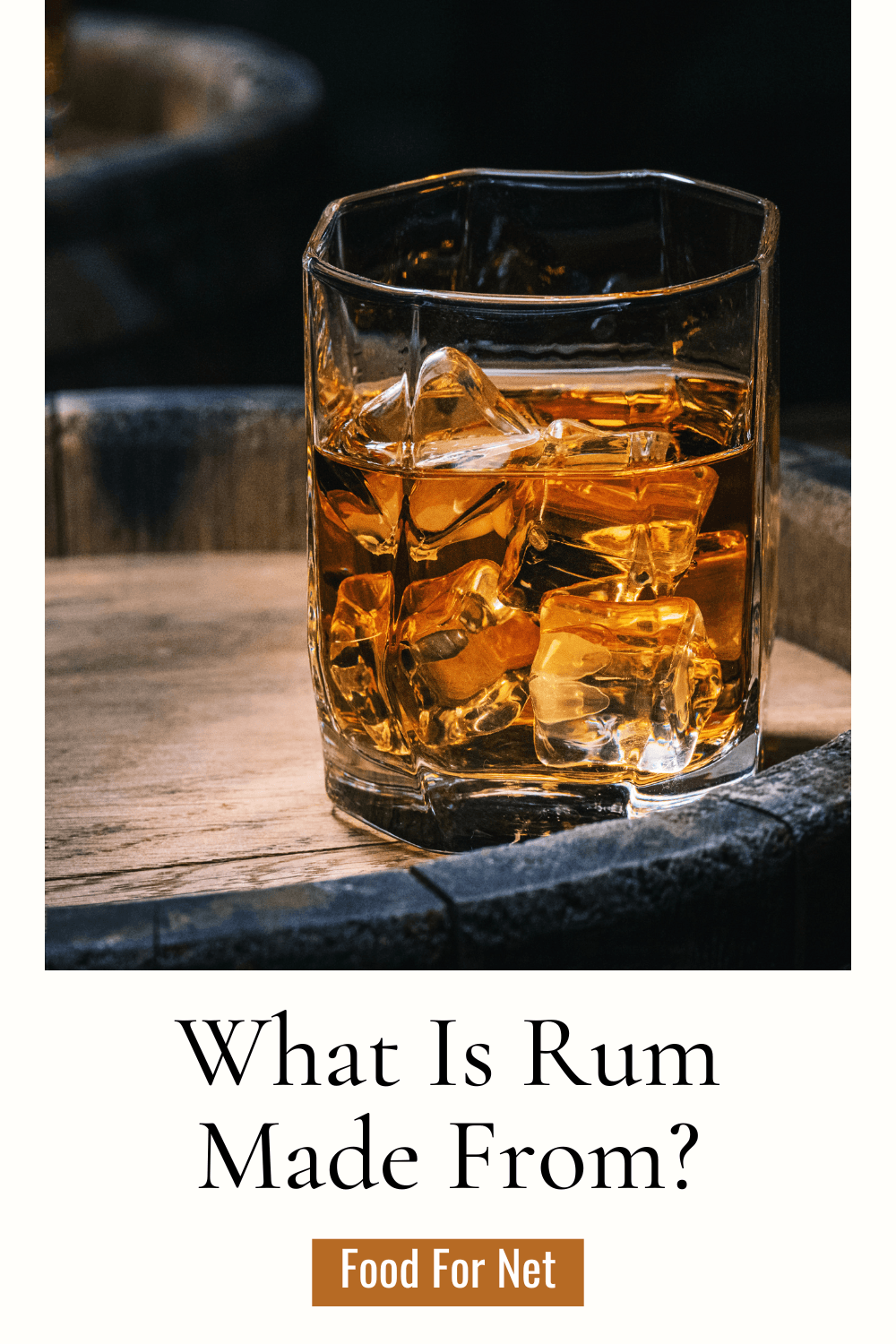 Rum is an interesting spirit. It isn't as popular as vodka, nor as well-defined as the various types of whiskey, yet is still delicious and can be just as easily enjoyed neat or in a cocktail. So what is rum made from?
Rum is starting to increase in popularity – breathing new life into the rum industry and encouraging the production of even more creative rum expressions. So, what is this spirit anyway?
As with all types of spirits and alcohol, there are many imitators and rum-like products which are not really rum.
The simple answer is that rum is made from sugarcane. But, as is the case for vodka and gin, as you dive deep into the topic of rum, things are a bit more complicated than that. So, let's take a close look at what you can expect.
What Is Rum Made From?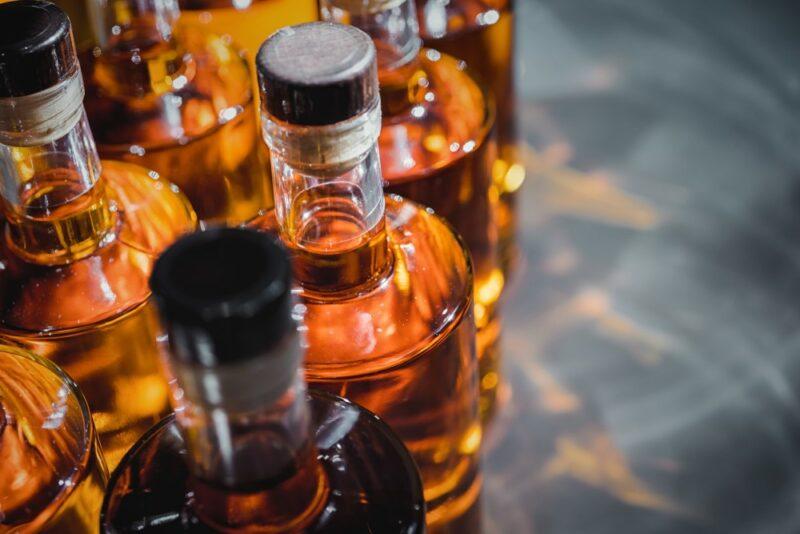 Let's begin with the legal definition. In the United States, rum must have the following characteristics:
Be fermented from sugarcane products (such as sugarcane syrup, sugarcane molasses, and sugarcane juice)
Produced at less than 190 proof and bottled at no less than 80 proof (40% ABV)
Having the taste, aroma, and characteristics generally associated with rum
While aging rum isn't a requirement in the United States, the definition of rum in some other countries does include aging. For example, Puerto Rico requires rum to be aged for at least a year, while Australia requires at least two years of aging.
This isn't the only area of difference. Other rules and regulations for rum vary between countries as well, leading to notable differences in the finished spirit.
How Is Rum Made?
Fermentation And Distillation
Rum is interesting because there isn't much consistency in how it is produced. Instead, different production areas have their own distinct approaches. This is particularly true in the Caribbean, where the differences in production can be dramatic.
The main approaches fall into three areas:
Fermenting sugarcane juice itself. This approach is sometimes known as rhum agricole and is most common on French islands in the Caribbean.
Creating molasses from the sugarcane and fermenting this. This is the most common approach and sometimes goes by the name rhum traditional or occasionally rhum industriel. Ideally, this molasses has a sugar content of at least 52%. However, there is no legal standard here and rum is sometimes produced from poor quality molasses.
Using cane syrup, which is produced by boiling the sugarcane juice. This approach is less common but is still practiced by some producers.
Some companies do things differently again by blending together rum produced using rhum agricole and rhum traditional approaches.
Sugarcane juice, molasses, and sugarcane syrup all go through a similar fermentation and culturing process. This involves the addition of water and yeast, where the yeast ferments the liquid and produces alcohol.
Many factors can be different in this process, such as the type of yeast, the temperature, and the rate of fermentation. The length of fermentation is relevant too, with longer fermentations tending to produce more intensely flavored rums.
After fermentation, the rum is distilled, which increases the alcohol content and helps with the flavor profile. There are multiple factors present here too, leading to plenty of variation in the final rum.
Aging
Regardless of the techniques used, rum tends to be clear after distillation. Most of the color comes from aging in oak barrels. The aging process also increases the flavor and complexity of the rum,
Rum is typically aged in barrels that were previously used for bourbon. This approach is so common because the rules for bourbon production mean that the whiskey can only ever be aged in new oak barrels. As a result, bourbon producers cannot use their barrels twice and tend to sell them on instead.
The Main Ingredients In Rum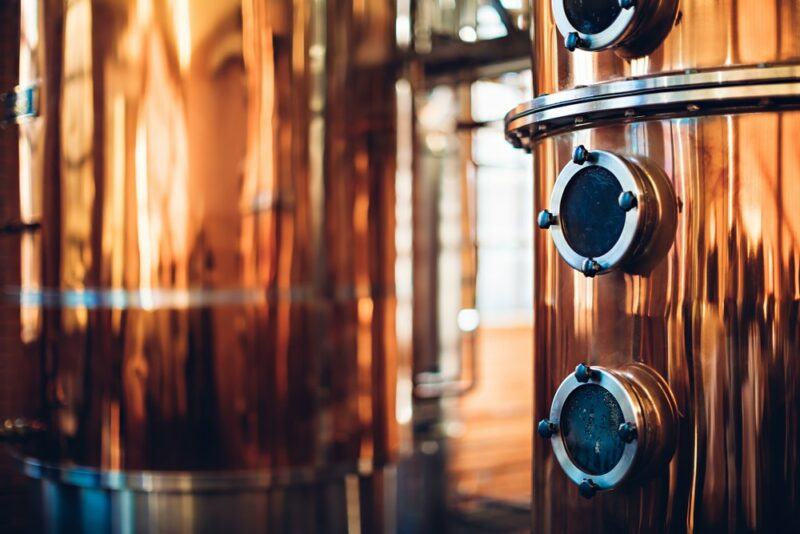 Sugarcane
Clearly, rum is made from sugarcane. As we saw before, some approaches use sugarcane syrup itself, while others process the sugarcane first to make molasses, then use the molasses to make rum.
Either way, the focus is on sugarcane. This crop is carefully grown and harvested to ensure that the rum is high quality.
Sugarcane grows relatively fast, taking somewhere between ten months and two years to fully mature. It's generally cut once or twice a year (depending on location) and quickly thrives after being cut.
Many factors can influence the flavor of the rum, including the specific variety of sugarcane, the specific techniques used to create the rum, and any variations based on climate, soil, and the like.
Yeast
Yeast is an essential part of the fermentation process. You wouldn't have rum without it.
The strain of yeast used has direct impacts on the alcohol content of the rum and the flavor profile. This is partly because different strains vary in their production of congeners (by-products of fermentation) and these congeners are an important aspect of the aroma and flavor of rum.
Yeast strains also vary in their tolerance to alcohol, which is another reason for distillers to choose the strain carefully.
Water
Then there's water. It isn't glamorous, but it is also important for fermentation. The type of water used can also have subtle effects on the flavor of the rum and even on the distillation process itself.
Caramel Coloring
Caramel coloring isn't an ingredient per se, but does often feature in rum. It's a way for companies to tweak the color of their rum.
Often this means that coloring is added to make the rum look darker, older, and richer than it would other times. However, some companies simply use coloring to create consistency from batch to batch.
The use of coloring means that the appearance of rum is never a good indicator of the flavor. You need to pay attention to other factors instead, like the age of the rum, reviews, and the company that produces it.
Additives
Finally, rum can contain additives. These are used to improve the flavor of rum and can fruit juice, prune juice, flavorings, and spices.
Additives are problematic, as their presence often isn't obvious from rum labels. Plus, the legal requirements for rum are very lax in some parts of the world, which can allow for poor quality rum.
9 Types Of Rum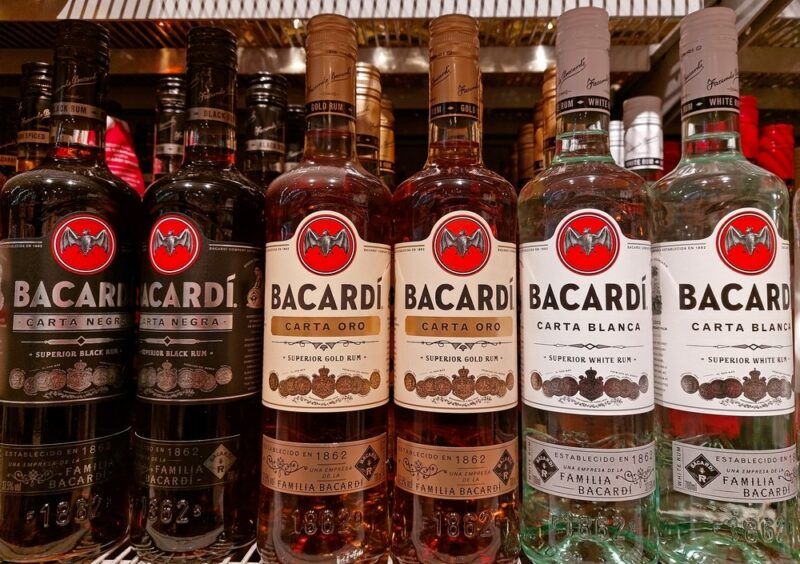 1. White Rum
Not surprisingly, white rum has no color at all. It is generally sold at 40% ABV (alcohol by volume) and is often aged for between one and five years.
The flavor profile is lighter than most other types of rum, making it a great rum for beginners. White rum also features in many cocktails – either on its own (like in a daiquiri) or with other types of rum (like in a mai tai).
Interesting, white rum isn't naturally white. The rum is actually filtered to remove any natural color and create a white product.
2. Gold Rum
Then there's gold rum. This is distinguished by its golden color and tends to offer more flavor than white rums, including notes of caramel and vanilla. Of course, the exact flavor profile is influenced by the aging time and the barrels used.
While the gold coloring does develop naturally, some distillers may also add coloring to create a desirable and consistent color.
3. Dark Rum
Once again, these styles are named for their colors. Dark rums are simply those that are darker than golden rums – and not always by much.
A darker color often indicates increased aging and more complex flavor profiles. However, the color of the rum doesn't tell you everything, especially as coloring might be added to make some rum darker.
4. Black Rum
Black rum sounds like it should be older and more complex than white, gold, and dark rum. While this is often true, the color is still only an indication. Some companies even use burnt caramel to create the dark coloring.
Still, in many cases, black rum takes on considerable flavor from the barrels it is aged in, creating a rich and complex spirit. This type of rum is often best enjoyed sipped or included in a relatively simple cocktail. For example, you might use black rum in an old fashioned cocktail, instead of whiskey.
5. Aged Rum
Even white rum is typically aged for at least a little (perhaps three to six months in warm climates). However, the category of aged rum focuses on highly aged rum that has considerable flavor and complexity. Such rums tend to be darkly colored and have rich flavor profiles.
As with whiskey, you'll often see an age statement on the rum. If the rum is blended, then this number represents the duration of aging for the youngest rum included in the blend. Some of the other rums could be considerably older.
However, age statements aren't as reliable as you might expect. Some companies just list the average age of rum on their labels, while for others the aging statement might not mean anything at all.
6. Spiced Rum
The name gives it away for this one. Spiced rum is simply rum that has been infused with spices. Captain Morgan Spiced Rum is one of the most famous examples of this style, although there are many others out there.
Not surprisingly, there are also plenty of differences between the various spiced rums. This includes differences in the specific spices used, their ratios, and their intensity. Some spiced rums also rely on organic spices, while others don't.
7. Flavored Rum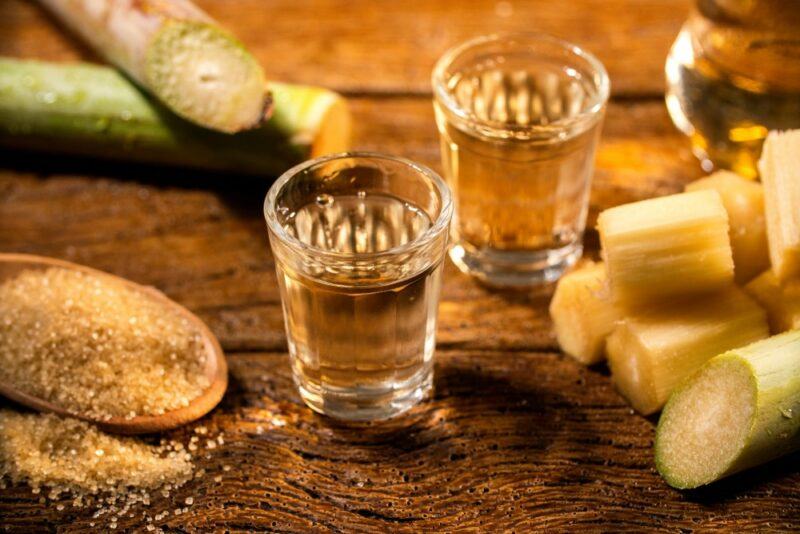 Not surprisingly, flavored rums are rums with extra ingredients to change how they taste. Coconut rum is the most famous example, but there are plenty of others including pineapple rum, dragonberry rum, and lemon rum.
These rums normally use white rum as the base. This is important, as the flavors of other types of rum would be too strong.
8. Overproof Rum
This type of rum may also be called navy rum. The difference is the alcohol content, which is higher than 40%. Some are relatively low at 46% or thereabouts, while others are anywhere from 55% all the way up to 70% or even beyond.
Overproof rum is an appealing ingredient in cocktails, often in conjunction with other types of rum. The higher alcohol content also makes this rum very flammable, which is perfect if you want to light your cocktail or shot.
9. Rhum Agricole
As we mentioned earlier, rhum agricole is made using sugarcane juice instead of molasses. Focusing on sugarcane juice gives this rum a somewhat earthy, grassy, fruity flavor tone, one that's quite different than other types of rum. Of course, many of the traditional rum flavor tones are there as well.
While rhum agricole doesn't appeal to everyone, many people enjoy the unusual flavors. Besides, it's always nice to try something different.
Can You Make Your Own Rum?
Making rum at home is certainly possible and isn't even that difficult. You'd be relying on many of the same ingredients as commercial rum, such as cane sugar juice and blackstrap molasses. The site Homebrew Academy even has a detailed guide for the process.
However, there's a crucial caveat here – distilling your own spirits is illegal under federal law in America. Some individual states do theoretically allow you to distill under state law, but this isn't enough to make it legal for you (as federal law is still paramount).
The main exception is if you get a license for distilling spirits at home. Doing so is possible, but there are various requirements, costs, and legal hoops to jump through.
All the requirements make this approach best if you plan to open a company that distills spirits. The process simply isn't worth it if you just want to make a little rum at home for yourself.
Ways To Use Rum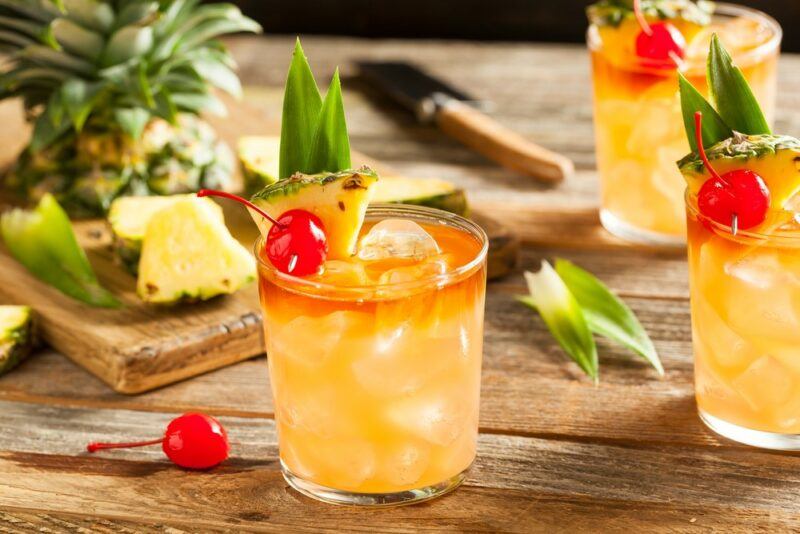 Rum's recent increase in popularity is partly due to the recognition of all the things that it's good for. After all, there are many types of rum and each type can be used in a variety of different ways.
In fact, rums can be incredibly diverse, much more so than any other type of spirit. This is helpful for rum newbies, as you can normally find a rum that matches flavors that you already enjoy. Some even have a similar flavor profile to whiskey, while others manage to be close to tequila instead.
Rum is also exciting for cocktails, as you can mix multiple types of rum in the same cocktail. For example, a mai tai often combines white rum with dark rum, while a zombie can include up to four different types of rum. Here are some other ways you might use the spirit.
Cooking With Rum. Adding alcohol to your meals can do wonders for their flavor and texture. Rum is a surprisingly good choice, especially if you want to add rich and complex flavors to your meal. The best rums for cooking vary considerably, depending on the type of meal you're preparing.
Baking With Rum. Why not include rum in your baking as well? Dark rum is particularly good as it adds plenty of flavor to your treats. However, you could easily experiment with other types of rum as well.
Rum Shots. Rum works well in shots as well. Sometimes this means that you're taking a shot of rum on its own, while other times you might be making a layered or a mixed shot instead. Both styles are delicious.
Include It In A Marinade. Alcohol is excellent for marinating meat and making it much more tender. Rum is particularly good because, again, you're adding plenty of flavor to your meat. Plus, the taste of rum complements most meats you'd want to marinate.