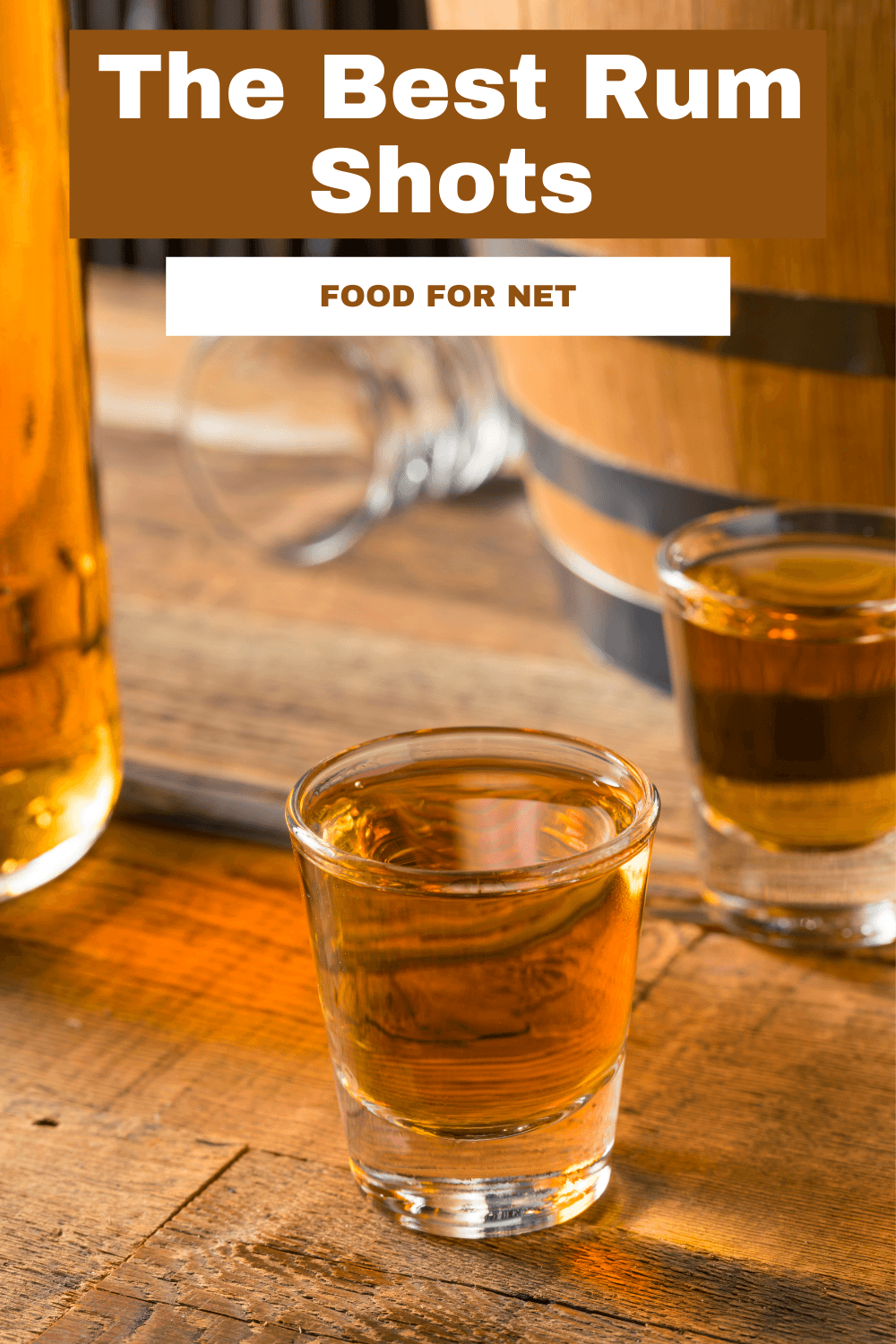 Rum is a fun, versatile spirit that often offers many complex layers of flavor. This makes it just as perfect for amazing cocktails as it is for sipping slowly. Both are excellent ways to enjoy your favorite rum to the fullest.
While it may not be the best way to savor the many flavors, rum shots are yet another great way to enjoy your rum, especially if you want to mix it up and have some fun. If you want to get right to the point, you can take a straight shot or two and call it a day. If you want to make them extra special, though, it only takes a couple of minutes and a few extra ingredients to go the extra mile.
Especially if you're having a party, an extra-fancy shot will no doubt add to the fun and impress your guests! The best rum shots are ones that are tasty and exciting but not overly complicated. Try some of these to start, and don't be afraid to make some changes as you go! Shots are meant to be fun, so don't feel like you have to follow all the rules!
The Best Rum Shots
1. Tropical Blue Shot
This bright, electric shot is the perfect thing to try on vacation or to make at home when you want to remember what it's like to be on vacation! It's sweet, refreshing, and exotic – not to mention bright blue and super cool-looking.
You'll want a good coconut-flavored rum for this one. A classic like Malibu always works, but there are plenty of options out there. An ounce of this plus an ounce of fresh pineapple juice, and half an ounce of blue curacao make this rum shot the perfect, fruity summer treat. Add all the ingredients to a shaker cup with about a cup of crushed ice and shake it up until it's nice and cold – ideally about a minute. Then pour the drink into your desired shot glass(es) and enjoy!
Malibu is the original coconut rum and it's a great choice for this shot because it's smooth, sweet, and meant to transport you to an exotic, tropical beach even on its own. Made with pure water and premium Caribbean sugar cane, this rum is aged for a good two years in oak barrels. The result is a palate that's not only sweet and dreamy but also smooth and easy. Take a sip or two of the rum on its own before adding it to your fun, tropical shot!
2. Big Bang
This shot is a great one for parties as it's not only intense and flavorful but it's also strong. To make it, you'll need two ounces of a 151 proof rum such as Don Q 151, and one ounce of regular dark rum. To balance the alcohol and make it easier to get down, you'll also add:
2 ounces of orange juice
2 ounces of pineapple juice
0.5 ounces simple syrup
A dash of bitters
This combination makes a sweet, strong, and complex shot that's great for loosening up the crowd and getting a party started! The Don Q 151 offers smooth, well-rounded notes of oak, vanilla, tobacco, and smoke. It's great in tropical tiki drinks and its high proof gives it a bold, versatile spin. Dark rum varies but it often brings deep, warm flavor notes with vanilla and caramel being common ones.
This recipe makes four shots, but you can scale the ingredients up or down as necessary. Simply gather the ingredients and fill a cocktail shaker with ice. Add everything and shake until it's nice and cold. Even though the shot is already cold, chilling your glasses beforehand may help this one go down smoother.
3. Butter Rum
Perfect for colder winter months, this recipe can also be made into a full-blown cocktail for some comfort in the chilly weather. As a shot, though, it goes down quick and hot and it's exactly what you need to warm up. You can make it on your own, or it's perfect for a night around the fire with friends!
To make it, you'll want a good-quality dark rum like Flor de Cana 12-Year. You don't have to break the bank, but the quality is important here because you want this to be tasty but you also want it going down nice and smooth. To make a batch of these warming shots, you'll need:
2 tsp brown sugar
1 tbsp unsalted and softened butter
Dash of pure vanilla extract
Dash of: ground cinnamon, allspice, nutmeg
2 ounce dark rum
4 ounces hot water
Begin by boiling some water to heat it up. While you're waiting, follow these instructions:
Put the sugar, butter, spices, and vanilla extract into the bottom of your chosen glass(es) and mix it all up well.
Add the rum.
Once it's ready, pour in the hot water and allow it all to mix.
Stir it up to ensure it's well-combined.
For added effect, sprinkle some cinnamon on top!
You can also remove the rum and add a little cream instead. This easily turns the shot into a warm, sweet, and delicious winter drink. The above recipe makes a handful of shots, or you can pour it all together and enjoy it on your own if you wish!
4. Daiquiri Sho
The daiquiri is a classic rum cocktail. It's sweet, fruity, refreshing which makes it incredibly popular. It's a great starter drink because you can hardly taste the alcohol and it's a great virgin drink because the flavor doesn't change much when you omit the rum.
If you love the daiquiri as a drink, why not try it out as a shot? It's just as easy to make, you either use fewer ingredients or split it up into many shots. As a shot, it offers a quick, cold burst of sweet refreshment – the perfect way to get a summer party started or complement some poolside activities.
To make this fun party shot, start with a good silver rum. Ten to One White Rum is an affordable, good-quality choice with a nice medley of citrus, fruit, and a touch of spice on its palate. The ingredients for a basic daiquiri shot are as follows:
1 ounce silver rum
0.5 ounce simple syrup
0.5 ounce lime juice
You can adjust the lime and simple syrup a little to taste or add additional ingredients for more flavor. Either way, shake it all up in a shaker with ice and strain it into your shot glass(es). If you're feeling fancy, rim the glasses with sugar first for an extra burst of sweetness!
5. Spicy Shot
Many rums have a little spice to them, but when you want a nice kick, nothing beats a properly spiced rum. You'll need something like Bacardi Spiced Rum for this fun and invigorating shot. Perhaps the easiest one on the list, you simply need equal parts spiced rum and cinnamon schnapps.
You can use any cinnamon schnapps for the right taste, but using Goldschlager adds a fun visual effect thanks to its floating flakes of gold. If you're using Goldschlager and want to maximize the effects, it's also best to layer this shot.
To do this, add your cinnamon schnapps to your shot glass, and float the spiced rum on top. This is most easily done by slowly and carefully pouring the rum over the back of a spoon so it sits nicely on top.
Whatever cinnamon schnapps you choose, and however it gets made, this shot is warm, spicy, and super fun with the added gold pieces. It's perfect for livening things up at a cozy fall gathering!
Easy Rum Mixers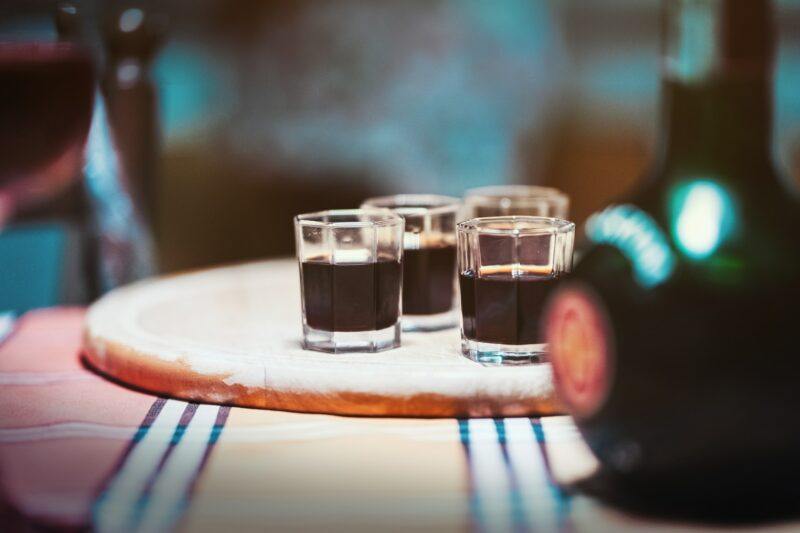 Rum shots like these are no doubt fun and exciting, but there may be times when they're a little much. If you'd prefer to keep it simpler, or just want a single additive to help get your rum down, try one of these basic rum mixers that aren't coke:
Ginger ale. Simple and refreshing, ginger ale and rum makes for a great summertime drink. Three parts ginger ale to one part rum, with an optional lime wedge to garnish. Throw in some ice and make this one on a larger scale for an easy, boozy summer punch.
Coconut water. This is an easy one with a nice tropical twist. Two ounces of rum to every four ounces of coconut water should do the trick – scale up or down as necessary! Any rum will do but this combo will shine especially bright with a vanilla-forward rum,
Citrus. Whether it's lemon, lime, or otherwise, a splash of citrus will help balance your rum and cut through any harsh tones you may experience while sipping. Add more or less based on the taste you want, and a dash of sugar stirred in will make it extra sweet.