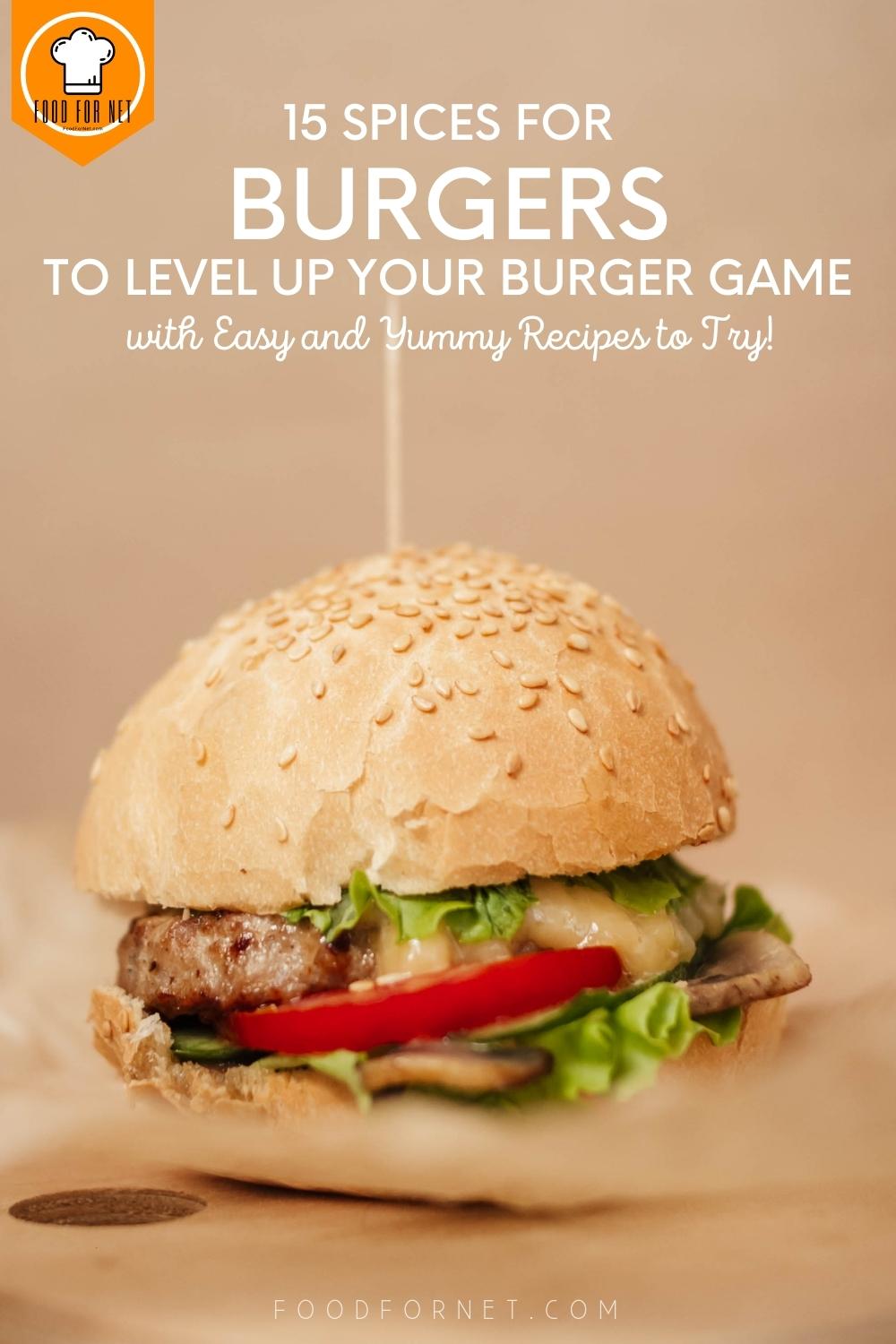 Undoubtedly, burgers are one of the most iconic sandwiches that ever came into existence! Although its origin may not be as crystal clear, the term hamburger is derived from Hamburg, Germany. Hamburger then simply became 'burger' and is now a self-standing word that refers to many different types of sandwiches – say lamb burger, chicken burger, or salmon burger. Whatever meat you use, with the right spices, it's bound to be a hit. Spices for burgers range as much as the type meat used and style of cooking.
While a more classic hamburger consists of pan-fried, grilled, or smoked ground beef patties sandwiched between a bread roll or bun and served with cheese, tomatoes, lettuce, onion, pickles, and some condiments, today's burger has evolved to, having all sorts of meat in it or in some cases to having no meat at all! Its popularity is undeniably worldwide and as evident with today's fast-food burgers, this iconic food has set its mark in history.
While almost every restaurant now offers their own specialty burger, with their own twist, flavorings, and what-not, you can also try making your very own. There is something special about homemade burgers! And if you haven't tried it yet, well, you really should now, after this. And don't worry, if you can get the right burger seasoning then you're halfway there.
Again, the choice of meat is no longer confined to using beef, you can try pork, veal, cod, chicken, turkey, or whatever type of meat you prefer – you can work with it. Aside from lettuce, you can also have other greens like watercress, kale, or Swiss chard. Tomatoes or no tomatoes, it's really up to you. Same thing with pickled something. And if you can make your own burger sauce instead of store-bought ones, then even better!
And of course, worry not if you're not into meat because vegetarian or vegan burgers are a real thing. You'd be surprised at how they can actually taste delicious sans the meat. Another proof that as long as you can nail the burger seasoning, you're bound to create something yummy for sure.
Here is the list of 15 spices for burgers that you can start with. Along with it are some really amazing and delicious burger recipes that you can try for yourself or get ideas from for when you're ready to give homemade burgers a try.
Spices for Burgers (With Pictures!)
Fish masala

Fish masala is a dry spice blend using different powdered and whole spices that are dry roasted and grounded together. A blend typically consists of coriander seeds, cumin seeds, fennel seeds, black peppercorns, chili powder, cinnamon powder, turmeric powder, garlic powder, and ginger powder.
Not everyone is a fan of sous vide cooking but put this cod burger with curry aioli on top of your to-do list when you've decided to give this cooking method a try. These fish burgers with interesting flavors are absolutely moist, tender, and just perfect.
Shichimi togarashi

Shichimi togarashi which means seven-flavor chili pepper is a Japanese spice blend. It typically consists mainly of chili flakes with sesame seeds, hemp seeds, poppy seed, ground ginger, roasted orange peel, and seaweed. You can buy it pre-mix and ready for use but of course, you can always make your very own if you have the time.
Aside from the wasabi mayo and rice wine, shichimi togarashi really adds serious Asian flavor to this beef burger. Try your best to source these Asian ingredients, you'll be glad you did after dining on these delicious Asian-spiced burgers.
Parsley

Although oftentimes used as garnishing to food, parsley is actually quite flavorful. It has a mild, clean, and peppery taste with a hint of earthiness. It is particularly rich in vitamins A, K, and C. It also contains folate and potassium. Parsley can be used both fresh or dried in cooking.
Of course, it's understandable that you want your burgers quick and easy and these turkey burgers will not disappoint. Simply seasoned with salt, pepper, Worcestershire sauce, and chopped parsley, these patties only need a good 10 minutes on the grill! In a matter of minutes, you can literally move on to assembling your burgers.
Curry powder

Curry powder is another spice blend that adds a warm and robust flavor to dishes. The blend usually consists of turmeric powder, ground coriander, cumin, ginger, and pepper. Although generally, it's not spicy, you can find curry mixes that pack a decent heat.
There seems to be a lot going on in this curry-spiced beef burger recipe, but bear with it and I assure you, it's going to be worth it. The Malaysian-Indian flavors are quite evident and are quite interesting to enjoy in the form of burgers. Try to source the ingredients, especially the curry powder the best you can. It's good to experience the recipe as closest to the original as possible.
Sumac

Sumac is particularly a widely used spice in Middle Eastern and Mediterranean cooking. It has a tangy taste with slightly citrusy and fruity notes. It's great for dry rubs, marinades, and dressing. It will taste absolutely great, too, when sprinkled over food before serving.
Embrace the tips included in this Mediterranean-style salmon burger recipe that will guarantee you'll enjoy juicy and flavorful fish burgers. The homemade Tzatziki sauce pretty much sealed the deal here. If you have the time, don't miss making that one, too.
Marjoram

Marjoram or sweet marjoram is an aromatic herb that is quite similar to oregano. It has a quite milder flavor though. It is particularly rich in magnesium and also has high amounts of potassium. Marjoram is a common spice used in the herb blend Italian seasoning.
Beautifully flavored with marjoram and other herbs, this Sous Vide Greek Burger with Feta Cream is one you surely don't want to pass on. I assure you, it's worth the trouble of putting out your sous vide machine for this burger.
Chili powder

This mixture of dried and pulverized variety or varieties of chilis and other spices make up a blend with a flavor profile known as Tex-Mex. It can also be mild to moderately spicy depending on how much cayenne peppers are used in the blend.
This veggie burger is not only vegan-friendly but is also gluten-free. You can also opt to grill the patties instead of pan-frying them – I say if you have the time, do make use of that grill! This burger is hearty enough, you won't even notice it has no meat!
Capers

Capers have a flavor quite similar to the lemony tang and brininess of green olives with a sharp floral tartness and saltiness. They are the immature flower buds of a type of bush that's commonly cultivated in Spain, Italy, and Greece. Capers are rich in antioxidants like quercetin and rutin.
Tilapia is a great protein to work with, with the most basic spices and herbs you can make amazing dishes from it. And tilapia burgers are no exception. The tilapia meat is simply seasoned with salt and pepper, but the batter and remoulade are absolutely packed with all the flavors needed.
Basil

This flavorful and leafy green herb originated in Asia and Africa and is a member of the mint family. Basil, although commonly used in cooking, is also used in teas and supplements. Sweet basil is the one mostly used but different varieties also existed like holy basil or tulsi.
These simply seasoned pork burgers are rich and fresh at the same time. The combination of parmesan cheese with dried basil and parsley really does the trick. Garlic aioli is not required but you should really give it a try, just a little goes a long way.
Cumin

Cumin is a spice that is commonly used in Indian curries and chutneys. It has quite a strong flavor. Cumin has a rich, earthy, and warm taste with a hint of citrus. It can be used both as a whole or as a ground spice in cooking.
What is so great about veggie burgers is that they cook super fast and these bean burgers are no exception. Smartly seasoned with cumin, coriander and chili powder, these kidney beans patties are an absolute must-try. Easy, flavorful, and quick to make.
Worcestershire sauce

Worcestershire sauce is a fermented liquid condiment that is created in Worcestershire, England. It has a strong umami flavor with a sour, sweet, and spicy taste. Few of its ingredients included molasses, spirit vinegar, anchovies, tamarind extract, shallots, garlic, barley malt vinegar, and spices.
Sometimes you just want to keep your burger seasoning as simple as possible. Just like in this classic burger recipe. Salt and pepper with a little help from garlic powder and Worcestershire sauce – and just like that your patties are ready for the grilling.
Paprika

Paprika is a ground spice made from the sweeter varieties of red peppers. This is why it generally tastes mild and sweet. The hot paprika however boasts a decent amount of heat because it is made from a combination of mild and chili peppers, usually cayenne. Smoked paprika, on the other hand, has an earthy pepper and outdoorsy taste. The dried peppers used for this one are smoked before they are grounded into a powder.
This spicy Mexican burger is surely an interesting take on the classic burger infused with some lovely Mexican flavors. If you can make your own pico de gallo then even better! The patties themselves are flavor-packed already, but the addition of the salsa really round everything up.
Oregano

Oregano is also a member of the mint family. This flowering plant has olive green leaves and purple flowers. This herb is quite common in Italian cuisine is actually a typical ingredient in the herb blend Italian seasoning. It has a bold and earthy taste with a slight bitterness. It can be used fresh or dried in cooking.
While some don't like the fact that you can easily overcook chicken burgers, this particular recipe proves that there's a way around it. Follow the specified burger patty internal temperature of at least 165F and you'll surely enjoy a juicy, beautifully cooked, and flavored ground chicken burger.
Garam masala

Garam masala is a spice blend that originates in South Asia. It is a common spice used in Indian, Nepalese, Pakistani, and Bangladeshi cuisines. The blend usually contains cinnamon, cardamom, peppercorns, mace, nutmeg, mustard seeds, and coriander seeds. The spices are dry roasted in a pan and then ground together into a powder.
These Asian-inspired burgers sure scream Asian both in flavor and presentation. The patties are beautifully seasoned, to begin with then coupled with tangy mango salsa, it's a combo that you shouldn't miss. And yes, it's served in mini naan bread!
Dijon mustard

Dijon mustard is mainly mustard seeds with white wine, vinegar, and seasonings. It is the traditional mustard of France and is named after Dijon, a town in Burgundy, France. It has a tangy, sharp, and strong taste with a little spice to it. Although store-bought are easily available, you can also try making your own.
Another beef burger that although simply seasoned is still equally delish! All it needs is a good amount of salt, pepper, Worcestershire sauce, and Dijon mustard – that's it! If you're new at home cooking or you're just about to try homemade burgers, then this is a good recipe to start with.
Related Content