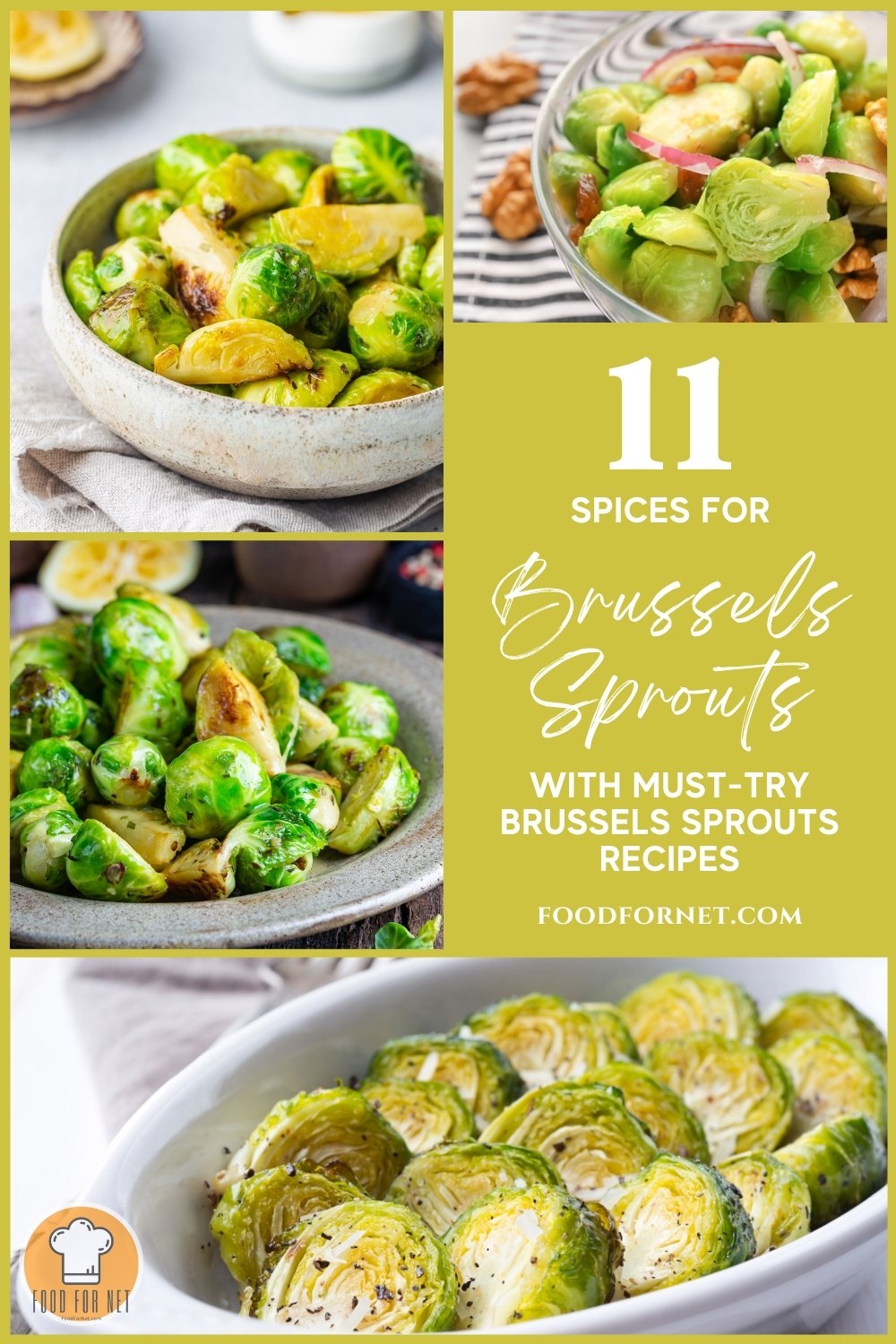 Brussels sprouts are widely grown for their edible buds in Europe and North America. It belongs to the Gemmifera Group along with cabbage, broccoli, cauliflower, and kale. And although it used to be (or still is) kids' most hated vegetable, these little cabbage-looking veggies are steadily gaining popularity. Though it may not exactly be what one would readily say their favorite, it can very well become one if properly cooked and well-seasoned with the right spices for Brussels sprouts.
You'll oftentimes hear people call it Brussel sprouts without the 's' but it was named after the capital of Belgium, Brussels. So technically, it should be Brussels sprouts. Although previously thought to have originated in Rome, it actually become a popular vegetable crop in the 16th century in Belgium, where it eventually got its name. It was around 1800 when French settlers introduced Brussels sprouts to Louisiana. And as the frozen food industry grew in the 1940s, commercial production of Brussels sprouts is moved to California.
It has a sweet, nutty, and somewhat smoky flavor but some people are inherently sensitive to chemicals like glucosinolates which are commonly found in cruciferous vegetables, so for them, Brussels sprouts taste sharp or bitter. But then again when properly cooked with the help of spices for Brussels sprouts the bitter taste can be less pronounced and dishes can turn out really lovely. You can saute, steam, or boil them. Brussels sprouts are actually one of the vegetables that are best for roasting.
Brussels sprouts are rich in vitamins, minerals, and fiber. It's one of the high fiber low carb foods that are perfect to include in your diet when you want to cut on carbs but also want to make sure that your fiber intake is still in check. It's also very rich in antioxidants like kale and spinach. It contains vitamins A, B6, C, and K. It also has potassium, manganese, copper, and folate. Among its many health benefits is preventing cell damage in our body. It may also help boost the immune system, improve digestion, help in pregnancy, heal wounds, boost bone strength, increase metabolism, and prevent common cancers.
There are a lot of ways to add flavor to Brussels sprouts. Adding bacon is one. A sprinkling of cheese also works. Throwing in a handful of nuts surely adds crunch, too. Of course, you can also turn into using spices and herbs for seasonings. Choosing what spices for Brussels sprouts to use can be outright easy. You can of course go for the basic salt and pepper (with a spritz of lemon!) or go for something spicier like curry powder or nutmeg.
Here are 11 spices that you can experiment on the next time you have Brussels sprouts in the house. See also the accompanying delicious and easy must-try recipes that you will surely enjoy – and may even convert non-Brussels sprouts lovers into a fan!
Spices for Brussels Sprouts
Turmeric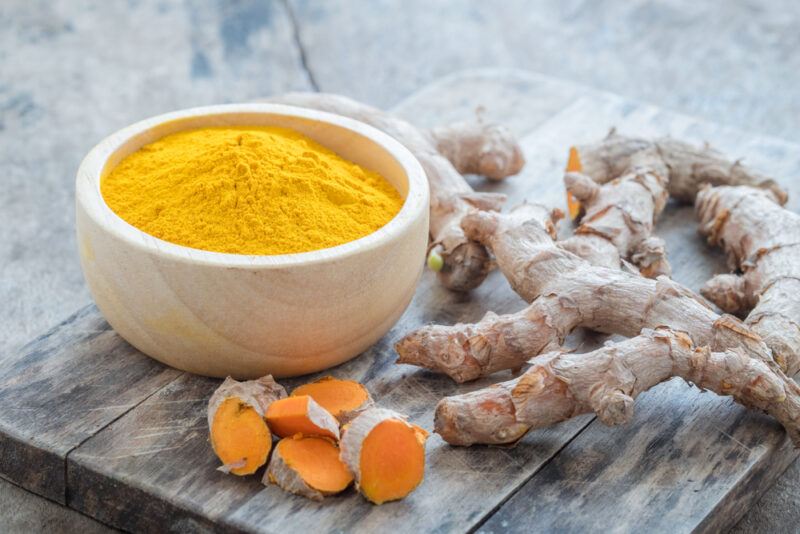 Turmeric has a warm, earthy, bitter taste with hints of peppery taste. It's one of the main spices in curry powder. Aside from the flavor it also imparts amazing color to the dishes.
Turmeric is insanely loaded with over 300 naturally occurring components like beta-carotene, vitamin C, calcium, flavonoids, iron, niacin, potassium, fiber, and more. Its curcumin content is not just an antioxidant but also has powerful anti-inflammatory effects.
Perfect for those in paleo or vegan diet, this Ginger Turmeric Roasted Sprouts recipe is simply seasoned with ground turmeric, ginger, salt, and pepper and then simply roasted in the oven. It's quick, easy, and delish!
Chili garlic paste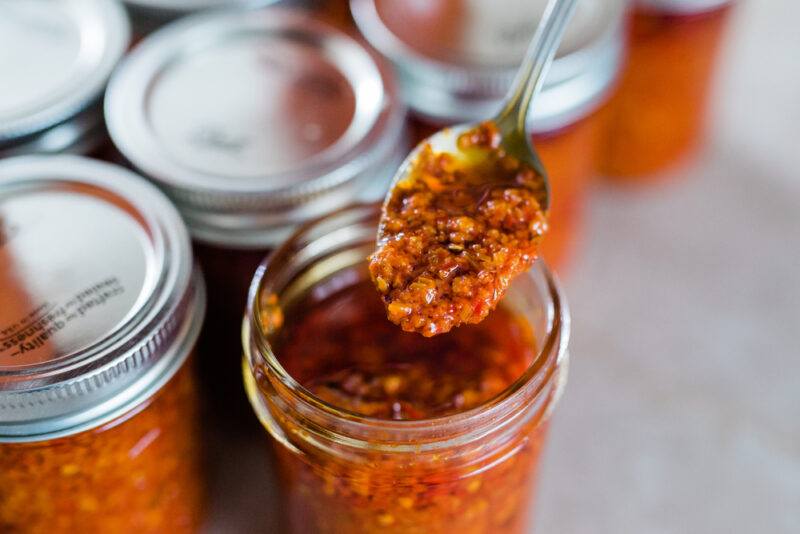 Chili garlic paste is a flavorful thick sauce that is mainly chili and garlic. It's a common ingredient in Asian cooking. It's actually very useful around the kitchen, you can simply marinate any protein with it, or use it in stir-fries and sauces.
And because it's mainly chili and garlic, it's quite packed with antioxidants. Chili's capsaicin content which is responsible for its pungent taste is a powerful antioxidant. Garlic on the other hand is an excellent source of pyridoxine or vitamin B6 which is important for keeping the nervous system and immune system healthy.
This Sweet and Spicy Brussels Sprouts can easily become a dinner favorite! The kick from the chili garlic paste is beautifully balanced by the sweetness of honey and hoisin sauce. You're going to love the caramelization, and of course, the color! Simply divine!
Nutmeg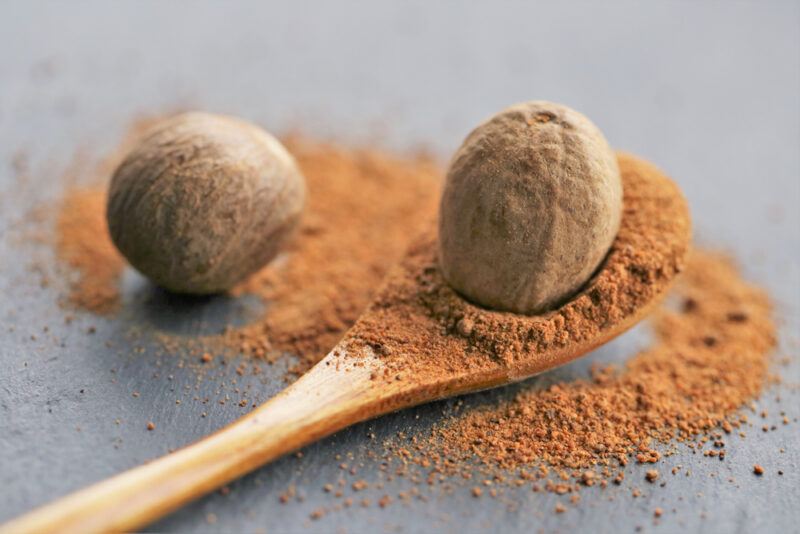 Nutmeg is oftentimes used in baking. Its woody, bittersweet flavor, with notes of cloves, is quite intense so it's used sparingly whether it's a sweet or savory dish.
Nutmeg is actually rich in fiber, it's also a source of vitamins A, C, and E, manganese, magnesium, copper, phosphorus, zinc, and iron. It has antibacterial properties that are particularly effective against oral pathogens. It may also help in improving mood and in boosting better sleep.
This Coconut Brussels Sprouts Gratin although creamy is very vegan! You can absolutely enjoy this side dish regardless if it's Thanksgiving or not. Adding cheese (if you're not vegan) will work, too. But the recipe as is can be quite a treat on its own already.
Thyme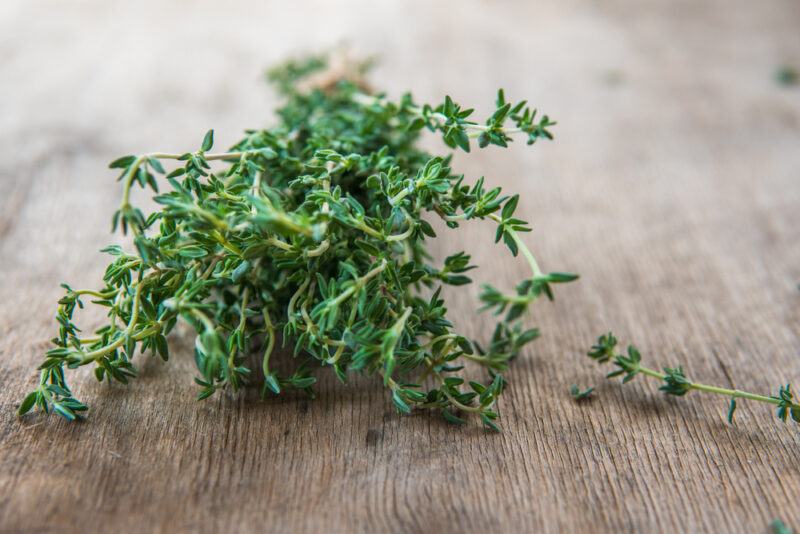 Thyme is a popular Mediterranean herb. It's actually one of the main herbs in Italian seasoning. This earthy and minty herb with notes of lemony flavor works well in pasta, sauces, soups, casseroles, and more.
Thyme contains thymol which helps in controlling some bacterial, parasitic, fungal, and viral infections. It also has small amounts of potassium, magnesium, and vitamins A and C. It has potential pain-relieving properties, may reduce the severity of coughs, may also help with eczema and acne.
Not only is this dish healthy but it's super easy as well. This Brussel Sprouts Casserole can also be prepared ahead of time so it's perfect when you're having dinner parties or dinner guests. Simply store them in the fridge and bake on the day itself while you get things ready for dinner.
Italian seasoning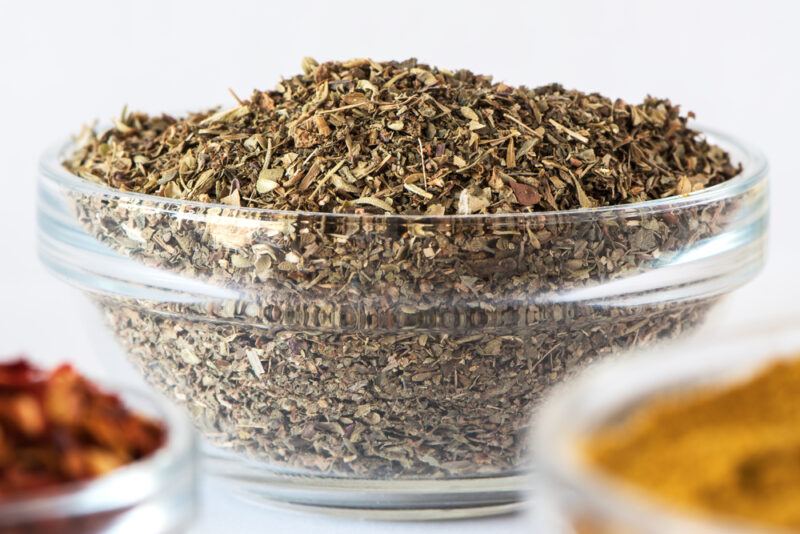 Italian seasoning is a blend of dried herbs that mainly consist of oregano, basil, thyme, rosemary, and marjoram. Other herbs and spices are also added sometimes. The taste somewhat varies depending on the concentration of herbs used but it's mainly savory, earthy, with a very subtle sweetness.
Italian seasoning nutrition content depends on what herb is included in the blend. But usually, it contains vitamin A, iron, calcium, fiber, vitamin C, and potassium. If it's oregano-focused it can help in improving digestion, enhancing immunity, and reducing phlegm.
This Italian Chopped Brussels Sprouts Salad is perfect for a hearty and healthy lunch or dinner. The dressing is a combination of olive oil, red wine vinegar, honey, minced garlic, Dijon mustard, salt, pepper, and Italian seasoning. This is a great way to introduce non-Brussels sprouts lovers to the veggie, they would have to enjoy it first even before they can contest that it's Brussels sprouts!
Curry Powder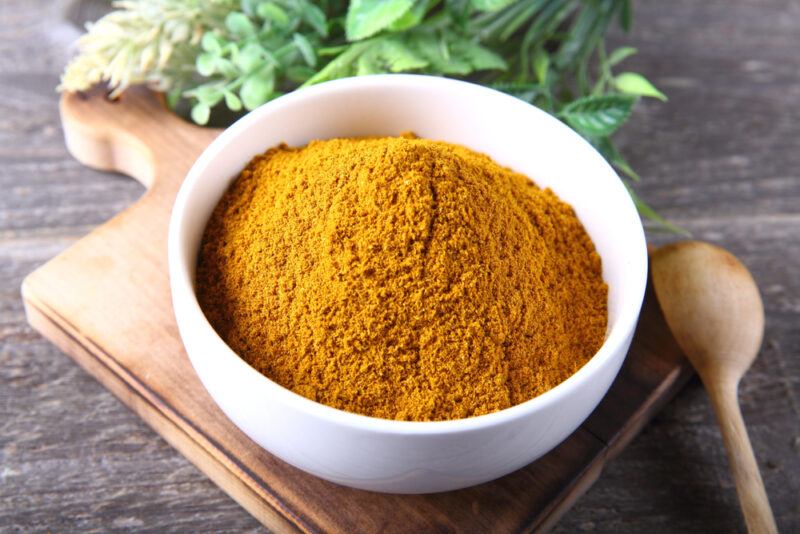 Curry powder is a popular spice blend that originated in India. The mixture usually includes turmeric, ground coriander, chili powder, ground cumin, pepper, and ground ginger. It has a deep, earthy flavor with hints of sweetness and is blended in mild, medium, or hot strengths.
Curry powder is rich in anti-inflammatory compounds that may help in boosting heart health and improving blood sugar levels. It's also rich in powerful antioxidants that may reduce oxidative stress and lowering the risk of diseases.
Another roasted Brussels sprouts dish, this Spiced Lemony Brussels Sprouts is seasoned with curry powder. There is an option to go for regular or hot curry powder, I say go for the hot one. The subtle kick really works with the whole roasted vibe.
Dijon mustard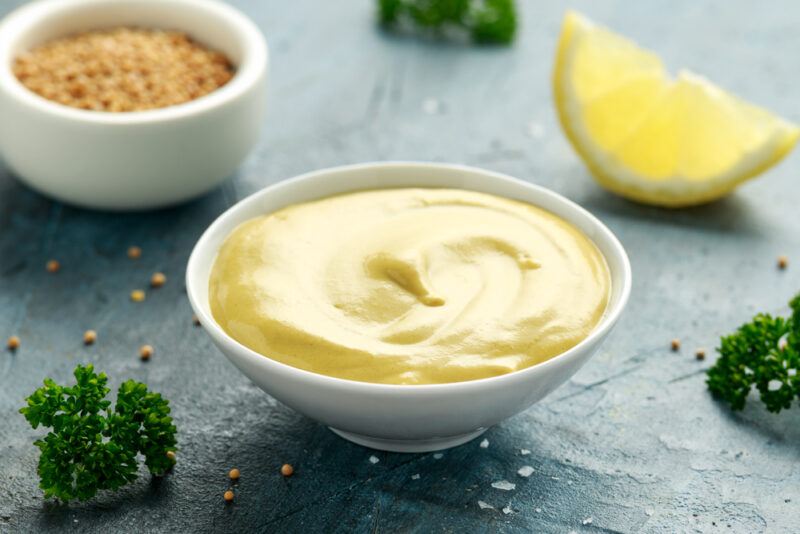 Dijon mustard is prepared mustard named after Dijon in Burgundy, France. It's mainly mustard seeds, white wine or wine vinegar, water, and salt. Dijon mustard is oftentimes used when making sandwiches, vinaigrettes, and sauces. It's also great for marinades, soups, and stir-fries.
Dijon mustard contains potassium, selenium, thiamine, and manganese. It is a flavorful yet low-fat, low calories, and no cholesterol condiment.
You're going to love the caramelization of the sprouts in this Spicy Maple Dijon Grilled Brussels Sprouts. The tang from Dijon mustard works perfectly with the spicy heat of cayenne pepper and black pepper. And of course, caramelization is helped by maple syrup, it helps bring out the natural sweetness of the sprouts.
Red pepper flakes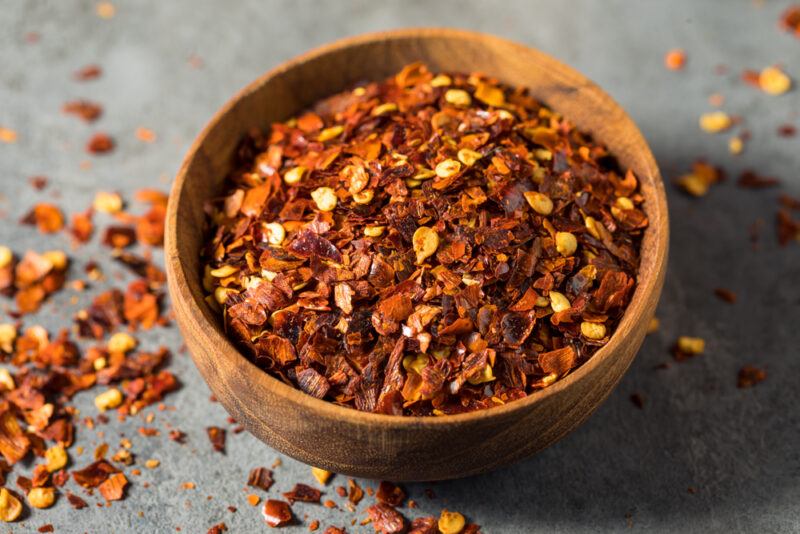 Red pepper flakes oftentimes confused with chili flakes are made from a combination of more than one variety of pepper. The latter on the other hand is made from only one type of pepper. Red pepper flakes can get really intense because of the presence of seeds. So, a pinch can really go a long way.
Red pepper flakes are rich in vitamins A, B6, C, and E. It also contains iron, magnesium, and potassium. Its capsaicin content is known for its pain-relieving properties. Red pepper flakes can also help with digestive issues, inflammation management, and may also boost metabolism.
This Sauteed Brussels Sprouts with Butter and Garlic is simply sauteed Brussels sprouts in avocado oil and then seasoned with garlic, butter, and salt. It's quite your typical sauteed dish, what sets it apart is the red pepper flakes! You'll be surprised at how a sprinkling of red pepper flakes can make such a big difference.
Celery salt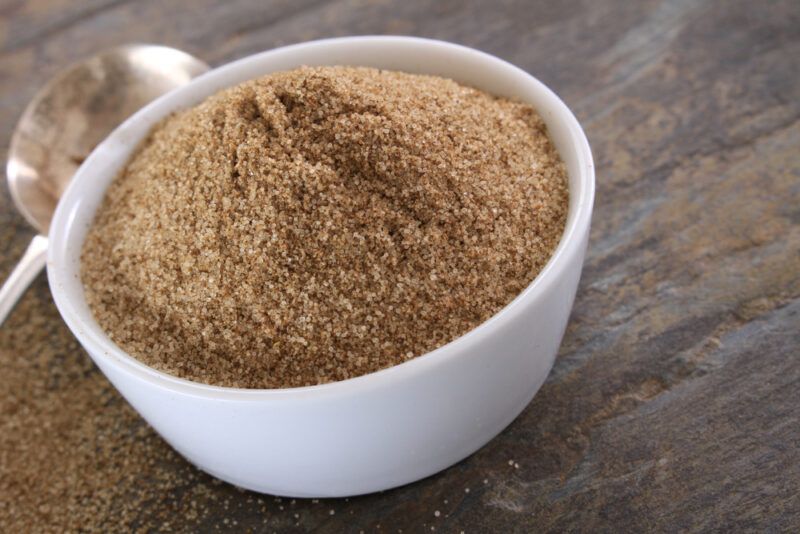 Celery salt is basically a mixture of salt and ground celery seeds. It's great for adding natural salty flavor to food without having high sodium levels. It does have that celery taste. It's peppery, herbaceous, with a slightly bitter taste.
Celery salt has a natural salty flavor that also contains potassium which helps in managing high blood pressure. Celery seeds are relatively high in manganese, iron, and calcium which helps in metabolism and blood coagulation, preventing anemia, and developing bones.
The Brussels sprouts here are simply seasoned with celery salt along with garlic powder, onion powder, and black pepper. It is then simply grilled. If you can nail those grill marks, you're golden! Simplicity sometimes is the key. However, this recipe is quite adaptable, too, so feel free to play with it and add your own take.
Cayenne pepper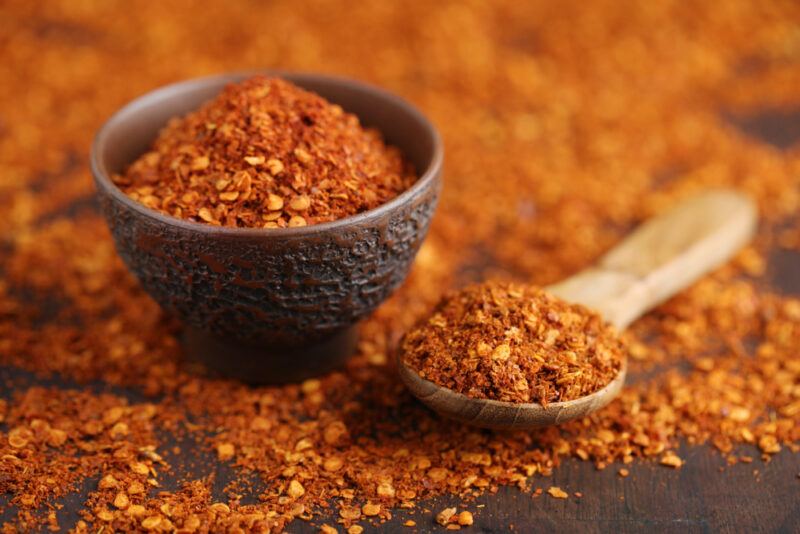 Cayenne pepper powder is the ground form of dried cayenne pepper which is about ten times hotter than a jalapeno. You can differentiate it from chili powder which is the ground form of dried peppers that are typically further down the Scoville scale.
Cayenne pepper also has capsaicin which has a pain-relieving property. It also contains vitamin C, E, beta carotene, choline, lutein, zeaxanthin, and cryptoxanthin. It may help in relieving pain, protecting the nervous system, reducing inflammation, and treating colds and congestion. Cayenne pepper is also one of the spices for weight loss that may aid in losing extra pounds or in managing weight.
The spiciness of this dish comes from the combination of cayenne pepper and crushed red pepper flakes. It is however well balanced by the tang from Dijon mustard and lemon juice. So, it's not spicy hot really, just the right kick to lift the dish's flavor up.
Cumin seeds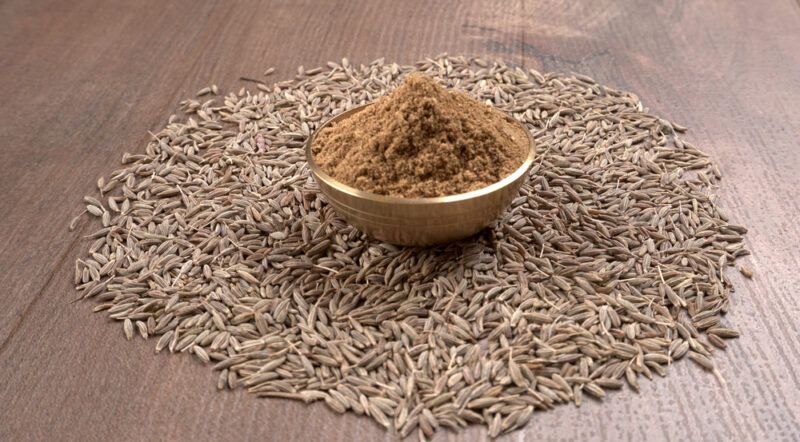 Cumin is native to the Irano-Turanian Region, and its dried seeds are used in many cuisines both in whole or ground form. It has a rich, hearty, earthy, and warm flavor with hints of citrusy taste.
Cumin is rich in vitamins A, B6, C, E, and K. It's also a good source of iron, magnesium, calcium, and phosphorus. It also has naturally occurring substances that function as antioxidants. Cumin helps with blood sugar control, fights bacteria and parasites, and aids in weight loss. It may also help with treating diarrhea and lowering cholesterol. Cumin also has anti-cancer properties and has an anti-inflammatory effect.
A lot of flavors perfectly blend well in this beautiful dressing for Brussels Sprouts Salad by Rachel Ray. Cumin is just one of the spices used. It was also seasoned with allspice, nutmeg, Dijon mustard, cider vinegar, maple syrup, orange zest, and herbs. Needless to say, it's quite flavor-packed!