Sweet potatoes seem like they should be healthy. After all, they're bright orange, contain plenty of antioxidants, and are entirely natural food. They're also delicious, so most of us want them to be healthy, but we still need to ask, are sweet potatoes good for you?
As you may already have guessed, there are some complexities to think about. Delicious and nutritious as sweet potatoes are, they're also starchy, carbohydrate rich, and surprisingly high in calories for a vegetable. It doesn't help that we often load them up with high-calorie additions, like butter.
Besides, sweet potatoes are a popular ingredient, especially in the fall. This is reason enough to get to the bottom of their nutritional profile. This way, you'll know how to fit sweet potatoes into your diet without compromising your wellbeing.
Are Sweet Potatoes Good For Your Health?
What Are Sweet Potatoes
Sweet Potatoes Versus Yams
Benefits Of Sweet Potatoes
How Sweet Potatoes Could Be Harmful
Should You Eat The Skin Of Sweet Potatoes?
How Do You Use Sweet Potatoes?
Are Sweet Potatoes Healthier Than White Potatoes?
What Are Sweet Potatoes?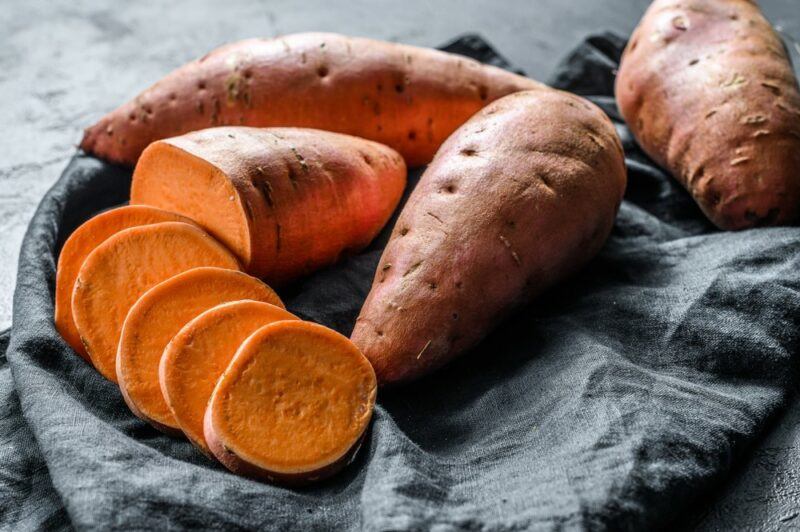 Sweet potatoes don't really need that much of an introduction. They're underground tubers that can be used in much the same way as regular potatoes. Many of us already enjoy them regularly.
They're famous for their somewhat sweet flavor and yellow-orange flesh, but you can also find white, brown, and even purple sweet potatoes. Indeed, there are plenty of sweet potato cultivars to choose from, including some unfamiliar ones, like the speckled purple sweet potato.
The individual cultivars don't just vary in color either. There can also be differences in nutritional profile and flavor. However, those differences are often subtle, so you can easily use sweet potato cultivars interchangeably.
Sweet Potatoes Versus Yams
Sweet potatoes and yams are often confused, partly because some grocery stores mislabel sweet potatoes as yams. True yams tend to have brown skin that's rough and textured, while the flesh is pale and doesn't have much flavor.
In contrast, sweet potatoes have reddish-brown skin that's often thin and is less textured. Orange-fleshed sweet potatoes are common, although you can find versions with white or purple flesh. The most significant difference is the flavor, as sweet potatoes are much sweeter than yams (which is hardly surprising).
Thankfully, you don't need to worry much about these differences. Despite all the 'yams' in American grocery stores, true yams aren't easy to find.
Benefits Of Sweet Potatoes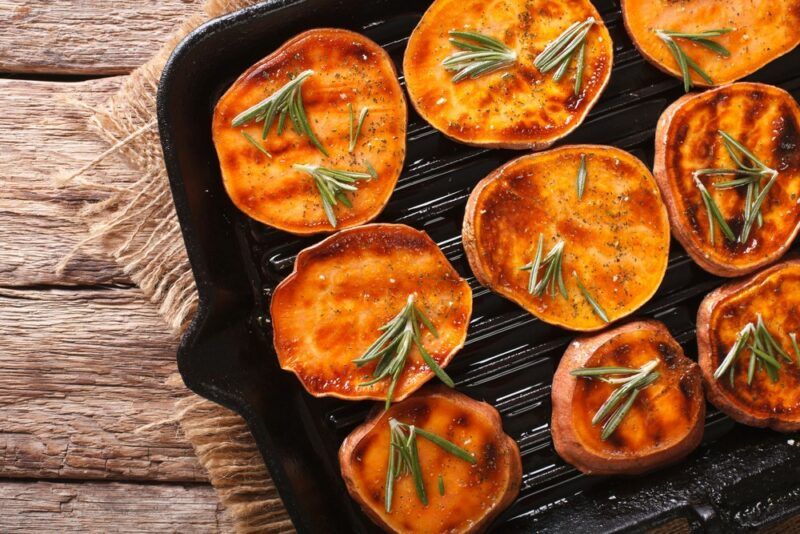 The first thing to mention is that sweet potatoes are a natural food. They're not refined or heavily processed, which makes them much better than most processed products that you find on grocery stores shelves.
Their Antioxidant Content
Sweet potatoes are often bright orange, so it's hardly surprising that they contain plenty of antioxidants.
Beta-carotene is one of these and is responsible for the orange coloring. Beta-carotene is most well-known for its ability to help protect your eyes, although it has other roles too.  
Antioxidants are also thought to be essential for staying healthy. They help to protect us from excessive oxidation – in doing so, they may decrease disease risk while providing plenty of other benefits along the way.
On a side note – purple sweet potatoes are still high in antioxidants. However, they contain much less beta-carotene. Anthocyanins are prominent instead, which are responsible for the red-purple color of the sweet potato.
The Fiber Promotes Health And Improves Digestion
Fiber might seem unimportant, as our bodies don't digest it. Yet, fiber plays many essential roles, helping to maintain good bowel health, keeping us regular, decreasing cholesterol levels, and helping to stabilize blood sugar.
Sweet potatoes provide soluble and insoluble fiber. Those two types of fiber function in different ways, so we need both of them to do well.
As you can probably guess, most of the fiber in sweet potatoes is found in the skin, rather than the flesh (just like with regular potatoes). So, be sure to eat the skin along with the rest of your sweet potato.
Can Be A Source Of Resistant Starch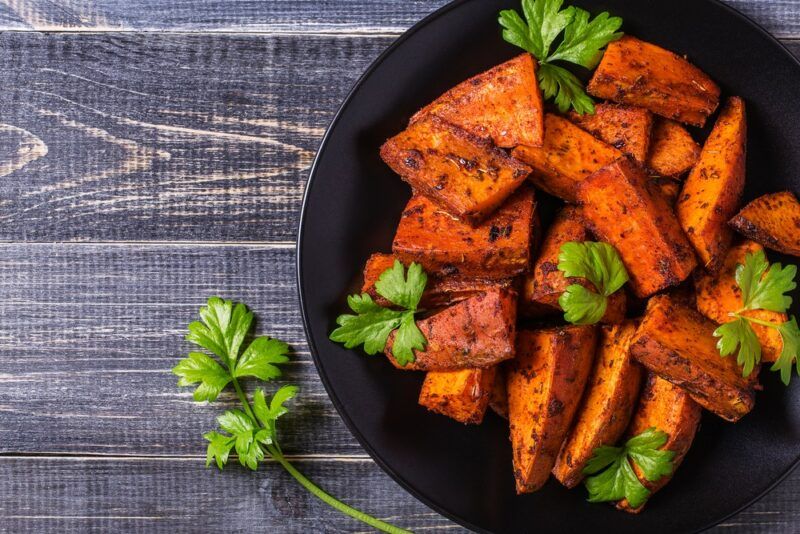 Resistant starch is interesting. It behaves like soluble fermentable fiber, which means it can help feed your gut bacteria and promote improved gastrointestinal health.
Resistant starch is also rare. Oats and green bananas are the easiest ways to get resistant starch into your diet. Sweet potatoes can help too, but only if you're careful about preparing them.
In particular, while cooking often destroys resistant starch, the starch is sometimes restored if you cook some ingredients and allow them to cool. This is true for regular potatoes and sweet potatoes.
You'll get even more resistant starch if you turn to the white fleshed variety of sweet potato, rather than sweet potatoes with orange flesh.
The Carbs Give You Energy
Sweet potatoes are relatively high in digestible carbs, with a medium potato giving you roughly 27 grams of carbs. We'll talk about the downsides of carbs in the next section, but for now, let's focus on the positives.
Despite the controversy, carbs do offer some benefits. They're the body's preferred source of energy and we get a fast energy boost from consuming carbs. This is crucial, as energy is used throughout our bodies, allowing our brain, muscles, and cells to function optimally.
Plus, sweet potatoes contain a decent amount of fiber and starch, which are complex carbs.
Complex carbs are the desirable type of carbs. Studies have linked them to many benefits. Indeed, some research suggests that moderate carb intake is the healthiest choice, especially if you're focusing on complex carbs.
Foods with complex carbs also tend to provide more vitamins and minerals than simple carb foods. They're slower to digest too. This is why sweet potatoes don't spike your blood sugar as much as you might expect.
Contain Plenty Of Nutrients
We can't forget about the nutrients either. Sweet potatoes are important sources of potassium and vitamin A (in the form of beta-carotene). You get a surprising amount of vitamin C too, along with plenty of other nutrients.
Each vitamin and mineral plays various roles in our bodies. Vitamin C, for example, is often linked to your immune system's function, while potassium helps to decrease your blood pressure.
How Sweet Potatoes Could Be Harmful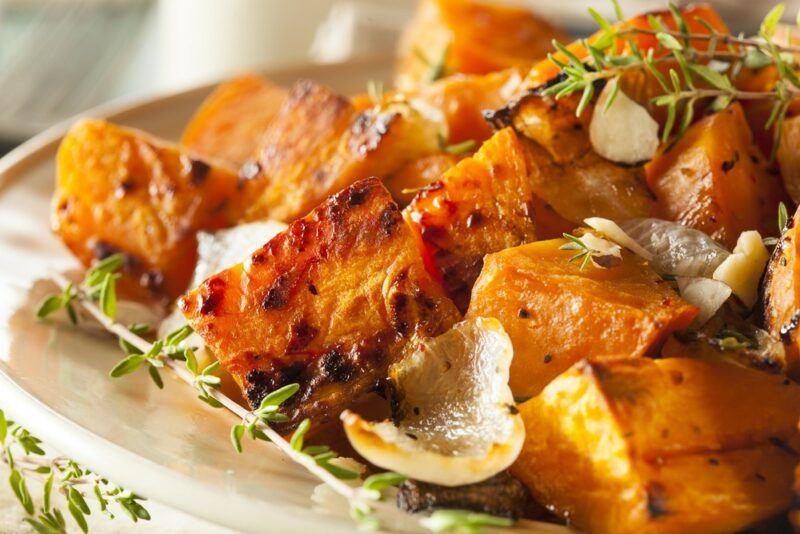 While sweet potatoes are natural and unrefined, there are still some important things to be aware of. These potential problems shouldn't mean that you need to avoid sweet potatoes entirely. Instead, they're reasons to be cautious with the amount that you consume.
The Potassium Content
Potassium is an important mineral and electrolyte, one that's normally good for you. However, there are also situations where you need to decrease your potassium intake.
Anyone on beta blockers or who has kidney problems might need to keep their potassium intake low. For people in these groups, too much potassium can cause significant complications and even be dangerous.
In such situations, you'll need to focus on low potassium foods. You can't just switch to regular white potatoes either, as these tend to contain even more potassium per serving.  
The Vitamin A Content
Sweet potatoes are rich in beta carotene, which is a precursor to vitamin A.
Just like potassium, vitamin A does provide many benefits, such as protecting your eyes. Still… you're getting a lot of vitamin A in your sweet potatoes – more than 500% of your daily requirement (if you're eating the skin as well as the flesh of your sweet potato).
Consuming too much vitamin A can be an issue, increasing the risk of problems like headaches, blurred vision, and even seizures.
Thankfully, you won't overdo it with vitamin A from sweet potatoes alone. You should be fine even if you consume a variety of vitamin A rich foods. Just be cautious if you're also taking vitamin A supplements, multivitamins, or any nutrient-enriched drinks, like Vitaminwater and meal replacement shakes.  
They're Rich In Oxalates
Oxalates are natural plant-based compounds that do offer some benefits. They can also be a problem, as unbound oxalate can crystallize and form kidney stones. The issue is particularly significant if you're dehydrated, but they might still form even if you drink plenty of water.
Most people can consume oxalates without any serious issues. Still, if you're worried about kidney stones or have had one in the past, focusing on low oxalate foods can help.
Sweet potatoes, unfortunately, contain a decent amount of oxalates. While the oxalate content isn't as high as it is for spinach, it's significant enough to be a problem.
Might Be A Problem For Diabetics
Sweet potatoes are often promoted as a healthy food if you have diabetes, partly because they're seen as better than white potatoes. Yet, some diabetics find that this isn't the case at all.
Rather than being a safe and easy choice, sweet potatoes can significantly affect your blood sugar levels. This isn't too surprising, as sweet potatoes are high in carbs.
If you're healthy, then this effect might not be relevant at all. On the other hand, if you're diabetic, pre-diabetic, or are sensitive to carbs, you may need to be more cautious.
Rather than skipping sweet potatoes, make sure that you're eating some healthy fat and/or protein with your sweet potato. This isn't hard to do, as sweet potatoes are often part of a meal anyway. Even a little butter can help to calm down any blood sugar spikes.  
They're High In Carbs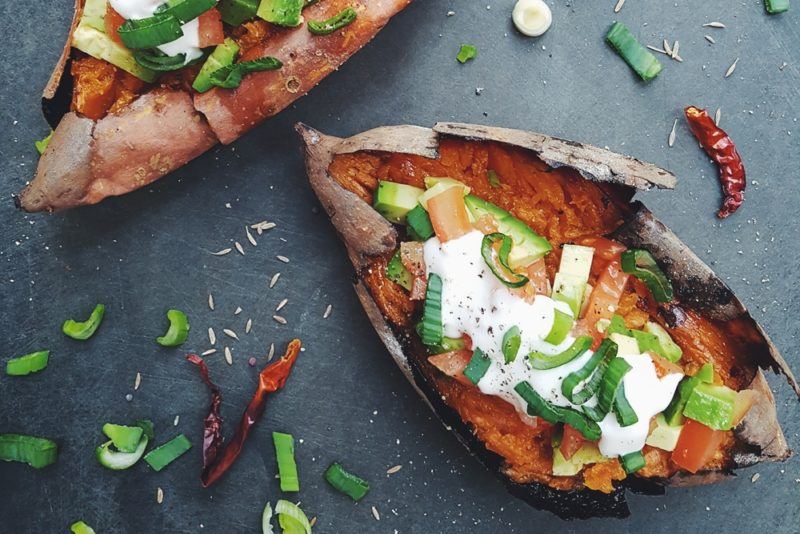 As we mentioned earlier, carbs are controversial. It's good that sweet potatoes contain complex carbs, but even so, the carb content is high. These carbs could still have some negative health effects, like increasing inflammation or disease risk.  
This is why most keto and low carb dieters are careful about sweet potatoes. If you're going to use sweet potatoes on one of these diets, be sure to pair the potatoes with low carb and high fat ingredients, like serving them with butter.
They're Relatively High In Calories
Sweet potatoes are often called a high calorie food. More accurately, they're high in calories compared to most other vegetables.
For example, a medium sweet potato with its skin contains a little under 150 calories. This is a decent number of calories, especially as you're not normally eating a sweet potato on its own.
This brings up another important point – the way that sweet potatoes are often paired with high calorie foods, like butter. You can easily end up with a calorie-dense meal that does your waistline no favors at all.  
Should You Eat The Skin Of Sweet Potatoes?
The skin of potatoes and sweet potatoes is often overlooked, which is a shame, as the skin is completely edible and offers an array of nutrients. In fact, you get more vitamins, minerals, and plant-based compounds from the skin than you do from the potato itself.
There's also the fiber to think about.
Fiber is essential for digestion, helping to keep us regular and making sure our bodies function as they should. Many of us don't get enough fiber in our diets, so any extra fiber is a good thing. You get some fiber from sweet potato flesh, but there's much more of it in the skin.
The one catch may be the flavor. While some people love how sweet potato skins taste, others can't stand the flavor. If you fall into the latter group, you might just need to get a little creative to make the skins taste good. 
You can find dehydrated sweet potato skin snacks. Despite seeming like healthy alternatives to potato chips, these snacks are often packed with calories and sodium. It's much better to skip them and focus on natural potato skins instead.
How Do You Use Sweet Potatoes?
Sweet potatoes behave similarly to regular potatoes. This is why you often see them baked, mashed, or roasted. You can even make sweet potato fries.
The sweetness gives you the chance to get even more creative with sweet potatoes. Sweet potato pie is an obvious example and already graces many tables around Thanksgiving. Why not try sweet potato bread as well?
Some people get even more creative, like using slices of sweet potato as toast. If you cut slices of sweet potato to the right width, you can actually cook them in the toaster.
You can even use sweet potato flour to make a pizza base. How fun is that?  
Are Sweet Potatoes Healthier Than White Potatoes?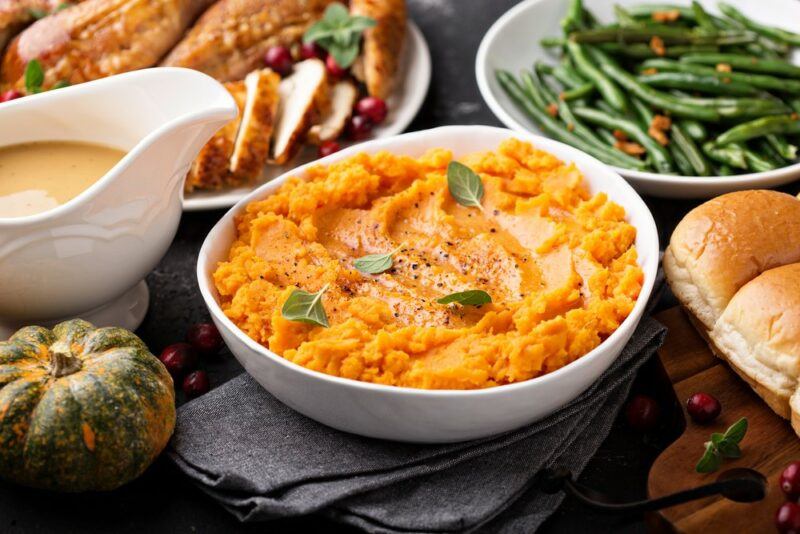 Most of us would automatically say that sweet potatoes are much healthier than white potatoes, perhaps because white potatoes have such a bad rap. Yet, the differences between them aren't as dramatic as you might think.
Both types of potatoes are similar in terms of calories, protein, and carbs (white potatoes do contain fewer calories, but this difference is tiny and doesn't mean much).
Both types are also rich in nutrients. The biggest difference is that sweet potatoes are high in vitamin A, while white potatoes have higher levels of potassium instead.
You're getting plant-based compounds in both cases. Orange and purple sweet potatoes tend to be rich in antioxidants, while regular potatoes contain an interesting class of compounds called glycoalkaloids instead.
Sweet potatoes tend to have a lower GI than white potatoes, making them better for people with diabetes. However, in both cases, the GI is strongly influenced by how the potato is prepared and what you serve with it.  
All-in-all, sweet potatoes might be a little healthier than regular potatoes, but the difference is barely worth talking about. Both types can easily be part of a healthy diet.
Final Thoughts
Sweet potatoes have an interesting balance of features. On one hand, they're starchy, are high in carbs, and contain more calories than most other vegetables. On the other hand, they offer plenty of nutrients, fiber, and antioxidants. They're delicious and versatile too.
Whether sweet potatoes are a good or a poor choice for you will depend on your priorities and the rest of your diet. For example, sweet potatoes are difficult to use on a low carb diet, but they could be perfect if you're not worried about carbs.
Remember too that sweet potatoes are a whole food that's packed with nutrients and fiber. Even if the carb and starch content is higher than is ideal, sweet potatoes are still a better choice than highly processed foods,
Frequently Asked Questions
Are Sweet Potatoes Keto Friendly?
Sweet potatoes aren't ideal for keto dieters, as they're quite high in carbs. The same is true for most vegetables that grow underground. 
If you're a huge fan, you could keep your servings small and still have sweet potatoes on a keto diet. This is true for most foods. However, there are plenty of more keto friendly options that are just as tasty. 
Are Sweet Potatoes Low FODMAP?
A standard serving of sweet potatoes is around half a cup, which is considered a green light FODMAP serving. So, people with IBS should still be able to eat sweet potatoes, as long as they stick to this portion size. 
Are Sweet Potatoes Good For Diabetics? 
Despite the fairly high carb content, sweet potatoes can be a good fit for people with diabetes. After all, they do contain plenty of nutrients and some fiber as well. 
Sweet potatoes are also a better choice than white potatoes, as they have a lower glycemic index and are used in the same way. However, they do contain a decent number of carbs, so it's still important to watch your portion size. 
Are Sweet Potato Fries Gluten Free?
Sweet potatoes are naturally gluten free, which means that sweet potato fries should be as well. 
Whether they are or not depends on their preparation. In particular, sweet potato fries are often prepared using the same surfaces or the same deep fryer used for gluten containing foods, leading to cross contamination. 
The easiest way around this is to make sweet potato fries yourself. This way you can eliminate the risk of gluten contamination. 
Are Sweet Potatoes Good For Weight Loss?
Sweet potatoes can be a useful weight loss ingredient, as they contain plenty of nutrients, some fiber, and complex carbs. They're particularly good if you eat the skin along with the potato. 
But, like most foods, sweet potatoes don't dramatically impact your weight on their own. Whether you gain or lose weight is more strongly impacted by your total calorie intake and amount of exercise, rather than individual foods.