You've probably seen Muscle Milk around before. It's a popular nutritional supplement, one that's meant to help you gain muscle and give you plenty of other benefits. If nothing else, Muscle Milk is an easy way to increase your protein intake. Is Muscle Milk good for you then?
This is a question that some people might immediately answer yes to, while others would say no instead. The confusion is easy to understand, as Muscle Milk has some good features and other less appealing ones.
Let's not forget that Muscle Milk isn't that unusual either. There are plenty of other similar products out there, including pre-prepared protein shakes like Ensure and plenty of powders help you make your own protein shakes.
So, we can't just talk about Muscle Milk on its own. We need to look at how it compares to other options too.
Is Muscle Milk Good For Your Health?
What Is Muscle Milk?
Benefits Of Muscle Milk
Risks Of Muscle Milk
What Does Muscle Milk Taste Like?
Healthy Alternatives To Muscle Milk
How Much Protein Do You Need?
Final Thoughts
What Is Muscle Milk?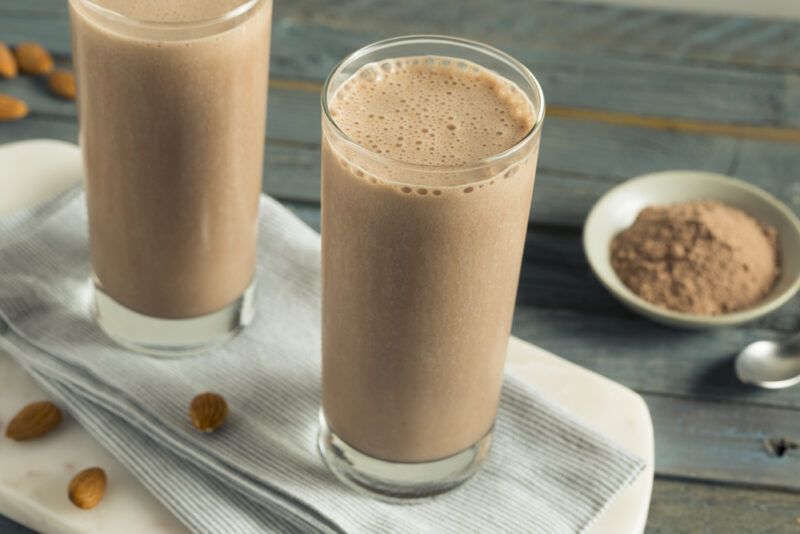 Muscle Milk is a protein brand that produces a variety of products. Most of these are either pre-made protein shakes or are protein powders that you can make into shakes. The products below make up the current range.
Muscle Milk Zero. As the name suggests, these shakes contain no sugar. The protein powder version contains 15 grams of protein per serving, while the premade shakes contain 20 grams instead.
Muscle Milk Genuine. This appears to be the original product. This time, the powder contains 32 grams of protein per serving and 3 grams of sugar, while the shake has 25 grams of protein and no sugar.
Muscle Mulk Pro Series. The protein content is much higher here, with either 32 or 40 grams in the prepared shake (depending on the type you choose) and 50 grams in the powder.
Muscle Milk Coffee House. These products contain 20 grams of protein for the pre-made shakes and 32 grams for the powder. The main feature, however, is that you're getting caffeine as well.
Muscle Milk Gainer. This is a protein powder only product. It contains 32 grams of protein and focuses on muscle gaining. The shake also includes 109 grams of carbs to provide energy, although interestingly, most of these aren't from sugar or fiber.
Whey Protein Powders. There are three of these products. One is unflavored, with 25 grams of protein per serving. Another is flavored, with the same protein content and a little sugar. Finally, there's a product with 27 grams of protein per serving and some probiotics (1 billion CFU, to be precise). As the name suggests, the powders all focus on whey protein.
There are also a few protein bars. We're not going to focus on those as heavily, as the protein shakes are the main products.
While there are strong differences between the shakes, most rely on similar ingredients, including milk protein and/or whey protein, artificial sweeteners, flavors, and various additives. Despite being low in sugar, the shakes contain a surprising number of carbs too.
Benefits Of Muscle Milk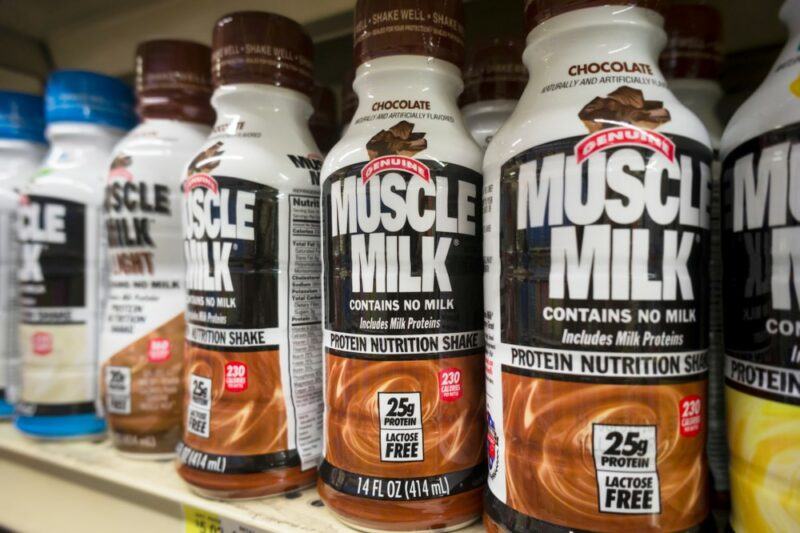 Convenient Source Of Protein
Protein is the main feature of Muscle Milk and the reason that most people drink the shakes. While there are plenty of other ways to get protein, fewer are as easy as grabbing a pre-prepared shake and downing it. Making up a protein shake from the Muscle Milk powder is a fast process too.
The convenience factor is one reason that so many people use products like Muscle Milk. After all, protein rich meals take time to prepare and to eat. Who wants this when you're in a hurry or are about to begin a workout?
Muscle Building
Muscle Milk is designed with muscle development in mind. The high protein content of the products works well for this goal. Plus, the products all keep the sugar content low. The company even certifies some of their products as NSF Certified, which means they're free from all sport-related banned substances.
Even more importantly, the products all rely on whey as the main source of protein. Whey is thought to be the most powerful type of protein for muscle development, as it contains all the amino acids you need, along with plenty of branched chain amino acids (BCAAs).
That combination of features should make Muscle Milk more powerful than many other brands.
Low Sugar
Muscle Milk keeps the sugar content of their drinks low, which is helpful. Many protein shake products don't do this at all. You can even find some prepared shakes that contain more sugar than protein. Shocking, right?
Muscle Milk uses artificial sweeteners instead of sugar. We'll talk about these a little later, as they are controversial. Still, having some type of sweetener is important, as a drink with this much protein would taste gross unless some sweetener was used.
Weight Loss
The combination of high protein and low sugar makes Muscle Milk and an excellent choice for weight loss. If you're trying to lose weight, you might have one of the shakes instead of a regular meal.
Swapping a meal for a shake is an easy way to lower your calorie intake, while the protein in the shake can help you feel full. Using shakes like this works really well for some people and can be easier than skipping a meal entirely.
Of course, you'll need to experiment to see whether the idea works for you. Some people find that the shakes keep them full for hours, while others get hungry soon afterward.
The Nutrients
Most products from Muscle Milk contain some nutrients too. The specific nutrients vary depending on the type of shake you choose. For example, the Genuine version has just a handful of nutrients, including vitamin C, calcium, iron, vitamin A, and vitamin D, while the Pro shakes contain many more.
Vitamins and minerals like these are all crucial for your health. Some may help with muscle building too.
The nutrient selection is interesting, as Muscle Milk includes some key nutrients and not others. This means you'll need to be cautious if you're drinking Muscle Milk instead of having a meal – as you'll need to get the missing nutrients elsewhere.
Could Help You Recover From An Illness
Most of us get enough protein in our diets for our basic needs, but bodybuilding isn't the only time where you might need more. Increasing your protein intake can help when you're sick too, as your body uses that extra protein to rebuild and get you back on your feet.
You can get that protein from plenty of places, of course. Still, it's much easier to drink a protein shake like Muscle Milk than handling a full meal. This distinction could be critical if you're sick and can't handle solid foods.
Risks Of Muscle Milk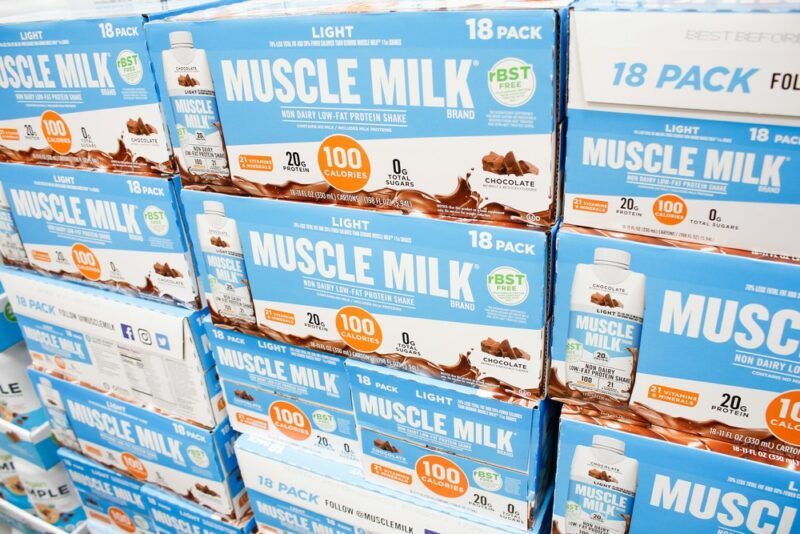 Artificial Sweeteners
To keep the sugar content of Muscle Milk low, the brand uses artificial sweeteners instead, including sucralose. There's much debate about exactly what artificial sweeteners do. Some studies suggest that they might promote weight gain and diabetes, while other people are concerned about a possible cancer link.
The artificial sweeteners influence the flavor of the drink too. While many people do love the shakes, some mention that they taste chemical or artificial.
With so much controversy, it's strange that some brands still rely on artificial sweeteners. Natural sweeteners appear to be safer, while still providing sweetness without sugar.
All The Additives
Artificial sweeteners aren't the only issue. Muscle Milk is loaded with additives, including natural and artificial flavors, canola oil, carrageenan, and sodium caseinate.
The additives used are all considered safe but, just like with artificial sweeteners, there's plenty of controversy surrounding them. And honestly, even if the ingredients are safe for most people, why risk it? Highly processed foods that are filled with additives have few benefits and far too much risk.
Why not just stick to whole foods instead? There are plenty of delicious options out there, including many that provide you with protein and nutrients.
Not Actually Dairy Free
Some of the Muscle Milk products are promoted as Non-Dairy Protein Shakes. That term is quite misleading, as while the shakes don't contain milk itself, they still use milk-based ingredients, including milk protein isolate.
The choice of ingredients means that people with lactose intolerance may be able to drink the shakes (although, this isn't guaranteed). Vegans would need to skip the shakes entirely.
People who are allergic to whey or casein proteins need to be careful too, as the products may still set off those allergic reactions.
The Carb Content
The Muscle Milk products are all low in protein. Despite this, their carb content is often pretty high. For example, the chocolate flavor of their Genuine Muscle Milk contains just 3 grams of sugars and 2 grams of fiber, yet there are 20 grams of carbs present.
The carb content seems to be intentional. After all, if you're exercising hard to gain muscle, you may need to refuel and carbs are the obvious way to do so.
Still, carbs are controversial. Many people are concerned about their health impacts, especially if you're consuming simple carbs from processed foods (which is what you're doing with Muscle Milk).
If you are trying to avoid carbs, then it would be better to look for a low carb or keto friendly brand.
Can Cause Side Effects
Some of the ingredients in Muscle Milk can cause side effects like stomach cramps and diarrhea. Thankfully, the side effects are rare, so most people are completely fine with the shakes. Even so, it's important to start slowly, so you can work out early on whether the products are fine for you.
Be particularly cautious if you have any health conditions, including kidney disease or high blood pressure. Such conditions increase the risk of issues from products like Muscle Milk.
You May Not Absorb The Nutrients
While the vitamins and minerals in Muscle Milk might sound appealing, these nutrients are just added in. So, in one sense, Muscle Milk is a little like taking a multivitamin that's also high in protein.
That mightn't sound too bad, except that multivitamins aren't actually that useful. Our bodies don't absorb all the nutrients well, partly because the nutrient and macronutrient balance is different than in real food.
Muscle Milk might be different than a multivitamin because you're at least getting some fat (which should help with the fat soluble nutrients). Even then, you'll absorb the nutrients much better if you get them as part of a balanced meal.
The Shakes Aren't Whole Food
Real food is always the best way to get your nutrients. This means a meal that you sit down and eat, one that's made from whole food ingredients and isn't heavily processed.
You don't get this with Muscle Milk at all. Instead, you're drinking something that's highly processed and contains plenty of additives. It's also missing many of the antioxidants and other compounds that you find in fruits, vegetables, legumes, and whole grains.
The fact that you're drinking Muscle Milk is an issue too. Liquids don't require the same amount of digestion as solid foods and our bodies respond to them differently. For example, we're often less satisfied after a shake than after a meal, which makes it easy to overeat.
The 'Health' Controversy
Here's a fun fact. Back in 2013, CytoSport, the company behind Muscle Milk faced a class action lawsuit because of how they marketed their products as being healthy. Many people claimed that the products weren't nearly as healthy as the marketing suggested.
In the end, CytoSport needed to remove the phrase "Healthy, Sustained Energy" from their marketing, which strongly suggests that the product isn't healthy at all. The 2013 lawsuit isn't even the only time that Muscle Milk has faced legal criticism.
Personally, even one such lawsuit is reason enough to avoid Muscle Milk. Why drink something that can't even safely call itself healthy?
What Does Muscle Milk Taste Like?
Muscle Milk products come in a variety of flavors. Chocolate and vanilla are the most common, but you'll also see cookies and cream, coffee, strawberry, banana crème, cake batter, and more.
The flavor range varies depending on the type that you want. You get plenty of selection if you want to try the company's Genuine line, but fewer flavors if you're interested in the Pro products instead.
As for taste, the shakes are pretty much what you'd expect. The chocolate version, for example, tastes much like a chocolate shake, except there's a slight chemical tone to the flavor – especially if you choose the pre-made shakes.
Many people love the flavor or, at least, find that the benefits outweigh any issues. However, you just need to glance at the negative reviews on Amazon to see that many people find the shakes disgusting instead.
Personal preference is always a huge factor in flavor, so you'll need to experiment for yourself to find out whether you like the Muscle Milk shakes or not.
Healthy Alternatives To Muscle Milk
Muscle Milk gets some things right. Their products contain a decent amount of protein and not much sugar. That's much better than many brands, like Ensure, where the sugar content tends to be high.
Still, even the 100% whey products from Muscle Milk use some additives and artificial sweeteners, making them less appealing.
The healthiest option would be to skip the prepared protein shakes altogether. Instead, why not look for a protein powder brand that doesn't rely on additives? Try to find one that uses protein and few other ingredients.
This can then be the base of your protein shake. You might keep things simple and just use the protein powder and some type of liquid. Milk, plant-based milk, or occasionally water are all viable options.
Or, you could make a protein smoothie instead. A smoothie gives you the chance to add in plenty of other delicious ingredients, ones that increase the nutrition even more.
You might even skip the protein powder entirely and use protein-packed ingredients, like nuts (or nut butter), Greek yogurt, seeds, or even tofu.
How Much Protein Do You Need?
Much of Muscle Milk's popularity comes from its protein content. This begs the question; do you actually need that much protein to begin with?
Common recommendations suggest that you need roughly 0.36 grams of protein for each pound of body weight. Other factors influence your protein needs too, so calculators like this one can help you find out a rough estimate for your needs.
For the average American, this recommendation means you should be consuming around 10% of your daily calories in the form of protein. Many of us go above this target easily.
Still, those figures focus on minimum protein intake. Some theories and research suggest that more protein is beneficial – perhaps 15% to 25% of your daily calorie intake.
So then, for some people, increasing protein take could easily promote health.
The most important thing is to think about your own needs. Look at your current protein intake and activity levels. That should help you figure out whether you need more protein.
If your protein intake is already more than adequate, adding more probably won't help at all.
For people with kidney disease, too much protein could even be harmful. Thankfully though, current evidence suggests that high protein diets are safe for healthy people.
Final Thoughts
Muscle Milk does have some advantages. The products are a fast and easy way to increase protein intake. They also keep the sugar levels low, an important approach for anyone hoping to lose weight.
The products might be particularly relevant if you exercise intensely and need something fast and easy.
Still, we can't pretend that Muscle Milk is good for you. The shakes are packed with additives, including artificial sweeteners and flavors. Even the least processed ones have more ingredients than is ideal. If you really want a protein shake, you'd get more benefits from making your own. But honestly, most of the time, it's much better to just focus on protein rich foods. Whole foods give you a better balance of nutrients, keeping you healthier than a protein shake ever could.