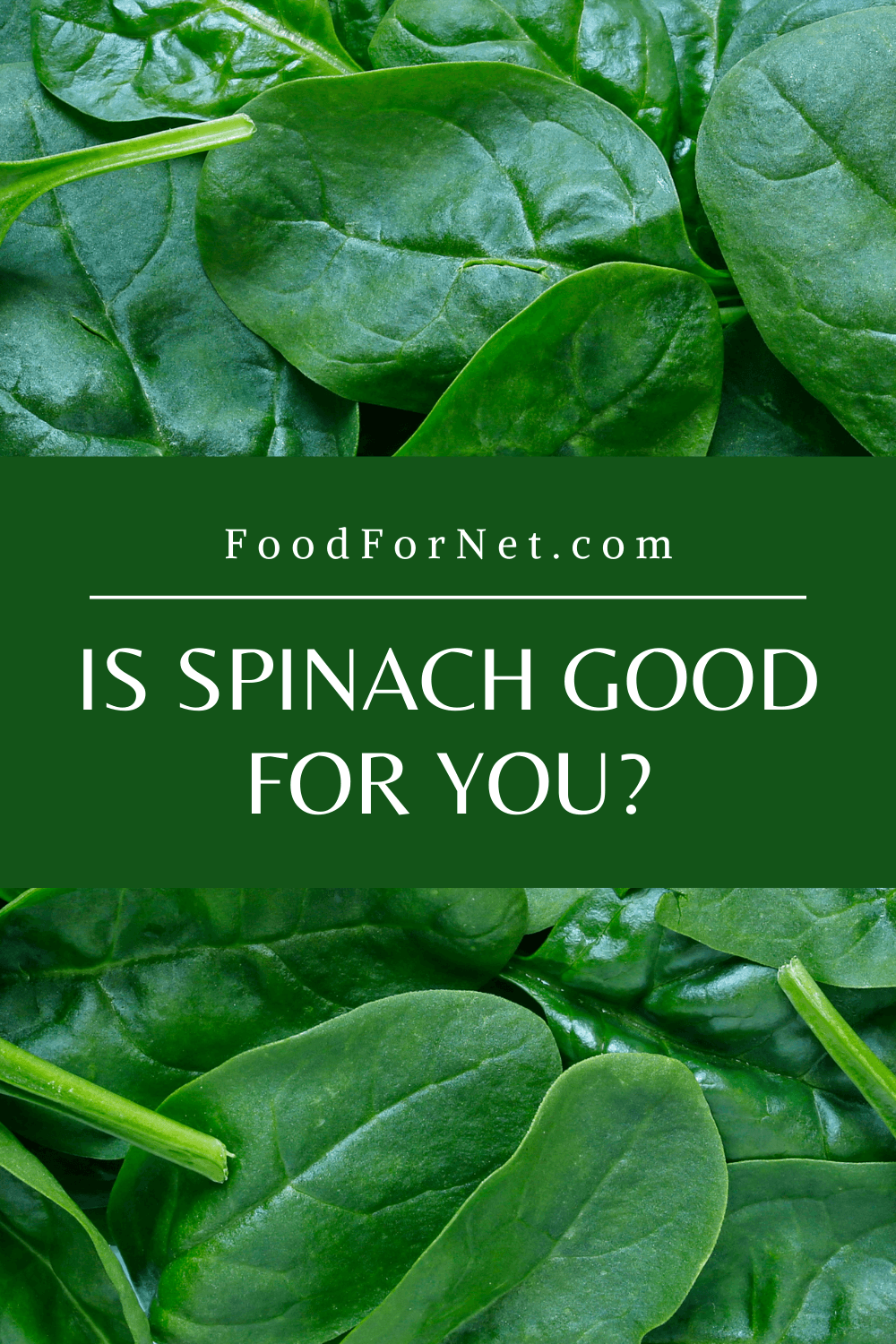 Dark leafy greens, like spinach, are often hailed as healthy nutrient-dense foods, ones that can help keep you at a healthy weight, decrease disease risk, and much more. Yet, spinach is more complex than you might imagine. That's why we must ask, is spinach good for you?
And, just as importantly, what do the positive and negative aspects of spinach mean for you? Should you cut spinach out of your diet entirely or use it in combination with other leafy greens, like kale and collard greens?
As with most foods, the answers to these questions are complex. Still, it's clear from the beginning that spinach has many positive features, like its nutrient density and low calorie content. Spinach is also much less controversial than ingredients like butter and coconut oil.
Is Spinach Good For Your Health?
The Benefits Of Spinach
The Limits And Risks Of Spinach
How To Make Spinach Less Bitter
What About Spinach Powder
Spinach Versus Other Dark Leafy Greens
The Best Ways To Use Spinach
Final Thoughts
The Benefits Of Spinach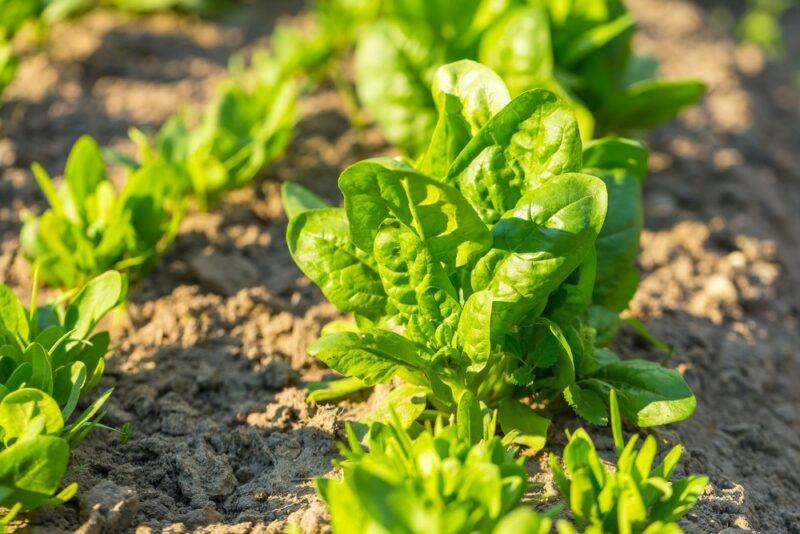 Spinach has a long-established history as a health food, so many of these benefits won't be surprising. Some of them relate to spinach itself, while others apply just as well to other types of dark leafy greens.
Low In Calories, High In Nutrients
Spinach is a nutrient-dense food. The vegetable is naturally low in calories and contains many essential nutrients. Some of the most important ones are calcium, iron, potassium, folate, vitamin A, and magnesium.
There are decent amounts of other nutrients too, like vitamin K and thiamine. There's plenty of folate too, which is particularly important for pregnant women.
All the nutrients in spinach are used throughout your body in a variety of ways.
Take iron for example. This mineral is essential for the function of red blood cells and oxygen circulation, along with DNA synthesis, energy production, and much more. While there are many iron rich foods, it's easy to be short on iron, especially if you're a woman aged between 18 and 50 or if you're following a vegan diet.
While there are some issues with iron absorption from spinach (more on that later), spinach remains a useful source of iron.
And that's just one of the many nutrients present.
Let's not forget about the calories either. There are only around 41 calories in a cup of boiled spinach. That's hardly anything, especially when you think about the amount of nutrients in that same serving size.
The combination of low calories and many nutrients makes spinach an easy way to boost your nutrient intake. It can be easily added into many meals or served as a side dish, so why not take full advantage of it?
Fiber
Fiber is a macronutrient and is crucial for health. It's perhaps most famous for helping to relieve constipation and keep you regular.
This happens because fiber is often insoluble and insoluble fiber isn't digested by our body. Instead, the fiber helps to bulk out our stools, helping our body to easily move them through.
Of course, fiber has other important roles too. It helps to improve your bowel health, to keep your weight in check, and to stabilize blood sugar levels.
The blood sugar stabilizing effects makes high fiber foods crucial for people with diabetes. Indeed, leafy greens may be a powerful diabetes management tool, as they're not just high in fiber, but are low in calories and sugar too.
Keto Friendly
Like most dark leafy greens, spinach is a decent source of fiber, but doesn't contain many digestible carbs at all. In fact, you only get around 1 net gram of carbs in 100 grams of uncooked spinach. This makes spinach lower in carbs than most other vegetables, including lettuce, cabbage, and kale.
As such, spinach is perfect on a keto diet. It's just as powerful for any other situation where you need to limit your carb intake.
Antioxidants And Phytonutrients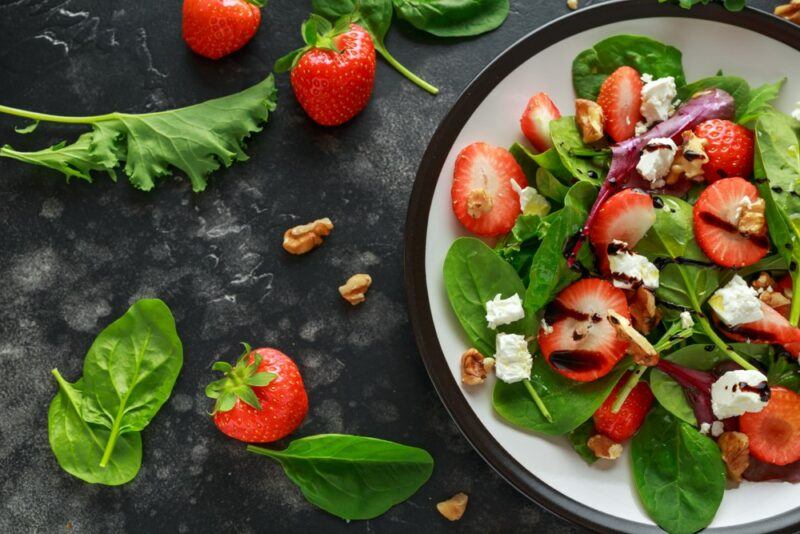 There are plenty of antioxidants present in spinach as well, including decent amounts of lutein. Like many antioxidants, lutein is a pigment molecule. It's often found in yellow and orange foods, but some dark leafy greens contain the molecule too.
Lutein often occurs with another pigment molecule called zeaxanthin. Both may help to improve your eye health and protect you against a type of macular disease that can lead to blindness.
Lutein is just one example. There are many other antioxidants and phytochemicals in spinach as well. These have a variety of positive effects throughout your body.
Decreases Inflammation
Lutein has anti-inflammatory effects too, as do some of the other plant-based compounds that are present. This ability isn't to be underestimated. While inflammation has some important roles in our bodies, chronic inflammation has been linked to many health problems.
Such inflammation may increase the risk of a variety of diseases. In fact, most diseases are thought to have some inflammatory component. This even includes mental health conditions, like depression.
There are two main ways to fight inflammation in your diet. One is to focus on anti-inflammatory foods like spinach, tart cherries, and berries. The other is to cut down on pro-inflammatory foods, including foods that contain sugar, vegetable oils, trans fats, high fructose corn syrup, and processed meats.
Can Help You Lose Weight
Not surprisingly, spinach is an excellent weight loss food. The low calorie content means that you can easily boost your nutrient intake with spinach, without worrying about your waistline.
The fiber in spinach helps too, as this helps to bulk out your meals. You'll generally feel more satisfied from a high fiber meal than from one that's low in fiber.
Plus, spinach works well with many weight loss meals anyway. Why not use it in an omelet or even instead of lettuce in a sandwich? I've even seen some people use spinach leaves as a bread alternative, especially when they're trying to cut down on carbs.
May Promote Brain Health
The nutrients in spinach mean that the leafy green can promote health in a variety of ways. While we're not going to focus on all of those, brain health is far too important to miss.
For one thing, dark leafy green consumption has been linked to less age-related memory loss. The nutrients could also help with cognition while decreasing the risk of both anxiety and depression.
Besides, there's no denying that your brain functions better when you give it all the nutrients that it needs. Spinach is a powerful tool for doing just that.
It's Familiar
Spinach is one of the most well-known dark leafy greens. It's the one that many people grew up eating and cooking. Even if spinach seems a little boring at times, its familiarity is a serious advantage. This means you already have some idea about how to use spinach and the different dishes that it works well with.
The long popularity of spinach also means that it's easy to find and is often inexpensive. It should be stocked at every grocery store and most vegetable stands.
Interestingly, spinach can also be an inexpensive source of iron. The iron it offers might not be as absorbable as the type you find in red meat, but you're getting a decent amount from spinach for a low price. Plus, as a plant-based food, spinach is an excellent choice for vegetarians and vegans.
The Limits And Risks Of Spinach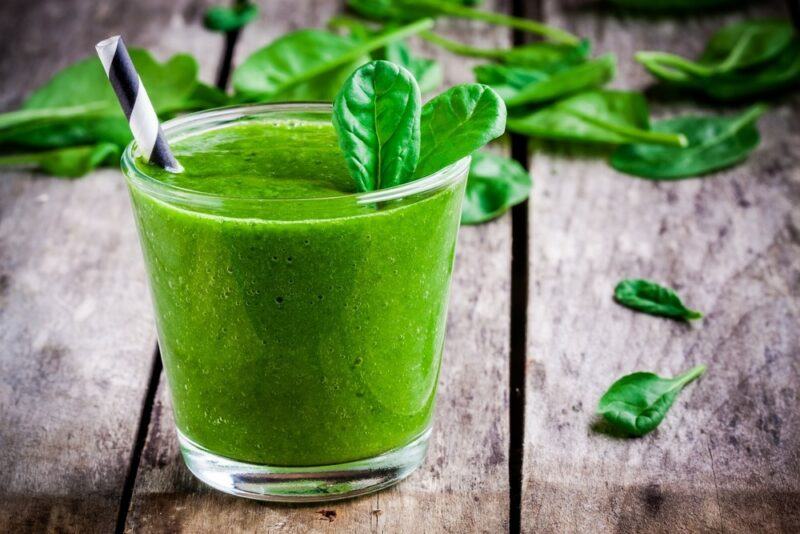 With so many benefits, spinach is an excellent addition to your diet. Still, it's important to tread carefully. Spinach also has some key issues that influence the amount you should be eating.
It's High In Oxalates
Oxalates are natural compounds that bind to some minerals and can cause undesirable effects in your body. Part of the problem is that unbound oxalates can crystalize, which may lead to kidney stones. The chances of kidney stones are higher if you're dehydrated, although you can still get them even if you drink plenty of water.
This is something to take seriously, as kidney stones are extremely painful.
The oxalates may have other negative impacts too. Some theories link them to a variety of health problems, including joint pain, fibromyalgia, and chronic fatigue. There isn't strong evidence for such effects, but if you have chronic pain, it might be worth cutting down on oxalate rich foods for a while. Then you can see whether there's any effect on your pain.
Spinach is crucial here, as the oxalate content is exceptionally high, more so than most other foods. You can decrease the oxalates by cooking spinach, but the amount that remains is decent.
So, if you're at risk for kidney stones or are worried about chronic pain, it might be best to cut spinach out of your diet entirely. Focus on other dark leafy greens instead. Most of these have similar benefits to spinach and contain far fewer oxalates.
Some Nutrients Are Hard To Absorb
While spinach is packed with nutrients, some of these are difficult to absorb. The calcium, for example, is in the least bioavailable form for that mineral. This means you'll get much more calcium from milk than you'll ever get from spinach.
The oxalates in spinach are relevant here too. They bind to some minerals, limiting the body's ability to absorb those minerals. This can be a serious issue if your diet is high in oxalates. Following such a diet for months or longer could even lead to a nutrient deficiency.
Purines
Spinach is also high in purines, compounds that can contribute to uric acid buildup and may lead to gout. If you're keeping your purine intake low, then you might need to skip spinach entirely.
There is some good news though. Despite the high purine content, spinach doesn't appear to increase gout risk. This could be because purines from plants are processed differently than those from animals. The fiber in spinach may be helpful as well.
Can Interfere With Some Medication
While the vitamin K in spinach is important for many functions in your body, it can also be a problem for anyone using a blood thinner like warfarin. This type of medication is designed to decrease blood clotting, while vitamin K helps your blood to clot.
If your vitamin K intake is high, then the warfarin is less effective, to the point that it might not be able to protect you from blood clots. This effect means that if you're taking any blood thinning medication, you need to be aware of your vitamin K intake.
You don't need to avoid vitamin K rich foods like spinach because of the interaction with blood thinners. After all, vitamin K still plays many important roles in the body.
Instead, it's important to keep your vitamin K intake consistent. This way your medication dose can be adjusted so that it works well with your current vitamin K intake.
How To Make Spinach Less Bitter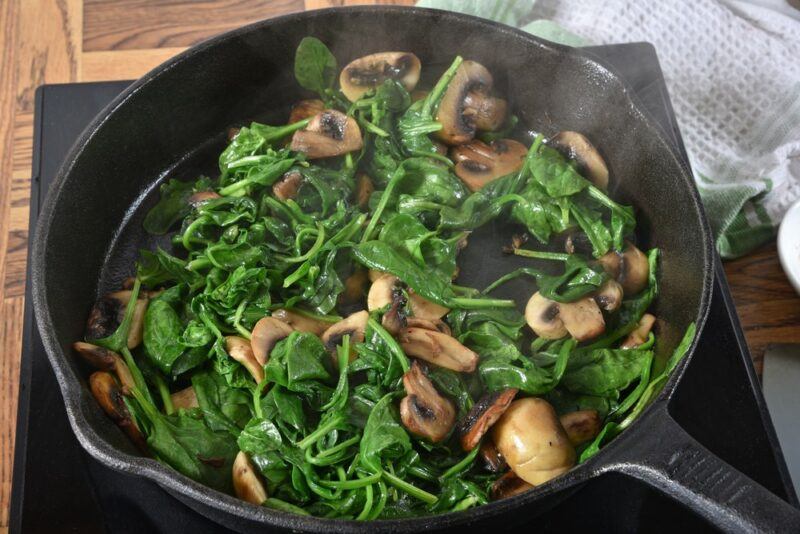 While spinach is enjoyed by many, plenty of others find that the vegetable is too bitter and doesn't taste good at all. Thankfully, some of this bitterness decreases when you cook spinach.
When doing so, try to avoid overcooking the spinach. The bitterness comes back again when the spinach has been cooked for too long.
Reheating spinach can be a problem too, as you're basically cooking it for longer, which increases the bitterness again. If you do have leftover cooked spinach, it is best eaten cold or at room temperature.
The type of spinach matters too. Baby spinach has a slightly sweet flavor and less bitterness, making it a better choice.
Seasoning can help as well. Try using citrus juice and perhaps some zest. The brightness of citrus easily offsets any bitterness.
Finally, if none of these tricks are enough to make spinach palatable, try including the leafy green in a dish that has strong flavors. For example, adding layers of cooked spinach into lasagna works well. You might not even notice the spinach when you're eating it.
What About Spinach Powder?
Spinach powder is simply spinach that has been dried and ground into a powder. The best products only contain raw spinach, with no fillers and additives. You can even make the powder at home yourself.
Because we're simply talking about dried spinach, the benefits and challenges are the same for spinach powder as for regular spinach.
One difference is that the powder is more concentrated. You need a smaller serving to get the same amount of nutrients as fresh spinach. It's also very easy to add spinach powder into a meal or a protein shake.
Of course, the oxalates and purines are more concentrated too, so you'll need to pay close attention to your serving size.
Spinach Versus Other Dark Leafy Greens
Many of the benefits we've talked about aren't exclusive to spinach. You'll often find them in other dark leafy greens too, like kale, Swiss chard, collard greens, and many more.
All of these vegetables tend to be low in calories, with a decent amount of nutrients, fiber, and antioxidants.
It's impossible to pick out a single type of dark leafy green and say that it's the healthiest. Just like spinach, each of them has a collection of pros and cons.
For example, spinach is notable for its vitamin K, vitamin A, and folate content, while kale contains even more of these nutrients and a surprising amount of vitamin C too. Of course, kale is often more expensive than spinach and has a distinctive flavor that can be difficult to include in some recipes.
The Best Ways To Use Spinach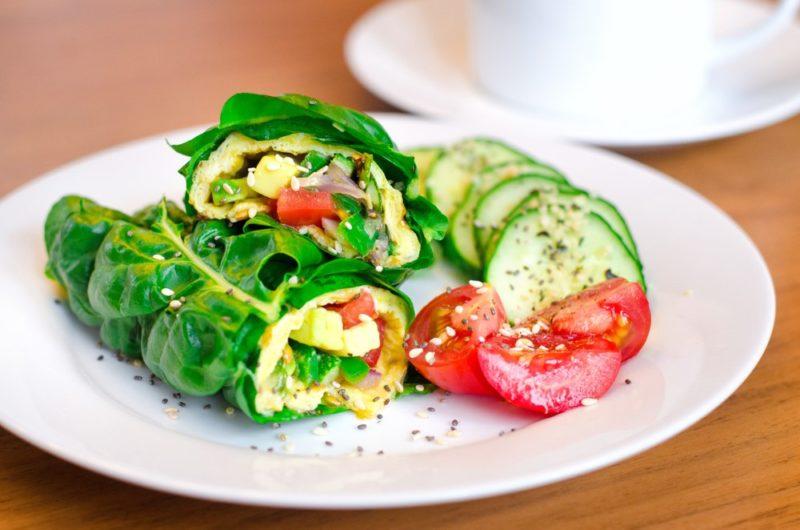 Spinach definitely has its pros and cons. Still, unless you're susceptible to kidney stones, you should be able to eat spinach regularly. The following approaches help you to get the most benefits from spinach.
Variety Makes All The Difference
The best approach may be to include a variety of dark leafy greens in your diet, like kale, spinach, Swiss chard, mustard greens, bok choy, and collard greens. While these greens have many similarities, there are also notable differences in their nutrient balance, antioxidants, and more.
Having a variety of greens in your diet like this means you're not getting an excessive amount of any one type. If you do so, it should be easy to avoid eating too much spinach.
Cook Your Spinach
The oxalate content tends to be higher when spinach is raw. Simply boiling or sautéing the spinach for a little while should decrease the oxalate content.
In fact, boiling spinach could decrease the oxalates by as much as 87%. How's that for impressive? So, focusing on cooked spinach rather than raw spinach can make a huge difference.
Serve It With Calcium-Based Foods
Eating calcium-rich food or drinking milk with your spinach may decrease the risk of kidney stones because the calcium can bind to the oxalates. This effect of calcium isn't as strong with spinach itself because the calcium in spinach isn't readily bioavailable.
Final Thoughts
While spinach has a surprising number of issues, it's still a healthy vegetable. Unless you're susceptible to kidney stones, you should still be able to eat spinach regularly – and doing so makes sense, as the dark leafy green is familiar, easy-to-find, and offers plenty of nutrients.
The most important thing is to simply be aware of the negative side to spinach, including the oxalate content. This way you can keep your portions in check. Supplement your diet with a variety of other leafy greens too and you're certain to do well.
Frequently Asked Questions
Does Spinach Cause Gas?
Spinach isn't as strongly associated with gas as cruciferous vegetables like cabbage. However, it can still cause gas due to the fiber, especially if you're eating large amounts of the spinach or are having it raw instead of cooked.
If you do experience gas, try cutting down your spinach intake or cooking the spinach rather than having it raw. If this isn't enough, you might need to find vegetables that don't cause gas.
How Much Spinach Is Too Much?
It's best to stick to around 2 to 4 cups of raw spinach (or 1 to 2 cups of cooked spinach) per day. You might even choose to keep it lower than this.
The biggest issue is the oxalate levels, which are higher than in most other foods. Oxalate are most strongly associated with an increased risk of kidney stones, but they can cause harm in other ways too and could even kill you if you consume excessive amounts regularly.
Is Spinach Keto?
Yes. Leafy greens like spinach are excellent for keto, as they're very low in carbs and are easy to use. The fiber in spinach is particularly important. After all, your body needs fiber to stay healthy and it's easy to get insufficient amounts when you're following a keto diet.
Is Spinach Low FODMAP?
A serving of 1.5 cups of raw spinach is considered low FODMAP. Higher servings than this fall into the moderate FODMAP category due to their fructan content.
The exact amount varies a little depending on the type of spinach you choose and your own natural tolerance. Because of this, you may need to experiment to find the right amount of spinach for your needs.
Is Spinach Good For Diabetics?
Dark leafy greens are always exceptional for diabetics, partly because they're low in sugar. They have minimal blood sugar impact and also provide plenty of nutrients to keep you healthy.