Food coloring is a popular way to tweak the way our food looks. Even just a little is enough to make a dish more appetizing. This is why large companies rely so heavily on both artificial and natural food coloring.
You can easily spot the pattern when you look at product labels. Many will use the term natural flavors. They're not obliged to provide any more information than that, so most of them don't.
This is a shame, as natural coloring isn't always as natural as you might think. Just like with natural sweeteners like stevia, the term natural simply means that the ingredient was originally derived from nature. So, at some point or another, the base pigment was probably in a plant.
What happens next can vary dramatically. Many natural colors are extracted using chemical techniques, ones that give companies the pigment with few of the other compounds from the food. There may be additional chemical steps along the way – giving you a product that isn't as natural as you might expect.
In this post, we're taking a close look at the underlying colors, along with where you can find them. You'll often be able to create the same colors in your food in a much more natural way by using juice from the appropriate fruit or vegetable.
Natural Food Coloring Pigments
Anthocyanins
Betanin
Chlorophyllins
Carminic Acid
Carotenoids
Curcumin
Riboflavin
Anthocyanins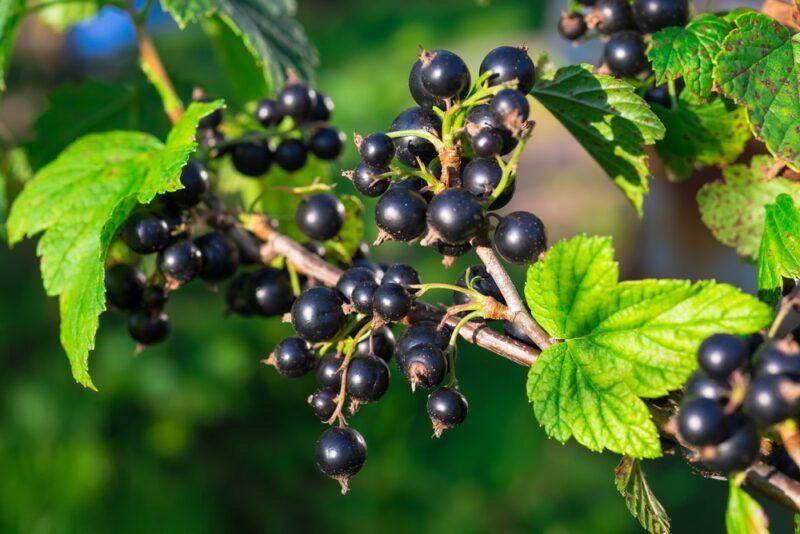 Color: Red/Blue
Naturally Occurs In: Black grapes, black currants, cherries, and red cabbage, along with many other similarly colored fruits and vegetables
Like many natural pigment molecules, anthocyanins have significant antioxidant activity. Because of this, they may help protect you from free radical damage and perhaps decrease the risk of some diseases.
In fact, anthocyanins are the reason that many red, blue, and purple fruits and vegetables are so important for your health. Blueberries, for example, are a rich source of anthocyanins.
An interesting feature is that anthocyanins are sensitive to pH. They tend to be red when the pH is acidic and move towards blue as the pH becomes more alkaline instead.
Betanin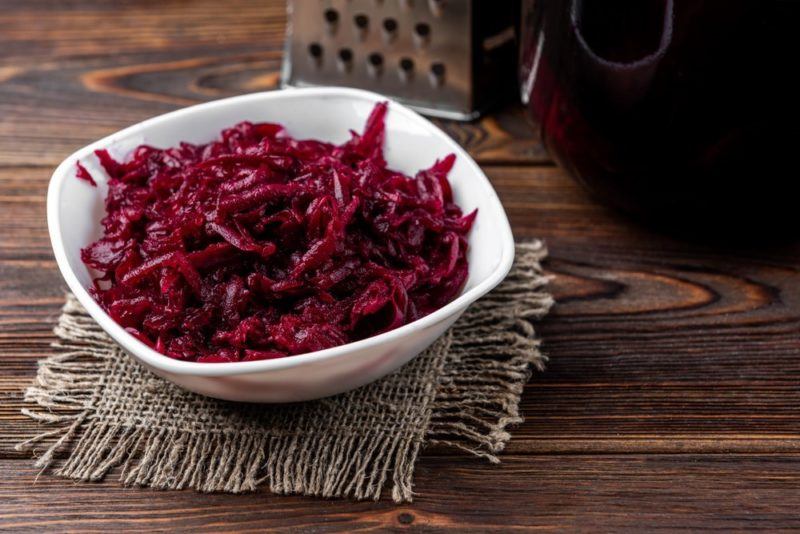 Color: Red/Pink
Naturally Occurs In: Beetroot
Beetroot is interesting, as much of the vegetable's red coloring doesn't come from anthocyanins, but from betanin instead.
Betanin can be a little tricky, as the color is water soluble and isn't very stable. It can be easily destabilized by oxygen, heat, or light, making it a poor choice for some situations. Nevertheless, some commercial products do use compounds from beets for coloring, including ice cream.
Beets are often used by home cooks as well to create a natural red coloring. Just adding between 1/2 a teaspoon and a teaspoon of beet juice is enough to impart color to your food.
You can even replace red food coloring with beet juice, but the color isn't quite the same. In particular, beet juice as a slightly purplish tone and isn't as vibrant as red food dye.
Also, be aware that beet juice has its limits. Red velvet cake, for example, is difficult to make with beet juice because the juice interacts with some of the other ingredients in the recipe. This is one time where you may need to use an artificial color (or find a different type of cake to make).
Chlorophyllins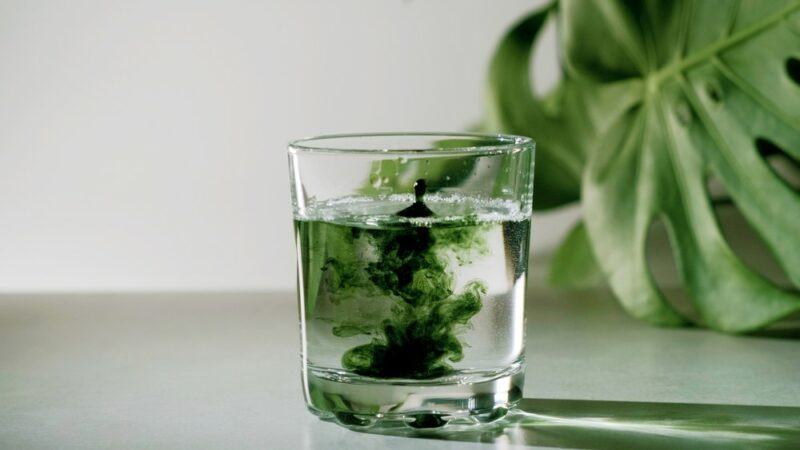 Color: Green
Naturally Occurs In: Green plants, including spinach, parsley, and alfalfa grass
Chlorophyll is easily the most common plant pigment, found in green leafy vegetables and countless other places. It's not surprising then, that the pigment can be used to create color in food as well.
The term chlorophyllin is often used here, which is a chemical that's made from chlorophyll. It's sometimes used as a type of medicine, while its color makes it relevant for food as well.
While companies often rely on chlorophillins for a natural green color, you can take a simpler approach by juicing greens and using this juice to provide a green color to dishes and recipes. You don't need much. Just a teaspoon or two of the juice should be enough to provide your dish with a green tint.
Don't be afraid to mix things up either. Juices that rely just on dark leafy greens can be intense. Why not change things up a little by adding some light colored fruit juice too? Apple juice or grape juice is an easy way to make the juice a little sweeter without changing the color much.
Carminic Acid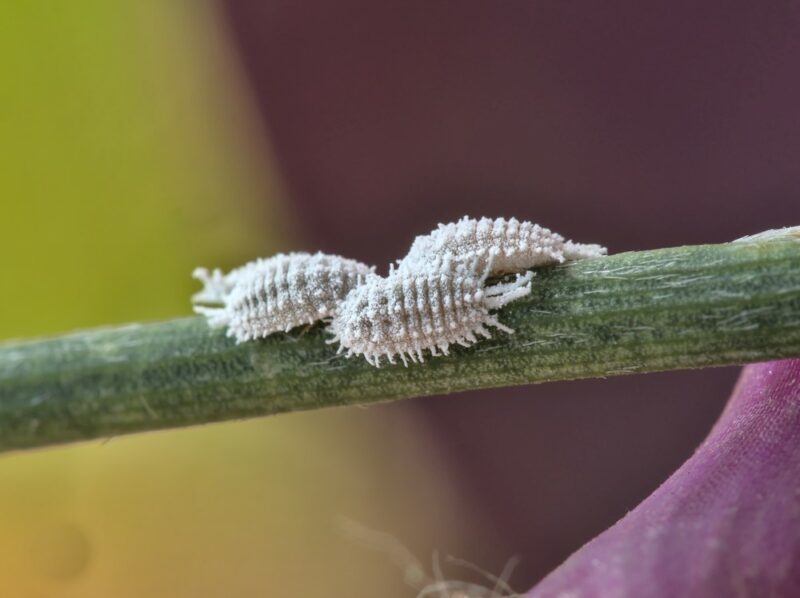 Color: Red
Naturally Occurs In: Scale insects, including the cochineal insect
This natural food color is decidedly less appealing, as it comes from cochineal insects. It's another water soluble pigment, but unlike betanin, carminic acid tends to be stable.
The stability means that you'll often see carminic acid used in commercial products, including processed meat and alcohol.
Not surprisingly, this isn't a natural food dye that you're likely to use at home.
Carotenoids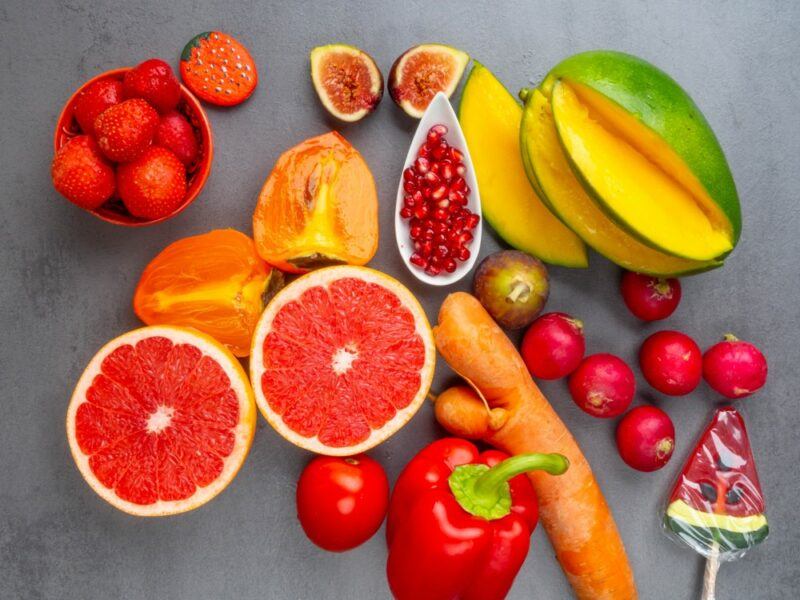 Color: Orange, Yellow, Red
Naturally Occurs In: Carrots, oranges, prawns, red peppers, saffron
Carrots are well-known for their carotenoid content, but they're far from the only source of carotenoids. That's not all. There are also more than 400 different types of carotenoids that contribute to the red, yellow, and orange colors of plants,
Carotenoids are useful for food dyes, as they're heat-stable and aren't altered by changes in pH. This is why you'll see them used in a variety of products, including soft drinks and margarine.
Curcumin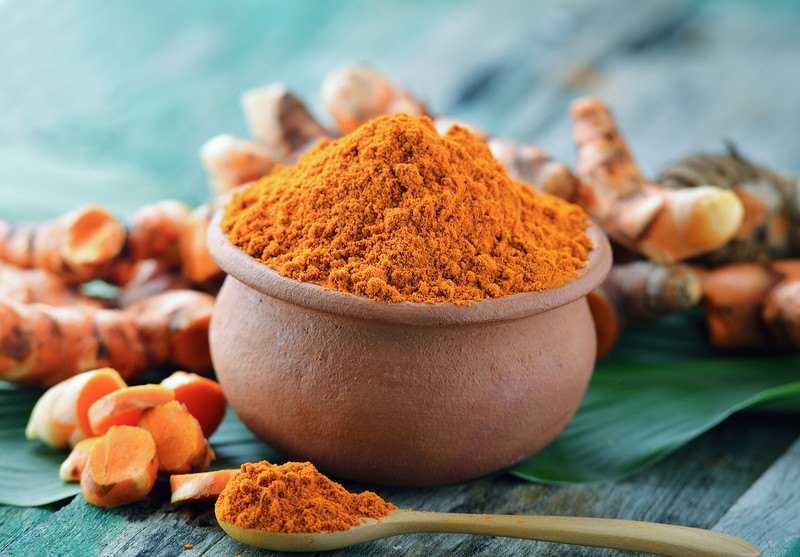 Color: Yellow/orange
Naturally Occurs In: Turmeric
Curcumin is the pigment molecule that gives turmeric its bright color. It may also be the reason for many of turmeric's health benefits.
Turmeric is an easy way to impart a yellow color to soups and stews. It's often combined with other spices to create a rich flavor and color in many curries.
Some companies use turmeric to provide color, including some candy and soups. However, turmeric does have a distinct flavor, so it's not suitable in all situations.
Riboflavin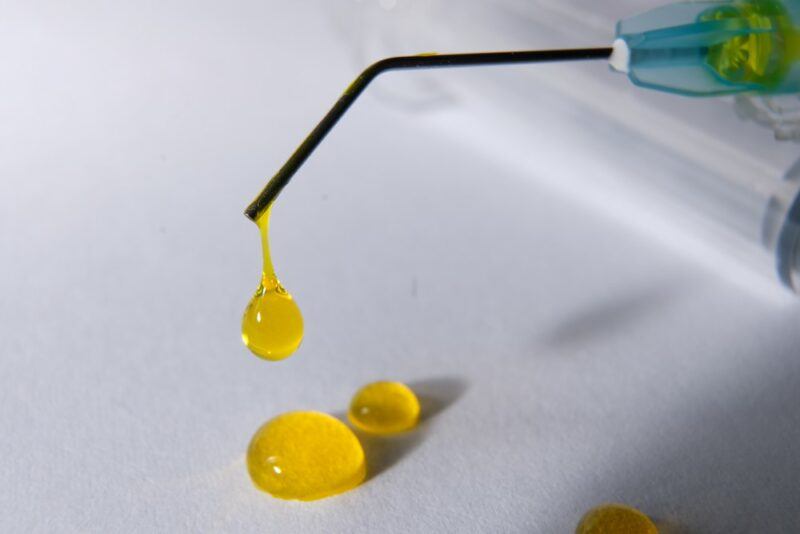 Color: Yellow
Naturally Occurs In: Yeast, eggs, milk
Riboflavin is another name for vitamin B2 and is more well-known as a nutrient than as a source of color. Nevertheless, riboflavin is bright yellow, so it's sometimes used for color as well.
For example, some dairy products, cheese, and baked foods may be colored with riboflavin, along with mayonnaise and some types of confectionary.
How To Make Specific Colors
The previous section covered the main types of natural food colors, so now let's look at how you can color your food at home. After all, there are multiple choices for each color and some ingredients are much more practical at home than others.
Pink Or Red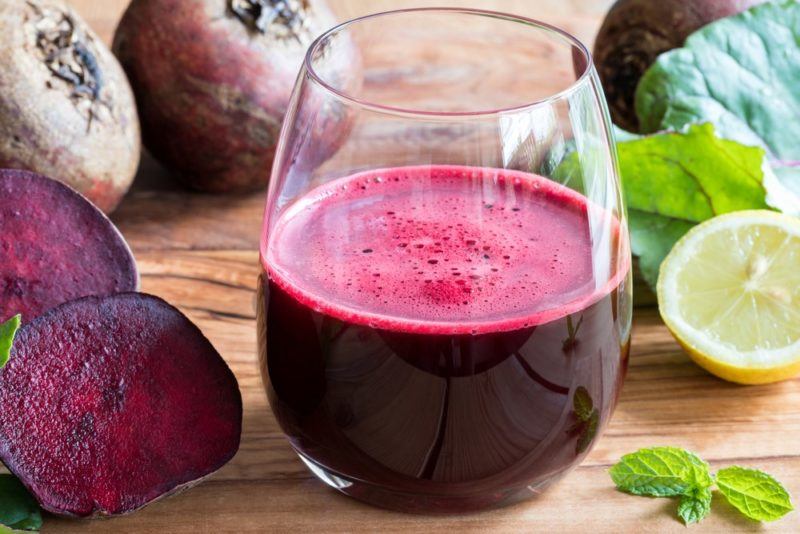 Beet juice is the easiest choice here. You can often buy the juice at a store and use it directly in your recipes. Just make sure that you're getting pure beet juice, not a product with additives.
Making the juice at home isn't difficult either. You don't even need to cook your beets first. Instead, you can simply run them through a juicer raw. If you don't have a juicer on hand then blend them in a food processor until everything is smooth, then strain the resulting mixture.
Or, for an even easier option, try using the juice that comes from canned beets. You'll normally just need a teaspoon or two of the juice to provide a pink color.
Don't forget about beet powder either. You can sometimes find this in health food stores. It's an excellent way to add color to your dish without any extra liquid.
Pomegranate juice is a simple approach too or you can pulverize some raspberries and strain the resulting liquid, then use that. However, juices from red fruits can easily change the flavor of your recipe, so they'll only be suitable in some situations.
Yellow Or Orange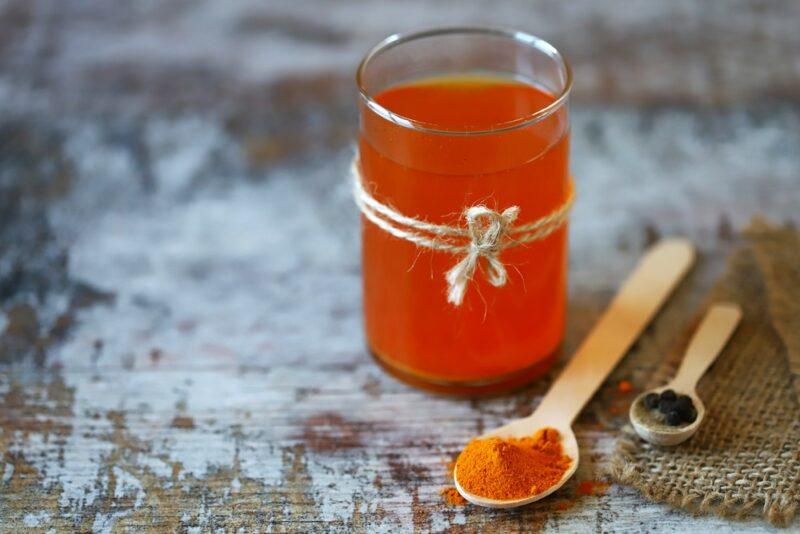 Turmeric is one of the easiest options for yellow. You just need to boil the turmeric with water for up to five minutes, then allow the mixture to completely cool.
Start off with roughly a teaspoon of the mixture in your recipes and go from there. A teaspoon will often be enough to provide a yellow color without too much extra flavor.
You will, however, need to be careful. Turmeric famously stains almost everything it comes into contact with, including the container you're using and your fingers.
If you can find them, golden beets are another good choice for yellow coloring. These can be blended and the resulting juice strained in just the same way as with regular red beets.
For a more orangey version, try using carrot juice instead.
Blue Or Purple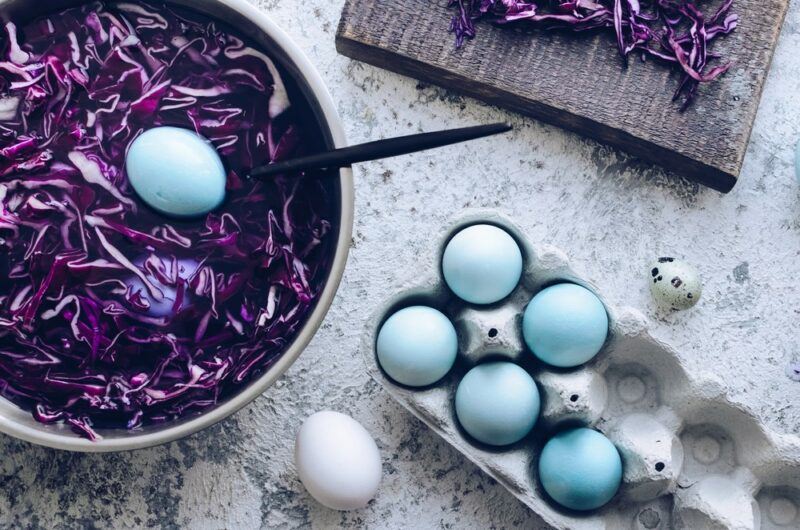 While there are plenty of naturally blue and purple foods, making the colors at home is quite difficult (even the creators of artificial food dyes struggle in this area).
One approach is to simmer a red cabbage in a pot with water for 10 minutes or so. This will give you a purple liquid that you can use as-is. Adding a little baking soda will change the color from purple to blue, but you'll need to be cautious, as the baking soda will change the flavor of the liquid as well.
Other options include concentrated purple grape juice and blueberry juice. Both of these are easy to find and use, but are more likely to be purple than blue. They may also influence the flavor of your food more than you might want.
Green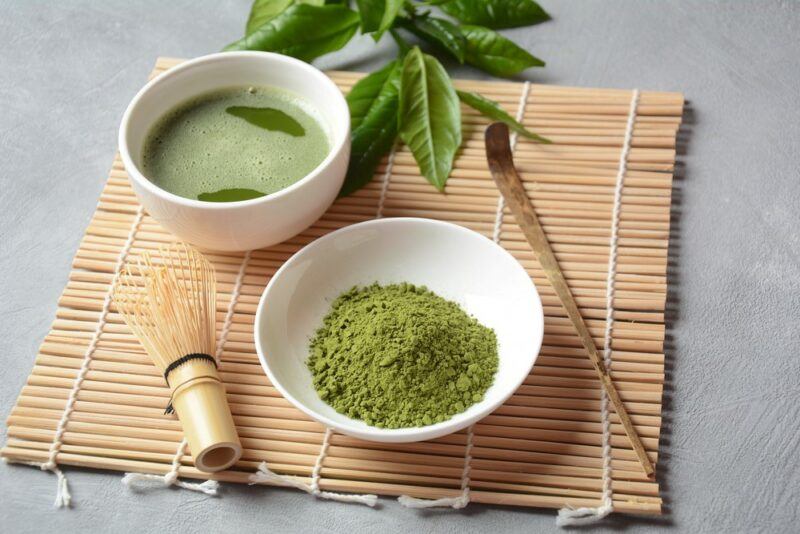 Juicing spinach is an excellent way to add green to your dish. Sometimes you don't even need to juice it. Just tearing the leaves a little and including them in your recipe could be enough.
Spirulina powder and matcha powder are other simple ways to get a green color. While these both have distinct flavors, they work well with some recipes. Plus, unlike spinach, the powders tend to last a while on the shelf, so you don't need to worry about using them quickly.
Natural Colors Vs Artificial Colors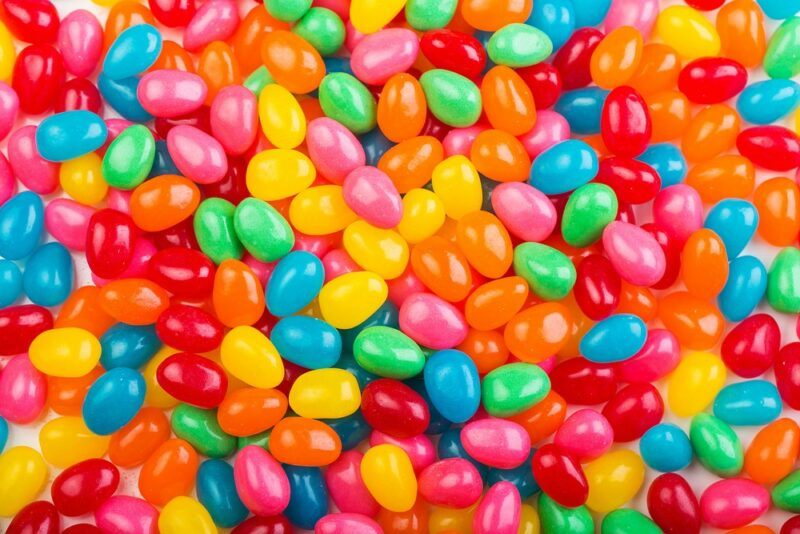 Because natural colors come from plants and other natural sources, customers often prefer them to synthetic colors. Natural options are often seen to be less risky and better for health.
There are a variety of concerns about artificial food dyes, including the potential for some colors to increase the risk of cancer, lead to hyperactivity in children, cause hypersensitivity, and more.
Adding to this concern is the fact that food dyes are used so often. Thousands of different foods rely heavily on artificial coloring to make them look bright and appealing.
This means that anyone who relies on processed food might end up consuming large amounts of artificial colors. Just think about all the brightly colored breakfast cereals out there or products like Gatorade and Powerade that are so vibrantly colored that they look almost neon.
Despite the concerns, many companies still heavily rely on artificial colors. This is partly because the colors are inexpensive ways to make food look good. Natural colors cost more and don't produce the same vibrant and consistent colors.
There's also the fact that the artificial colors being used are still considered to be safe. Research has yet to prove any negative effects and it might be that just a small fraction of the population experiences any issues. Even so, choosing natural colors whenever possible seems a much safer choice.
Or, better yet, why not skip coloring altogether? You can still make food look good without relying on food colors – natural or artificial.