Mulberries are similar to blackberries in appearance but come with a good balance of sweet and tart. They can be enjoyed alone, either fresh or dry. They also make great additions to smoothies, smoothie bowls, trail mixes, and other sweet, healthy snacks.
In addition to being versatile, they're also healthy. They make great weight-loss food as one cup only has 43 calories and is more than 80 percent water. They also contain a good amount of fiber, vitamin C, iron, vitamin K1, potassium, and vitamin E. These various nutrients offer many benefits like healthy skin, bone health, lower blood pressure, reduced risk of heart disease, and protection against oxidative damage.
Mulberries can also help lower cholesterol, help control blood sugar levels, and reduce the risk of various forms of cancer.
If you order fresh mulberries you may want to see if you can have the leaves included as they offer their own array of uses and health benefits. Some countries are in the habit of cooking and eating the leaves as well as using them for herbal teas and healing tinctures.
When consumed in any way, the leaves can help lower blood sugar and insulin, making them a great dietary staple for anyone who struggles with diabetes. They can also support heart health by reducing cholesterol and blood pressure while decreasing inflammation and plaque build-up in the arteries.
Some preliminary studies have also shown they may have the potential to support liver health, improve skin-tone, and aid in weight-loss by increasing the body's fat-burning capacity. Much of the information available on mulberry leaves have not been studied as extensively as the fruit itself, however, there is plenty of anecdotal evidence and animal tests. This includes the historical use of the leaves for health and healing by many different cultures.
Due to how fast they can go bad, you won't often find them in grocery stores. It's often best to buy fresh mulberries online. This also helps you verify where they're coming from and it's the best way to get them as fresh as possible.
You can look for other fresh fruit at the same time, like cranberries and strawberries. Or, why not try a fruit of the month club?
Where to Buy Fresh Mulberries Online
Viva Pura
Persian Basket
Prana Snacks
Buy Whole Foods Online
1. Viva Pura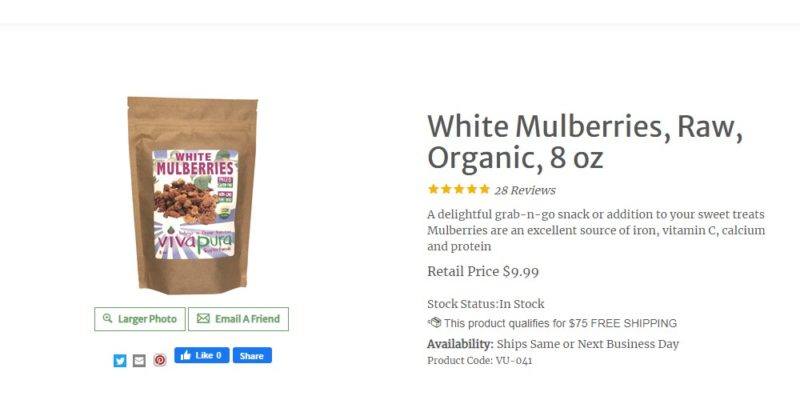 Viva Pura is passionate about superfoods and how they can improve your health and your life overall. They search for and acquire superfoods from all over the world, in many different forms, and deliver them right to your door.
Whether it's in the form of butter, powder, a supplement, or the whole food itself, they ensure that their products are easy to work with and make a simple, seamless addition to your current routine and lifestyle. Ther products include things like maca, bee pollen, spirulina, hemp, nuts, honey, dried fruit, fresh fruit, and more. Everything they offer is organic.
Their white mulberries are available raw and on their own, or they are also included in one of their trail mix blends.
Shipping is available to the continental United States only. Their products are available to retail customers, or you can put in a request for a wholesale purchase. Wholesale purchasing is for businesses only and you must provide a license.
2. Persian Basket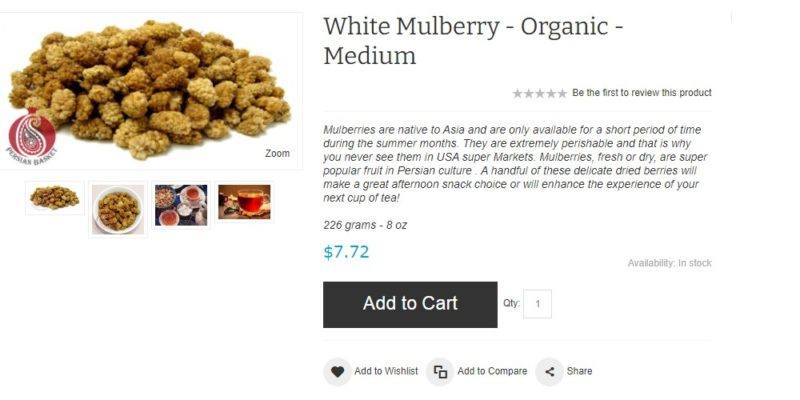 Persian Basket is run by people who are passionate about Persian culture – including the cuisine and all other aspects. They work hard to offer as many things as they can, striving to preserve and maintain the Persian culture they love so much. They believe that their customers should be able to access the foods and ingredients they need without having to search far and wide or drive many miles.
In terms of food, they carry a huge assortment of Persian delicacies, including foods and ingredients you may not be able to get anywhere else – at least not so conveniently. This includes everything from fresh fruit and special sauces to imported varieties of rice and lots of sweets, treats, and desserts. If you're looking for help or inspiration they also have a recipe section where you can get some guidance and ideas.
Among their selection of fruit is white mulberries. In addition to offering them both fresh and dried, they also have a special white mulberry jam that's perfect for those who love the taste of mulberries and want to spread the berries on everything.
For those that really want to immerse themselves in Persian culture, they don't stop at food. They have a great selection of artwork, decorations, and other Persian trinkets and items. They also collect and sell books ranging from true stories to historical anecdotes and fictional pieces.
They also have a huge selection of Persian made kitchenware, such as teacups, kettles, serving accessories, skewers, rice cookers, and much more. They ship everything throughout the United States and Canada.
3. Prana Snacks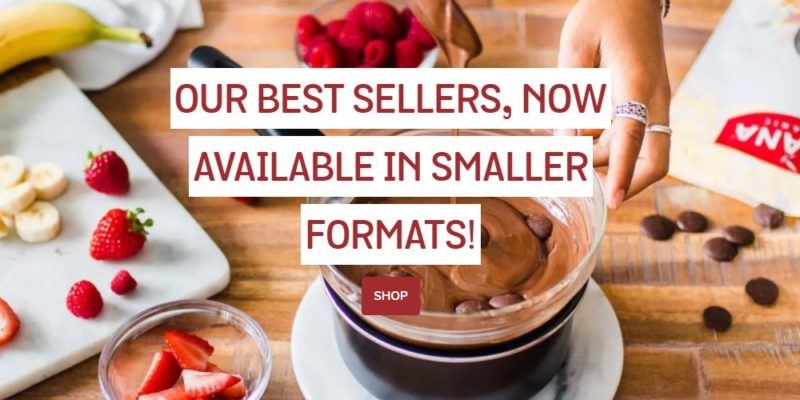 Prana Snacks is a Canadian company run by a couple who are passionate about two things – healthy living and snacks. They decided to bring these two things together and help their customers find the perfect balance between snacks and health.
Many diets and methods will tell you that you must give up snacking entirely. While the idea can be effective for a short time, it comes from the fact that snacks are notoriously unhealthy and overprocessed. Prana Snacks has set out to change this. They began in 2005 where they sold through word of mouth and small farmer's markets only.
Today, they offer a huge, versatile line of healthy, delicious snacks that ship throughout all of Canada and the continental United States. Through hard work and dedication, they also earned their B Corp certification in 2015, which recognizes businesses that have a positive impact on their workers, customers, community, and the environment. This means that by purchasing from Prana Snacks you're not only supporting your own healthy lifestyle but you're buying from a company that truly cares.
Their selection of pre-made snacks includes things like chocolate bark, crunchy bites, trail mixes, smoked or roasted nuts, sesame squares, coconut chips, organic chocolate, and super healthy fruits like mangoes and mulberries.
If you're keen on making your own snacks, they also sell bare, organic ingredients like nuts, nut butters, dried fruits, seeds, grains, coconut, and more.
Their comprehensive blog contains a wealth of information about health, wellness, fitness, comfort, and related topics. They also have a ton of recipes posted to the website, including some for all areas of life such as entrees, desserts, drinks, smoothies, salads, snacks, and more.
4. Buy Whole Foods Online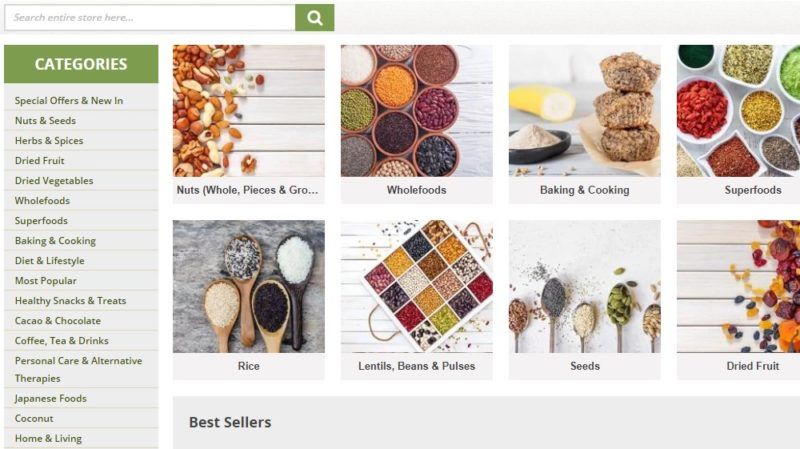 Buy Whole Foods Online has always been a family business, run by cousins who decided to work together to create the ultimate resource for whole healthy foods. It all started with minimal resources and a shed in the backyard. Today, it's become an empire. They are based in the UK but offer to ship to many different countries around the world.
Their selection includes everything from fruits, vegetables, nuts, seeds, and superfoods to drinks, treats, and baking/cooking ingredients. They are one of just a few places that offer fresh black mulberries for sale.
Black mulberries taste different than white, offering a sweet taste full of caramel and earthy tones with a chewy texture. They go well with nuts, seeds, cakes, or other fruit. They also make a great dessert. They also offer dried mulberries for those who prefer them prepared this way. For those who want an even sweeter treat, they have chocolate-covered mulberries as well.
In addition to food, they also offer a selection of home and living items as well as aromatherapy, alternative therapies, and personal care items. This includes things like herbs, supplements, loose tea, herbs, haircare, skincare, toiletries, and more.
Things to Consider When Buying Fresh Mulberries Online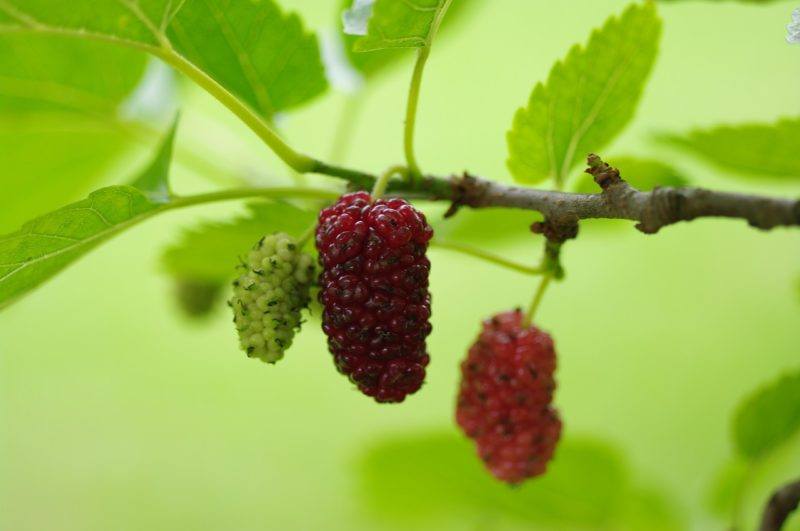 Mulberries are a unique fruit that is often hard to find. You won't often find them in stores due to how fast they go bad, so your best bet is to buy fresh mulberries online. There are a few things you should think about before you make your purchase, however:
Availability
Mulberries have a pretty short peak season and the trees tend to have a shorter lifespan than most. This means that supplies are often limited and stores will sell out fast. If you're intent on getting fresh mulberries, it's important that you watch closely for when they go on sale.
If you miss out, finding dried mulberries tends to be easier.
Your Intended Use
Before spending your money, think about what you intend to do with the mulberries. They won't stay fresh for very long, so you should only buy as many as you think you'll use within a couple of days if you want to enjoy them at their best. That, or consider freezing them as soon as they arrive.
Because they don't tend to last very long, it's more common to find dried mulberries for sale. While they won't have the exact same flavor and texture as the fresh ones, they'll last longer and may be more easily integrated into a recipe.
The Type You Want
While there are many different species of mulberries, some are nearly impossible to find. White mulberries are by far the most common and popular in the United States, with other varieties being much more difficult to find, especially fresh. If you've got your heart set on a different kind, you might have to settle for dried or be willing to pay higher shipping costs.