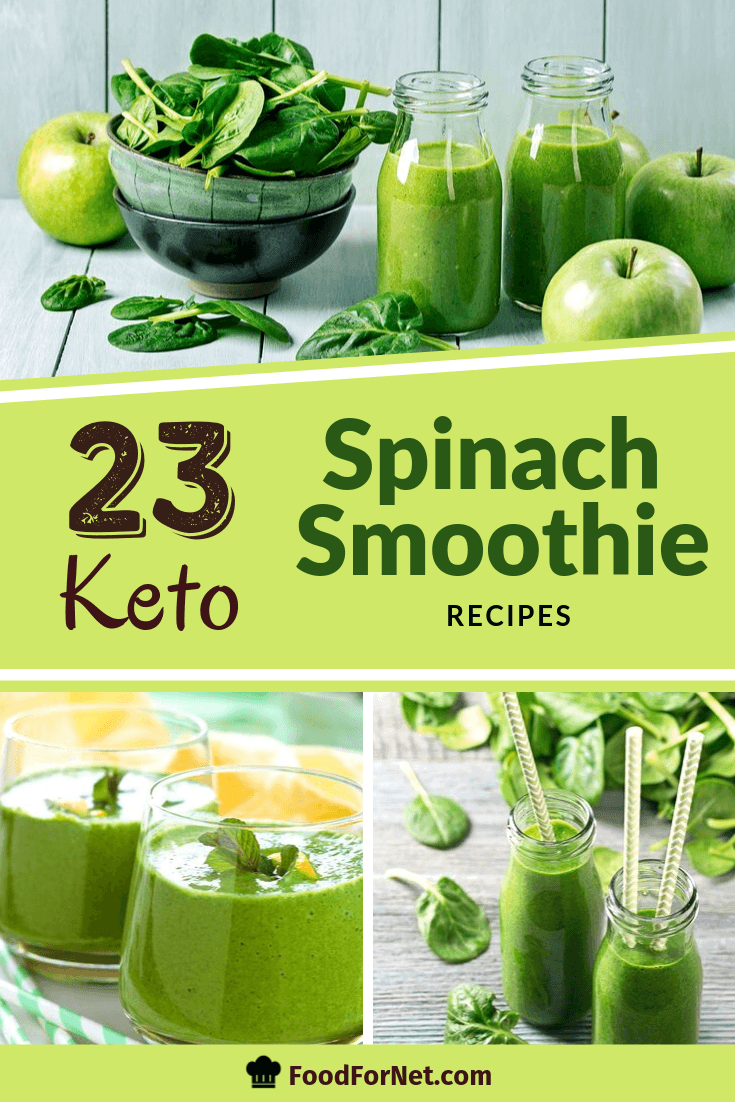 Spinach is always promoted as this amazingly healthy vegetable. It's no wonder, as the leafy green does contain many important vitamins and minerals.
There are plenty of beneficial plant-based compounds present too. Research has even linked spinach to positive outcomes, like helping to maintain cognition and brain function as people age.
The biggest problem is the taste. Many people don't enjoy leafy greens at the best of times. Eating them every day can seem like an impossible goal – especially on a keto diet where your ingredient options are more limited.
This is where keto spinach smoothie recipes come into play. The smoothies on this list are all great ways to get spinach into your diet every day. There are plenty of different styles to choose from. You can make most of them using fresh or frozen spinach.
Some of them bury the flavor of spinach entirely, so that you don't even know that you're drinking it. Others allow you to taste the spinach, without making it too overpowering.
Keto Spinach Smoothie Recipes
PS. For more veggie-packed smoothies, take a look at our list of green smoothie recipes.
PPS. If you want a filling smoothie, there are many keto breakfast smoothies that are seriously worth trying.
Keto Green Smoothie
This first smoothie recipe comes from the site coolmomlife.com. It is a classic example of a green smoothie. The recipe makes two servings and uses a whole cup of spinach and another cup of kale. This ensures that you're getting a ton of nutrients. The other ingredients help to balance out the flavor, creating a creamy smoothie that you're certain to enjoy.
Maple Almond Green Smoothie
I love the combination of flavors in this recipe. The use of cinnamon and maple extract creates a smoothie that is a little bit different than normal. This should also mean that everyone will love the finished drink, even if they're not a fan of spinach. The smoothie would be a decent choice for breakfast too, with roughly eight grams of protein per serving. You can find all the details at texasgranolagirl.com.
Keto Green Smoothie
Here's another smoothie style to consider. It comes from the site greenhealthycooking.com. Once again, spinach is the main green ingredient. There are others in the mix too. I particularly love the inclusion of lemon. This makes the smoothie taste even fresher and contrasts nicely with the spinach flavor.
Key Lime Pie Smoothie
How can you not love a smoothie that tastes like key lime? The flavor is so fantastic in any drink, so the smoothie works well. The recipe comes from tessadomesticdiva.com and it's a fantastic source of healthy fats. You're getting 21 grams of fat per serving, along with 12 grams of protein. If all of that wasn't enough – the smoothie also looks simply amazing in the glass.
Strawberry Brazil Nuts Spinach Smoothie
Speaking of interesting flavors, here's a smoothie that combines strawberries, Brazil nuts and spinach. The nuts are a great way to boost the nutrition of the smoothie, especially as they contain plenty of protein. The carb content is on the high end this time, with 8.8 net grams of carbs per serving. Still, you can reduce the number of strawberries in the mix from five to two, which gives a net carb content of 5.8 grams. The recipe itself can be found on the site ketovale.com.
Anti-Inflammatory Blueberry Smoothie
This recipe from tastythin.com is a great way to hide the flavor of spinach. The smoothie features both strawberries and blueberries. Nikki also mentions that you can freeze the smoothie. You could even pour it into popsicle trays to create a tasty keto treat. While the smoothie does look amazing, it's worth double checking that the carb content will fit within your daily macro goals. The smoothie does contain more sugar than normal, so it may not be suitable for everyone.
Classic Green Smarter Smoothie
This smoothie comes from Beth at tasty-yummies.com. It features a variety of healthy ingredients and is also perfect for many different diets. In particular, the smoothie is paleo and vegan friendly. You can make it suitable for a FODMAP diet too by skipping the avocado and choosing a different fat instead. Beth also mentions a variety of alternative approaches that you can use to change up the smoothie.
Green Breakfast Smoothie
I'm especially fond of this recipe from tasteaholics.com. It includes a variety of interesting ingredients, such as matcha, celery and chia seeds. The combination also makes the smoothie a fantastic choice as a meal replacement. There are roughly 25 grams of fat per serving, along with 30 grams of protein. Despite this, there are only four net grams of carbs per serving, making it one of the best keto smoothie choices that you will find.
Turmeric Chai Spice Green Smoothie
This recipe from compassionateketo.com has an amazing combination of flavors. It includes cinnamon, turmeric, ginger and black pepper – creating a smoothie that really does taste like a chai latte. The drink is also a good meal replacement choice, as it contains around 26 grams of protein per serving and almost ten grams of fiber. It is also a green smoothie, so you're getting plenty of beneficial nutrients from it.
Ketogenic Green Smoothie
Jessica from primaledgehealth.com provides this green smoothie recipe. It has many features that you'll find in other similar smoothies, but also takes advantage of mint and lemon balm. These two ingredients kick the smoothie up a couple of notches, making it taste fresh and amazing. You can adjust the amount of mint and lemon balm as you need to create the perfect flavor balance.
Green Smoothie Bowl With Spinach
Smoothie bowls are a great way to make smoothies feel more filling. They're fun to serve and to eat too, as you can add a variety of different toppings. The toppings work well, as they provide extra flavors that don't get buried in the rest of the smoothie. If you follow the recipe precisely, you end up with a smoothie bowl that has 26 grams of fat and 10 grams of protein. This balance would make it an ideal choice for a keto breakfast. This recipe can be found at wholesomeyum.com.
Cucumber Spinach Smoothie
Here's a recipe from ruled.me, which is another favorite site of mine. As the name suggests, the smoothie features cucumber and spinach as the main ingredients. These combine together very well, creating a more interesting flavor than spinach on its own. The smoothie is also very low in carbs, with roughly three net grams of carbs per serving. There are plenty of healthy fats in the mix too.
Super Delicious Green Matcha Smoothie
This smoothie comes from the site epicmatcha.com. It's an interesting alternative to a hot matcha drink and many people would enjoy the smoothie style more than the hot drink. After all, the taste of matcha powder can sometimes be a little unappealing on its own. The smoothie also includes avocado and spinach, so you can be sure that you're getting plenty of nutrients.
Vegan Green Smoothie
I found this smoothie recipe on the site sunwarrior.com. You might recognize the name, as Sunwarrior is a vegan protein powder brand. They do recommend using one of their protein powders in the smoothie, but you could substitute out for another brand if you want to. Regardless of the protein powder that you choose, the smoothie has plenty of nutrients. It would taste good too.
Berry-Avocado Smoothie
The inclusion of berries in this green smoothie is a great way to balance out the flavor of the spinach. There is avocado too, which helps to make the whole smoothie creamier. The recipe comes from styleblueprint.com and looks like a fantastic one to try out. Just be aware that the site doesn't provide nutritional details. You'll need to calculate these yourself based on the ingredients that you use.
Avocado Green Smoothie
This recipe, from paleoleap.com has many similarities to the previous examples, along with some differences. One interesting aspect is the addition of turmeric. The spice has been linked to various health benefits. It adds in an interesting flavor too, making the smoothie taste more exotic and unusual.
Key Lime Smoothie Bowl
If you want to try out a smoothie bowl, this example from forestandfauna.com can't be beaten. The use of key lime is an especially good choice. The flavor makes the smoothie different than most. Nutrition details aren't provided, but you can easily calculate them yourself. The smoothie bowl itself will be keto friendly, as doesn't contain any problematic ingredients or quantities. You'll need to decide the toppings for yourself, as the suggested ones may contain too much sugar for some situations.
Low Carb Fruit Free Smoothie
This post from thehappyhealthfreak.com serves two purposes. The first is that Myra provides information about MCT oil and the potential health benefits that it offers. She also offers a tasty green smoothie recipe. The recipe includes MCT oil, along with various other nutritious ingredients. Despite the title, the smoothie isn't entirely fruit free – it does contain avocado. Still, that oversight can be overlooked, as avocado is a very keto friendly fruit.
Mint Chip Protein Shake
While this protein shake does contain spinach, it's more of a dessert than most of the items on this list. The finished smoothie ends up being rich and creamy, with the peppermint and chocolate flavors standing out the most. You won't even notice the avocado and spinach included in the mix. The smoothie is on the high end for carbs, at around ten net grams of carbs per serving. If that's too much you could always just eat half a serving, perhaps as dessert. All the details you need can be found at alwaysorderdessert.com.
Chocolate Green Smoothie
Here's a good recipe for anyone who loves the idea of a green smoothie, but isn't a fan of the flavor. Libby, from ditchthecarbs.com, uses a combination of ingredients that just tastes fantastic. She mentions that this is a smoothie she serves to her kids. They love the flavor and don't even realize that the drink contains spinach. Libby suggests that you focus on blending the drink well. The smoother it is, the less obvious the spinach will be.
Lean Green Breakfast Smoothie
Here's a tasty smoothie recipe from ieatketo.com. It's an unusual smoothie, as it relies on coconut milk and almond milk. Most smoothies just choose one or the other. The combination should work well, creating an interesting flavor profile. There are some other interesting ingredients included as well, like cucumber and lime juice.
Strawberry Smoothie With Spinach
This recipe comes from the site blog.ifit.com. As that name suggests, the site focuses on fitness, so you end up with a very substantial drink. Despite the fact that it contains just three ingredients, the smoothie offers almost 90 grams of fat. It's a fantastic example of a fat bomb smoothie, especially as the carb and protein content remains low.
Five-Minute Green Smoothie
Here's one final smoothie recipe to try. It comes from the site thelittlepine.com, which offers a range of fantastic recipes. This particular smoothie uses mint to offset some of the flavor from spinach. You can also throw in some raspberries for an even better taste. These do add to the carb content, but they're totally worth it.