There are many different snack boxes out there, in every style that you can imagine. Why stick to the ones that offer Western snacks? After all, you can find that type of snack in any grocery store with little effort.
Alternatives like Korean snack subscription boxes are ways to expand your palate further, giving you the chance to try out new snacks that you have never tried before. The boxes also tend to be comprehensive, offering many items that you couldn't find in Western countries.
Snacking is a serious industry in Korea, so there are plenty of options to try out. Some of them will be familiar, while others will be entirely new. Check out the subscription boxes in this list to find your next flavor experience.

Korean Snack Subscription Boxes
Korean Snack Box
Korea Box
Inspire Me Korea
Umshikbox
KOKOBOX
Kmunch
KPop Treats
SnackFever
We're also working on similar country-styled boxes like European and Japanese subscription boxes.
P.S. For more Korean experiences, try experimenting with Korean vegetables and Korean drinks.
Korean Snack Box
Get $2 Off Your Korean Snack Box With Code FOODFORNET
As the name suggests, the Korean Snack Box provides you with snacks from Korea. There is a strong focus on popular snacks, so you're getting items that many people love. A unique feature is the inclusion of a Bokjumeoni silk bag. This type of bag isn't normally included with a snack box, but makes a perfect addition.
There are 2 different subscription options to consider. The Medium version is targeted at 1 to 2 people. It has 7 to 10 items in it, along with the silk bag. Some of those products may be full-size, while others may be tasters. The box costs $16.95 per month.
The Large version is for 2 to 3 people instead. It costs $25.95 per month and contains an impressive 15 to 20 different items. The snacks vary from box to box, but it's not unusual to see multiple versions of the same item, especially in the larger box.
Korea Box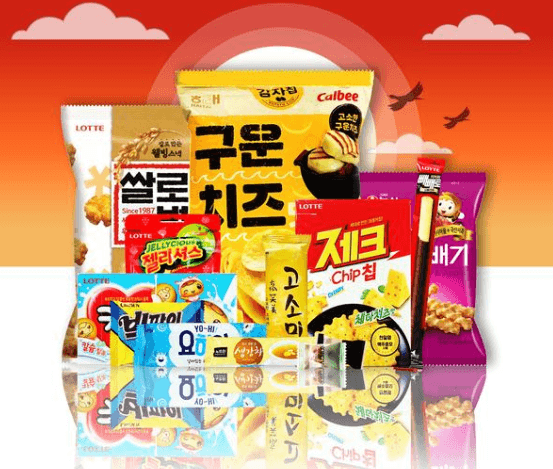 Korea Box is packed and sent from Korea, with free international shipping. There is a K-Pop Box and a K-Beauty Box, but the one that we're focusing on here is the K-Snack Box. As the name suggests, this subscription is packed full of snacks from Korea. Many of the snacks have flavors and styles that American audiences won't be familiar with.
There are 2 different snack boxes. They both contain the same types of items. The biggest difference between them is the size. The Regular K-Snack Box contains 5 to 8 unique items every month for $17.99 each month.
The Premium K-Snack Box is more expensive, costing $30.99 each month. Even so, the Premium version is worth the extra cost, as it contains between 12 and 16 different snacks. There is also an added bonus item each month. That item isn't food – it's something different entirely.
Inspire Me Korea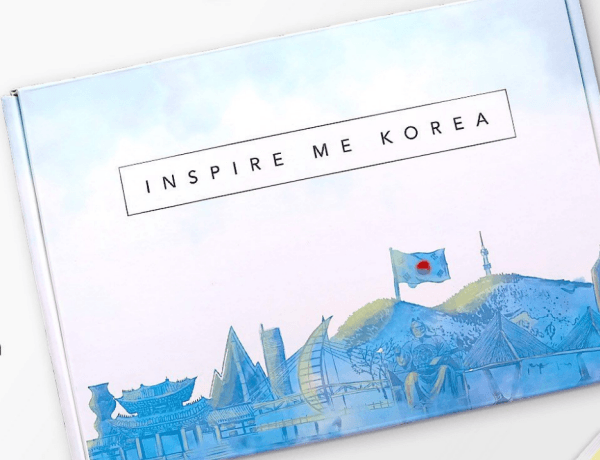 Inspire Me Korea isn't your typical snack box. The site actually offers a Monthly Culture Box, which starts at £14.99 per month (around $20 USD). The box does still contain a selection of snacks, giving you tasty insight into Korean food. You also receive 3 souvenir products, a skincare sheet mask and a magazine.
This style means that you're getting fewer snacks than with other options. Some boxes may even just have 3 or 4 different snack products. Even so, many people may love the variety. The boxes are also themed, so you've always got something interesting and unusual to look forward to.
xxx
Umshikbox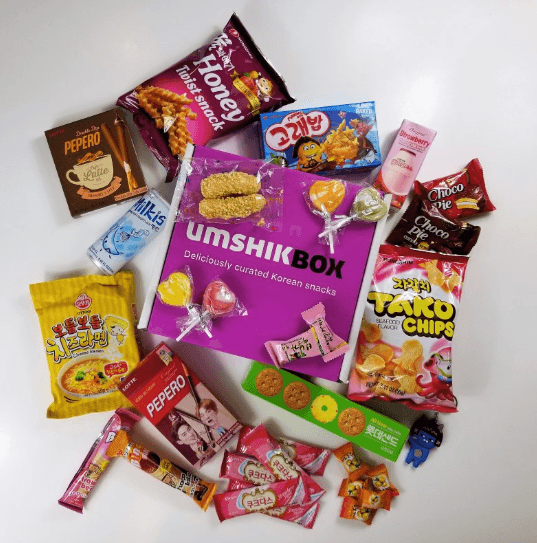 Umshikbox is a little different than the other subscription boxes on the list. The company boasts that it offers full-sized products, rather than counting individual pieces of candy as seperate items. The boxes are also comprehensive. You'll find more items here than from most other companies.
Snack lovers can check out the Deluxe Korean SnackBox Subscription. This one costs $44.95 per month. That's high for a subscription box, but trust me, the selection is worth the price. You're receiving between 3 and 4 pounds of snacks in a box. That's somewhere around 25 to 35 snacks. There is plenty of variety in the snacks, including classics and new items. There's even a package of ramen, just to keep things interesting.
You can also check out the RamyumBox. This is a cheaper option, costing $34.95 per month. The box contains 7 to 10 packages of assorted noodles, including udon and ramyum, (ramen). The company aims to include a variety of flavors, including some classic flavors, plus others that are newer and more unusual.
KOKOBOX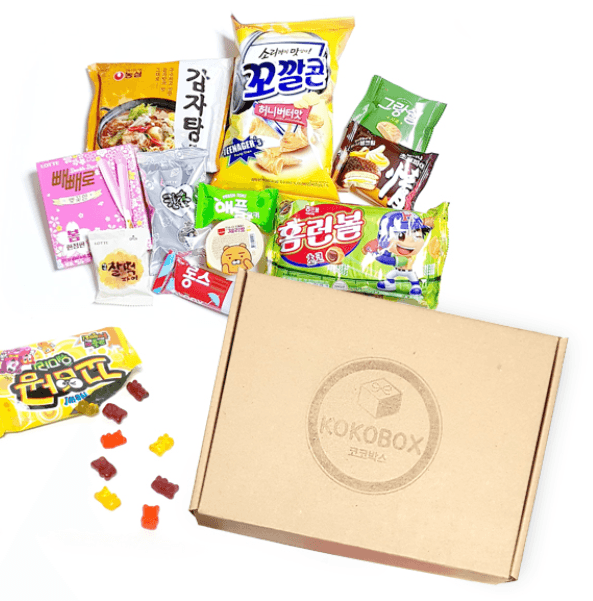 Like many companies, KOKOBOX has 2 distinct types of box. One is their KOKOSTYLE subscription, which includes a selection of cosmetic items each month. The other is their KOKOBITES subscription. The included products are all sourced from Seoul. There is also free international shipping, so you only need to pay for the box itself each month.
The smaller version of the subscription costs $19.99 per month and contains 7 or more Korean snacks each month. Based on past boxes, you'll typically get a few large items and a decent selection of smaller ones.
There is also a KOKOBITES Jumbo subscription. This one costs $29.99 per month. It comes with 12 or more different snacks in various sizes. Both subscriptions provide a discount if you pre-pay for 3 or 6 months.
Kmunch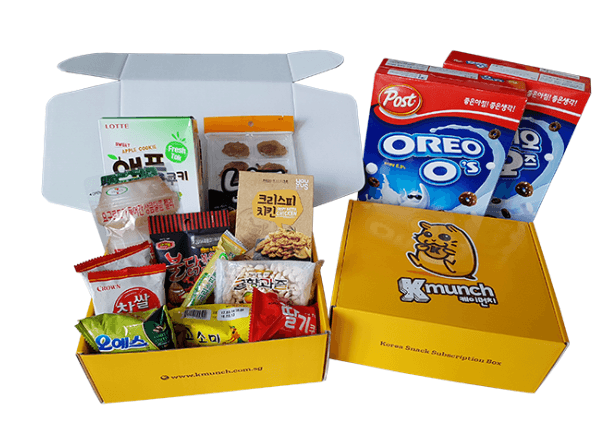 While Kmunch is yet another Korean snack box, it does still have some distinct features. One of these is variety. Kmunch includes a wider range of different styles of snacks, including sweet, crunchy, chewy and spicy products.
Subscription is also simpler than with many other companies. There is just a single box to select and no size variations. Your subscription costs $26.90 per box and contains 7 to 9 different Korean snacks.
This is also a fairly new company. It doesn't have the same established reputation that many other companies have. The distribution area is limited too. Kmunch currently just offers delivery throughout Singapore. There is no international delivery at present, although this may be added in later.
KPop Treats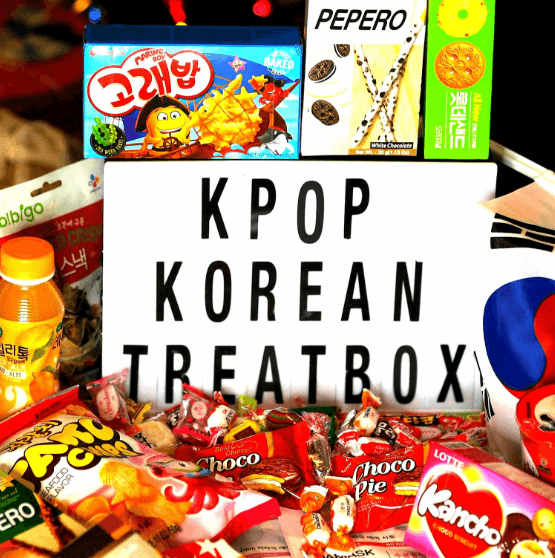 If you have a bit of a sweet tooth, then a KPop Treats subscription could be just the right choice. The boxes have a strong emphasis on sweet Korean items, including cakes, cookies, gummies, sweets and lollipops. Each box is made individually and KPop Treats offers the unusual ability to contact them and request a customized box.
There are 3 different box styles to choose from. The Mini Box contains 5 to 8 products, costing from £16 per month. The Standard Box contains 10 to 13 items, with a cost of £23.99 per month. Finally, the Deluxe Box offers an impressive selection of 12 to 17 items. It costs from £38.99 per month.
Each of the boxes contains the same types of items. The main difference is simply the number of snacks. Unfortunately, there is one limitation. KPop Treats only ships to the UK. It isn't a viable choice if you want to order from the United States.
SnackFever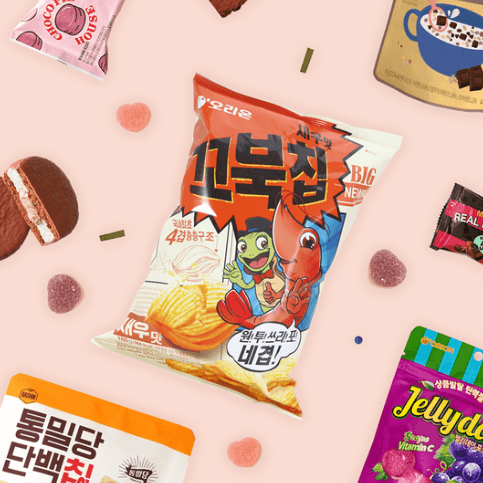 You'll often find SnackFever on lists of subscriptions boxes, as it is a popular product. Despite this, SnackFever has moved away from the subscription model. Their website states that this is because many countries aren't used to the idea of subscription boxes.
Thankfully, SnackFever does still provide snack boxes. The difference is that these are single purchases, rather than auto-renewing subscriptions. You would need to purchase a box each month to receive snacks regularly.
On the plus side, there are plenty of different boxes to choose from. These include themed options, like the Best Ever Ramen Bundle, a Winter Holiday Box and a Doshirak Lunch Box.
There are also the 2 boxes that were previously part of the subscription. The first is the Original box, which costs $28 per month. The box contains 8 to 10 snacks and 1-2 non-food goodies. The box sells out fast, so make sure you grab it when you can. The other version is the Deluxe Snack Fever box. This one is $45 per month. It contains 8 to 13 different snacks, 3 or more goodies and 1 ramen or doshirak (easy-prep meals).
Related Content