Eating liver might sound like a strange idea. After all, many of us avoid organ meats entirely, preferring to stick to the more familiar options like steak, ground beef, and chicken. Yet, many people do still eat liver regularly, including beef liver, sheep liver, chicken liver, and many other types. So, what about it? Is liver good for you?
The question is an interesting one, as liver does have some clear benefits. It's well-known for being a nutrient dense ingredient, one that it is particularly rich in vitamin A and vitamin B12.
There are also risks. In fact, eating too much liver can even be dangerous.
We're not trying to scare you off liver with that statement. After all, the same pattern is true for fish. And, just like with fish, it's important to be aware of the benefits of liver and the risks. That way you can make an informed decision about how much liver to eat.
Is Liver Good For Your Health?
An Introduction To Eating Liver
Benefits Of Liver
How Liver Could Be Harmful
How Do You Make Liver Taste Good?
Do Animal Livers Contain Toxins?
Who Should Avoid Liver?
Final Thoughts
An Introduction To Eating Liver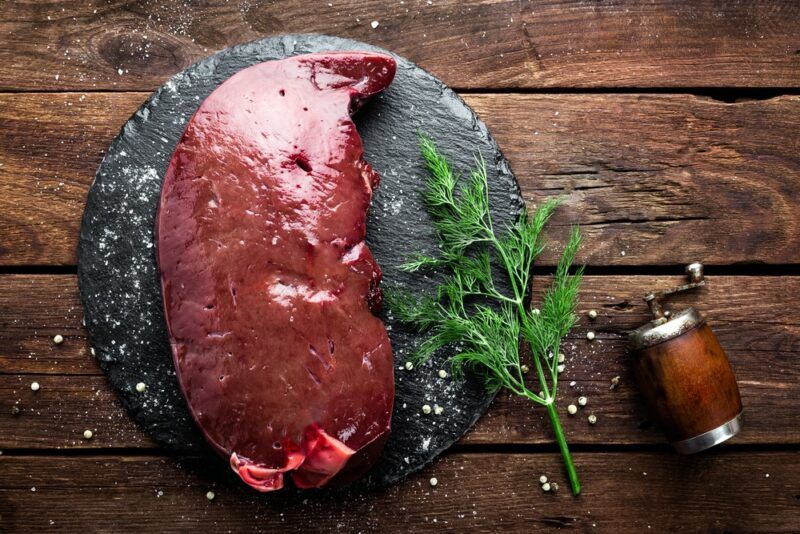 The liver is an important organ in humans and animals. Some of its roles include processing digested food, storing some nutrients, and filtering the blood.
Like other organ meats, liver can also be used as an ingredient.
While organ meats aren't nearly as popular as they once were, some people still eat them regularly. There's also a growing recognition of them as a type of superfood, one that's packed with nutrients, so we may see a surge in interest as time goes on.
There are plenty of types of liver to choose from, with beef, chicken, and lamb being some of the most common. The relatively low demand for liver also means that this is a cheap type of meat. So, why not try some for yourself?
Of course, the nutrients in liver vary somewhat depending on the type that you choose.
Beef Liver Nutrition
Beef liver is one of the most popular choices, so let's start there. For a 100 gram serving of cooked beef liver (roughly 3.5 ounces), you get:
Calories: 175
Carbohydrates: 5.2 g
Fiber: 0 g
Sugars: 0 g
Fat: 4.7 g
Saturated Fat: 1.5 g
Protein: 26.5 g
Some of the most important nutrients are:
Vitamin B12: 83.1 mcg (1,386% of your Daily Value)
Copper: 14.6 mg (730% DV)
Vitamin A: 26,091 IU (522% DV)
Riboflavin: 3.5 mg (201% DV)
Niacin: 17.5 mg (87% DV)
Folate: 211 mcg (53% DV)
Vitamin B6: 1.0 mg (51% DV)
Selenium: 32.8 mcg (47% DV)
There is one catch though. Beef liver has a strong flavor, which can be off-putting. You may need to start with another type of liver and work up to beef liver.
Chicken Liver Nutrition
Chicken liver is another option. The nutrient profile is similar to beef liver in many ways, but there are differences too. Once again, the details given are for a 100 gram serving of cooked liver.
Calories: 172
Carbohydrates: 1.1 g
Fiber: 0 g
Sugars: 0 g
Fat: 6.4 g
Saturated Fat: 2.0 g
Protein: 25.8 g
This time, the balance of key nutrients looks like this:
Vitamin B12: 21.1 mcg (352% DV)
Vitamin A: 14,378 IU (288% DV)
Folate: 560 mcg (140% DV)
Riboflavin: 2.3 mg (136% DV)
Selenium: 88.2 mcg (126% DV)
Niacin: 13.9 mg (70% DV)
Vitamin B6: 0.8 mg (42% DV)
Copper: 0.5 mg (27% DV)
Chicken liver ends up containing more selenium and folate than beef liver, along with considerably less copper. There is less vitamin A and vitamin B12 too, but this difference isn't very relevant. After all, you're still getting far above the recommended daily value for both vitamins.
Lamb Liver Nutrition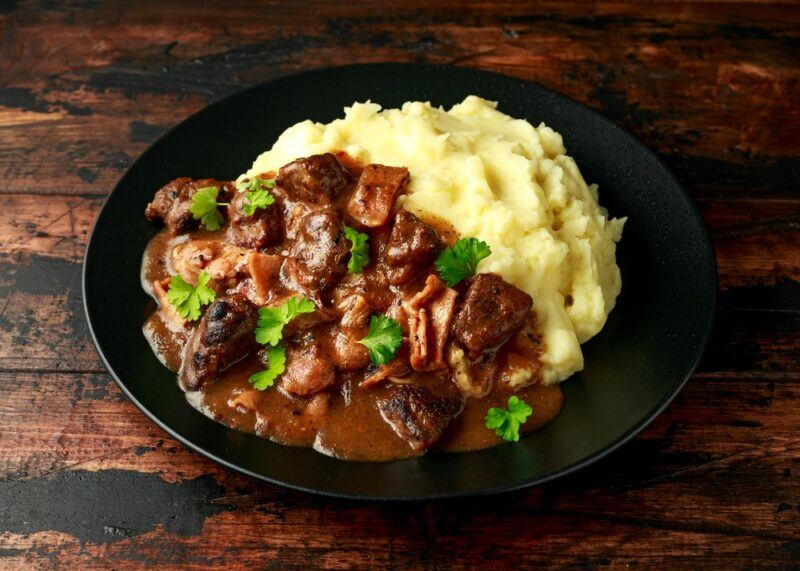 With lamb as well, the nutritional details below are for 100 grams of the cooked liver. This time there are some more dramatic differences, as lamb liver is higher in calories and fat than the other two types.
Calories: 238
Carbohydrates: 3.8 g
Fiber: 0 g
Sugars: 0 g
Fat: 12.7 g
Saturated Fat: 4.9 g
Protein: 25.5 g
Some of the most important nutrients are:
Vitamin B12: 85.7 mcg (1,428% DV)
Vitamin A: 25,999 IU (288% DV)
Riboflavin: 4.6 mg (270% DV)
Selenium: 116 mcg (166% DV)
Folate: 400 mcg (100% DV)
Niacin: 16.7 mg (83% DV)
Vitamin B6: 0.9 mg (47% DV)
Copper: 9.8 mg (492% DV)
Other Types Of Liver
There are plenty of other types of liver available, including ox, goose, pig, cod, and calf. Indeed, if we're already eating the animal for meat, at least some people are likely to consume the liver as well.
While there will be nutrient differences from one type of liver to another, most tend to be excellent sources of vitamin A and vitamin B12. There are plenty of other nutrients too.
Benefits Of Liver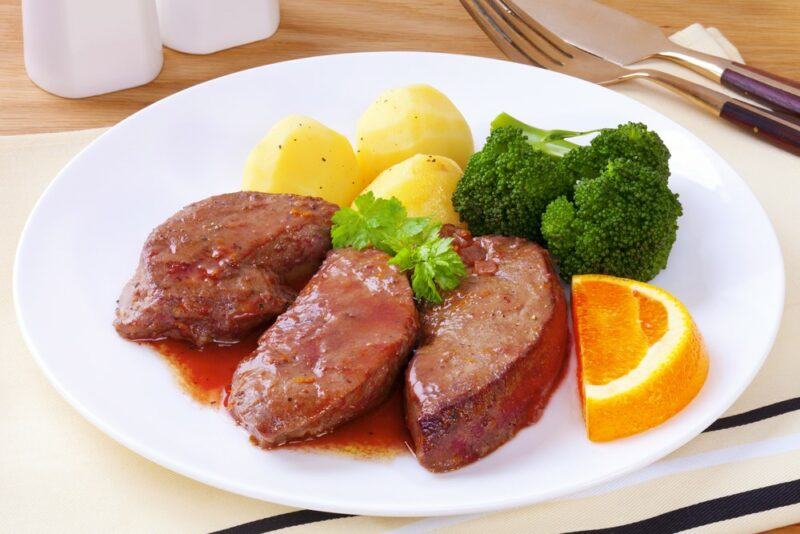 The Nutrient Density
The nutrient density is one of the most important features of liver. Seriously. When else do you get far above your daily intake of multiple vitamins and minerals in a single 3.5-ounce serve?
In contrast, a similar serving size of ground beef contains much more fat than beef liver, along with no vitamin A, and lower amounts of most other vitamins and minerals. Liver ends up being one of the easiest ways to boost your nutrient intake.
Indeed, liver contains more nutrients for fewer calories than any other type of meat. You might even include it in your diet simply for the nutrients, regardless of whether you enjoy the flavor or not.
Decreases Risk Of Iron Deficiency
Iron didn't feature in the lists of nutrient data that we gave earlier, but it is still significant. You get around 25% of your daily iron intake from a serving of beef liver, which is a decent amount.
While all nutrients are important, iron does deserve a special mention, as a surprising number of people are iron deficient. Not getting enough iron can lead to a number of symptoms, including a sense of weakness, fatigue, cold hands and feet, and dizziness.
Liver on its own won't get you to your daily iron targets, but there are plenty of iron rich foods that can help boost your iron levels too.
A Source Of High Quality Protein
Liver also happens to be an exceptional source of protein, often giving you more than 25 grams of protein in a 100 gram serving of liver. We're also talking about high-quality protein, which means that all the required amino acids are present.
The importance of protein can't be understated. Without enough protein our bodies do not function well.
As such, eating quality sources of protein regularly is a critical aspect of staying healthy. Liver isn't the only quality source of protein, of course, but it is a particularly good one.
How Liver Could Be Harmful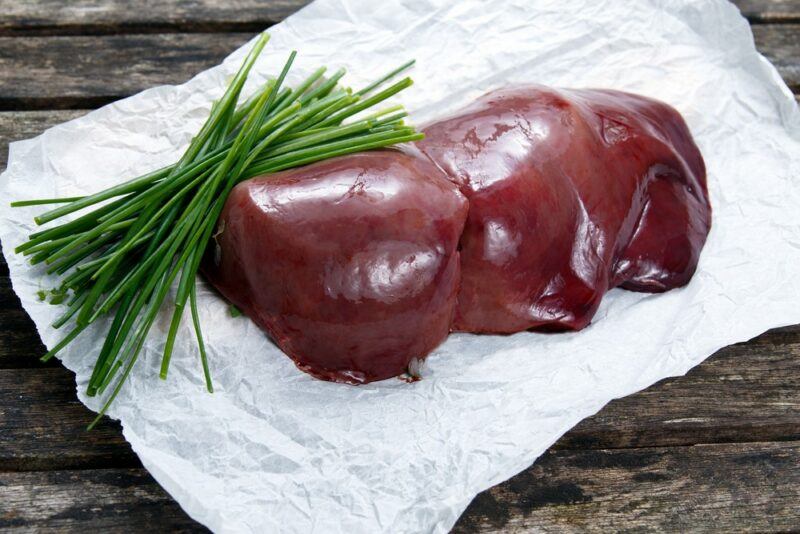 Vitamin A Toxicity
While the vitamin A in liver is useful, it can also be a serious issue. After all, you're often getting more than 200% of your daily vitamin A intake from a single serving of liver. You're probably getting some vitamin A from other parts of your diet as well.
It's easy to see how you might overdo it.
In fact, the tolerable upper limit for vitamin A is set at 3,000 mcg or 10,000 IU per day. You actually get much more than this in a 100 gram serving of beef, chicken, or lamb liver.
Going over this recommended level every so often isn't likely to do much harm. Even so, it's best to keep portions of liver small and avoid having liver every day. Instead, think of liver a little like fish and try not to have more than two or three servings per week.
Part of the problem is that vitamin A is a fat soluble vitamin and is stored in the body. This means that if you eat large amounts of liver regularly, some of the vitamin A will get stored and start to build up, potentially causing harm.
The Copper Content
If you choose beef or lamb liver then the copper content is another area to watch out for. As with vitamin A, you need some copper for your body to function well, but too much is a problem.
The negative effects of too much copper can be severe, including heart failure, kidney failure, and liver disease.
Some recommendations suggest consuming no more than 10 milligrams of copper per day. While that figure focuses on copper supplements, rather than copper in the diet, getting too much copper in your food is a problem too. And, beef liver contains close to 15 milligrams of copper per 100 grams, which is certainly something to watch out for.
The Saturated Fat
Liver does contain some saturated fat as well. The exact amount depends on the type that you choose. For example, beef liver has roughly 1.5 grams of saturated fat in a 100 gram serving, while lamb liver has close to 5 grams instead.
Saturated fat is a common reason for avoiding liver (and red meat). After all, this type of fat is thought to cause a variety of health problems, such as increasing the risk of heart disease and obesity.
Nevertheless, there's plenty of debate about what saturated fat actually means for your health. Why such debate? Well, for one thing, nutrition science is complicated. It's difficult to work out which parts of a person's diet caused which effects.
We've covered the debate in more depth as part of a piece on saturated fat, so we won't go into it here. Suffice it to say that while saturated fat is still concerning to many people, others aren't convinced that it's such a bad thing at all.
It's A High Cholesterol Food
A related issue is the cholesterol in liver. We've long been told to avoid cholesterol in our diet, as doing so should decrease our heart disease risk. This is the same reason that eggs were seen as unhealthy for a long time.
As with saturated fat, the link between cholesterol and health is more debatable than you might expect.
These days, we know that dietary cholesterol doesn't notably increase blood cholesterol levels for most people. And, among those that do respond more strongly to dietary cholesterol, their heart disease risk still doesn't seem to increase.
This suggests that, most of the time, the cholesterol in liver shouldn't be a problem. Still, it's always important to follow the advice of your doctor, as there may be important reasons for you to follow a low cholesterol diet.
Antibiotics
Antibiotic residues can also be an issue with some animal-based foods, including liver. These residues can influence human health in multiple ways, like promoting antibiotic resistance or allergic reactions, and potentially even being toxic.
Thankfully, antibiotic residues don't always make their way into liver. Careful farming practices should decrease the likelihood dramatically. You could also look for livers from organically raised animals, as these are given no antibiotics.
How Do You Make Liver Taste Good?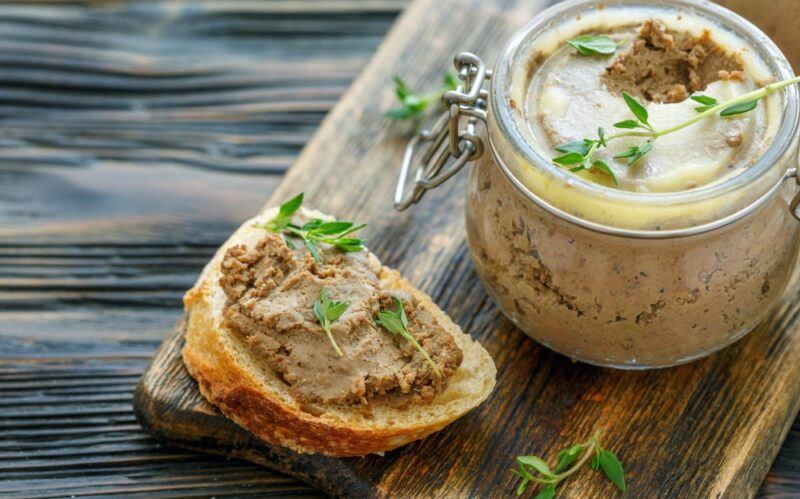 Liver has an unusual flavor, one that can be quite strong. While some people enjoy this flavor, others can't stand it. Thankfully, there are plenty of ways to make liver taste good.
The first trick is to rely heavily on seasoning. The right seasonings always make your food taste so much better.
You can also chop or grind your liver up and include it in a meal with strong flavors of its own. For example, liver is barely noticeable when mixed with beef mince as part of spaghetti bolognese, a burger patty, or meatloaf.  
The type of liver you choose matters as well. Lamb and calf liver are both popular choices, as they're less intense than beef liver.  
Some people also recommend soaking the liver in milk before you cook it. Doing so helps to cut out the bitter flavor of the liver, making it easier to enjoy.
Of course, if you don't mind the flavor of liver, you don't need to do much to make it taste good. Simply pan frying it with some onions might be enough. Liver and bacon is another delicious combination.
Do Animal Livers Contain Toxins?
The liver might sound like a poor choice, given that the liver processes toxins. However, there's a distinction to be made here. While the liver processes toxins, it does not store them, so the liver remains safe to eat.
Who Should Avoid Liver?
While liver is generally safe, nutritious, and healthy, it isn't a good choice for everyone.
Pregnant women, for example, generally shouldn't eat liver. Even an ounce of liver will hit the upper safe levels for vitamin A during pregnancy, making liver a risky choice all around.
Liver can also be a problem for anyone with gout, as liver is high in purines, which then promotes uric acid production. This effect can increase the symptoms of gout, including pain and joint stiffness.  
Children should also be cautious with liver, as their tolerance for nutrients can be lower than for adults. This puts them at greater risk of consuming too much of some nutrients, like vitamin A.
Final Thoughts
Liver is more nutritionally dense than most foods. Honestly, it's pretty incredible and can easily promote your health.
However, that nutritional density comes at a price. The amount of some nutrients, including vitamin A and copper, can easily be too high.
This means that you need to be very cautious with the amount of liver you consume. Try to only eat small portions, no more than 3.5 ounces in a serving, and don't eat liver every day. For many people, eating liver once per week should be enough to safely provide benefits.
Frequently Asked Questions
Can You Eat Liver Raw?
Raw meat always comes with risk of food poisoning, even when it is very fresh. You can eat it raw anyway (and some people do!), but doing so could easily lead to harm.
Besides, even without the chance of food poisoning, raw liver isn't necessarily more powerful than cooked liver anyway. You get plenty of nutrients either way and cooked liver may be much easier to digest.
How Much Protein Is In Liver?
While the protein content of liver varies a little from type to type, you're normally looking at between 25 and 26 grams of protein per 100 grams of cooked liver. This is a decent amount and explains why liver is so satisfying. 
Is Liver Considered Meat?
Liver is a type of meat, but it's more often classified as organ meat or offal. Organ meats are often rich sources of protein and nutrients, but it's also important to eat them with care, as it's easy to overdo it.
Is Liver Good For Diabetics?
Yes. The low carb and high protein content of liver means it has a low GI and is fantastic for people with diabetes. Plus, you're getting plenty of protein and nutrients in each serving.
Which Liver Is Best To Eat?
Beef liver is often seen as the healthiest type of liver, as it is so heavily packed with nutrients. However, all types of liver are incredibly nutritious, so the type you choose doesn't really matter.