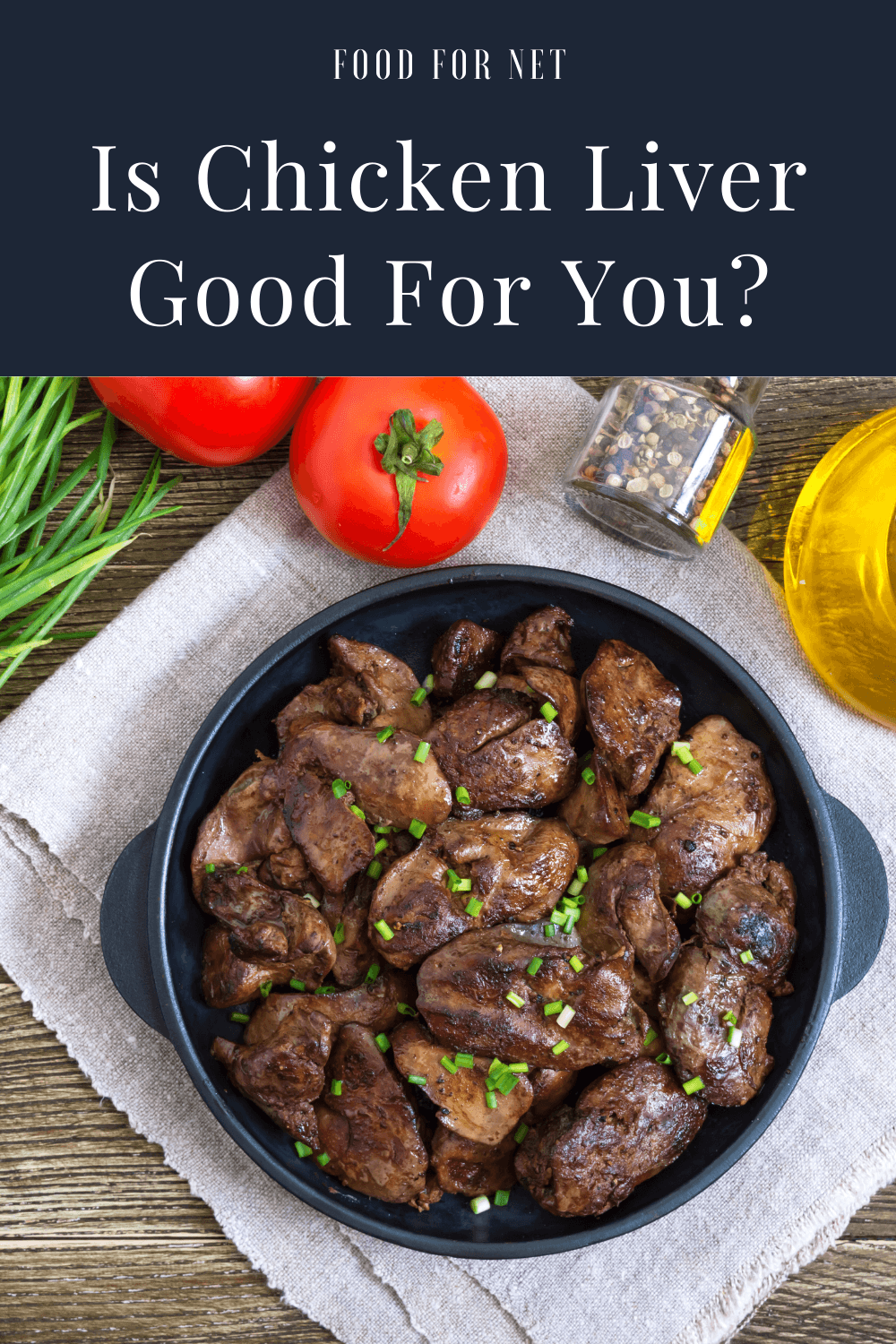 Chicken is incredibly popular, as it's an easy source of protein that provides plenty of nutrients and is often inexpensive. That popularity doesn't extend to chicken liver, though. Like most organ foods, chicken liver isn't incredibly popular, but is chicken liver good for you?
That's not too surprising, is it? The idea of eating an animal's organs can seem incredibly odd and not remotely appealing. Then there's the experience of eating liver, as it has a distinct flavor and texture, that many people can't stand.
What about health, though? Is chicken liver good for you? We've talked about whether liver is good for you in another post, but there we were covering all types of liver at once. Today we want to look at the features that are specific to chicken liver.
Is Chicken Liver Good For You?
Chicken Breast Versus Chicken Liver
Benefits Of Chicken Liver
Risks Of Chicken Liver
Can You Eat Chicken Liver During Pregnancy?
How To Use Chicken Liver
Should Chicken Livers Be Fully Cooked?
Final Thoughts
Chicken Breast Versus Chicken Liver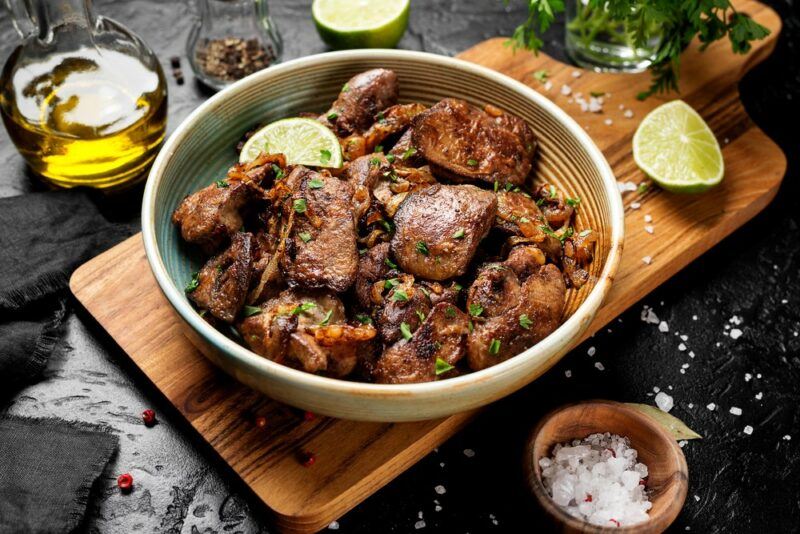 Rather than looking just at what chicken liver has to offer, let's compare chicken breast to chicken liver. After all, chicken breast is a common go-to for many people.
For 100 grams of chicken breast, you get 172 calories, 9.2 grams of fat, and 21 grams of protein. On the other hand, chicken liver contains 119 calories, 4.8 grams of fat, and 17 grams of protein, making it lower in calories, fat, and protein.
Things really get interesting when we look at nutrients. Chicken breast contains more calcium, magnesium, and vitamin B3 than chicken liver, although the differences in amounts are slight.
In contrast, chicken liver contains much more iron and vitamin E than chicken breast. It's higher in all of the B vitamins except vitamin B3 too, often by a considerable amount. Some of these differences make chicken liver powerful indeed.
There are other important nutrients in chicken liver too, including selenium, folate, and vitamin A.
Benefits Of Chicken Liver
Reduces The Risk Of Iron Deficiency
Iron isn't a rare mineral, yet iron deficiency remains surprisingly common, with up to 10 million Americans experiencing the deficiency to some degree. Part of the problem is that iron in plants is non-heme iron, which isn't absorbed as well as the iron found in meat.
Red meat is a particularly good choice of heme iron, but you get even more iron from a serving of chicken liver than from cooked beef.
An Exceptional Source Of Vitamin A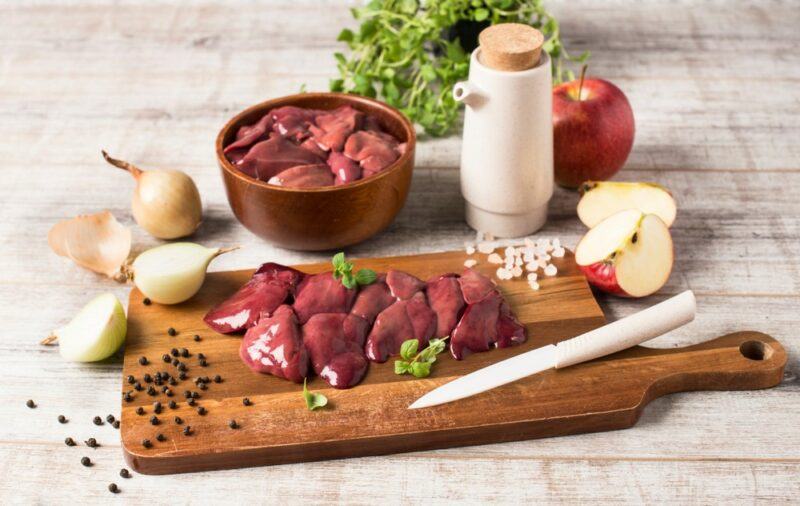 Chicken liver is powerful for vitamin A too, giving you more than 250% of your daily requirements in a single serving. This vitamin plays vital roles in your immune system and eyesight. It also makes sure your organs function well.
Vitamin A deficiency isn't often seen in the United States, but it's still something to watch out for. Chicken liver is an easy way to get your levels where they need to be.
All The Other Nutrients
Chicken liver is incredibly nutrient dense, giving you a ton of nutrients for not many calories. In fact, a 100 gram serving provides more than 100% of your daily needs for vitamin B12, vitamin A, folate, riboflavin, and selenium. That's not even it for nutrients. You're also getting other B vitamins, copper, magnesium, and plenty of others.
Vitamins and minerals are always crucial. We can't make these on our own, so food supplies us with the vitamins and minerals we need. If we're deficient in any essential vitamin or mineral, then we quickly start to run into problems.
Common symptoms of such deficiencies include brittle hair or nails, hair loss, bleeding gums, restless legs, and fatigue.
The nutrient density of chicken liver makes it an easy way to notably increase your vitamin and mineral intake. Even half of a serving could have a dramatic impact, helping to get you back on track quickly.
Low In Fat
Chicken breast is famous for being a low fat source of protein and chicken liver contains even less fat again. This makes it an excellent source of protein, especially when you need to keep your fat intake low.
There is still some fat present, but this isn't a bad thing. Despite its negative reputation, fat still plays critical roles in our body. We need some fat to function well and to optimally absorb nutrients from our food.
A Decent Source Of Protein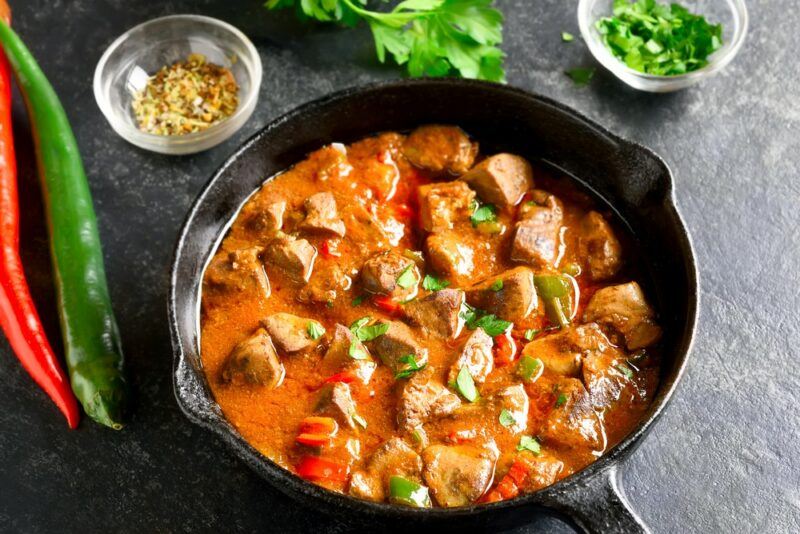 Chicken liver isn't as protein dense as chicken breast, but you still get roughly 17 grams of protein in a 100 gram serving of the liver. This is a decent amount of protein, enough to easily keep you satisfied. It's also an impressive amount when you think about how few calories there are in a serving of chicken livers.
Protein is most famous for its role in muscle development. That's why gym rats often turn to protein shakes. However, that's certainly not the only reason for eating protein. Our bodies also use the amino acids found in protein to build the proteins that we need to function well, including collagen, keratin, hemoglobin, antibodies, and many others.
If you're not getting enough protein in your diet, then your body mightn't develop all the proteins that it needs, leading to a whole host of issues.
Risks Of Chicken Liver
Excess Vitamin A
The vitamin A in chicken liver is often useful, but not always, as too much vitamin A can cause serious issues. It's surprisingly easy to overdo it too, as the recommended maximum daily intake for vitamin A is 3 mg (or 10,000 IU). You actually get more than this in a serving of chicken liver.
Going over the recommended levels every so often isn't a big deal. After all, we don't need to exactly hit all our nutrient targets every day. Doing so would get absurd fast.
However, the vitamin A content does mean you shouldn't be eating chicken liver every day.
The Cholesterol Content
While chicken liver is relatively low in fat and saturated fat, it does contain a decent amount of cholesterol. A 100 gram serving of the liver actually contains more than 560 mg of cholesterol, which is far above your recommended daily intake.
What this means for health is still being researched.
We've long been told that cholesterol is incredibly bad in our food, as it increases blood cholesterol levels and then raises the risk of heart disease. Yet, modern research suggests that most of us don't respond that way to cholesterol in our foods. Most of the cholesterol in our blood is produced by the liver instead.
As a result, healthy people might not need to worry about dietary cholesterol at all, particularly not in natural foods like chicken liver and eggs.
Things are a little different if you have an underlying health condition, like type 2 diabetes. In this case, you might still need to watch your dietary cholesterol levels. Your doctor will know whether this is the case for you.
May Be Contaminated With Bacteria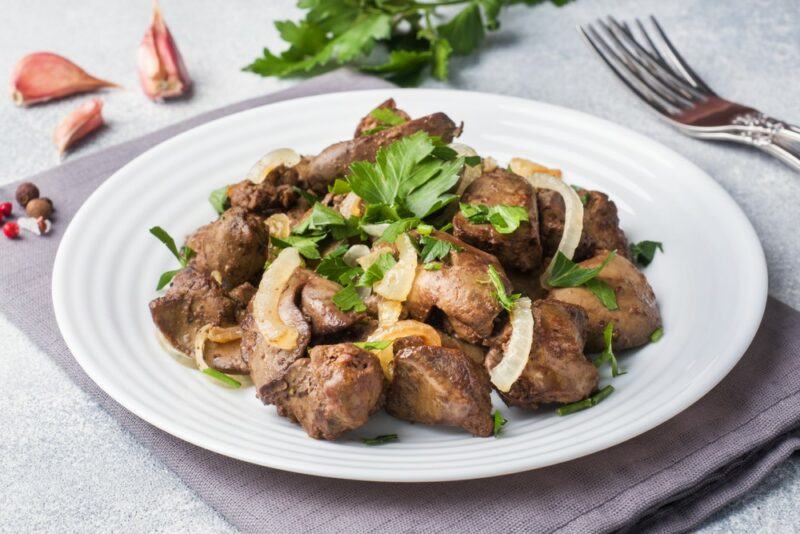 Chicken liver can be easily contaminated with bacteria. If the liver isn't cooked properly, this issue can easily lead to food poisoning.
The problem is particularly common with chicken liver pâté, which is sometimes undercooked. Such bacterial contamination is difficult to identify from the pâté itself, so you might not realize until you start seeing symptoms.
You can get around the problem by cooking livers yourself and making sure they're cooked all the way through. You could even make your own pâté, as doing so isn't difficult at all.
Can You Eat Chicken Liver During Pregnancy?
There is mixed advice about chicken liver consumption during pregnancy. Some authors say that you shouldn't ever eat liver or liver products when you're pregnant, as you can easily overdo it with vitamin A.
Others say that you can still eat liver and may even get some benefits from it, as long as you're very careful with the amount you consume. Having a single serving once a week or once every two week is the safest approach. You might need to keep your intake even lower if you're getting plenty of vitamin A from other sources.
If you're at all worried, however, you could simply skip chicken liver. There are plenty of other nutritious foods to choose from, ones that don't carry the same risks as chicken liver.
How To Use Chicken Liver
Chicken livers are relatively mild compared to other organ meats, making them an excellent choice for beginners. Even so, the flavor can take a little time to get used to.
One of the simplest tricks is panfrying chicken livers with some onions and a source of fat. Cooking them this way is easy and intuitive. To get the best flavor, make sure that you use plenty of fat and avoid overcooking the liver.
You can also soak the livers in milk for a while before cooking them. This decreases any metallic flavor. Doing so isn't essential for chicken livers, as their flavor is mild compared to beef liver. Still, if you're new to eating liver, the soaking step might be worth it.
Also, liver doesn't need to be your only source of protein in a meal. If you're not convinced about eating an organ meat, why not use a small amount in a dish that uses another type of meat? For example, grinding up some liver in a meatloaf or lasagna is an easy way to introduce liver to your diet. You might find that you can't taste the liver at all.
What About Fried Chicken Liver?
Fried chicken liver is an option too. This dish often involves deep frying the chicken livers, which really isn't a great move for health. You end up with a meal that's much higher in calories and saturated fat.
You might still enjoy deep fried chicken livers every so often as a treat, but they're never going to be a health food. Fried chicken livers also taste incredibly good, so it's easy to consume too much in a serving (which could lead to vitamin A toxicity).
Should Chicken Livers Be Fully Cooked?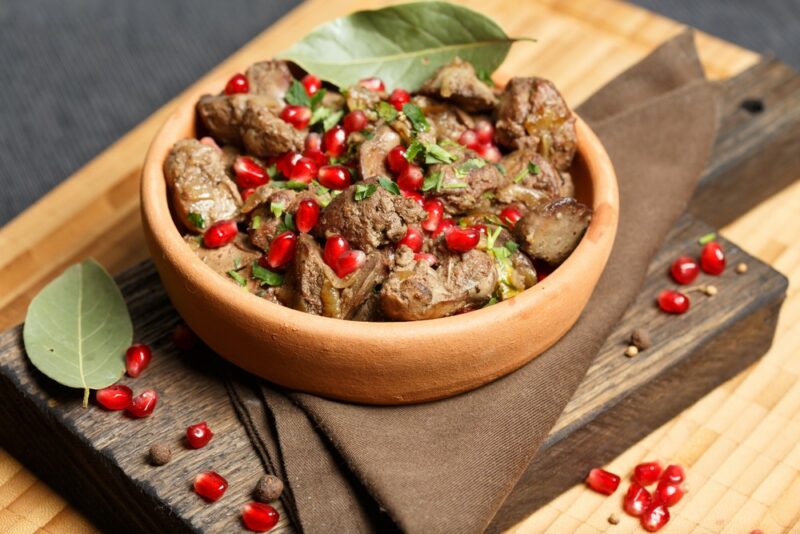 Some recipes suggest that you make sure your chicken livers are still pink in the middle. This helps to stop the liver from drying out and creates a much better texture.
However, chicken livers still need to be fully cooked, or the risk of bacterial contamination is too high. This means you can't just sear them on the outside; you need the internal temperature to around 70°C (or around 160°F).
Cooking to this temperature may still leave the chicken livers slightly pink. However, if they look raw or bloody, the temperature hasn't gotten high enough. If you're not sure about whether your livers are done, try using an internal thermometer. This will always be more accurate than looking at the color of your meat.
Final Thoughts
Chicken liver is a nutrient-dense ingredient, one that could improve your health in many ways. It's also a low calorie source of protein, one that's surprisingly easy to add to your diet.
The main problem is the vitamin A content, but this simply means that you can't have chicken too often. You could even consider chicken liver a little like seafood, in that a serving or two per week is incredibly good for you, while more than that could easily cause harm.
The only other issue is how we think about liver. While it's a common ingredient in some parts of the world, eating liver still seems strange to many Americans. One of the easiest ways around the issue is to try liver for yourself. Start slowly and experiment with recipes and flavors. Once you've tried it a few times, you may find that you actually enjoy the flavor and texture.
Frequently Asked Questions
What Does Chicken Liver Taste Like?
Chicken livers have a surprisingly intense taste that is sometimes described as metallic or bitter. However, there are earthy and woody aspects to the flavor too, which work well in some dishes.
The way you cook the chicken liver makes a huge difference too. In particular, frying the liver intensifies the flavor and can make them difficult to enjoy. Many people choose to blend chicken livers with ingredients like cognac to make chicken liver pate. Doing so reduces some of the flavor intensity, giving you a pleasanter dish.
Is Chicken Liver High In Iron?
Chicken liver is fantastic for iron, with a small serving giving you around 65% of your daily iron needs. This makes chicken liver even more powerful than red meat as a source of iron.
How Long Does Chicken Liver Last In The Fridge?
Chicken livers have a pretty short shelf life. When raw, they only last 24 to 48 hours, so it's best to use them promptly. The livers last longer once they've been cooked and stay good for between three and four days.
Is Chicken Liver Good For Diabetics?
Chicken liver should be excellent for diabetics, as it is packed with protein and nutrients while also being very low in carbs. However, it's still important to stick with small portions and keep an eye on your blood sugar levels.
Is Chicken Liver High In Cholesterol?
Yes. Organ meats tend to be high in cholesterol, with a serving of chicken liver often containing around 250 mg of cholesterol. This could mean that people with heart concerns need to focus on regular cuts of chicken, rather than chicken liver.