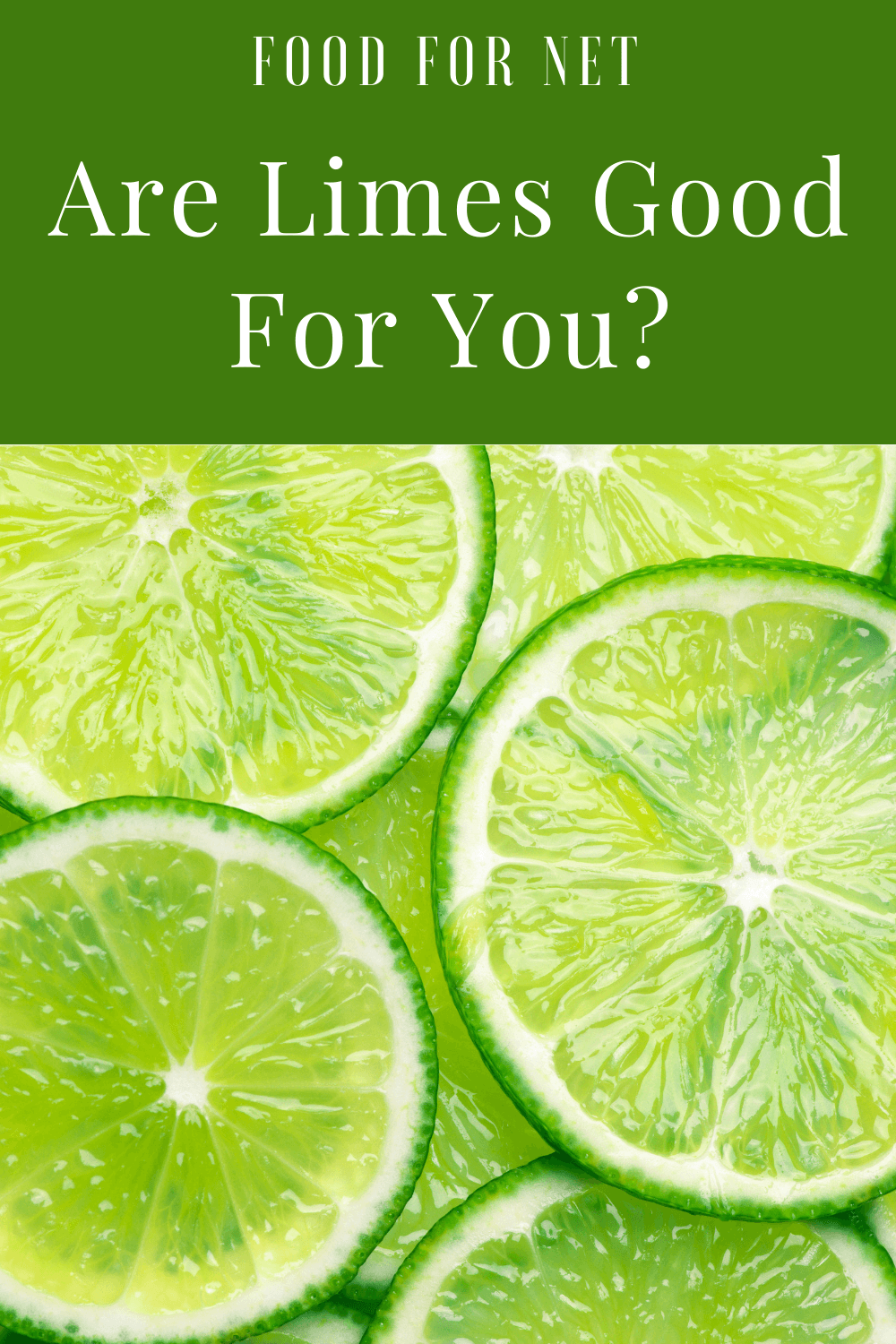 Like lemons, limes are a popular citrus fruit that is often used to augment the flavor of meals. You'll also see lime juice feature in cocktails and other drinks to add a burst of freshness.
When it comes to health, however, limes aren't nearly as famous as lemons. Lemons are the ones that are used in all the detox drinks and are seen as being simply amazing. So, how do limes stack up? Are limes good for you or should you be giving them a miss?
Are Limes Good For You?
Types Of Limes
Lime Nutrition
Benefits Of Limes
How Limes Could Be Harmful
Limes Versus Lemons
Are Limes Powerful For Health?
Final Thoughts
Types Of Limes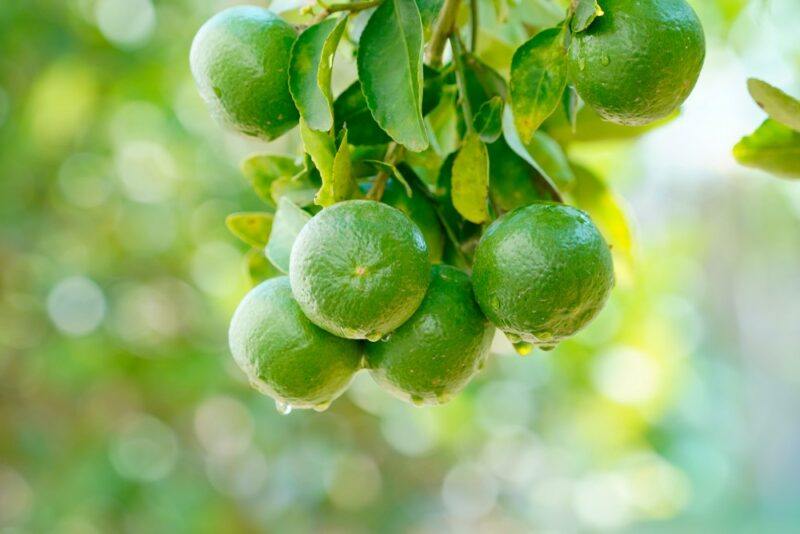 The Persian lime is easily the most famous type. This goes by other names too, including the seedless lime, Tahiti lime, and bearss limes. While the lime actually turns yellow when ripe, it is almost always sold in the green unripened state instead.
The ripe yellow version is worth trying if you can find it, as ripe limes still taste like limes, but they're much less acidic.
Then there are key limes (which make fantastic key lime pie). These come from a different species and are smaller and yellower than Persian limes. Key limes are incredibly popular for their intense flavor and juiciness, a combination that makes the limes perfect in many recipes.
Other types of limes are less common, but there are plenty of them to choose from, including:
Kaffir limes. These limes are very tart and contain little juice, so their juice isn't often used in recipes. However, some curries use kaffir lime peel for flavor and the peel is sometimes used to make essential oils.
Calamansi limes. These hybrid limes have orange flesh. While their juice is sour, the ripened rind has an unexpected sweetness.
Finger limes. This seedless citrus fruit is incredibly unusual, as it contains globes of juice, rather than flesh. This feature is why the fruit is often known as caviar lime.
Blood limes. As their name suggests, blood limes have bright red flesh. They don't taste like traditional limes either, as they tend to be much tangier. You can even eat the skin of this fruit, which isn't normally possible for limes.
Interestingly, these limes aren't all cultivars from the same species. Instead, the fruits from several different citrus species all get called limes.
For the purposes of this post, we're focusing on the classic Persian limes. However, similar benefits and risks will apply to the other types of limes as well, particularly key limes and others that have a similar flavor and notable acidity.
Lime Nutrition
Limes aren't the most nutritionally stunning fruit.
A single lime provides you with 32% of your daily vitamin C needs, along with just 1% or 2% of your daily requirements for most other nutrients. However, that same serving only contains around 20 calories and 1 gram of sugar, which isn't too bad at all.
There are also plant-based compounds to think about, including the antioxidants and citric acid. As you'll see, these are all relevant to your health as well.
Benefits Of Limes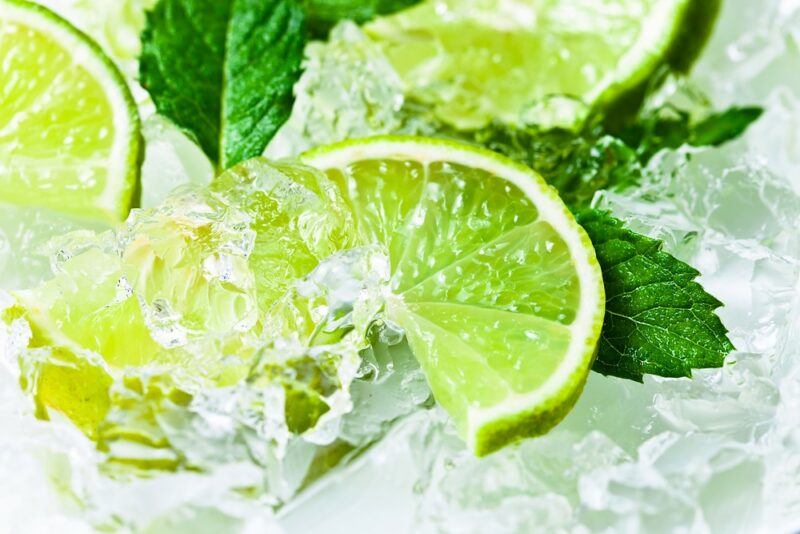 A Source Of Antioxidants
Let's start with one of the most obvious benefits – antioxidants. After all, antioxidants are still incredibly popular. They're seen as an amazing way to improve your health. Those claims aren't without merit either.
The underlying idea is simple. Antioxidants act to neutralize free radicals in your body. By doing so, they lower the risk that these free radicals will cause oxidative damage to your cells or DNA.
The power of this effect is easy to see, as decreasing the risk of such damage also lowers the risk of disease.
Can Help With Your Immune System
Like lemons, limes are an excellent source of vitamin C, giving you roughly a third of your daily vitamin C intake within a single lime. This effect is important, as vitamin C is both an antioxidant and is linked to your immune system function.
In particular, getting enough vitamin C helps your body to fight off infections. Going above your daily requirements could be helpful too – and a squeeze or two of lime juice is an easy way to get this vitamin C.
They're Low In Carbs
With their tart flavor, it's not surprising that limes are naturally low in carbs. This is a useful property as carbs, even carbs from fruit, are linked to some problems including inflammation.
We also know that fruit is important on a healthy diet, partly because of the antioxidants and other plant-based compounds. Low carb fruits, like lemons, limes, and raspberries can be perfect, as they're still an excellent source of plant-based compounds, despite their low carb content.
Relevant For Kidney Stones Too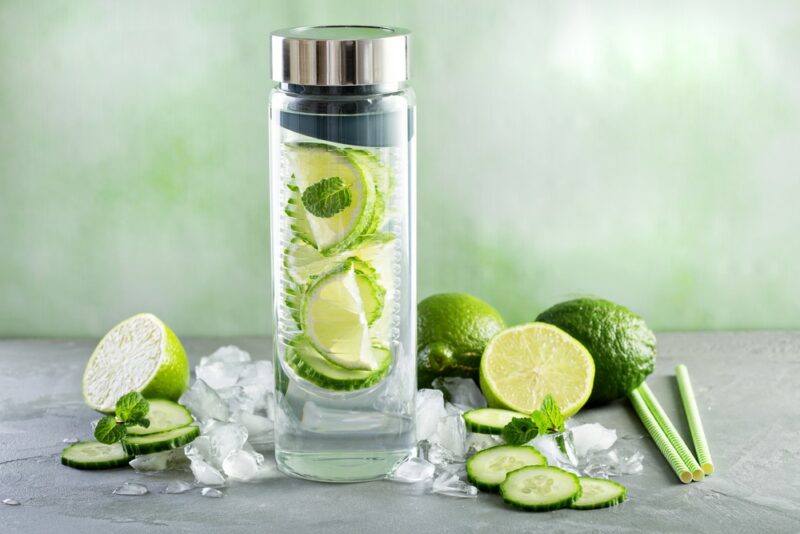 Kidney stones can be incredibly painful. Thankfully, a few approaches can help to decrease your risk of ever getting them. Avoiding high oxalate foods is one important step. Keeping hydrated is another.
Citrus fruits, like lime, help as well because of their citric acid content. Combining either lemon juice or lime juice with water could be even more powerful, as that drink gives you citric acid while also helping with hydration. What could be better?
Can Improve Your Iron Absorption
The citric acid in lime juice has an interesting effect – it can make plant-based iron more bioavailable. This means that adding lime juice to your salad could increase your ability to absorb iron.
This is a fabulous effect, as it's surprisingly easy to be deficient in iron. People who follow a heavily plant-based diet are at particularly high risk, as the iron from plants isn't absorbed nearly as well as iron from meat. Using citrus fruit in the same meal as plant-based iron could help to mitigate this issue.
One of the easiest approaches would be to make a lime salad dressing. There are plenty of delicious examples to try, including this cilantro lime dressing from Love and Lemons. That particular recipe includes some fat in the form of olive oil, which is important too, as fat can help with your absorption of some nutrients.
May Decrease Inflammation
Limes may help with inflammation too, due to the vitamin C and other antioxidants that they contain. This effect is highly relevant, as chronic inflammation may contribute to many serious health problems, including arthritis.
They Have An Alkalizing Effect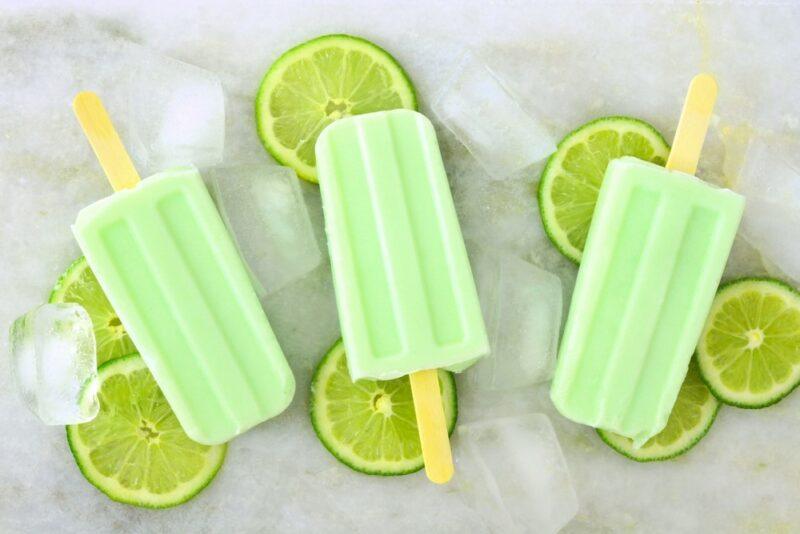 Citrus fruits are interesting in that they're highly acidic, yet they have an alkaline effect in your body. Some theories suggest that this is a powerful effect, one that helps to make your body less acidic and improve your health in the process.
We delved into that theory in our discussion of alkaline water, so we're not going to say much about it here. The most important thing to know is that the field is highly controversial. Focusing on alkalizing foods might improve your health or might have no effect at all.
Thankfully though, most alkalizing and alkaline foods are good for you in their own right, so you're not going to put your health at risk.
How Limes Could Be Harmful
Their Acidity Hurts Your Teeth
Despite their alkalizing effect, limes themselves are highly acidic. This acidity spells trouble for your teeth, as you can easily damage the enamel. The problem is particularly serious if you're drinking lime juice straight or eating limes on their own.
Thankfully, there are a few ways around the problem.
The first is to avoid direct contact between acidic lime juice and your teeth. This could involve diluting lime juice with water, rather than drinking it straight. For whole limes, you might include them in a recipe (besides, eating limes on their own is hardly enjoyable).
Rinsing your mouth helps as well. This prevents any acid from remaining on your teeth.
One thing though – don't brush your teeth immediately. You need to give your teeth time to re-mineralize. If you don't, there's a risk that you remove some of your enamel when you're cleaning your teeth.
They Might Not Agree With You
The high acidity of limes doesn't sit well with everyone. Some people find that they get significant side effects from lemons and limes. This happens because the acidity interacts with your stomach lining, creating discomfort.
The effect might be mild and even unnoticeable for many people. However, some people are much more sensitive. If you experience acid reflux regularly, for example, limes could make your symptoms much worse. Similarly, some people with IBS need to avoid acidic fruits.
Individual reactions to food vary dramatically, so you'll need to experiment for yourself. You might start with small amounts of fresh lime or lime juice and whether you get any side effects. You can then increase the amount over time to work out what your tolerance is.
Limes Versus Lemons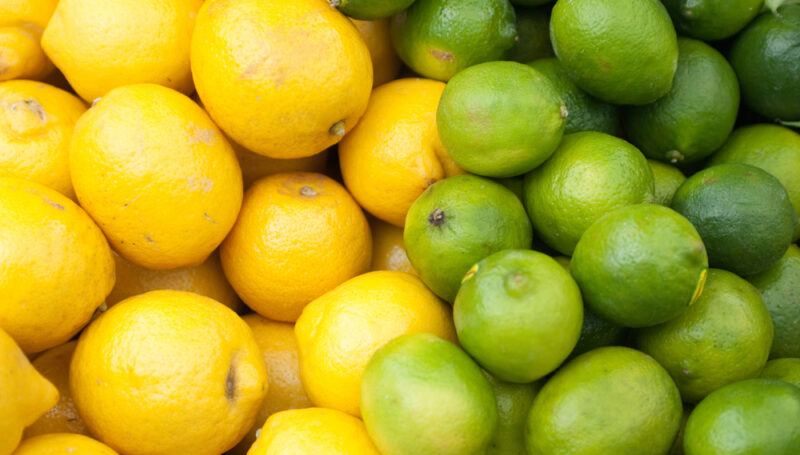 Limes and lemons are very similar to one another, both offering a sharp acidity that works well in many meals and drinks. The similarity isn't surprising, as the two citrus fruits are closely related to one another.
Nutritionally, lemons and limes are very similar. Lemons provide a little more vitamin C and higher amounts of a few other nutrients, but these differences aren't dramatic.
The health effects are much the same too, so all the benefits that we've been talking about here for limes are just as significant for lemons.
The differences, then, simply come down to flavor. Because limes have increased bitterness, you'll probably find that you use lemons more often. Either type will work well though.
Are Limes Powerful For Health?
There's an irritating trend these days to talk about foods as if they're going to dramatically change your life overnight. To make every benefit sound like it is incredible – like the way that antioxidants can decrease your risk of disease.
Foods do have plenty of positive features, that's true, including all the ones we've talked about today. However, their effects tend to be subtle. That's not even counting all of the potential benefits that have been suggested through animal and test tube research, but have yet to be proven in humans.
This is why it's so important to focus on your diet and lifestyle as a whole, rather than obsessing too much over every individual part of it.
So, rather than looking for superfoods and the most powerful ingredients, try focusing on a plant-rich diet, one that includes plenty of fruits and vegetables, and limits processed foods. Doing that and staying active are the most powerful ways to live a long and healthy life.
Final Thoughts
Like lemons, limes offer a surprising set of health benefits. Not only are they low in carbs, but the citric acid they contain can help with your iron absorption and your kidney stone risk. There's also the vitamin C, which matters for your immune system.
Beyond all that, limes provide a fantastic flavor to many cocktails and meals. This is enough of a reason to rely on them regularly.
Even so, it's important to be careful. Limes are highly acidic, so they can easily damage your enamel and lead to acid reflux. Rinsing your mouth out after eating limes or drinking lime juice can help dramatically. If you do experience side effects from limes, it's okay to skip them. Many of the benefits that we've highlighted apply to other types of fruit too, ones that are less likely to trigger side effects.
Frequently Asked Questions
Do Limes Have Seeds?
Limes can have seeds and some of them do, including key limes. However, you'll often see seedless varieties in local stores, partly because customers prefer these and partly because some seedless varieties last longer.
Are Limes And Lemons The Same?
Limes and lemons often seem the same, especially as they're both small and tart. If limes are allowed to fully ripen on the tree they even turn yellow. Despite this, lemons and limes are entirely different types of fruit (and limes certainly aren't unripe lemons).
Are Limes Alkaline?
Like lemons, limes are acidic, but are alkaline forming. This means that once your body has digested them, they have alkaline properties rather than acidic ones.
The alkaline forming effect is why lemons, limes, and other citrus fruits often feature as part of alkaline diets. However, limes are still initially acidic, so they can harm the enamel on your teeth and lead to acid reflux symptoms.
Do Limes Need To Be Refrigerated?
Refrigerating limes isn't essential, but it does make a huge difference. Limes left on the bench tend to quickly dry out and aren't nearly as good. It's best to only leave limes out of the fridge if you're going to use them within a few days.
Are Limes Keto?
Lemons and limes both work well on keto, as they're low in net carbs. Plus, limes have an intense flavor, so you don't need to use much lime flesh or juice at a time.